Advertising Disclosure
Advertising disclosure:
Our partners compensate us. This may influence which products or services we review (also where and how those products appear on the site), this in no way affects our recommendations or the advice we offer. Our reviews are based on years of experience and countless hours of research. Our partners cannot pay us to guarantee favorable reviews of their products or services.
If you're running an eCommerce business and want to remain relevant moving forward, you'll need to incorporate personalization. It will no longer be good enough just to offer a smooth customer experience. A seamless experience will be the bare minimum.
To attract sales and build a following of returning customers, you'll need to offer a personalized customer experience. From smart product recommendations to a carefully curated email newsletter, there are a number of ways that you can use to personalize interactions.
However, to do that, you'll need some extra help. It's humanly impossible to deliver this type of shopping experience, with the emphasis on humanly.
If you thought that AI was merely invented to help save marketing teams time, you would be missing out on one of its biggest benefits. With the help of one of the following AI-powered eCommerce tools, you can ensure that your customers actually find the most relevant products and content that your website has to offer.
---
Top 10 AI eCommerce Tools to Drive Sales Effortlessly:
---
Top
ai ecommerce tools
2024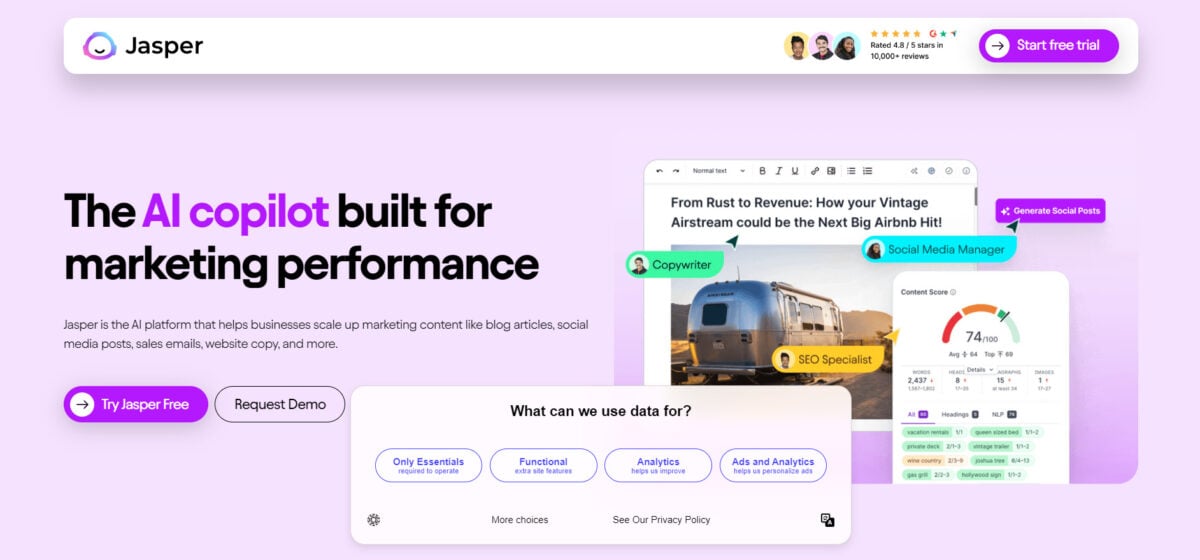 The overall customer experience plays a huge role in the success behind every eCommerce brand. Another area that's equally important is the content, particularly product descriptions.
For this, there's Jasper — one of the top AI marketing tools. Best for small and mid-sized businesses, it includes an AI-powered product description generator in its toolkit. It's a great sidekick if you're experiencing writer's block or merely want to save time. What's more, it works in 29 languages.
To get started, you simply open the product description template and add your prompt. For the prompt, you basically just need to share more details about your business and its brand voice.
In addition to product descriptions, it can help with various other types of content that eCommerce businesses regularly use such as Facebook Ads. For example, if you want to use it for paid ads, it can share a different angle and help you understand your buyer personas better. Then, there's also a number of useful writing tools that you can use like a sentence rewriter, slogan generator, and paraphrasing tool.
It also offers integration with Surfer, one of the leading SEO tools. This means that the content that gets generated for you will also be optimized for search engines by incorporating the keywords tailored to your specific business and niche.
Key features include:
Blog post creation

Project folders to streamline multiple projects

Plagiarism checker access
Plans and pricing: After a free five-day trial, pricing starts at $59 per month.
---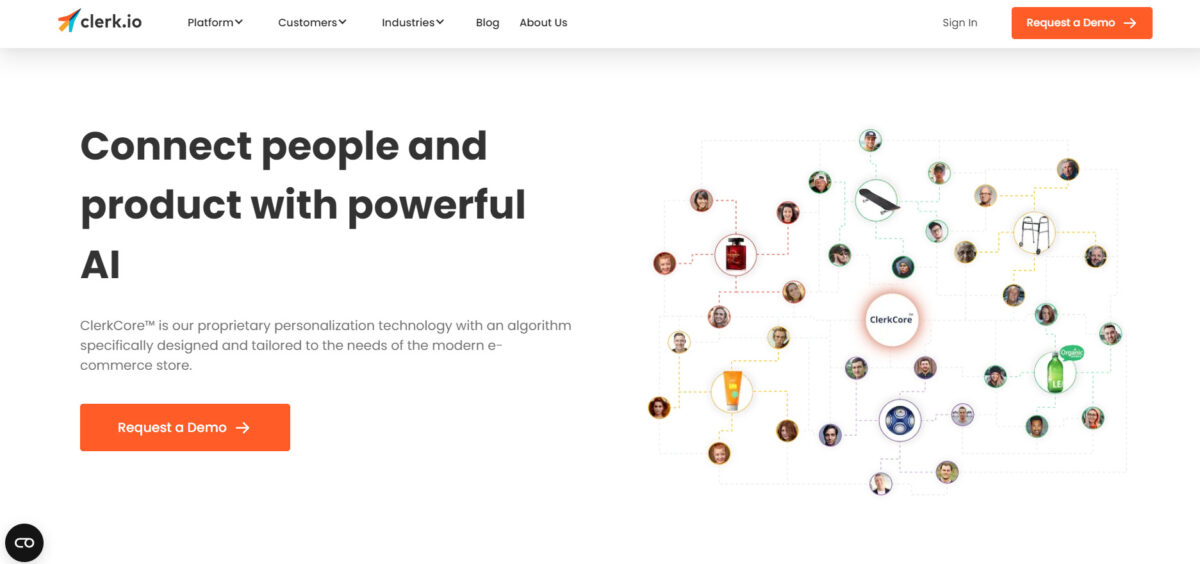 ClerkCore describes itself as a proprietary personalization technology that uses an algorithm created specifically with eCommerce stores in mind. Included in its long list of features are real-time indexing, directional synonyms, automatic product analysis, and multilingual support.
Thanks to its natural language processing capabilities, it can automatically identify the actual search intent. If there's a typo, it won't throw it off guard thanks to the typo tolerance. What's more, with its built-in synonym detection, it will even be able to identify words with similar meanings automatically to ensure that all relevant search results get displayed.
In addition to helping with search, it also offers smart product recommendations to drive more sales. It will automatically display to customers the products that they're most likely to add to their carts. These recommendations can also be applied to content.
All in all, it's one of the best tools to use for customer experience optimization. As it's specifically aimed at eCommerce businesses, they know how to convert searches into sales.
Key features include:
Real-time search and products analytics and insights

Email triggers

Segmentation
Plans and pricing: For more info about Clerk.io's pricing, you need to reach out to them directly.
---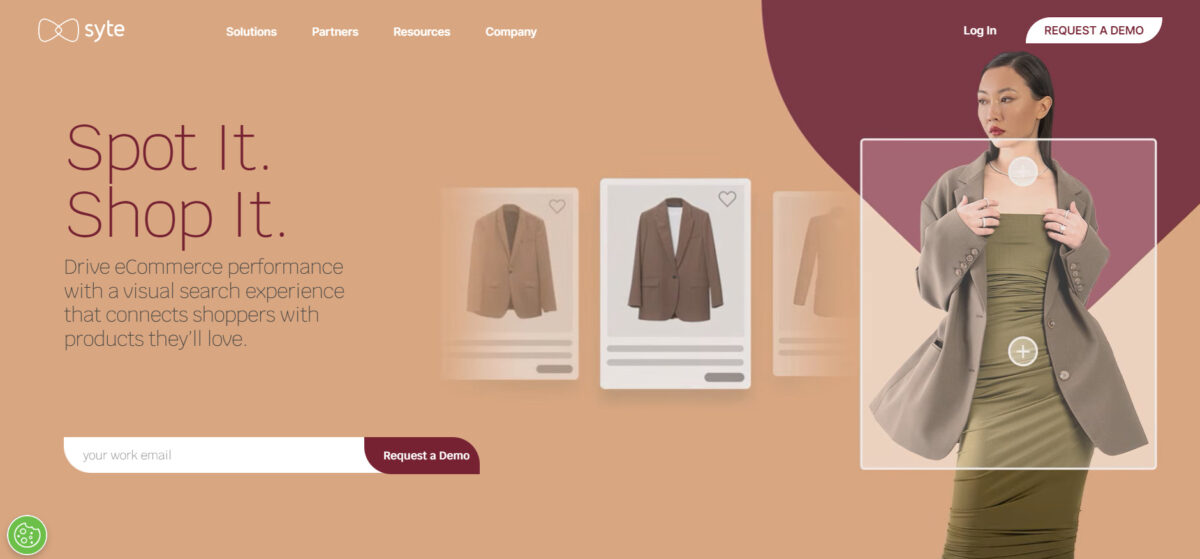 If you need help with product discovery, you can check out Syte. It's a great tool for brands, marketplaces, and retailers of all sizes selling jewelry, home decor, and fashion specifically.
Powered by visual AI, it helps customers to find the products that they're looking for faster, helping to improve conversions, average order value, and lifetime value. For example, for Coleman Furniture, they managed to increase the conversion rate by just over sevenfold.
Moving forward, customer experience is only going to matter more and more to consumers. With Syte in your tech stack, creating premium experiences becomes much easier.
Much of this is thanks to its hyper personalization. Using session data and visual AI, you can share very relevant product recommendations. For example, if you operate in the home decor niche, you can use Syte to showcase similar products to those that are out of stock. Another way that it can drive sales is by suggesting accessories that will work well with a room.
If you do get stuck, the Syte team has been highly praised online. Not only will they enhance your customer's journey, but they also make a concerted effort that your own user journey is seamless.
Key features include:
Sophisticated personalized recommendations

Image search

Automated product tagging

Thematic tags

Deep tag analytics
Plans and pricing: For more info about Syte's pricing, you need to reach out to them directly.
---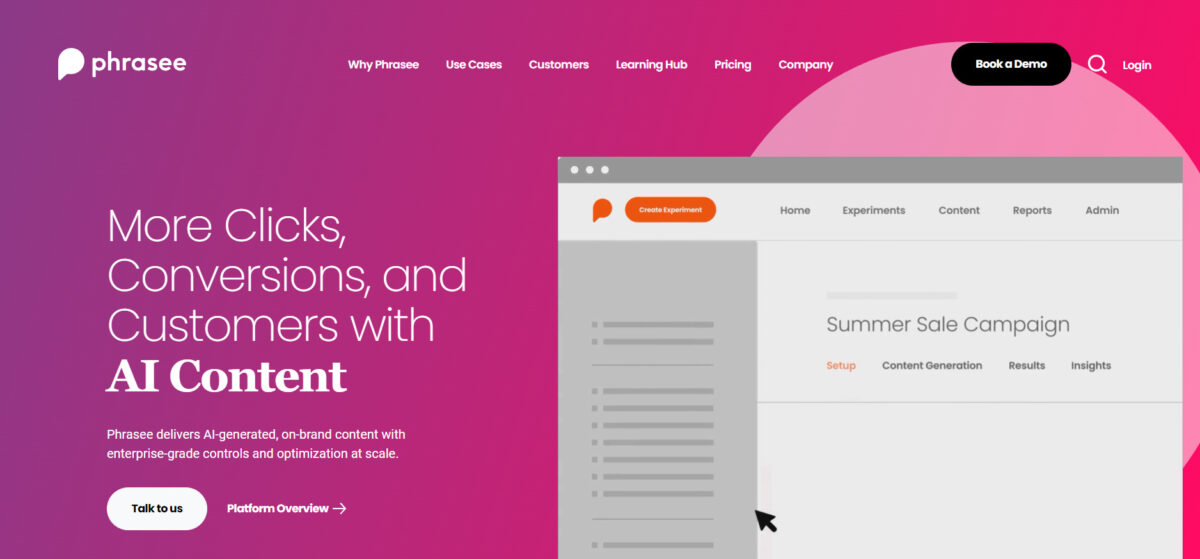 Similar to Syte, Phrasee also focuses on improving customer experiences. It offers an AI platform that helps brands and marketing teams to create on-brand messages across various popular channels, including email and SMS.
If you specifically need help with paid media, which plays a big part in running any eCommerce business, it offers AI-powered content that will help your social media ads to generate better results. What makes it such a great tool though, is that it keeps in mind the different stages of the customer journey and will optimize the language accordingly.
Its client list is equally impressive and includes market leaders in eCommerce like eBay and Sephora. Since Phrasee partnered with eBay in 2016, they've helped them to create a consistent ROI across all campaigns. On average, they help them to generate 700,000 incremental opens and 56,000 incremental clicks per campaign.
Key features include:
Dynamic optimization

Integration with all the leading email service providers
Plans and pricing: For more info about Phrasee's pricing, you need to reach out to them directly.
---

Granify works with eCommerce brands across various industries including home decor, fashion, and electronics. To partner with them, though, you'll need to average a minimum of $50 million in annual sales.
Granify's goal is simple, yet ambitious. They want to change how people shop online. In 2012, Granify's first version was released on Shopify. Fast-forward 10 years and it's trusted by many of the top online retailers across the globe.
In short, it's a conversion/revenue optimization platform that uses machine learning and real-time big data. It automatically identifies shoppers that won't buy and before they leave the website tries to change their mind. To do this, it identifies opportunities that can be optimized that will mean more chances of conversion and then use dynamic personalization. Only when the numbers prove that Granify can make a difference will it take action.
They generate about $55 million per month in incremental revenue. In 2022 alone, they generated nearly $700 million in incremental sales by optimizing over 7 billion shopping sessions.
Key features include:
Dynamically personalized and highly targeted product spotlights
Plans and pricing: Granify doesn't charge for setup or have any recurring fixed fees. Instead, they're only compensated for incremental revenue that you've made with the help of their tool.
---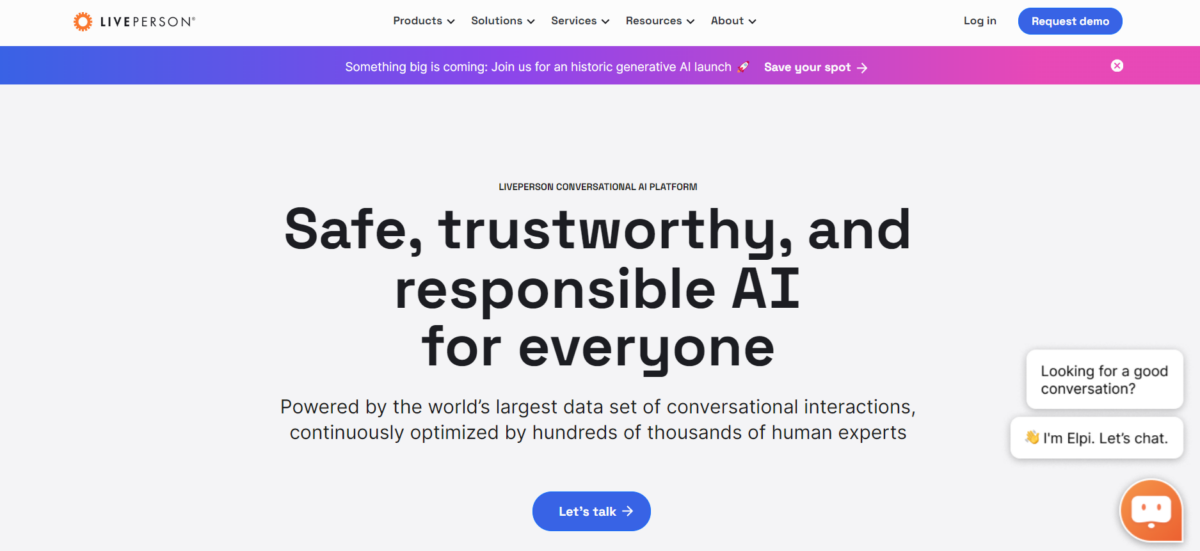 If you want to leverage the power of conversational commerce, you can check out LivePerson. It's a conversational AI company that's trusted by thousands of brands that include big names like Burberry and Chipotle. Each month, their Conversational Cloud powers almost a billion conversational interactions.
As their LinkedIn page so eloquently summarizes it, they create "digital experiences that are curiously human". Unlike many tools in this niche that think using a fun, friendly tone equates to personalization, the team behind LivePerson takes it further. They help your brand to set itself apart by empowering it to create one-on-one eCommerce customer experiences that include real-time product recommendations and support.
This means that you can benefit from the advantages that AI has to offer, while at the same time let your target audience feel like their interactions are unique. You can, for instance, use out-of-the-box integrations to share accurate shipping updates or use AI-powered chatbot conversations to streamline returns and exchanges. These features have helped some of their retail clients slash the cost of care in half, while at the same time increasing customer satisfaction by 20%.
Key features include:
Intent-based automations

Out-of-the-box integrations to gain insight into past purchases
Plans and pricing: For more info about LivePerson's pricing, you need to reach out to them directly.
---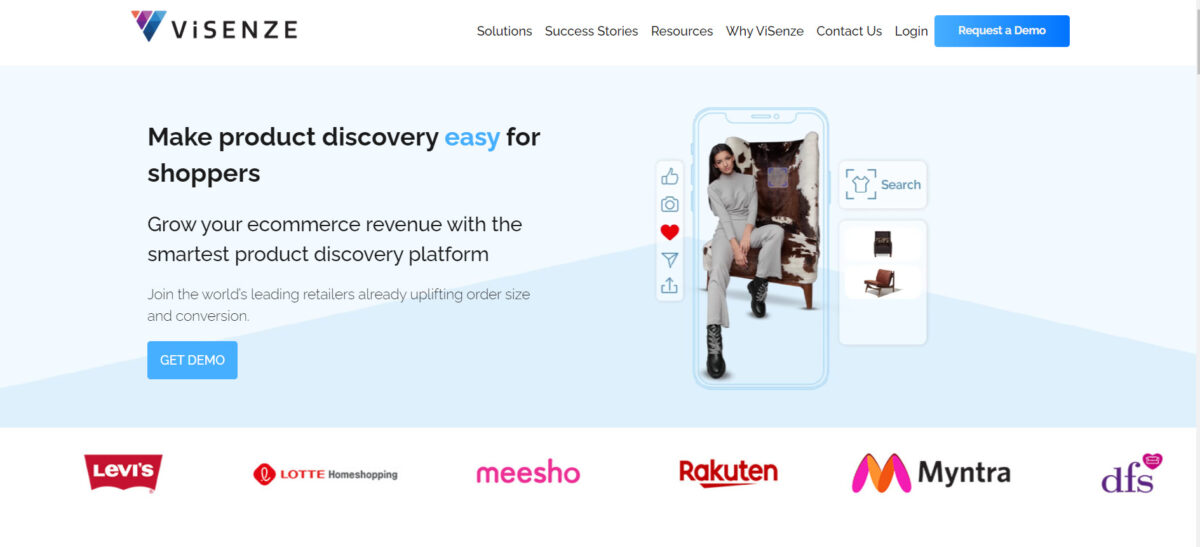 For an alternative to Syte, you can try ViSenze. It's one of the top AI search and discovery software solutions used by merchants, retailers, and brands that include names like Rakuten and H&M. Founded in 2012, it was recently recognized by Datamation as one of the top AI companies.
Thanks to its automated AI platform, it helps retailers to create first-class customer experiences by helping them to discover products faster. This ultimately helps to drive more sales.
All in all, it's easy to set up and you can quickly integrate your entire product catalog from various eCommerce platforms. Then, to help you make the most of its capabilities, it also includes A/B testing to help you hit the sweet spot for each placement and shares instant insights to let you find out more about your target audience.
Key features include:
Enhanced visual search

Product tagging

Smart product recommendations

Merchandising analytics
Plans and pricing: For more info about ViSenze's pricing, you need to reach out to them directly.
---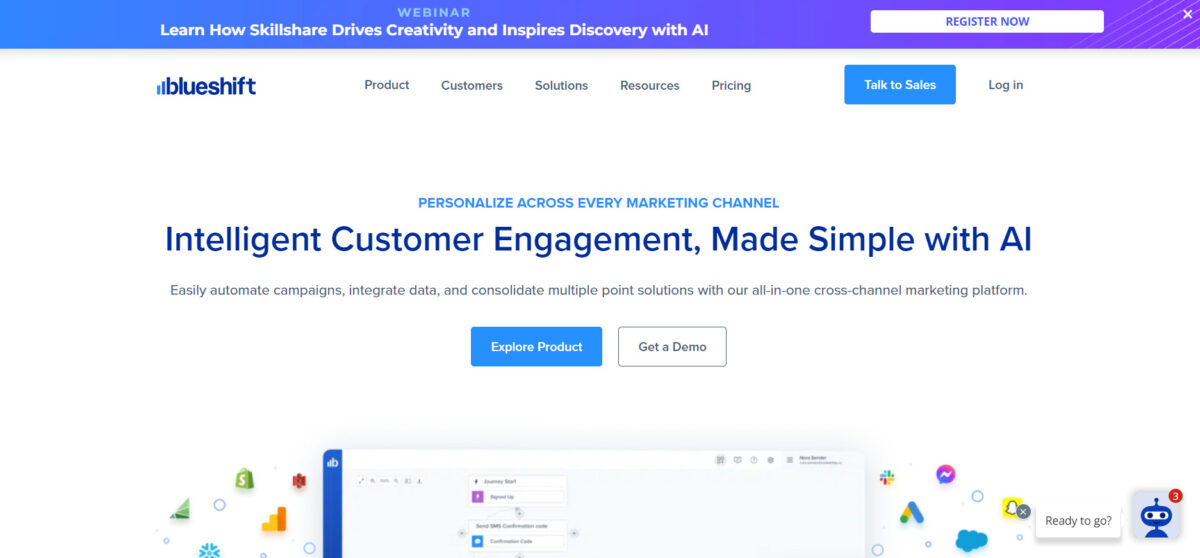 Just like many of the other AI eCommerce tools on this list, Blueshift also shifts the attention to customer experiences. Using patented AI technology, it helps users to create one-on-one experiences in real-time across the buyer's journey.
If you specifically want to focus on paid marketing, it's one of the best AI tools to use. It leverages first-party, behavioral, and predictive data to make it easier for brands to optimize their ad budgets.
In addition to paid media, it also works with most mainstream channels including SMS, email, and in-app messages. So, if your eCommerce site also has an app, you can use dynamic adaptive messages to make the most in-app interactions. Alternatively, if your shoppers mostly stick to website purchases, it also offers personalized product and content recommendations as well as triggered browser push notifications to improve the shopping experience.
Key features include:
Automated email outreach

Personalized push notifications

Tailored SMS messages

A/B testing
Plans and pricing: Blueshift offers three tailored pricing packages (including enterprise pricing). For more info, you can contact their sales team.
---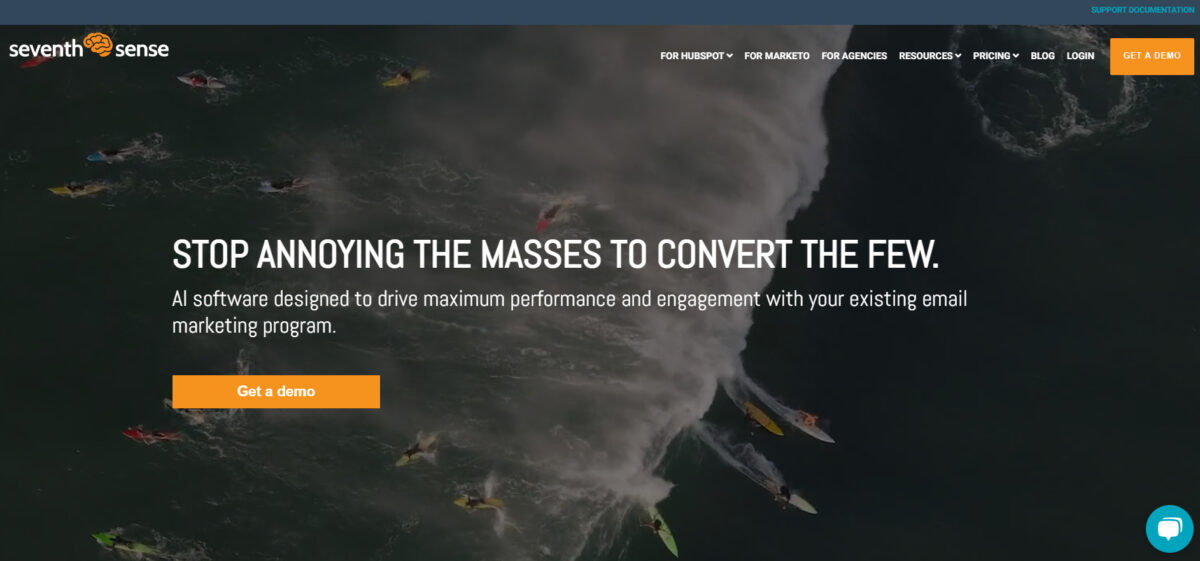 If you specifically want to focus on email marketing and use Marketo or HubSpot, Seventh Sense might just be that extra sense that you needed. It offers automated delivery and frequency optimization using its "The Time Optimized Sales Model".
Its AI software quietly listens to how customers are interacting with your brand by means of email, HubSpot, and Marketo. It specifically focuses on time to help you visualize patterns. Armed with this insight, you're empowered to connect with your customers at the best time. The result — better engagement and results.
If you're worried that your new email activity will trigger spam filters, it includes email throttling. This way, you can enjoy peace of mind knowing that the number of emails sent to ISPs and remote servers at one time get controlled. Should something go wrong, you can always pause email campaigns easily and resume your email marketing campaign once the problem has been sorted out.
Key features include:
Send time optimization

Email frequency optimization

Historical engagement data

Lookalike audience scheduling
Plans and pricing: Pricing for HubSpot users starts at $80 per month for 5,000 marketing contacts. Pricing for Marketo users starts at $450 per month for 50,000 leads.
---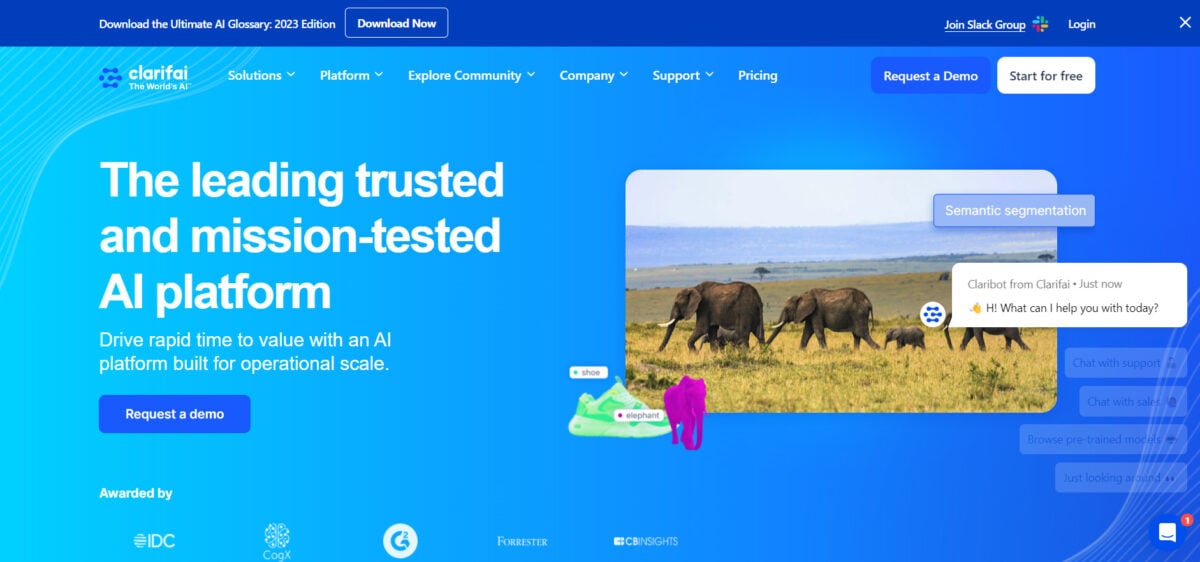 Unlike a number of the other tools that focus purely on visual search optimization, Clarifai does that and more. Included in its list of use cases are digital asset management, facial recognition, and content moderation.
Thanks to its content moderation, it's a great tool if you rely heavily on user-generated content. With the help of its image and text moderation models, you can double-check that any images and videos that get uploaded are free of unwanted elements. It can also be used to moderate text-based content, such as customer reviews and social media posts, to ensure there's nothing racist or just plain obscene.
Another useful feature is its sophisticated natural language processing that can identify the intent behind messages. If you use a chatbot on your website, this can come in handy helping you to deliver better customer service.
Then, to help you with search engine optimization, it includes sophisticated AI automated data labeling. This way, you can label your visual data automatically using the relevant keywords to reduce bounce rates.
Key features include:
Content moderation

Metadata generation

Product recommendations
Plans and pricing: Clarifai offers a free forever plan and two paid options. Pricing starts at $30 per month.
---
---
Wrapping Things Up
Just like eCommerce sales surged during the past two years, so too did the use of AI. A lot has been written about AI in marketing. While marketing plays a huge role in running a successful eCommerce store, so do other aspects like customer experience. And, with this, AI can also be of service. However, if you simply want to stick to it for faster content generation for now, that's perfectly fine as well.
Most of the tools mentioned on this list, though, don't publicly share pricing information. In any case, as this type of tech is still quite new to most, it's a good idea to take advantage of demos offered. This way, you'll not only get the pricing info, but you'll also familiarize yourself with the capabilities and identify the best solution for your budget and needs.