eCommerce has existed for 40 years now, with English inventor and entrepreneur Michael Aldrich inventing online shopping in 1979, although it was not at that stage economically viable. His system connected a modified domestic TV to a real-time transaction processing computer via a domestic telephone line. It was another decade before Sequoia Data Corp introduced Compumarket, the first internet-based system for eCommerce. The term "eCommerce" (or "e-commerce") goes as far back as the 1948-49 Berlin blockade when it became a standard for the exchange of business documents, such as orders or invoices, between suppliers and their business customers. It now more specifically relates to commerce over the internet.
However, a newer eCommerce-related term is c-commerce, which stands for conversational commerce. C-commerce is becoming increasingly popular now that most people carry personal communications devices, such as smartphones.
---
What Is C-commerce?
---
What is C-commerce (Conversational Commerce)?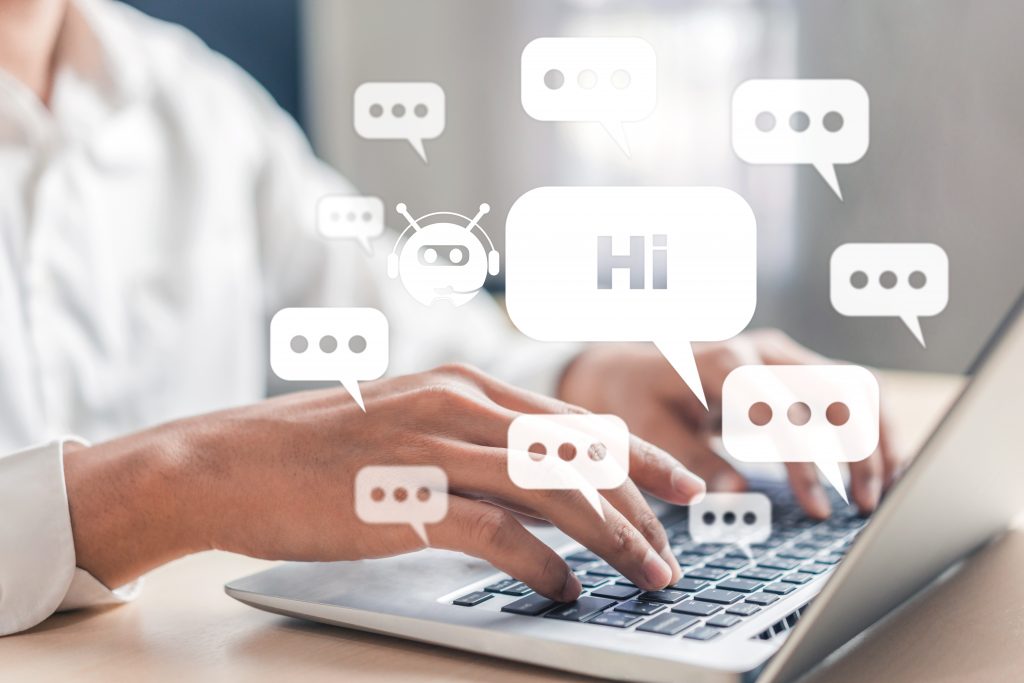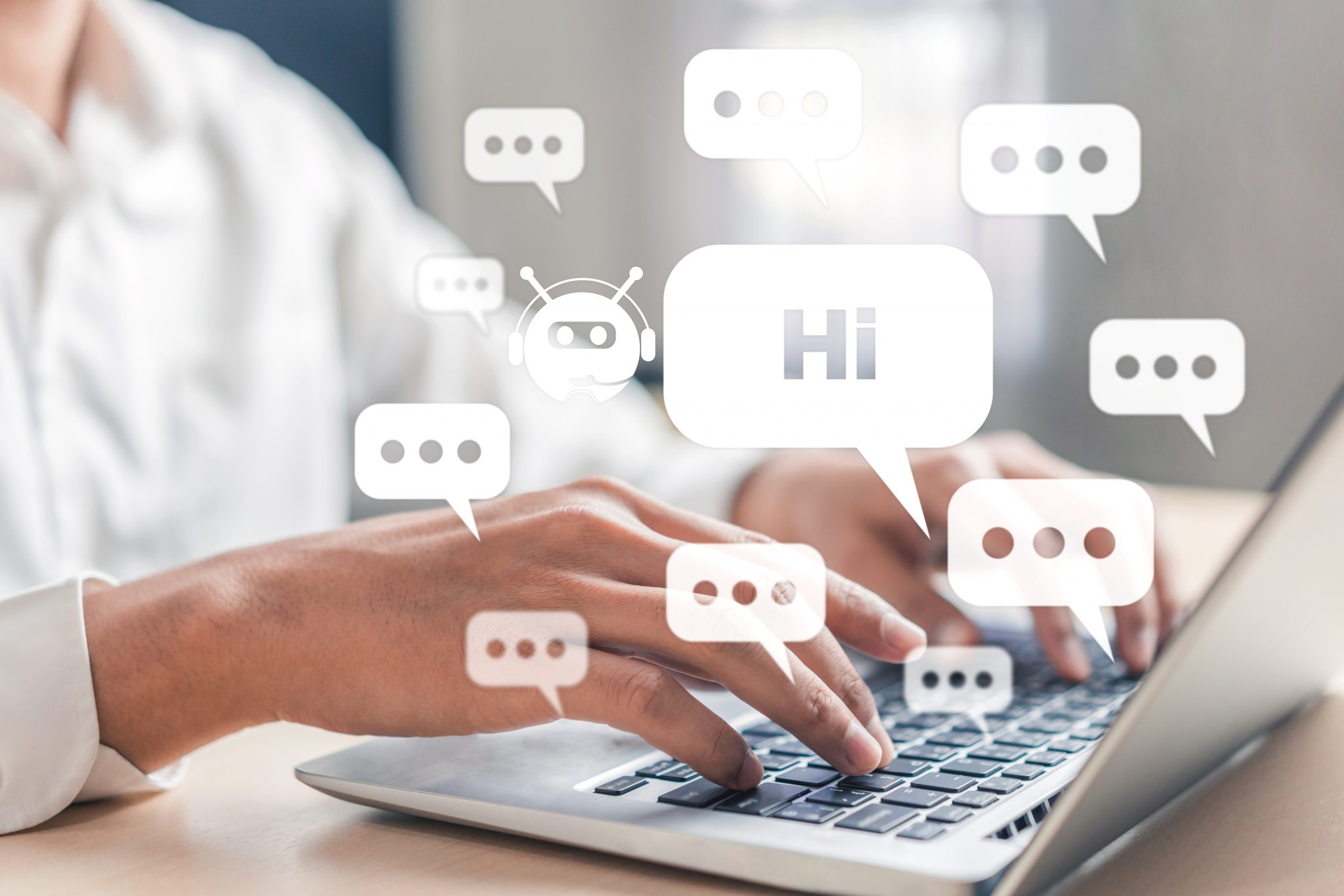 Conversational Commerce refers to businesses interacting with their customers via messaging, chat, and other voice technology apps. If eCommerce generally relates to shopping via the internet, c-commerce relates to shopping via messaging-type apps.
The first person to popularize the term "conversational commerce" was Uber's Chris Messina in 2015. He noticed a growing trend in these types of activities, citing the following examples (along with a few less successful that no longer exist):
1. Facebook purchasing WhatsApp
2. Fancy Hands on-demand assistants
3. Improvements to Google Translate
4. Rise and Lark in the healthcare space
5. Apple Siri
6. Microsoft Cortana
7. Google Nest
8. Amazon Echo
The common feature of these types of apps (in some cases assisted by dedicated hardware) is that they enable consumers (or other businesses with B2B) to communicate with companies in real-time through messaging and voice channels. They can use these apps to talk to company representatives or, in some cases, intelligent bots representing a company. As a result, potential and existing customers can speak with customer support, ask questions, get personalized recommendations, find reviews, and ultimately make purchases without leaving their couch or desk.
In the past, you could always do some of these tasks merely by picking up a telephone. Nowadays, with C-commerce, you can do so much more.
There are other advantages to businesses from using c-commerce too. For example, companies can use chatbots to resolve customer service issues that might previously have tied up customer service representatives for a disproportionately long time. They can also use these tools to offer personalized recommendations, create wish lists, interact with potential customers in real-time, confirm orders, and automate customer service messages.
---
The Popularity of C-Commerce
Don't underestimate the popularity of messaging-type apps. According to data collected in the We Are Social Digital 2021 April Global Statshot Report, 94.5% of internet users aged 16 to 64 used a chat app or instant messaging service. WhatsApp is the third-most used social platform, with 2 billion active users globally, and Facebook Messenger is fourth, with 1.3 billion active users. And it's not just youngsters. WhatsApp is now the preferred social app for both males and females aged 35-64. In addition, 16.1% of 16- to 64-year-olds admitted to using messaging and live chat services for researching brands.
Facebook carried out a survey in 2019 (pre-pandemic) which showed that both eCommerce and c-commerce were already becoming popular, before months of COVID-enforced lockdown gave them a further fillip. They found that 58% of the people surveyed globally consider convenience alongside price when deciding where to shop. With 100 billion messages exchanged across Facebook products each day, they clearly had a place in answering shoppers' calls for better experiences.
Facebook asked about c-commerce buyers' top reasons for chatting with businesses. The most popular responses were:
For product or pricing information (45%)

For instant responses at any time (35%)

It's an easy way to shop (33%)

For personalized advice (31%)

The ability to negotiate prices or offers (30%)
---
Types of Conversational Commerce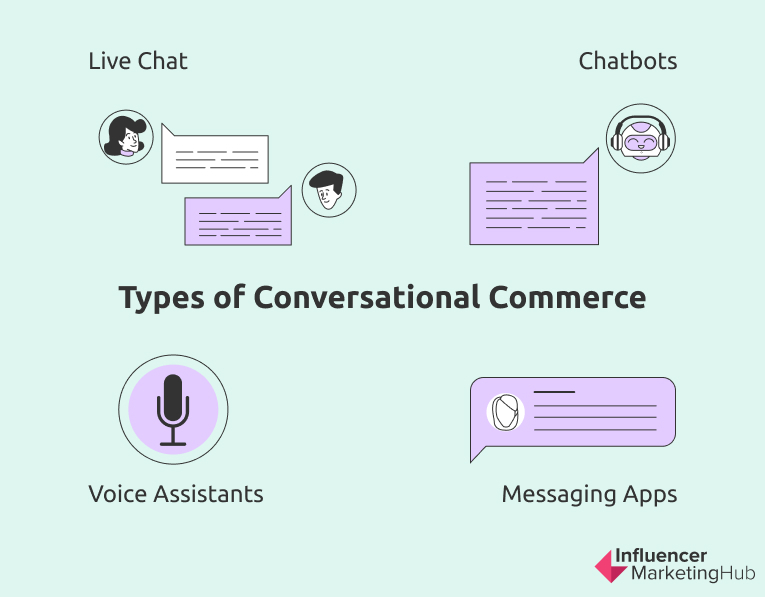 In the six years since Chris Messina's post, c-commerce has evolved to include the following conversation types.
1. Live Chat
You will often notice a live chat button, usually in the bottom right-hand corner, on websites, particularly those that sell things via eCommerce. Many customers prefer it over more traditional communications methods. For example, millennials and Generation Z may generally carry a smartphone with them, but they prefer not to make phone calls. A survey by HighSpeedInternet found that 88% of Millennials opt for texting over phone calls, with 52% feeling anxious when taking a phone call. Indeed, 60% of Gen Zers and Millennials hate calling people (unlike those aged over 35).
Live Chat can be almost instantaneous. Potential customers can ask relevant questions and answering doesn't take up too much of your staff's time. In addition, live chat allows one agent to carry out multiple simultaneous conversations without anybody feeling like their concerns are being ignored.
You can use live chat to proactively engage with people viewing your website and help move them further through the purchasing cycle.
---
2. Chatbots
Chatbots are similar to live chat, except that you use technology to do much of the work for you. Chatbots are AI software that can provide answers to text questions. We have previously written in detail a complete guide to chatbot marketing.
You can program chatbots for just about anything, from handling customer service requests to helping users complete a sale. You generally base them on keywords and use AI to create a conversational flow.
As with live chat, chatbots can chat with multiple people at once, making them an efficient way to disseminate information to potential clients. And as long as their AI sounds sufficiently like a human, people don't mind having their questions answered by chatbots if it solves their problems quickly and efficiently. In addition, the versatility of chatbots means that you can use them to help move people through different stages of the purchasing cycle, perhaps even all the way from awareness to closing the sale.
---
3. Messaging Apps
As we have seen above, messaging apps like WhatsApp and Facebook Messenger are commonplace and widespread nowadays. You can use these to exchange instant messages. Consumers use these to engage in private conversations with brands. Many companies now use these apps primarily for customer service.
It is becoming more common now to use these apps to buy items, too. In our post on Social Commerce, we examined the increasing trend for brands to sell directly on social media. WeChat is particularly advanced in this area and includes a mini program that allows users to do almost anything, from food ordering and shopping online to playing games and buying cinema tickets. Facebook Shops lets brands connect with potential customers through Messenger, WhatsApp, or Instagram Direct.
---
4. Voice Assistants
Voice assistants have been around for longer than most people imagine. Indeed, the first voice assistant, Radio Rex, was launched nearly a century ago in 1922, long before the invention of the internet. In this case, a toy dog, "Rex," stayed inside his kennel until you called for him by name, at which point he would jump out.
The first intelligent voice assistant was Simon by IBM in 1994. However, it wasn't until the release of Google Voice Assistant in 2008, followed by Apple's Siri in 2010, that the modern voice assistants began to appear. The first popular smart device was Amazon Alexa in 2015.
Voice assistants have significantly increased in popularity over the last few years. Now, 58% of consumers use voice search to find a local business online. Voice-based shopping is predicted to soar to $40 billion by 2022.
Some devices can even recognize a user's voice. This gives opportunities to personalize marketing with hyper-targeting.
Brands are now taking this popularity of voice assistants seriously and incorporating them into their marketing plans.
---
Benefits of C-commerce (Conversational Commerce) to Retailers
1. Assisting With Closing Leads
With many consumers wary of making telephone calls and not wanting to wait for email replies, brands have discovered that they can use instant messaging to answer potential customers' questions and move them through the purchasing cycle. For example, they might send customized live chat greetings, offering discounts and offering expert advice.
Many consumers respond well to chatbots, particularly if they quickly and clearly answer their product, delivery, pricing, or service questions.
---
2. Reducing Cart Abandonment
Many retailers worry about cart abandonment. The average cart abandonment rate across all industries is 69.57%, and mobile users have a cart abandonment rate of 85.65%. Forrester research suggests that eCommerce brands lose as much as $18 billion a year due to cart abandonment. So it isn't surprising that many retailers are prepared to do anything they can to reduce this problem.
Brands have discovered that c-commerce can help reduce the rate of cart abandonment. One way a brand can help with this is to send a greeting to prospective customers who are part-way through the purchasing process. As long as they don't come across as pushy, they can help incentivize customers to complete their orders.
There are also plugins for messaging apps that enable brands to send a chat message to potential customers who haven't yet finalized their orders. You can even offer them discounts.
---
3. Facilitating Upselling and Cross-Selling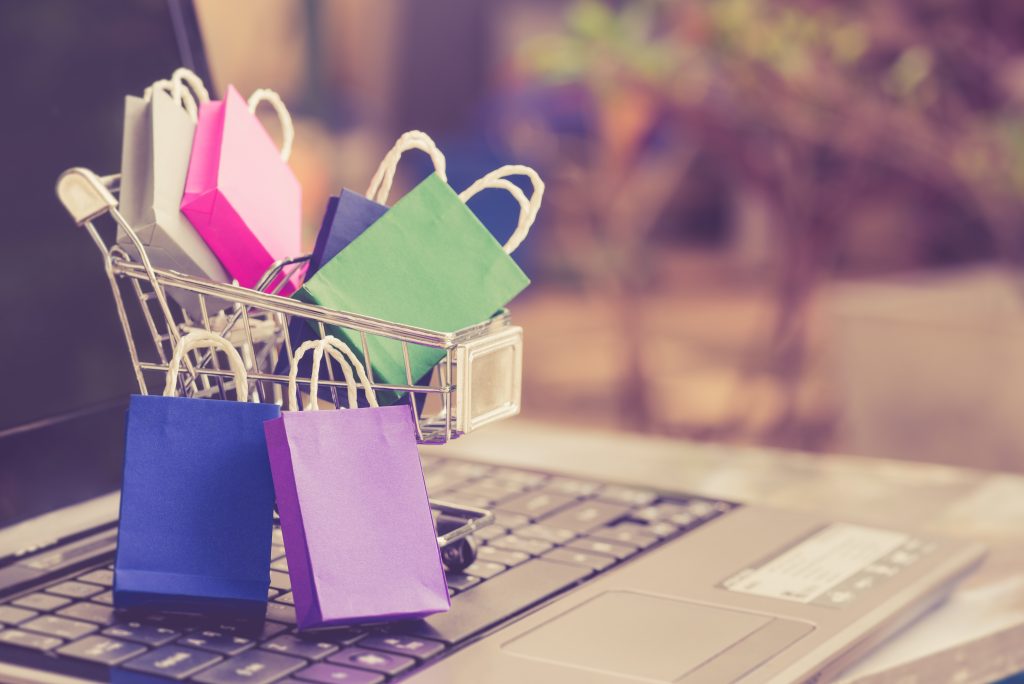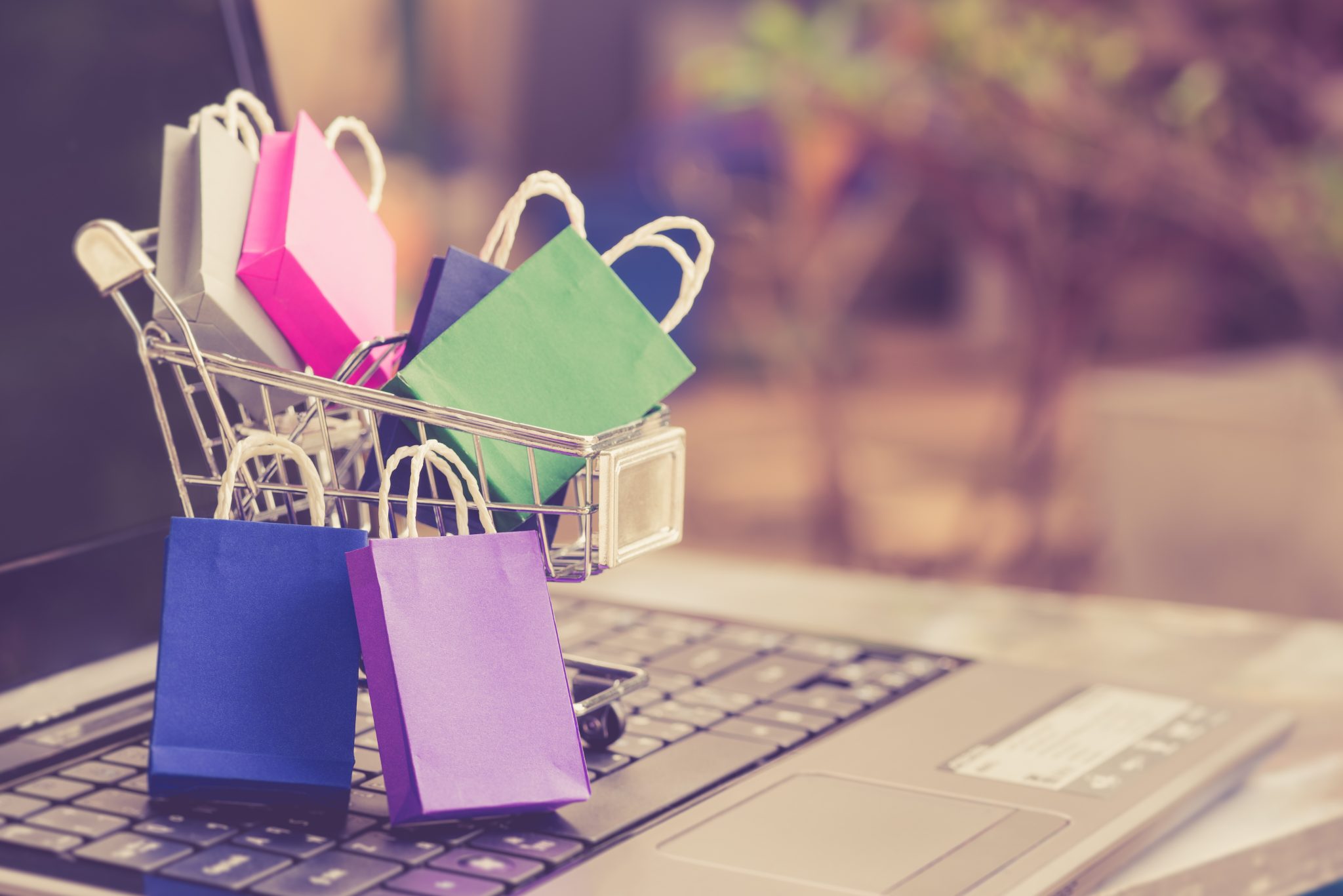 There are various ways you can use c-commerce for upselling and cross-selling. For instance, you could send personalized product recommendations via Live Chat. Perhaps you could use a chatbot to communicate with existing customers, suggesting how they could update their past purchases or buy some complementary products.
---
4. Gathering Feedback
You are far more likely to gather feedback from customers through a natural conversation (even if you're using a bot) than you are if you ask customers to fill in web forms.
---
5. Providing Improved Customer Service
Using the tools of c-commerce can significantly improve a brand's customer service. For example, Dollar Shave Club now works with Zendesk to operate an Answer Bot. "The nice part for agents is that they don't need 40 tabs open at one time and they don't need to continually click back and forth. All the information's there," Dollar Shave Club's senior program manager, Trent Hoerman, has said. "You might see this Member has written into us before about the same issue, so let's not give him the exact same answer. Let's personalize it and say, 'Oh, I see this has happened to you before. This isn't the norm. We're sorry about that. Let me try this today, instead of what happened last time."