Have you started planning your 2023 social media marketing strategy yet? Are you wondering if LinkedIn should be a part of your strategy?
LinkedIn has evolved into much more than just a professional networking platform. For example, it has now grown to become a place to find valuable content. Today's marketers and brands use it not only to build professional connections and post vacancies, but they also use it to look for content that helps them upgrade their marketing tactics and stay up to speed with the latest industry trends. If you want to distinguish yourself as a thought leader in your niche, LinkedIn should definitely be a part of your marketing strategy.
If you're still not completely convinced yet, these 41 statistics will definitely motivate you to start using LinkedIn as a marketing platform. Plus, we've also made sure to include a few statistics that will help you to make the most of the platform. What works for Instagram and TikTok will not get you the same engagement here. For tips specifically regarding creating content for LinkedIn, you can scroll to number 29, but we suggest that you take your time, start at the top, and read all the stats.
---
41 LinkedIn Statistics:
---
1. There Are More Than 850 Million Members on LinkedIn
As of November 2022, LinkedIn had more than 875 million users in over 200 countries, according to the company's official statistics. According to Social Status, their growth rate for August 2022 was 6.98%. The highest that it's been in 2022 so far was in May (4.22%).
---
2. APAC Accounts for Its Biggest Share of Users
Most of LinkedIn's members come from Asia-Pacific (APAC). According to their most recent official stats, over 244 million members are from this region. In second spot it's EMEA (Europe, the Middle East and Africa) with over 227 million, while North America is in third place with more than 215 million. Only about 49 million members come from MENA (the Middle East and North Africa).
The platform is currently available in 26 languages.
---
3. LinkedIn Operates 36 Offices Worldwide
LinkedIn operates 11 offices in the USA. It has a further 25 offices across the globe that include places like Amsterdam, Bangalore, Sydney, and Toronto.
---
4. LinkedIn Has 19,000 Employees
LinkedIn has more than 19,000 full-time employees that work from its 36 offices across the world.
---
5. Most Traffic Comes From the US
LinkedIn gets the most traffic, about 31.28%, from the United States. India is its second biggest source of traffic with just over 7% followed by the United Kingdom at nearly 6%.
This, however, is only for desktop traffic as of May 2022.
---
6. Bermuda Has the Highest Ad Reach
As of April 2022, Bermuda is the country with the highest LinkedIn audience ad reach at 104.8%. Clearly, some businesses must have accounts, and some people may operate two or more accounts. American Samoa follows in second spot at 101.8% and Cayman Islands in third spot at 94.2%. The United States features only in seventh place, with a 72.8% reach.
---
7. Marketers Can Reach More Than 808 Million
The potential audience that marketers can reach with ads on LinkedIn is estimated at just over 808 million. It's a year-on-year increase of 11.1%.
With regards to ad revenue, that's also a pretty impressive number. The platform generated $3.8 billion in ad revenue in 2021. According to data shared by Statista, it's expected to increase to $7.7 billion by 2026.
---
8. Advertisers Can Reach More Men than Women on LinkedIn
Advertisers have a slightly higher chance of reaching more men than women on LinkedIn. The ad audience distribution is 57.2% male and 42.8% female, according to the Digital 2022: Global Overview Report.
---
9. LinkedIn Is a Great Place to Find Decision Makers
As of late 2022, the platform could claim to reach more than 65 million business decision makers, according to their own official statistics.
The platform allows you to reach and engage your prospects at the right time and in the right context. You can easily find customers through searching by either their name, position, or company. LinkedIn also suggests other potential customers that you can target.
---
10. More Than Half of Decision Makers Use LinkedIn Content to Vet Organizations
It's key that you post engaging and informative content on LinkedIn as more than half of decision makers use thought leadership to determine which organization to work with. What's more, 20% of investors say that it's the best platform when you want to learn about a topic.
---
11. LinkedIn Goes Beyond Job Hunting and Listings
If you thought that LinkedIn is only good for posting jobs and finding suitable candidates, you would be very much mistaken.
You can easily set up a LinkedIn page for your business to help generate more brand awareness. Each business also has a "My Company" tab that offers every organization on LinkedIn a trusted, employee-only space to help them join the conversations that matter most.
In fact, according to data shared by the platform, employees are 60% more likely to engage with posts from coworkers and 14 times more likely to share their organization's Page content.
So, it can be a great tool for employee advocacy too. LinkedIn's internal data further shows that engaged employees can help you to get up to eight times more page views, four times more page followers, seven times more job views, and four times more job applications.
---
12. Users Spent Nearly Eight Minutes Per Visit
According to data shared by Similarweb, the average time a LinkedIn user spends is 7 minutes and 38 seconds on the platform per visit. On average, they also visit seven pages per visit.
To put this into perspective, the average visit duration for Facebook is 10 minutes, while for Pinterest it's 5 minutes and 30 seconds. So, it's about right there in the middle.
---
13. It Received About 1.5 Billion Visits On Average During the Past Three Months
According to a traffic analysis completed by Similarweb, LinkedIn received a total of 4.4 billion visits from April 2022 to June 2022. This consisted of 1.4 billion visits in April and1.5 billion visits in May and June respectively. This works out to an average of just below 1.5 billion views per month.
---
14. It Mostly Gets Direct Traffic
LinkedIn gets 72.47% direct traffic and 22.22% from search (of which 99.27% comes from organic search). The top organic keywords that drive traffic to its website are LinkedIn (55.21%), linked in (3.41%), linkedin login (2.29%), and linkedin learning (1.29%).
---
15. Only 0.92% of LinkedIn Traffic Is From Social Platforms
Between April 2022 and June 2022, LinkedIn got the most social media traffic from YouTube at 34.41%. During this time, other social sites directing traffic to LinkedIn included Facebook (27.18%), Twitter (13.81%), WhatsApp (7.20%), and Instagram (5.83%).
---
16. click.appcast.io Is Its Leading Traffic Referrer
As of May 2022, click.appcast.io was its top traffic referrer and accounted for more than 11.1% of referral traffic to its website. Github.com was in second spot and linktr.ee in third place.
---
17. More Than 80% of LinkedIn Users Also Use Facebook, WhatsApp, and Instagram
The Digital 2022: Global Overview Report found that most people have multiple social media accounts. In fact, only 0.2% of LinkedIn users have that as their only platform. More than 80% of LinkedIn users also use Facebook (87.8%), WhatsApp (82.6%), and Instagram (83.3%). Other popular social media platforms among LinkedIn users include YouTube, Twitter, and Pinterest.
So, if your audience is on LinkedIn, your social media strategy should focus on including these platforms too.
---
18. LinkedIn Is a Great Recruitment Tool in the US
As of June 2022, there are more than 186 million US workers with profiles on LinkedIn. What's more, over 97,000 companies use it for recruitment purposes.
LinkedIn also allows its members to select from over 38,000 skills to showcase what they can do. And, this feature is proving popular among companies as well. According to official LinkedIn statistics, 40% of companies on LinkedIn use the skills feature to identify job candidates.
---
19. The Best Time to Post Is Around Noon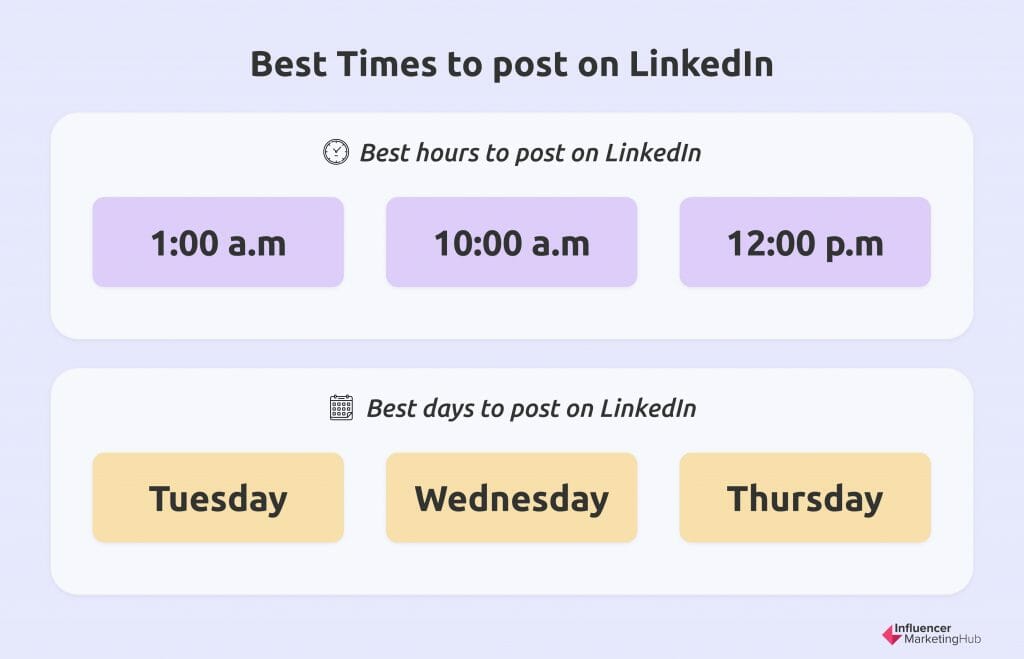 According to a blog post shared by CoSchedule, the best time to reach people on LinkedIn is when your target audience is on a break during a workday. This is typically around 12:00 p.m. or 10:00 a.m. Surprisingly enough, 1:00 a.m is also a good time to post.
The best hour-long periods to post are: 3:00 p.m., 10:00 a.m., and 2:00 p.m.
Then, with regards to day of the week (yes, that can also impact your results), they've found that the overall best day to post is on a Tuesday. Thursdays and Wednesdays are also good options. If you can, you should generally try to avoid the weekend (including Monday), at least according to their data.
Though, OkDork has found that Thursdays are, as a matter of fact, the best day of the week to post. Unlike CoSchedule's data, they've also found that Mondays and Sundays can get you better results than other days, surprisingly.
This just shows that you should always experiment on your own audience to discover which days they prefer for your posts.
---
20. Nearly a Third of US Adults Use LinkedIn
According to Statista, 31% of adults in the United States use LinkedIn.
---
21. Its Brand Awareness Is Better in the UK Than the US
According to Statista, LinkedIn's brand awareness is 80% in the United Kingdom. Of the 80% who were familiar with the brand, only 24% used it and 23% liked it. While they were less familiar with it than platforms like Facebook, YouTube, and Pinterest, it ranked higher than Reddit, Tumblr, and somewhat surprisingly Twitch.
Over in the United States of America, its brand awareness was much lower. The same study revealed that brand awareness of the platform over here was only 69%. That being said, more used and liked it. Of the 69% who indicated that they were familiar with the brand, 29% used it and 26% liked it.
Also, there was a bit of a bigger buzz around LinkedIn in the United Kingdom. In March 2022, more or less 20% of UK social media users had heard about it in the media (including social media) over the past four weeks, while only 18% of US social media users could say the same.
---
22. It's Most Popular Among People in Their Late 20s and Early 30s
The largest age group using LinkedIn worldwide, as of January 2022, is adults aged between 25 and 34. Nearly 60% of its users fall within this age bracket. It's followed by those in their early 20s, somewhat surprisingly. Users older than 55 only accounted for 2.9% of its audience.
---
23. It's More Popular Among Men
Considering that its ad audience is mostly men, it makes complete sense that it's mostly used by men. A Statista survey of global LinkedIn audiences by gender found that as of the beginning of 2022, 57.2% of LinkedIn audiences were men while 42.8% were women.
---
24. It's More Popular Among Urban Audiences
According to Pew Research Center's Social Media Use in 2022, 44% of LInkedIn users stay in suburban areas. About 53% live in urban areas, while those living in rural areas added up to 43%. The only other platforms that are used more often by suburban audiences are Reddit and Pinterest.
---
25. Most Users Earn Over $75,000
When sorted by income, the highest number of US adults that use LinkedIn are those with an income of $75,000 and more. It's then an even split between those that earn between $30,000 and $50,000 and $50,000 and $75,000. Only 12% of US users earn less than $30,000.
---
26. It's Used by More Than 58 Million Companies
The platform is also home to over 58 million companies. According to LinkedIn, however, some of these company profiles result from LinkedIn automatically creating company pages. They do this when a member adds an organization not on LinkedIn as part of their experience on their profile.
There are also 129,000 schools listed on the platform.
---
27. The App Isn't That Popular
If you don't have the app on your phone or didn't even know that it existed, you're not in the minority. According to data shared by Statista, as of March 2021, only 5.7% of LinkedIn app users are regarded as heavy users (in other words, users that access the app two or three times a month). What's more, according to data shared by App Ape, the majority of US LinkedIn users that use Android devices are regarded as inactive.
---
28. LinkedIn Remains the Preferred Content Distribution Channel for B2B Marketers
According to data shared by the 12th Annual Content Marketing Survey completed by the Content Marketing Institute, LinkedIn is the top social media platform among B2B marketers for sharing organic content. A whopping 93% of B2B marketers used it in the last year.
To put this popularity into perspective, Twitter and Facebook shared second spot with just over 80% indicating that they've used it in the past year. While Instagram is popular among B2C brands, only half of B2B content marketers used it in the last 12 months.
LinkedIn was also the most popular social media platform for paid campaigns with 80% of B2B content marketers using it in the last 12 months.
It's also rated the number one platform for B2B lead generation, according to their own data. Four out of 10 B2B marketers surveyed shared that the platform was the most effective channel for driving high-quality leads.
---
29. LinkedIn Content Is Made for Long-form Content
According to OkDork's findings, the longer the post that you share on LinkedIn, the better results you can expect. Longer posts perform generally very well on the platform. The ideal word count is between 1,900 and 2,000 words. When you post this length of post, you can expect more post views, likes, comments, as well as shares.
That being said, it shouldn't be at the expense of readability. You might be targeting educated exces (more than 50% of US adults that use the platform have a college degree, bachelor's or advanced), but they suggest the language usage should be aimed at an 11-year-old. To help you make your post easier to read, they suggest you should divide your post into five subheadings.
It's also important to keep the tone positive. However, keep it balanced. Neutral language posts that focus on stating the facts get the most shares and likes.
---
30. How-to Posts Perform Best
Still on the topic of content, OkDork has also found that how-to posts got the best results across the board. If this isn't really your style, you can also try writing and sharing a listicle. These types of posts also perform well and get slightly more shares, views, likes, and comments than other types of posts. Whatever you do, avoid writing your headline as a question. These posts perform poorly.
Then, with regards to headlines, OkDork's research suggests that it should be limited to between 40 and 49 characters. Titles of this length receive the greatest number of post views overall.
---
31. The Optimal Number of Images in a LinkedIn Post is 8
Perhaps surprisingly, posts with eight images receive the most views on LinkedIn by a considerable margin. You can't underestimate the power of a good picture. For whatever reason, posts with eight images receive considerably more views than those with seven or nine and nearly four times as many views as posts with a single image. If you do feel like you want to add more than eight, you should aim for 11 then. For some strange reason, posts with 11 images perform the second best. And, don't even consider uploading a post to LinkedIn without any pictures, as very few people spend the time to view picture-less posts.
For optimal effect, ensure that at least one of your pictures appears at the top of the post.
Though, if you think that video and other types of multimedia assets will get you better results, you would be very much mistaken. As much as LinkedIn's users like images in the posts they read, they have little time for videos or other multimedia assets. While including multimedia is better than having no images, the data shared by OkDork reveals that multimedia assets lead to fewer post views than just including static images.
Not all statistics agree on this point, however.
---
32. More Post Likes Lead to More Engagement
OkDork also found a correlation between the number of views and other LinkedIn metrics. According to the correlation data, more views equal more likes, shares, and comments.
To help you gain more views, they suggest that you add a call to action at the beginning or end of your post and promote it on other social networks. If you're planning to share it on other platforms, they suggest that you start with Twitter. According to their data, tweets have the highest correlation to LinkedIn success metrics.
---
33. Aim to Post Weekly
Organizations that post weekly on LinkedIn can generate twice the lift in engagement, according to stats shared by LinkedIn. What's more, adding to what OkDork found, their data suggest that images generally result in twice the comment rate. You can, for example, create a custom image collage with a few images. Reshare posts when others mention your organization on the platform to drive more engagement. You should also use hashtags to reach a wider audience.
---
34. The Majority of Marketers Plan to Use Video
Wyzowl found that 68% of video marketers plan to include LinkedIn in their 2022 video marketing strategy. This was up by 5% from 2021. After YouTube, LinkedIn proves to be the second major platform that they plan to leverage more in the future.
Considering that nearly 90% of people indicated that they would like to see more video content from brands in 2023, it's safe to say that this strategy will bear sweet fruits. Plus, LinkedIn's data backs this up. According to their stats, video gets five times more engagement. If you thought that was impressive, try live video — you can get up to 24 times more engagement.
---
35. PDFs and PowerPoints Can Also Be Effective
If videos or articles aren't your thing, LinkedIn suggests that you can try uploading a PowerPoint or PDF. They've found that their members enjoy behind-the-scenes content that focuses on a brand's unique values and culture. Another suggestion is to create a PowerPoint that places the spotlight on an employee.
---
36. Aim for At Least 150 Page Followers
According to data shared by LinkedIn, once a page has 150 followers, their opportunity for growth becomes exponential.
---
37. Amazon is the Company Account With the Most Followers
Amazon, Google, and TED Conferences are the LinkedIn company accounts with the most followers, according to LinkedIn. Amazon has 28.5 million, Google has 26.9 million, and TED Conferences has 23 million followers.
Other organizations that have made the Top 10 include Microsoft, Forbes, Unilever, IBM, and Harvard Business Review.
---
38. Bill Gates Has the Most Followers
The LinkedIn personal accounts with the most followers are: Bill Gates (about 35 million followers), Richard Branson (nearly 20 million followers), and Jeff Weiner (almost 11 million followers).
Other individuals that made the Top 10 list include Arianna Huffington, Tony Robbins, and Simon Sinek.
---
39. Every Minute 6 People Get Hired
According to LinkedIn's own statistics, each week, 50 million people use the platform to search for jobs. And, their efforts aren't in vain.
Every second, 95 job applications get submitted, while 6 people get hired every minute on LinkedIn.
Data revealed by LinkedIn reveals that in October 2022 some of the most popular industries for hiring were transportation, logistic, consumer service, financial services, and construction.
---
40. India Is the Most Popular Hashtag
Twitter, TikTok, and Instagram aren't the only social media platforms where hashtags can be used effectively. On LinkedIn, the hashtags with the most followers are: #India, #innovations, #management, #HumanResources, and #DigitalMarketing.
The hashtag India, for example, has nearly 68 million followers.
Other popular hashtags include: #technology, #creativity, #future, #entrepreneurship, and #careers.
---
41. It's One of the Fastest Growing Brands Worldwide
According to data shared by Statista, LinkedIn is the seventh fastest growing brand across the globe in 2022 boasting an annual brand value growth of 63%, just 1% behind Louis Vuitton. In first place it's Cartier with an annual brand value growth of 88%.
---
Wrapping Things Up
These LinkedIn statistics can help you understand the platform and how most marketers use it. Use these insights to plan an effective LinkedIn marketing strategy if you don't use it already or make informed choices to your current strategy.
If you're yet to start using it, now is the time, in particular if you operate in the B2B industry. Your competitors are on it, and you need to be where your target audience and clients spend their time. Plus, if the COVID-19 pandemic has taught as anything it's that communities play a critical role. And, sometimes, it's better to have that community online and with LinkedIn that's easy.