LinkedIn is the world's largest professional network with over 660 million users from 200 different countries. This makes it too big of an opportunity for you to ignore.
It is especially great for B2B marketers as the platform has over 63 million decision-makers from different companies and industries. This presents an unmatched opportunity for B2B marketers to connect with potential clients and generate qualified leads.
And, these are just two of the many LinkedIn stats that can convince you of its value as a marketing platform, especially for B2B marketers. But is LinkedIn just meant for B2B marketers? No! Anyone can benefit from LinkedIn by establishing a solid presence on the platform and amassing enough followers. All you need is a push in the right direction and that's what we are here for.
In this post, we will discuss 7 of the best LinkedIn marketing tips with you that actually work. You can use them to build your brand on LinkedIn and beyond.
7 of the Best LinkedIn Marketing Tips:
---
1. Create and

Optimize

Your LinkedIn Company Page
Your company page is the first place a user will land if they search for you. It is what will form the first impression of your company in a user's mind.
What does that mean for your LinkedIn marketing strategy?
It means that it is very important that you create an impressive company page with all of your relevant details. It should have all the details about your company including the correct spelling of your name, email address, actual address, and other contact details. You should also mention your products and services and your website URL.
Last, but not the least, pay extra attention to filling out the company description. You should use this space to tell your brand story and what makes you unique. This is your chance to connect with potential leads and impress them, so don't let it go to waste.
Wait, but what about the visuals? The visual aspects of your profile are just as important, so, don't forget about them.
Your profile picture should ideally be your company logo. Your banner image could be anything from a picture of your office to a picture promoting your latest product launch. This you can keep changing from time to time and can use it for a variety of purposes. Also, remember to follow the image size guidelines for both to avoid weird-looking or cropped images.
Next, comes the optimisation of your LinkedIn profile.
Just like with SEO you can optimise your company page by adding relevant keywords. That way, when someone searches for such keywords, your page will show in the search results. So, do your research and pick the right keywords that you want to rank for.
---
2. Post Useful and Engaging Content
LinkedIn is a professional network where people from different industries come to learn about the happenings in their industry and join relevant discussions. Contrary to popular belief, it is much more than just a job portal. A lot of people spend time reading valuable content on LinkedIn, posted by other experts in their field.
What does that mean for you? This provides you with a unique opportunity to establish yourself as an industry thought leader and build your own following. You can do that by writing about trending industry topics and giving your unique viewpoint on it.
Here are some useful ideas on what kind of content works on LinkedIn:
Blog posts on current and trending topics

that provide actionable insights to your target audience.

Another popular type of content on LinkedIn is

industry research

. You can provide statistics or other information on what's happening in the industry.

You can also share

the latest industry news

as that is something a lot of your audience might be interested in.

Listicles work well on LinkedIn

just like they do on any other platform. People like it when you make a specific promise and then deliver on it.

You can also use this platform to tell your followers

what's happening with your company

. Whether there is a new product launch or an event that is about to happen, you can share it all with your professional network.
Also, remember to add a website link to all the content that you post on LinkedIn. This is a subtle, yet effective, way of driving website traffic via LinkedIn.
---
3. Leverage LinkedIn Search to Generate Leads
LinkedIn is the largest professional network in the world and is a potential goldmine for B2B companies searching for leads. Almost all employees of all major companies are present on the platform. That is like a database, but free.
Leverage this opportunity by using LinkedIn's advanced search feature. It provides various search filters like location, company, past company, industry, and a lot more. You can use these to find decision-makers in different companies that you want to target.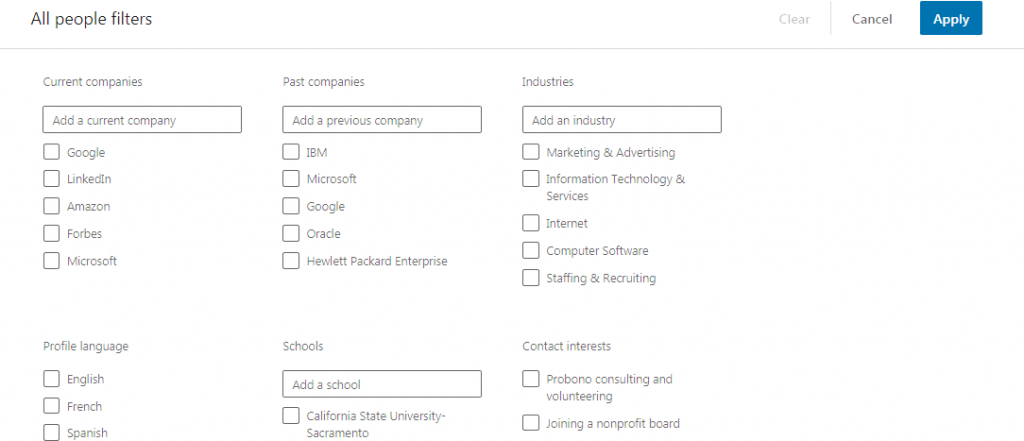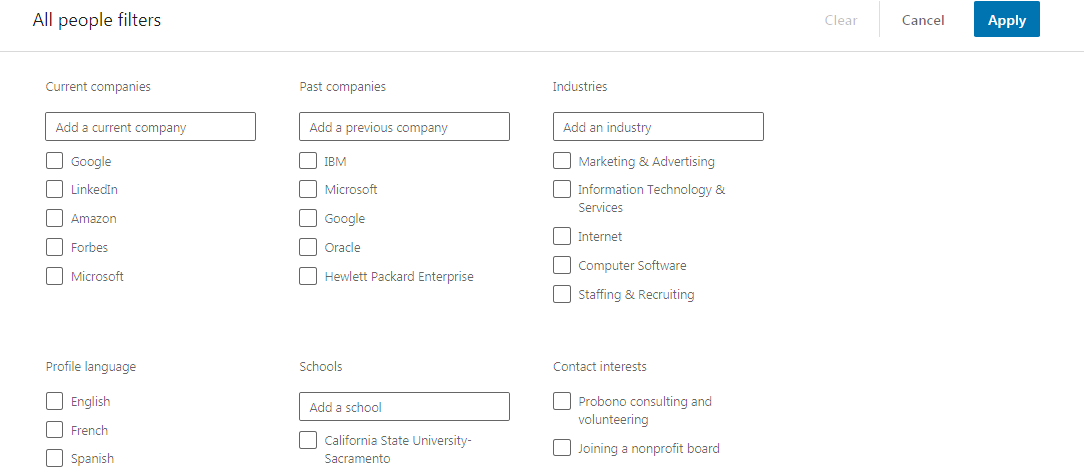 ---
4. Join and Participate in Relevant Groups
LinkedIn Groups are quite impressive when it comes to finding a niche audience interested in a particular topic. These groups provide people with similar interests with a place to discuss different topics, ask questions, and get their queries resolved.
You can look for groups within your industry or niche where you can actually contribute. However, it is not enough to simply join a group and be a passive member. You need to actively participate in discussions, post content, answer questions, etc. to get noticed. This will, again, help establish you as an industry expert and can grow your following on LinkedIn.
---
5. Sponsor Your Winning Posts
As we all know, some of the content that we create works and some doesn't.
The smart thing to do is capitalise more on the content that does well to get the maximum benefit out of it. That is where LinkedIn's "sponsored content" option comes into play.
Wait… What is sponsored content?
Sponsoring content is basically like native advertising on the platform. You can sponsor your best content to have it shown on the feeds of your target audience even those users outside of your professional network. This increases the reach of your content and gets it more views from the right audience. This is an excellent way to market yourself and get noticed by the bigshots in different companies, who could be potential clients.
---
6. Invest in LinkedIn Ads
There are two types of advertising options available on LinkedIn—self-service advertisements and managed campaigns. As the name suggests, the first option is for those who want to create and run ad campaigns on their own. Similarly, the second option is for those who want support in doing so. Both provide different options on the type of ads that you can place.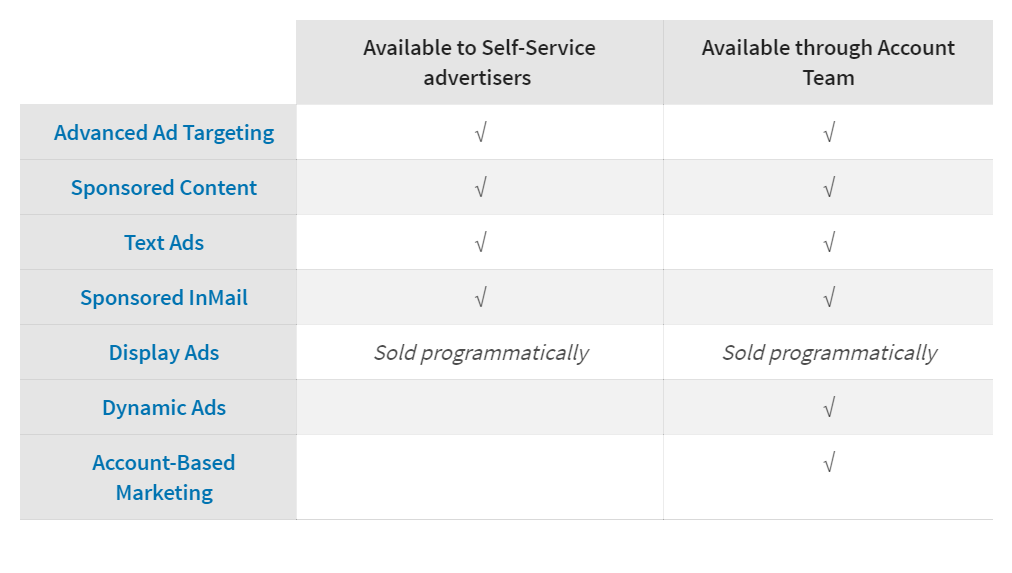 No matter which way you go, there's a lot that you can do with LinkedIn ads. LinkedIn's campaign manager tool provides numerous audience targeting options that can help you display your ads to the right people at the right times. It also has a "Matched Audiences" feature that provides you with the option to retarget people that have interacted with your business in the past.
Not everyone converts in the first go and that is why remarketing is an excellent strategy to convert people already in your sales funnel. Overall, LinkedIn ads can help you reach both new consumers and consumers who did not convert earlier. You can explore the LinkedIn advertising options to find out which type works best for your business.
Here are the three main types of ads that you can place on LinkedIn:
Types of LinkedIn Ads
Sponsored content, sponsored InMail, and text ads are the three types of LinkedIn Ads. We have already discussed sponsored content in earlier sections, so let's just focus on the other two.
Sponsored InMail
These ads appear in the InMail of a user, just like a message or notification. They do not look like ads at first glance.
Below is an example of a sponsored InMail type ad: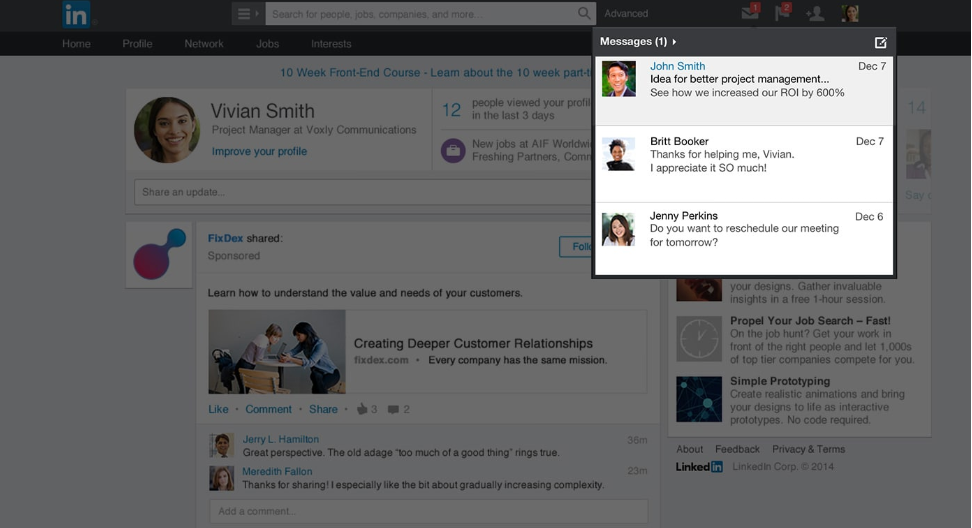 Text Ads
These are the ads that appear on the side of a user's news feed and look more like suggestions on what to read next.
Here's an example of how text ads appear on LinkedIn: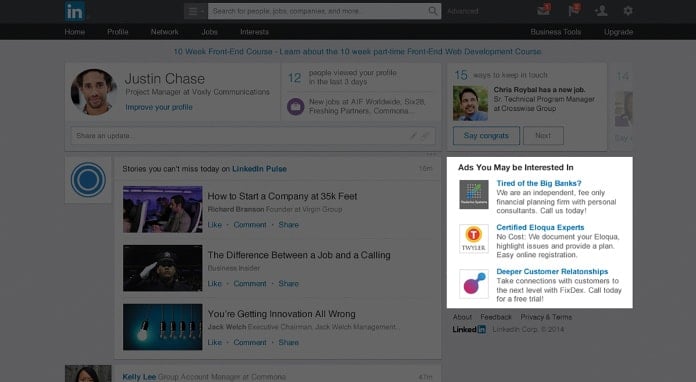 ---
7. Leverage LinkedIn Analytics
No marketing initiative is complete if you don't track and measure its performance. LinkedIn has a built-in analytics tool that can help you see how your efforts on the platform are going. Using the "Company Page Analytics" feature you can assess how your company page is performing. You can specifically see which updates are getting the highest engagement and which ones are a complete failure.
You can then use those insights to fuel your future marketing efforts and create more engaging content. So, if you haven't used LinkedIn analytics yet, try it now.
---
Conclusion
Ready to take your LinkedIn marketing initiatives to the next level? Use these tips and see your LinkedIn marketing efforts come to fruition. These are tried-and-tested tips that will surely help you as they have helped so many before you. Use these to your advantage to improve your LinkedIn marketing efforts in 2020 and beyond.