As interactions increasingly take place online, businesses are taking to digital platforms to grow their network and raise brand awareness. To keep up with this trend, social media platforms are also coming up with new tools and features that will make it easier for businesses to have thriving online interactions. LinkedIn Events are one of those new features, providing businesses with a useful tool to strengthen their connection with the audience.
In this guide, we take a deep dive into what LinkedIn Events are, why you need them, and how you can make the most of them for your LinkedIn marketing. Let's find out.
---
The Marketer's Guide to Using LinkedIn Events for Promoting Your Online Events:
---
What are LinkedIn Events?
LinkedIn Events is a feature that lets you create an event within the platform and share it with your audience. The event page will contain all the essential info about your event, such as the name, timing, and description. As people sign up for the event, it'll also display the number of attendees who have signed up so far. In short, it's like a promotion page dedicated to your event.
You can use LinkedIn Events to promote both online and in-person events. For offline in-person events, the venue is promoted through your LinkedIn Events page. Online events can take place either within LinkedIn or outside of LinkedIn through a third-party platform. For events that are taking place online through LinkedIn Live, you'll find a "Live Video" tag at the top.

You can find upcoming events by clicking on the "Events" button from the left-hand panel of your LinkedIn home screen. This will display some of the leading events that LinkedIn recommends for you.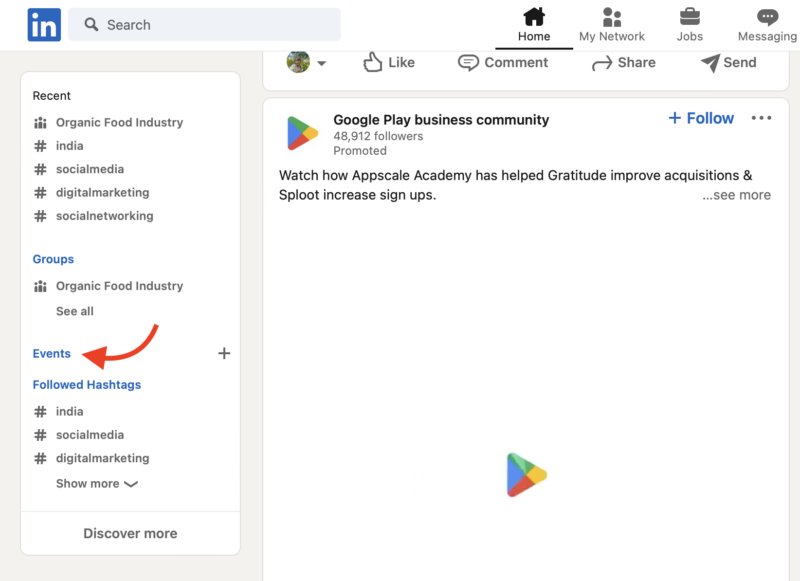 ---
LinkedIn Events vs. LinkedIn Live: What's the Difference?
It's important to note that there's a clear distinction between LinkedIn Events and LinkedIn Live. LinkedIn Live is a broadcasting tool that allows you to stream live videos within the platform. Meanwhile, LinkedIn Events is a promotion tool that allows you to create an event page and promote different types of events, including your LinkedIn Live sessions.
---
Reasons to Use LinkedIn Events
Wondering whether it's worth investing in LinkedIn Events? Here are some of the top reasons why you should consider leveraging this feature:
1. Cost-effective
You can create an event for free on LinkedIn. Plus, you can invite your connections for free. This gives you a cost-effective solution for promoting your online event and attracting a massive audience.
2. Flexible
While this guide will focus exclusively on using the feature for promoting online events, LinkedIn Events can also be utilized for promoting offline events. The feature is highly flexible, allowing you to promote online events that are taking place either within or outside of LinkedIn.
3. Access to promotional tools
LinkedIn offers both organic and paid promotional tools to help bring visibility to your event. Within the platform, you can share the event as a post or send it with a personalized message to your connections. Alternatively, you can share it to other social networks such as Twitter and Facebook. You can even copy the link and share it through your newsletter to drive more people to your LinkedIn Events page.
For those who want an even bigger reach, you can use LinkedIn ad tools to promote the event. That way, you'll be able to get the event in front of people who aren't connected to you but may be interested in attending.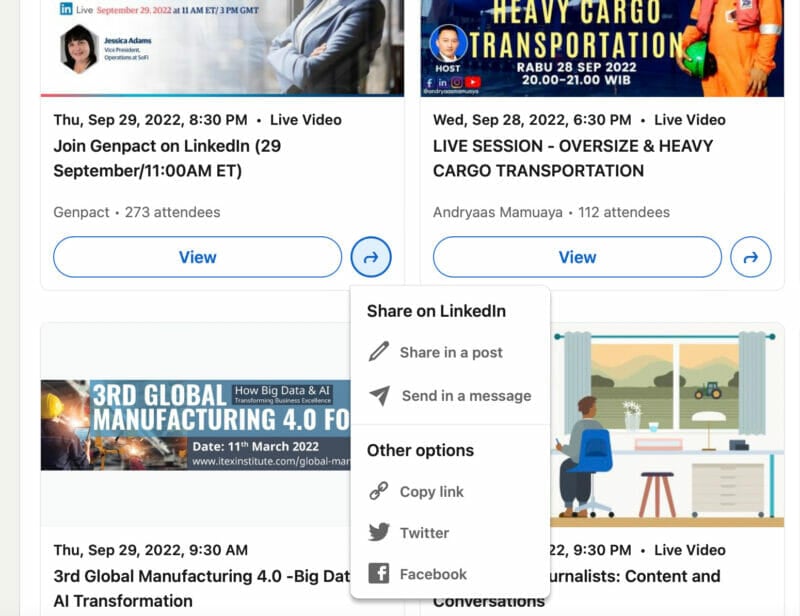 4. Analytics features
Another major reason to use LinkedIn Events is the ability to prove ROI. LinkedIn Events come with robust analytics features so you can easily measure the performance of your event. Available to only organizers, the analytics feature shows you details such as:
Total number of event attendees

Total number of unique event visits

Job function of attendees and visitors

Peak number of viewers (for events hosted through LinkedIn Live)

Event post engagement
---
Steps to Get Started with LinkedIn Events
Now that you know what benefits LinkedIn Events offer, you may be excited to start using the feature. You have two options to create an event on LinkedIn–from your personal profile or from your business page. Follow the steps below to create your very first LinkedIn Event.
Step 1: Setting up your event
From your personal profile, click on the "Event" button just below the new post window. This will open a pop-up window asking you to upload a cover photo. Choose the cover photo you want to upload.

Alternatively, you can also create a new event directly from your brand page. Through the admin view, click on the "Admin tools" dropdown at the top right-hand corner of the page. Then select "Create an event."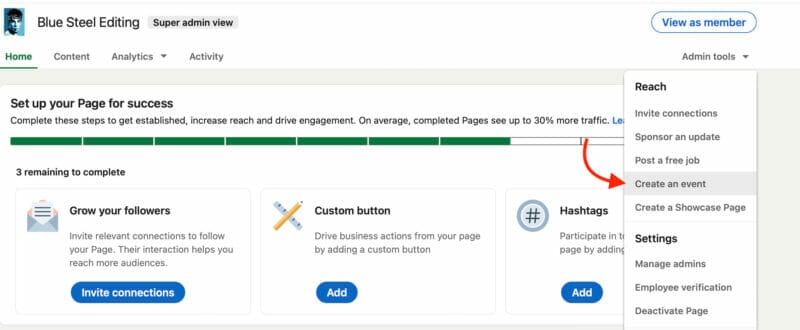 From the drop-down option, choose the organizer of the event. This can either be your personal profile or your brand page.
---
Step 2: Provide event details
Scroll down and select whether the event will take place online or in-person. After this, you'll need to choose the format of the event. LinkedIn Events support three types of online events–LinkedIn Audio Event, LinkedIn Live, and External event link. If you're hosting the event outside of LinkedIn, you'll need to manually add the link to the event page.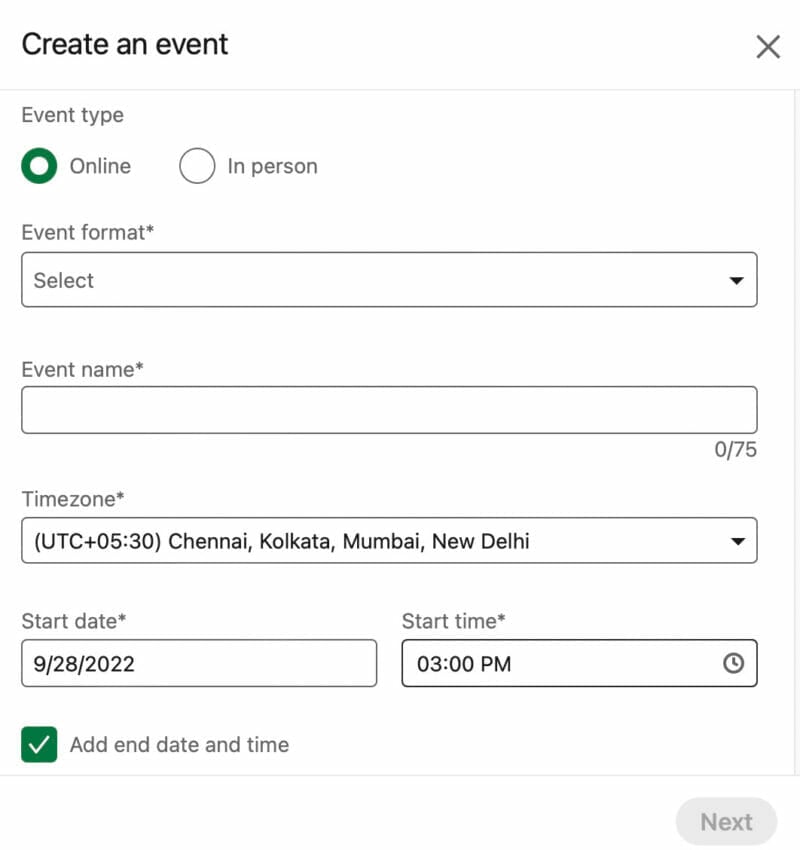 Next, enter other essential details of the event such as the event name, time zone, and start date and time. If the event's going to be time-bound, you can also add an end date and time, which will make it easier to maintain your schedule.
---
Step 3: Add a description
Although not a requirement, we also recommend adding a description. This can give your audience an idea of what the event is about and what to expect. Plus, you can also use the description to include other essential details about the event that's not automatically included in your event page. LinkedIn lets you write a detailed description of up to 5,000 characters.
Ideally, you should include relevant keywords in your description. This will maximize your event's visibility on LinkedIn search. So, when someone conducts a search using a given keyword, your event has a chance of showing up in their search results. That way, you can drive more visitors to your event page and increase your attendees.
---
Step 4: Add speakers
If you're having speakers in the event, you can also choose them from your connections. The confirmed speakers will then be displayed in your event Details section as shown below.
---
Step 5: Create your event
After adding all the necessary details for your event, click on "Next." This will automatically open a new pop-up window where you can share the event as a new post. Add a post description and relevant hashtags to finish setting up your event.
Now your event page is all set up containing all the important details such as the timing and description. People can react to the event or comment on it, which is a great way to gauge people's thoughts on the event. You can also click on the "Add to calendar" button to set up a reminder for the event.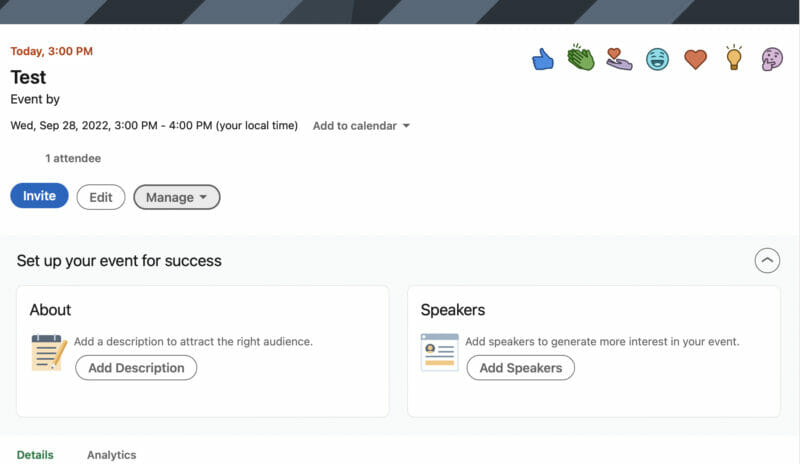 ---
Step 6: Invite attendees
Once your event's posted, LinkedIn will give you the option to invite attendees. Click on the "Invite" button and choose the people you want to invite to the event. You can filter your connections based on criteria such as location, current company, school, or industry.
After making your selection, click on "Invite" and that's it. An invite will be automatically sent to the people you've selected.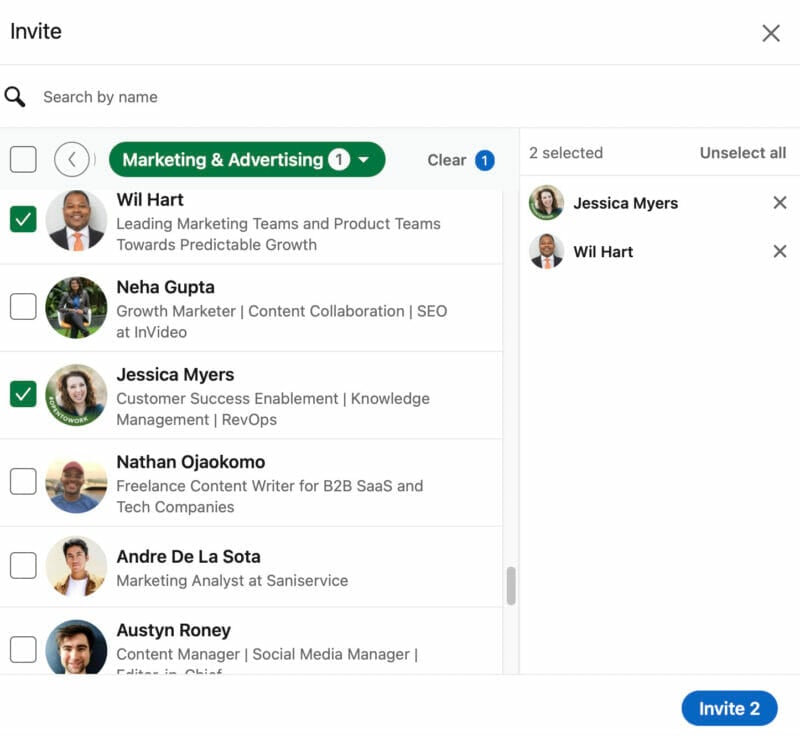 ---
Best Practices to Use LinkedIn Events for Promoting Your Online Events
While it's easy enough to create an event on LinkedIn, there's more to it than simply setting it up and sharing it with your connections. To effectively promote your event and grow your attendees list, here are a few best practices on using LinkedIn Events.
Engage with your invitees and attendees. After sending out invites, try to follow up with a personalized message to your connections and encourage them to participate. If any of your attendees are outside your network, send them a connect request to expand your network.

Be strategic about whether to make the event open to the public. If you're just starting to grow brand awareness, making it available to the public is an ideal option. However, requiring registrations is an effective way to generate valuable leads for your brand.

Include an attractive cover photo. The photo should immediately catch the audience's attention and draw them into your event page. It should include key details such as the format and timing as well as branding imagery. If you're having speakers, make sure their photos are also included in your event cover photo.
Although you can use external platforms to host the event, hosting it within the platform may be a better option. That way, you can prevent potential attendees from dropping off while they switch to a different platform.

Monitor conversations in your event chat to see what people are saying. Are they asking questions or bringing up concerns? Perhaps they're mentioning some topics they want covered during the event. These are all excellent insights to inform your event and provide better value to your audience.

Choose a timing that works universally. Although this isn't always possible, try to adjust your schedule to accommodate as many people as possible. For example, an event scheduled for 9 am CST may not necessarily work since it's just 7 am for those living in the West Coast.
---
Ideas for Using LinkedIn Events
Love the idea of using LinkedIn Events but not sure what to do with them? Check out some of these event ideas that you can use as inspiration.
Organize workshops
Workshops help people to learn new things and extract value from your event. You can use LinkedIn Events to organize workshops that allow your audience to learn important lessons. These workshops should be relevant to what your audience needs, and it should address some of their major challenges.
For example, Kim Kaupe, founder of Bright Ideas Only, created the following mini-workshop event teaching attendees how to perfect their resume. The workshop helped the audience learn how to effectively communicate their value and prepare to go after their dream jobs.
---
Host networking conferences and summits
LinkedIn Events are also an effective way to grow your network and connect with people in your industry. As such, you should consider organizing conferences and summits through LinkedIn Events. You could feature thought leadership events and panel discussions that are relevant to your industry. Make sure to create engagement and interaction opportunities to grow your connection with attendees so you can turn them into valuable connections.
For example, the Institute for Technological Excellence organized the Global Manufacturing 4.0 Forum. The conference was intended to attract industry experts and discuss practical examples, challenges, and implementation in the industry. It garnered over 3000 attendees from all over the world.
---
Host Q&A sessions/interviews with industry experts
Another option is to focus the event on an industry expert (or several). Turn it into a Q&A or interview session where they address some key concerns and questions related to the industry or to a specific product. Experts could also share predictions on how the landscape is changing and give practical takeaways on how the audience can prepare.
---
Making LinkedIn Events Work for Your Brand
With the right approach, LinkedIn Events could be a great way for your brand to promote an upcoming online event. Make the most of the ideas and best practices shared above to start leveraging this feature.
Frequently Asked Questions
How does an event work on LinkedIn?
An event on LinkedIn serves as a promotional page that hosts all the necessary event-related information. Both organizers and attendees can share the event and encourage their network to attend.
How do I view events on LinkedIn?
You can view events on LinkedIn by clicking on the "Events" button from the left-hand panel of your page.
How many people can you invite to a LinkedIn event?
LinkedIn lets you send out 1,000 invitations per week for your event.
Do LinkedIn Events send reminders?
Reminders will be sent out several times to your event attendees–7 days before, 3 days before, and the day of the event.
Are LinkedIn Events public?
All LinkedIn Events are fully available to the public and will be visible in search even for those outside your network.