You already know LinkedIn as a valuable networking tool, connecting you to like-minded professionals across industries. But did you know that LinkedIn also has a powerful ad platform?
If adding yet another advertising platform to your plate sounds daunting, don't worry. We have everything you need to know about how to run LinkedIn ad campaigns right here, even if you're a complete beginner. Let's get started by exploring the different types of LinkedIn ad campaigns you have available to you.
---
How to Run LinkedIn Ad Campaigns: A Beginners Guide:
---
Linkedin Ads ROI Calculator
LinkedIn Ads ROI Calculator
4564
Total estimated leads
---
Types of LinkedIn Ad Campaigns
LinkedIn offers four different types of ad campaigns so you'll always find a LinkedIn ad that works for you and your target audience.
The type of campaign you choose will depend on several factors:
The objective of your LinkedIn ad campaign

Your target audience

Your LinkedIn advertising budget
---
Sponsored Content
Sponsored content shows up right in the LinkedIn feed of the people you want to reach. This LinkedIn ad campaign type has three different formats: single image ads, video ads, and carousel ads.
With sponsored content ads, you can:
Use profile-based, first-party data to target your most valuable audience

Reach an engaged audience across desktop and mobile platforms with native ads

Use every stage of your sales cycle to drive leads, build brand awareness, and nurture important relationships
To get the most out of your sponsored content ads, here are some best practices you can follow:
Keep ad copy short. Headlines should be under 150 characters with descriptive copy under 70 characters.

Use a clear call to action (CTA) so your audience knows what you want them to do.

Be specific with ad targeting.
---
Message Ads
Message ads are a great way to reach out to prospects via LinkedIn Messaging. With this LinkedIn ad campaign type, you can:
Message prospects directly within LinkedIn

Increase engagement and response

Find out which roles and companies are taking action on your message (so you can adjust your strategy as needed)
Here are some best practices to make your message ads shine:
Optimize your LinkedIn profile

to show message ad recipients that you're credible

Keep your message ad to fewer than 500 characters

Don't use "not interested" CTAs
---
Dynamic Ads
Dynamic LinkedIn ad campaigns make personalizing your ads really easy with LinkedIn profile data. There are three different formats for dynamic ads:
Follower ads

help you promote your LinkedIn or Showcase page and encourage your target audience to follow you.

Spotlight ads

let you highlight a specific event, product, or anything else, encouraging visitors to take action and driving website traffic.

Jobs ads

help you increase applications to your open positions from top talent.
Keep your dynamic ads converting with these best practices:
Include a single message and CTA on each dynamic ad

For follower ads, be sure to exclude your current followers

Use pre-set templates that include macros so you can set the member's name and company to appear in the ad text



---
Text Ads
Text ads through LinkedIn are simple but effective pay-per-click (PPC) or cost-per-impression (CPM) ads. Using this LinkedIn ad campaign type, you can:
Create your own ads to launch an ad campaign in minutes.

Use the right messaging to connect with the right people.

Only pay for the ads that work.
Follow these best practices to help your text ads stand out:
Address your audience directly

Include a relevant image

Use a strong CTA
---
How to Run a LinkedIn Ad Campaign
As you can see, LinkedIn has a powerful ads platform that you can put to work to easily connect with the people most receptive to your offers.
But how do you actually run LinkedIn ad campaigns?
Fortunately, it's easy to add LinkedIn ad campaigns to your LinkedIn marketing strategy.
---
Step 1. Choose Your Objective
To run the most effective LinkedIn ad campaign, you need to start by deciding what you want your ad to achieve. LinkedIn ad campaigns let you choose from three objectives: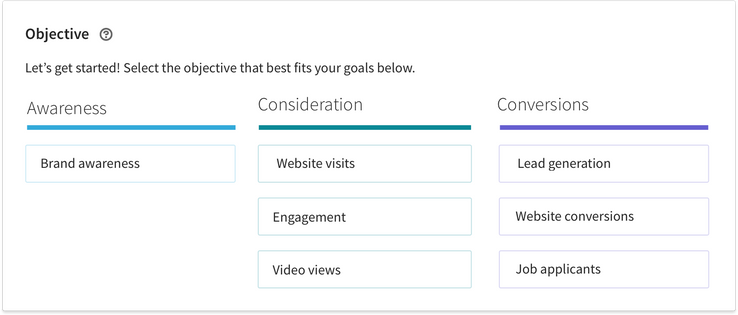 Awareness:

build brand awareness using LinkedIn ads

Consideration:

set goals around website visits, engagement, or video views

Conversion:

use ads for lead generation, website conversions, and job applicants
Once you've chosen an advertising objective, you'll be able to choose your target audience.
---
Step 2. Set Your Targeting Criteria
Targeting your ad campaign messaging to the right audience is vital for success. With LinkedIn ad campaigns, you'll be able to target the exact audience you want using audience attribute categories including:
Company name or size

Member schools, interests, or groups

Job title, seniority

Skills

...and more
You'll start by choosing the location and language for your target audience: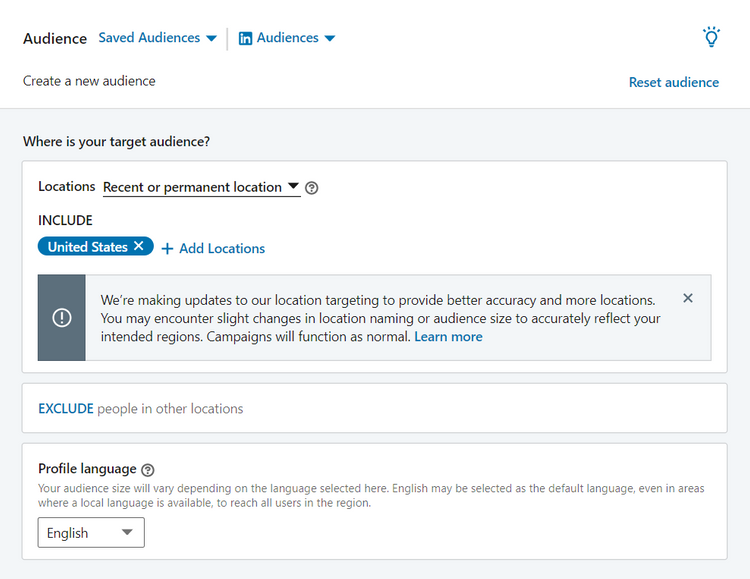 After that, you'll be able to fine-tune your target audience using audience attributes: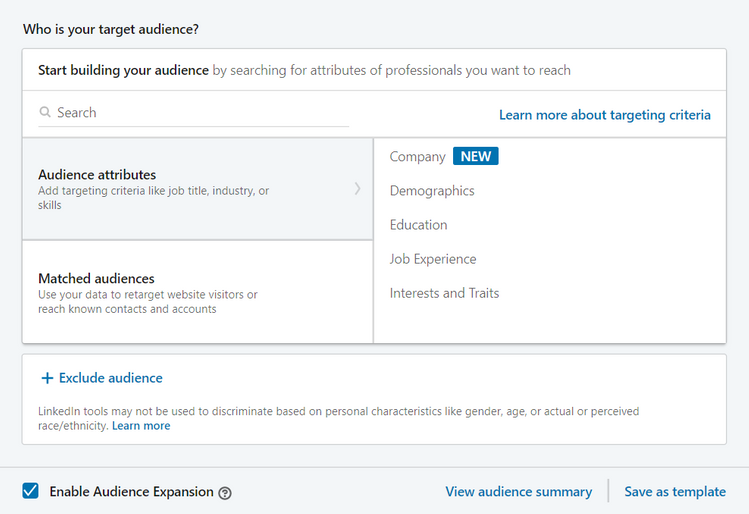 Take the time to match your ad targeting to the right audience and you'll enjoy higher engagement and conversion rates.
Once you start adding criteria for your target audience, you'll see an option to narrow your audience further by adding more criteria. You can also keep your ad from showing up for certain people by excluding attributes.

---
Step 3. Choose Your Linked Ad Format
Once you have the perfect audience targeted, it's time to choose the LinkedIn ad campaign format you want to use.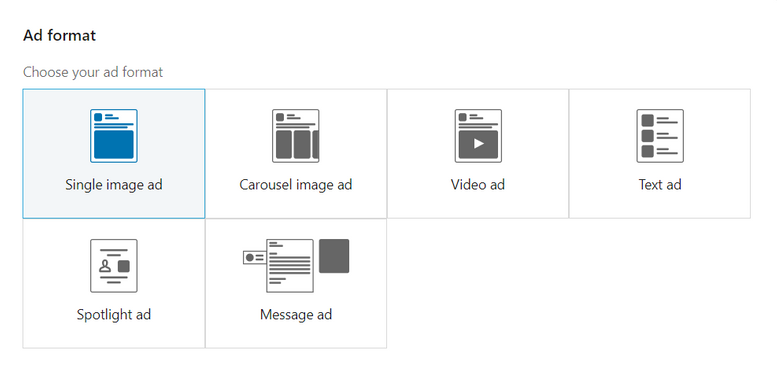 Each ad format has specific requirements and you'll see notifications under the ad format selection showing what those requirements are.
For example, if you choose a single image ad and don't already have a LinkedIn company page or showcase page associated with the ad account, you'll be shown a warning that you have to add one:

---
Step 4. Schedule Your Ad and Set Your Budget
Now it's time to schedule your LinkedIn ad campaign and set a budget.
You have the option to set a daily budget or both a daily budget and a total budget. When setting your daily budget, note that your ad spend could be up to 20% higher than your budgeted amount due to campaign timing.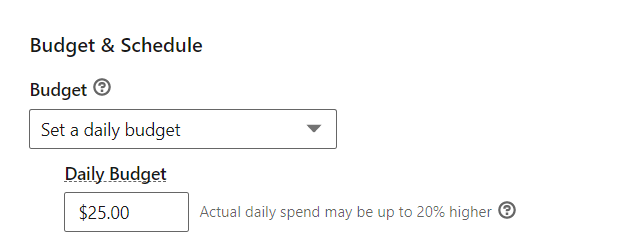 After setting your budget, you can schedule your ad campaign to run continuously from the start date or schedule it with a start and end date:

For some ad types, you'll also be able to set your bid type: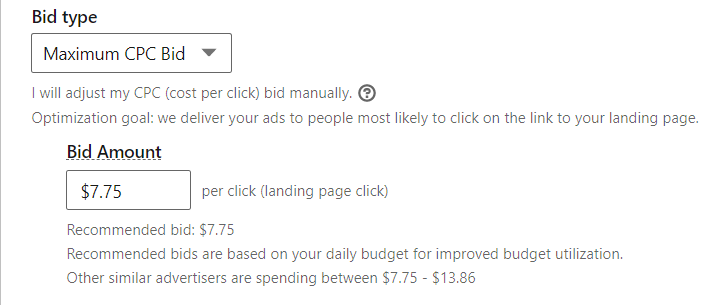 ---
Step 5.Set up Conversion Tracking
Next, you'll need to set up conversion tracking. Conversions are the actions that you want visitors to take and can include anything from downloading content to registering for an event to making a purchase.
To add conversion tracking, start by clicking + Add conversions.

This will bring up the Create a conversion page where you can name your conversion and enter the conversion tracking parameters you want.
To set up conversion tracking for purchases, for example, choose Purchase from the action dropdown: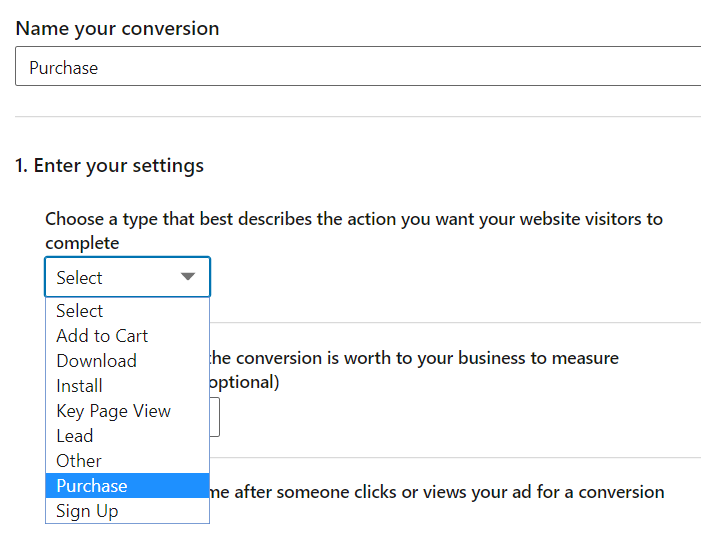 Then, enter how much the conversion is worth to your business. This helps measure return on ad spend (ROAS). We recommend using your average order value here.

You can also set your attribution model and how long after your ad is clicked or viewed that an action can be counted towards conversions: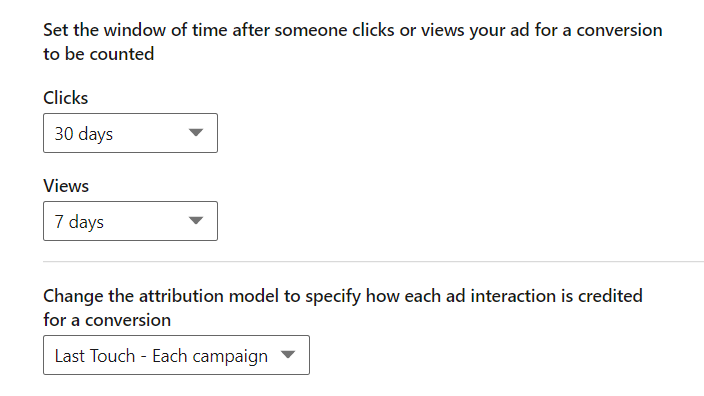 Finally, choose how you want to track your conversions from your LinkedIn ad campaigns, either with a site-wide Insight Tag or using an event-specific pixel.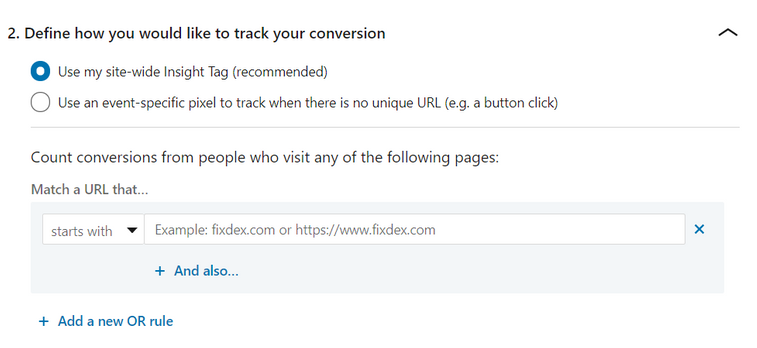 After your conversion-tracking is in place, you're ready to click Create.
---
Step 6. Build Your Ad Creatives
Building your LinkedIn ad campaign creative content is easy with the LinkedIn Campaign Manager. Simply click Create new ad, upload your image, and add your headline, description, and URL. You'll also see a preview of your ad campaign on the right-hand side of the screen.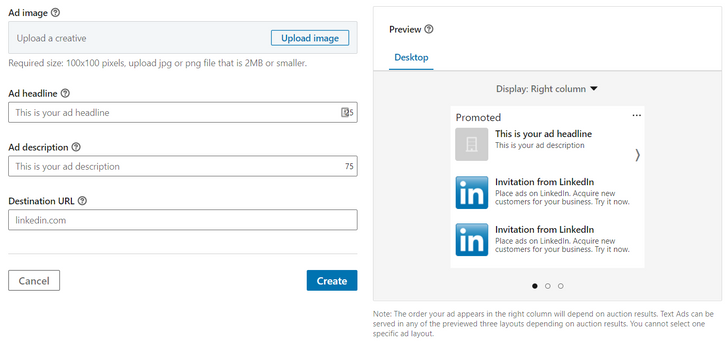 When your ad looks the way you want, click Create. You'll have a chance to preview your ad before you launch.
Need more help in creating the perfect ad? Check out our guide to LinkedIn ad specs.
---
Step 7. Monitor and Optimize Your Ad Campaign
After your LinkedIn ad campaign is live, the fun really begins! Using the LinkedIn Campaign Manager you can see how your ads are performing.
On the LinkedIn Campaign Manager, you can track impressions, clicks, social actions, and budgets, both overall and for each campaign.
This gives you the information you need to make data-driven marketing decisions. Based on your ad campaign's performance you may want to refine your targeting, adjust your budget, edit your ad creative, or toggle ad variations on and off.
---
3 High-Impact LinkedIn Ad Campaign Strategies
Now that you know how to run LinkedIn ad campaigns, it's time to step it up. Here are three key LinkedIn ad campaign strategies that will take your ad campaigns to the next level.
Use Your Ads to Tell a Story
Good stories sell. You can bring storytelling into your LinkedIn ad campaigns to create an emotional connection with your target audience.
Start with your target audience in mind. Who are they? What do they like? What kind of stories will resonate with them?
Map out your story so it fits into the LinkedIn ad format you're going to use. Carousel ads with a series of images are great for creating a narrative
Take a look at this example from the Showtime series Penny Dreadful.
Showtime used just four images to tell viewers the story. You can do the same in your LinkedIn ad campaigns.
---
Target Decision Makers
The greatest ads in the world aren't going to matter if you're showing them to people who can't act on them. Instead of showing your LinkedIn ad campaign to everyone who might be interested in your product or service, why not share it with the people who are interested and can make the decision to buy?
With LinkedIn, you can target specific job titles so think about who will be making the decision on purchases and target them.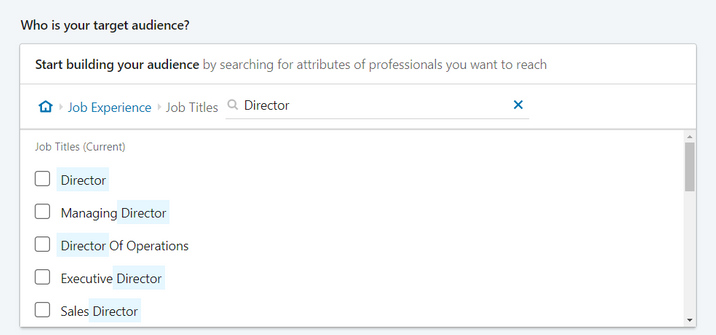 ---
Show Immediate Value
An ad needs to immediately answer the question everyone who sees it will ask:
Why should I care?
Make sure that the value proposition for your product or service is readily apparent and really highlight how you are uniquely poised to solve the ad viewer's pain points.
Here's an example of what we're talking about from Zola:
Anyone who sees this ad immediately knows that Zola will build them a customized wedding checklist and why that matters ("no two weddings are the same").
---
Wrapping Up
Now that you know how to run LinkedIn ad campaigns, have fun with it! An enormous part of growth is experimenting and with the LinkedIn Campaign Manager you can track how your experiments are performing so you know what works and can stay on top of your LinkedIn ads cost.