Budding entrepreneurs, small businesses, and solopreneurs are always on the lookout for tools to build their websites without learning the art of coding. Squarespace is one such tool.
Squarespace is a package deal with inbuilt eCommerce checkout tools, a custom domain name, and SSL certificate protection. Squarespace websites benefit from its wide range of features and inexpensive plans.
Build a list of eCommerce & D2C companies based on attributes made possible for the first time with Commercepedia
---
The Top 20 Squarespace Websites:
---
Squarespace and its Award-Winning eCommerce Features
Big companies using Squarespace prefer it for its prominent features and its use in the eCommerce market. Some of these features include:
Over 60 Design Templates
While building a website, it's the presentation that draws in traffic. Squarespace has more than 60 templates to choose from. While these may not be as many as WordPress or Shopify, they do, however, ensure that websites get the maximum traffic they deserve.
Business people can choose from the selected templates and easily create the website of their dreams since these are custom-made to suit exquisite design standards.
With a little extra touch of HTML and CSS, you can transform the platform into the kind of website you have in mind for your business.
Create the Perfect Logo
Squarespace offers symbols, texts, and graphics of magnificent caliber to use in creating logos for business websites.
Although Squarespace offers limited options for creating logos, businesses can make the most of the ones available.
Cover Page Supremacy
What majorly attracts solopreneurs and businessmen alike to Squarespace is its easy-to-operate drag-and-drop technique. Brands using Squarespace make the most of this feature to create alluring cover pages.
Apart from these, Squarespace has DDoS tools and regular security updates, making it a tad easier for business people to ensure regular updates. Top eCommerce companies using Squarespace understand its value and ability to generate traffic on their websites and make them look attractive.
---
Top 20 Websites Using Squarespace to Perfection
Websites using Squarespace are a few too many. Let us have a look at some renowned ones that use it to its full potential:
1. Etsy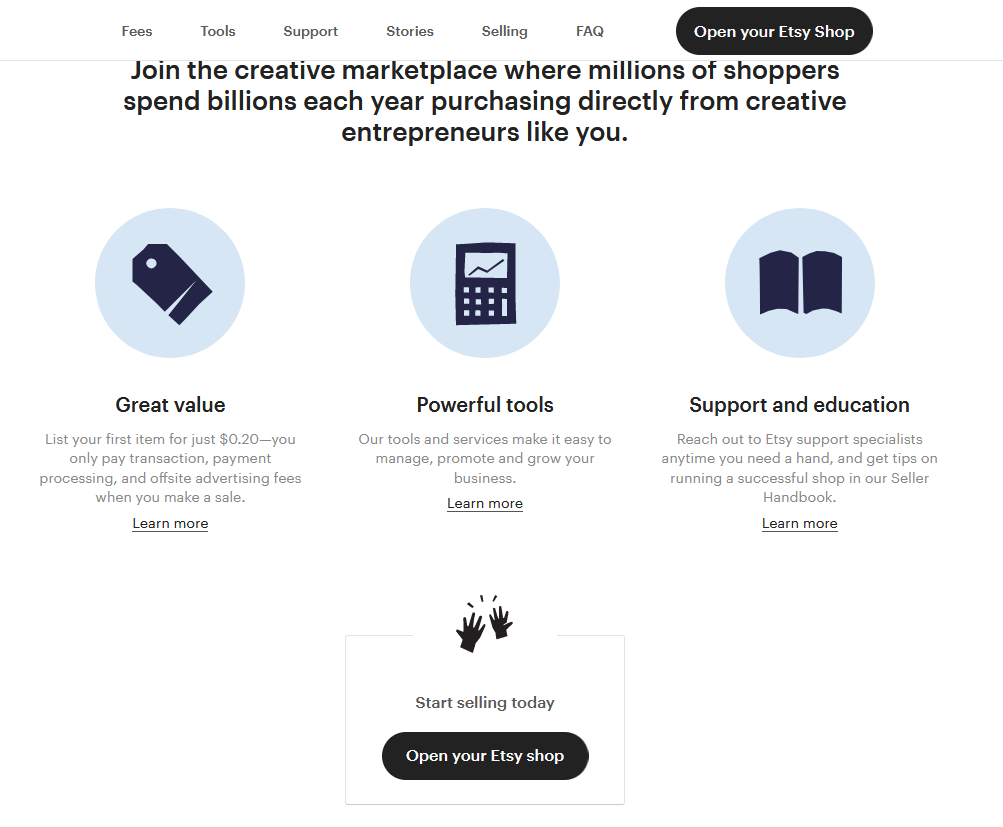 Etsy is an online market space where vendors meet buyers - sellers upload their products and sell them to customers.
This website is strictly vintage, which means business people need to sell products that are at least 20 years old to qualify on the platform. They sell vintage costumes, clothing, accessories, jewelry, photos, housewares, games, books, and toys.
Business people who sell on Etsy are rapidly selling them through Squarespace. Why?
The easy-to-use design templates, the lack of coding factor, the minimalist cover page designs, the inexpensive plans, and the minimal add-on features have a hold on vintage vendors.
---
2. DoorDash

An online American food ordering and delivery platform, DoorDash is leading the market share with 56% in the United States, making it a prominent delicacy platform.
DoorDash offers access to Drive, where it lists the most in-demand food as well as insights on delectable food options found in and around your location. This feature alone sets it apart from the regular food delivery competition.
Those who log into the app are called 'Dashers.' The app constantly pings them with new offers and insatiable delicious food options.
'Dashers' prefer using Squarespace to set up their DoorDash website through which they create alluring designs for their food business, install a few remarkable USPs, and get selling. Through Squarespace, business people are assured that their food will easily reach their customers' tastebuds.
---
3. Cdiscount
Cdiscount is a French company established in 1998 with expertise in creating a platform for sellers on an international front. Sellers can sell items such as:
DVDs, Blu-rays, books, and music

Computers, photography, phones, and audio-visual equipment

Appliances, homewares, and furnishings

Delicatessen, wine, and alcohol

Fashion, cosmetics, baby products, and jewelry

Musical instruments, pet products, and luggage
An ideal hub for sellers, Cdiscount is the second-largest selling platform in France after Amazon. Business people prefer selling on this platform because it has three times fewer sellers than amazon, which means less competition.
Solopreneurs prefer creating their Cdiscount account for selling the products mentioned above using Squarespace graphics and designs, mainly because it does not require coding and is an inexpensive yet classic means to create a selling platform.
---
4. Harper's Bazaar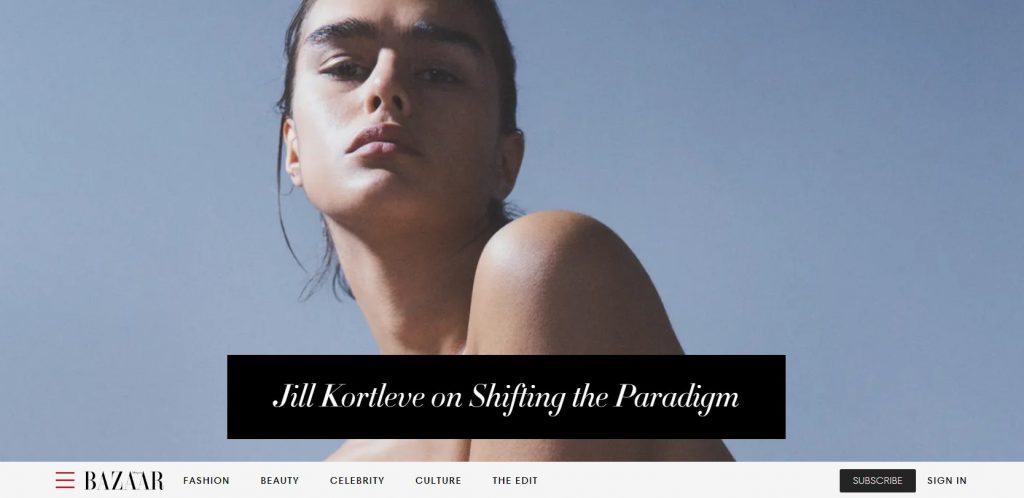 An American-borne company that releases noteworthy women's fashion and statement magazines every month, Harper's Bazaar has made it to the top in the fashion industry.
In the digital era, Harper's Bazaar has validated the importance of bloggers and influencers in the present day. They have created affiliate programs and collaboration offers to earn more revenue.
They use Squarespace to create their selling propositions which helps them earn income from the renowned company.
---
5. The RealReal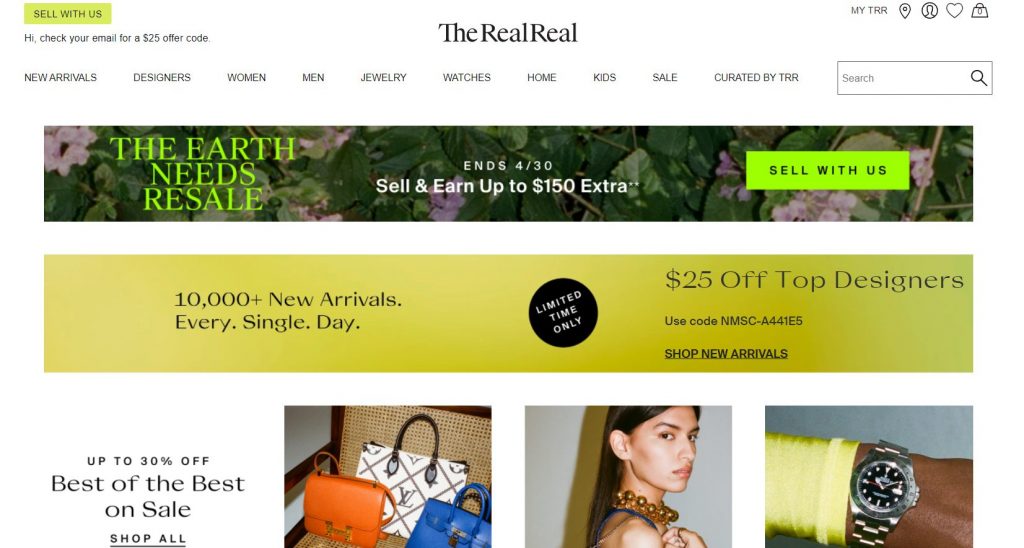 The RealReal is a brick-and-mortar-based platform that hires a band of in-house horologists, gemologists, art curators, and luxury fashion authenticators who authenticate the range of items they sell.
A San Franciso-based luxury platform, The RealReal sells consigned clothing, fine jewelry, watches, fine art, and home decor and is one of the finest markets in the state. Sellers can create their profiles on the website to sell their products.
This is where Squarespace is a trusted tool to create such a profile for selling. Businesses use it for its simple drag-and-drop feature as well as inexpensive plans.
---
6. TP Apparel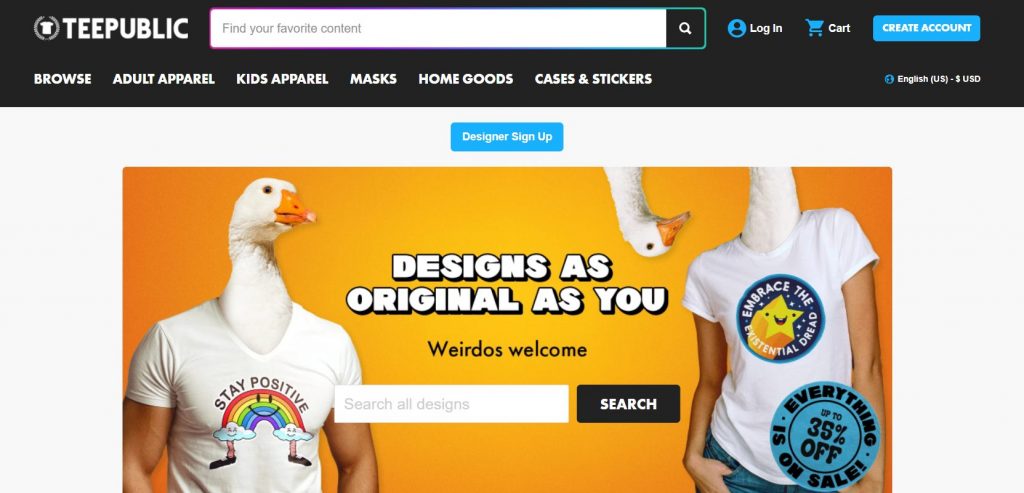 Redbubble owns TP Apparel, an apparel company that sells t-shirts, hoodies, tank tops, stickers, sweatshirts, phone cases, tote bags, mugs, notebooks, pillows, tapestries, and magnets.
They sell custom-made products to Americans. It provides a platform for designers to sell their art through the website.
TP Apparel also allows remote job opportunities here. Such designers and business people use Squarespace tools to sell their custom-made TP Apparel products.
---
7. Smore
Smore is an online platform that voices the writings of people through the sale of newsletters, infographics, and flyers. More often than not, such products are essential in running businesses, and they are always in high demand.
Business people or solopreneurs set up their profiles on this website with the help of Squarespace. Squarespace houses modern minimalist graphics, domains, and designs, perfect for curating newsletters and fliers.
---
8. StyleCaster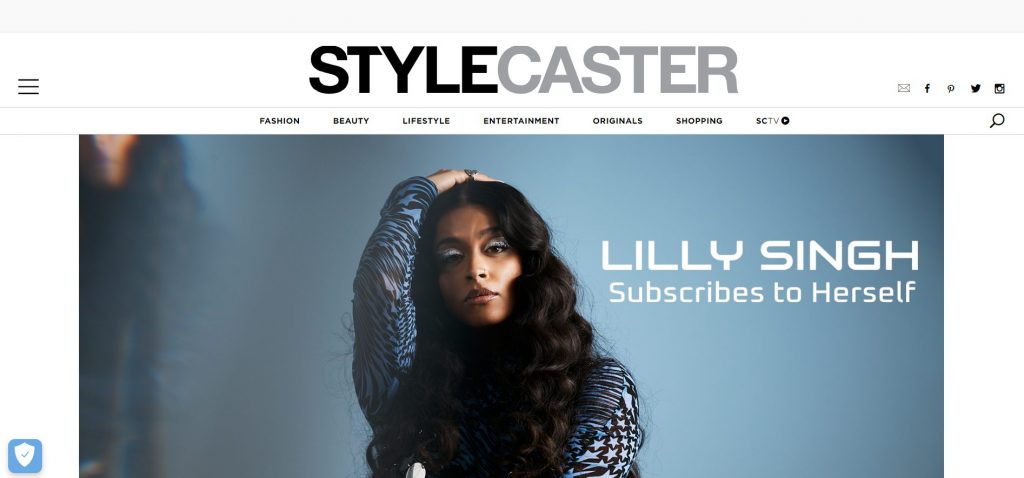 An elixir for millennial women, StyleCaster is a premier fashion destination headquartered in New York. It forecasts necessary need-to-know fashion tips, beauty, entertainment, and lifestyle practices that every woman must follow.
They are always on the lookout for copywriters, graphic designers, social media managers, and proofreaders. Squarespace is a useful platform to ensure that designers can put forward pitches with better caliber and authenticity.
Squarespace's simple yet alluring tools and graphics help them create the perfect pitch for StyleCaster's daily updates.
---
9. Remitly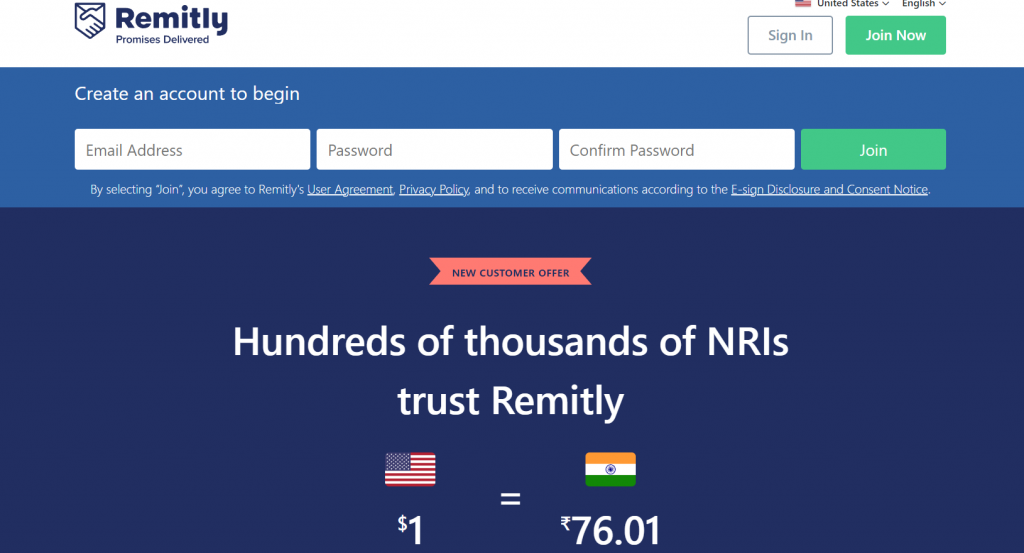 A platform with a good cause. Remitly helps raise trustable money for immigrants and refugees to save and transform their lives.
Individuals can create an account on Remilty to receive funds and then transfer them to the country in focus where the immigrants reside.
Squarespace offers attractive templates through which such awareness can be spread on Remitly to generate honest funds for the needy.
---
10. Princess Polly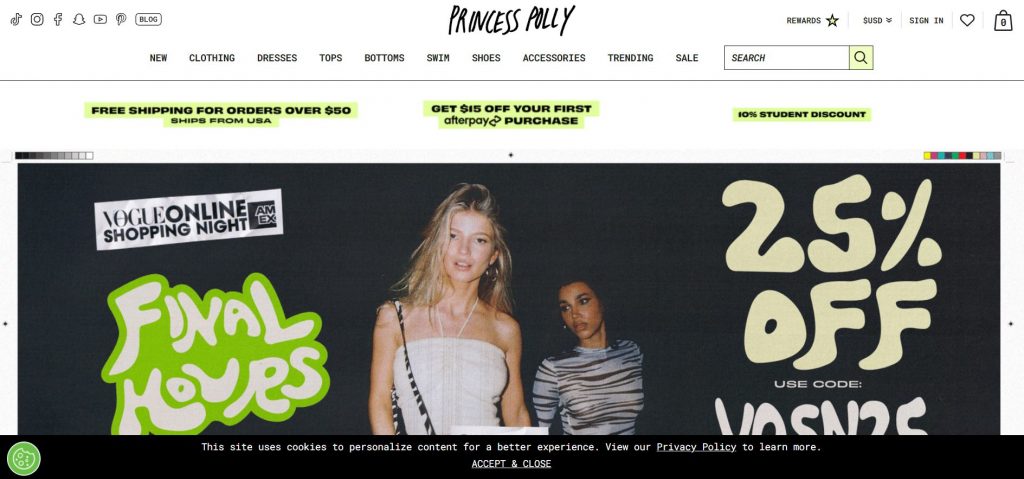 An Australian-based apparel company, Princess Polly offers fashion-forward pieces that are always at the top of the list of trendsetters.
They use the spirit of social media influencers (mini and micro) to promote their products. Such influencers then earn a commission for posting about their products.
Squarespace helps them create interesting graphics and unique selling points for their advertisements on the apparel.
---
11. Shopgoodwill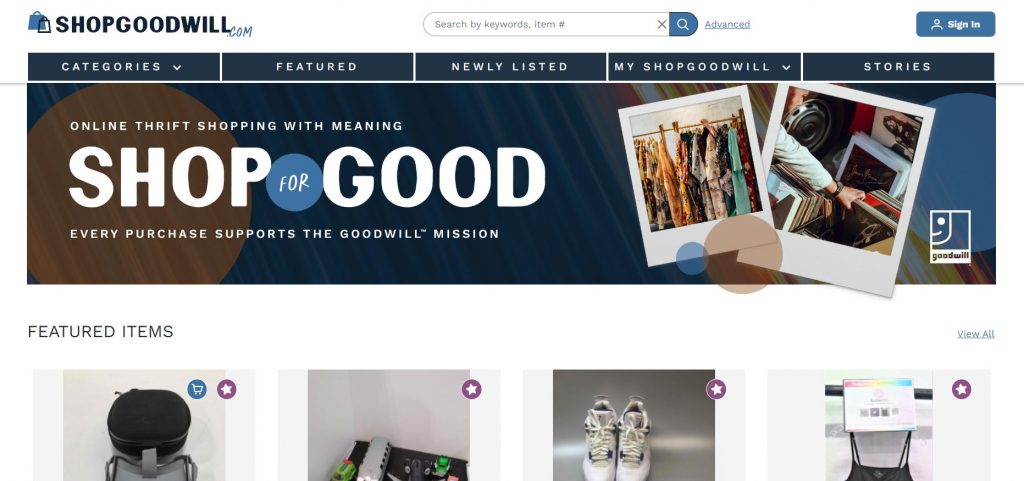 Shopgoodwill is actually the first e-commerce auction online site managed and owned by a non-profit organization. Items range from art, antiques, collectibles, apparel, jewelry, electronics, and more.
Non-profit organizations can become sellers on this eCommerce website. Squarespace helps such organizations to create a state-of-the-art auction page with interesting graphics and designs, all found on the website. Such an inexpensive way to sell expensive goods online!
---
12. Back Market

A Paris-based eCommerce website, Back Market is creating environmental awareness by reducing e-waste. This website allows individuals to access refurbished electronics with a minimum warranty of 6-months and a 30-day trial period. Consumers can return the device if it does not work out for them.
Back Market allows sellers to create their own profiles and sell their refurbished electronics. With Squarespace, they can create an attractive profile to generate traffic and fast turnovers on their accounts.
---
13. Pear Deck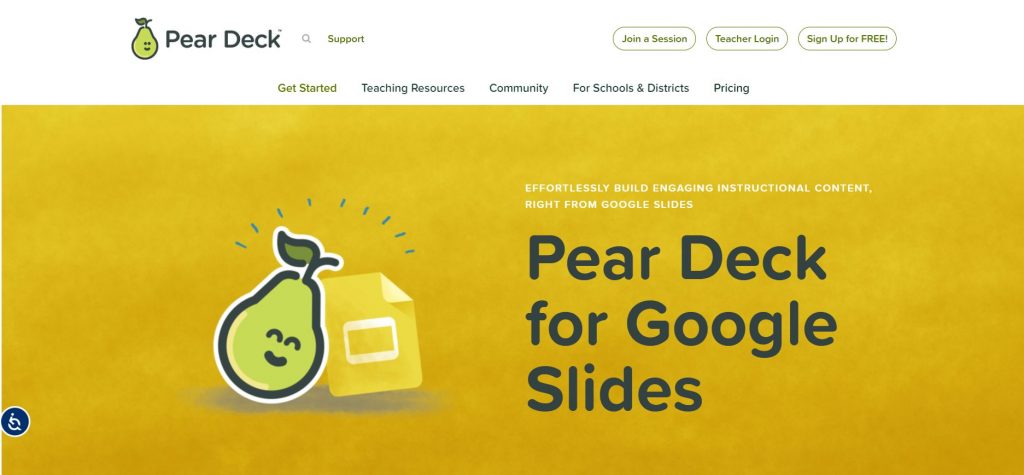 A free-to-use Google add-on educational tool, Pear Deck, allows seamless learning in K-12 classrooms through the controlled use of Google Slides. It effectively allows teachers to create interesting slides using attractive templates and fonts that are available. A student's progress is tracked through this tool as well, and it is in popular demand in schools that prioritize PPT-based learning.
Squarespace is used as a design aid to create even better slides on this add-on feature.
---
14. Goldbelly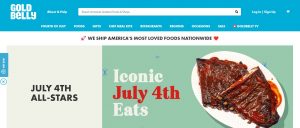 A local food purveyor's paradise, Goldbelly is an online market space to showcase and sell regional and artisanal food from across every corner of the United States. This online platform breathes life into the cultural delicacies found all around the 50 states in the US.
The food featured on the site is curated from restaurants and bakeries and is then shipped all across the country. Independent bakers and chefs curate handmade local and artisanal food, pack them, and directly sell them to customers.
Squarespace allows chefs to create attractive pages on the Goldbelly website to gain considerable traffic.
---
15. Complex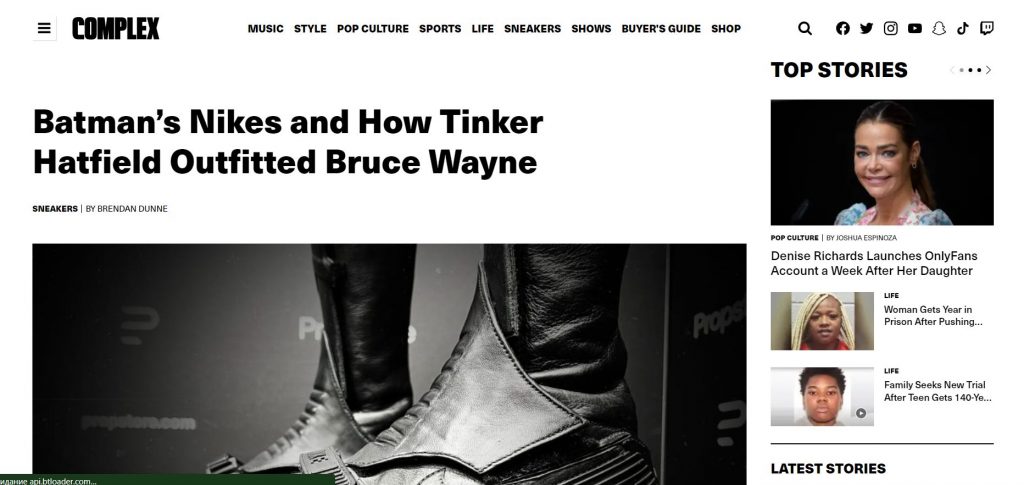 A voice for the youth culture that is not afraid to speak out against atrocities, Complex is a media and entertainment house in America that reports on trends in style, sneakers, food, music, and pop culture.
Squarespace provides interesting template designs and graphics that speak out such reportings so it can reach the audience better.
---
16. Runner's World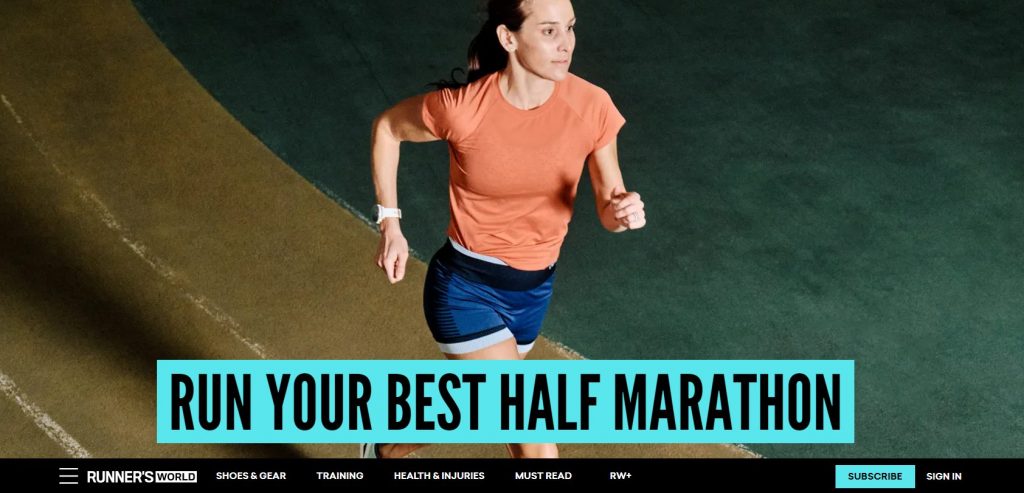 All about running, Runner's World is essentially a globally circulated magazine that shares tips on running, how to get better at it, as well as a few skills required. It is published by Hearst in Easton, Pennsylvania, in the United States.
Squarespace allows interesting template designs and graphics, which are used to create attractive magazine issues for interested consumers.
---
17. Gear Patrol

Ensuing 'Product Journalism,' Gear Patrol is an award-winning publication in New York City that focuses on informing consumers about the exact product to use and how to use it for daily lifestyle fixes.
Again Squarespace proves to be a stealthy tool for Gear Patrol because of its presentation and content. Gear Patrol skillfully carries out product journalism through the many attractive templates and designs that scream out to the public who need quick lifestyle fixes.
---
18. Curology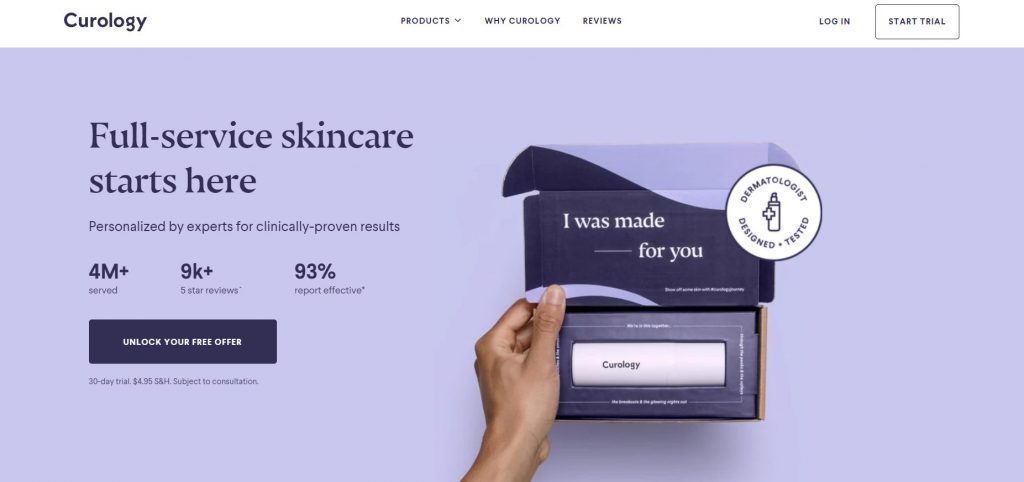 Curology is the answer to all your standard skincare issues. They create prescription-based skincare routines that are customized to suit every individual's skin.
This online medical platform uses Squarespace to curate its attractive website to allure more customers. With elegant design templates and graphics, Squarespace creates a minimalistic and modern website design for Curology.
---
19. Rent The Runway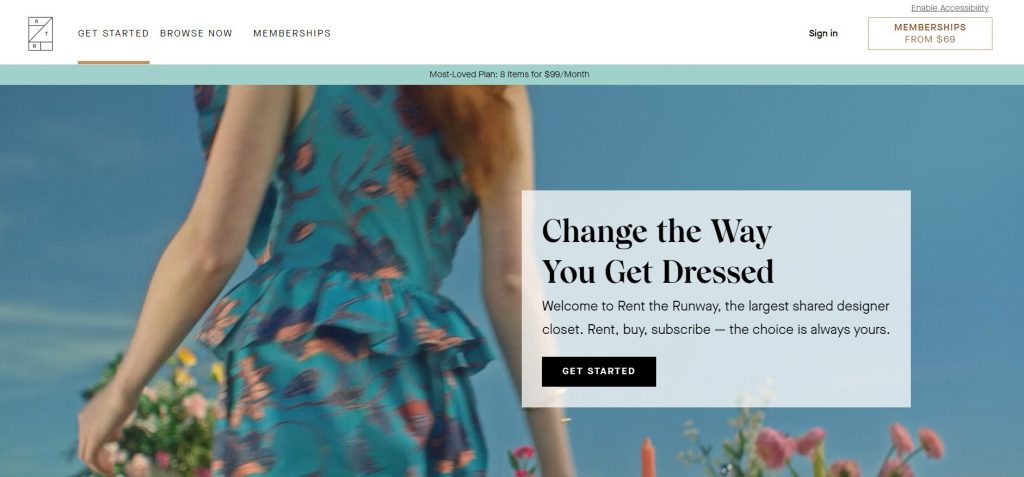 Dress renting has been a common practice for a long time. However, online rentals are a relatively contemporary concept. For example, Rent The Runway is an e-commerce platform that allows women to rent luxury apparel at half the original price.
To attract potential customers, Rent the Runway uses the graphics and templates from Squarespace and generates unwavering traffic.
---
20. Yummly

An American delicacy mobile app, Yummly provides personalized recipe recommendations customized to suit the tastes of the consumer, a digital recipe box for consumers to cook their recommended meals, an accurate shopping list to purchase the ingredients to make the recommended dishes, and a one-hour grocery delivery option (to deliver the suggested shopping list).
Yummly sellers create pages on the website with interesting photographs and templates (which they use from Squarespace) and generate traffic on their page.
---
Bottom Line
Online stores using Squarespace benefit from its features one way or the other. Actor Keanu Reeve's website is also curated through Squarespace since it is a trusted source.
Through Squarespace, businesses and brands transform their websites and generate considerable growth and stability.