You have successfully started your business, and sales are racking up. As a business owner who intends to expand, your next strategy is to reach a broader audience. So how do you make this a reality? One option you should consider is taking your business online. In today's technologically advanced world, an online store allows you to connect with local and international customers, extending your business reach beyond borders.
To create an online store, you need a website hosted on an e-commerce platform that serves as a meeting point between you and your customers. You can build your online store on this platform to display your products so that customers can browse through them, add them to their cart and pay at checkout.
---
Top 15 Open Source E-commerce Platforms for 2022:
---
Open Source E-commerce Platforms
Experienced coders and website developers often use open-source platforms when building an e-commerce store because of the customizable option that allows you to play around with different plugins on your site. Over the years, more e-commerce platforms have sprung out on the market, each easier to use than its predecessors. As a startup entrepreneur, you can access one of these platforms to build a scalable online store in just a few days.
Several free and paid options are available when looking for the most refined e-commerce platform for your online store. Open-source e-commerce platforms are mostly free to use, unlike closed-source platforms that are more expensive and require regular updates. If you are still unsure about the best open-source e-commerce platform that is right for you and your business, read on as we explore the top 15 platforms, their features, advantages, and drawbacks.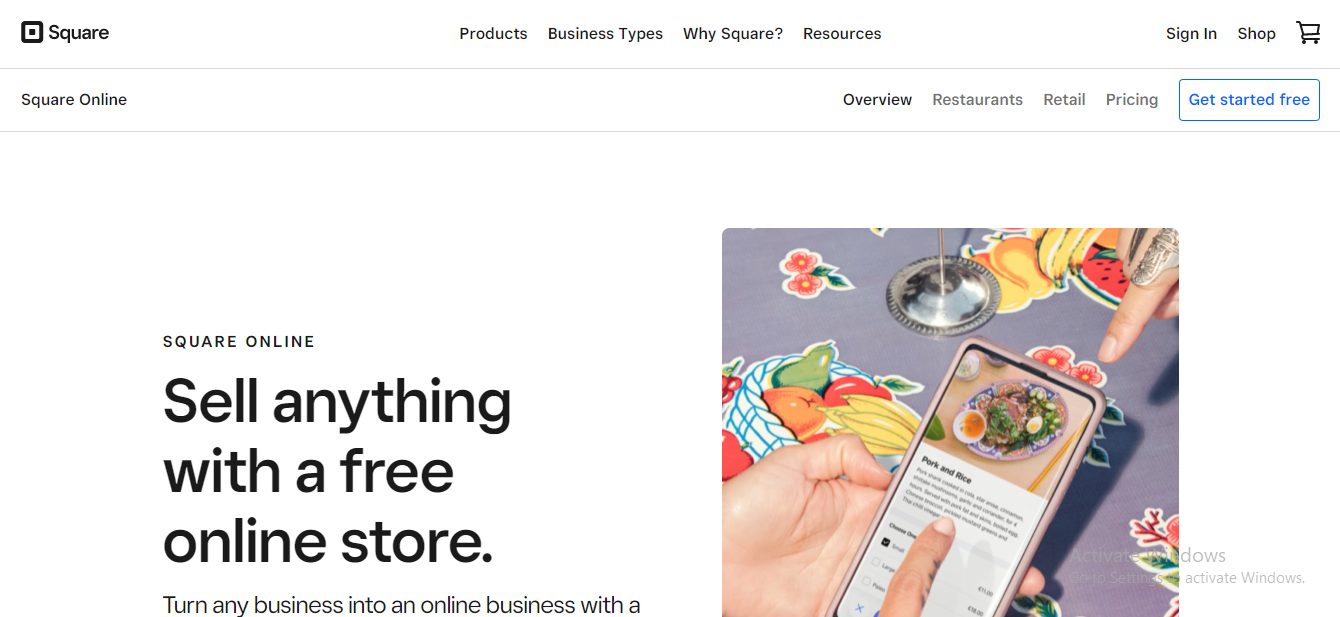 Creating an online store with Square Online is easy and cost-effective. With Square, you can have your online business running after following simple steps because of its emphasis on offering essential features.
You can also operate your business entirely through Square with the addition of third-party software for inventory management, accounting, booking, scheduling, and more. A great free plan and essential features make Square Online a perfect option for small businesses. A few drawbacks to the free plan might be insufficient storage space and inaccessible features. But all-in-all you can use the free plan to set up a simple store.
Signing up for Square Online requires completing a few business-related questions. Once you've created an account, navigating the site is easy. Site themes aren't assorted on Square Online, unlike many other e-commerce platforms discussed so far.
Though the default site style is excellent, you can customize it as you so desire. As an experienced developer, you can even build your unique integrations. Surprisingly Square does not have any available subscription plan. They only charge a meager $2.9 per transaction and checkouts made on this platform.
Pros
😊

Easy to use, especially for beginners with no technical background

😊

Provides a secure payment processing method

😊

Good customer service support

😊

Offers great integration for third-party apps
Cons
😩

Limited design and theme options

😩

Not recommended for large businesses because of its limitations
---
Magento is a popular Adobe-owned e-commerce platform with an easy-to-use interface that would benefit non-tech savvy users. Many retailers choose Magento Open Source due to its affordability and openness. With Magento, your business has access to almost limitless customizability and scalability options.
Website building, product catalog management, and marketing capabilities are all included in the core Magento features. However, if you choose to use the magneto open-source, you should purchase a domain name and SSL certificate.
Since it is an open-source platform, you will also need to buy your hosting, theme, and plugins to enable your store to run effectively. Don't forget to add a payment processing partner to allow your customers to check out seamlessly.
Pros
😊

It loads very fast

😊

Free to download and use

😊

Highly customizable

😊

Users can accept different payment options from your online store
Cons
😩

It might require some advanced tech skills for more customization

😩

Customer service can be slow at times
---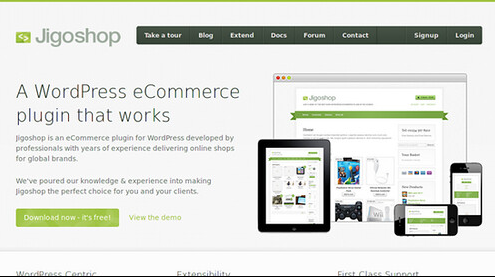 Jigoshop is a free and easy-to-use WordPress e-commerce plugin developed by Jigowatt, a UK-based company. In addition to enabling product sales on your WordPress website, the plugin provides comprehensive analytics tracking so you can maintain tabs on your site's performance over time.
The plugin is used frequently due to its extensive customization capabilities. As an excellent WordPress shopping cart plugin, it provides all the features and tools you'd expect to set up an online store swiftly.
With its user-friendly interface, navigation is easy for techies and non-techies alike. Several free extensions could be used with Jigoshop, too. Additionally, you may expand your online store's payment options by integrating more payment gateways and shipment alternatives.
Pros
😊

Easy to use for non-tech savvy users

😊

Access to different customizable themes

😊

Fast loading time

😊

You have access to add-ons and plugins that work well with your shop's theme
Cons
😩

Unresponsive customer support

😩

Most of the themes are paid
---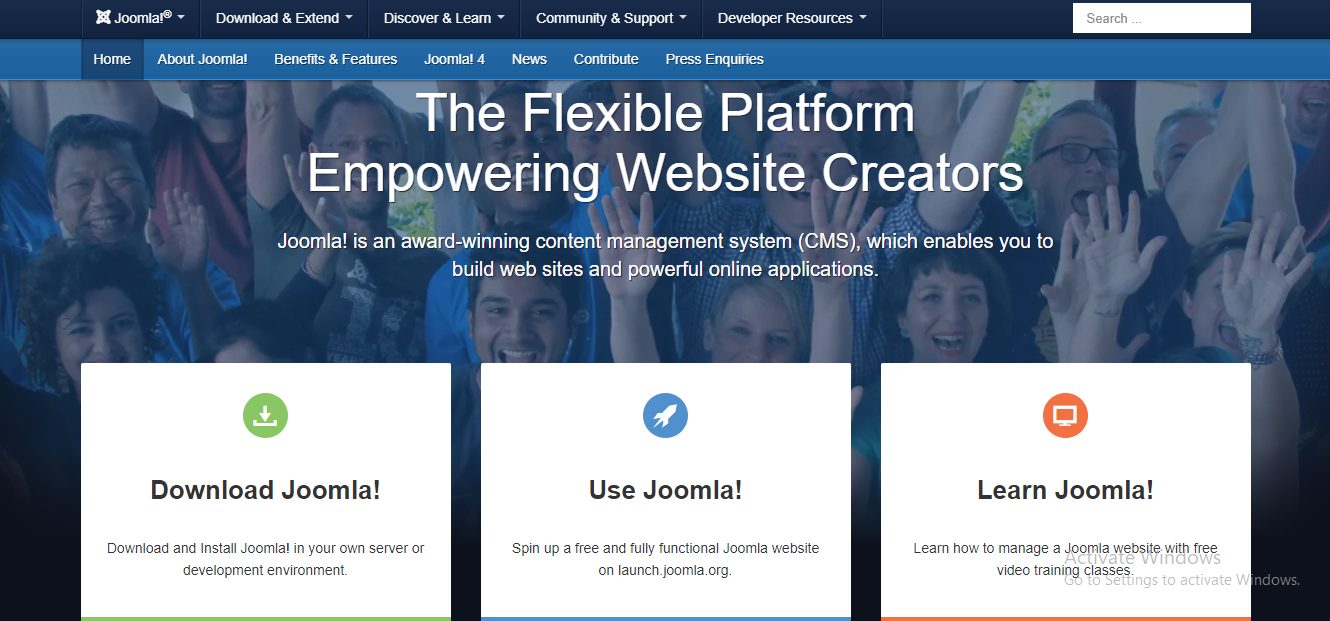 Joomla is free to download and use since it uses an open-source CMS. Open-source code and free plugins and templates will let you develop and customize your e-commerce any way you see fit on Joomla.
If you're not pleased with the free alternatives, you may buy premium plugins and layouts for your website. Joomla is similar to WordPress, so you will need different e-commerce plugins to build your website entirely.
Some popular plugins include j2Store, HikaShop, MijoShop, etc. J2store is one of the free Joomla e-commerce extensions you can use without a lengthy registration procedure. Thanks to this extension, users' eCommerce websites can be restyled entirely and redesigned with ease.
Pros
😊

Easy to use

😊

It's a free platform

😊

Access to a wide range of extensions

😊

Good customer support
Cons
😩

Customization is limited

😩

Some extensions are not free
---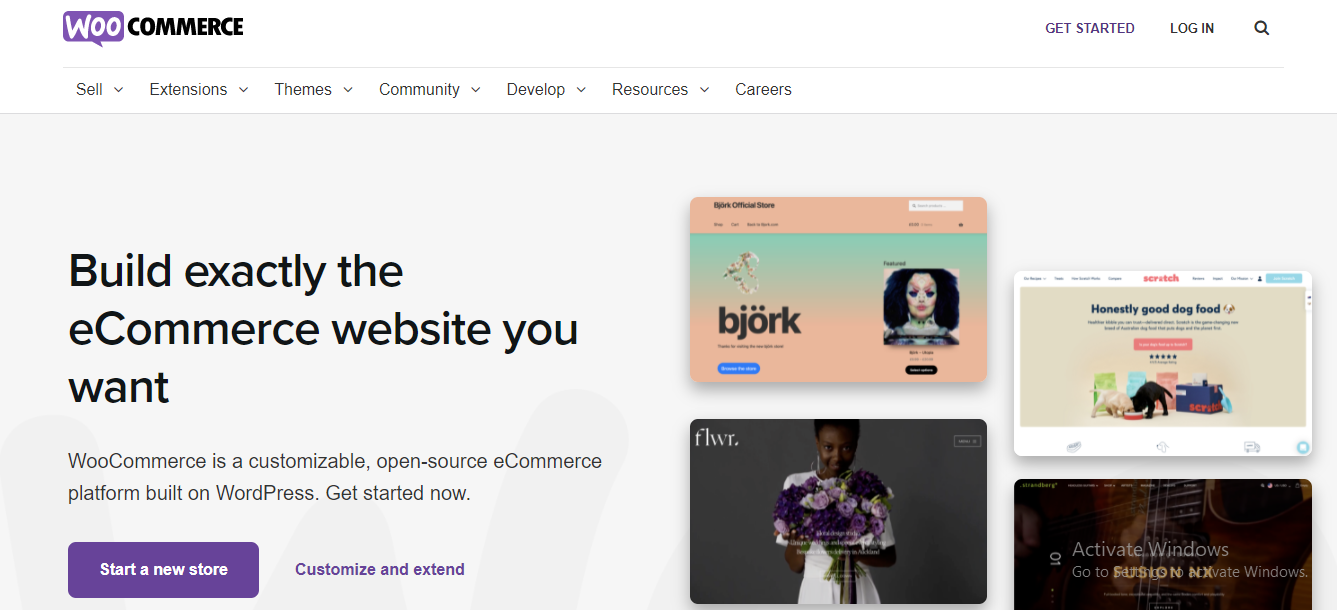 In terms of e-commerce, WooCommerce is one of the most popular platforms in the world. It's a WordPress plugin that transforms your website into a powerful online storefront. It allows you to sell physical and digital items and associated products from specific marketplaces.
Setup wizards are available for all of WooCommerce's features. As a result, many users choose WooCommerce over other hosted platforms because it gives them more choice over how they build their site. Though the WooCommerce plugin is free, you will need to pay for your hosting and domain name to install it on your WordPress dashboard. WooCommerce, being an open-source platform, requires that you handle all aspects of installation, management, backup, and optimization on your own.
You can also add various payment options like in most similar platforms; the slight difference is that users can get this payment plugin for free, without setup or ongoing costs. Using their credit or debit cards, your customers may safely and securely pay for your products, whether digital or physical.
Pros
😊

Advanced features for larger businesses

😊

Unlimited customizable options.

😊

Good customer support

😊

Plenty of integrations to help run your store smoothly
Cons
😩

You must have basic knowledge of WordPress to customize Woo-commerce

😩

You will have to maintain and update it yourself
---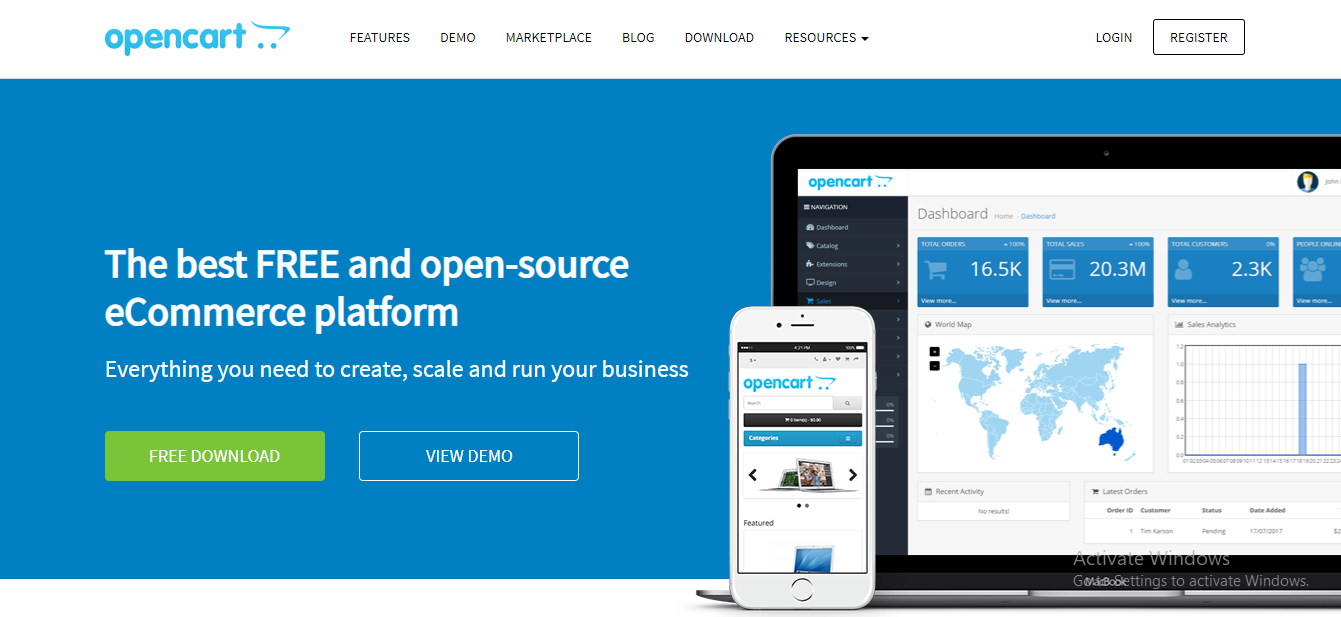 OpenCart is a PHP-based open-source platform. App installation is quick with support for different types of extensions. Additionally, you can utilize your shopping cart system and handle orders with ease. There are several product features to assist you in getting started. For example, each product in your shop can have a unique theme and design. To make significant changes, you'll need to know a bit about coding and be familiar with the basics of setting up an e-commerce store.
You may choose to make your business available in more than 40 different languages. Due to its local and global use optimization, small and medium-sized businesses may find OpenCart's open-source software suitable for their business.
In the same way, as OpenCart needs a broad range of add-ons to work, your eCommerce store will be distinctively different from other eCommerce stores online. Some users may think OpenCart is a bit outdated compared to competitors, but you can still build a modern-looking store on this platform.
It comes with 53 pre-installed payment methods and numerous payment gateways, making it easy for customers to make payments. You can always integrate an additional payment option other than the inbuilt ones.
Pros
😊

Highly customizable

😊

Provides a wide range of themes and plugins

😊

Plenty of integrations

😊

Free to use
Cons
😩

Users are in control of the hosting and maintenance

😩

Despite being highly customizable, it is not always easy to use without technical knowledge
---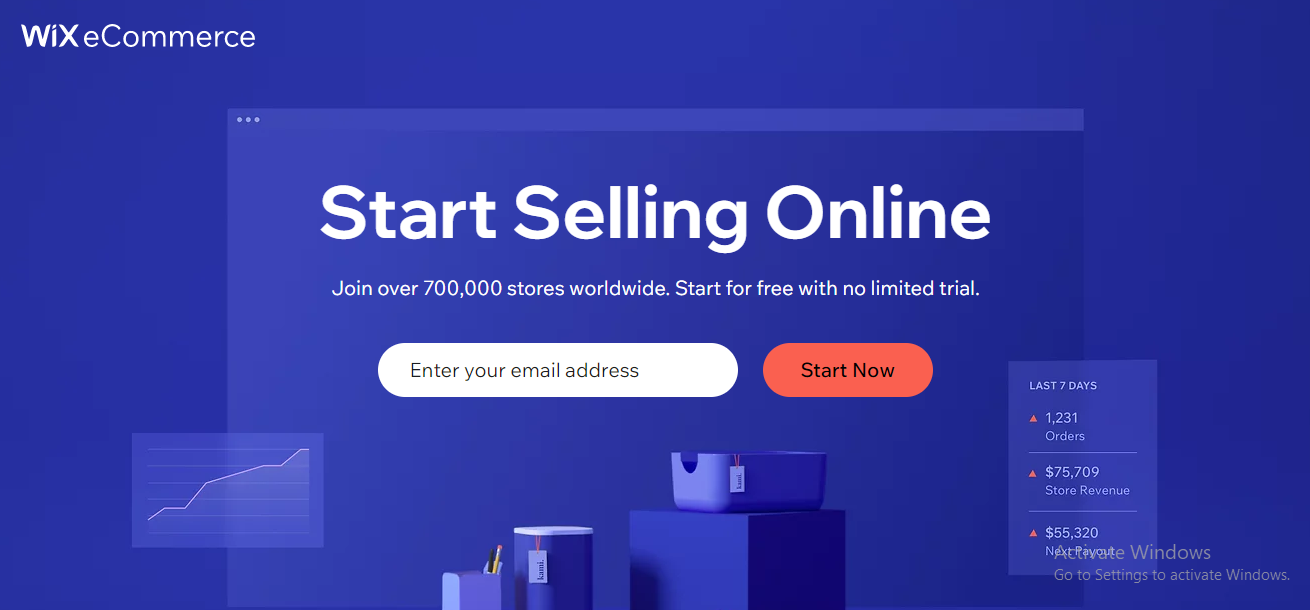 You might have come across a WIX ad at least once. It is a popular platform that has created a name in the industry through elaborate marketing campaigns and collaborations. This also extends to their customers as you can easily promote your Wix store using its email marketing and SEO features.
Wix is an excellent option for brands that want to create a fully working online store that includes both catchy designs and e-commerce features in one. You can use Wix as a novice or a seasoned techie. There are no coding skills required to use this platform since everything runs simply in your browser.
Wix e-commerce has a free plan that allows you to try all their features before choosing a paid offer, but your store won't be available to the public. To make it live, you will need to upgrade to premium for as little as $17. Another good thing to note is that Wix is self-hosted, so there is no need to worry about maintenance fees.
Pros
😊

Beginner-friendly

😊

Highly customizable

😊

Excellent customer support

😊

Very easy to setup
Cons
😩

Requires a premium plan for your site to be visible to the public

😩

Limited themes and features
---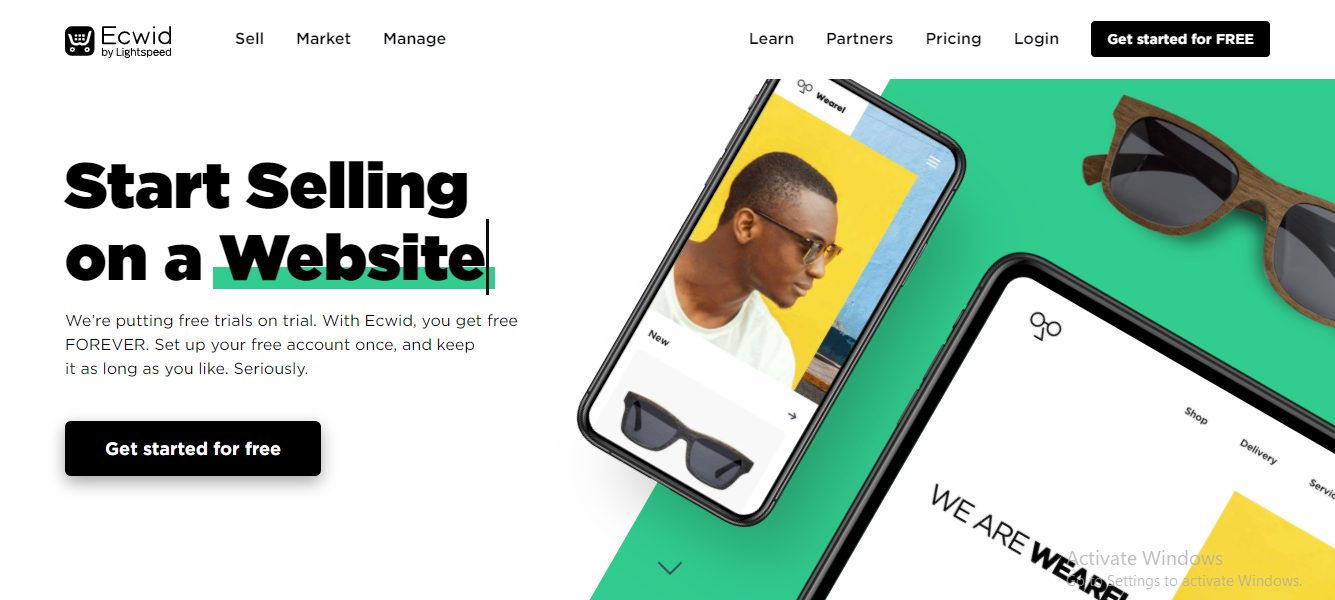 If your company sells online and in-store, Ecwid is a good integration on your site. Ecwid is coined from two words, "E-commerce and widgets." As the name implies, you can add Ecwid as a plugin to other platforms like WordPress or Wix in just a few steps. It comes with a free version, but you can only offer ten products on the free plan.
It includes features like discount coupons and the option to sell digital goods. There is a paid version of it too, where users can receive a lot of value for their money with Ecwid's $15/month venture plan.
Ecwid is an excellent option to add to an already existing website. You can access many features depending on the Ecwid price tier you pick. Like many other eCommerce systems, Ecwid offers a variety of web app integrations, including an additional 85 payment gateways.
Pros
😊

Adding eCommerce functionality to your website is a fast and straightforward process

😊

No prior knowledge of coding is required

😊

A free plan is available

😊

Easy to incorporate into your current website
Cons
😩

Limited design possibilities

😩

Free version is limited
---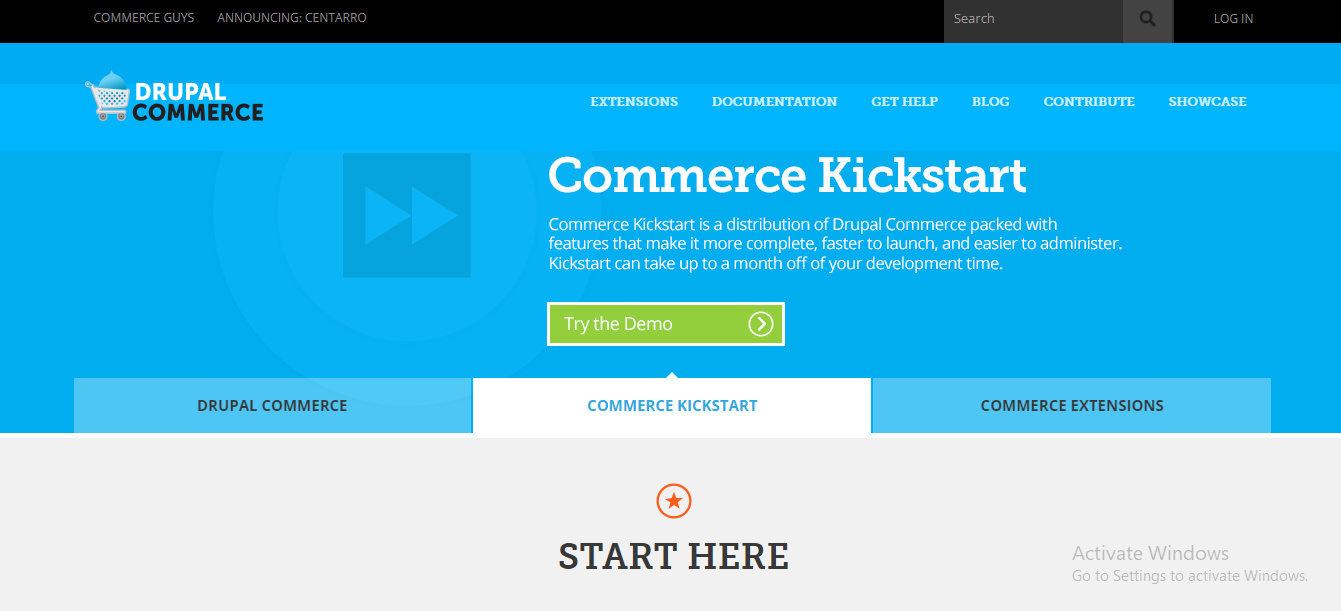 Drupal Commerce is an open-source eCommerce platform that helps make your eCommerce website search engine-friendly. With Drupal Commerce, you have the freedom to pick from a wide range of mobile-responsive themes and make design, style, and logic adjustments to make your online shop as unique as you want it.
By integrating with third-party systems, Drupal Commerce may be tailored to meet the ever-changing requirements and expectations of commerce websites of any size. Thanks to Drupal Commerce's mobile-ready features, customers can access your store through any device. Drupal is also known to be highly secure, so you can be confident that all of your personal information and data will remain protected.
Pros
😊

A built-in security system is available for Drupal Commerce users

😊

Fast load times

😊

Good customer support

😊

Availability of learning resources in case you are experiencing difficulties
Cons
😩

Drupal is not beginner-friendly, and users need technical knowledge to build for eCommerce sites with complicated backend
---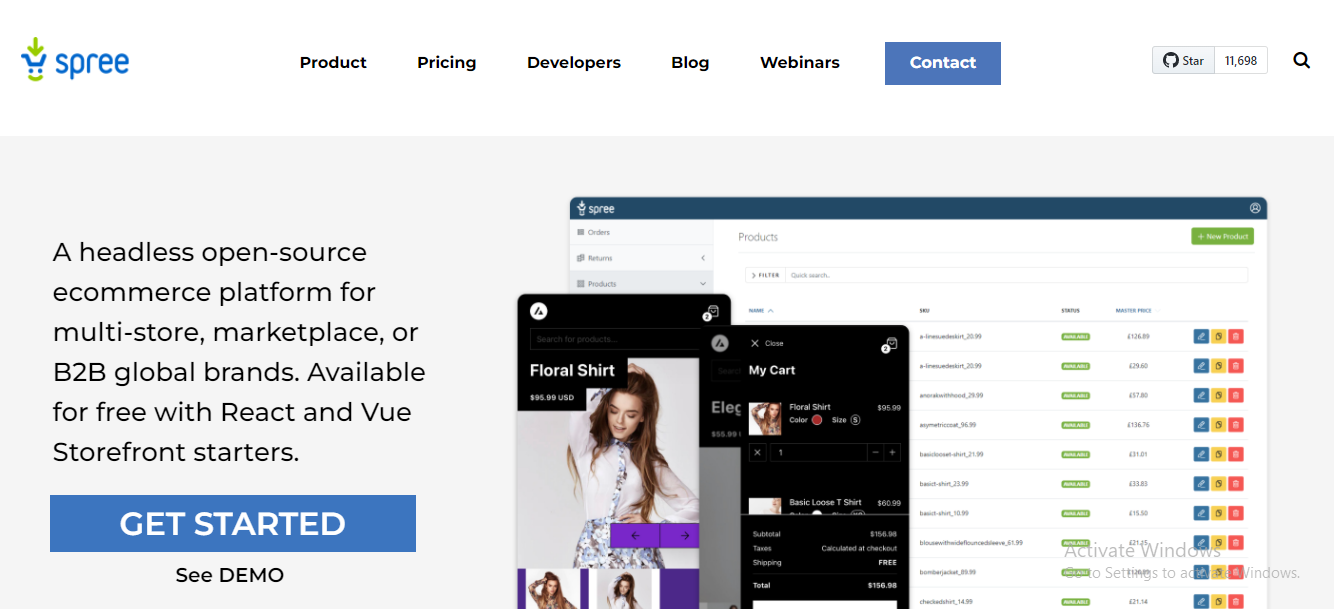 Large or small companies can use Spree Commerce because of its high adaptability. Technically, Spree Commerce might be a challenge to understand, but for web developers with the required skill, this can be an excellent e-commerce tool.
The Ruby on Rails community and the tool's support package can be counted on to provide dependable assistance for non-tech savvy users. An analytics dashboard, SEO tools, and inventory management systems are just a few of the services available on the platform. There are also 45 languages available for use with Spree Commerce.
Pros
😊

Stores are highly customizable

😊

Quick and easy integrations with third-party systems

😊

Good customer support

😊

A wide range of powerful marketing and SEO options
Cons
😩

Minimal selection of themes

😩

Users need good programming skills
---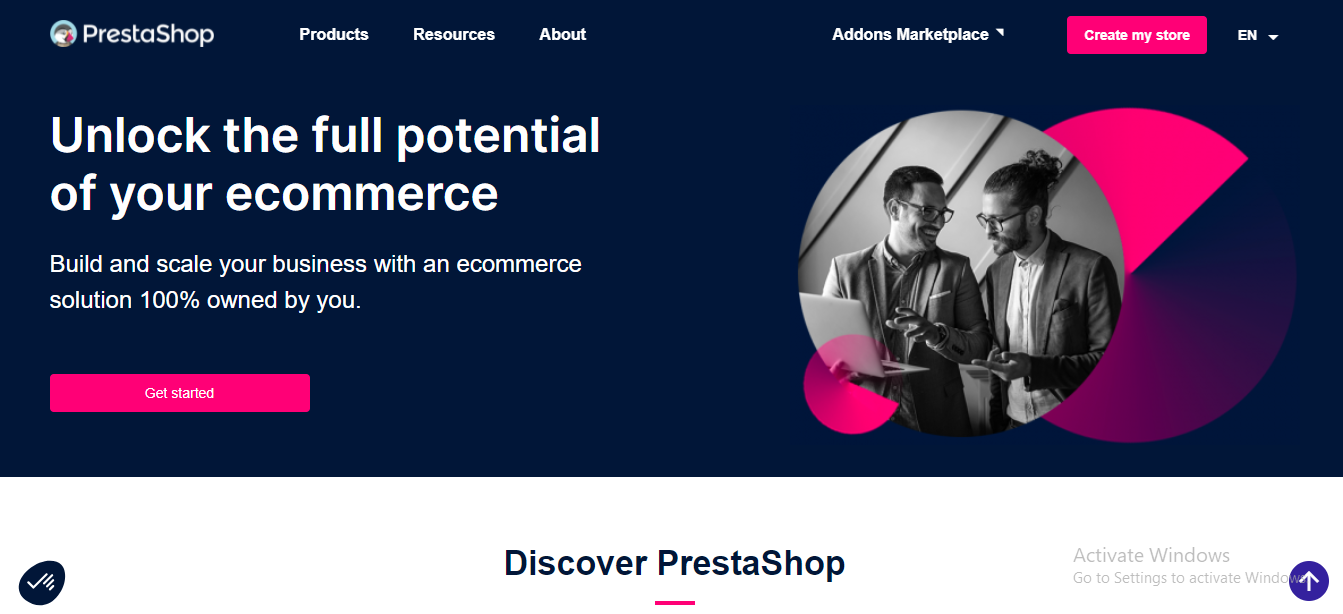 Prestashop is a France-based open-source e-Commerce company. It provides over 600 features, from shop administration to shipping and online marketing. PrestaShop is user-friendly and free to download but not entirely free to set up, as it comes with a maintenance fee and hosting. Also, you will need prior knowledge of coding to customize it entirely, or you will hire a web developer for assistance.
To see if PrestaShop is right for you, you can look at the online demo before downloading and installing the software. PrestaShop's customization options will enable you to organize your products and set up different payment options.
Although the company is based in France, the platform supports more than 25 languages. By providing translations of your website in other languages, you open the door to international growth for your business.
Pros
😊

Highly customizable

😊

A strong user community where you post your queries

😊

Easy to integrate 3rd party apps
Cons
😩

Not suitable for large scale businesses

😩

You need to understand how to code to use it properly
---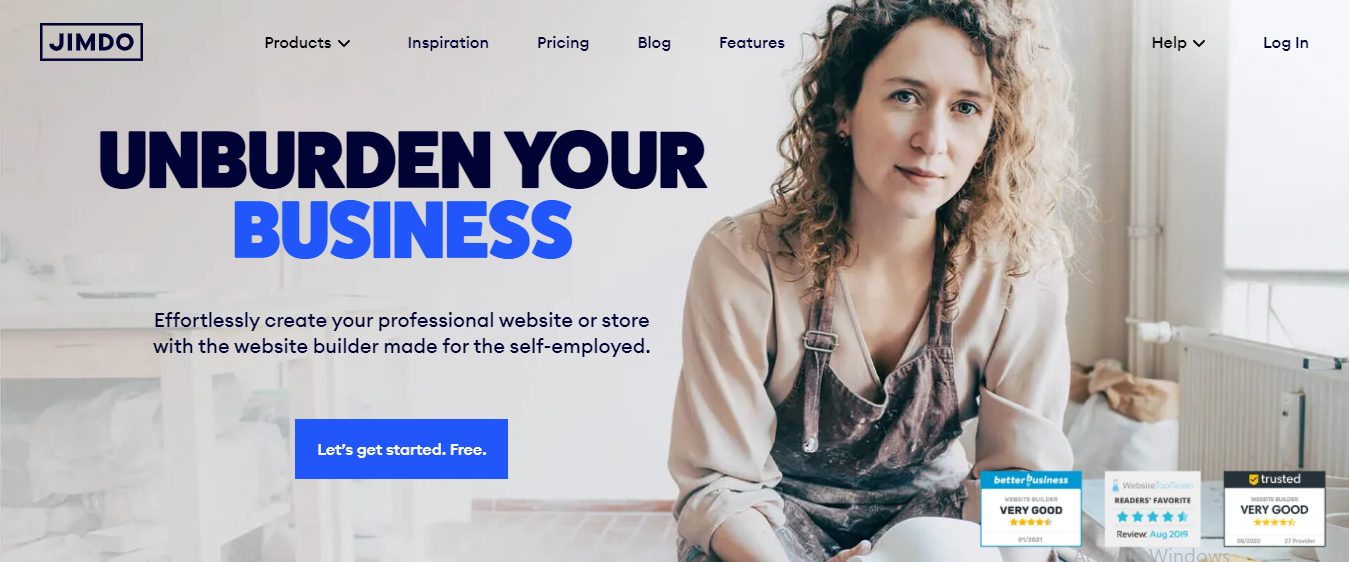 Jimdo is well-known for being an all-in-one website builder that doesn't require prior coding expertise on the user's part. It is easy to get started with Jimdo's e-commerce features. Adding product galleries and having access to a professional domain are just two of the many benefits you'll get. But the Jimdo free plan won't allow you to sell or showcase your products unless you purchase a premium plan starting from $15.
There are two editors included in this website builder, and you'll need a few minutes to understand how to navigate and begin personalizing the essential elements of the program. You may swap templates without losing any content. This is an excellent feature for those new to website design who want to test out a few alternative styles quickly.
Pros
😊

Easy to use

😊

Accepts third-party app integration

😊

Easy to customize with various design options

😊

Mobile responsive
Cons
😩

Design features are limited
---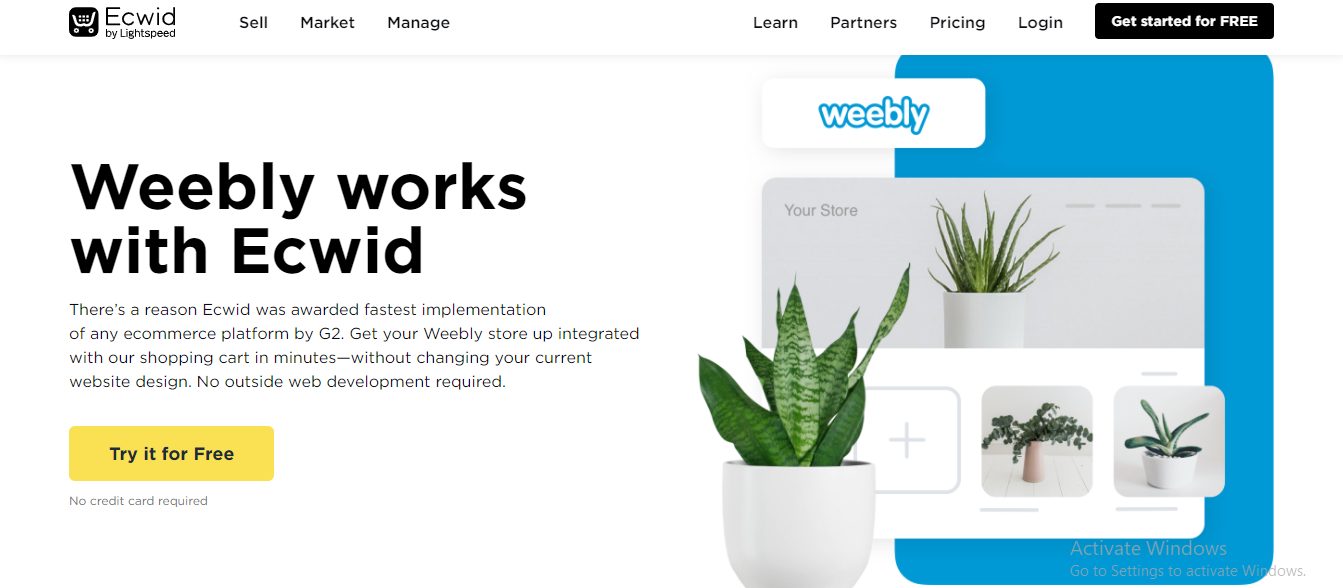 Weebly allows you to build a traditional website or an e-commerce store. You can access the same content-building tools from the beginning of the process. In Weebly eCommerce, you can drag and drop to create your storefront, just like on the regular website builder.
Products are added in the website manager away from the drag-and-drop editor. Product choices and categories may be added individually or in bulk using a spreadsheet. Weebly eCommerce has a unique feature. Emails are automatically generated depending on your store's activity, and fresh templates are created as you add new products or categories.
Thanks to the built-in customization tools, every aspect of the eCommerce builder's UI can be customized to your taste. There are more than 50 themes to choose from in the Weebly online shop builder, same with the standard website builder.
Pros
😊

Easy to use

😊

Accepts third-party integration

😊

Highly customizable

😊

Allows you to sell your product on the free plan
Cons
😩

Unless you upgrade, ads will be shown on your site

😩

It doesn't allow you to sell across multiple channels
---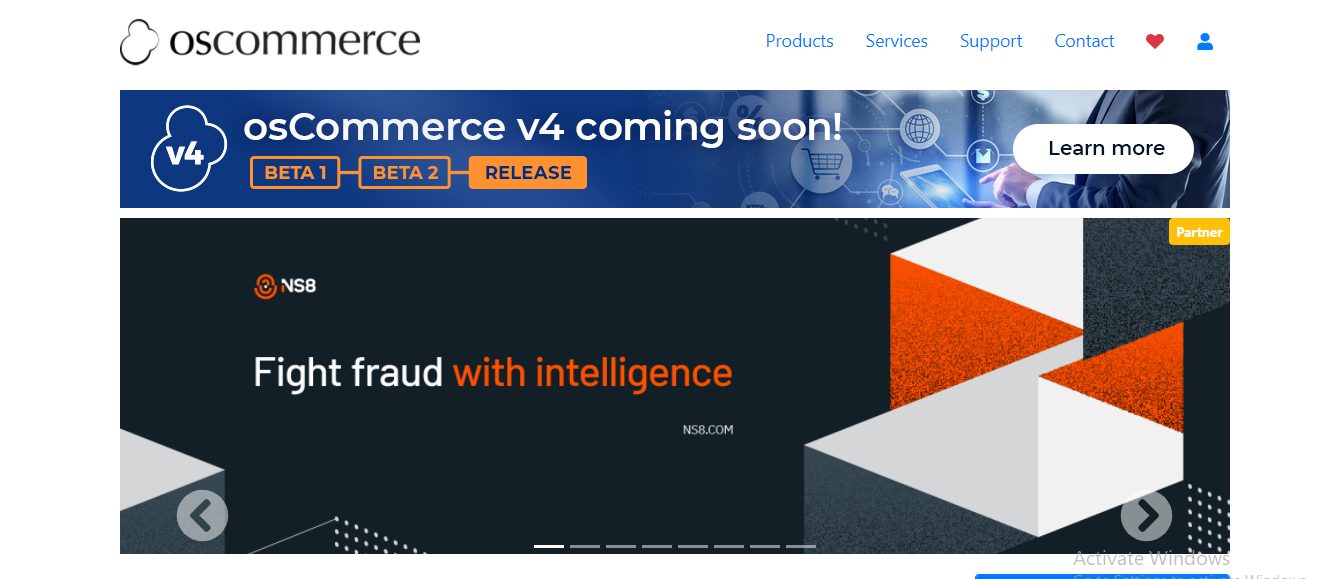 OsCommerce is more than simply a front-end solution for your online shop. It also offers a broad range of functionality for backend administration, which extends to products. There are currently over 300,000 stores using osCommerce. Although the platform may be downloaded and installed for free, you'll need developer skills to make alterations.
There are just a few options for themes and layouts on the official website for design. The platform allows users to download different themes from third-party sites if necessary. There are no restrictions on how many digital and physical items you can sell with osCommerce. It is incorporated into osCommerce by default to accept payments using PayPal Standard. Also, there is an online forum for assistance and support popular among members of the osCommerce community, which includes both developers and customers.
Pros
😊

Free to download

😊

A robust community

😊

Easy to customize

😊

You can sell both digital and physical products
Cons
😩

Not recommended for small-scale businesses because coding is required for advanced modification

😩

Requires regular maintenance
---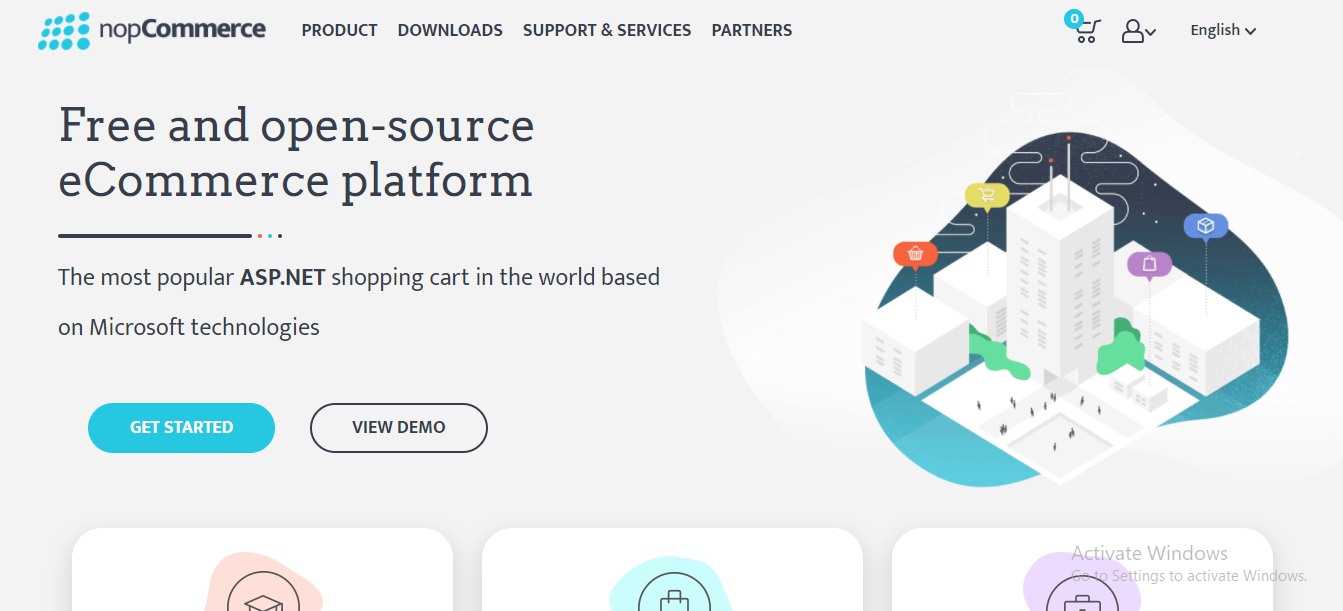 nopCommerce is an open-source eCommerce platform operating on ASP.NET core. It was released in 2008 and currently has over 2.5 million downloads. nopCommerce, as you may have guessed, is entirely free, but users will need some coding experience.
The nopCommerce feature set can be scalable to simultaneously handle a product catalog with millions of products and thousands of visitors. The admin panel is similar to OpenCart, but there are still notable differences. You can use the nopCommerce demo for a start, which allows quick access to a sample admin and independent shop.
nopCommerce's marketplace offers roughly 500 different integrations. No further development or add-ons are required to create a mobile-friendly version of your site with NopCommerce. There's no need to worry about your customers' credit card numbers or billing addresses being misused since nopCommerce takes security very seriously. As far as payment is concerned, they provide up to 50 options.
Pros
😊

Can set up multiple stores

😊

A strong online community

😊

Allows third party integrations and add-ons

😊

Fully customizable
Cons
😩

You will have to pay hosting, domain, and any other integration

😩

Customer support is sometimes difficult to reach
---
Conclusion
Choosing the perfect eCommerce platform for your business needs might be challenging as a small business owner. But with the rise in popularity of online shopping, your business must be easily accessible to your customers regardless of their location.
Open-source e-commerce platforms enable you to customize your site to your taste. Although some of them might be complex and confusing to non-developers, you can use some platforms without coding experience.
If you still can't find your way around a platform, there are online communities you can reach out to for help. Explore the options listed above—their features, pros, and cons—to find the best one for your brand.