The first marketing email was sent in the late 1970s when Gary Thuerk, a marketing exec, sent a couple of hundred unsolicited emails to market his company's computer products. More than 40 years later and a lot has changed. Now, it's common practice to send thousands of emails in one go. Also, we hope that you never send unsolicited emails (if you do, read goal #3 closely).
Since the inception of email marketing decades ago, several new marketing channels have also emerged. Social media alone has exploded. Yet, as we're fast approaching 2025, emails are still one of the most popular and effective ways to reach your audience.
If you've thought about dropping email for a newer channel – don't. In fact, considering its ROI, if anything, you should be looking at how you can use it more effectively.
To help you, we've made a list of possible goals that you can set for 2024. While a number of these goals are basic email best practices that you should prioritize in any case, some of them are related to trends. Many of the trends that have shaped email marketing in 2023 will continue to play a huge role in the new year. So, if you haven't leveraged all the trends in the past year, you'll have another chance next year.
---
11 Tips for Your Email Marketing in 2024:
---
1. Measure Your Performance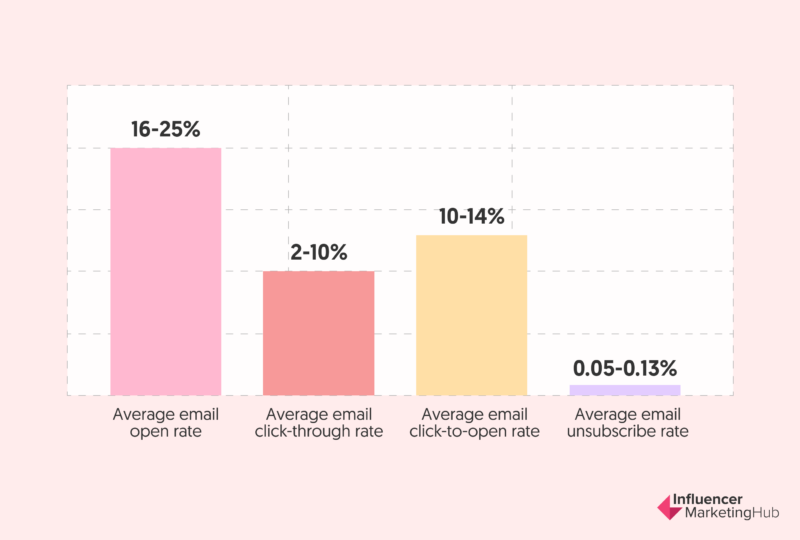 Measuring how your email campaigns perform is not unique to 2024. It should be one of your goals each year. If you don't make time to crunch your numbers, you won't be able to set realistic goals for the rest of the year. Not only will this information give you an idea of how you stack up against your competitors, but it will also help you to identify specific areas that require more attention.
Here are some important email benchmarks that you need to pay attention to:
Open rate

Click-through rate

Click-to-open rate

Unsubscribe rate
---
2. Get to Know Your Audience Better
We write a lot about how important it is that you identify your target audience. Whether you're starting an online business from scratch or expanding your product range, more often than not, the process starts with determining who your target audience is.
However, in 2024, make it a priority really to get to know your audience. Don't just know who they are, but also make sure that you know what makes them tick.
---
3. Be More Transparent
In 2023, the push for sustainability had a huge impact on the retail sector. Consumers want to know the story behind their products and brands.
Though, sustainability goes much further than impact on the environment. It's also about your social responsibility to consumers. You just have to look at the backlash that Facebook received about how it chooses to maximize growth over the safety of its users to realize that consumers value ethical marketing.
With regards to your email marketing, it means that you should at all times be transparent. Don't try to get email addresses in a sneaky way. It's just not worth it. You'll alienate your audience, damage your brand, and run the risk of getting flagged as spam.
Here are two practical examples: use double-opt in and don't automatically mark the opt-in checkbox. It might be more effort for your audience, but let them mark the box if they wish to receive promotional material and ask them to confirm in a follow-up email. You can even take it one step further and let them indicate which types of email they wish to receive. Those who really want to get your email newsletters won't mind and that's the real goal – building an engaged audience.
---
4. Embrace UGC
One of the main advantages of using user-generated content (UGC) in your digital marketing campaigns is that it helps to portray your brand as trustworthy. It's much easier for customers to trust your business and its offerings if they can see for themselves how other customers have interacted with your brand.
Not only is UGC free, but there are various easy ways to include it in your emails. So, you really have no excuse for not embracing more UGC in 2024.
---
5. Employ AI
Increasingly more retailers are employing AI in their operations for tasks like visual curation, customer engagement, and creating personalized shopping experiences. AI can also help email marketers by going through data to predict subscriber behavior and trends. Some AI software solutions will even be able to make suggestions for how you can improve customer engagement.
If the technology is there, why not use it? Perhaps it's time that you start working smarter in 2024.
---
6. Incorporate Personalization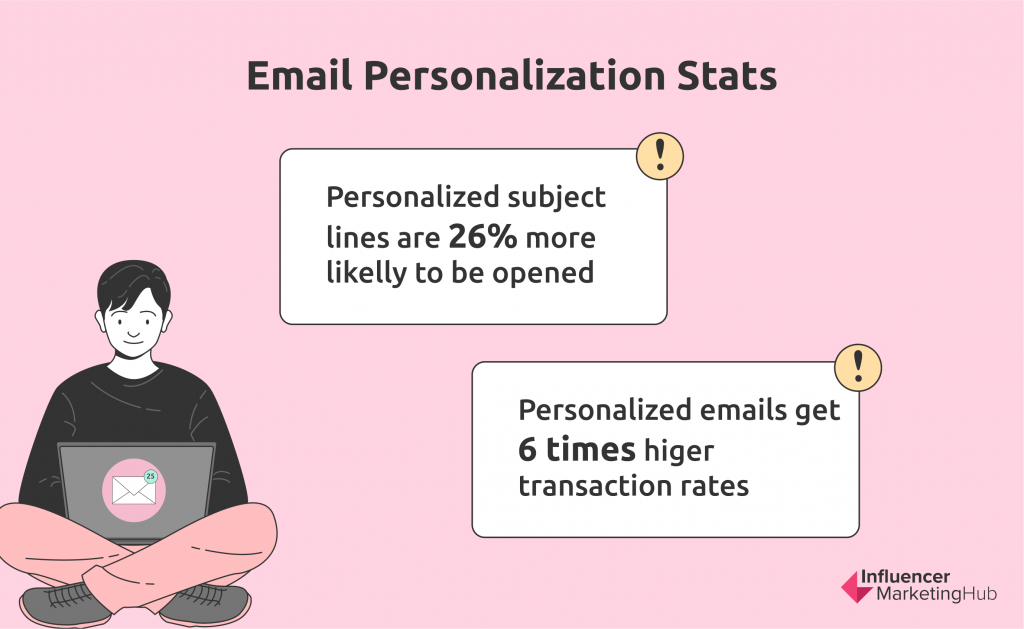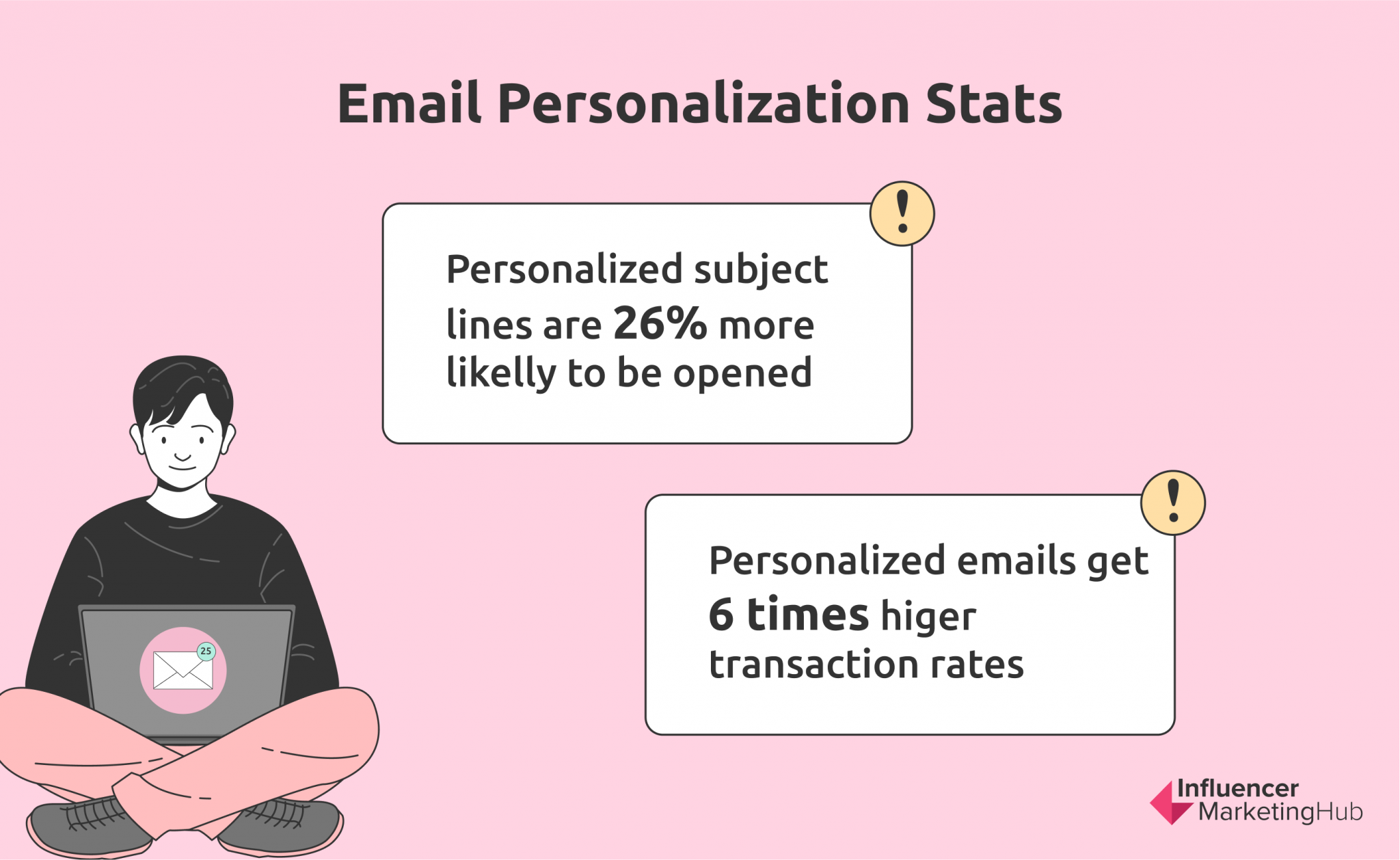 Email personalization was one of the major trends in email marketing the past year and it's expected that in 2024 it will continue to play a major role. If you haven't taken advantage of this trend yet, you run the risk of making your customers feel less valued. What's more, customers have actually grown to expect a personalized customer experience. So, you can't really ignore it in the new year.
Here are some examples of how you can include it in your marketing strategy:
Recommend products to specific segments of your list

Trigger emails using customer behavior, e.g. shopping cart abandonment

Include your recipient's name
---
7. Be More Inclusive
The protest action that marked 2020 meant that many companies prioritized diversity, equity and inclusion (DEI) in 2021. Though, the role that DEI plays in your marketing campaigns and workplace should be assessed continuously. It shouldn't stop at a single statement in which you pledge that you'll fight against cultural bias and discrimination.
Instead, you should focus on how diversity is represented in your marketing material. Do your images represent all people? Does your language usage promote stereotypes? More than half of consumers surveyed in a study commissioned by Facebook expressed that they didn't feel fully culturally represented in online advertising. What's more, the same study found that over 70% indicated that they expected brands to promote diversity and inclusion in their online advertising.
The challenge of promoting and communicating diversity is to strike the right balance. It's easy to create the impression that you're trying too hard which can be offensive. So, be sure to keep it sensible.
Get this right and you'll not only have peace of mind knowing that you're part of the solution, but your brand will also benefit financially. When a brand addresses representation in its marketing, it can boost customer loyalty and drive sales. Nearly 60% of consumers indicated that they're more loyal to brands that push for diversity and inclusion in online advertising and that they prefer to buy from these brands.
---
8. Reward More
It pays to include free content in your emails. In fact, a study completed by Bluewire Media revealed that click-through rates were as much as three times higher when free resources like templates were included.
So, don't just use freebies as lead magnets to grow your subscriber list. These types of resources are great for improving engagement.
---
9. Send at the Best Time
When it comes to email marketing, timing matters a lot. Optimizing your send time can have a significant impact on open rates, click-through rates, and revenue per subscriber. According to online data, Tuesdays and Thursdays are the best days to send marketing emails. All in all, it's better to send it during the workweek, but those two days in particular can offer the highest click-through rates and open rates respectively.
Not only does the day of the week matter, but also the time. Generally, the best time for sending marketing emails is whenever your subscribers would typically take a break.
Though, you'll still need to do your own testing to determine which day and time will get the best results for your target audience. At the end of the day, your goal for 2024 should be to find that sweet spot so that your email will be right at the top when your subscribers check their messages.
---
10. Clean Up Your List
If you haven't deleted inactive subscribers the previous years, in 2024 it's high time that you clean up your act. In fact, you should update your email list ideally twice a year.
If you don't, it can negatively impact email deliverability. What's more, your metrics will paint a more accurate picture as it won't be affected by subscribers whose email addresses might have changed.
When you're updating your subscriber list by removing inactive subscribers, it's best practice first to send a win-back email. It's worth a shot – you might just get a few subscribers who want to remain on your list. Those who remain inactive after this re-engagement email should be deleted from your list with a clear conscience.
---
11. Simplify!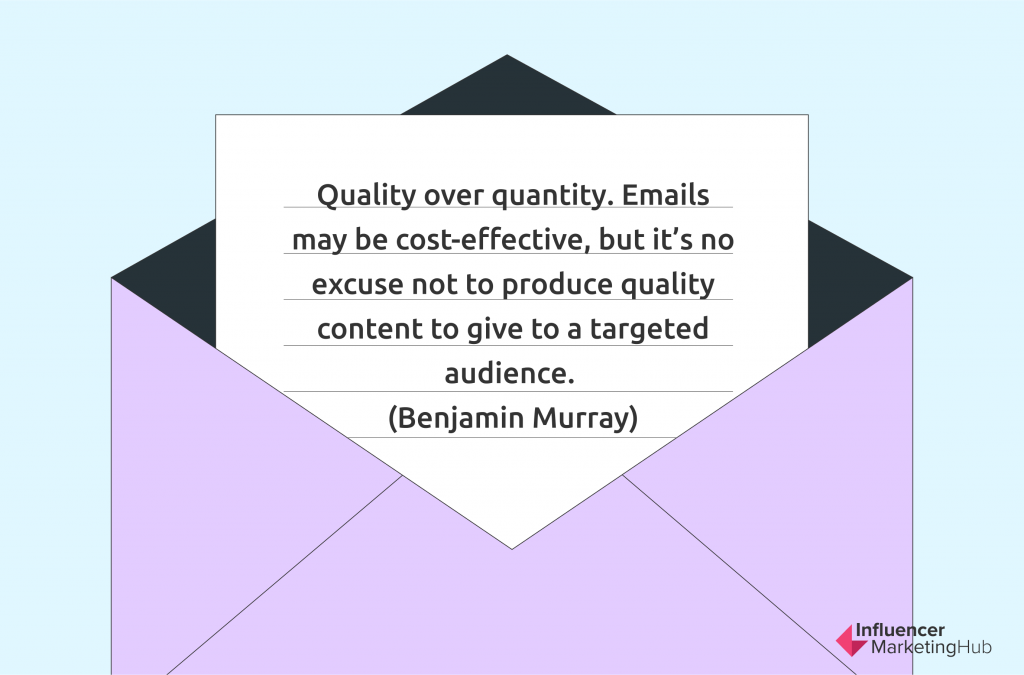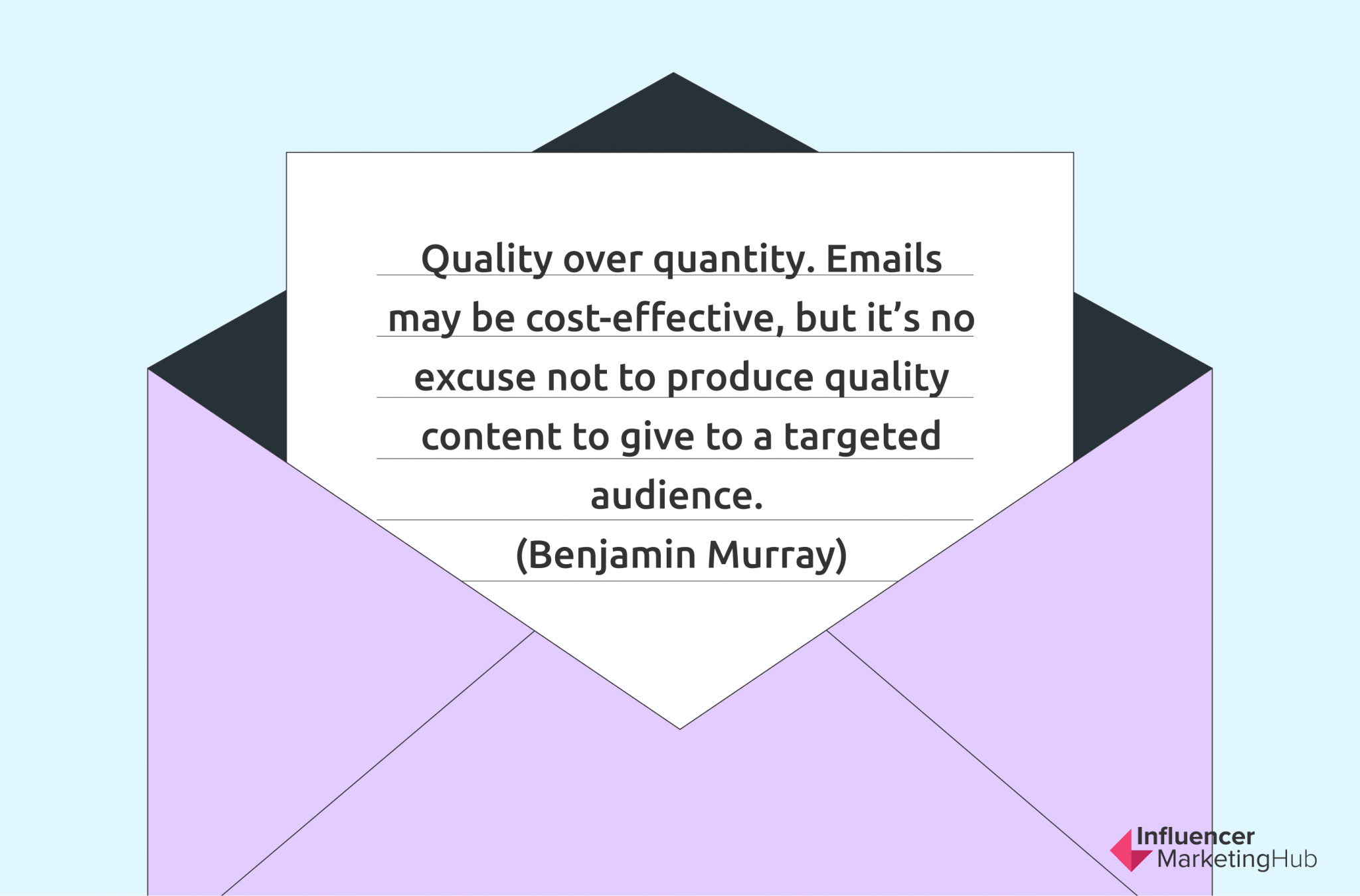 The new year is a great time to declutter. One area where you can also get rid of unnecessary objects is your email design. Minimalistic designs dominated recent years and will continue to remain popular.
Look at your colors, fonts, and layout. Do you have enough white space? These are all elements of email templates that you should re-evaluate in the new year.
Frequently Asked Questions
Are email newsletters important?
Email newsletters play a crucial role in any successful email marketing strategy. It helps your brand to share information that's important to your subscribers and you can also use it to promote products and offer discounts. Sharing this type of content will essentially help to build stronger relationships with your subscribers. Email newsletters should be sent on a regular basis. You can send them using whatever frequency works for you and your subscribers, but once a week is recommended.
What is email personalization?
Email personalization is when you aim an email campaign at specific subscribers by using the data you've already gathered about them. Data that you can use include information like their names, products they've bought, their location, how active they are on your website, gender, age, etc. Simply adding the name of a subscriber to the subject line of an email is an example of personalization. It can help to boost sales, improve customer experience and satisfaction, and increase brand loyalty.
How can you make your email marketing more inclusive?
Firstly, it's important that you work with a diverse team of email marketers that are inclusive of the customers who make up your target audience. By working with marketers who have a comprehensive understanding of your target audience, you'll be better able to create email newsletters that connect instead of offend. When it comes to creating content for your emails, your goal should be to create a sense of belonging for all. In short, you should speak to different user types so that everyone feels welcome.
When should you remove inactive subscribers from your subscriber list?
According to online data, the majority of marketers remove inactive subscribers from their email lists after a period of 15 months of inactivity. Ideally, you should update your email list every 6 months by removing those subscribers who've always been inactive or stopped engaging. If you don't, it can hurt email deliverability. However, before you delete them, first send a win-back email. This way you might be able to get some subscribers to start engaging with your email content again.