Advertising Disclosure
Advertising disclosure:
Our partners compensate us. This may influence which products or services we review (also where and how those products appear on the site), this in no way affects our recommendations or the advice we offer. Our reviews are based on years of experience and countless hours of research. Our partners cannot pay us to guarantee favorable reviews of their products or services.
While social media platforms dictate a significant part of the consumer journey, staying engaged and proactive has never been more crucial. As the number of platforms proliferates and user expectations evolve, marketing executives find themselves at the crossroads of technology and strategy, seeking tools to amplify their efforts and keep them ahead of the curve. Enter: Social Media Engagement Tools.
At its core, Social Media Engagement Tools can be envisioned as the command centers for an organization's digital presence. These tools offer an integrated suite of functionalities tailored to monitor and engage with online audiences in real time. From tracking brand mentions and customer sentiments to scheduling content across multiple platforms, these tools serve as the nexus between a brand's digital strategy and its on-ground execution.
Join us as we delve deeper into these tools, shedding light on their unique offerings and how they can transform your brand's social media game.
---
Top Social Media Engagement Tools
Top
social media engagement tools
2024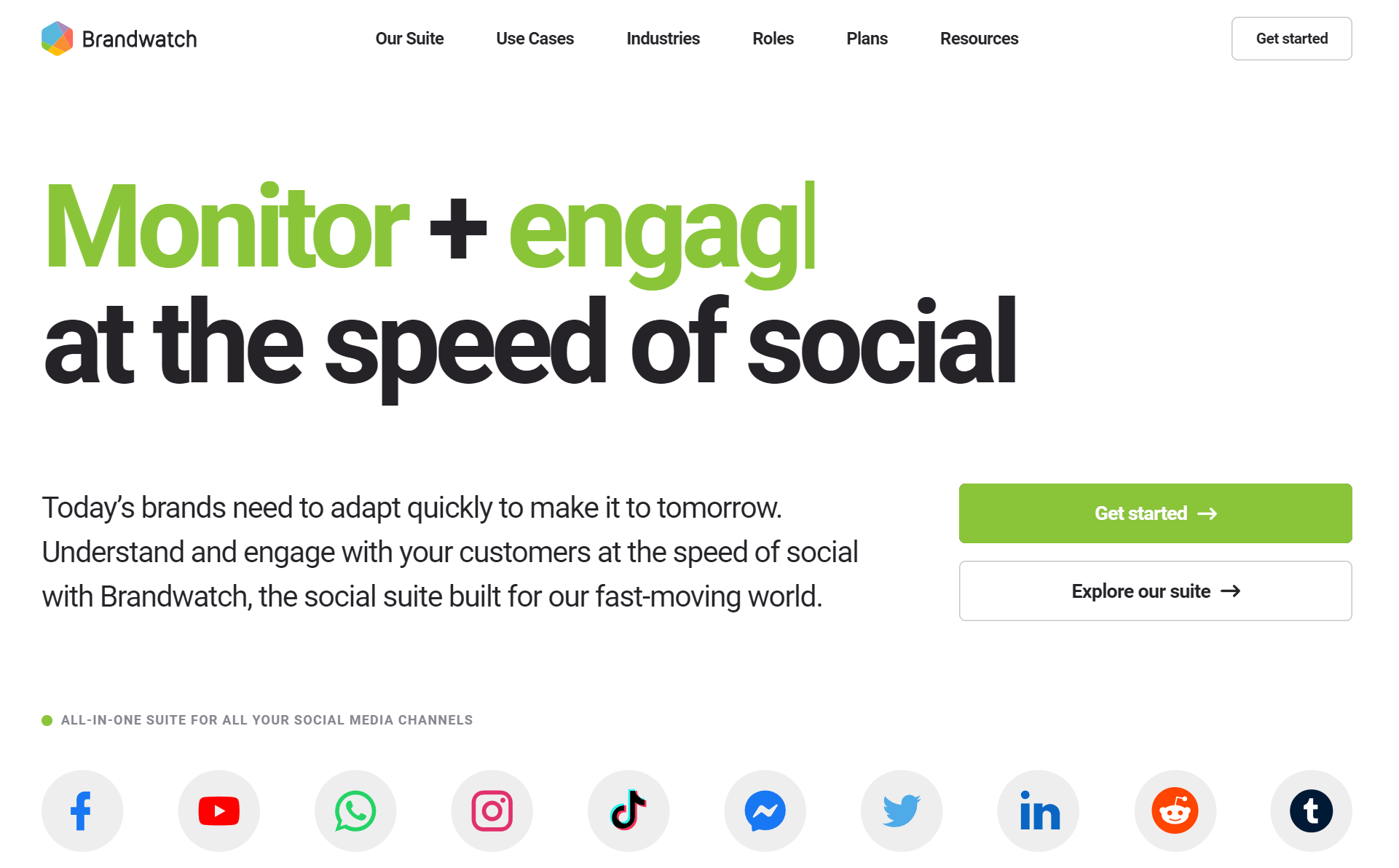 Recognized by a myriad of the world's leading brands, Brandwatch has rapidly ascended the ladder of social media engagement tools. This software suite is more than a mere tool – it's a comprehensive solution serving as the central hub for all social media interactions. One of Brandwatch's standout features is its 'Engage' inbox, which aggregates all the brand's user interactions.
Not only does Brandwatch offer a panoramic view of all customer interactions, but it also offers a granular deep dive. The customizable inbox is meticulously designed to allow brands to craft their engagement narrative. With the ability to design individual feeds, leverage filters, and even 'Listen' feeds for brand conversations, this is a masterstroke in making engagement intuitive.
But what truly sets Brandwatch apart is its emphasis on teamwork. Messages can be routed to specific teams or users, ensuring that the right queries reach the right people. Managers also benefit from a clear audit trail that details every team action.
Key features:
Unified dashboard for Facebook, Twitter, TikTok, Instagram, LinkedIn, WhatsApp, and YouTube.
Detailed contact cards for existing contacts, ensuring personalized engagement.
Gauge the sentiment of conversations for better strategies.
From welcome to away messages, automation ensures seamless interactions.
Note sharing, message assignment, and comprehensive reports.
Plans and Pricing: Specific pricing details require booking a consultation with Brandwatch.
---

Brand24 is not just another media monitoring tool; it's the best-in-class social listening tool for brands wanting to keep track of online conversations. With a comprehensive sweep of platforms, including Facebook, Instagram, Twitter, YouTube, Twitch, and TikTok, Brand24 ensures clients are always in the loop. The analytical prowess of this tool is underscored by its 'Influence of Social Media Authors' tab, providing critical insights into a brand's digital footprint.
The Analysis tab is another treasure trove detailing key metrics like the total number of mentions, reach, likes, and comments. Brand24's capabilities extend beyond just numbers; it translates data into actionable insights. This makes it not just a listening tool but a strategic ally for brands.
The software's user-centric design also allows for real-time engagement, ensuring brands can swiftly act on emerging discussions.
Key features:
Benchmark against competitors and evaluate campaign success.
Share vital statistics and insights across teams.
Analyze hashtag campaigns and find influencer connections.
Engage in relevant business discussions with a single click.
Proactively identify potential issues or leverage positive publicity.
Plans and Pricing: Brand24 offers a range of plans that cater to diverse needs. Individual plans start at $99/month, with a gradual increase in price for more advanced plans. There is also a free 14-day trial with no credit card requirement.
---
For businesses keen on tuning into the pulse of their social media presence, Agorapulse serves as an impeccable tool. With renowned brands opting for its services, this platform stands tall with an array of features aimed at social listening. Whether brands are concerned about staying ahead of competitors or keen on rapid response to urgent mentions, Agorapulse is designed to cater to their needs.
This tool is tailored to precision, with the ability to block social noise and focus on key conversations, thanks to the specialized search parameters on platforms like YouTube, Facebook, and Instagram. The additional advantage of boolean operators ensures brands sift through the social chatter and find precisely what matters to them. Furthermore, the tool's ability to label significant content means that strategy remains organized and efficient.
However, a standout feature of Agorapulse is the instant engagement action. Upon spotting a monitored item, brands can immediately like, reply, label, bookmark, and even assign the task to a team member. 
Key features:
Comprehensive social listening across social platforms.
Prioritization of crucial social conversations.
Mobile app availability for Android and iOS for on-the-go monitoring.
Unlimited keyword tracking on YouTube, with Instagram hashtag tracking as permitted by its API.
Plans and pricing: Agorapulse offers a free 30-day trial without needing a credit card. Subsequent plans include the Standard plan at $69 per user/month with up to a Custom plan tailored for specific business needs.
---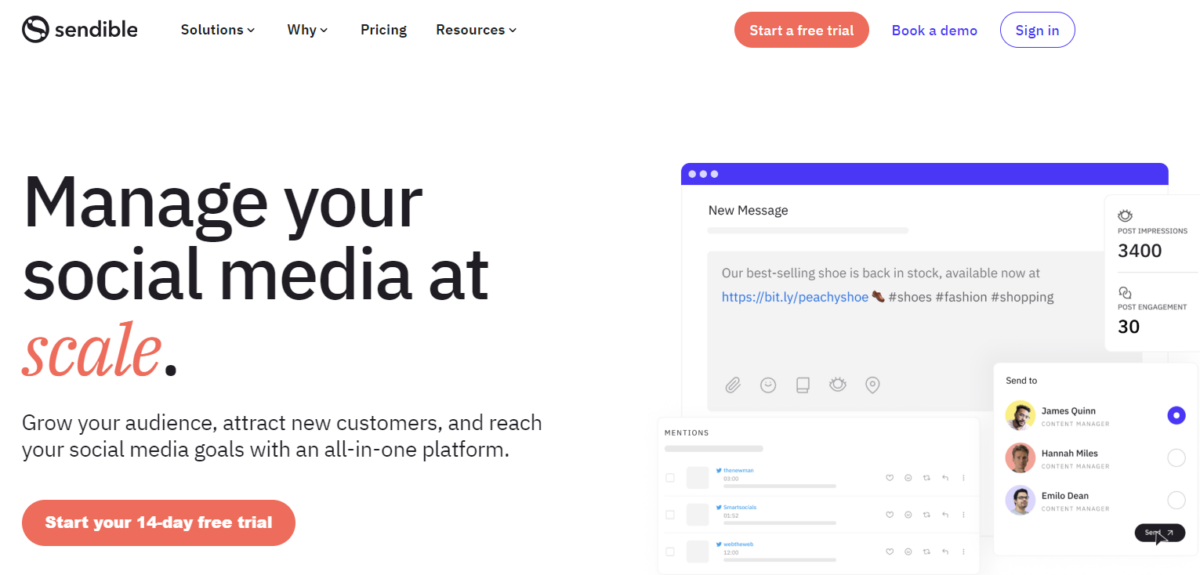 Sendible has cemented its place as a top-tier social media management platform, preferred by over 30k agencies, marketers, and brand managers. Their tool isn't just about managing content but expanding brand reach in the vast social media universe. With accolades from G2, it offers a seamless integration of scheduling, monitoring, and reporting on social engagement.
One of Sendible's highlight features is direct scheduling. This eliminates the need for timely interventions, as brands can schedule content in bulk for the next 30 days.  Sendible also supplements your content creation efforts with post ideas sourced from dashboards, RSS feeds, and Google Alerts, keeping the content calendar fresh. Customizability is another standout feature, allowing users to enhance visuals from platforms like GIPHY, Pexels, and Canva, with options to include team members and enhance collaboration efforts. On that note, the platform has a system to onboard clients without sharing passwords and an in-built approval process.
For marketers wanting a more hands-on view of campaigns, they have the tool's robust reporting to thank, designed to showcase results and spotlight best-performing posts. 
Key features:
Content customization with integrated image editors.
Centralized inbox for streamlined audience engagement.
Measure engagement across social media platforms.
Sentiment analysis to monitor brand mentions across various platforms.
Plans and pricing: Sendible offers a 14-day free trial with no card required. Following this, the CREATOR plan comes at $29/month, with TRACTION and WHITE LABEL plans available.
---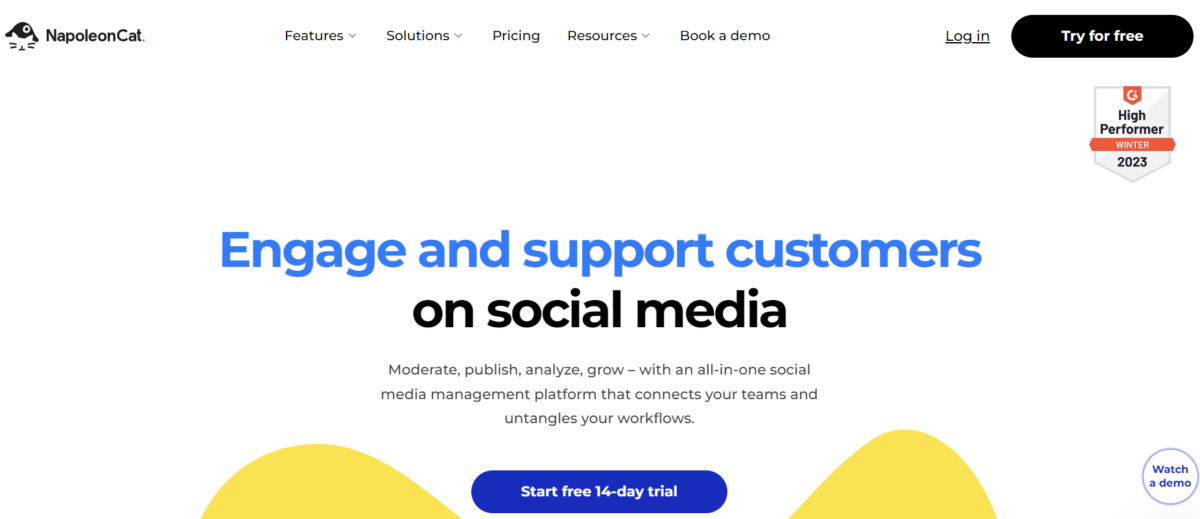 Businesses worldwide recognize the necessity of real-time engagement on social media platforms. NapoleonCat steps in as a comprehensive solution for those who face challenges in managing the deluge of comments, reviews, and messages. 
Having carved its niche among well-established brands and emerging entities alike, NapoleonCat's reputation shines for simplifying multi-platform social management. The tool finds mentions in notable success stories where brands have elevated their customer social media game.
NapoleonCat's Social Inbox stands out by presenting an integrated dashboard for managing engagement across platforms like Facebook, Instagram, LinkedIn, YouTube, Messenger, TikTok, and Twitter. With this feature, brands can monitor comments, likes, and shares and even bookmark specific posts. Simply put, this tool helps brands curate an environment where users feel heard and valued, thereby solidifying the brand's digital presence.
Key features:
Efficient tagging mechanism for messages to categorize them as complaints, praises, or spam.
Time-saving features, reducing reply durations by up to 66%.
User-tagging to differentiate between loyal fans and potential spammers.
Ability to monitor Google My Business reviews, an invaluable feature for businesses with physical locations.
Intuitive workflow mechanisms that encourage cross-team collaboration.
Plans and pricing: NapoleonCat offers a two-week free trial and three plans, with the Standard plan at $59/month and an option to curate your own custom plan.
---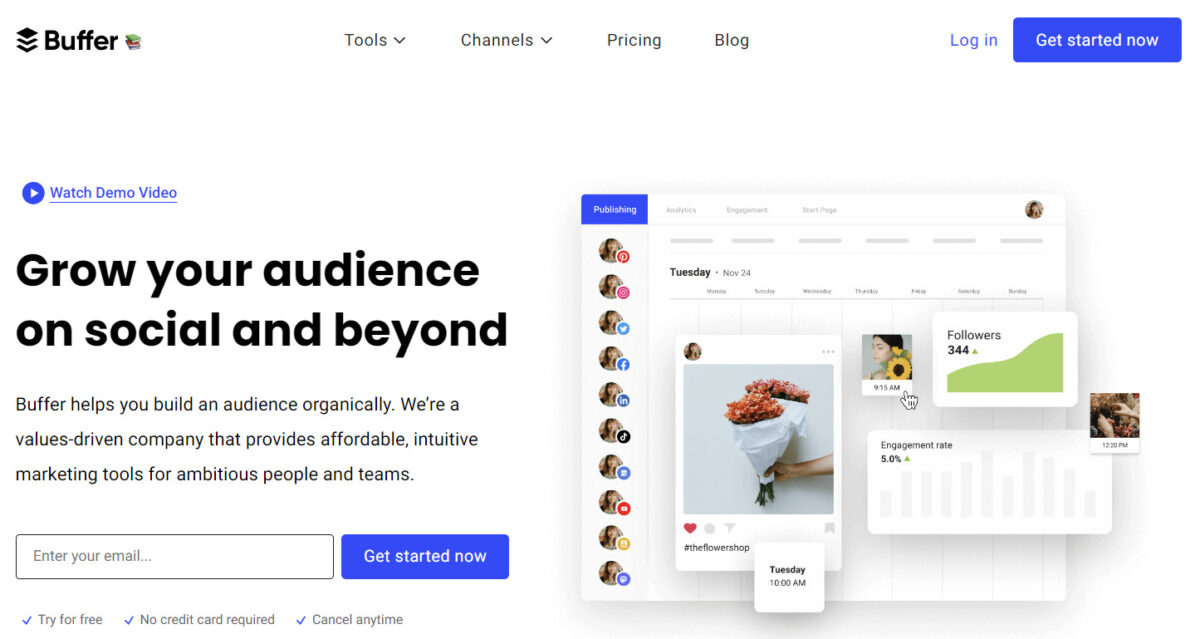 Buffer has earned its place in the digital sphere as a reliable tool that ensures businesses never miss a beat when it comes to social media engagement. Known for its simple yet effective user interface, Buffer appeals to both large enterprises and burgeoning startups. It strongly emphasizes creating genuine connections with audiences, turning casual visitors into loyal fans.
With Buffer, businesses can seamlessly hop between comments on Facebook Pages and Instagram business accounts, ensuring every comment receives the attention it deserves. The tool's design philosophy revolves around making engaging with followers as smooth as possible. Whether through emojis or a dashboard highlighting comments requiring immediate attention, Buffer is there to simplify things.
Key features:
A familiar grid view to quickly identify posts with unanswered comments.
Smart alerts using machine learning to prioritize conversations based on their nature, such as negative sentiment or purchase-related queries.
Keyboard hotkeys to enhance interaction speed.
Sentiment and label features to quickly identify potential opportunities or pain points in user comments.
Plans and pricing: Buffer offers a free version and three paid plans. Users can test the paid plans for 14 days free of charge.
---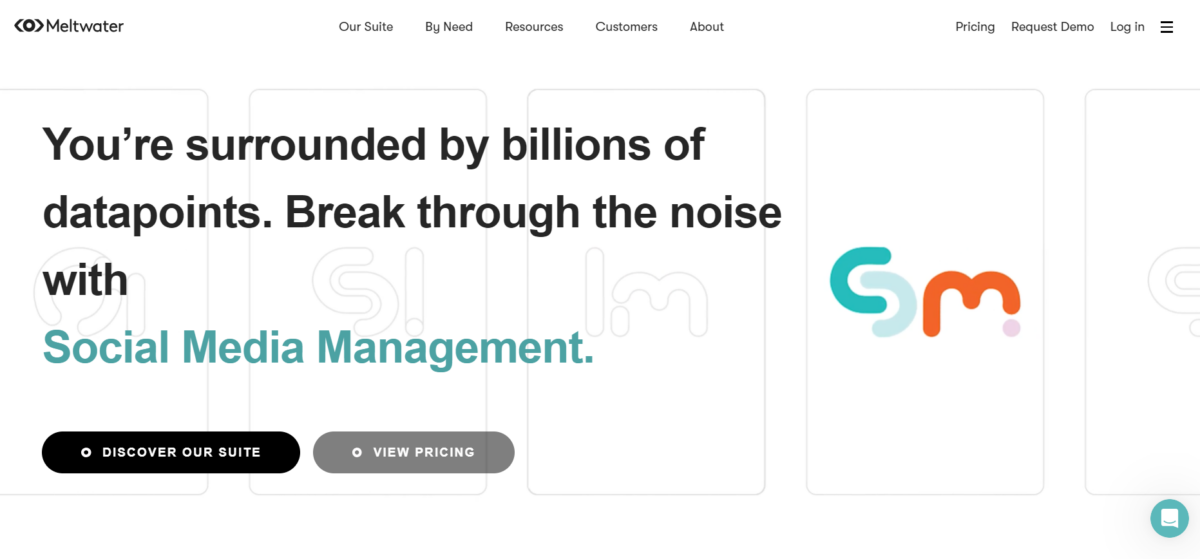 Meltwater stands as a comprehensive solution for brands looking to escalate their social media engagement. This tool's strength lies not just in its reputation but also in the multifaceted features it provides to handle social media management seamlessly.
Meltwater facilitates brands by ensuring they can effortlessly schedule and publish attention-grabbing content across various platforms. Moreover, the platform offers an all-in-one management dashboard, allowing brands to monitor real-time analytics and respond to comments all from one place.
Furthermore, Meltwater's community management enhances the quality of conversations by quickly identifying and removing non-compliant posts. The platform also gives users insights into their most engaging content and offers comparison tools against competitor's performances.
Key features:
Unified inbox for streamlined social engagement.
Comprehensive community management.
Customizable engagement workflows.
Tools for content and campaign planning.
Plans and pricing: Meltwater offers four pricing plans: Essentials, Advanced, Suite, and Enterprise. Request a demo to get detailed pricing for each plan.
---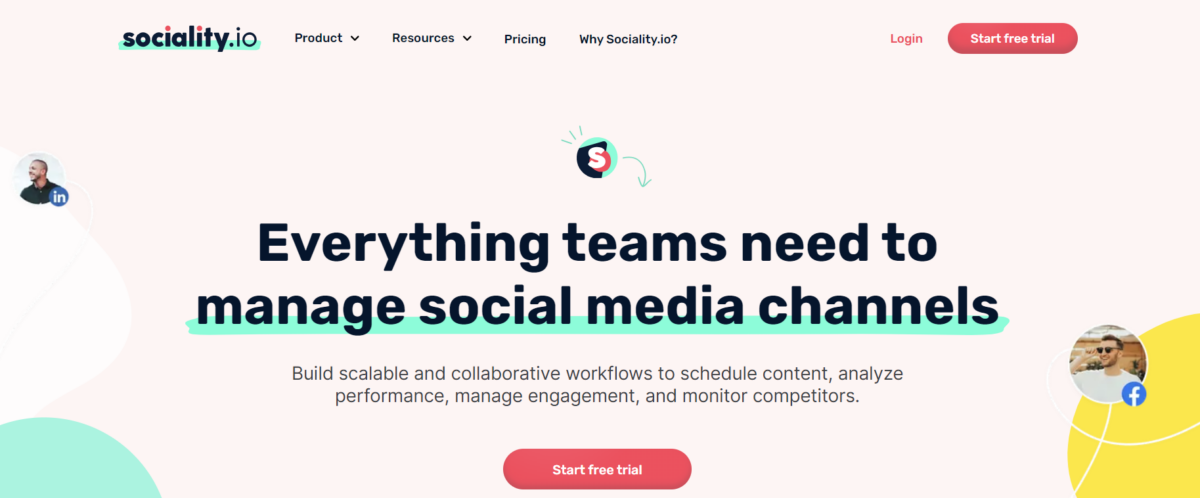 Touted as the starting point for customer success journeys on social media, Sociality.io offers a robust platform for efficient and scalable social media engagement management. The success stories of brands like FLO, Profaj, and Eczacıbaşı Group are a testament to the platform's efficiency.
At its core, Sociality.io emphasizes better conversations. Its unified inbox streamlines all conversations, making team collaboration smoother. The platform also boasts a social CRM tool that aids in tracking conversation logs, reply times, and overall interaction history.
Not just about engagement, Sociality.io gives a comprehensive look at team performance. Through its reports, brands can measure KPIs, identify top performers, and even determine the most hectic hours for the team.
Mobile users aren't left behind. Sociality.io offers a full-fledged mobile app, ensuring brands can manage their social media engagements even on the go. Their commitment to data protection and security ensures that your brand's information remains confidential.
Key features:
Secure API integration with CRMs
Advanced filters, search, and native engagement tools
Multilevel access permissions
Internal notes
Plans and pricing: After a 14-day free trial, pricing plans start with Pro at $99/month, going up to the Enterprise option with custom pricing.
---

Favored by numerous renowned brands like Marriott International, D-Link, and the University of Regina, SocialBee is truly a force to be reckoned with in the realm of social media engagement. Its commendations aren't just limited to those big names; thousands of brands trust this award-winning social media management platform, showcasing its widespread reliability.
SocialBee excels in ensuring brands can respond promptly and effectively to every interaction on social media. Its user-friendly unified engagement dashboard offers a panoramic view of all mentions and comments across various networks. 
With features such as Engage Boards, brands can easily maintain organization and efficiency, distinguishing between mentions from different networks. Furthermore, the addition of streams allows for a clean separation of mentions and comments, making it simpler to manage responses.
Key features:
Option to like, comment, and reply to enhance brand engagement.
Efficient tracking of mentions and comments across platforms like Twitter, Facebook, Instagram, LinkedIn, and Google Business Profile.
Anticipation of extended support for platforms like Pinterest, TikTok, and YouTube.
Plans and pricing: SocialBee offers a 14-day free trial with no credit card requirement. Their pricing begins with Pro50 at $179/month and goes up to Pro150 at $449/month.
---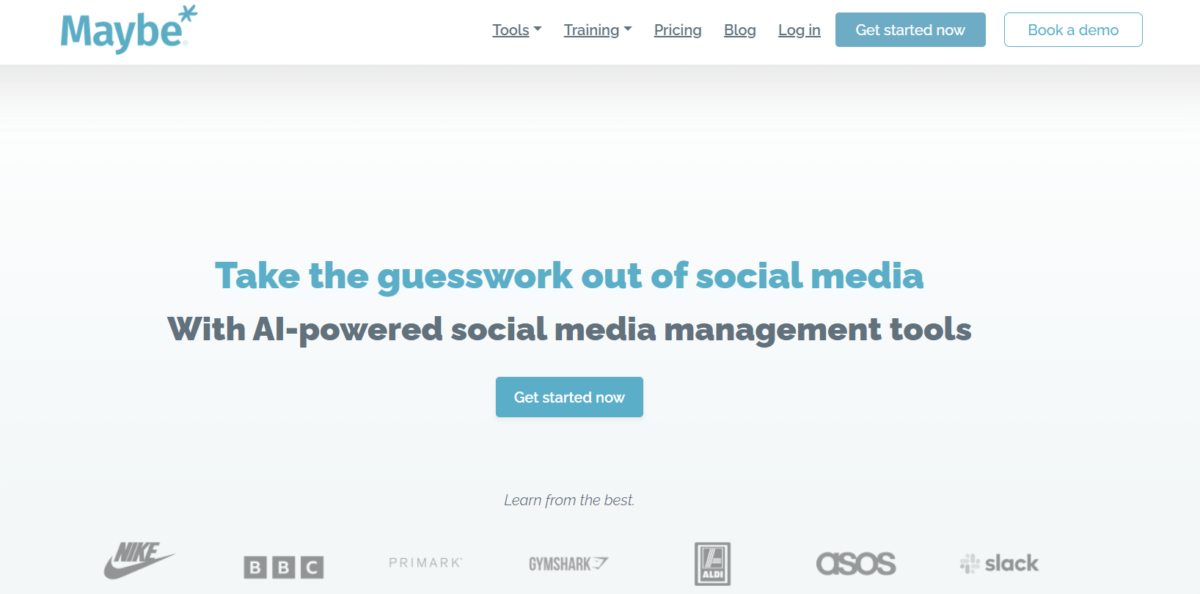 When it comes to boosting social media engagement, Maybe* stands out distinctively. It's the go-to choice for over 25,000 businesses, demonstrating its effectiveness and credibility. Catering to both novices and experts, Maybe* promises to simplify the challenging terrain of social media, making it more accessible and manageable.
The tool's standout feature is its capability to amalgamate the conversations of over 7.9 million businesses daily. Whether brands are trying to locate customers by location, sector, or hashtag or aiming to consolidate their existing client and prospect conversations, Maybe* offers a seamless solution.
Key features:
Consolidation of all your comments and likes, making them accessible from a single point.
Power search to find and engage in relevant conversations across social media.
A dashboard designed for clarity and ease of use.
Data-driven insights to inform and enhance your social media engagement strategies.
Testimonials from renowned businesses, validating its efficacy.
Plans and pricing: Maybe* offers a free tier for individual users. For those looking for more robust features, the Lite plan is available at $124/month for three users, and the Pro plan is priced at $326/month, catering to ten users.
---
Why Engagement Matters
Social media is more than just a broadcasting channel; it's a two-way street. Engagement represents the depth of the relationship between a brand and its audience. High engagement rates indicate strong brand loyalty, customer satisfaction, and a potent indication of ROI on digital marketing efforts. Furthermore, in a digital ecosystem where algorithms prioritize content based on engagement metrics, a robust engagement strategy is no longer optional; it's a business imperative.
However, manually tracking and responding becomes a herculean task, given the sheer volume of conversations, mentions, and feedback that arise across various platforms. Engagement tools automate a significant part of this process, ensuring brands don't just participate but excel in the digital dialogue.
---
Factors to Consider When Selecting Social Media Engagement Tools
Several critical factors demand careful consideration when selecting the optimal Social Media Engagement Tool. Foremost is platform integration. Given the vast diversity of social media platforms, choosing a tool that effortlessly melds with channels that resonate with your brand is paramount, thereby anchoring a cohesive strategy and trimming operational bottlenecks.
Equally crucial is the realm of real-time analytics. The fluidity of the digital environment underscores the indispensability of having finger-on-the-pulse data. Insights gleaned from these timely analytics illumine emerging trends, granting brands the agility to recalibrate their strategies in real time.
Navigating these tools, however, hinges significantly on their user-friendliness. The sophistication of a tool is measured not just by its features but by its ease of use. Marketing teams should find a balance where the potency of the software meets an intuitive interface, ensuring seamless harnessing of its capabilities sans formidable learning barriers.
Beyond the present, scalability becomes a beacon for future-proofing. As enterprises burgeon, so does their digital imprint. Software solutions prioritizing scalability cater to this growth, ensuring that brands can stretch their outreach without transitioning to an entirely different platform.
---
Conclusion
As the digital landscape continues its relentless evolution, the need for brands to stay engaged, agile, and proactive remains constant. Social Media Engagement Tools emerge as the linchpin in this endeavor, providing marketing executives with the arsenal to lead the digital charge. As you navigate through this listicle, remember your brand's unique needs, challenges, and aspirations to make an informed decision that drives engagement and fortifies your brand's digital narrative.
Frequently Asked Questions
How do these tools improve the efficiency of my marketing team?
By centralizing social interactions and providing features like unified inboxes, engagement boards, and monitoring capabilities, your marketing team can save time, reduce manual tracking, and ensure no missed engagement opportunities.
Can I schedule content ahead of time using these platforms?
While the primary focus of these tools is engagement, many engagement platforms also offer content scheduling and publishing features, allowing you to plan your social media content in advance.
How do these tools handle negative comments or mentions?
While the tools provide the means to monitor and respond to all mentions, the strategy for handling negative comments is up to the brand. However, by centralizing mentions and comments, these tools ensure that you can quickly address and manage negative feedback.
Are additional costs involved, such as adding more users or integrating more platforms?
Pricing structures vary. While the given pricing options in the listicle highlight base rates, it's essential to check with each provider for specifics on additional users or integrations, as there might be different tiers or add-on costs.