Having a hashtag strategy is vital for maximizing your social media profile. Because hashtags can speed up the discovery of content that resonates with your followers the most, it's best to use hashtag research tools to find the most effective words. This way, you can raise awareness about your brand within the niche you wish to influence. When you successfully capture your intended readers through strategically selected hashtags or hashtag sets, a community can form around your official social media, whether you're an individual or corporate marketer.
---
7 New Tools to Add to Your Hashtag Strategy:
---
Benefits of Using Hashtag Research Tools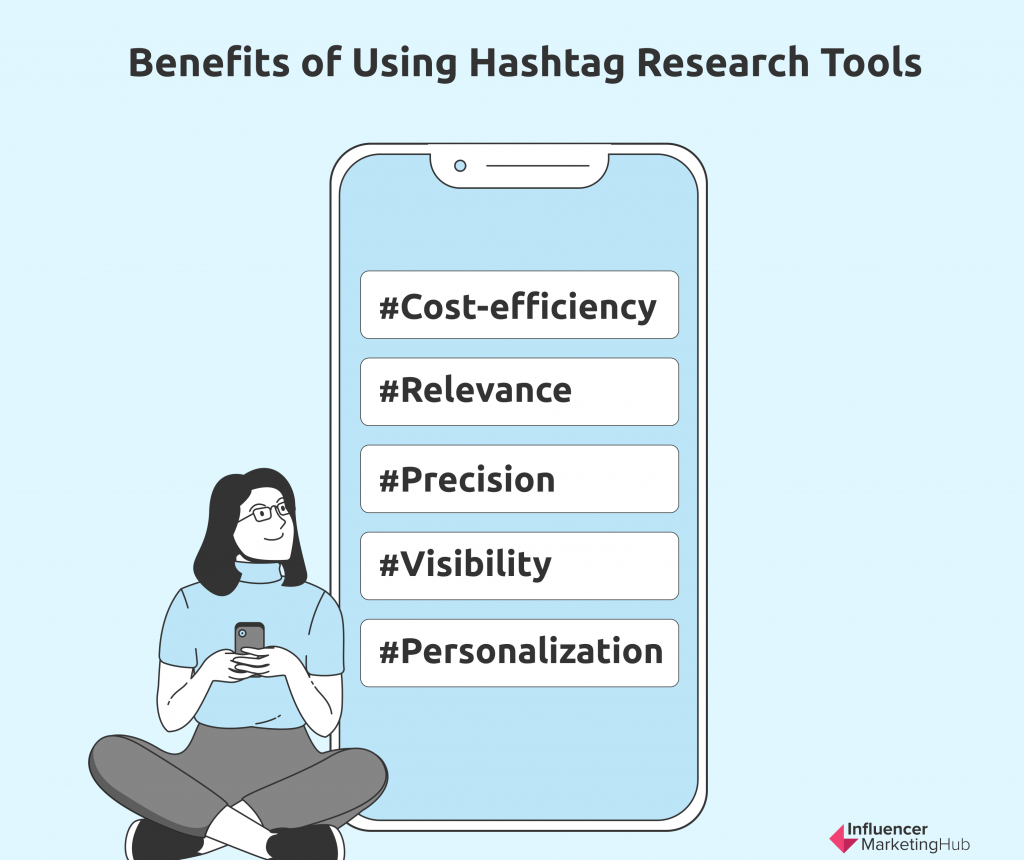 Using hashtag research tools makes hashtag selection sharper and more convenient. Here are some reasons why:
Hashtag research tools work round-the-clock, so you can find the most trending hashtags anytime, anywhere. No more manual searches on social media channels related to your business or brand.
The best hashtag research tools collect and display the most relevant words within your industry in real-time. Since the generated hashtags also include user-generated words, you can discover new words that are likely to resonate better with your social media visitors and subscribers.
Influencer Marketing Hub's Most Popular Hashtag by Country Today tool helps you find out what hashtags are trending in the U.S., the U.K., Germany, Italy, France, and Australia for the day. You can also check out Influencer Marketing Hub's Ultimate List of Trending Hashtags on Every Platform. Additionally, we have a comprehensive guide on how you can optimize the use of hashtags, depending on the platform.
These automated solutions can show you how many Internet users are using particular words, allowing you to select the best-performing hashtags.
Over time, your precise and relevant hashtag choices will attract likes and followers, which will help grow awareness and loyalty for your brand. In the process, subscribers would be motivated to try the products or services you offer.
You can use analytics to determine the profiles of the subscribers who react to your hashtags. The findings can guide you in targeting specific market segments on your next marketing campaign based on the social media channels you use.
---
7 New Hashtag Research Tools to Try
There are plenty of hashtag research tools out there, which others also refer to as hashtag generators and aggregators. Influencer Marketing Hub has run several articles on this topic, but this article presents a fresh line-up of tools for you: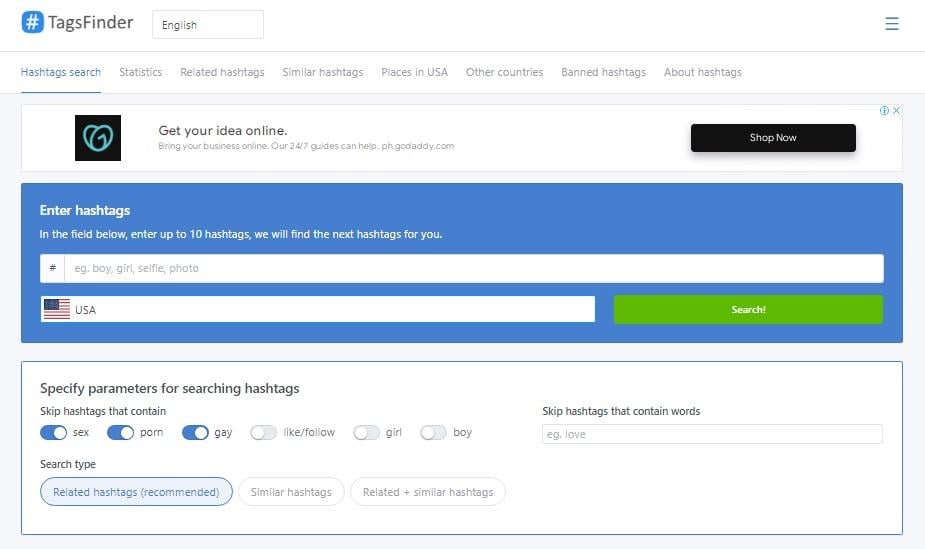 Thanks to TagsFinder's adjustable search settings, you can target specific demographics by selecting your preferred country and gender. It can accept up to 10 keywords in the search field. You can also specify the words that you'd like the software to skip in the search results. Once TagsFinder generates the results, you can pick your hashtag set by clicking the X mark for unwanted words before clicking the "Copy to clipboard" button. It also regularly monitors banned hashtags to keep them off its database.
Features:
Option to generate similar (containing the same keyword) or related meanings or both

Bulk hashtag search

Banned hashtag list and blocker
Best for:
Instagrammers and Twitter users with a travel or location-based niche

Small to medium businesses with other online marketing tools
Pricing:
This is a free platform.
Pros:
Statistics tab displays the updated list of leading hashtags per country and nation's top localities

Has settings to skip results with porn or sexual connotations
Cons:
No hashtag volume indicator

No analytics
---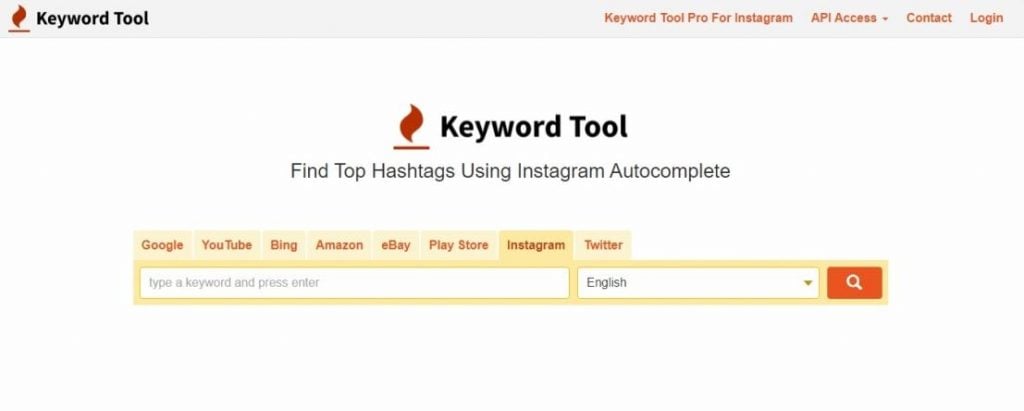 You can use Keyword Tool to find hashtags you can use on Instagram and YouTube. The software relies on Instagram's search suggestions and YouTube's autocomplete feature to collect terms and phrases related to your keyword. Besides displaying related hashtags, Keyword Tool has a People tab that shows the Instagram handles featuring your keyword. For YouTube search results, you get not just related hashtags but also related questions and phrases with prepositions.
To refine your search, the software has a "negative keyword" filter where you can input terms that shouldn't appear with your main keyword.
Features:
Multilingual

Negative keyword filter

Analytics
Best for:
Instagrammers

YouTube vloggers
Pricing:
Keyword Tool's free version lets you type up to five negative keywords and shows you the usage volume for the top five generated results. You can sign up for the pro version so that your search results are ten-fold higher than that of a regular search. Plus, you get to see the usage volume details for all related hashtags generated. Pro plans also let you input six or more negative keywords to refine your search.
The Pro Basic ($69/month) is a single account and produces up to 7,000 keyword search results per day. Meanwhile, the Pro Plus ($79/month) is good for up to five users and allows up to 35,000 keyword searches daily. Finally, Pro Business ($159/month) lets up to 10 people use the account. It can accept up to 50 API requests per day and generate up to 70,000 search results daily. Both the Pro Plus and Pro Business display cost-per-click and ads competition data when searching for leading keywords on Google.
Pros:
Bulk searches

30-day money back guarantee
Cons:
Fewer or zero results for multi-word searches
---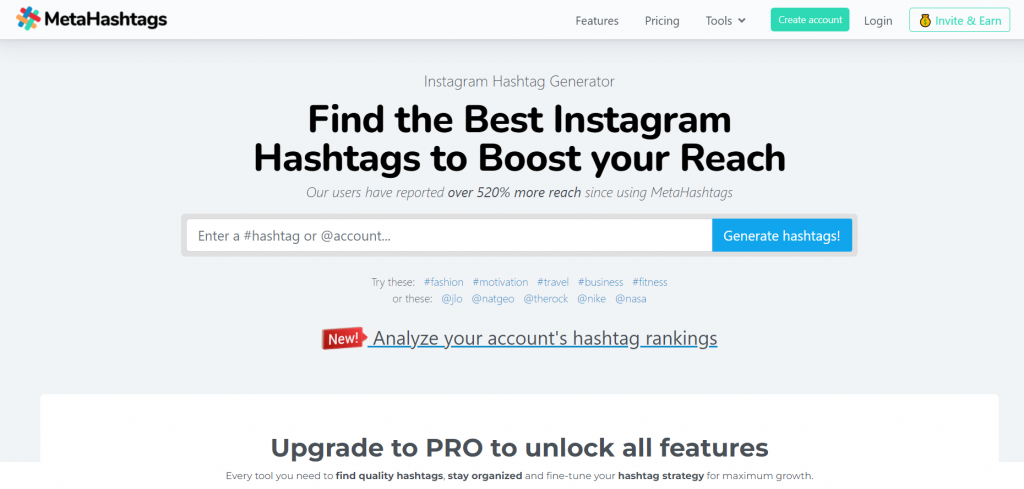 Get several metrics about an Instagram hashtag in one search with MetaHashtags. Besides displaying similar keywords, the search result will show various analytics. MetaHashtags can take you directly to the IG accounts where those terms appear when you click the "Show Images" box. Thumbnails of those IG accounts appear below the relevant search result. Moreover, each search you make creates a tab containing the results. This tab stays active or open even after you type a new word in the search field.
Paid plans let you set the parameters of your search by frequency, size, likes, and others. They also allow you to track your rankings and search the hashtags used by IG accounts related to yours.
Features:
Analytics (total number of times the keyword has been used, the number of times it was posted within the hour, the average and lowest number of likes, and the average number of comments it received)

Rank tracker

Banned hashtags tracking
Best for:
Influencers

Social media marketing teams

Small to medium enterprises
Pricing:
You can use the MetaHashtags hashtags generator for free, but higher paid plans come with extra features such as rank tracking. With the lowest plan (€9 or $10), you can export your hashtag lists and related data to a CSV or Excel file. The mid-tier plan (€19 or $22) allows you to view your account's rankings and "spy" on the hashtags used by your competitors. You can create up to three accounts under the top-tier plan (€29 or $33) and track each of their rankings.
Pros:
Rich metrics

Adjustable filters

Profile hashtag analyzer
Cons:
No location filter

Results take longer to show for multi-word searches
---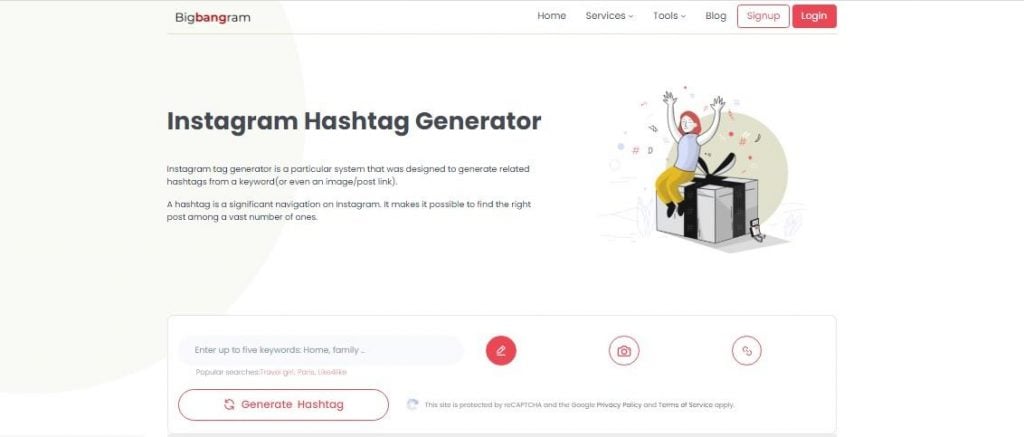 Enter as many as five keywords on Bigbangram's search field or upload a link or image to get as many as 30 similar and related results from its hashtag generator. It shows the number of mentions of each word made on Instagram. The platform also has "auto follow," "auto like," "auto comment," and direct messaging functions.
Features:
Difficulty level indicator, including the number of results under each level: hard, medium, and easy

Hashtag generator mobile app

Auto follow, auto unfollow, and auto like

Auto direct message and auto comment

Downloaders for social media photos, videos, and profiles

Analytics
Best for:
Social marketing teams

Freelancers
Pricing:
While Bigbangram's hashtag generator is apparently free for public use, the website doesn't have a pricing page. Its Knowledge Base says that the four "standard packages" are worth $15, $45, $85, and $270. But it doesn't list the inclusive services of each plan. It only says that paid subscription is based on "activity time." Users can use the dashboard to check off the services they wish to access and for how many days. Bigbangram will then indicate how much they need to pay.
Pros:
Direct messaging templates

Sales scripts

Multiple accounts
Cons:
Auto-follow, DM, and scheduler can only be used on Instagram
---

Toolzu lets you type up to five keywords in its search engine and gives you three ways to generate hashtags for your social media posts: via keyword search, URL, or photo. The hashtag generator then displays similar or related hashtags, which are categorized as frequent, average, and rare, as well as their volume of usage. The software uses Instagram's constantly updated hashtag base.
Features:
Regularly updated list of top 1,000 hashtags

Analytics (levels of difficulty or how hard/easy a hashtag will become visible on social media, recently posted, top trending posts)

Instagram profile analyzer

Instagram downloader

Image editor
Best for:
Pricing:
You can use Toolzu's Instagram Hashtag Generator for free for three days. Beyond that, you'll need to contact customer support to know about their paid plans.
Pros:
Multi-language search

Banned and shadow-banned hashtags are automatically excluded
Cons:
Free version only displays limited results

Paid subscription needed to access advanced features
---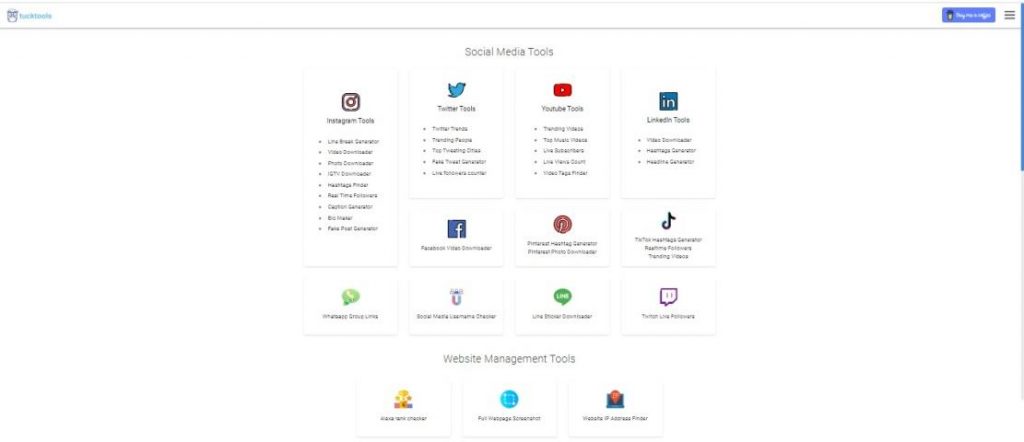 Tucktools Hashtag Generator Page
Tucktools Main Homepage
Tucktools' free hashtag generator for Instagram, Pinterest, TikTok, and LinkedIn has two fields: a search field for entering your keyword and your target country. After typing your search word and preferred location, the platform displays the top hashtags related to your keyword.
Features:
Location-based

Multi-word searches

Straightforward interface

Downloaders, follower counters, trend-identifying tools for various social media channels
Best for:
Emerging influencers with a location-based market

Multi-channel marketers
Pricing:
Tucktools is a free platform.
Pros:
Variety of trend-monitoring and engagement-tracking tools

Website management and program developer tools (XML to JSON Converter, JSON Formatter, CSS and JS Minifiers, and Color Palette hex)
Cons:
Lacks search volume indicator
---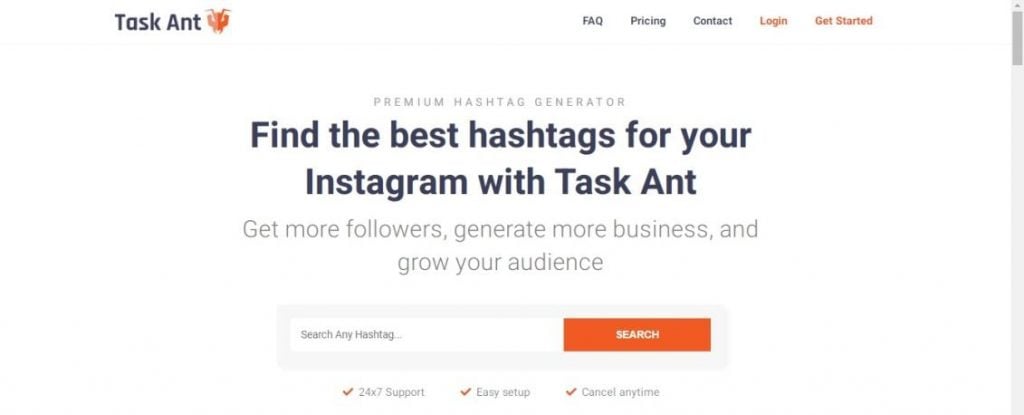 Get real-time trending hashtags with Task Ant, which lists hundreds of search results according to popularity using official Instagram API data. Every search lines up all keywords related to your initial keyword together with their respective number of mentions and degree of popularity starting from the most popular terms.
Features:
Unlimited results on the paid version

Analytics

Scheduler
Best for:
Digital marketers

Small to medium business owners
Pricing:
Task Ant's $15/week Solo Plan provides 100 results per search and lets you create as many as 30 hashtag sets. Meanwhile, its $49/month Growth Plan gives you an unlimited number of results per search. There's also no limit to the number of hashtag sets you can create.
Pros:
Advanced filters let you set the number of hashtags returned, average likes, and media count

Performance and competitor tracking
Cons:
Limited paid subscription options
Frequently Asked Questions
What free hashtag-related tools can I access from Influencer Marketing Hub?
We have a free Hashtag Generator Tool for Instagram that lets you upload the image you'd like to post on your account. After you click the Upload and Generate Hashtags button, you'll find a list of words related to your photograph or graphic. The tool then lets you pick up to five words from this roster so that the tool can display the most popular hashtags related to the terms you chose from the first set.
When the second set of generated keywords appears, you can discover how popular they are by looking at the column beside it, which lists the number of mentions per keyword. You can then click your preferred results before clicking the "Copy Selected Hashtags" button.
We also have a free Instagram Hashtag Counter where you can post your Instagram content and the tool instantly shows how many hashtags you included in that post.
How many hashtags is too much?
Influencer Marketing Hub's link to the Hashtag Counter tool features an article on this subject, giving tips on the best way to use hashtags on every platform.
But as a general principle, don't overuse them. Doing so will sustain engagement, and it will prevent Instagram from considering you as spammy, which could lead to a shadowban.
Besides mastering the nuances of your social channel and your chosen hashtag generator, know the types of hashtags you have at your disposal. Learn more about brand, campaign, category, and event hashtags on our blog about using hashtags to grow your reach.