It was a random Twitter user who in 2007 suggested the use of the #-sign in front of words as a useful way to categorize and differentiate between topics. Today the hashtag (#) is so widely used that it has been added to the Oxford dictionary and is even used in spoken language for dramatic or comedic effect (hashtag seriously).
With hundreds of thousands of hashtags used daily on various networks, knowing how to use them to their full effect can really give your social media presence the boost it needs, whether you're using them on Twitter, Facebook, Instagram, Pinterest and even Google search. Using hashtags can make you more discoverable to people who don't already follow you, can boost engagement and increase your reach dramatically.
Finding the right hashtags for the right networks and knowing what works for your brand can make all the difference. All this is easy if you're using the right tracking tools and metrics. Here is everything you need to know.
---
Hashtag Analytics 101:
---
Know your social media platform
Not all social media platforms are created equally when it comes to hashtags. Do research on the proper way to use them for each particular network. Most networks will have guides for hashtag selection and use (like Twitter and Instagram).
Twitter
Twitter is the birthplace of hashtags and it is often cited that tweets with a hashtag get double the engagement of tweets without hashtags. Hashtags on Twitter make your posts easily searchable, let you be part of or host a Twitter conversation and allow you to document threads or chats for users to browse. With limited characters per tweet, it's wise not to use too many hashtags. Research shows that the optimal number of hashtags for engagement on Twitter is just one, followed by two per tweet. Too many hashtags can decrease your engagement.
Twitter hashtags are usually focused on a specific event, topic of conversation, or a group of people that you would like to engage.
---
Instagram
Instagram was made for hashtags. In fact, hashtags are arguably Instagram's primary method of sorting and filtering content. Research by Simply Measured shows 8 million businesses are on Instagram and 70 million Instagram users follow a business on the network. Unlike Twitter, where most people use just one or two hashtags in a tweet, Instagrammers are allowed to use up to 30 hashtags per post. But using too many hashtags that are irrelevant could make the system think you are spamming followers which could place you at risk of receiving an Instagram shadowban. Hashtags that lead to a topic page can be used in your bio, Instagram Stories or be location-based to create higher visibility, or can be used to create user generated content campaigns. Hashtags on Instagram are usually more descriptive than on Twitter.
---
Facebook
Hashtags have never really gained that much traction on Facebook and it makes no difference in terms of the searchability of a term whether it has a hashtag or not. While hashtags are clickable on Facebook, studies have shown that posts without hashtags are actually more popular. So better to just keywords in your Facebook posts.
---
Pinterest
Just like Facebook, Pinterest technically doesn't differentiate between a search term with a hashtag and one without. While the network does allow for the use of hashtags, it is unlikely to make a big difference to your engagement whether you use them or not.
---
LinkedIn
Hashtags are useable in LinkedIn 'updates' or articles. The use of hashtags on the network makes posts and articles more discoverable. Keep hashtags on LinkedIn professional or work related and functional. A pro tip is to make sure that your profile is set to public instead of private so that your hashtags are searchable not only in your network but by all of LinkedIn's 610 million members in more than 200 countries.
---
Which metrics to use to track hashtag success
The days of throwing hashtags to the wall and seeing what sticks are long gone. If you really want to make sure the hashtags you use make a difference to your social media performance you have to monitor it. There are several metrics you can look at to determine the success of your hashtags.
The first is the reach of your hashtag, i.e. how many people actually see it. The better your hashtag, the more people will likely pick up on it. The second metric that's important to look at is engagement: How many times has your hashtag been retweeted, shared, liked or mentioned? This is where the real social media gold is. You want to make sure that not only do people see your hashtag, but they also engage with it. The rate at which users follow your account is often an indication of what you're doing right (or wrong) at a particular time. See if there is a correlation between the rate your account accumulated followers and the hashtags you were using, the numbers of hashtags you used or the frequency of your posts.
Which popular hashtags are out there that you can use? Popular hashtags tend to be searched more and especially on Instagram where more hashtags per post are allowed, it could increase your reach using these. Lastly, have a look at the hashtags your competitors or influencers with similar audiences as you use. When you search for a certain hashtag to test popularity, make sure the right users are using them so you attract the right audience.
---
Which hashtags to use
If you're a seasoned social media influencer, you'll know there are various ways to use hashtags. Here's are some of the main ways to use and reasons to track them.
Trending hashtags
Using trending hashtags is a good way to make use of viral content and conversations to bring attention to your brand or profile. Make sure you only use hashtags that are relevant to your content or product, as strong arming yourself into a conversation could backfire if users realise you are just after the likes and shares. Only using popular hashtags will also not necessarily get you the results you're after as simply tagging your post with #love, #happiness or #tgif will put it in a sea of similar posts and likely only get likes or shares from bots. But tracking trending hashtags can give you insight into what works for your competitors and give you an idea of which hashtags to use in your posts.
---
Branded hashtags
Branded hashtags are great for directing traffic to and creating awareness around your brand or campaign. Good branded hashtags are short, relevant and specific, i.e. avoid any words or phrases that might have a double meaning. Make sure to check your hashtag does not already exist as that will dilute the effects of your campaign. Check what your competitors are doing with their branded hashtags and what works for them with tools that monitor competitor performance such as Hashtagify (see more below).
A pro tip is to monitor your brand name as a hashtag. Instagram or Twitter users can of course use hashtags with your brand name without your knowledge or prompting. This kind of organic popularity is gold! So look for #yourbrandname, particularly if you want to gather user generated content.
---
Content hashtags
Content hashtags are hashtags related to the industry you work in or use social media for. They are not necessarily trending or popular but are commonly used and therefore enhances the search engine optimisation (SEO) of your posts as users would use them to search certain topics. One example of a content hashtag is a location hashtag. These are great to connect to a local audience and tap into what might already be an existing hashtag garnering attention. For example, if your business is in Paris, you could use the hashtag #BonjourParis to let people in the area know you are there. Engaging with location hashtags by retweeting or liking is a great way to show that you are part of the community. #Onemilliontweetmap works well if you're trying to see which hashtags are popular in your area (see more below).
Another example of a content hashtag is an event hashtag that serves to create hype around a certain event. Live tweeting the launch of a product or business is one way to use an event hashtag.
---
Tools to track hashtags
Different tools exist to help you find the right hashtags for whatever purpose you might need them. While some of these tools carry a subscription cost, many are free or offer free trials or basic services, and investing in a helpful tracking tool could be worth your while. Here are 5 useful tools to track and analyse hashtags.
1. Hashtagify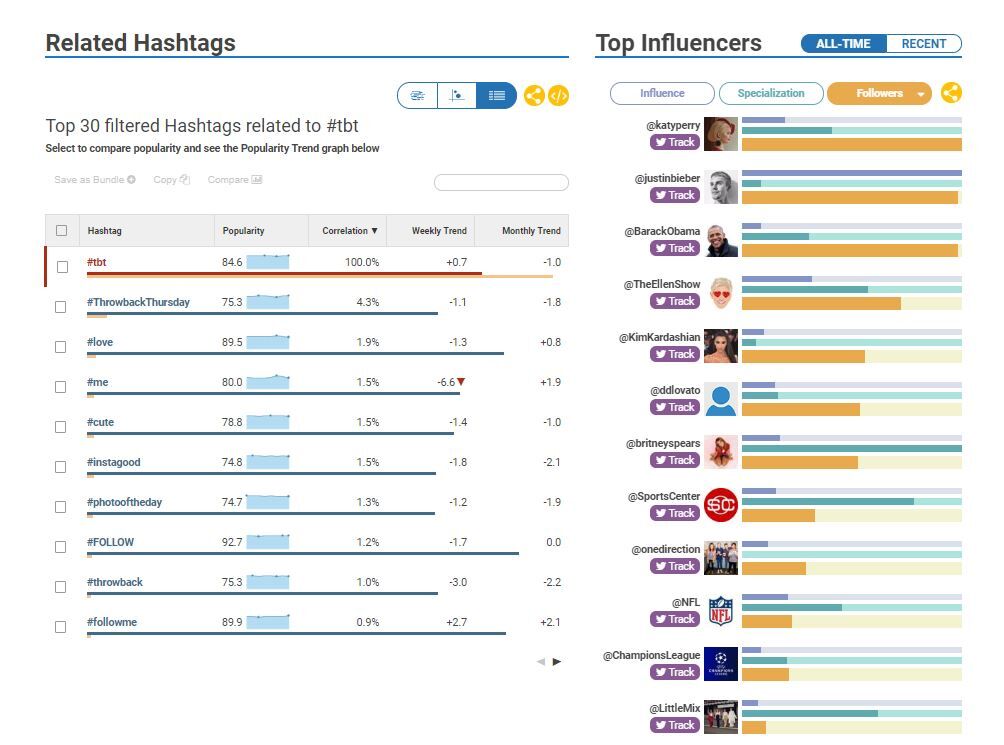 Hashtagify allows you to search for the most popular hashtags, discover the influencers who use them and understand usage trends. By scraping real time data from Instagram and Twitter when you search for a specific hashtag, the tool gives you up to date popularity rankings, as well as weekly and monthly trends. You can further search related hashtags that other influencers use and compiles a full report to give you all your metrics in one place.
The site is easy to use and functions as an extension plugged into your browser. This way it generates suggestions for tweets and Instagram posts as you type in the respective apps. Under usage patterns it even helps you to identify which days and hours of the week are the best to use your hashtag.
You can sign up for free and choose which package best suits your needs.
---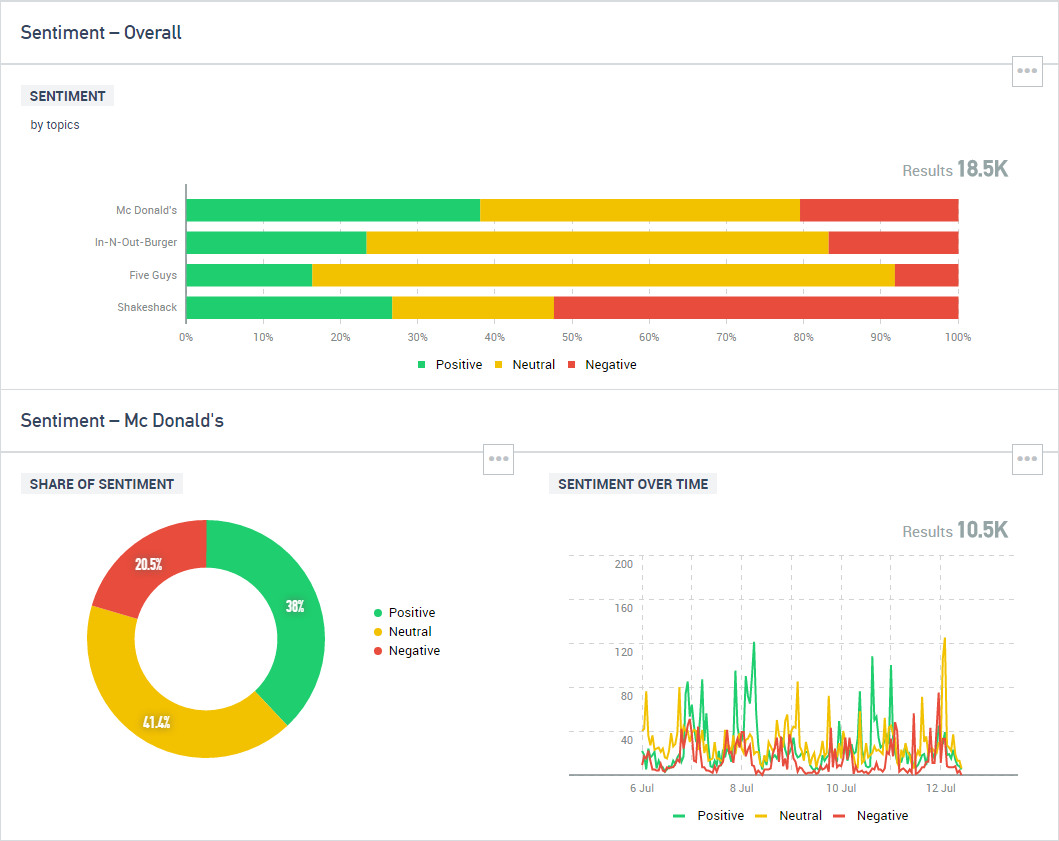 Talkwalker offers standard hashtag tracking including reach, mentions and engagement in real-time. It analyses the top hashtags, users and brands linked to trending hashtags and stories. In addition to its hashtag tracking function, it also shows another layer of extremely useful analysis, including image recognition (allows you to identify threats to your trademark and reputation) sentiment analysis (determines what is driving positive and negative sentiment), virality (tracks how your content is spreading) and identifying brand ambassadors and influencers.
Talkwalker is a paid product but has a free demo for you to test before you buy.
---
3. Ritetag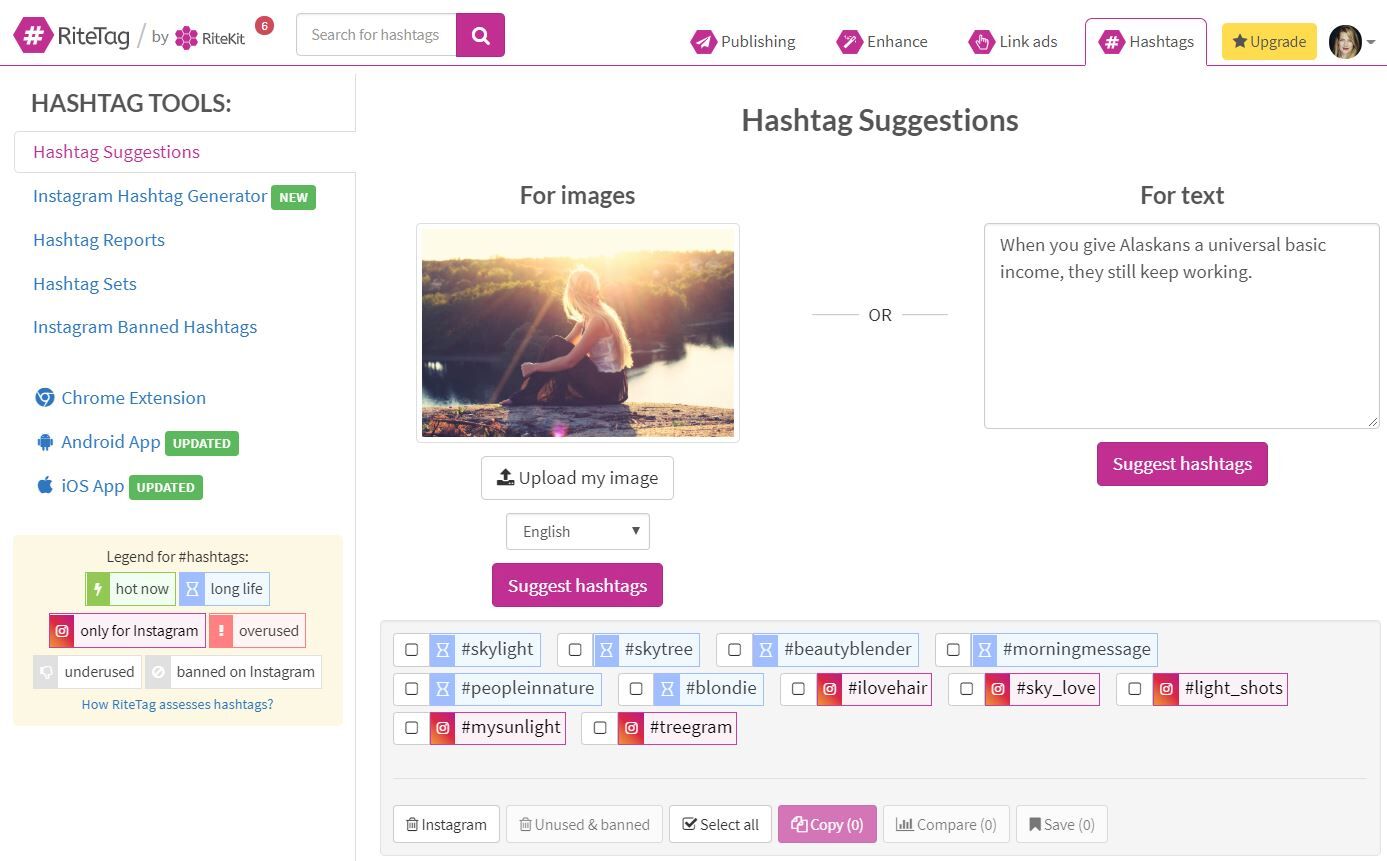 Ritetag functions as a browser extension that uses image and text identification to give you hashtag suggestions. Once the extension is plugged in, you can right-click on any uploaded image and Ritetag will suggest hashtags, filtered to give you the most engaged-with ones first. The same goes for text, you can highlight a sentence of phrase, right-click and get the hashtag suggestions for that text.
Ritetag allows you to compare the suggestions it gives you on six different data point and analyses hashtag uses for the past month.
This service is especially great for Pinterest, Instagram and Facebook and other highly visual networks.
---
4. #Onemilliontweetmap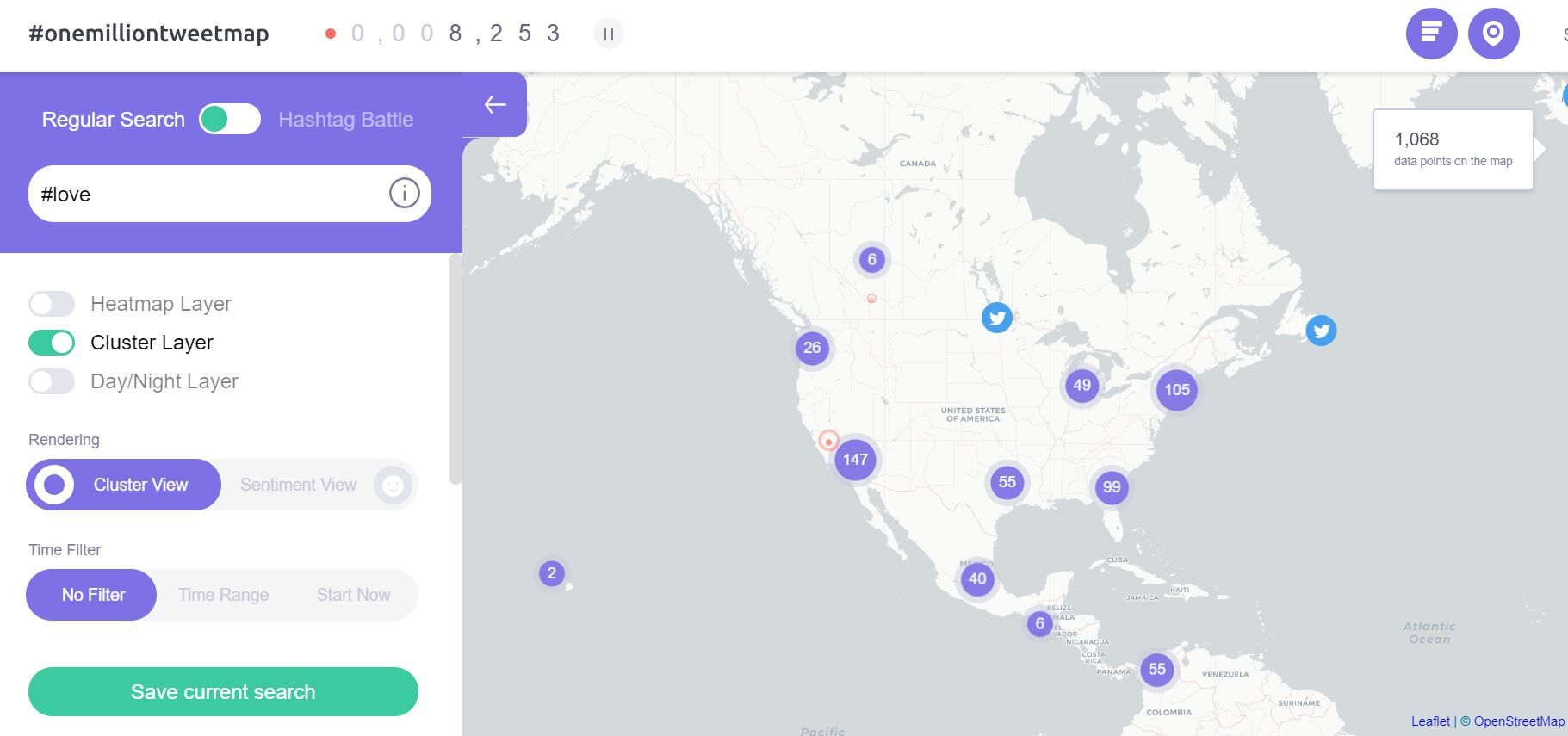 This unique service maps the geolocation of tweets and tracks the usage of hashtags geographically on a map in real-time. Enter a hashtag and set your filters, then click on the clusters on the map to see where your hashtag is popular or trending. #Onemilliontweetmap offers really granular data and you can zoom right down to a specific neighbourhood or street and be able to see when the tweet was posted, who posted it, and the contents of the tweet including clickable links. The cluster view lets you show the cluster area where there is the most hype about tweets. Indicated with red points on the map, it shows the hottest tweets up to six hours prior. This gives you a great overview of hashtag usage across the world – and in your area.
---
5. Social Searcher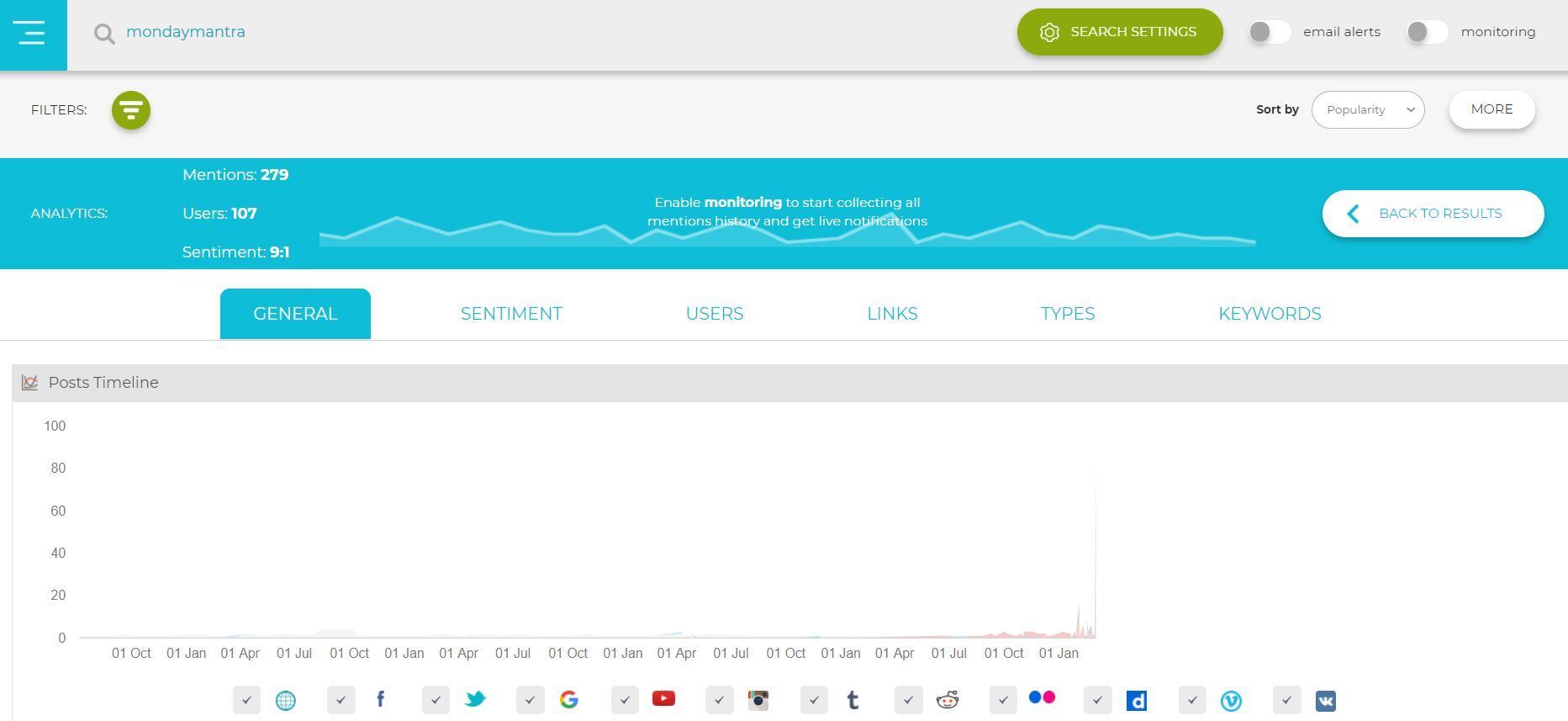 If you want to more closely track what people are saying about your or your brand on social media, Social Searcher is a very useful tool. It is a free social media search engine that allows you to track your entire online media presence.
The search engine lets you monitor all public social mentions on social networks and the web. The one-stop dashboard lets you to track mentions of your brand or specific hashtag on Twitter, Instagram and even through Google search. It also allows you to see negative sentiment and will pick up negative hashtags which allows you to pre-empt or reduce any viral negativity heading your way.