Advertising Disclosure
Advertising disclosure:
Our partners compensate us. This may influence which products or services we review (also where and how those products appear on the site), this in no way affects our recommendations or the advice we offer. Our reviews are based on years of experience and countless hours of research. Our partners cannot pay us to guarantee favorable reviews of their products or services.
Choosing the right brand ambassador management program can be tricky. There are several available software options on the market, and each has its own unique set of features.
We put together a list of the best brand ambassador management software solutions. This list will help you narrow down your choices and find the best software for your needs.
---
Top Ambassador Management Software Solutions

for 2024

:
---
What is a brand ambassador management software program?
Brand ambassador management software programs help businesses promote their products or services through strategies that mostly rely on word of mouth. These strategies aim to increase brand awareness by engaging the biggest fans of the business.
These programs streamline the process of finding, recruiting, and managing brand ambassadors by providing a single platform capable of managing all aspects from start to finish.
---
What features do brand management software programs offer?
Most program features include tools for communication with, tracking, measuring, and reporting of existing brand ambassadors. These programs allow businesses to identify new opportunities and focus on strategies to better utilize their ambassadors and maximize existing marketing campaigns.
That's why ambassador management software solutions are so important for the future of branding. Whether it be for influencer marketing or affiliate marketing, brand ambassador software programs help you properly manage, measure, and scale your marketing campaigns.
---
Guide to the best brand ambassador management software programs
Here are some of the best software programs you can use to manage your brand ambassadors.
Top
ambassador management software
2024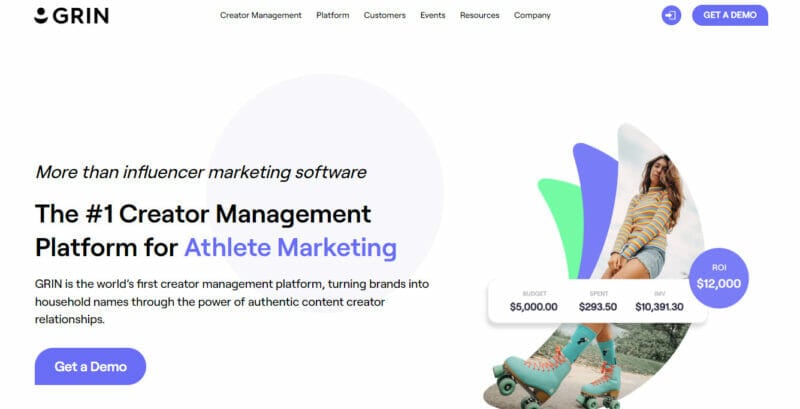 Another brand ambassador software is called GRIN, a comprehensive all-in-one suite that allows you to take ownership of your influencer marketing program. Here, you can manage and engage all of your social media creators—from influencers to affiliates. The platform has a single system for every creator that the brand engages with so the interactions are more easily tracked as well.
GRIN has revolutionized the way brands manage their influencer programs, from finding and contacting creators to repurposing their content for SEO or running ads on social media platforms like Instagram Stories. With their easy reporting functions, GRIN makes it easy to determine how well your program is performing, putting you in control of your budget and campaign outcomes.

Key Features: Content Amplification, Search/Discovery, Influencer Lifecycle Management, Influencer Relationship Management, Content Review, Content Library, Campaign Management, Campaign Reporting, Influencer Analysis, Audience Analysis, E-commerce Tools, Product/Gifting Tools, Forms and Compliance,
Channels: Facebook, Instagram, TikTok, Twitter, Twitch, YouTube
---
Creator.co fuels the growth of small- and medium-sized businesses and influencers through social commerce and collaborations. The platform leverages the power of creators to help brands create authentic campaigns. Aside from key features like automation, it lets you monitor brand conversations, the market, and your competitors.
Using its Discovery tool, you can start searching for creators from its immense database. You'll be provided with data on the influencers you've selected via the Deep Insights reports so you can get to know their audiences, gauge their performance, and familiarize yourself with the influencer's interests and brand affinities.
With Creator.co, you can collaborate, create affiliate programs for your business, access a variety of digital services, and even check out the upcoming Marketplace +, a feature that's designed to help your brand build awareness and drive sales by featuring you in creator stores.
Furthermore, with its Collaborations feature, you can easily build and manage campaigns, as well as connect with the right influencers for your brand. You can opt for a full-access subscription, which lets you build and manage campaigns, search for influencers, and enable influencer activations. You can also go with the automated subscription option, which connects you with a campaign specialist who will help you strategize and build campaigns, recruit creators (with your approval), and assist you with marketing strategies like sponsorships and social media management.

Key Features: Search/Discovery, Automated Recruiting, Influencer Relationship Management, Influencer Marketplace, Content Review, Content Library, Campaign Management, Campaign Reporting, Influencer Analysis, Audience Analysis, E-commerce Tools, Product/Gifting Tools, Fake Follower/Fraud Detection, Payment Processing, Social Listening, Competitor Research, Creator Marketplace,
Channels: Instagram, YouTube, TikTok
---
Referral Factory is a brand ambassador app that lets businesses create easy-to-manage programs where customers are rewarded for referring friends, all within the platform of Refer Factory. The tools provided allow you to track how many people have been referred through your campaign while making sure everything runs smoothly.
With Referral Factory referral discount codes, automated email notifications, and a centralized dashboard for easy access to all your campaign data, you can create unlimited campaigns to develop loyalty that's rewarded.
---
Impact has revolutionized brand ambassador management with its user-friendly and feature-rich platform. Its partnership automation tools save businesses time by streamlining the process of finding, recruiting, and managing ambassadors. With robust tracking and attribution capabilities, companies can measure ambassador performance, optimize their programs, and maximize their ROI.
Performance-based compensation structures keep ambassadors motivated, while customizable contracts ensure transparency and trust. Impact's comprehensive reporting and analytics tools empower businesses to make data-driven decisions and refine their marketing strategies. Since security is a top priority, Impact maintains the integrity of ambassador programs with advanced fraud detection and prevention technology. Plus, seamless integration with other marketing tools creates a cohesive marketing ecosystem.

Key Features: Influencer Content Amplification, Search/Discovery, Automated Recruiting, Influencer Relationship Management, Influencer Marketplace, Team Collaboration Tools, Content Review, Content Library, Campaign Management, Campaign Reporting, Influencer Analysis, E-commerce Tools, Product/Gifting Tools, Forms and Compliance, Payment Processing,
---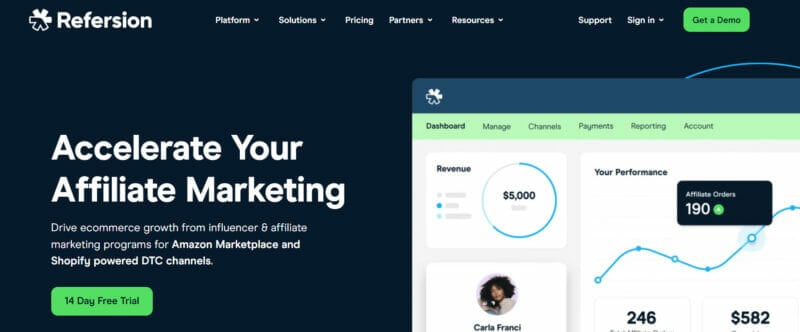 Refersion is a powerful tracking platform that allows businesses to manage their own affiliate marketing programs with simple tools. It can be integrated with existing e-commerce platforms to better track conversions from existing affiliates, and it helps you assess potential areas of opportunity while scaling your program. Potential affiliates can sign up through a form, and brands can easily notify customers with an offer to become an affiliate through the Post-Purchase Widget.
With Refersion, brands can also engage affiliates through several channels such as email and the Refersion Marketplace. Its dashboard offers easily understandable insights that let you determine KPIs such as emerging product favorites or affiliates that may need more assistance.
---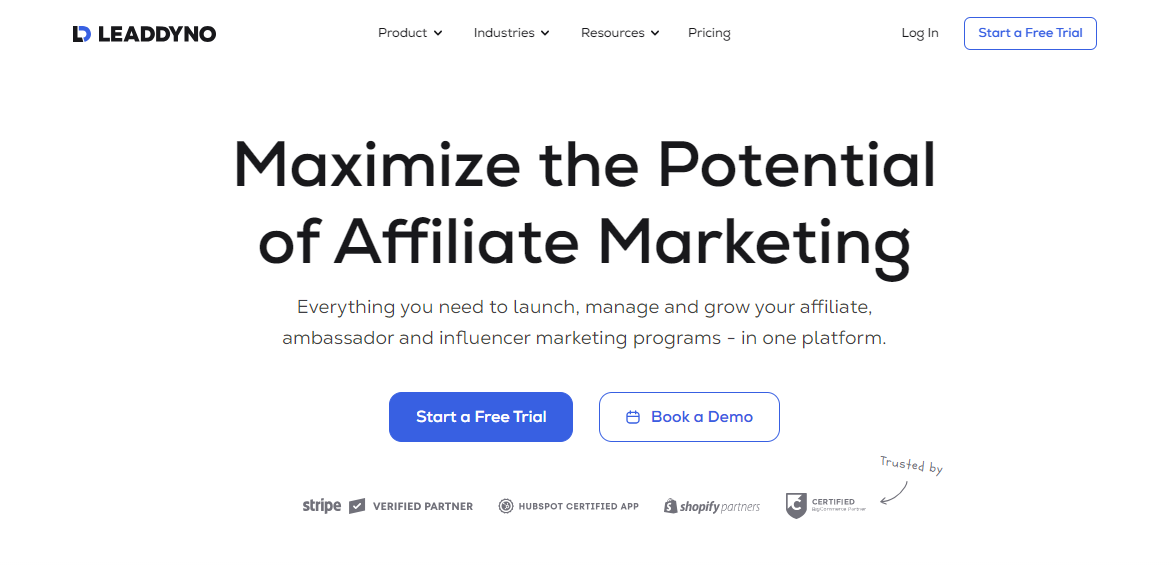 LeadDyno is a powerful and intuitive marketing software that's a one-stop shop for affiliate marketers. It offers everything from setting up a recruiting and signup portal to managing commissions and bulk payouts, all while integrating seamlessly into many different applications through numerous integrations.
This program's management tools provide essentials such as automated email notifications and one-click tracking of sales. You will be able to optimize every aspect of their role and take all of the guesswork out of affiliate marketing so you can focus on what you're good at – making money.
---

SocialLadder provides a social enterprise solution for creating, engaging, promoting, and tracking community-based brands. It includes everything from streaming messages through email marketing automation tools like Drip Marketing Automation, which allows companies to send out emails at set times or when specific people join an online event so they don't miss anything happening live.
You can manage your community, reward successful members for promoting you and monitor their engagement all in one place with ease thanks to SocialLadder's end-to-end management.
---

Zuberance is another brand ambassador software that focuses on creating campaigns and programs through advocacy marketing and positive branding. They offer a suite of services to help brands to connect with their customers, including social media listening.
The platform gives businesses a full-service solution to identify, activate, and measure their most influential affiliates. It has a leaderboard to easily track ambassador affiliate activity, measuring their performance in writing reviews and sharing stories on social media. It also tracks how well the content of your affiliates is resonating with potential customers.
---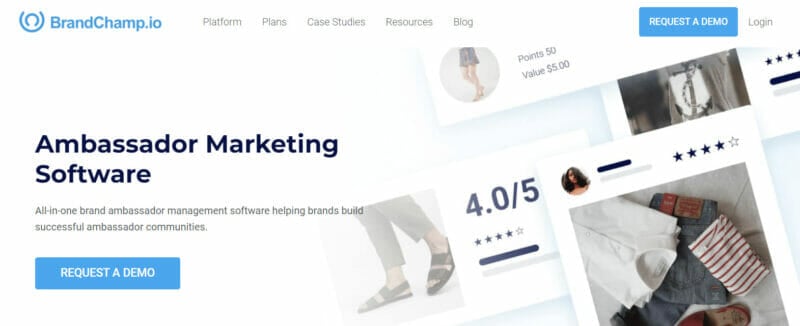 BrandChamp is a digital marketing agency that specializes in helping brands create and execute successful integrated marketing campaigns. They offer various solutions for brand ambassadors that can help businesses to identify and activate their most influential advocates.
BrandChamp's ambassador management software is a cloud-based tool that makes it easy to manage and grow a thriving brand-ambassador program. With features like a centralized dashboard, automated email notifications, and social media sharing tools, you'll be able to create advocacy campaigns that are easy to understand and simple to execute.
---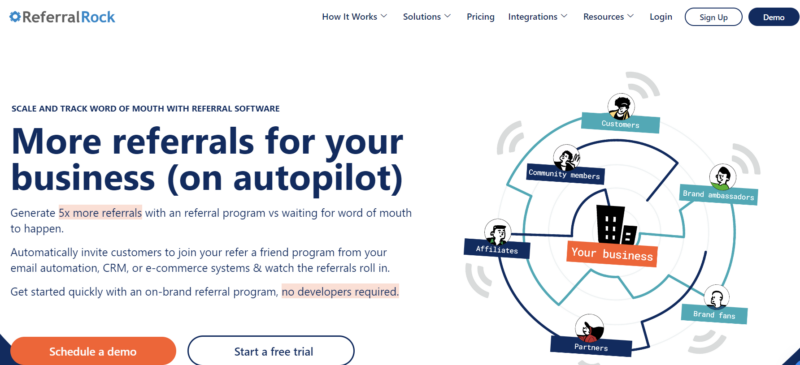 Referral Rock is a great tool for businesses that want to create their own referral programs. The tool makes it easy to set up and track referral programs from one place.
It has proven, customer-focused features like expert support for every step of the way, and it can be integrated into systems such as CRM or social media to make encouraging referrals that much easier.
---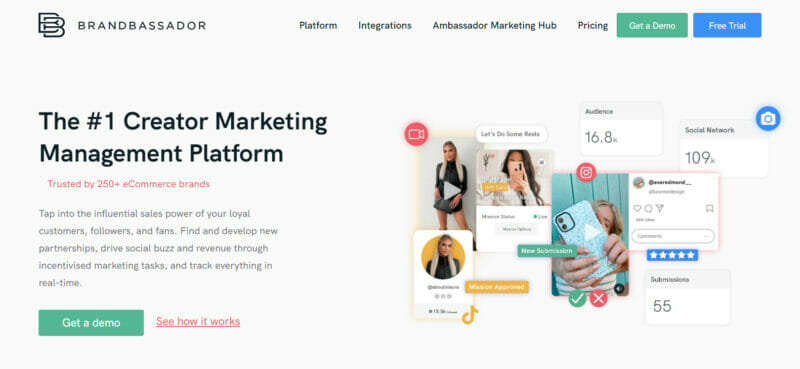 Brandbassador is a tool that helps fast-growing eCommerce brands grow their own community of ambassadors. Created by the founders of the successful clothing brand, Onepiece, their software was built after they experienced success with their own ambassador marketing programs.
BrandBassador provides one centralized dashboard to monitor your ambassador relationships, automating rewards and monitoring social buzz to make spreading the word about your brand as easy as possible. Businesses get to track activities and outcomes in real-time so they can easily see how well the affiliates are doing.

Key Features: Search/Discovery, Automated Recruiting, Content Library, Campaign Management, Campaign Reporting, E-commerce Tools, Product/Gifting Tools, Payment Processing,
---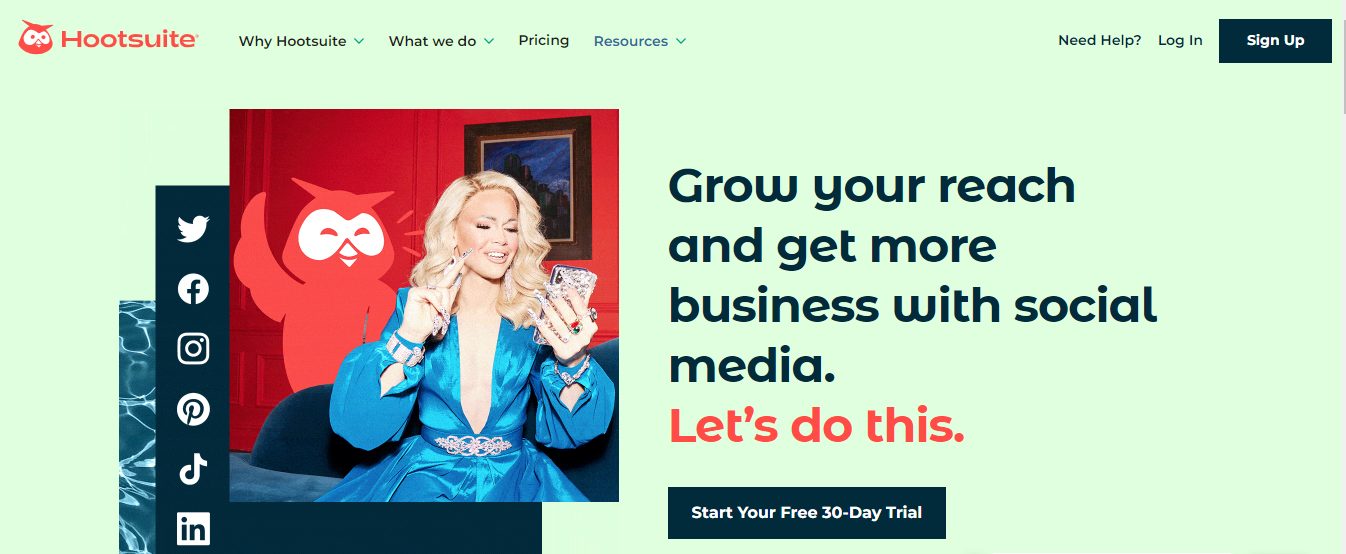 Hootsuite Amplify is the ultimate social media management tool for businesses looking to take control of their company's online reputation. As an add-on platform to the Hootsuite platform, it provides a single dashboard where you can monitor your online presence across Facebook, Twitter and many more social media platforms in an easy-to-use format.
Since the software works best on mobile, affiliate marketers can access their accounts anywhere to post updates, view insights, or create new content. Hootsuite Amplify also provides analytics and track leads generated by affiliates and see which topics or hashtags are getting the most traction. This allows businesses to focus on strategies that are working and quickly adapt to changes in the social media landscape.
---
Things to Consider When Choosing a Brand Ambassador Software
It is important to do your research to find the software that will work best for your brand's needs. Some of the factors you may want to consider include the following: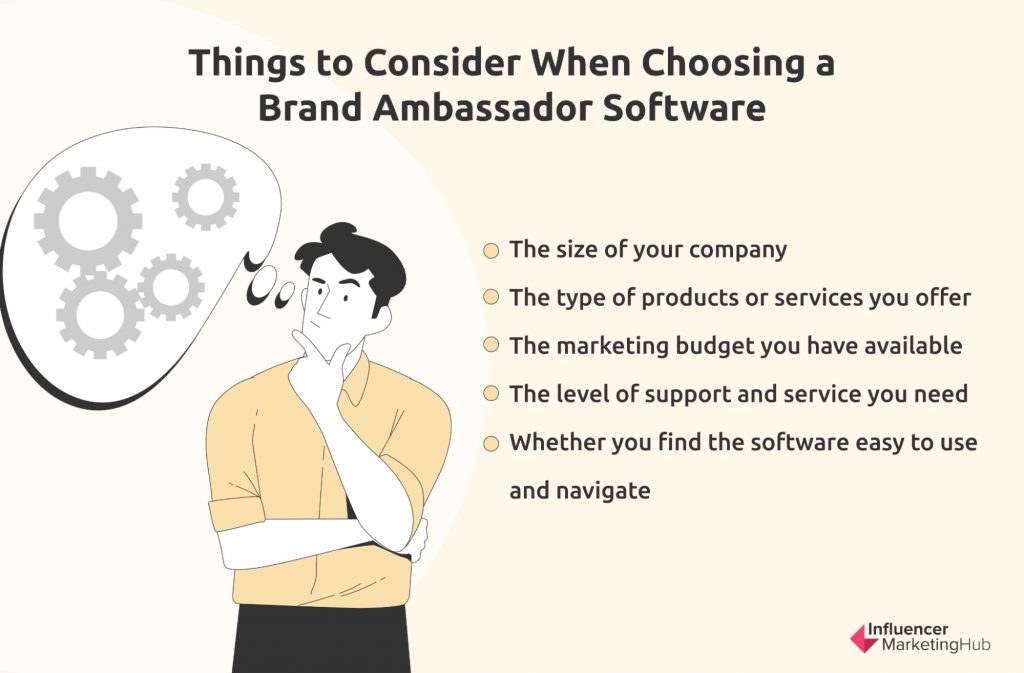 Once you have narrowed down your options, test out the software to make sure it is a good fit for your company and either yourself or your marketing team. Be sure to ask the software provider questions about how the software works and what type of support they offer.
Determine your team members are able to easily intuit the services of your preferred brand ambassador software, and test its use as extensively as possible since you'll be using it to scale your programs over a long period.
---
Who are brand ambassadors?
As customers who already love your brand, brand ambassadors are the connectors between brands and consumers. Their value lies in their ability to create authentic content for the brand they represent that encourages consumers to put their trust in the brand too.
Identifying and engaging brand ambassadors can turn loyal customers into advocates who share about your business in a way that feels real, authentic, and believable. This can translate to higher conversion rates for marketing campaigns.
---
How Can You Create a Successful Brand Ambassador Program?
Once you have identified the brand ambassador profile for your business, creating a program doesn't have to be as challenging as it looks. These are some key steps you can take to increase your chances of success.
Make it Easy for Them to Connect with the Brand
One of the most important aspects of a successful brand ambassador program is making it easy for ambassadors to connect with the brand. This means providing them with the necessary information to understand what the brand is about, such as the company's values, mission, and product information. You should also make it easy for them to contact you with any questions or concerns they may have.
Ambassadors are more likely to connect with a brand when they feel like they are a part of something larger than themselves. This means providing them with engaging content that they can share with their followers. This could include blog posts, infographics, images, or videos.
No one wants to feel like they are working hard all the time, so make sure your brand ambassador program is fun and enjoyable while working for the different incentives you offer. This could mean hosting contests or giveaways, providing exclusive access to events, or offering free products.
Offer Rewards for Engagement
In order to encourage ambassadors to further engage with your brand, reward them for their participation. This could be in the form of gift cards, discounts, or points that can be redeemed for products or services.
If you're looking to activate ambassadors for your brand, check out our Ambassador Management Program. It's packed with insights, steps and resources to help you find, train, and empower your brand's biggest advocates.
---
Will using a brand ambassador software program work for My Business?
In a world where competition for online attention is fierce, brands can benefit from leveraging existing, happy customers to further expand their markets. By using software that automates the management of potentially hundreds of brand ambassadors, you can more easily find and maintain ambassadors while focusing on more income-generating strategies for your business.
Using brand ambassador software can also lead to creating advocate hubs, which are online communities for your brand ambassadors. In these hubs, ambassadors can connect with each other and share insights that allow you to keep track of what's being said about your brand.
---
Scale effectively with brand ambassador software programs
If you are looking for a way for your brand to reach more customers, then the best option is through social networks. By using brand ambassador software, you can connect with your loyal customers, recognize them for their engagement, and give them both the means and motivation to promote your products and services as affiliates.
The right type of brand ambassador software program for you gives you the means to scale affiliate programs and manage more and more ambassadors over time while also saving time. By utilizing a streamlined solution that tracks all the necessary metrics, communicates with your ambassadors, and rewards them for tasks you set, you can set your business up for success.
Frequently Asked Questions
How do you manage an ambassador program?
Here's how to set up a brand ambassador program:
Define your goals

Establish criteria for your ambassador

Build policies and guidelines

Promote your ambassadors and incentivize them

Track progress and success
How do you track brand ambassadors?
To track the performance of individual brand ambassadors, it is easiest to give them a personalized promo code for their customers to use at checkout. The volume of sales can be easily tracked with a promo code, and you will better understand how much purchases come from each ambassador.
What is a good brand ambassador program?
These are the best traits of a brand ambassador:
Knowledge or expertise

Established online presence

Leadership skills

Established relationships

Gather feedback
What is an ambassador program?
An ambassador program is a process where companies can find, recruit, manage, pay and track brand ambassadors. Well-defined processes will help every company work better with ambassadors. It allows them to recruit efficiently without having to plan each time they want to work with an ambassador.