Advertising Disclosure
Advertising disclosure:
Our partners compensate us. This may influence which products or services we review (also where and how those products appear on the site), this in no way affects our recommendations or the advice we offer. Our reviews are based on years of experience and countless hours of research. Our partners cannot pay us to guarantee favorable reviews of their products or services.
The main focus of the Influencer Marketing Hub is generally to talk about how influencers can help and promote brands. However, social media influencers are not the only people with the power to deliver positive messages about a brand. In many cases, other brand ambassadors can also extol the virtues of a product, with equal respect from their peers.
A brand ambassador is hired by an organization or company to represent a brand in a positive light. In doing so, they help to increase brand awareness and sales. Brand ambassadors embody the organization's ethos, values, and goals.
You might wonder where to find brand ambassadors and how to manage them. Numerous programs and tools that can assist you with this, and we look at a selection here.
---
Top 12 Brand Ambassador Tools:
---
Top
brand ambassador programs
2024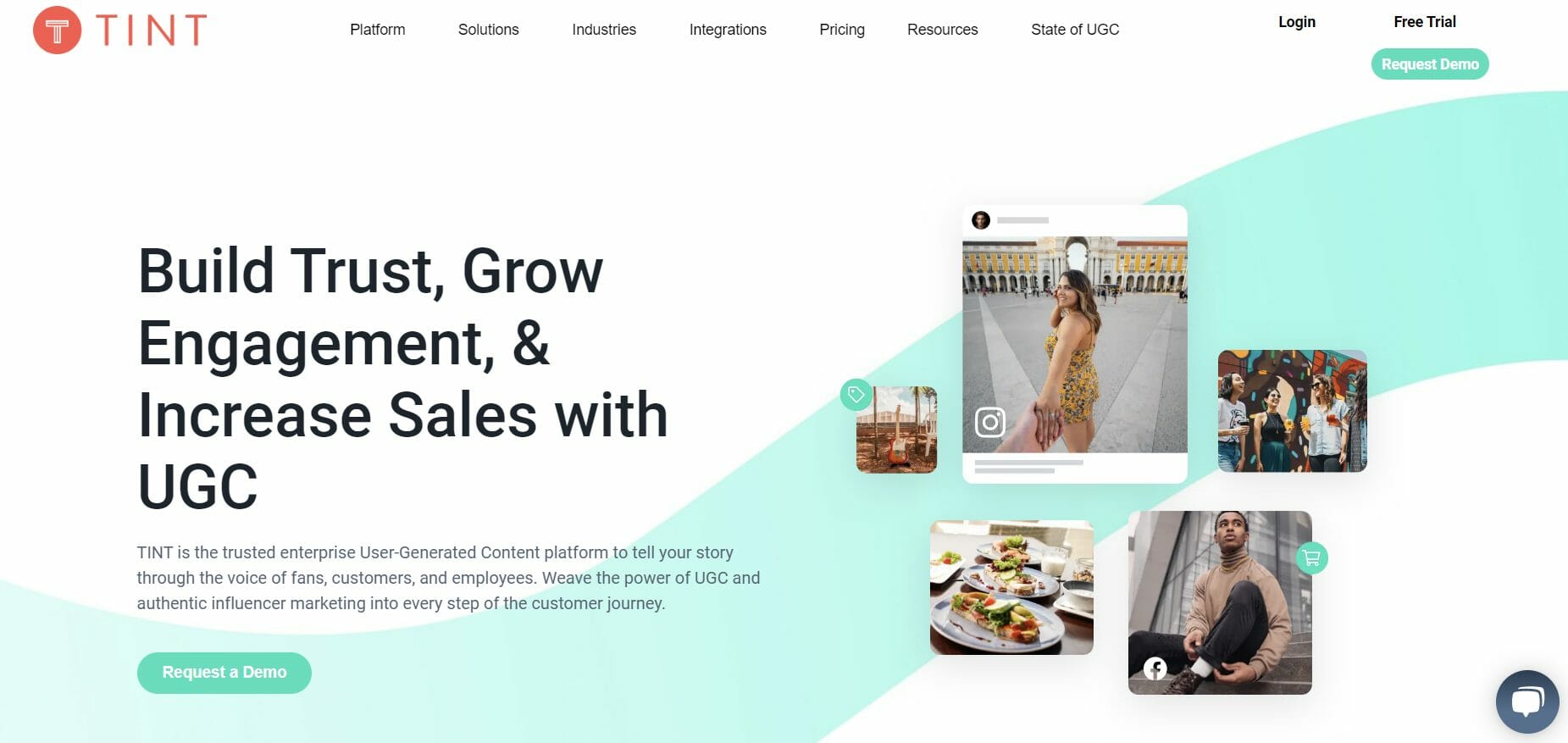 TINT is primarily a user-generated content (UGC) platform. You can use it to find, curate, own, and display authentic user-generated content across all your marketing campaigns.
Brands can use it to collect engaging, relevant, and impactful content from 15 content channels. You can filter content by locations, dates, engagement, and more. TINT provides powerful filters and auto-moderation technology that help brands review posts before they go live.
TINT helps you display carefully-moderated streams of content created by brand advocates. By placing their content on your site, or sharing it socially, you can capture users at all points of the sales funnel, engaging them at every touchpoint.
TINT also helps you to obtain legal image rights from your favorite content creators with a click of a button.
---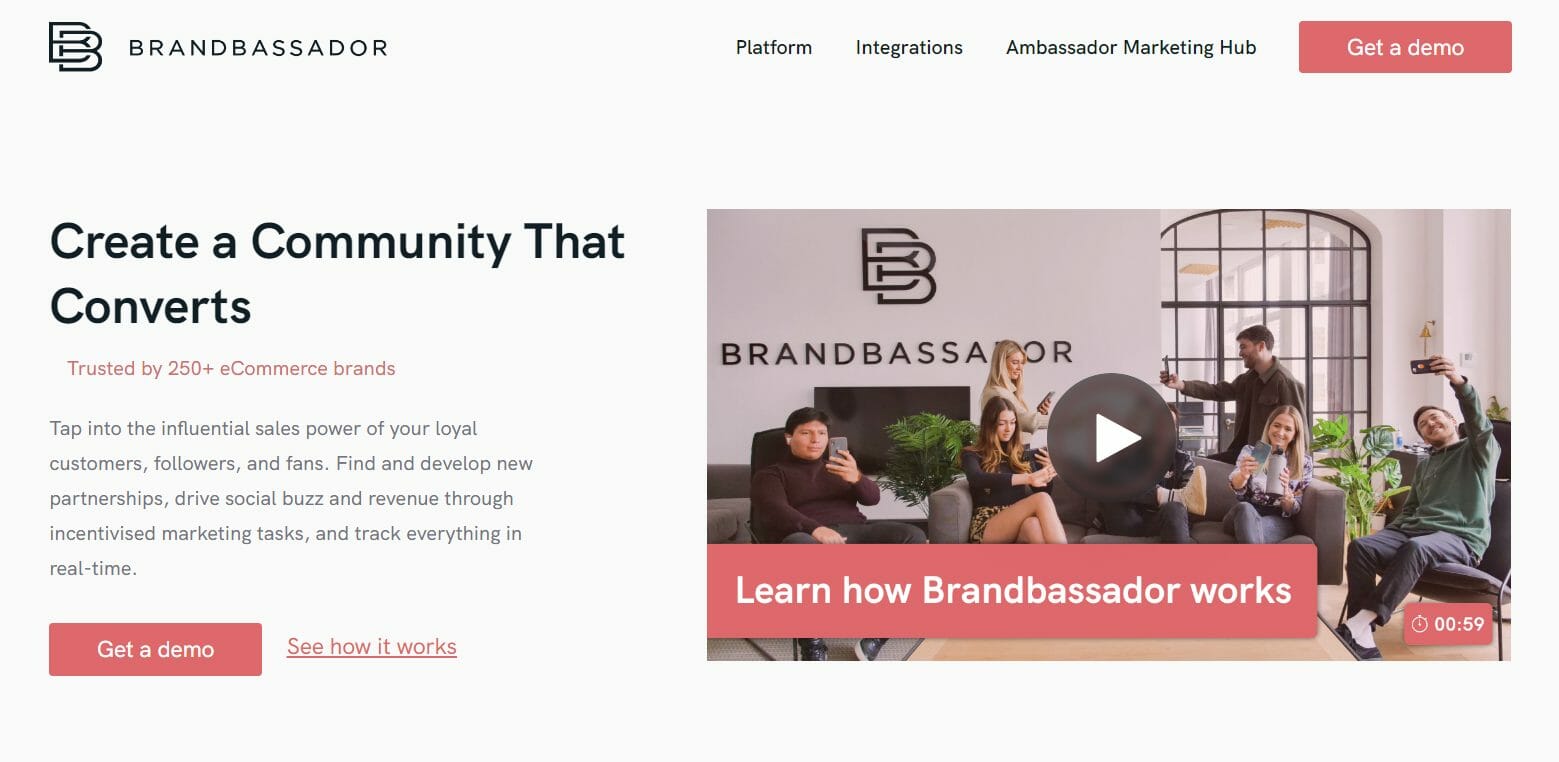 As its name indicates, Brandbassador builds communities for brands. They recognize the power of customers, fans, and influencers act as ambassadors for a brand – to generate revenue, content, and awareness at scale.
They currently work with more than 330,000 ambassadors, with a total reach of 218 billion people.
With the Brandbassador ambassador marketing platform, you activate your customers, social media following, and fans to drive sales and complete marketing missions for your brand. You can publish automated marketing missions for your ambassadors to complete and create buzz online and offline. Brandbassador features a dynamic and automatic reward system based on real social value. Your brand can drive sales through links and discount codes with transparent and real-time tracking. The app for the users and the admin panel for the brands automate payments, campaigns, and rewards.

Key Features: Search/Discovery, Automated Recruiting, Content Library, Campaign Management, Campaign Reporting, E-commerce Tools, Product/Gifting Tools, Payment Processing,
---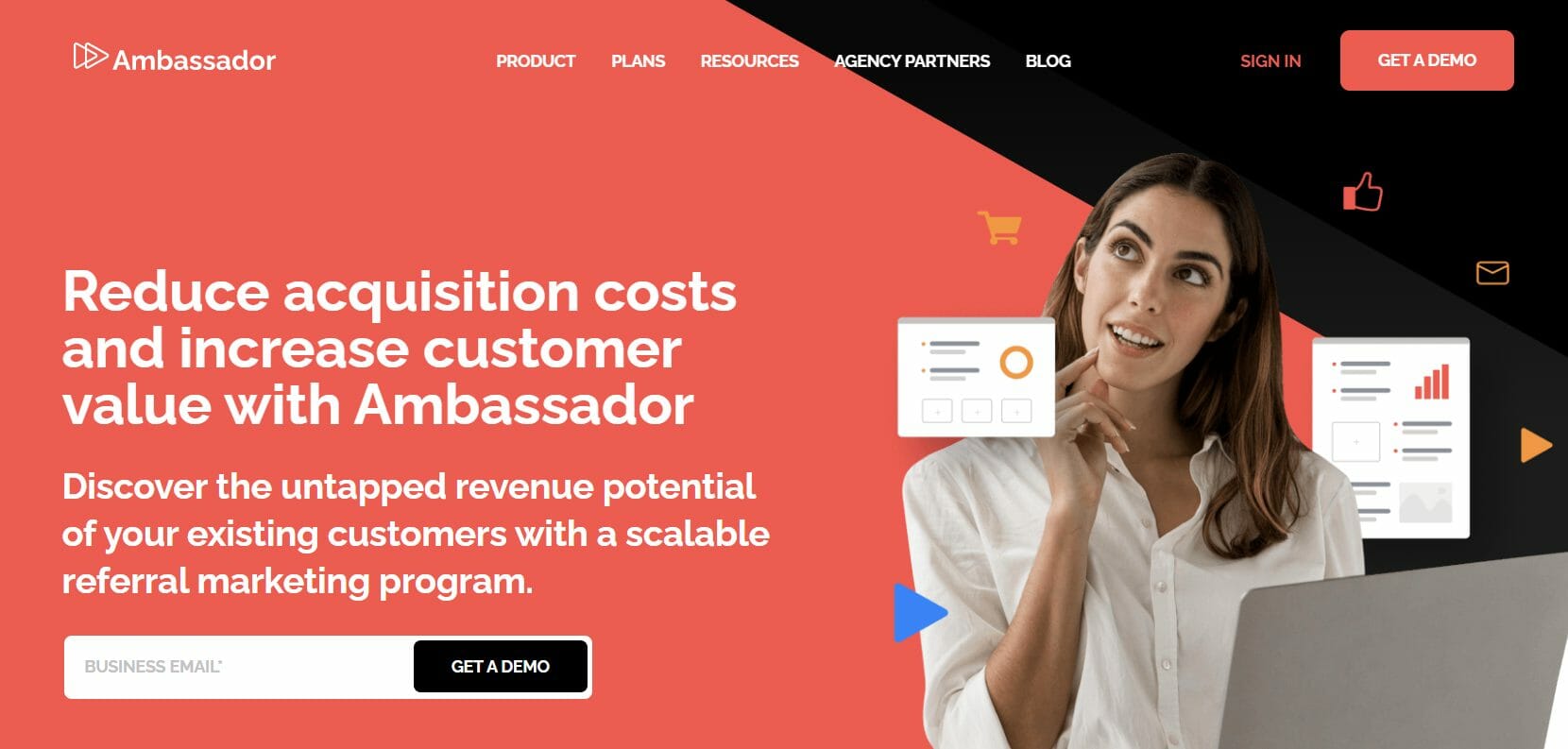 Ambassador describes itself as the world's #1 all-in-one referral software. It allows you to leverage the power of word-of-mouth.
Ambassador uses a four-step method:
Identify – determine the ambassadors you want to enroll and segment, i.e., customers, affiliates, influencers, partners, employees, and other advocates.
Enroll – enroll your selected ambassadors in targeted and personalized referral campaigns
Track – manage your ambassadors; monitor key performance indicators, and optimize your referral program to boost brand awareness and drive revenue
Reward – incentivize referrals by offering and testing different incentives for different campaign segments. Automate the reward process using cash, points, credits, or gift cards.
Ambassador is designed so you can run referral, affiliate, partner, influencer, and advocate programs in a single platform.
---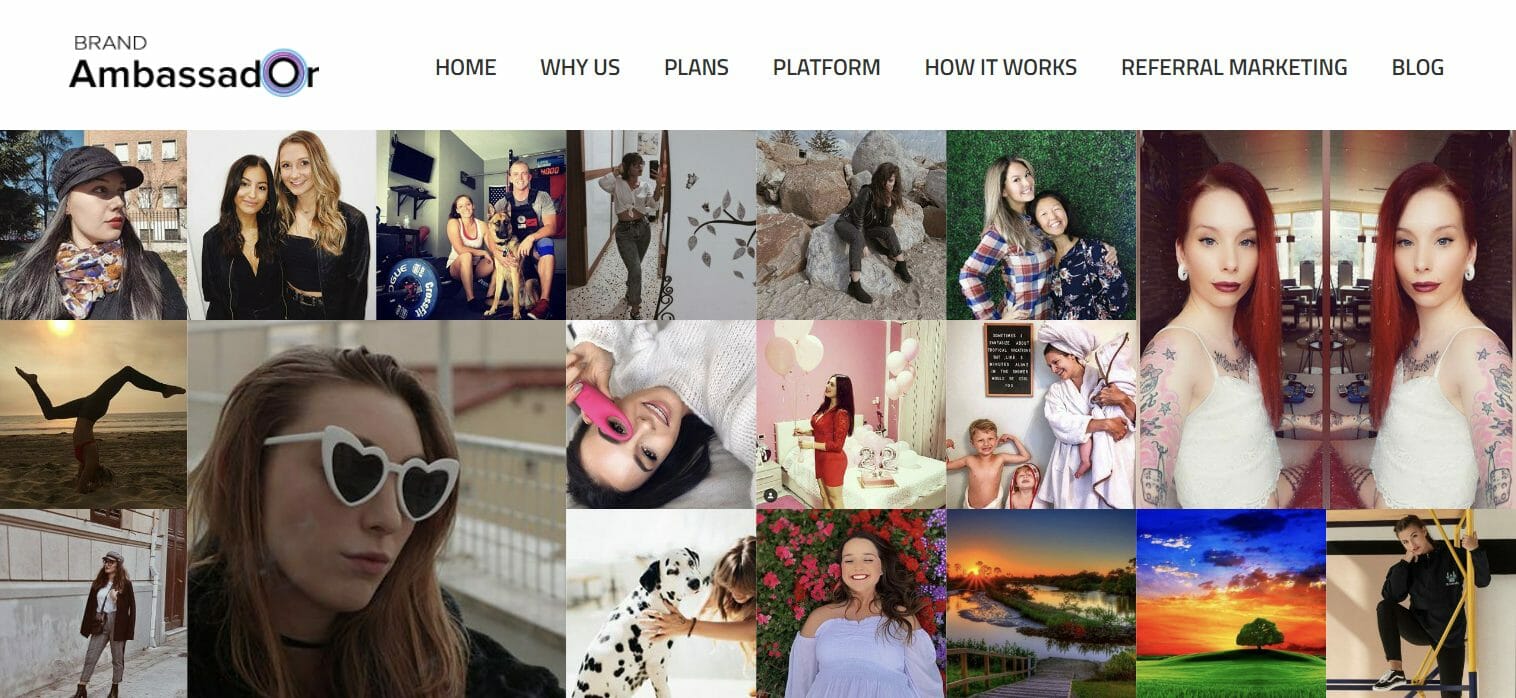 Brand Ambassador provides tools to turn customers, fans, and influencers, into brand ambassadors. You can bring existing ambassadors and influencers to the platform, or use Brand Ambassador's tools to find and invite new ambassadors to join and scale your team. You can create a customized registration page to sign up potential ambassadors.
Brands use a three-step process on Brand Ambassador:
Invite – invite your customers, friends, and followers to be part of a community of Brand Ambassadors
Engage – communicate directly with ambassadors. Keep them involved with campaigns, promotions and other events you control
Analyze – gain insight into your ambassadors' activity and engagement. Track referrals and leads all the way into conversions.
You can keep your brand ambassadors engaged and motivated. That way, they will create content, generate referrals, and spread the word. You can select which of the content your Ambassadors create matches your needs. Ultimately, you can recognize your best ambassadors' efforts and showcase their content on the spotlight feed in the community app.
You can even link ambassador content to the products they showcase and place them on your website. New visitors will see your ambassadors' content showcasing your brand's lifestyle – real people telling the story, no models in studios. Visitors relate better to products pictured in an authentic setting.
---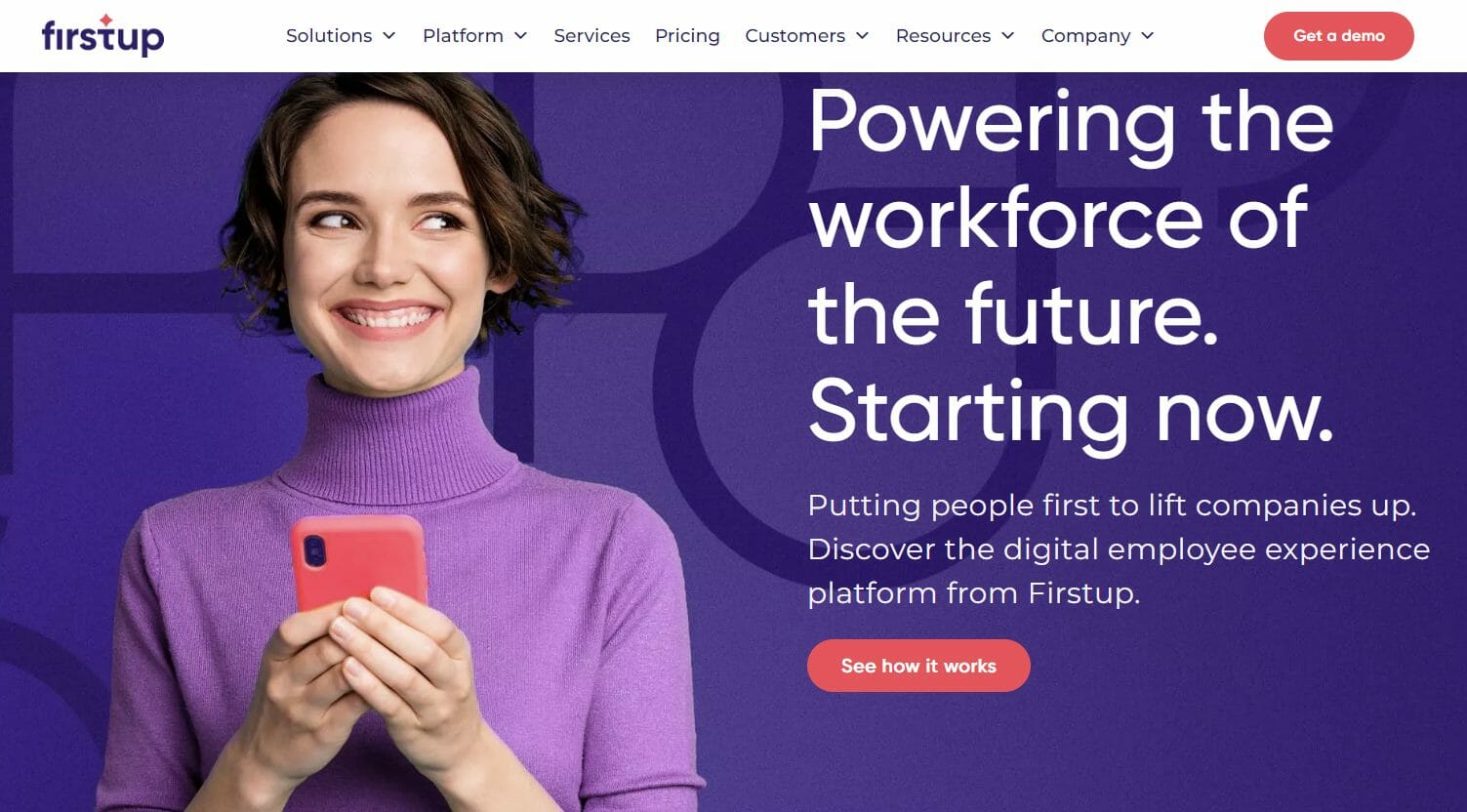 Dynamic Signal focuses on employee communication and advocacy. You can use it to create, publish, and measure targeted communications with a single, easy-to-use platform. It makes it easy to distribute the message across any communication channel.
It gives every employee a voice with comments, likes, chat, and user-submitted content. You can collect meaningful feedback with targeted surveys and polls.
Dynamic Signal features one-touch employee social sharing, and you can easily measure ROI.
You can keep employees connected with a personalized news feed, featuring targeted news and information, wherever they are. You can reach employees on their preferred channels across email, mobile push, in-app, SMS, and many business and collaboration tools.
User-Generated Content (UGC) is vital to many firms, and Dynamic Social makes it easy to empower employees to contribute stories, photos, and videos through an easy-to-use content submission portal for company-wide involvement. However, you can easily ensure content quality with the ability to review and approve submissions before publishing. ​
Of course, excellent communication is two-way, so Dynamic Social helps you create custom surveys or deliver in-feed polls to make regular pulse checks easy. Gamification is available, so employees can earn points on configurable leaderboards through engagements like sharing and submitting content. You can even create company-wide or team-based competitions.
---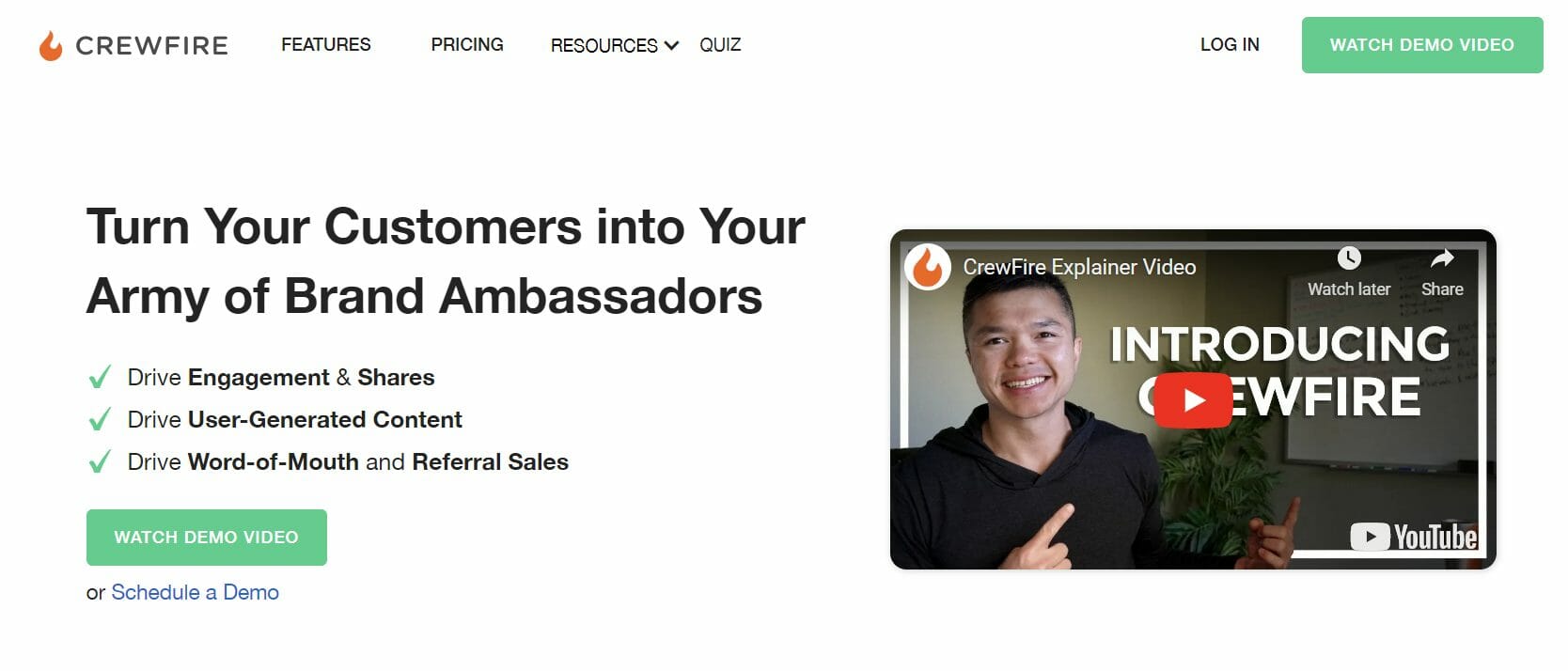 CrewFire provides the necessary tools for you to mobilize your brand ambassadors on social media. It enables you to reward your fans and customers for sharing your content on Facebook, Instagram, and Twitter. Indeed, you can track and reward ambassadors for making sales using their custom coupon code or affiliate link.
One successful technique CrewFire's clients uses is to suggest content for their ambassadors to share via their social accounts. They do this by incentivizing and rewarding ambassadors for participating. Ambassadors earn points for sharing content, which they can exchange for rewards.
You begin by Inviting your fans and customers to join your CrewFire team. They sign up and connect their Facebook, Instagram, and Twitter accounts. Once you have content that you would like your ambassadors to share, CrewFire sends text and email notifications to your ambassadors, inviting them to share your post. They can customize and share the post to earn points and climb the rankings.
---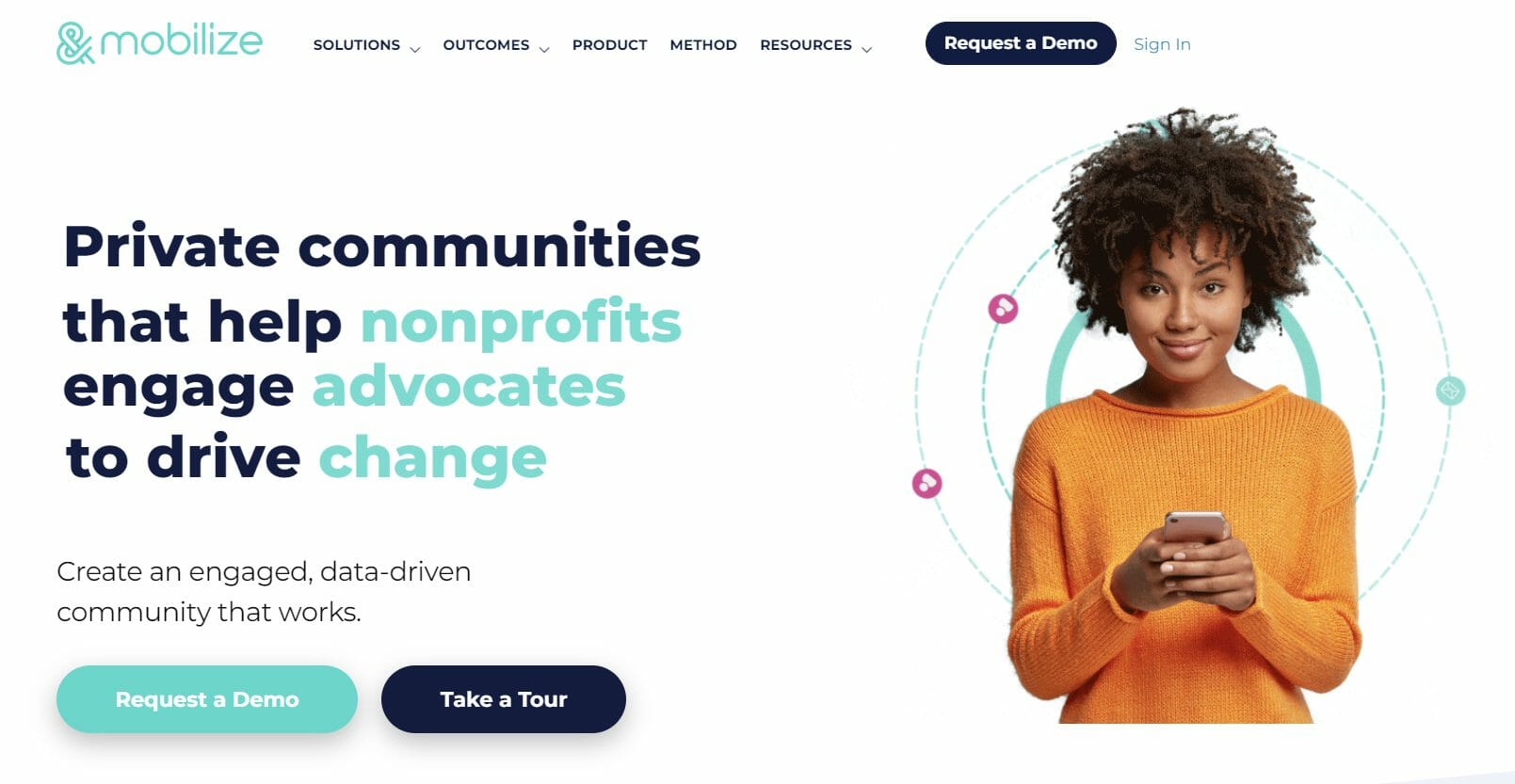 Mobilize provides you with the tools to recruit ambassadors for your brand. Customizable application forms allow easy capture of demographics, interests, and level of engagement.
You can then train and onboard your ambassadors. Mobilize helps you create resource centers and email flows that send the right information to aid your ambassadors to be successful.
The communications dashboard makes it easy to engage in many personalized conversations from one place.
You can Invite ambassadors to exclusive events and perks, give them a place to connect, share product updates, and highlight wins. When your members are happy, your community thrives.
---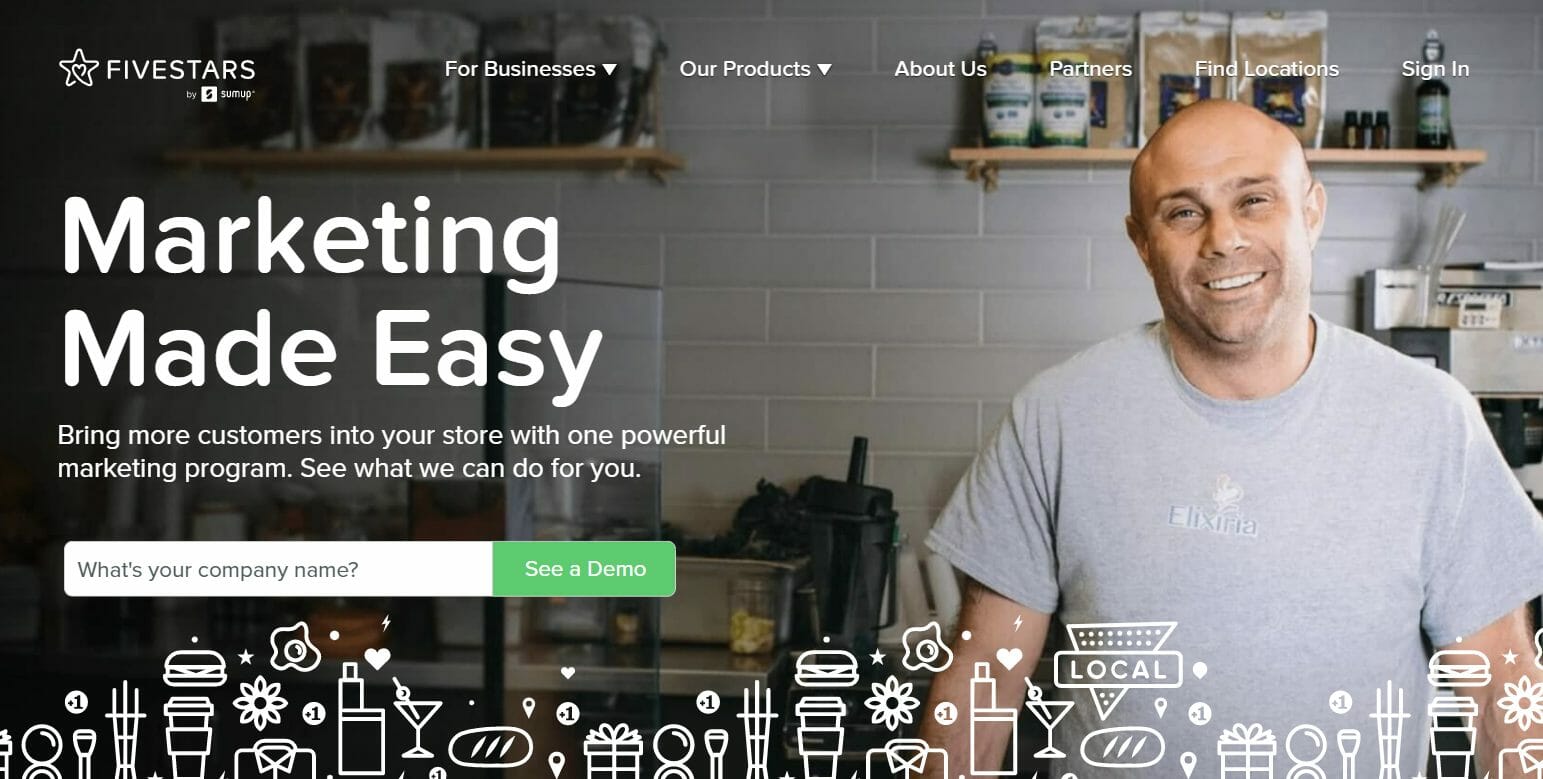 Fivestars is a marketing program, designed to bring more customers into your store. It targets local businesses of all kinds.
Fivestars' products meet a range of marketing needs, one of which is loyalty and retention. The heart of Fivestars, however, is setting up rewards that bring customers in automatically. Fivestars customizes rewards to the customers. They believe that if you send the right reward to the right customer at the right time, you will see your revenue skyrocket.
An essential part of Fivestars is customer acquisition. They recognize that attracting new customers is a vital part of your business's growth—and it doesn't have to be a headache. Fivestars Acquisition makes it easy for local companies to tap into a network of 40 million customers who love shopping locally.
Fivestars understand that recommendations from family and friends might be the most effective marketing there is, yielding twice the sales of paid advertising. Fivestars' Word of Mouth feature adds sharing to the power of customer loyalty. Every deal you send, whether trigger-based or one-time, can be shared by your loyal customers. When your customers receive a deal by text, they can share it, using a pre-populated message that includes a link to your offer. Each AutoPilot and Promotions message includes a trackable link and a call to action: "Tap to accept and share with friends." The mobile landing page from these links allows your customers to send the deal out to their network.
---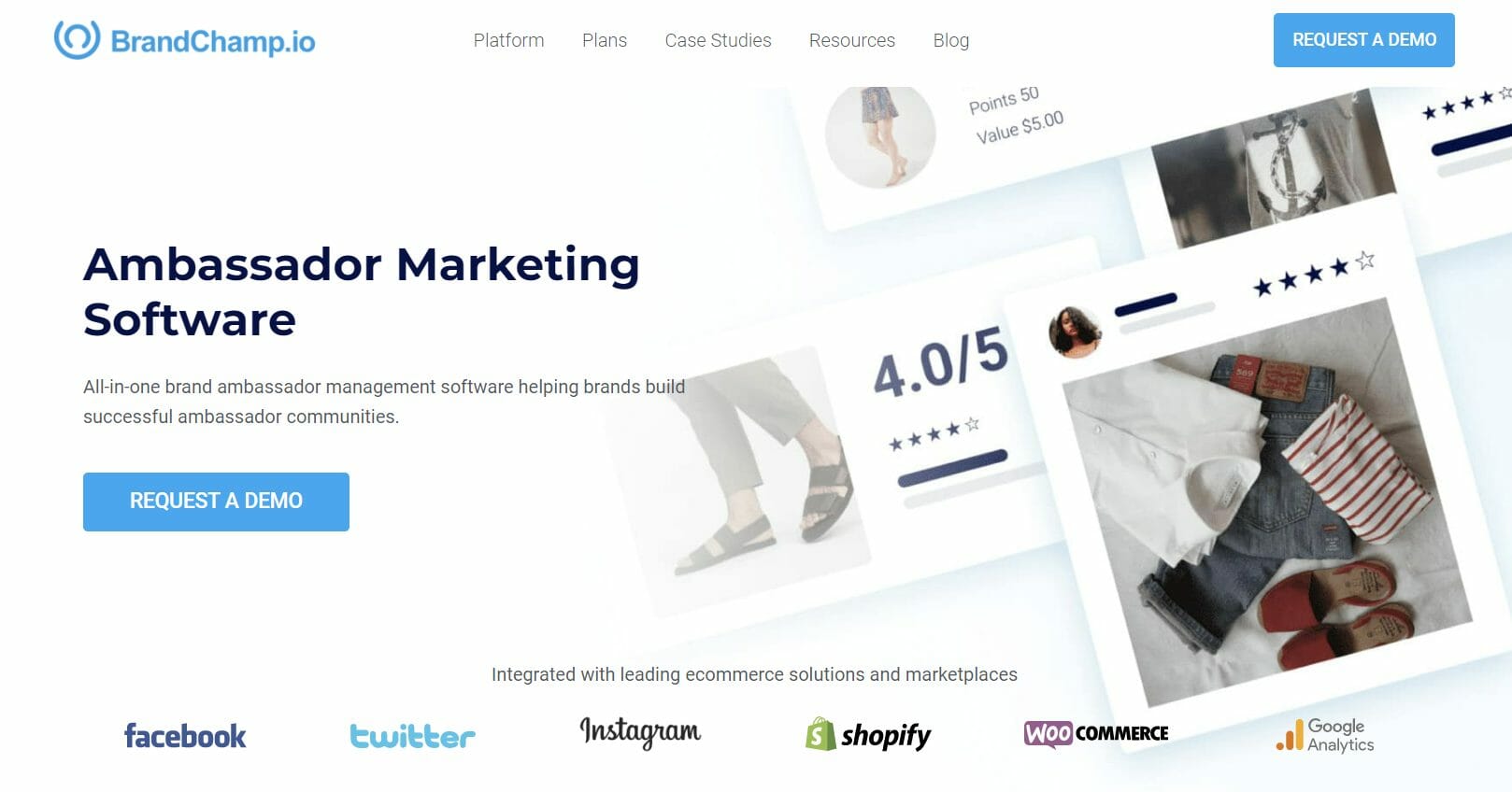 BrandChamp is relationship marketing software that helps e-commerce brands automate and scale ambassador, influencer, and affiliate programs to thousands of participants. It integrates with leading eCommerce solutions and marketplaces, such as Shopify, WooCommerce, and Amazon Seller Center.
You can use BrandChamp to automate invitations, activities, activity verification, and reward distribution to grow your program to the scale it needs. It integrates with Facebook, Instagram, and Twitter to help you verify and approve participant activities from your dashboard in one-click.
BrandChamp's brand ambassador management software includes a full set of tools to manage a thriving brand ambassador program. These include:
Ambassador Portal
Ambassador Directory
Challenges and Tasks
Dashboard and Reporting
Activity Tracking
Statements and Balances
Coupon and Discount Codes
Referral Sales
---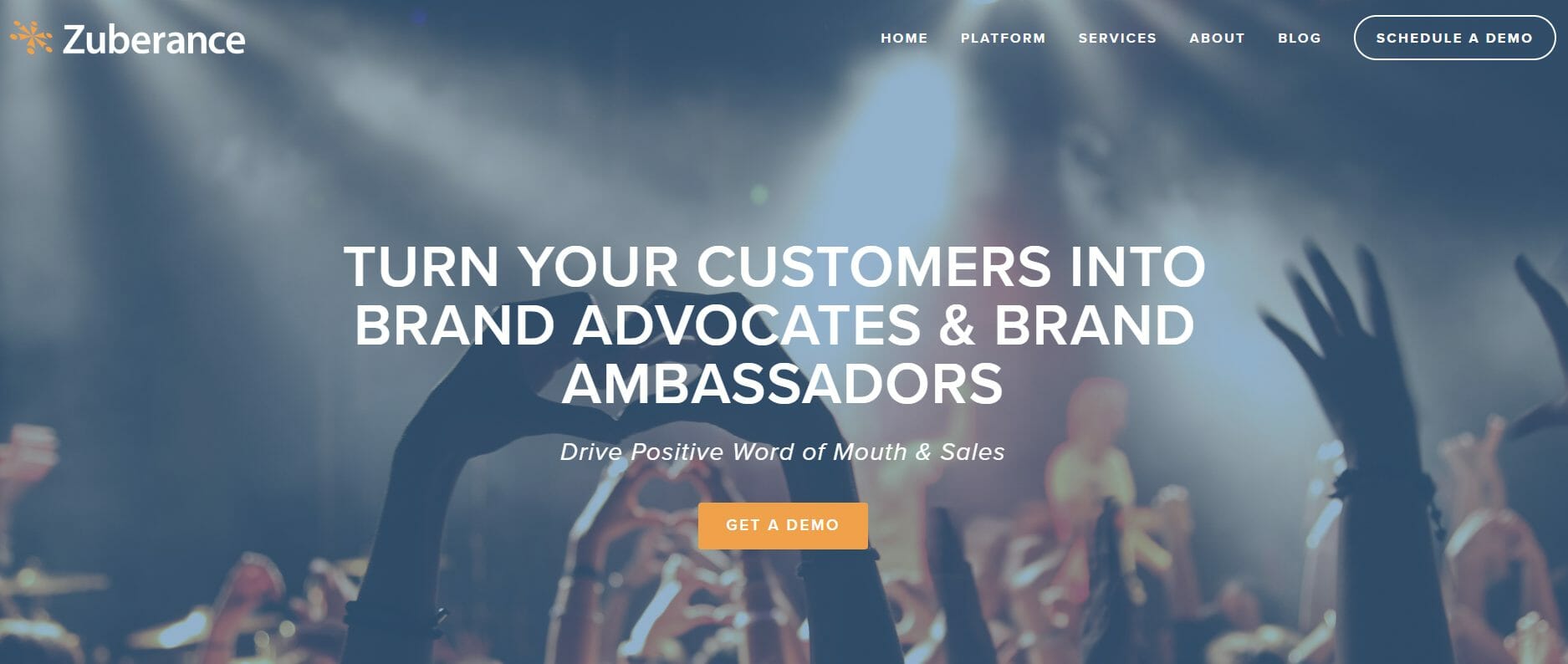 Zuberance helps brands drive positive word-of-mouth and sales. It gives you the tools to create your "Advocate Army."
Zuberance isn't a self-service advocacy tool or widget. They are a complete, full-service advocate marketing solution.
They identify advocates via brief online surveys, social listening, and direct advocate engagement. Zuberance effectively builds your database of advocates. They then make it easy for advocates to recommend your brand and products via positive reviews, stories, referrals, communities, and more.
They measure and optimize advocate marketing results. Plus, they give you custom reports and actionable advocate insights.
With Zuberance, you gain access to a complete platform with Advocate applications, publishing, and integrated analytics. Zuberance designs, develops, and manages Advocate marketing programs and campaigns for you, from end-to-end.
---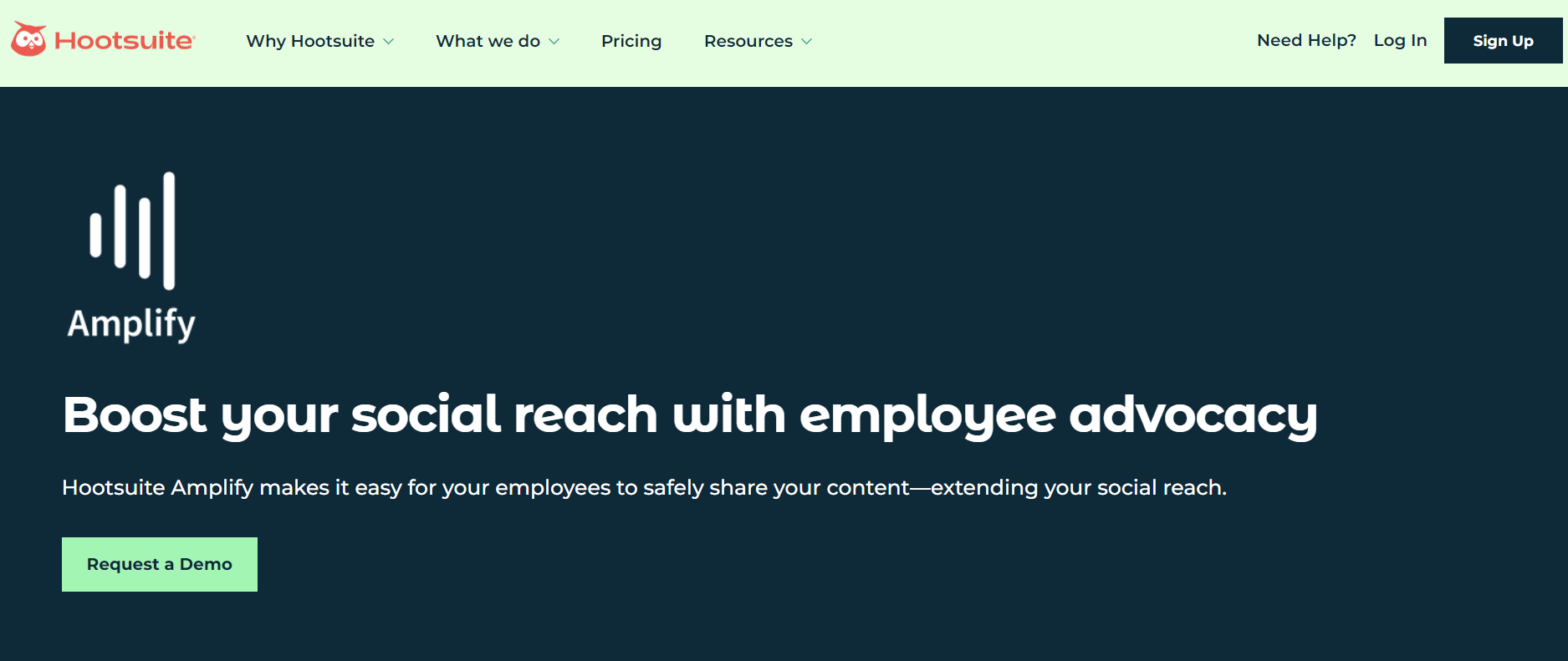 While Hootsuite is perhaps best known for its social media management platform, it also has a few stand-alone programs. One of these is Hootsuite Amplify. This provides an easy way for employees to share their firm's content, expanding its social reach.
Unlike most of the products listed here, Hootsuite Amplify focuses on a firm's employees, rather than its customers. Hootsuite recognizes that a firm's employees don't all need to be influencers, to be able to make a significant impact socially en masse. For example, suppose a firm has 1,000 typical employees. Hootsuite calculates that they can give you a potential reach of 681,720 additional people – which is a lot more than most firms have following their company social accounts.
Hootsuite Amplify makes it easy for employees to share approved content across their social networks. It uses a mobile-first approach, recognizing that most employees will use their phones to access Facebook, Twitter, LinkedIn, and the like.
It also makes it easier for management, who can manage messaging and measuring results from within the Hootsuite dashboard.
Hootsuite has now set up a strategic partnership with Workplace by Facebook to make it even quicker and easier for employees to share brand and thought leadership content on social.
---

Influitive offers AdvocateHub, their engagement and advocacy software. It lets companies create a community of "on-demand" advocates. Through a unique mix of personalization and game design, AdvocateHub makes advocating for your brand a rewarding experience for customers, developers, employees, and partners.
You can give your advocates a personalized journey with a series of customized challenges that you target, based on advocate preferences, demographics, or past behavior. An interactive activity feed provides curated suggestions for what advocates can do next—based on real-time activities and conversations happening on the platform. Challenges can educate advocates, collect feedback, share NPS surveys, or give them a mission to complete.
You can use AdvocateHub to give advocates access to exclusive perks, content, contests, rewards and opportunities-including sneak peeks at new products, branded swag, VIP treatment at your next event, or the chance to interact with your C-suite. Advocates complete activities with points that can be used to climb the community leaderboard, or be redeemed for rewards.
Profiles (which include your advocates' social media profiles, photos, points, levels, and badges) let advocates get to know each other and see where they stack up on the leaderboard. Discussions let advocates collaborate, share best practices, plan meetups, or ask each other for help. Messaging lets advocates network privately with other members or your team.
You can brand your AdvocateHub, so it matches your other customer-facing properties. Native AdvocateHub iOS and Android apps offer mobile access to AdvocateHub, giving your advocates the flexibility they want.
AdvocateHub integrates with Customer Relationship Management (CRM) software, popular social platforms, and product review websites, to automatically confirm advocate activity, which makes their experience more seamless.
---