Advertising Disclosure
Advertising disclosure:
Our partners compensate us. This may influence which products or services we review (also where and how those products appear on the site), this in no way affects our recommendations or the advice we offer. Our reviews are based on years of experience and countless hours of research. Our partners cannot pay us to guarantee favorable reviews of their products or services.
Are you a retailer or service provider looking to improve your affiliate marketing game this year? If you've been trying to obtain consistent results from your affiliate program but can't seem to get the results you want, it might be time to work with top affiliate marketing agencies.
---
Top Affiliate Marketing Agencies to Partner With in 2023:
---
Top Affiliate Marketing Agencies to Partner With in 2023:
1.
PartnerCentric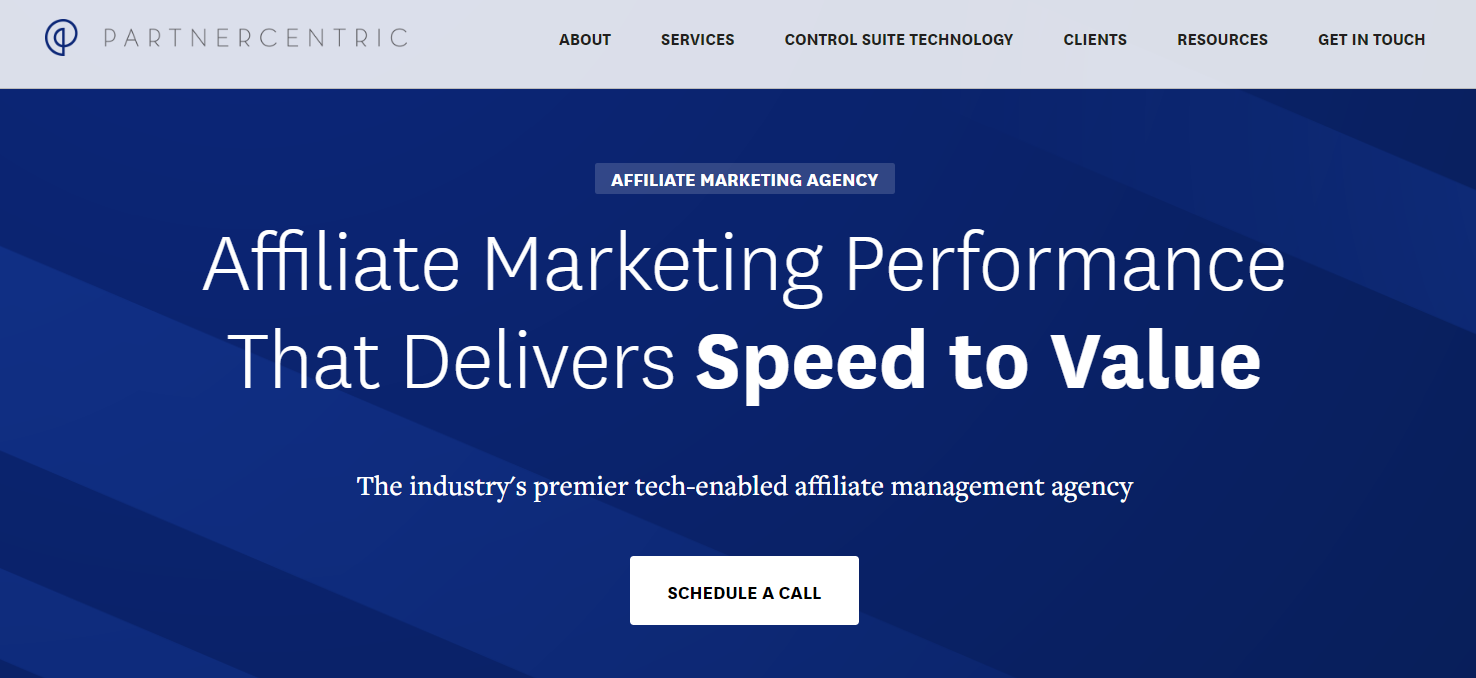 New York, New York
Year Founded: 2006
Estimated Annual Revenue: Undisclosed
Popular Clients: Alex and Alexa, Aquasana, Babyshop.com, Bean Box, iPrint.com, London Fog, The Motley Fool, Upwork, Avenova
PartnerCentric is an affiliate agency with a remote team. The company's members are spread across the United States, creating a unique working environment. They may not have a traditional work setup, but it doesn't hinder the agency from outperforming traditional office affiliate marketing companies.
Their strong commitment to bringing fast ROI is a big reason why clients opt for PartnerCentric as an affiliate agency.
In the middle of the pandemic, the company created a return of 627% year-over-year result for a luxury fashion brand. They did this by offering strategic commission increases for top-performing partners when everybody else was cutting back.
Their expertise in tailoring affiliate marketing strategies to suit different brands, from startups to companies in the Fortune 500, makes PartnerCentric one of the best affiliate marketing agencies to work with in 2022.
What to expect from the company?
Detailed and comprehensive reports

Use of PartnerCentric proprietary technology

Option for emerging to enterprise level service

Emphasis on high ROI for clients
---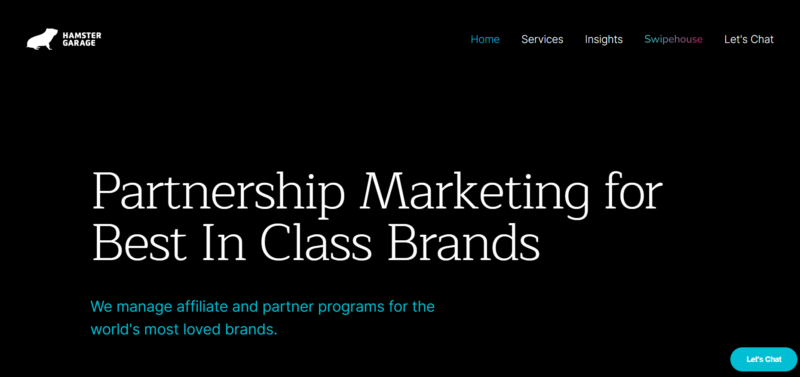 Chicago, IL
Year Founded: 2019
Estimated Annual Revenue: Undisclosed
Popular Clients: Airbnb, Truebill, Canva, NoCD, Proper
Barely 3 years old, Hamster Garage is relatively new to the affiliate marketing space, but they've already proven they can deliver fantastic results for their clients.
Leading companies like Airbnb and Canva have chosen this Chicago company as their main partner. The company itself is preferential to what they term as "risk-taking brands." Focusing on a few they can help grow and nurture instead of on the number of clients they can take on.
In terms of metrics, Hamster Garage proves they can outshine even veterans in the field, generating over 1.38 million in conversions for their clients while operating at a 300% average program efficiency.
What to expect from the company?
Focused on quality clients instead of quantity

Employs data-driven decisions

Prioritizes brand compliance to ensure a client's brand name is safe

Collaborative effort with the client
---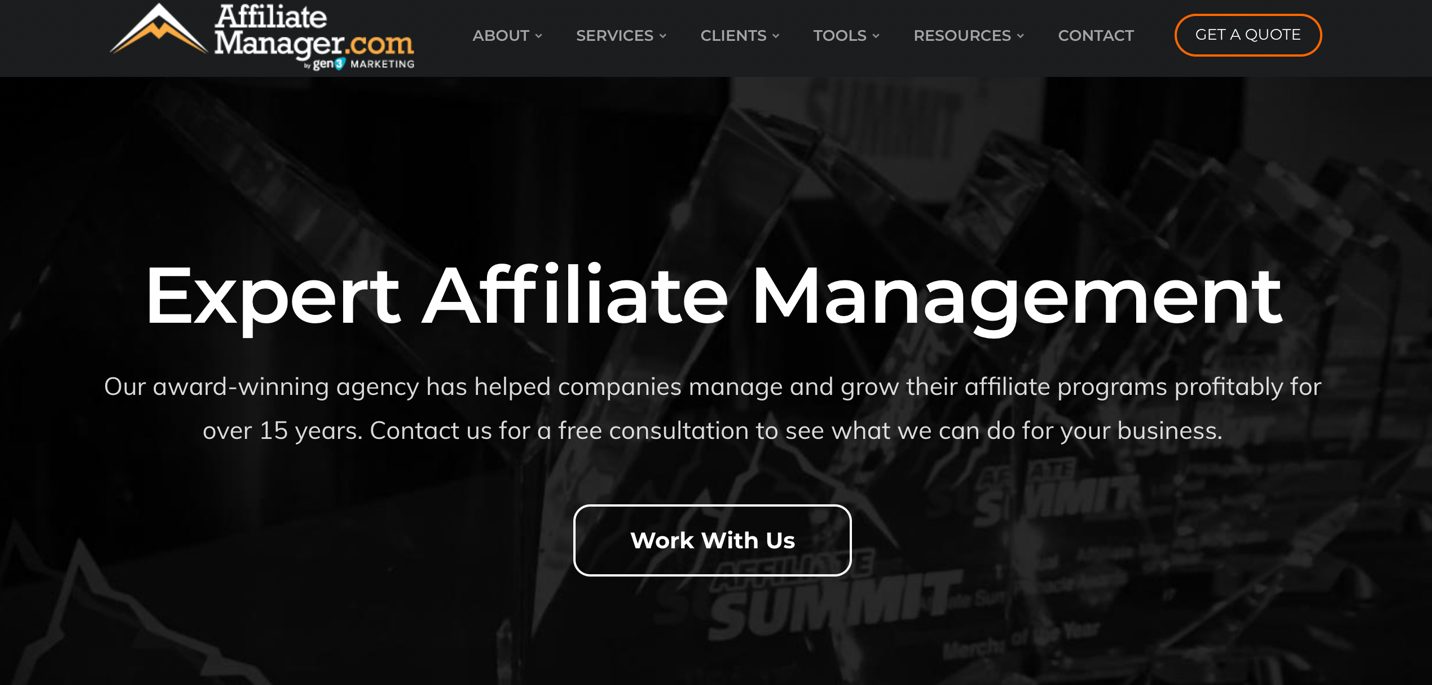 Orlando, Florida
Year Founded: 2002
Estimated Annual Revenue: $4 Million Up
Popular Clients: Tony Robbins, Ripley's Believe It or Not, Precious Moments, Magoosh, Hansen, Mother Dirt, Ript, Foster Grant, Just So Posh
AffiliateManager has 15-year experience when it comes to running and managing affiliate campaigns for big brand names. Among their most famous clients? None other than entrepreneur and self-help guru extraordinaire Tony Robbins.
The main goal for the company is to drive business for their client by using a comprehensive affiliate management program with proprietary data tools and expert market knowledge.
They also emphasize ethical affiliate marketing management services by informing clients of all the marketing processes done by their affiliates.
What to expect from the company?
Free consultation

Extensive 15-year experience

Data-driven processes with the aim of generating results

Ethical affiliate marketing practices

Comprehensive affiliate marketing management
---
4.
OAK Digital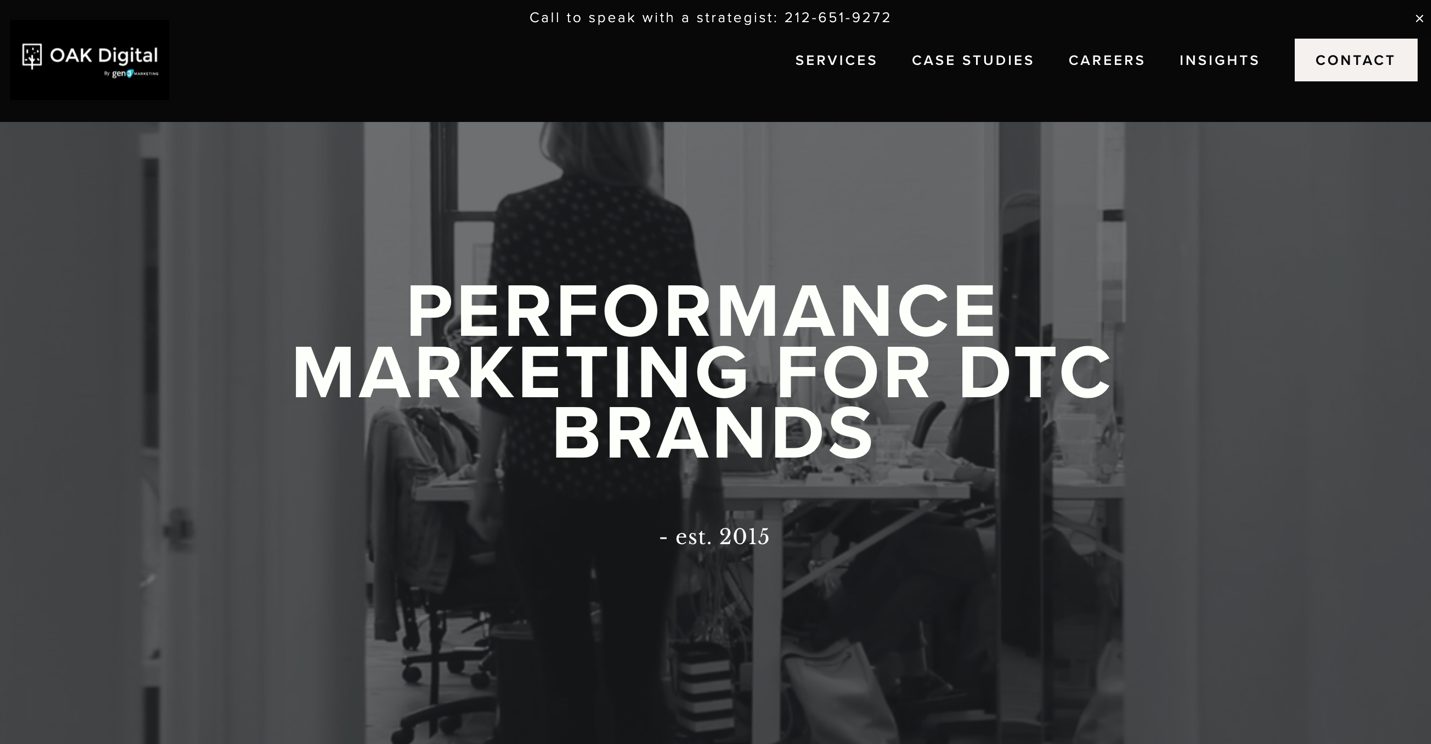 New York, New York
Year Founded: 2015
Estimated Annual Revenue: $2 Million Up
Popular Clients: Detroit Pistons, UFC Store, Bearaby, Angie's List, Freshly, Paravel, Airweave, Apollo
Considered among the best affiliate marketing agencies in the United States, OAK Digital has a 95% client retention rate and delivers an almost perfect 100% result in their affiliate marketing campaigns.

Their collaboration with popular brand Angie's List in 2015 (now known as, Angi) served as a hallmark campaign for the agency. Despite acquiring the brand as a client in November 2015, the New York-based affiliate agency managed to secure strategic placements with large publishers resulting in a successful campaign for the Black Friday and Cyber Monday sales that same year. According to the company case studies, this resulted in an 89% increase in orders with a 66% improvement in the brand's conversion rates.
It's these kinds of results that make OAK Digital among the top-tier affiliate marketing agencies to consider if you're ready to work with an affiliate firm.
What to expect from the company?
Extensive program auditing

Strong competitive analysis including publisher recruitment and promotions

Weekly reports and monitoring

Extensive analysis of program profitability and new vs. returning customers
---
5.
Grovia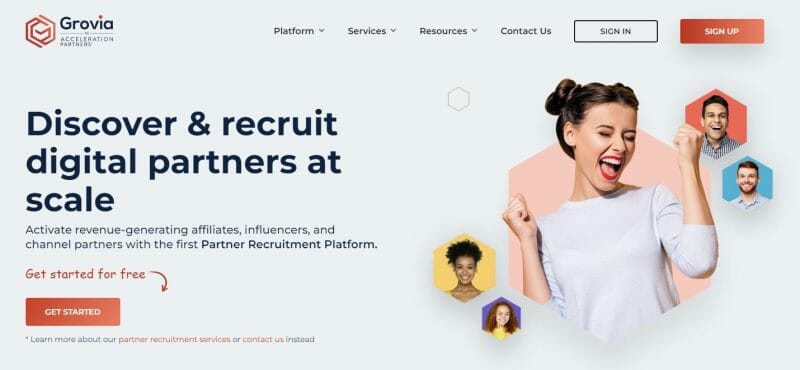 Seattle, WA
Year Founded: 2019
Estimated Annual Revenue: $3 Million Up
Popular Clients: Ledger, FlexJobs, FloSports, Gorgias, Aircall
Grovia is a tech-enabled affiliate agency that specializes in partner recruitment. Powered by their proprietary partner development technology, Grovia acquires incremental revenue-driving partners at scale through affiliate discovery, engagement, and activation.
SaaS, Ecommerce, and FinTech businesses that need help recruiting and/or managing partners, Grovia offers a recruitment solution that pairs businesses with a team of certified partner developers for scalable outreach campaigns and partner onboarding services. For brands that want a more self-service solution, Grovia offers a powerful suite of partner recruitment tools that enable automated affiliate discovery, scalable partner engagement, and streamlined pipeline management. Grovia provides recruitment solutions for over 200+ brands, including venture-backed companies like Ledger, Flexjobs, and Gorgias.
What to expect from the company?
World-class partner recruitment strategy and execution.

Industry-leading partner development technology

Honesty, integrity, and transparency.

Fewer coupons, more content.

A great group of people that care deeply about your success.
---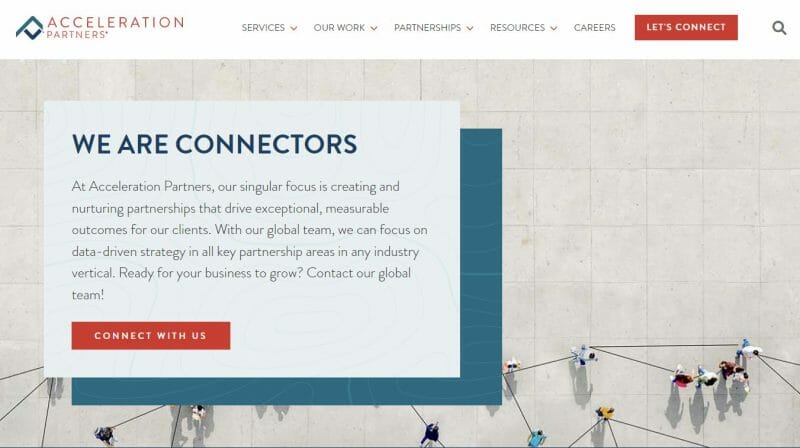 Boston, Massachusetts
Year Founded: 2007
Estimated Annual Revenue: $56.9 Million
Popular Clients: Target, Crocs, Dick's Sporting Goods, Wacoal Outlet, Helly Hansen
Acceleration Partners is an award-winning global affiliate and partner marketing agency. They help brands expand into new countries and markets through high-touch consultative approach, tailored strategies, and partnership optimization.
The agency is for anyone looking to build a traditional affiliate program. Their in-house Partner Development Team is dedicated to finding unique and innovative content partners for their clients. Whether you're looking for influencers or mass media partners, they cater to all main partnership areas in any specialized market.
Acceleration Partners provides solutions to over 170 brands in 40 countries. They have an average year-on-year program growth of almost 60%. In 2021, they drove 75 million conversions and $5.5 billion in revenue for their clients.
What to expect from the company?
Strategized mix of traditional and non-traditional partners

Outcomes-based partnership marketing program

Deep relationship with clients

Reputation for global expansion

Experienced and data-driven accounts team

Acceleration Partners specializes in helping brands scale and finding innovative solutions to accelerate their performance. As the industry leader in partnership marketing, AP delivers integrated and ...
---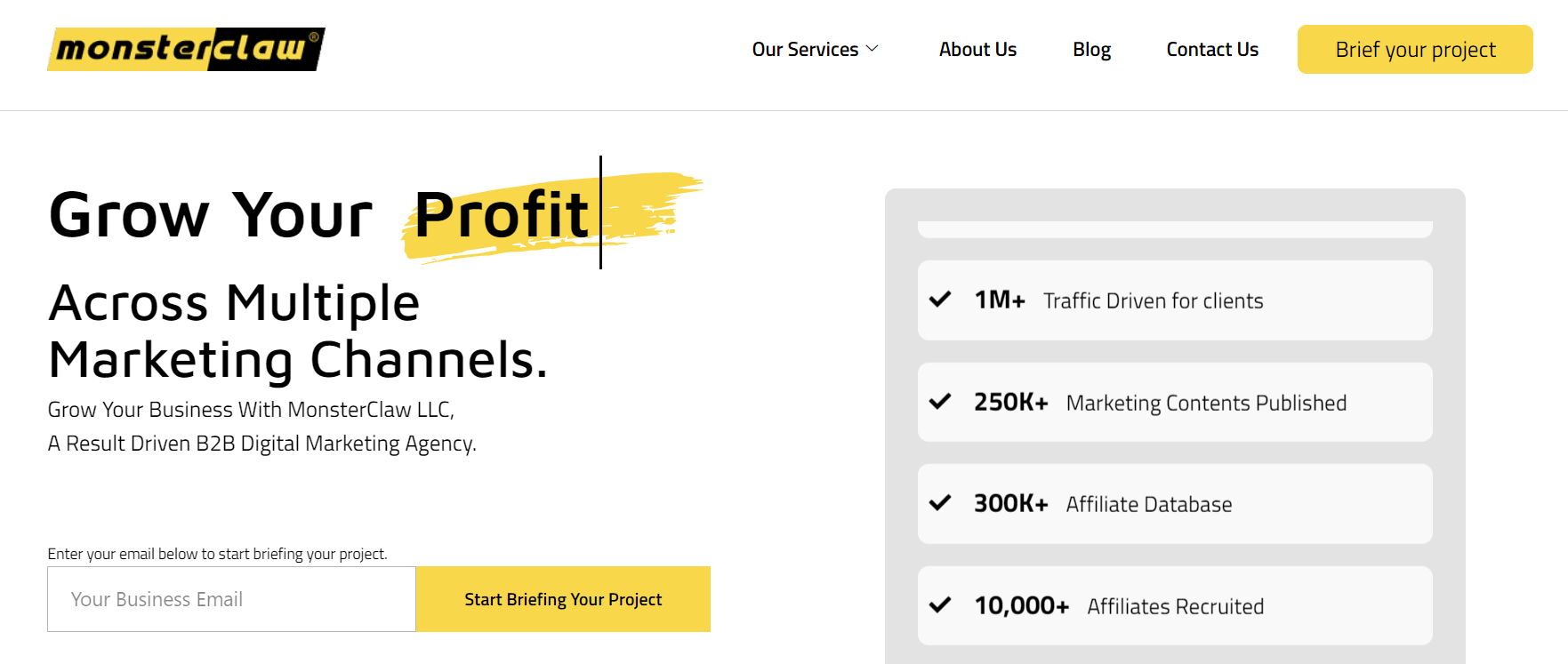 Dhaka, Bangladesh (with remote workers)
Year Founded: 2007
Estimated Annual Revenue: Undisclosed
Popular Clients: ScraperAPI, Moda Express, Global Grasshopper, Freelancer Masterclass, Tetra Noodle, Tag Crazy
MonsterClaw LLC began as a startup company offering marketing services on popular listing site oDesk (now UpWork) back in 2007. By 2021, they were ranked as among the top ten affiliate marketing agencies of the world by leading reviewer, Clutch.co. It's an amazing feat considering their clientele is over 90% enterprise-level clients.
Handling everything from affiliate management down to fighting fraud, MonsterClaw LLC employs expert workers ready to offer support, guidance, and expertise every step of the way.
What to expect from the company?
Comprehensive affiliate marketing strategy plan

Assistance in finding and setting up affiliate tracking software and tools

Expert hiring of affiliate influencers to generate sales and conversions

Dedicated affiliate manager

Handles affiliate payouts for client while providing detailed reports
---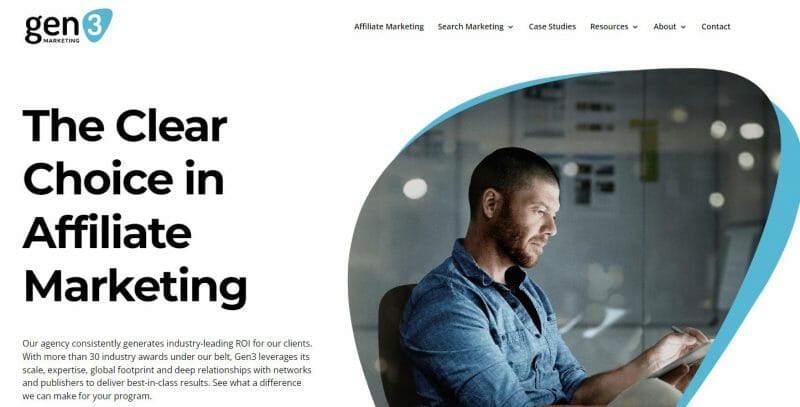 Blue Bell, PA
Year Founded: 2012
Estimated Annual Revenue: $3 Million Up
Popular Clients: Motorola, Peapod, Motorola, New Balance, Guess, Rockport, Crocs, Sur la Table
With a decade's worth of experience, Gen3 Marketing LLC shows off a strong portfolio to potential customers. They count brands like Guess and New Balance as part of their clientele. Overall, they've served over 300 clients, providing services from paid search, SEO, and Amazon PPC on top of their affiliate marketing services.
As if that's not enough, they've received 40 industry awards while boasting a client retention rate of 90%.
What to expect from the company?
Creates a deep, trusted relationship with their clients

Offers insightful affiliate marketing strategies designed to produce results

Customized solutions to fit every brand's need
---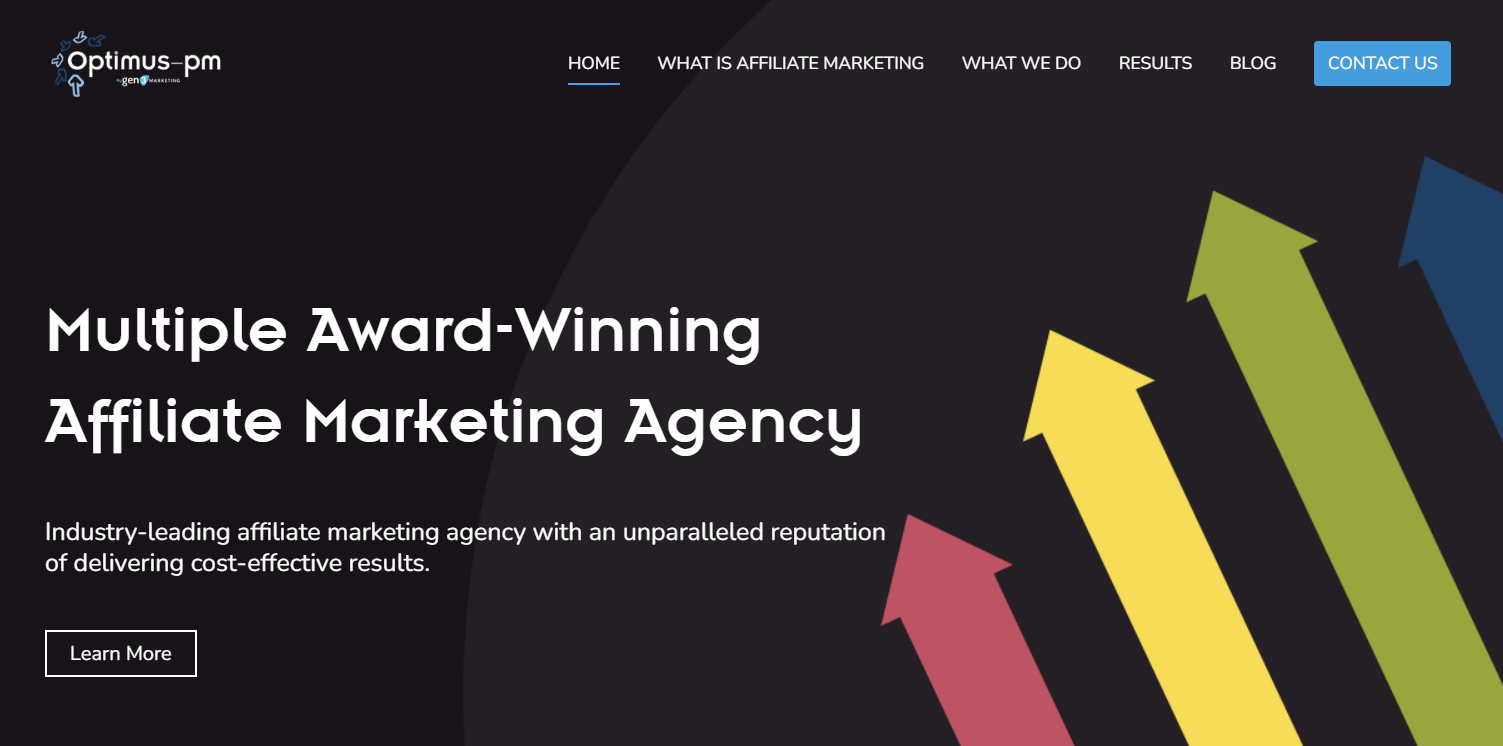 London, United Kingdom
Year Founded: 2006
Estimated Annual Revenue: Undisclosed
Popular Clients: Crew Clothing, Chemist Direct, Clintons, The Jewel Hut
Optimus PM was recently named as the Most Effective Agency in 2020 at the Performance Marketing Awards. The only affiliate marketing agency from the UK on this list, the company is trusted by its clients for offering custom-tailored affiliate strategies.
The company admits to being number obsessed, so everything they do is backed by data. This approach led one of their clients, a giant UK online clothing website, to earn a 188% year-on-year revenue growth. The initial client target was only 10%.
Currently based in London, the company is looking to expand to the United States and Canada in the next few years.
What to expect from the company?
Offers clients reporting and recruitment tools

Provides a dedicated affiliate manager

Flexible, customized affiliate marketing strategies to match client's business
---

New York, New York
Year Founded: 2007
Estimated Annual Revenue: $3 Million Up
Popular Clients: Vaughan Premier, Ltd., FullBeauty Brands
You can consider the Blue Cherry Group among the veterans in the digital and affiliate marketing field. While they are among the top affiliate marketing agencies around today, they also offer services like Amazon Optimization and Paid Search.
The company first started as a data feed agency before adopting other services to be the premier source for online sellers and brands.
What to expect from the company?
Detailed goal discovery process using historical data

Guaranteed brand safe practices

Focuses on generating revenue and profit for clients
---
---
3 Reasons an Affiliate Marketing Agency Is the Right Move for Your Business
1. They can improve sales, increase customer engagement, and raise your brand's value.
Professional affiliate marketing agencies know how to generate results. Most sellers may have a good idea of how affiliate marketing works. But it may not be enough to create strong and consistent conversions in 2023.
The basics of affiliate marketing involve both the seller (you) and the promoter (influencer) working together to generate commissions and revenues.
Standing in between is the affiliate marketing agency. They connect both parties and handle the marketing campaign from top to bottom, so it runs smoothly and results in revenues for all parties involved.
2. They have established ties with key influencers and partner brands.
There are strict dos and don'ts in finding influencers to work with. Trawling hundreds of social media profiles and diving deep into niche hashtags can become overwhelming for entrepreneurs.
With the assistance of an affiliate marketing agency, you can skip this step and let the experts handle it. Established agencies already have a repository of influencers and ambassadors they can reach. These aren't random influencers who happen to have a large audience—they are selected to fit your brand's reputation. Most importantly, top affiliate marketing agencies handpick these influencers based on your niche and target market.
3. They have access to data you may not have access to.
Data is king when it comes to running a successful affiliate marketing campaign. Top affiliate marketing agencies focus on data to run a successful affiliate campaign. Data-driven promotions often decide how and when to conduct the campaign to produce the best ROI for their clients.
---
Are You Ready to Work with Affiliate Marketing Agencies?
Affiliate companies have their unique criteria when determining whether they can work with a client or pass on them. To find out if your company is ready to work with a top affiliate agency, here are some simple questions you can answer.
👍[YES, YOU'RE READY]
Are you a fully established business with a strong brand presence and business model?

Do you want to scale your company's sales and growth in the next few months and years?

Are you launching a new product and need help to make the campaign successful?

Are you prepared to invest both time and money in your affiliate marketing campaign?
👎[NO, YOU'RE NOT READY YET]
Are you a new company still figuring out your brand and business model?

Do you intend to run a private affiliate marketing program with a limited number of partners only?

Are you determined to just keep your platform or business small so you can handle it better?

Do you have little to no budget for your affiliate marketing program?
---
How to Identify Top Affiliate Marketing Companies
If you answered yes, to most of the questions above, your brand is probably ready to work with a top affiliate marketing agency. But how do you know you'll be working with the best?
You can also refer to the agencies mentioned above, but if you want to decide for yourself, the best affiliate marketing agencies showcase the following criteria:
[wp-howto-schema]
Frequently Asked Questions
What is an affiliate marketing agency?
An affiliate marketing agency is an agency that curates social media influencers, content creators, and other creatives for partnerships with clients. These affiliate marketing agencies will cater solutions to your business and its needs.
Which company is best for affiliate marketing?
These are the best companies for affiliate marketing in 2023:
1. Grovia
2. OAK Digital
3. AffiliateManager
4. PartnerCentric
5. MonsterClaw LLC
6. Acceleration Partners
7. Hamster Garage
8. Gen3 Marketing LLC
9. Optimus PM
10. Blue Cherry Group
What companies can I do affiliate marketing for?
These are some of the many companies that you can do affiliate marketing for:
eBay partner network
Amazon associates
Gearbest
GoDaddy
HostGator
ShareASale
ClickBank
What is the average commission for affiliate marketing?
Most affiliate marketing commissions are percentage commissions. The most common average affiliate marketing commission is between 5% to 30%. If you only sell a specific set of products with a set price, there may be a fixed-amount commission.
Is affiliate marketing easy?
Affiliate marketing isn't always easy. Many influencers start their career by going the affiliate route, but building enough traffic to make a meaningful income from affiliate sales isn't always quick or easy.