Notable Highlights
Affiliate Marketing Industry is set to grow to approximately $14.3 Billion in 2023 globally and $15.7 Billion by 2024

Affiliate marketing companies raised over $1.5 Billion in all-time funding across 232 rounds by 2023, marking a 15.38% increase compared to the previous year

The global number of Affiliate Marketing related service offerings grew by 26% in 2021 alone, to reach a staggering 10,000 firms offering or specializing in Affiliate Marketing services

Amazon Associates remains the largest affiliate network with more than 20% market share. 

Affiliate Marketing averaged 9% of marketing budget allocation in 2021

More than 67% of brands worry about affiliate fraud, less than 30% have been affected by it

Interest in affiliate marketing rose more than 264% between 2020 and 2022

More than 25% of brands utilize bloggers in their affiliate marketing campaigns
---
---
The State of Affiliate Marketing: Benchmark Report 2023:
---
Welcome to the inaugural Influencer Marketing Hub Affiliate Marketing Benchmark Report. We began conducting our annual Influencer Marketing Benchmark Report in 2017, and have since added various other benchmark reports, highlighting different aspects of online marketing since then. This year we have added affiliate marketing to the collection. 
The data we use in this report comes from Influencer Marketing Hub surveys and those of some of our sister companies, in particular Refersion, a platform helping you manage affiliates and influencers at scale. Refersion surveyed over 2,000 brand marketers. In addition, we have used second-party data acquired from a variety of reliable sources.
---
Global Affiliate Marketing Spending Expected to Reach $14.3B in 2023
Influencer Marketing Hub looked at affiliate marketing spending, both in the US and globally. It was found that the affiliate marketing global spend in 2017 was $8.6 billion, with the $5.4 billion US spend making up a large chunk of that.
By 2023, it is estimated that global spending will increase to $14.3 billion, and rise further to $15.7 billion in 2024.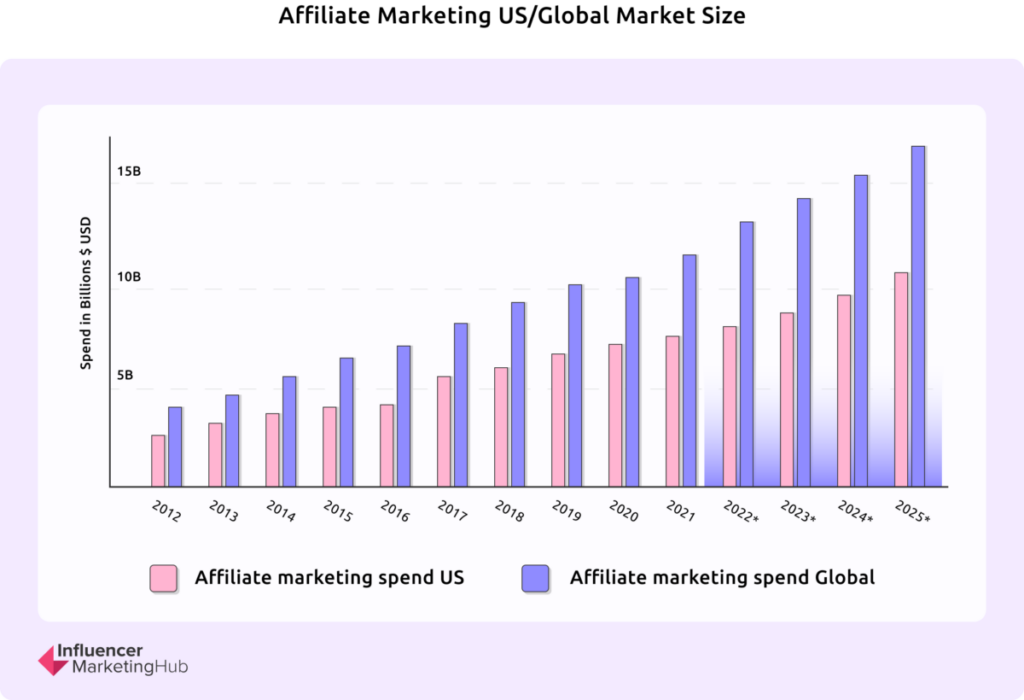 As Refersion observed, "Today, the affiliate marketing world has grown to include brand ambassadors, affiliate networks and publishers. That's significant growth compared to 2013, when affiliate marketing was worth just $2.9 billion."
---
Nearly 10,000 Total Affiliate Marketing Related Services / Companies
Based on online directories Influencer Marketing Hub estimates that there are 9,600 affiliate related services/companies worldwide in 2023. These include agencies, platforms, and other organizations/apps offering affiliate services.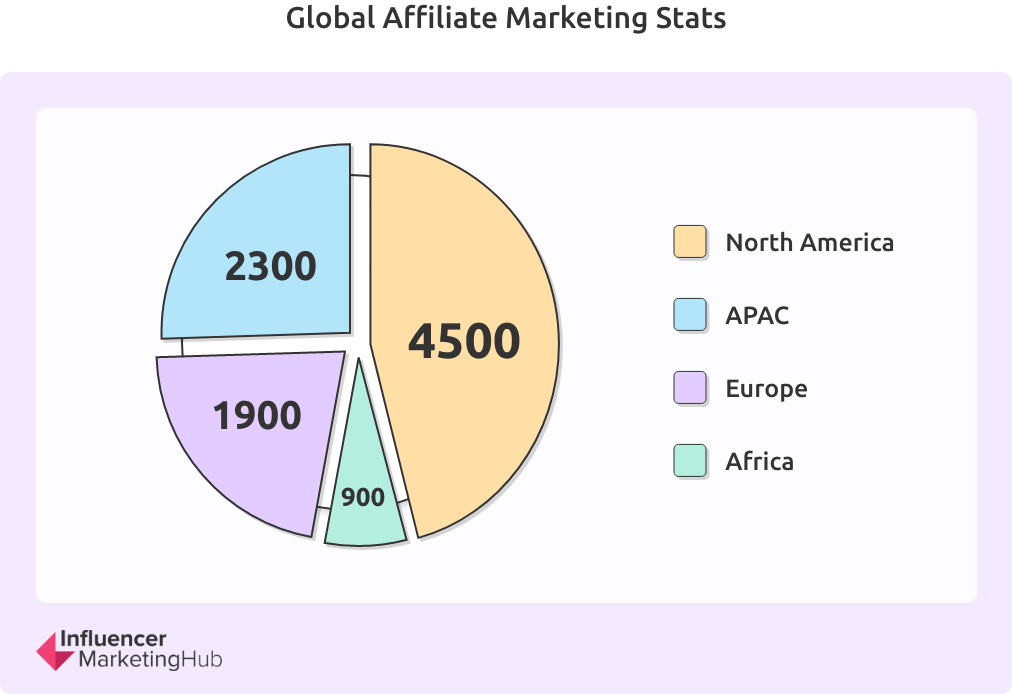 Nearly half of these services/companies (4,500) are based in North America, followed by APAC (2,300), Europe (1,900), and Africa (900).
---
More Than 80% of Advertisers Use Affiliate Marketing
Affiliate network, Rakuten, commissioned Forrester Consulting to find views on the perception and effectiveness of affiliate marketing programs. Amongst the results they found that over 80 percent of advertisers and 84 percent of publishers surveyed ran an affiliate program. Marketers use affiliate programs at all stages of the customer journey: 83 percent targeted consumers during the discovery and awareness phase, 79 percent during conversion or purchase and 79 to create ongoing customer engagement.
---
U.S. Affiliate Marketing Spending Expected to Reach $8.95B in 2023
Statista collected affiliate marketing spending in the United States from 2010 to 2017 and continued with predictions through to 2022. According to their source, U.S. affiliate marketing spending is due to reach 8.95 billion U.S. dollars in 2022, up from 5.4 billion recorded in 2017, while growth year over year growth was recorded in all major Affiliate markets such as Japan, Germany, Australia and France.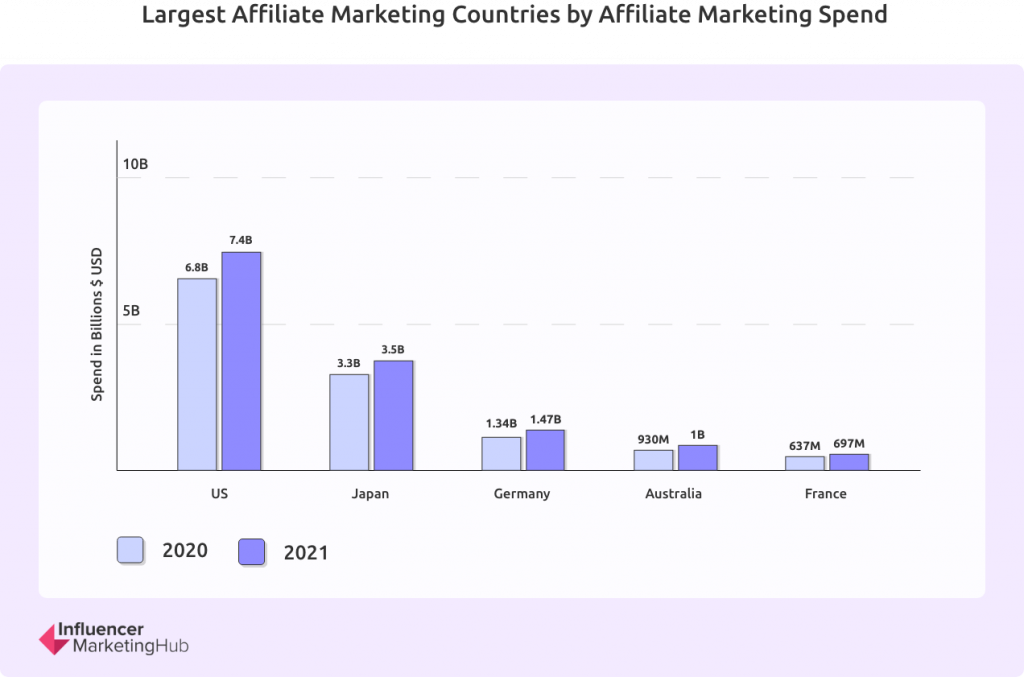 ---
Fashion is the Most Popular Niche for Affiliate Marketing
AM Navigator analyzed 550 affiliate programs to discover the most popular niches and best selling affiliate programs. They found Fashion to be the top category, followed by Sports & Outdoors, Health/Wellness & Beauty, Travel, and Home & Garden. This data predates Covid, so Travel may have dropped down the list at the expense of Health/Wellness since then.
---
Computers and Electronics the Preferred Sector for Affiliate Marketers
Despite fashion rating as the most popular category for affiliate marketing, Hosting Tribunal reported that 41.04% of affiliate marketers prefer promoting computers and electronics products, compared to 39.84% preferring clothing and apparel, 29.88% online services, 29.48% accessories, 27.89% beauty, and 26.69% health and wellness.
---
Retail Has the Highest Revenue Percentage
When you look at sectors from a high level, Retail is the affiliate niche with the highest revenue percentage (44%). This is followed by Telecom and Media (25%), Travel and Leisure (16%), and others (15%).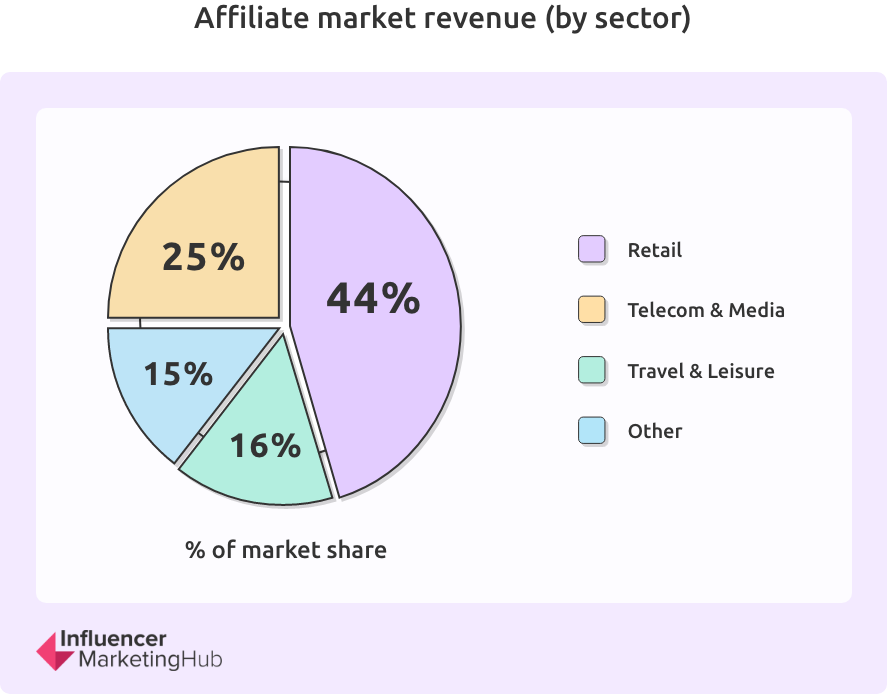 ---
Amazon Associates Remains the Largest Affiliate Network Despite Changing its Conditions in 2020
Amazon's affiliate marketing program, Amazon Associates, has over 900,000 affiliates globally. Amazon has always dominated affiliate marketing, although they lost popularity in 2020 when they adjusted their payout schedule to affiliates, slashing many of the rates. For example, the affiliate cut from purchases of furniture and home improvement products fell from 8% to 3%, and for grocery products the rate slid from 5% to 1%. 
This gave an opportunity for other affiliate programs to rise in popularity, with some of the market leaders now being ShareASale (700,000+), Awin (225,000+), Rakuten (150,000+), and ClickBank (100,000+).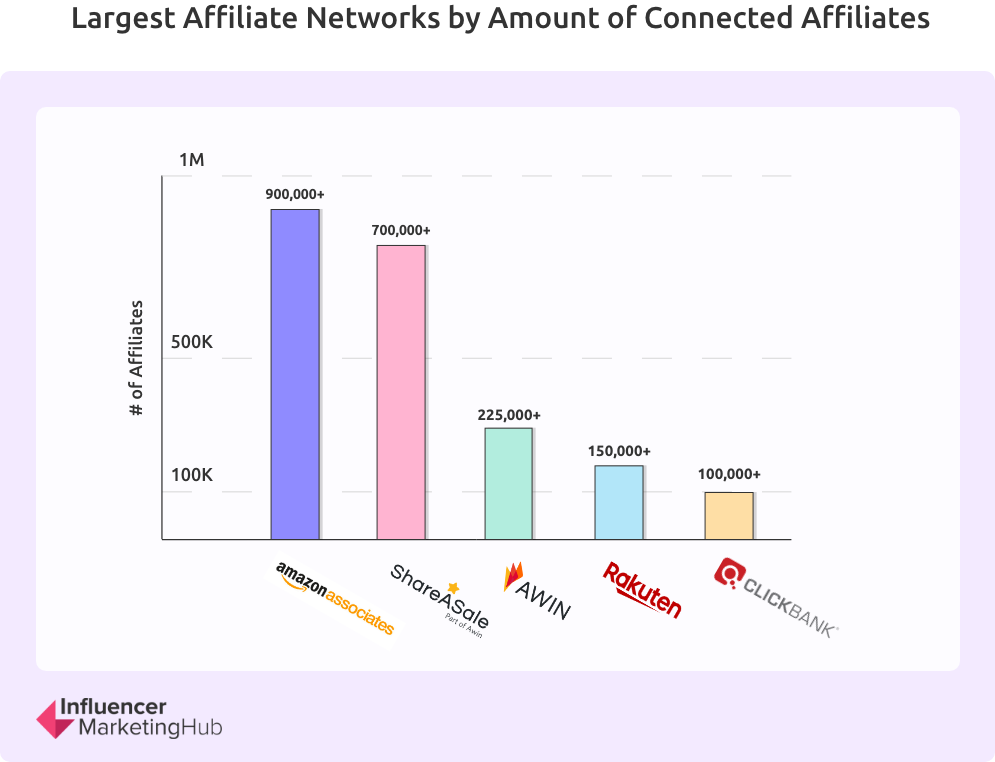 ---
Amazon Associates Has More Than 20% Market Share
Amazon Associates has by far the most affiliate programs on the internet, with 21.65%. Its nearest competitor is Commission Junction (12%), followed by A8.net (8.05%), AWIN (5.97%), Hotmart (5.%), and GoAffPro (5%).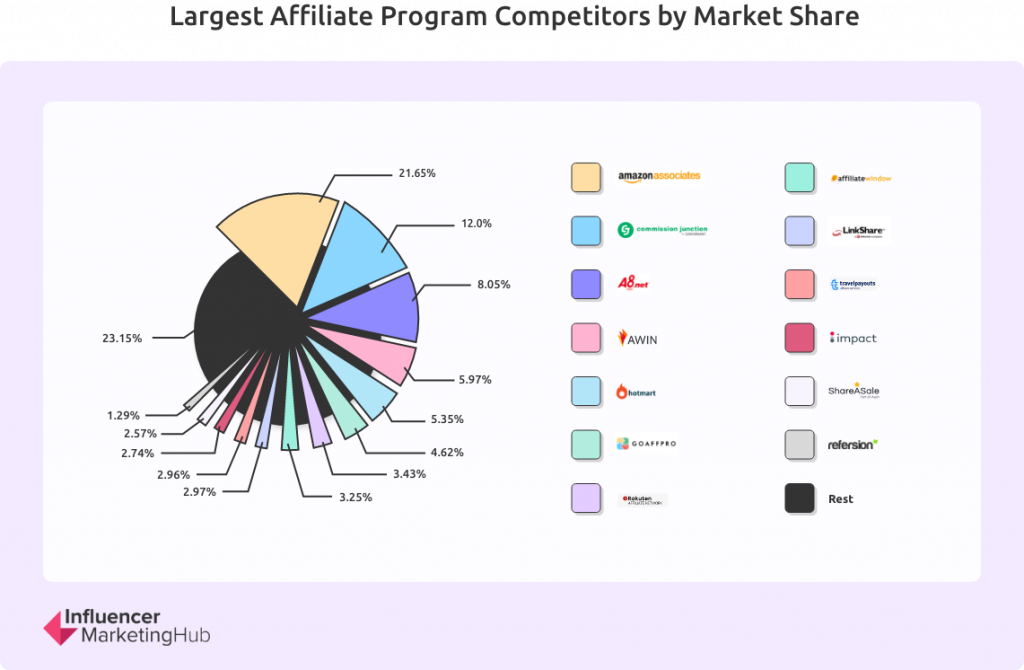 As popular as ShareASale is (as seen in the previous statistic), it only has 25,000 sites (2.57%), compared to Amazon Associates' more than 215,000 websites. To a large extent this is a result of differing business models between Amazon and ShareASale. Amazon Associates is focused entirely on Amazon products, whereas ShareASale houses affiliate programs for 4,500+ merchants, both big and small. Its focus is on the main players in the US and Europe, and this explains the variations in sizes and niches.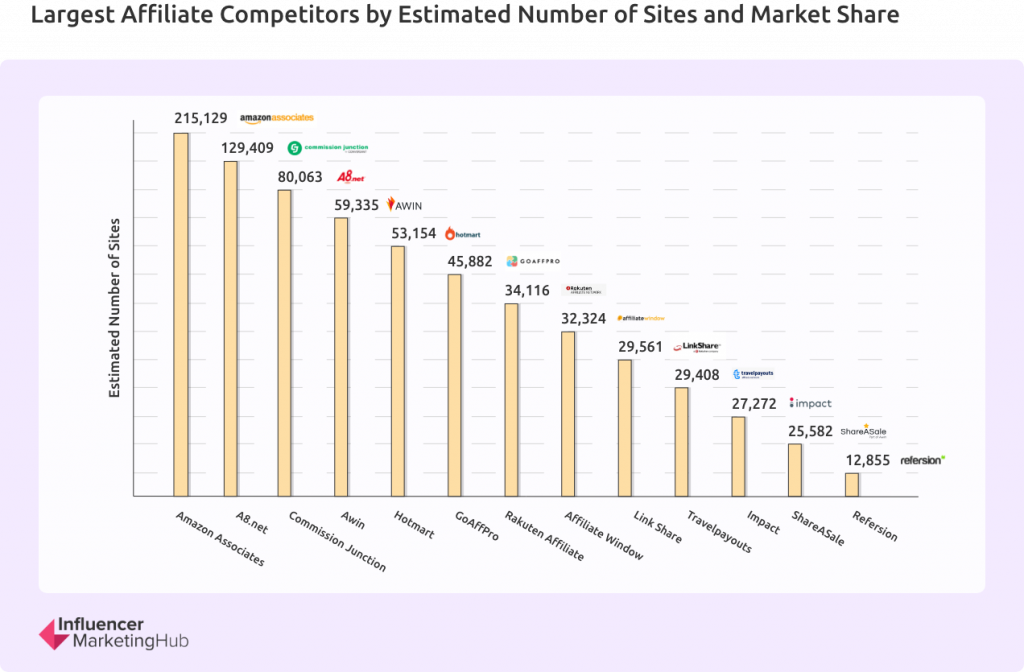 ---
Affiliate Marketing Software Industry Raised $216+ Million 2020-2022
The affiliate marketing software industry raised more than $216 million between 2020 and 2022, with impact.com leading the way by raising $150 million based on a $1.5 billion valuation in July 2021. The funding round was led by Qatar Investment Authority (QIA) and joined by Providence Public, with impact.com noting that it had surpassed $100 million in annual recurring revenue.
Impact.com's partnership management platform enables brands to engage with individuals for influencer and affiliate marketing. Other new affiliate marketing platforms, such as ShopyMy, are also raising Series A funding in 2022, with approximately $8 million raised.
These developments demonstrate the significant growth and investment potential of the affiliate marketing software industry, which is attracting a range of investors and entrepreneurs.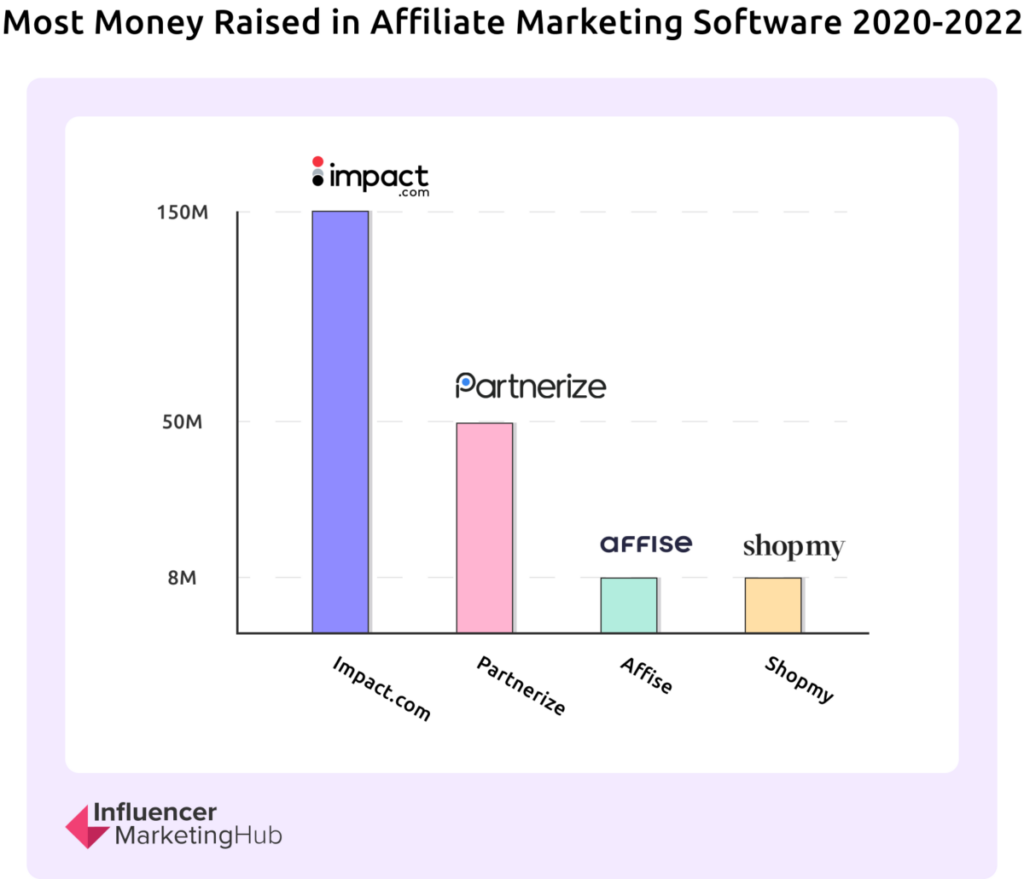 Other sizable sums raised during 2021 include Partnerize ($50 million) and Affise ($8 million). Partnerize received $50 million growth financing in a round led by Accel-KKR. Partnerize's intelligent partner automation platform helps more than 300 global brands drive results across their entire partner ecosystem.
---
Affiliate Marketing Companies Raise Over $1.5 Billion in Funding Across 232 Rounds, with $303.4 Million Raised in 2021
According to Crunchbase, affiliate marketing companies have raised a total of $1.5 billion in funding across 232 funding rounds overall. This includes the $303.4 million raised specifically in 2021 by software platforms focused on the affiliate marketing industry. Note that according to Crunchbase affiliate marketing companies have raised a total of $1.3 billion from 198 funding rounds overall, year prior to 2022. 
These figures suggest that the affiliate marketing industry is attracting significant investment and attention, with a range of companies and entrepreneurs seeking to capitalize on its potential. Given the ongoing growth and evolution of the industry, it is likely that we will continue to see substantial investment and fundraising activity in the years to come.
---
SaaS Based Products Pay 20-70% Commission
One of our surveys found that SaaS COULD be one of the most lucrative categories for affiliate marketers, paying up to 70% commission. However, it very much depends on the product, with affiliate commissions varying from 20-70%. 
Finance is a more consistent sector for affiliates, with most programs paying 35-40%. 
Other sectors that (sometimes) pay healthy commissions to their affiliates include Beauty & Health, eLearning, Business and Tech. The commissions for many retail products are comparatively low, particularly since Amazon's 2020 rate adjustments.
---
Nearly 14% of Instagram Affiliate Influencers Operate in the Lifestyle Sector
The fact that 13.8% of all Instagram Affiliate Influencers operated in the Lifestyle niche in 2021 (up from 11.59% in 2020), despite relatively low commission rates, may come as a surprise. However, Lifestyle is the largest sector overall on Instagram – it's the niche where most people share their pictures and videos. Therefore, it shouldn't be unexpected that many Instagram influencers operate in this niche, and they, in turn, join affiliate networks.Other popular niches for Instagram affiliate influencers similarly match popular categories on Instagram, e.g. Beauty, Music, and Photography.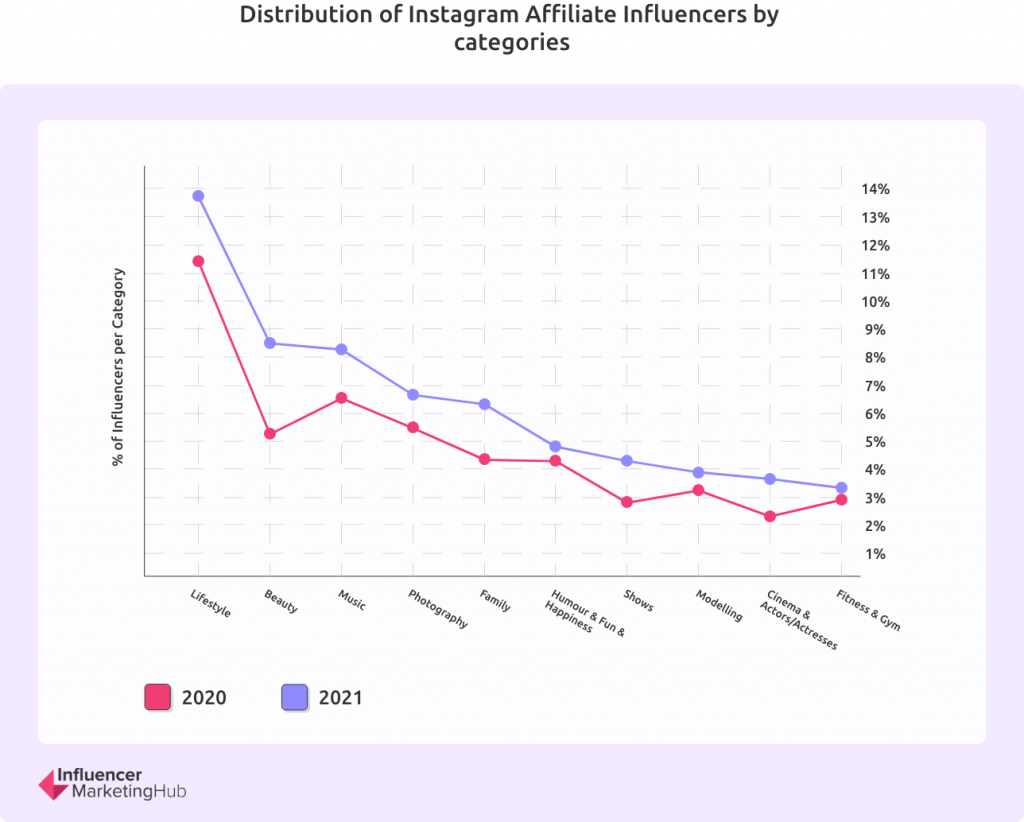 ---
Affiliate Marketing Averaged 9% of Marketing Budget Allocation in 2021
We found in a recent survey that our respondent businesses allocated 9% of their marketing budget on average to affiliate marketing. This equates with email marketing, and is similar to what they intended to spend on offline marketing and events. Notably, the respondents allocated the highest percentage of their marketing spend (21%) to performance marketing.  Affiliate marketing is, in reality, a specialist type of performance marketing, as both involve paying for performance, e.g. a click on an ad or a purchase of a product as a result of an ad.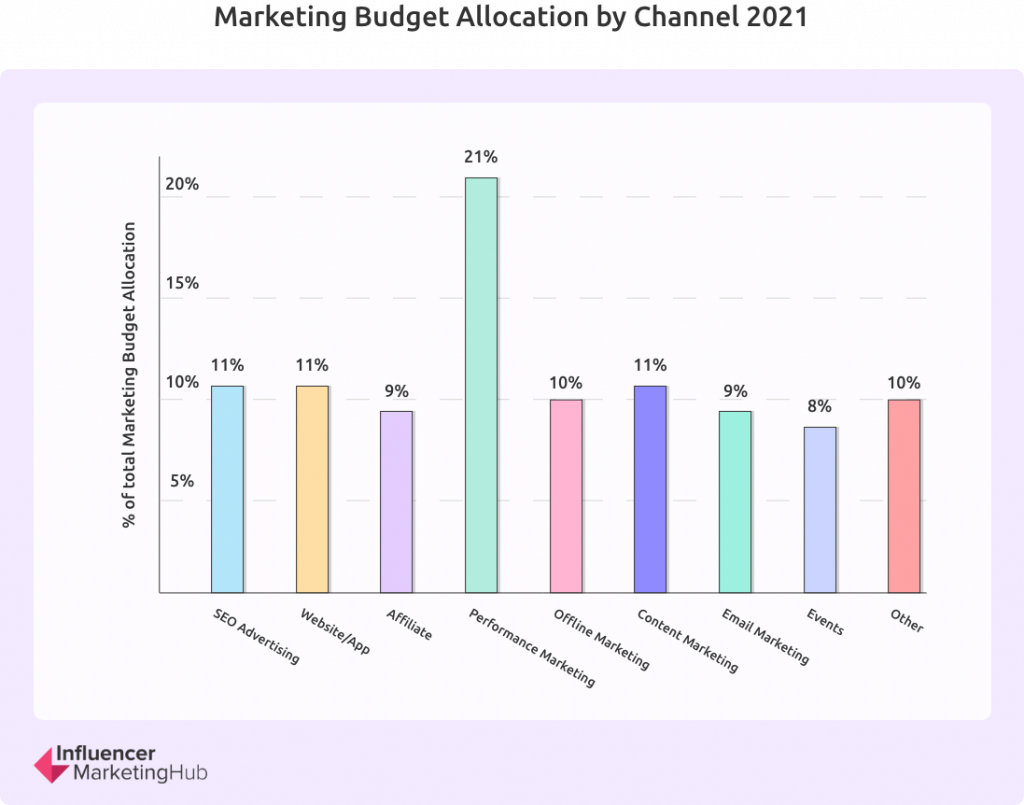 ---
Search Engine Requests for Affiliate Marketing Grew by Nearly 30% Over 2021
Using Ahrefs data, we found a huge increase in searches for Affiliate Marketing since the onset of Covid19. Clearly, increased numbers of people working from home have been looking for new sources of income.
Back in 2017, there were 770,347 US searches for the term. Interest fell over 2018 and 2019, dropping to 683,664 in 2019. However 2020 saw a 27% increase in interest to 936,544 searches. This continued in 2021, when US users searched for "affiliate marketing" 1,305,226 times.
---
Substantial Growth in Home and Garden Affiliate Revenue in 2021/22
Refersion has collated the revenue earned by affiliates in various product categories. Their latest data shows 209.72% YoY growth in the home and garden sector. Again, this is likely to be an effect of Covid, with people taking on projects at home instead of traveling.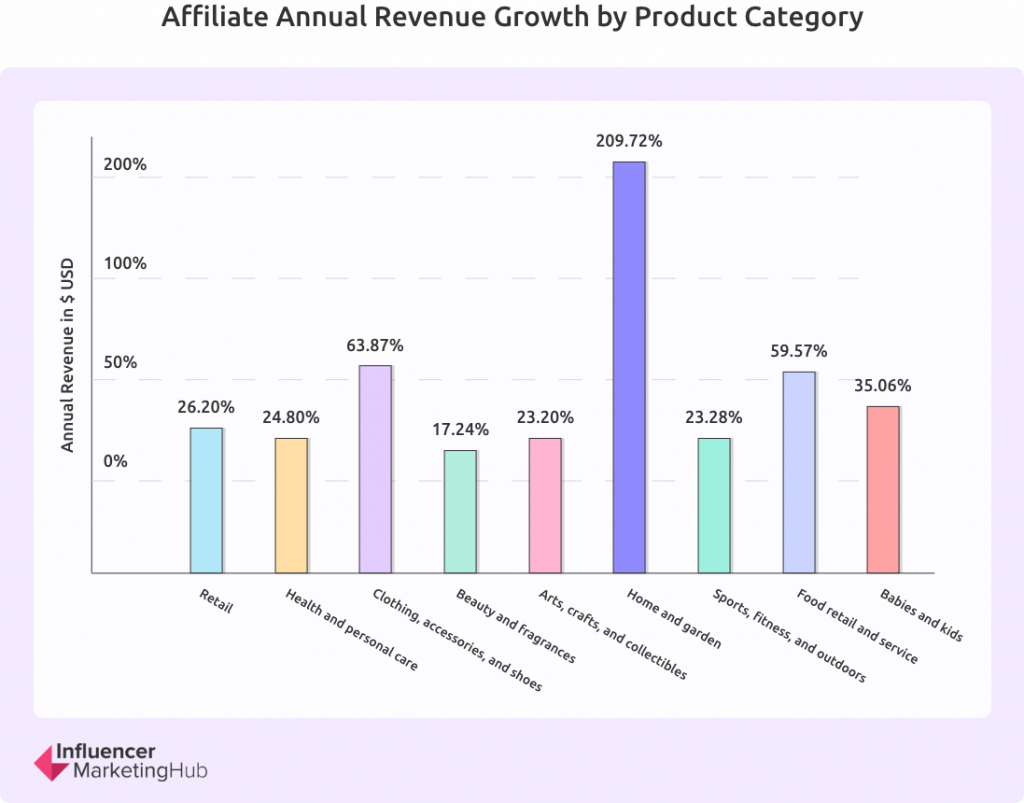 Other areas to experience sizable increases in 2021/22 include clothing, accessories, and shoes (63.87%) and food, retail, and service (59.57%). 
These figures vary somewhat from the preferred affiliate marketing sectors we referred to above, indicating the increased sales of consumer products during Covid.
---
Influencer Marketing and Affiliate Marketing Synergize Well
Although influencer marketing and affiliate marketing will count as different categories in most firms' marketing budgets, there is much synergy between the two types of marketing. 
In the past, many people who became affiliates were traditional bloggers or media publishers. They had websites they could use to promote and review affiliate products. They generally tried to earn an income from different sources, so would promote multiple affiliate brands from a range of popular affiliate programs, and even competing products.
However, nowadays, influencers are the stars of the internet. Data suggests that more than 90% of consumers trust an influencer more than an advertisement or traditional celebrity endorsement. In addition, more than 75% of brand marketers intend to dedicate a budget to influencer marketing in 2022.
Genuine influencers don't promote products they dislike or distrust, or even show disinterest in. The few high profile cases where this has occurred  have had unfortunate ramifications for influencers, and they have learned to be more selective in the products they promote. In addition, with 47% of customers using Adblock technology, traditional digital advertising channels now have limited effectiveness.
Affiliates come in many shapes and sizes. For example, influencers who already have built a sizable audience, have a much greater chance of making good money from affiliate marketing than no-name people trying to build a site from scratch. 
Affiliates can be categorized into the following segments:  
Beginner - $0 to $1000/pm

Intermediate - $1000 to $10k/pm

Advanced -10k to $100k/pm

Super Affiliate -$100k+/pm
Although there is much variation in the incomes of individual affiliates, we discovered that 3.78% of our survey respondents made more than $150,000 annual affiliate income, 7.94% $100,000 -$150,000, 5.15% $50,000 - $100,000, 16.21% $10,000 - $50,000, and 57.55% below $10,000. Although most people were in that last category, the most persistent ones would eventually reach the higher payment levels.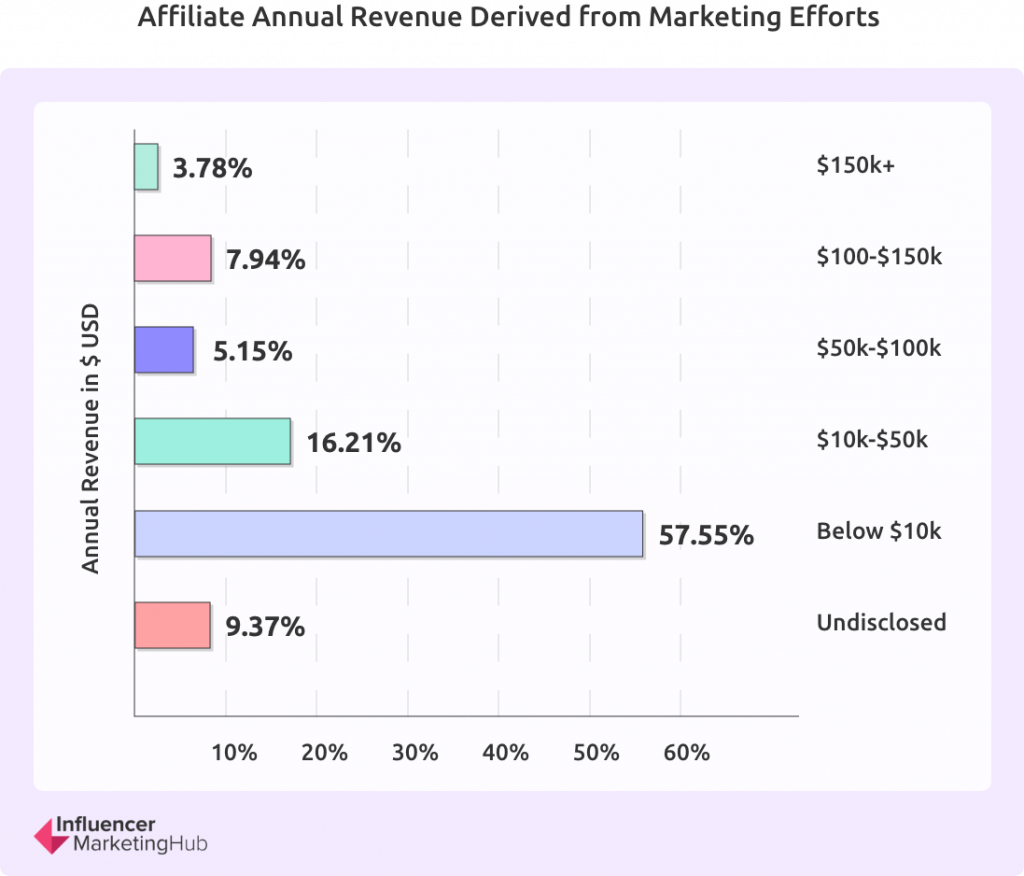 ---
More Than ¼ of Affiliate Brands Utilize Bloggers
As a blogger I shouldn't admit it, but blogging is no longer as popular as it once was. However it certainly isn't dying. According to Semrush, in 2020, there were 31.7 million bloggers in the United States, having increased by 10 million between 2014 and 2020. Indeed, there are more than 500 million blogs out of 1.7 billion websites, and over 409 million people view more than 20 billion pages each month.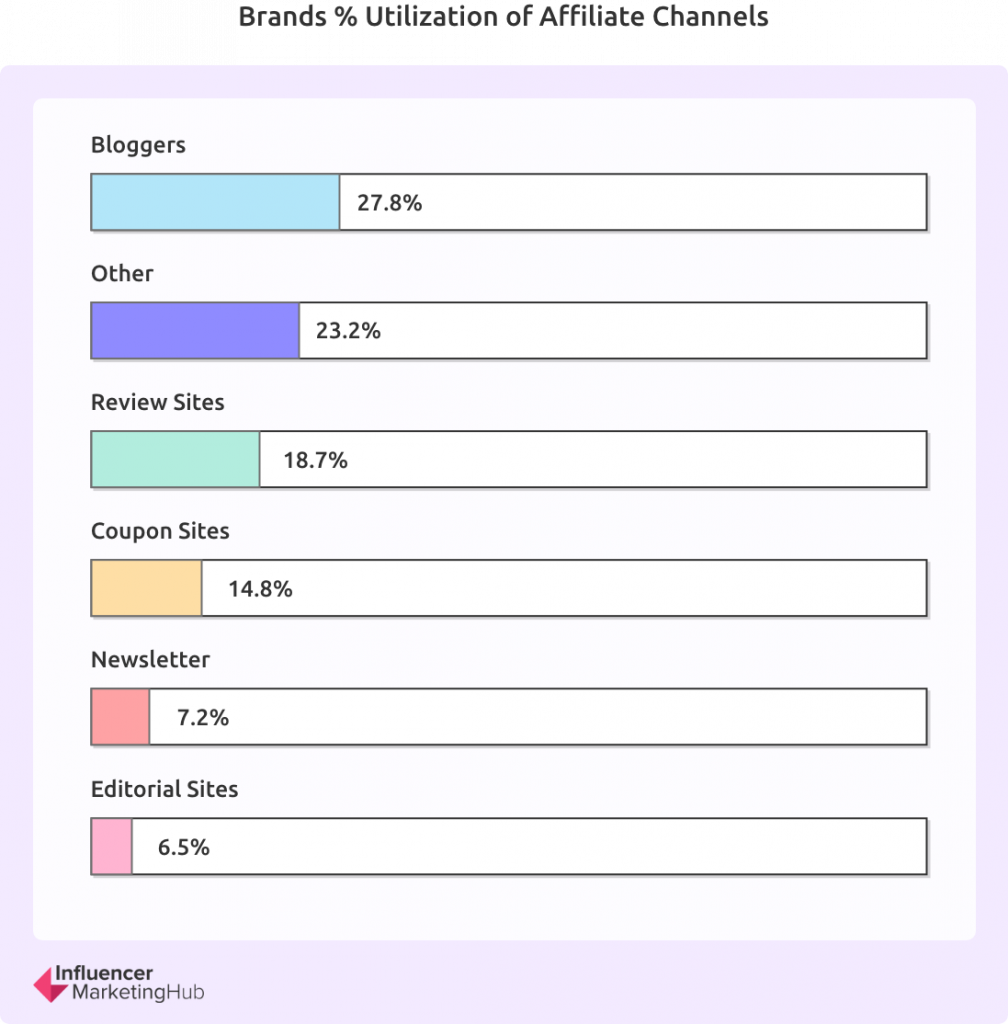 Therefore, it shouldn't be surprising that 27.8% of brands who engage in affiliate marketing, work with bloggers to assist them. Excluding social media, other important affiliate channels include Review Sites (18.7%), Coupon Sites (14.8%), Newsletters (7.2%), and Editorial Sites (6.5%).
Affiliate Marketing Makes Sizable Contribution to Online Purchases
In 2021, affiliate marketing generated about 16% of global eCommerce sales globally. eCommerce affiliate marketing simply means that people sell affiliate products in their online stores. Effectively, eCommerce affiliate marketing occurs when an  online merchant promotes another company's products, services, or website in their eCommerce store.
Shopify the Most Popular Platform Used for eCommerce Stores
We surveyed people on their preferred online store technology. A few years ago, eCommerce stores tended to be complex and expensive, requiring a custom website. Nowadays there are eCommerce website builders that very much simplify the process.
In our survey, the most popular eCommerce platforms were Shopify (36.7%), WooCommerce (14.6%) and BigCommerce (8.2%).
---
Nearly Half of Affiliate Marketing Companies Pay a Flat Rate
Perhaps surprisingly, 48.9% of our respondents stated that they used flat rate payments, compared to 42.4% who paid as a percentage of sales. Product level payment and tiered incentives are substantially less common.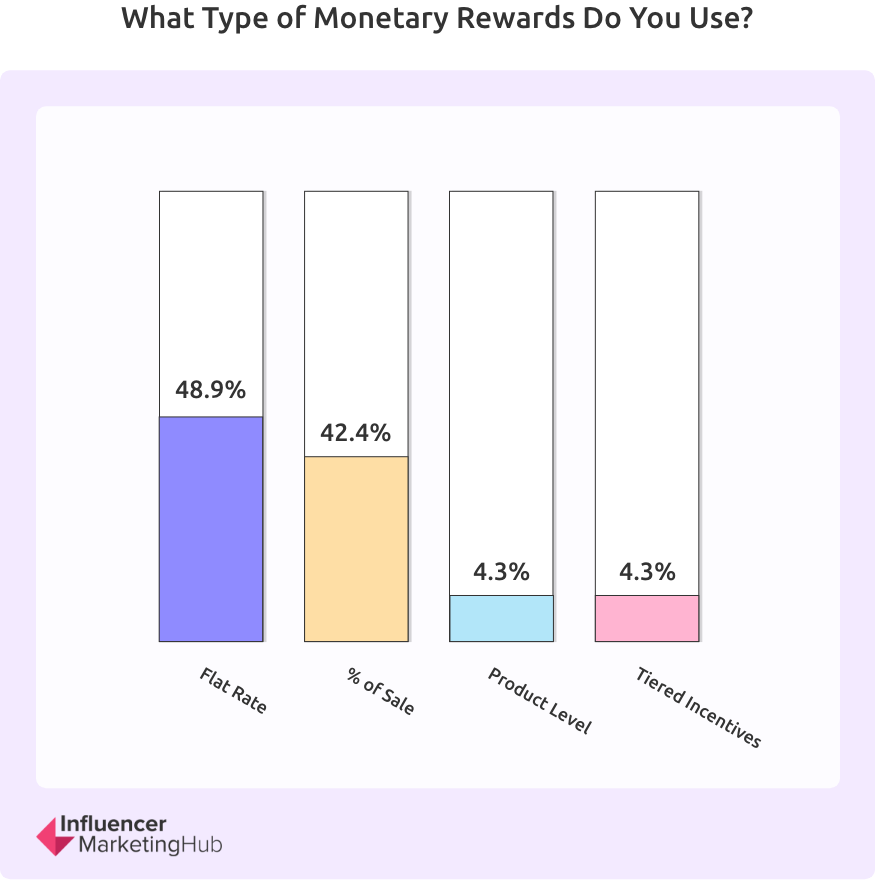 ---
Clear Preference for Using Influencers for Affiliate Campaigns
We asked our respondents for their views on using influencers for affiliate campaigns. 59% stated that they did, clearly understanding how influencers have a readymade audience they can leverage in your affiliate campaigns.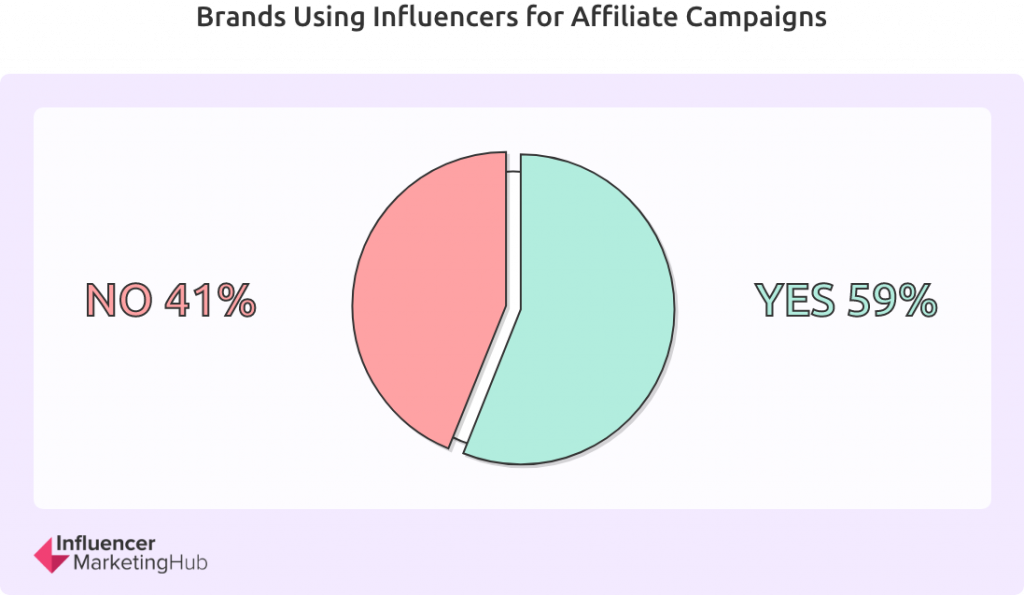 ---
Nearly ¾ of Marketers Prefer Using SaaS Platforms for Their Affiliate Marketing Rather Than Affiliate Networks
Affiliate marketing technology has changed in recent years away from using affiliate network sites. More often, marketers now look to complex tracking when choosing the right affiliate solution. There is a new SaaS based performance-based partnership, which Refersion found the preferred model of 73% of their respondents, rather than affiliate networks.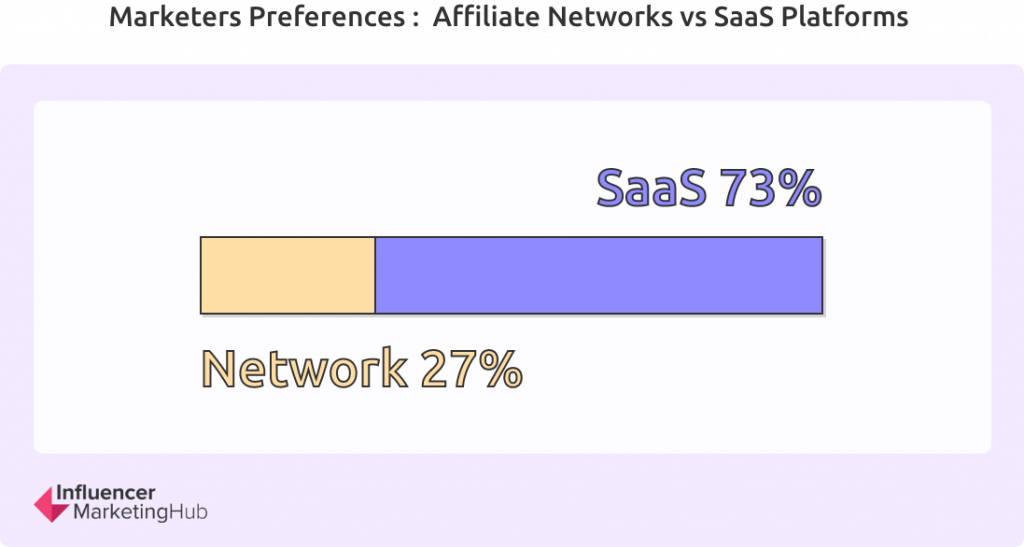 Affiliate networks provided a means for affiliates to work with hundreds of advertisers. The affiliate networks managed both sides of the relationship and took a fee from each. Advertisers found that the networks had little incentive to maximize advertiser revenue. Over time, advertisers found they were coming to rely on a few top-performing affiliates, and questioned the value of the networks.
As a result, more brands are setting up SaaS platforms to manage their affiliate programs in-house. The SaaS software providers have the incentive to continually develop their software to drive revenue for advertisers. The more successful the affiliate programs using their technology, the higher the likelihood that other firms will shift their affiliate marketing to that software.
---
2/3 of Respondents Worry About Affiliate Marketing Fraud, Although Less Than 1/3 Have experienced It
We surveyed marketers about whether they had concerns about affiliate marketing fraud. Surprisingly, 67% of the respondents expressed concern. However, when asked about their personal experiences of affiliate marketing fraud, only 30.9% admitted to having encountered affiliate marketing fraud themselves.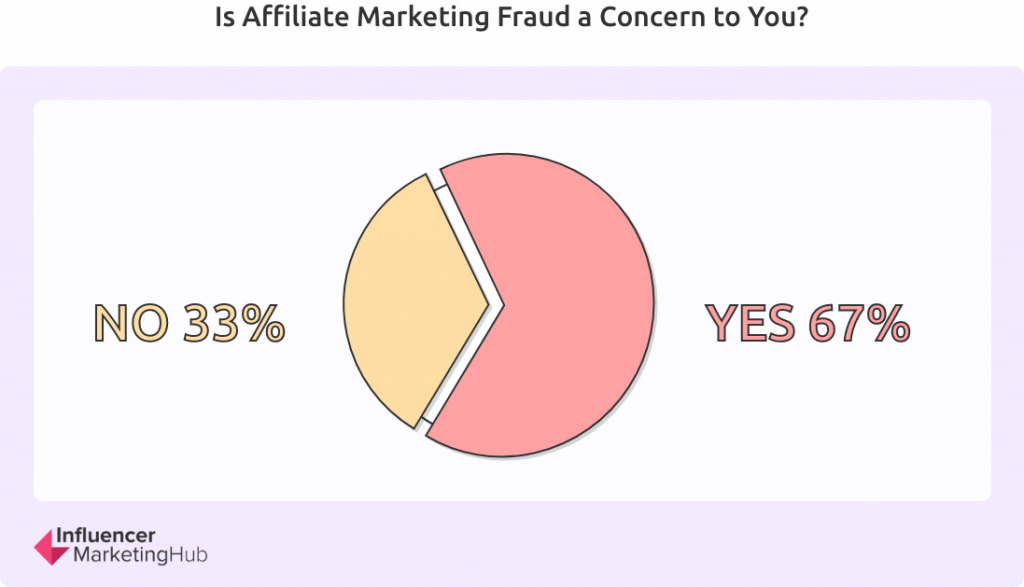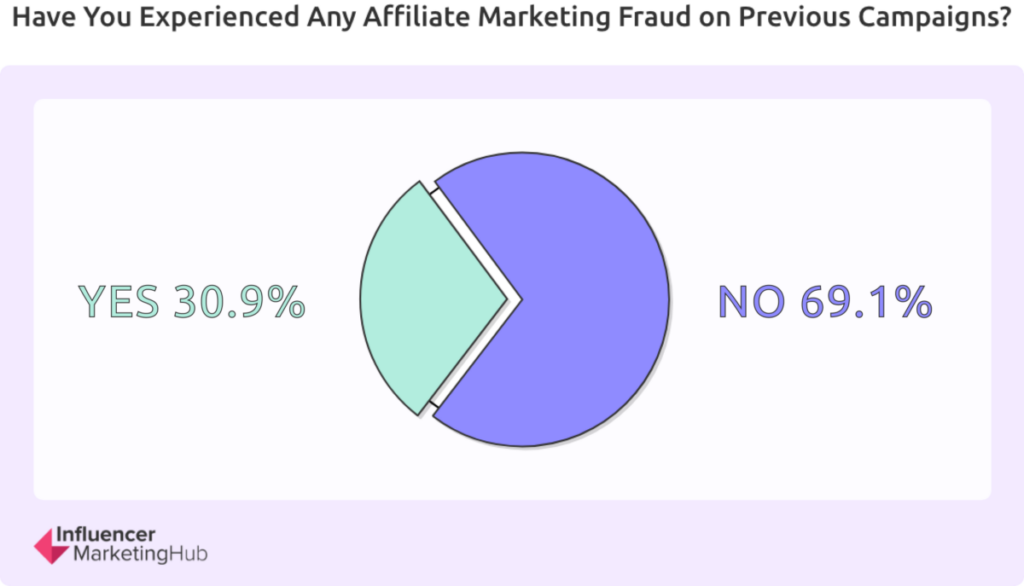 ---
Prediction of Exponential Growth in Digital Ad Fraud
Statista reported estimates of exponential growth in digital advertising fraud worldwide between 2018 and 2023, from $35 billion to $100 billion. It was predicted to reach $13.8 billion in the US in 2020.With the growing digitization of processes, including those in advertising, comes a growing risk of fraud. Today when more and more ads are traded programmatically, fraud detection processes are not yet fully developed, and so the bulk of advertising ends up being served to bots instead of potential customers.
Even Amazon suffers from digital ad fraud, with unknown people using its name in an allegedly fraudulent text message advertising scheme that "bombards victims with unauthorized text messages that abuse Amazon's brand to generate (web) traffic." Previously Amazon filed five lawsuits against fraudulent affiliate marketing schemes and won multiple court injunctions to stop them.
---
Uber Suffered $70 Million of Affiliate Fraud
A high profile case of affiliate fraud involves Uber who claims they lost $70 million through attribution fraud. This occurs when fraudsters attempt to steal credit for app installs they didn't generate. Uber paid for what looked like a sizable increase in organic installs of their app. However, in practice, they saw no change in their number of rider app installs. Instead they saw a corresponding decrease in paid installs to match the increase in organic installs. When Uber investigated they found malware that modified records to change the attribution for an otherwise organic install.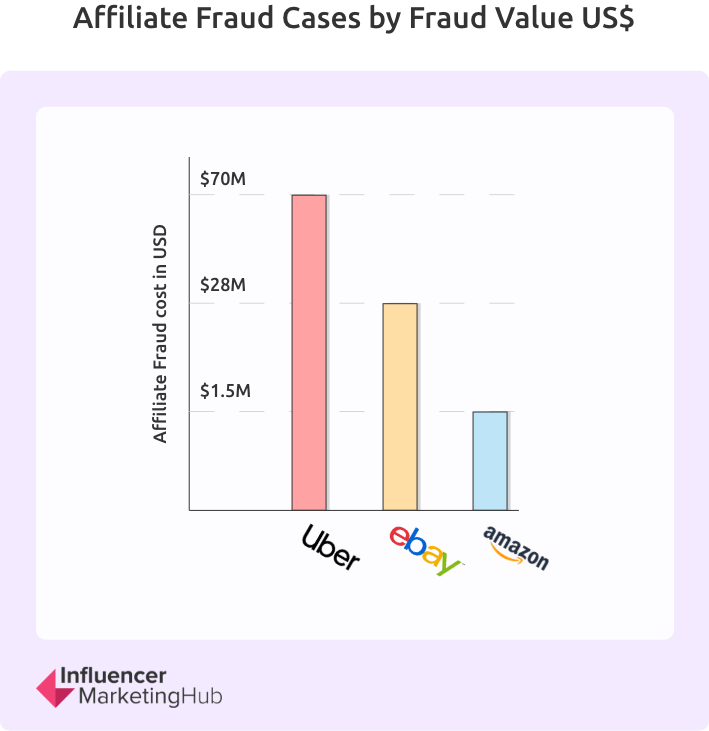 ---
Affiliate Marketers Paid $4 Million+ to Settle Charges that They Promoted a Fraudulent Business Coaching and Investment Scheme
The FTC reports that a group of affiliate marketers who lured consumers into a business coaching and investment scheme known as My Online Business Education (MOBE) had to pay  millions of dollars in assets to settle Federal Trade Commission charges. They had enticed thousands of consumers to pay as much as $60,000 for MOBE "mentoring" services, using false claims and misleading testimonials. The FTC reminded affiliates that the FTC would hold them personally and financially accountable for false or unsubstantiated marketing claims.
---
Searches for Affiliate Marketing Rose More Than 264% Between 2020 and 2022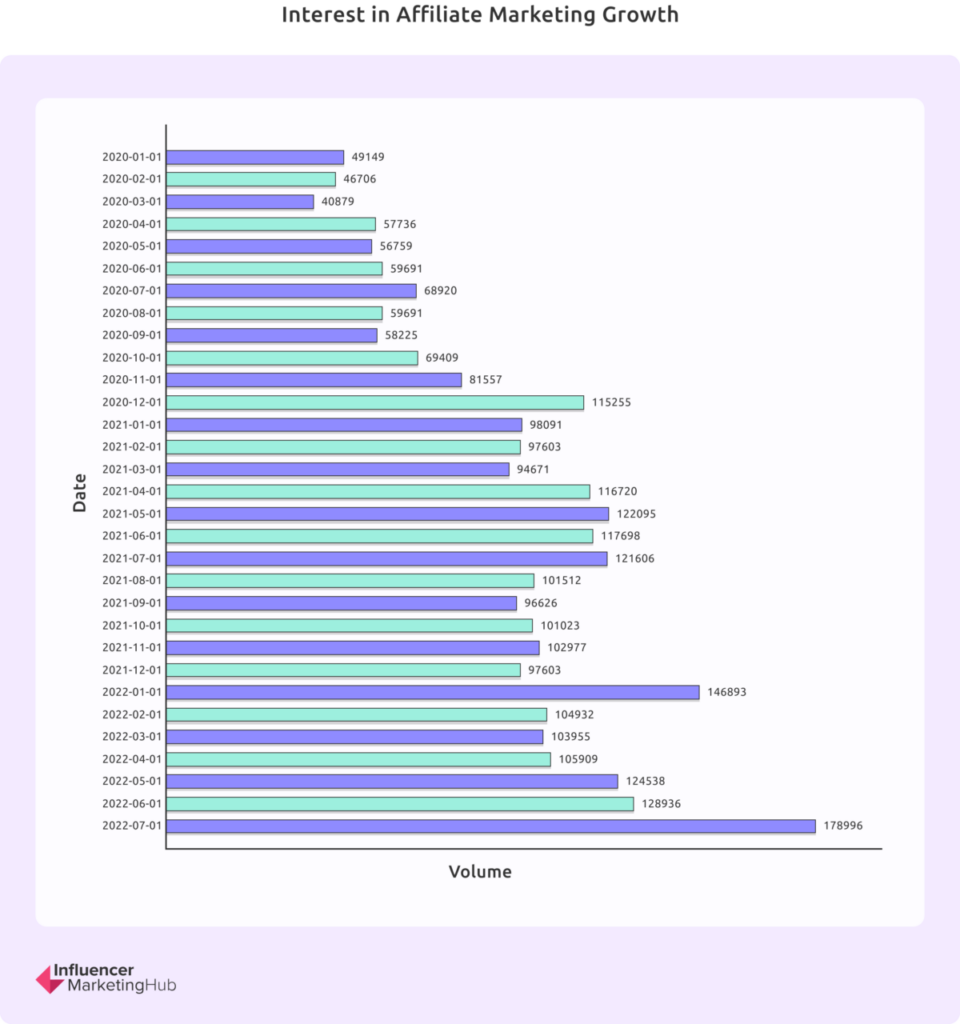 Interest in affiliate marketing has grown considerably over the last few years. Google Trends shows that interest in affiliate marketing doubled between 2017 and 2020. However, with the onset of Covid, Ahrefs search data indicates that growth continues in a remarkable rate.
According to the data, the search volume for "Affiliate Marketing" has been increasing since January 2020, with a peak of 178,996 searches in July 2022, equal to 264%. The data suggests that there is a growing interest in Affiliate Marketing, which could be due to its increasing popularity as an effective digital marketing strategy.
---
Online Dating Sites Pay up to 80% Commission
Over 40 million Americans use online dating products. And many affiliate marketers do well financially as a result of this. According to Taboola, niche dating programs like CougarLife, pay a substantial 80% commission per sale.
---
Average Online Affiliate Marketing Manager Salary is Nearly $57,000 Per Year
Payscale reports that the average salary for an Online Affiliate Marketing Manager is $56,795. This ranges from an entry level salary of $49,000 to an experienced Online Affiliate Marketing Manager with 10-19 years of experience earning an average total compensation of $73,246.
Online Affiliate Marketing Managers manage online affiliate marketing programs for their organization. Their responsibilities typically include conducting research and creating programs, and managing existing campaigns to ensure they increase company profits and customer loyalty. They also tend to handle online media content, execute eCommerce programs, and provide promotional support to affiliate marketing programs.
---
Peerfly Has Over 250k Publisher Accounts
Peerfly is one of the largest affiliate marketing networks in the world (indeed, they boast they were rated the #1 affiliate network by mThink in 2015). They have over 250k publisher accounts, 75k active in 165 countries. In addition Peerfly has over 2k clients and 8k total offers. They claim that they lead to more than 1 billion clicks and 8 million conversions, and have generated over $100 million in sales for their clients.