CPA marketing is a powerful and effective method you can use to grow your business. For affiliates, it's also one way to monetize your site and earn commissions through qualified referrals. While CPA marketing may seem intimidating at first, it's actually pretty straightforward and operates on the premise of earning commissions for driving traffic and encouraging website visitors to complete a desired action.
Discover how you can leverage CPA marketing in 2022 and which e-commerce marketing tools you can use to launch and optimize your CPA marketing strategies.
---
An In-Depth Guide to CPA Marketing Tools
---
A Primer on CPA Marketing
Cost-per-action (CPA) marketing, also known as pay-per-lead (PPL) or CPA affiliate marketing, is a type of affiliate marketing. In CPA marketing, the publisher or the affiliate earns a commission when they drive traffic and when a visitor or qualified lead completes a specific action, such as signing up for a paid subscription or filling out a survey form.
CPA networks promote online marketing campaigns through CPA affiliates. The networks link the advertisers and publishers and determine whether or not the affiliate is a legitimate business or entity that is capable of sending qualified leads to their site. The affiliates are then paid a fixed fee for every specific action that a referred visitor makes.
CPA marketing is a viable income stream for both businesses (advertisers) and affiliates (publishers). It can connect brands with a wider customer base and potentially drive more sales. It's also a relatively low-risk venture because advertisers only pay publishers after a visitor converts or is able to complete a specific action.
Furthermore, it's easy to set up and only requires a CPA network and a site. It grows your reach by exposing you to a larger audience, which can translate to a larger customer base. This, in turn, can drive increased ROI and higher metrics like average customer revenue and average order value.
Cost-per-action marketing also provides publishers with a seamless way to integrate ads into their websites. You won't have to worry about AdSense blocks or banner ads while enjoying better click-through rates and commissions.
If you're running pay-per-click campaigns, affiliate marketing, digital content marketing, or social media ads, then you'll benefit from tracking your CPA.
---
Who Is CPA Marketing for?
CPA marketing is a versatile strategy for anyone involved in business. Whether you're running a company or you're a content creator, you can benefit from this marketing approach.
Businesses can leverage CPA marketing to have an effective and economical approach to advertising that complements their other marketing strategies. Content creators can benefit from CPA marketing, seeing as it can be an easily accessible and profitable venture that lets them earn commissions through their fans or followers.
---
Factors to Consider in CPA Marketing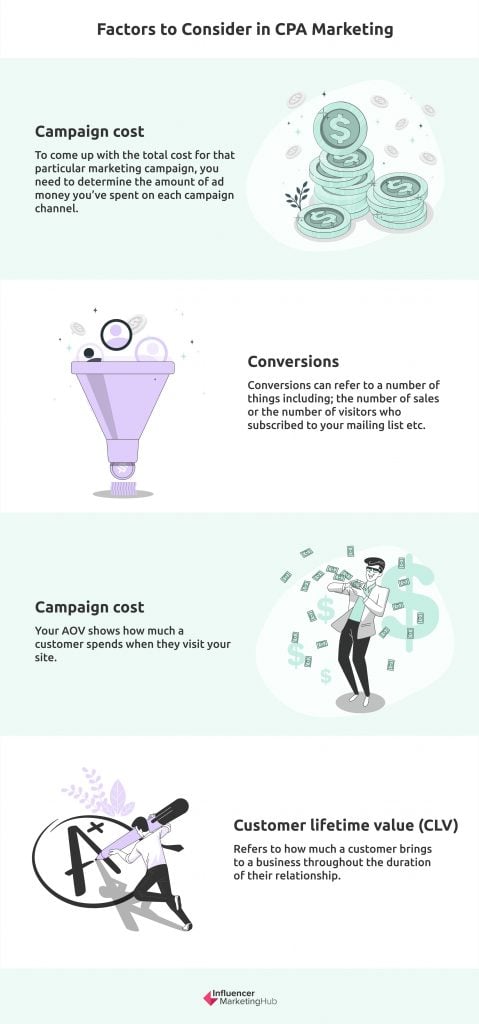 You need to consider several key factors when calculating the CPA to ensure that you'll be able to analyze a CPA campaign properly:
When implementing a CPA marketing approach, you need to factor in your marketing campaign costs. This is easy enough to calculate if you've allocated a set budget for each campaign. But it's a different case if you're running numerous ads for the same campaign on various platforms. To come up with the total cost for that particular marketing campaign, you need to determine the amount of ad money you've spent on each campaign channel.
You should also be able to determine how many conversions your marketing campaign has generated. When we say "conversion," this can refer to several different things, not just completed sales. Conversions can, in general, refer to a user completing a specific action like the number of visitors who subscribed to your mailing list.
Average order value (AOV)
Your AOV shows how much a customer spends when they visit your site. Why is this important for CPA marketing? Once you've determined your average order value, you can use this figure to check your CPA. If the latter happens to be less than the former, then you can consider your campaign to be successful in terms of lucrativeness.
Customer lifetime value (CLV)
Customer lifetime value refers to how much a customer brings to a business throughout the duration of their relationship.
---
The Importance of CPA Marketing
CPA is important for business primarily because it lets brands track the performance of their marketing campaigns. It allows advertisers to monitor and effectively control costs for specific campaigns and objectives, given that they'll only pay the publishers or affiliates once a specific action is carried out by site visitors.
Furthermore, CPA lets you maximize your ROI by helping you invest resources on cost-effective channels or platforms instead of spending indiscriminately on different campaigns running on various platforms. This makes it less risky for advertisers and publishers alike. It also helps you determine whether or not you've made a profit from a particular advertising campaign.
By tracking your CPA, you'll get insights that will ultimately enable you to create better ad campaigns. Consequently, this can help you gain a competitive edge and experience sustainable growth.
CPA marketing can also enhance your credibility, expand your reach, and bolster your social proof.
---
CPA Marketing Examples
When you surf the Web, you may have come across different examples of CPA marketing. Below are some of the more common ones:
Review websites feature different products from various brands. The products reviewed on such websites are likely to contain links that redirect visitors to the brand's or affiliate partner's site. From there, visitors can complete a specific action on the brand's site.
A splash page serves as a visitor's first point of contact with a brand's website. It acts as an introduction to the site and often features offers, disclaimers, or announcements. It also allows brands to collect a visitor's contact information, showcase a product or upcoming event, and more.
Splash pages usually include an exit link that redirects the visitor to the brand's main site and is used to encourage visitors to act on a specific call to action (CTA) for equally specific conversion goals.
---
7 E-commerce Marketing Tools for CPA Marketing
Having the right tools can help your CPA marketing strategy take off. Below are some of the e-commerce marketing tools you can use for CPA marketing: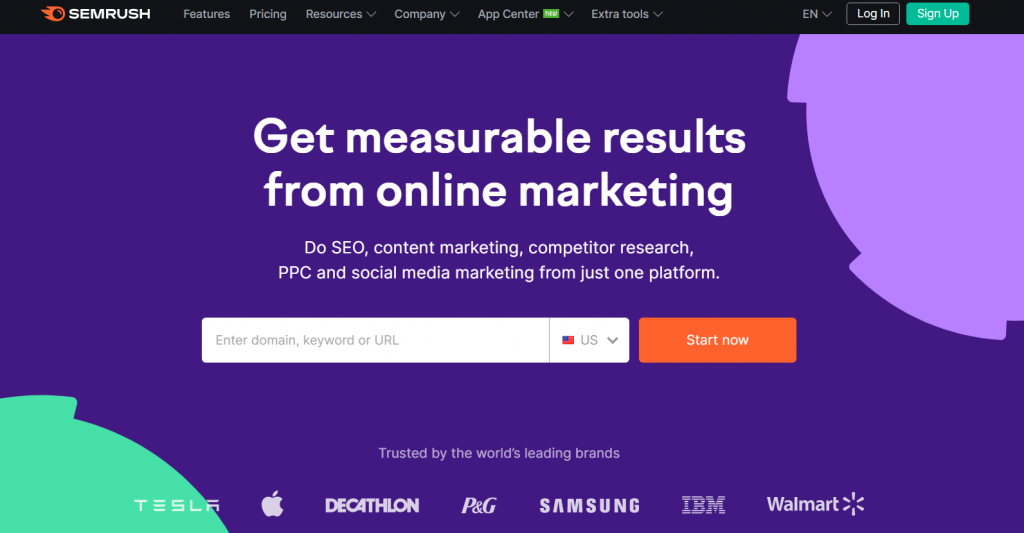 For a campaign to succeed, marketers should have a good understanding of a website's content, which elements are driving ROI, and any SEO issues that your page might have.
SEMRush is a multifaceted tool that allows you to do SEO, content marketing, competitor research, and more all on one platform. It lets you access an extensive global database of keywords, ads, and URLs. In addition to these capabilities, SEMRush helps you analyze all the data and provides you with SEO, content marketing, and advertising recommendations, so you can make actionable decisions.
You can also run SEO audits and track keyword rankings with SEMRush.
Pricing:
Pro – $119.95 per month

Guru – $229.95 per month

Business – $449.95 per month
You can expand its functionality with add-ons like SEMRush.Trends and the Agency Growth Kit.
---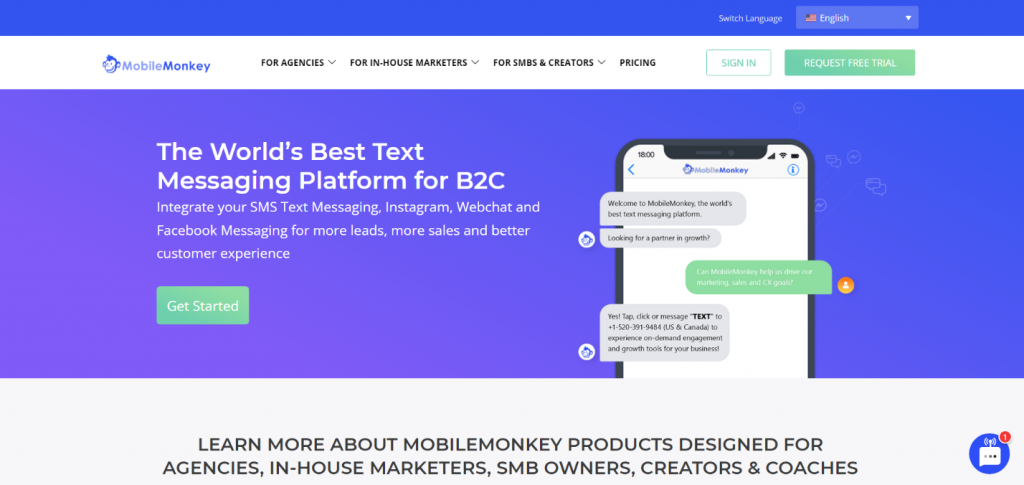 MobileMonkey is a versatile, robust, and easy-to-use CPA marketing tool for B2C messaging. It offers live chat software (chatbot), digital marketing tools for social media platforms like Facebook and Instagram, and SMS marketing functionalities.
MobileMonkey integrates several messaging tools, including:
SMS marketing

Instagram Direct messaging

Facebook Messenger for Business

Website chat using its patented chatbot marketing technology, OmniChat
Its powerful chat marketing platform lets you see and respond across different messaging apps from one inbox, create chatbots that work for multiple messaging apps, expand your contact list, segment your audience, upgrade your Facebook ads, and employ AI to determine user intent.
Furthermore, MobileMonkey offers a selection of digital products that are designed for different teams and business needs. It has Agencio for agencies, FunnelPro for in-house marketers, and InstaChamp by MobileMonkey for SMBs, creators, and coaches.
Pricing:
Pricing varies depending on the digital product you select.
---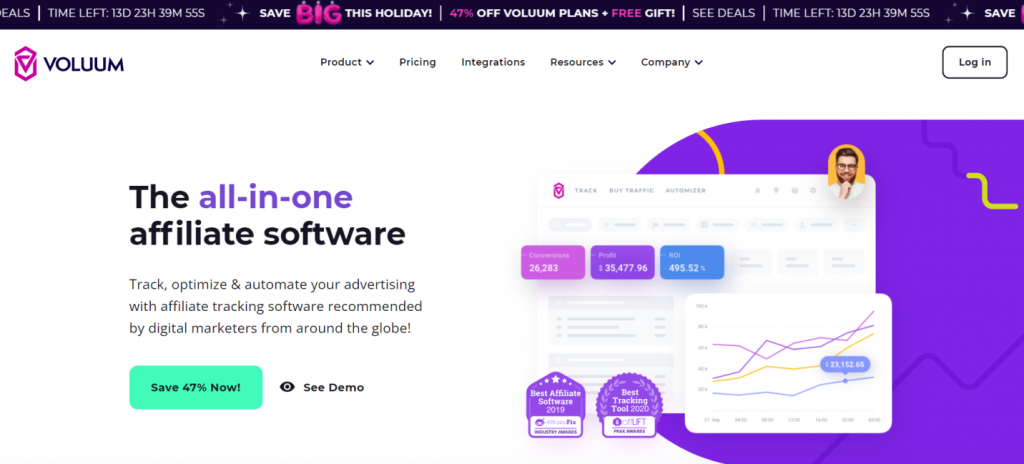 Voluum is pegged as an all-in-one affiliate software that lets you track, optimize, and automate your affiliate advertising campaigns. It's designed to boost your ad performance and lets you track over 30 metrics in real time.
Voluum's features include:
Custom conversion tracking

Organic traffic tracking

Multicurrency support

Manual conversion upload

Landing page protection

A/B split testing

Data grouping and drill-down

Trend analysis tools

API access

Bot filtering
Aside from this long list of features, Voluum also comes with an anti-fraud kit that automatically detects suspicious activities that can cause bad traffic. Additionally, it's capable of basic manual integrations and full API integrations through its Automizer feature.
Pricing:
Voluum offers four paid plans. Rates shown reflect the original price of each plan:
Discover – $89 per month

Profit – $149 per month

Grow – $449 per month

Custom –Voluum team must be contacted for pricing
---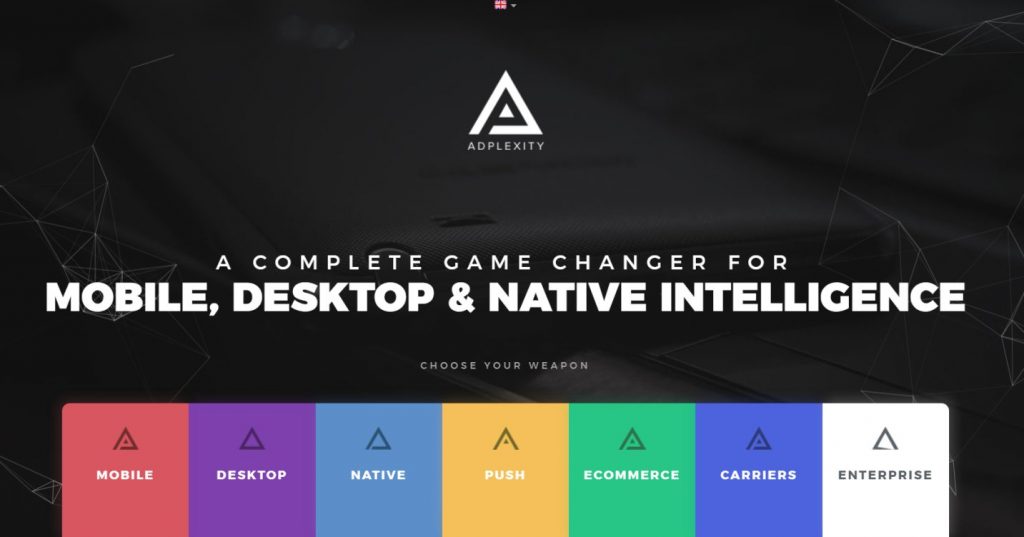 AdPlexity is designed for gathering ad intelligence. It's used to monitor your competitors' high-performing ads across various ad types and traffic sources, including:
Mobile

Desktop

Native

Push

E-commerce

Carriers

Enterprise
With AdPlexity, you can filter by keyword, advertiser, publisher, and affiliate network, so you can easily search for successful ad campaigns that are running in over 75 countries. Use it to find profitable products and successful merchants.
Furthermore, it lets you discover hidden campaigns that run exclusively on mobile carrier traffic, as the platform supports more than 120 carriers. The program also provides real-time insights on ad exchanges that are running on mobile and desktop.
Pricing:
Pricing varies depending on the product you select. For example, its Mobile, Desktop, and E-commerce products cost $199 per month per user, while its Native products go for $249 per month per user.
---

Building a new website is a time-consuming process that often requires you to build your SEO from scratch. With Flippa, you can have a shortcut. Flippa is a domain marketplace that lets you bid on existing domains that already have strong backlink profiles and domain authority scores.
You can browse a selection of revenue-generating websites, e-commerce stores, and even apps on Flippa. From the selection, you can see the domain's type (e.g., website, iOS app, Android app, or others), its method of monetization (e.g., advertising, affiliate sales, dropship, or in-app sales), net profit, and asking price.
Pricing:
The asking price for each domain varies.
---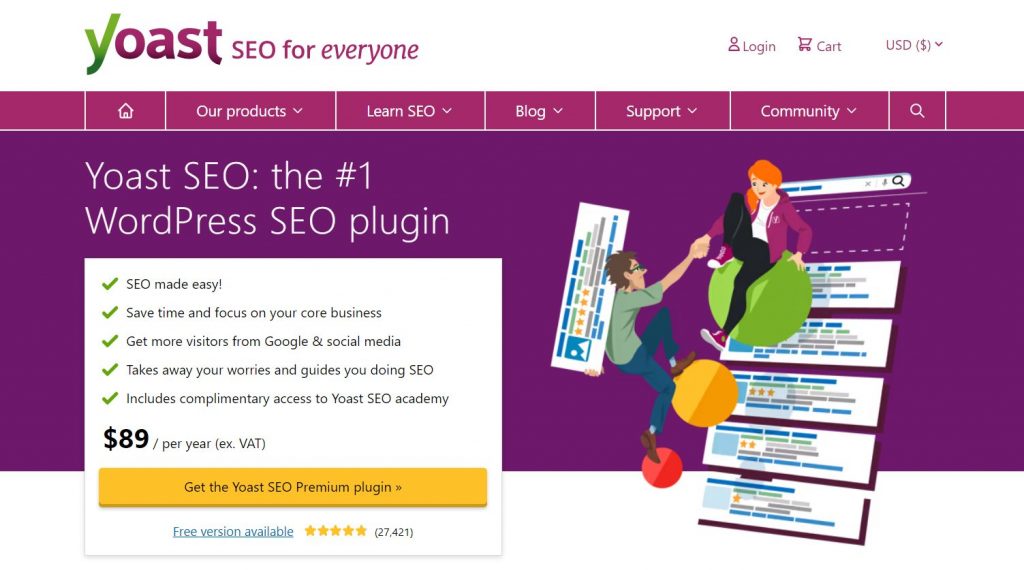 Yoast SEO is a website plugin that helps your site meet technical SEO standards. With it, you can also optimize your content for readability. Leverage the Yoast SEO plugin to craft SEO-friendly content and use keyphrases in languages such as English, Dutch, German, Turkish, and Czech.
The plugin also lets you optimize opportunities to improve your website's health and avoid having dead links on your site.
It has a free version that covers your site's technical SEO and gives you access to six free academy courses. If you want something more robust, there's the Yoast SEO Premium plugin. If you're looking to expand the plugin's capabilities, you can subscribe to the Plugin subscription, which comes with a full year of updates, plus 24/7 support.
Pricing:
Yoast SEO Premium Plugin – $89 per year, exclusive of VAT

Plugin Subscription – $19 (exclusive of VAT), when billed monthly
---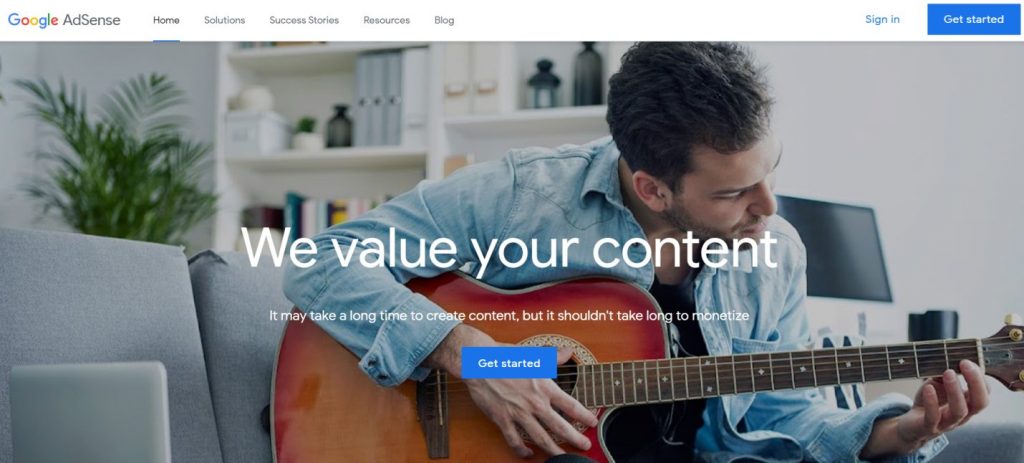 Google AdSense provides you with another way to earn money using your website. Aside from referrals, affiliates can earn more with Google AdSense through relevant, targeted ads and prime ad space on their sites.
AdSense gives you ultimate control over the ads that appear on your site. It lets you create ad blocks for ads you don't like, select the right ad types for your specific niche, and choose where the ads will appear on your site.
There are two options when it comes to payment per ad: CPC and CPM.
As its name suggests, cost per click refers to when an advertiser pays a publisher (the affiliate) for every click on the former's ad. Rates will vary depending on the industry.
With CPM, or cost per thousand impressions, publishers are paid a flat fee for every thousand page views for an ad being promoted. Similar to CPC, rates will vary according to category. But, generally, niche categories have higher rates.
To get started with AdSense, you need three things: a Google account, your contact details, and a code that will let you connect your site to AdSense. If you want to estimate how much you can potentially earn with AdSense, you can use the AdSense Calculator.
Pricing:
Google AdSense is free.
---
Crafting Your Own CPA Marketing Strategy
When creating a CPA marketing plan, you need to think about what you want to promote, who your target audience is, how you're going to promote an offer, and which partners to work with.
Before launching your CPA marketing plan, you need to determine which aspect of your business you want to promote. Do you want to highlight your brand or a new product or service? Your choice will often play a major role in selecting the affiliate partners you want to work with.
Knowing who your target audience is for your CPA campaign is also important. So craft your CPA plan in such a way that the right people—the ones with the highest chance of being hooked with what you have to offer—will see your campaigns. This dictates who you'll be working with, as well as the networks on which you'll be promoting your ads.
With this in mind, you also need to factor in how you're going to promote your ads. Are you open to joining a CPA network, or do you prefer getting in touch with individual affiliates? The placement of your ads is also an important component you need to consider.
As with any endeavor, CPA marketing entails a lot of research and keeping a close eye on CPA affiliate marketing trends. You need to conduct research on your competitors, so you have an idea of where you stand and what your competitors' market share is. Research also helps you identify affiliate candidates who are already in partnership with your competitors.
Moreover, conducting research allows you to identify who to work with. It's essential that you work with affiliates who are in alignment with your brand and who are engaging with your target audience.
If you're thinking of working with affiliate networks to find affiliates, then you should look for networks and offers that also align with your brand and marketing goals.
From there, you can start crafting your own CPA marketing plan.
---
How to Get into CPA Marketing for Affiliates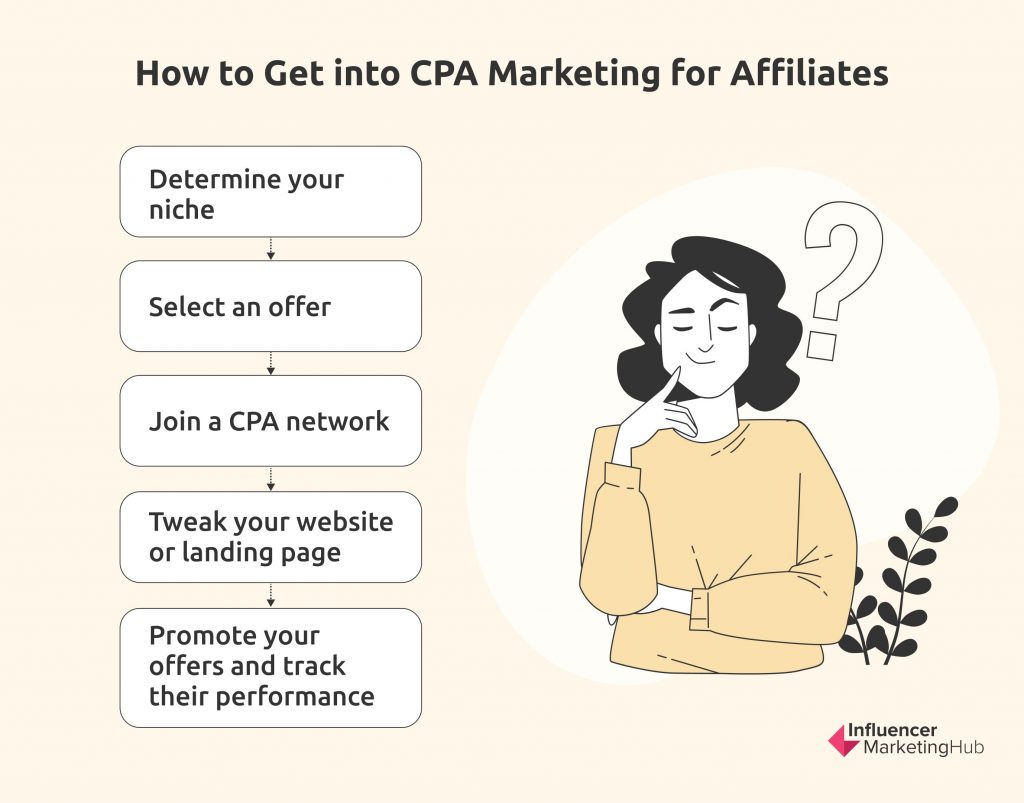 Depending on your approach, there are between four and six basic steps to get started with CPA marketing. For simplicity's sake, let's use this outline:
---
Determine your niche
Selecting a niche you're going to focus on is one of the most vital steps in CPA marketing. Your niche determines your target audience and the offers that you want to promote, as well as where you're going to promote them.
---
Select an offer
Once you've determined your niche, you can start looking for offers you want to promote on your site. You can find offers using tools like OfferVault. When searching for offers, you need to consider factors like traffic types, restrictions, offer types (incentive or non-incentive), and commission types.
---
Join a CPA network
If you've found an offer you want to promote, you can join the network that runs that particular offer. If you're new to CPA marketing, you can find a lot of affiliate networks like Mobidea, CrakRevenue, and MaxBounty.
It's worth noting that it can be difficult to get accepted into an affiliate network. This is because it's their job to check whether or not an applicant is a legitimate business. To boost your chances of acceptance, you need to be proactive with your application. Get in touch with them before they call you to establish your legitimacy. It also helps to be transparent with your application.
---
Tweak your website or landing page
You can then start integrating CPA offers into your website or landing page. Make sure to highlight your offer, and don't forget to include a CTA button.
---
Promote your offers and track their performance
From there, you can start working on driving traffic to your site through SEO, PPC ads, and social media promotions. But the work is far from over because you also have to track your offers' performance. You want to pay attention to key metrics like traffic sources, impressions, visits, and ROI.
Frequently Asked Questions
What are the common types of CPA offers?
There are three common types of CPA offers: cost per sale (CPS), cost per lead (CPL), and cost per install (CPI).
CPS, as its name suggests, refers to offers where visitors make a purchase, which will entitle the affiliate to a commission. Advertisers only pay affiliates for every purchase made using the affiliate's referral link.
CPL offers pay affiliates for every qualified lead that converts, such as when a visitor signs up for a paid subscription or submits their email for a mailing list.
Cost per install offers refer to conversions where a visitor downloads an app or an extension and installs it.
How can I make the most out of CPA marketing?
Whether you're an affiliate or marketer, you can maximize your CPA marketing strategy by working with an affiliate manager (AM). The AM is responsible for sourcing new affiliates, letting you know about new offers, helping you come up with new campaign ideas, and even providing incentives for high-performing affiliates.
You can also consider using a customer relationship management (CRM) system to monitor customer data and track campaign performance. Plus, a CRM can help make operations more streamlined because it lets you automate certain tasks. This promotes efficiency and frees up your employees, so they can focus on other more complex tasks.
What top CPA affiliate networks can I join?
When it comes to CPA networks, it's important to note that you should only join reputable ones. Check online reviews to see where a particular CPA network stands. Some of the top CPA affiliate networks that offer support, have plenty of offers, and provide competitive commission rates include:
MaxBounty
Clickbooth
CrakRevenue
ClickDealer
AdWork Media