Advertising Disclosure
Advertising disclosure:
Our partners compensate us. This may influence which products or services we review (also where and how those products appear on the site), this in no way affects our recommendations or the advice we offer. Our reviews are based on years of experience and countless hours of research. Our partners cannot pay us to guarantee favorable reviews of their products or services.
With the burgeoning advent of artificial intelligence (AI) in the global business landscape, an increasing number of organizations are leveraging AI-powered tools to expedite processes, enhance efficiency, and drive innovative growth. One such remarkable tool, revolutionizing the modus operandi of the business world, is the AI Assistant. From streamlining workloads to providing predictive analytics, AI Assistants are heralding a new era of automated proficiency in the marketing realm.
AI Assistants are software solutions endowed with machine learning and natural language processing capabilities. They excel in interpreting, learning, and responding to human requests, thereby automating repetitive tasks, offering precise insights, and freeing up invaluable time for marketers. This technological novelty has shifted the paradigm from traditional methods of manual labour to a more automated, fast, and accurate mode of operation.
---
Top 10 AI Assistants to Perform Daily and Business Tasks
---
---
---
---
---
---
---
---
---
---
What is the purpose of an AI Assistant?
In an environment where immediacy and precision are indispensable, AI Assistants are integral to marketers. They efficiently process enormous data sets, extract actionable insights, and predict customer behavior, thereby enabling marketers to create highly personalized and targeted marketing strategies. Furthermore, AI Assistants are capable of performing tasks such as scheduling meetings, managing emails, automating social media posts, and even crafting content, thus facilitating operational efficiency.
---
What to look for in an AI Assistant?
Choosing the right AI Assistant software can be a complex process, as it largely depends on the specific needs, objectives, and technical infrastructure of your organization. Here are some crucial factors that marketers should consider while selecting an AI Assistant: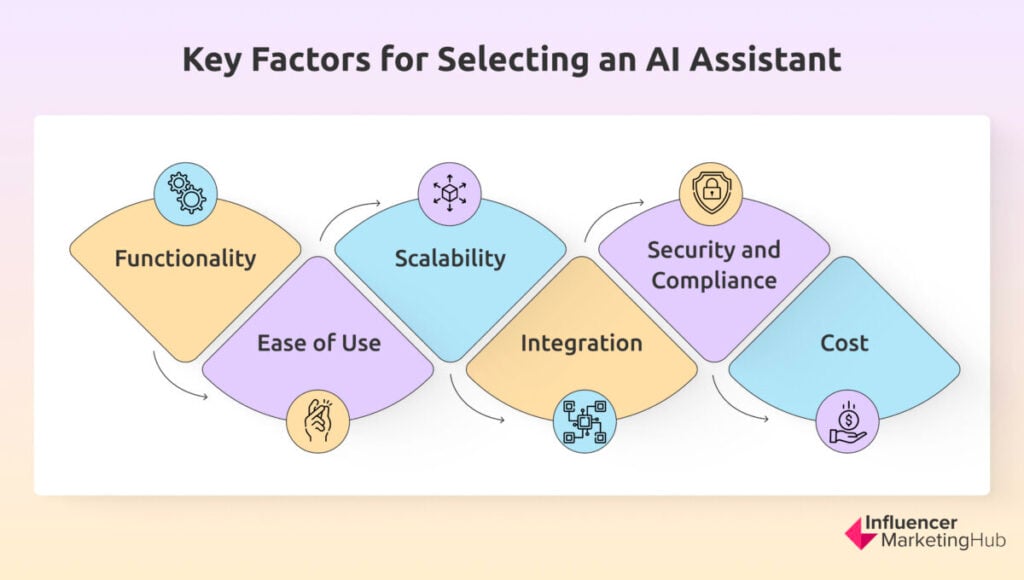 Functionality: Evaluate the range and depth of functionalities that the software provides. It should align with your marketing needs and goals. For instance, if your focus is social media marketing, an AI Assistant that specializes in automating social media activities and analyzing social media data would be more beneficial. 
Ease of Use: An effective AI Assistant should be user-friendly. It should have a simple interface and provide a seamless user experience. 
Scalability: Choose software that can scale up as your organization grows. It should be flexible enough to accommodate the increasing amount of data and complexity. 
Integration: The AI Assistant should easily integrate with other software and tools you are currently using in your marketing operations. 
Security and Compliance: It's essential to ensure the software adheres to security standards and regulations relevant to your industry. 
Cost: Always consider the total cost of ownership, which includes not only the subscription fee but also any additional costs like implementation, support, and training costs. 
You should know that the most expensive option isn't always the best one. It's essential to find a solution that fits your needs and provides a return on your investment. 
---
Wrapping Things Up
AI Assistant tools have become an invaluable resource in today's fast-paced digital world. They offer vast potential to transform businesses, streamline workflows, and enhance customer experiences. By automating routine tasks, they allow teams to focus on strategic, value-adding activities.
They also provide key insights into data and facilitate informed decision making. Whether you're a small business owner, a busy marketer, or a large corporation, there's an AI assistant out there that can cater to your specific needs and objectives.
As businesses continue to embrace these technologies, the benefits they reap will continue to grow, fostering innovation, efficiency, and productivity. While choosing an AI assistant, one must take into account its functionality, integration capabilities, accuracy, security, and pricing to ensure it's the right fit.
Remember, the goal is to find a tool that not only meets your current needs but can also adapt and grow with your business. Investing in the right AI Assistant can be a game-changer, driving your business towards new heights of success.
Frequently Asked Questions
Are AI Assistants compatible with my current software? 
Most AI Assistants are designed to integrate seamlessly with commonly used software platforms. For example, Fireflies can integrate with video conferencing apps like Google Meet, Zoom, and Microsoft Teams, while Interactions can work across various channels of customer interaction. 
How secure are these AI Assistants? 
Security is a primary concern with AI Assistants. Reputable providers ensure their software complies with stringent security standards and regulations. It's always best to consult with the provider directly regarding their specific security measures.
Do I need advanced technical knowledge to use AI Assistants? 
No, most AI Assistants are designed to be user-friendly and do not require advanced technical knowledge. Their interfaces are intuitive, and they often provide comprehensive guides and customer support to help you get started.
Can AI Assistants handle multilingual customer interactions? 
Yes, many AI Assistants have multilingual capabilities. For instance, Interactions' Conversational AI allows customers to communicate in their own language, regardless of their accent or dialect.