Best for:
Medium and Large Brands, Agencies
Heading into the Zoom meeting to view a demo of Affable.ai, I already liked it. Its likability is right there in the name, a word that means "friendly or good natured." What's not to like? Plus, it's an easy name to type. I've done a lot of these reviews and have seen every conceivable pun and portmanteau created from the word "influence," and have grown weary of double caps in a name, as is common with TechCompanies. "Affable" just rolls of the fingers.
The good news is that there's a lot more to like about Affable than just its name. It's only been around since 2017, but the platform has the look, feel, and functionality of fully matured enterprise software. That's because the team is very heavy on software development talent, complemented by others with marketing expertise—and there's a clear synergy between these two vastly different skill sets. The AI algorithms that power Affable were built from the ground up by the in-house team; they're out crawling the social web daily and pulling in mountains of data that's helpful to both brands and agencies.
Marketers will appreciate the full picture they'll get of each influencer they want to work with, as well as the attention that's paid to the entire sales funnel. Traditionally, to get the kind of data insights offered here relies on influencers opting in to the database, but that's not the case with Affable. Likewise, most influencer marketing platforms focus on only the top and bottom of the funnel—building awareness up above and converting sales down below. Affable does this, but also targets the middle, analysing engagement not just overall, but also within a subset made of the target audience.
It's a formula that's clearly working for them: their customer list looks as established as the software itself. Though the platform indexes influencers from all over the world, Affable's target customers are located in the Asia-Pacific region. Regional companies like AirAsia, WE Communications, and Shopee, along with global brands like Estee Lauder, Casio, and Swarovski all rely on Affable to power their influencer marketing efforts. After reading this review, you'll probably want to give it a whirl, too.
---
Summary:
---
Pricing
Affable offers three levels of service, though they don't publicise what the pricing is for each. You'll need to contact them for a quote, but you can see the details of each their levels of service right here:
SME —

Presumably for small and medium businesses, this level is highly restricted and possibly the only mark against the platform. With SME, you get 1 account to manage 1 campaign at a time, limited searches, and analytics for 50 influencers per month. Depending on the price, it might be worth it for the analytics alone, but you'll be operating with most of what makes the platform so good unavailable to you.



Pro —

1 account, 3 active campaigns, unlimited search, 200 influencer analytics per month, Data Export as CSV & Powerpoint, Influencer CRM, Instagram, Facebook, YouTube, and TikTok available, Dedicated Account Manager



Enterprise —

All of the above, plus customisable number of accounts for team collaboration, 400 influencer analytics per month, 5 active campaigns, Instagram Story tracking, white labeled reports, team onboarding, offline support
---
The Details
Because Affable is built on the idea that data is the key to success with influencer marketing, it stands to reason that the platform's database of influencers is more than just a list of names and social accounts. Each influencer profile is backed by a good deal of demo- and psychographic data, and all if that is leveraged as search criteria. If you've ever searched for an influencer using a discovery engine, you won't be surprised by the bulk of the search filters here: number of followers, topics, mentions, audience traits, locations, suspicious followers, etc.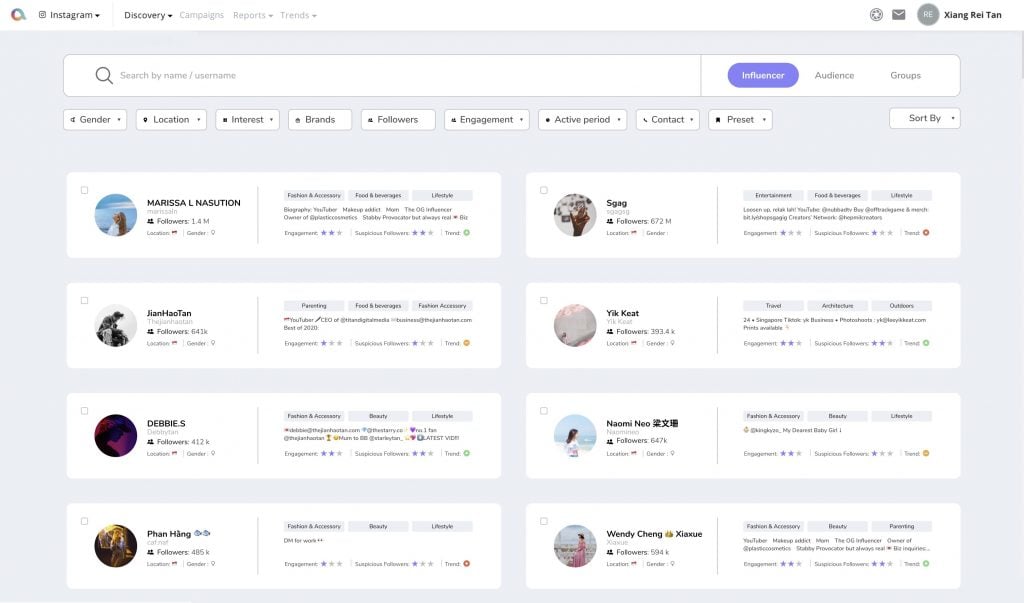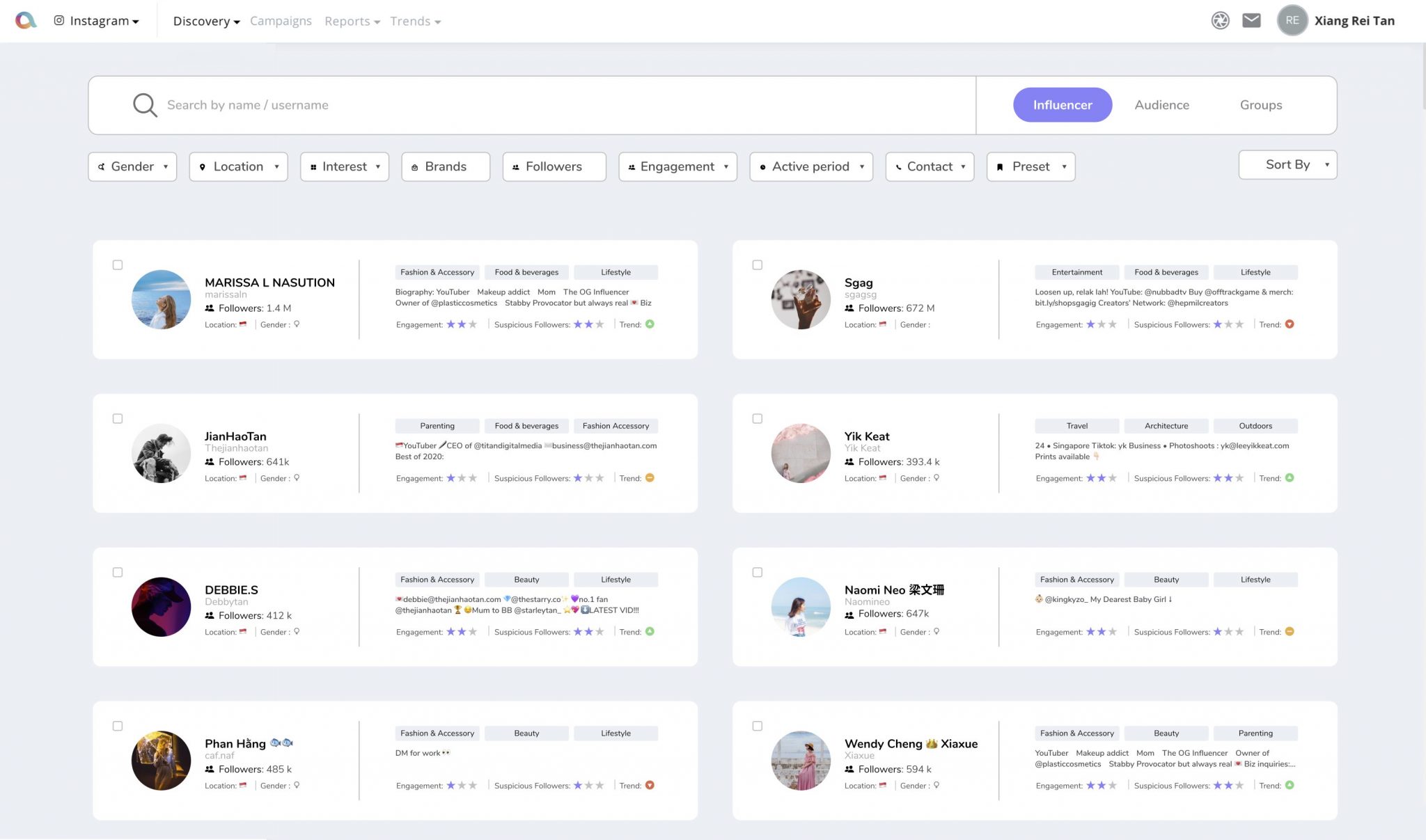 But there are a couple of ways that make Affable's Discovery tool a cut above many of its competitors. The first is the ability to perform negative searches, meaning you can set criteria that you don't want to see. If you're Pepsi, you don't want end up working with someone who's posted great things about Coca Cola in the past. You can then set "coca cola" as a negative filter for Mentions, and you'll only see influencers who haven't ever mentioned or been sponsored by your competitor. Or refine it further by dates, and find people who haven't mentioned them in just the past 3 months. The simple act of this one option—clicking on a minus sign to indicate a negative search—combined with other criteria extends the search function in dozens of ways. And once you've found influencers based on these criteria, you can perform an easy look-alike search to find other creators with similar profiles, content, and audiences.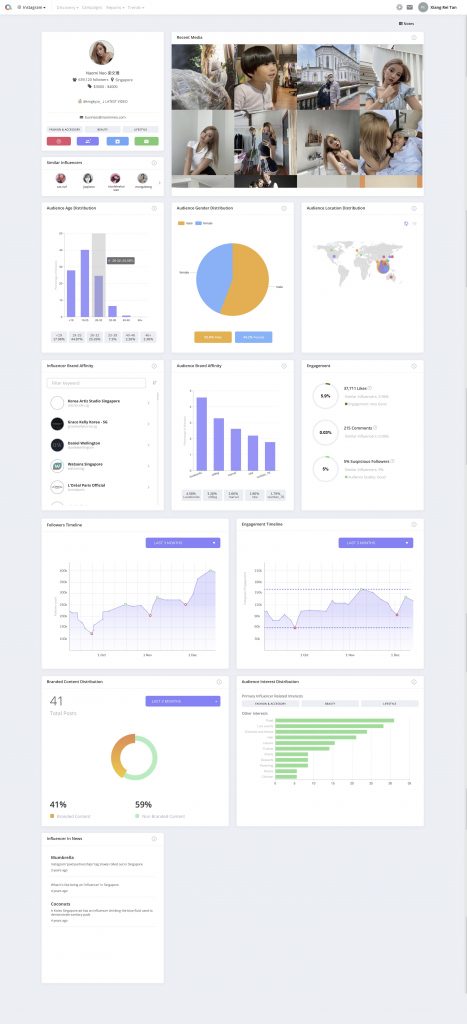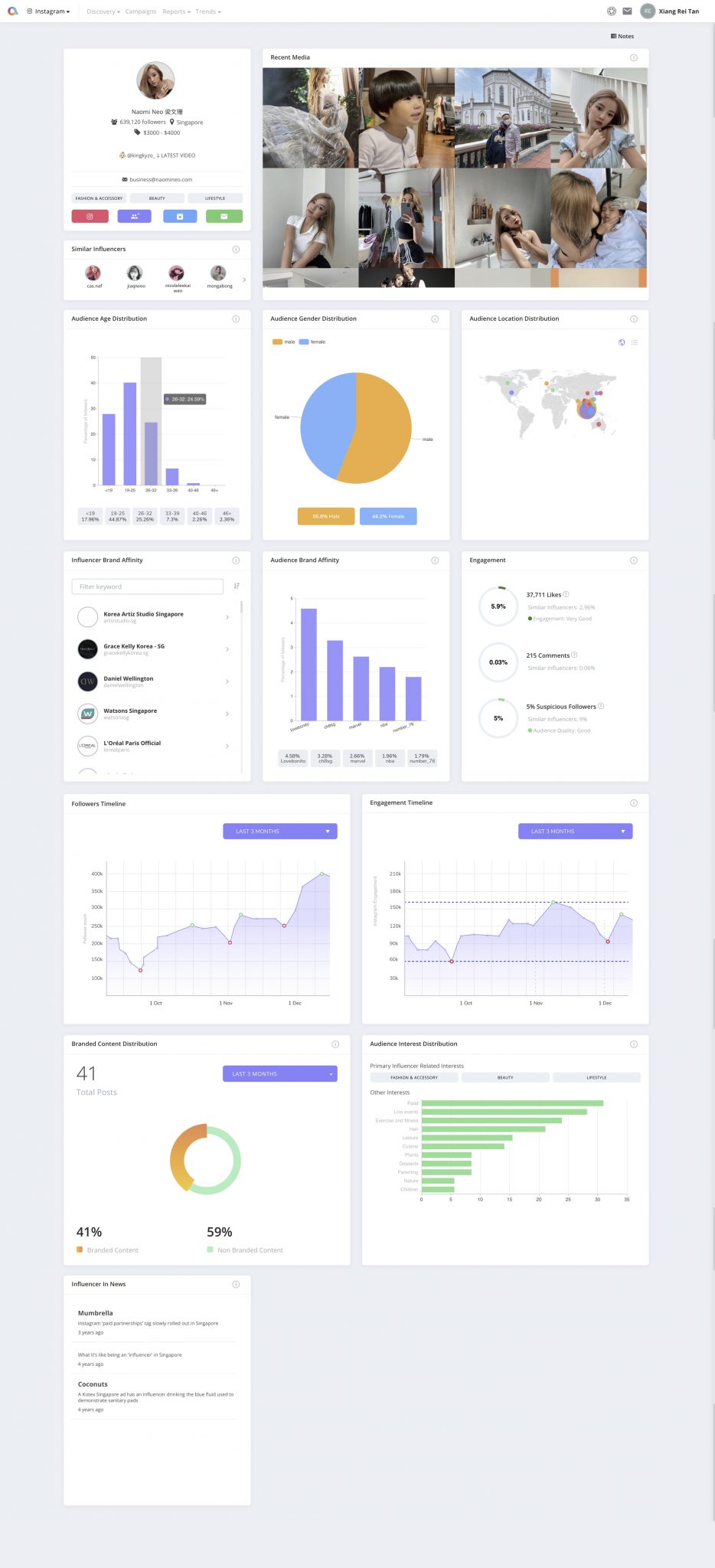 Another standout feature is found in the platform's grouping capabilities, and—like the negative search—it's a minor thing with big impact. Just as with other platforms, you can organize influencers you've found into groups or lists according to whatever defining characteristics you like. You can view the aggregate stats of each group, but Affable goes the extra step by reporting the unique reach of the group—not the total, which can be misleading. The total reach accounts for duplicates across audiences. If influencer A has 100 followers and influencer B has 100, but they share 50 of them, it's not accurate to say that the total reach between the two is 200. The unique reach is actually 150. By doing this, Affable helps marketers to properly value the influencers it wants to work with, as a group and individually.
When it's time to create campaigns, you'll see Affable's commitment to data driven marketing rear its likeable head again. Campaign creation happens easily, with a small overlay window you fill out defining the name and any campaign hashtags and mentions required of each post. At this stage, you can also connect the campaign to any other internal system you might be using as a sales or conversion dashboard, via API, to measure the revenue and other KPIs attached to the campaign.
The campaign management dashboard itself is an exercise in space efficiency, allowing you to garner a wide range of information from a single screen. In one scan of the screen, your eyes will pick up the following information: the total number of influencers and posts (including stories!) in the campaign, the budget, the total engagement, total reach, and total media value. Also: all the influencers invited to the campaign, their status relative to the campaign lifecycle, performance metrics if their content has gone live, and their earned media value. You can bulk select those influencers from this list to communicate with them en masse, but each message is sent individually so that influencers are engaged in a one-on-one conversation—a much more personal touch than bulk emails.
As content is posted for a campaign, Affable is ingesting it all into the platform for analysis and reporting. Images, videos, captions, stories, and their metrics are all downloaded into Affable, and all of it can be exported into a Power Point presentation showing a campaign overview and drilling down into each individual piece of content. This is where the Affable team's focus on the middle of the marketing funnel comes into clear view. The reports include key audience demographics, but only for those people who've engaged. Those are the ones you want to figure out how to keep reaching. Top-of-the-funnel people who've seen your content and moved on with their day aren't the kinds of people you want to pay to reach again. Those who've at least taken the steps like and/or comment on the content, however, are signaling their interest. These are the people you want to focus on moving through the funnel.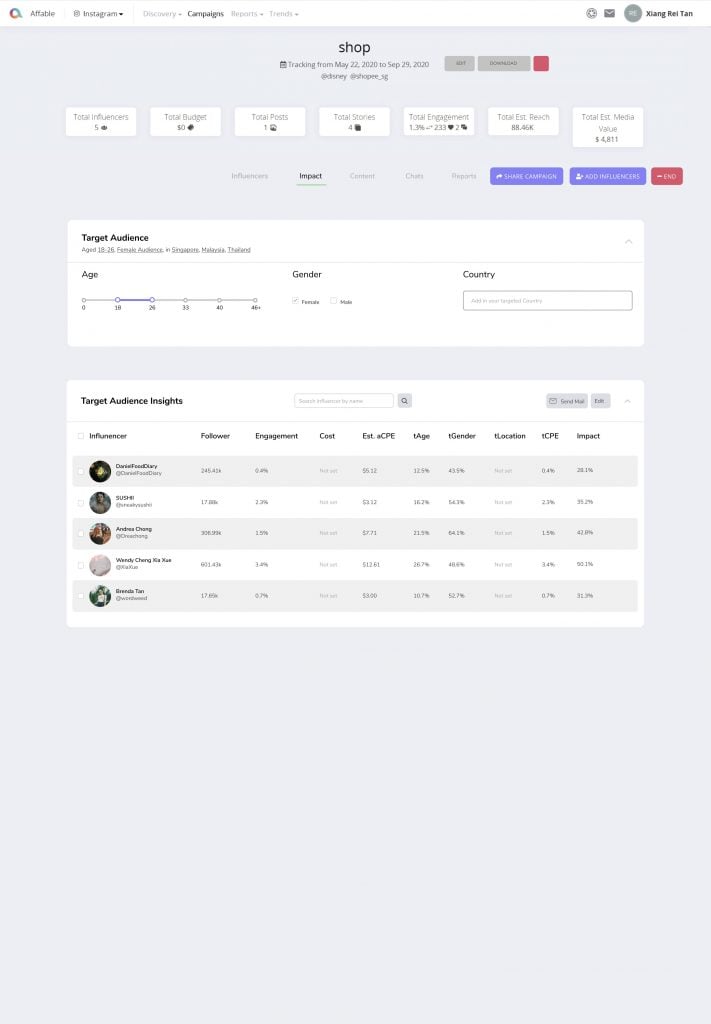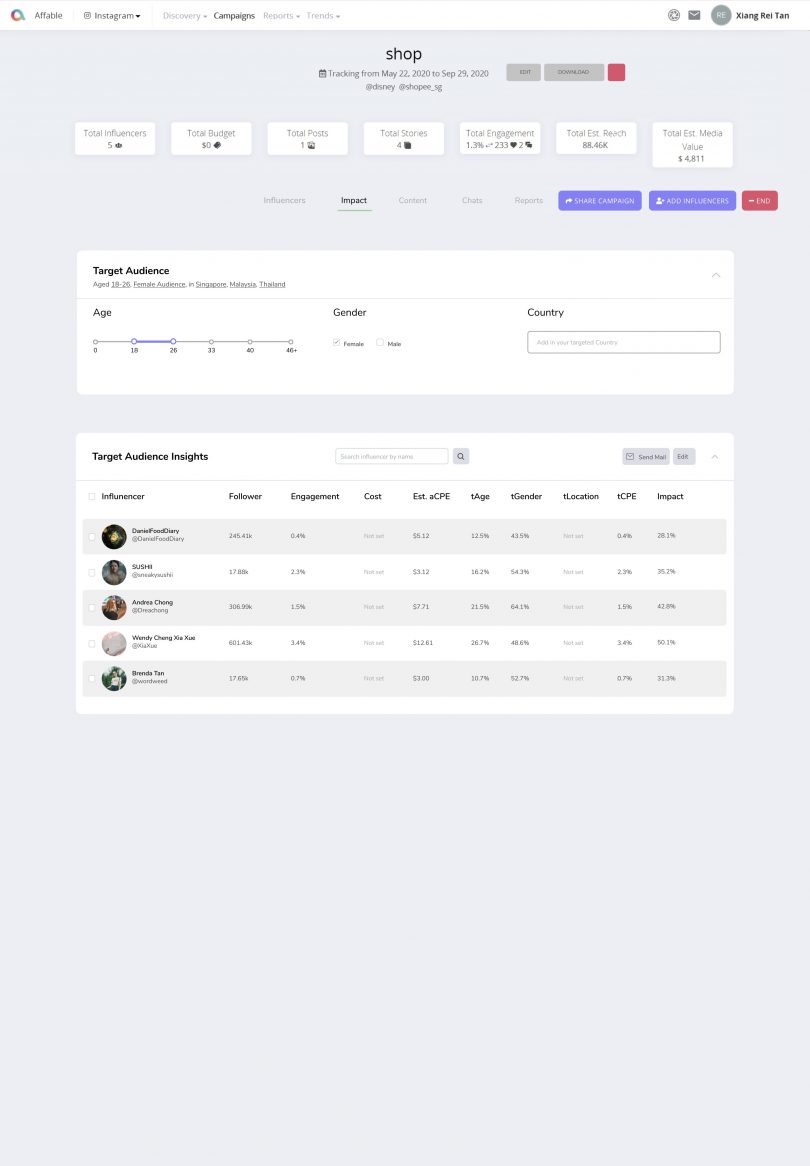 The reports help you identify your target audience and the influencers who will be best equipped to reach them again. Say, for example, you're an Affable client trying to reach an audience in Singapore. Your reporting tells you that overall, only 40% of your engaged audience is located there—this becomes the number to beat the next time around. You can then look through your reports to find all the influencers who exceeded that average and re-engage with them, and only them, knowing that a much higher percentage of your audience is going to be where you want them to be. This information can also be used as leverage for future negotiations (or future savings). Perhaps there's an influencer who has 100,000 followers and wants to be paid accordingly. But your campaign report shows you that only 5% of those followers actually engaged, and half of those people were in countries where you don't do business. It doesn't make sense to pay 100k Follower prices when there are only 2,500 people who meet your targets and engage with the content. Affable also uses all this data to generate what's called an Impact Report, which—by focusing only on results with those people in the middle of the funnel—gives you a much truer picture of how much it costs to reach them.
Finally, Affable puts its vast trove of data to good use with a social listening/competitive analysis feature. You can run a simple Market Trends report, in which you find out what brand are most active, what influencers are driving the most engagement, and what hashtags are trending, and which sponsored posts are performing best. More useful to a brand is the Brand Comparison tool, which lets you specify which brands you'd like to keep an eye on. You can add many brands at once to see what they're up to. For brands, this is a great way to do competitive analysis. For agencies, it helps them dig into what the brands they're pitching are doing well (or not), as well as guiding them in dealing with their competitors.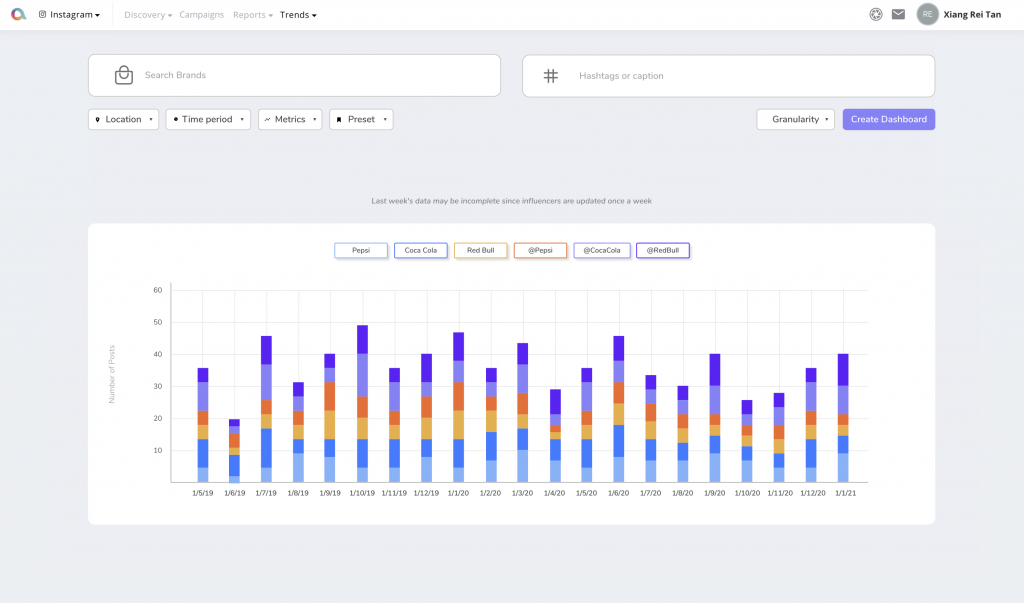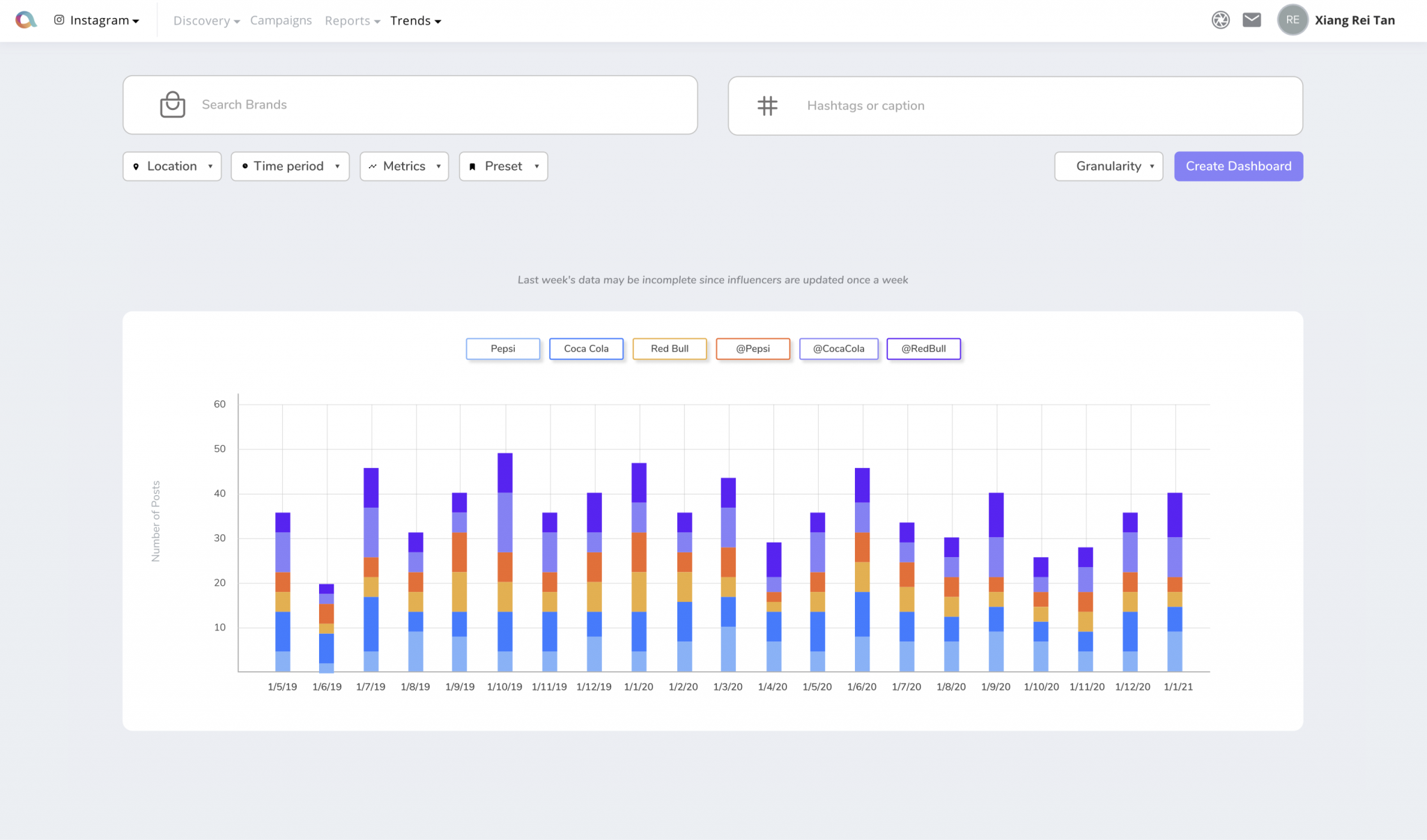 ---
Conclusion
Affable.ai is a top notch solution for brands looking to manage their influencer marketing: it provides the tools to be able to market at scale while preserving a personal touch, and its heavy reliance on data and data analysis shows a clear understanding of what makes influencer marketing so effective. The above review doesn't cover everything in the platform. We've covered the highlights and unique features, and left out some of the more basic or expected aspects (note that these features being basic of common doesn't mean they're unimportant).
It's also worth mentioning again Affable's focus on the APAC region. By definition, any of these platforms will have a global reach as far as functionality, given that all the data is out on the WORLD wide web. But since their sales focus is regional, brands located here (or multinationals with outposts in the area) can expect a higher level of engagement from the Affable team.
Even as a relatively new player, Affable is already a very mature product with a lot of talent and brains behind it. But that newness also means they're still growing, and we can see that it will only grow more useful and powerful as the developers keep adding features. Aptly named, Affable is uniquely suited to produce results that brands will find very likeable, indeed.
Affable.ai
Features

Ease of Use

Reporting

Best for:
Medium and Large Brands, Agencies