If you're a casual social media user, it's easy enough to make your posts directly within your social media accounts. This is particularly so if you just have one account. If you're somebody who takes a casual shot which you share via Instagram, you can easily enough arrange this directly in the Instagram app.
However, if you have more heavy-duty needs, you will probably find it much easier to use a social media management app. This is particularly the case if you schedule multiple social accounts, or where you like to schedule your posts to be delivered to set times of the week.
Initially, most of the social media management apps restricted themselves to Facebook and Twitter, perhaps also adding LinkedIn. More recently, however, many of these apps have discovered the popularity of Instagram and added it to their roster. Thanks to Instagram's API, it is not always as simple to schedule Instagram posts from within an app as it is others, particularly Twitter. But some of these social media managers seem to have made the process much more straightforward than others.
The main reason why some of these apps face difficulties with Instagram publishing is that Facebook (the company) now gives very close scrutiny to all applications to use the Instagram Content Publishing API. In the wake of the Cambridge Analytica scandal, however, they have put this process on hold. Apps that went through the process before this decision have a clear advantage over companies who had not reached the top of the queue.
---
Best Instagram Scheduling Apps & Tools:
---
---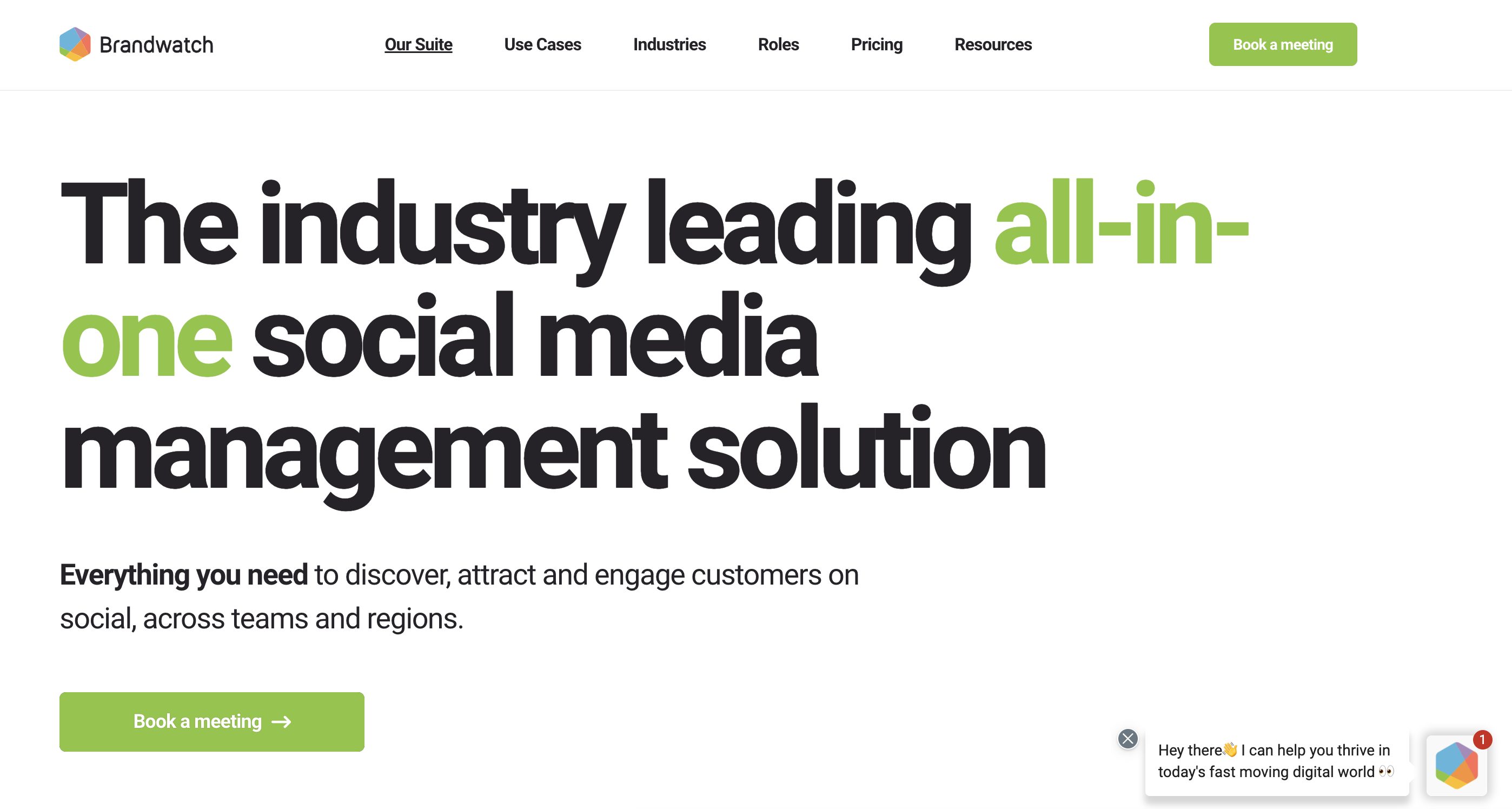 Brandwatch is a social media listening, publishing, advertising, measurement, and customer data management platform. The company operates globally, with offices in New York, Berlin, Budapest, Sofia, Melbourne, and Chennai.
Brandwatch offers a unified calendar that provides a view of all scheduled content. It shows posts scheduled by date and clearly identifiable by social platforms. You will easily be able to distinguish your upcoming Instagram posts from your next YouTube video or the series of tweets you intend to send.
If you are part of a larger team, Brandwatch's Campaign Planner helps you develop social campaigns in collaboration with team members. Brandwatch handles permissions by having a set of roles, approval processes, and an audit trail to boost quality. It also provides access to agencies to smooth your collaborative processes.
Brandwatch supports a variety of post types, including images, videos, and Instagram Stories. It stores content centrally in a Content Pool. 
You can promote posts through Facebook and Instagram ads within Publish, a clean and intuitive tool that manages all ads in one place.
Brandwatch provides in-depth analytics, particularly for Facebook and Instagram, tracking over 600 metrics. 
If you subscribe to the Full Suite, you have access to Brandwatch's social listening tools. They give you a clear picture of what's happening and who's involved. You can use them to track trends, monitor your brand, create custom queries, track sentiment across multiple languages, filter extensively, identify influencers, and much more.
Brandwatch also helps with social engagement. You can design a centralized inbox, including multiple feeds, labels, and filters.
---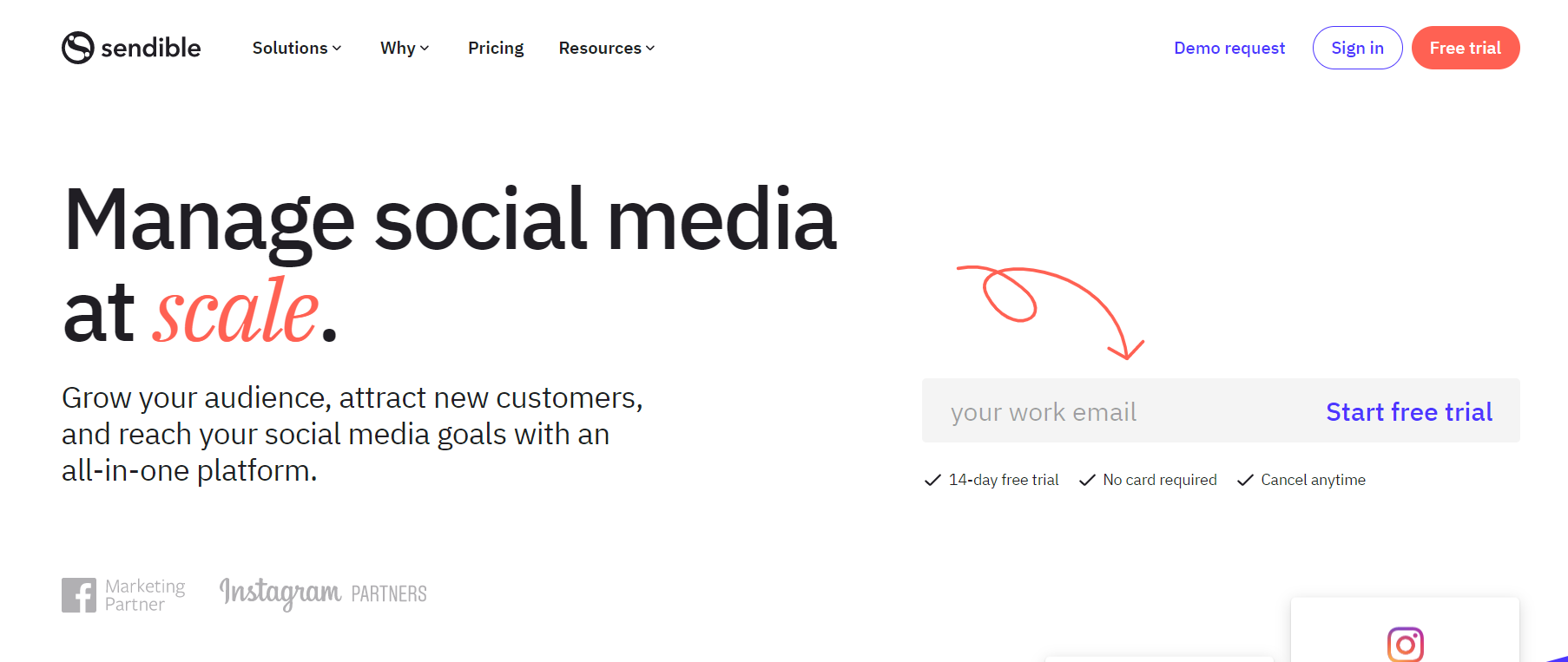 Sendible's approach to social media management is a little different compared to most; they make use of Services. Services are like channels or profiles that you create within your Sendible account. They allow you to select which features you need from a social platform.
Sendible allows you to work with all the main social networks and blogging platforms, offering different features for each channel. You can use Sendible to publish photos and videos directly to Instagram Business Profiles, and to schedule carousel posts with in-app notifications and monitor hashtags and analytics.
In includes various integration. One useful one for Instagram users is that you can create social media graphics with Canva and schedule them to your profiles and pages without leaving Sendible.
Sendible includes a Priority Inbox, which is a combined inbox with all your important messages. However, messages must be set up as alerts to appear in your Priority Inbox.
---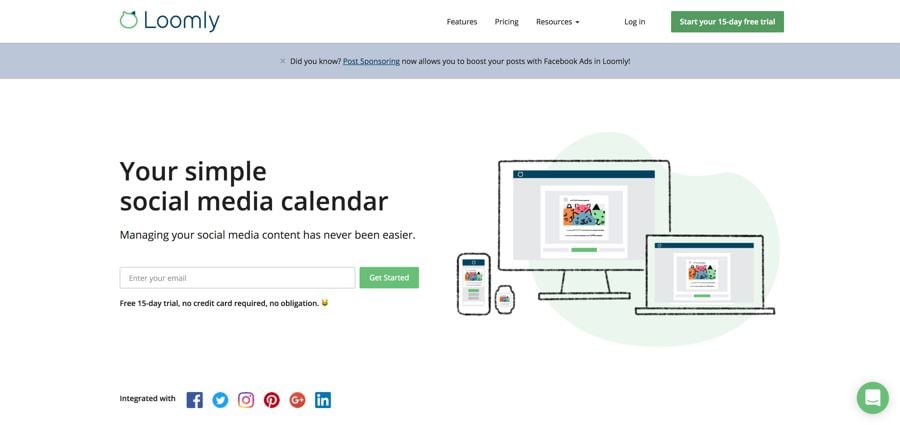 Loomly has a mission to make social media management a more structured and less complex feat for social media managers. It operates with five pricing tiers, ranging from $26 per month up to $269/month (with custom pricing for the top Enterprise tier). Even the Basic plan is useful for those with those operating ten or fewer social accounts.
You begin by setting up a calendar, including a time zone and industry. Loomly gives you the option of scheduling posts directly from the application or working with Buffer for scheduling purposes (although the latter suffers from some limitations).  You then attach your social accounts. Loomly does not yet allow native Instagram automated post publishing, so you must use a third-party app. Once Loomly has worked through access issues with Instagram's API, they will be improving their Instagram offerings.
Loomly has a strong emphasis on workflows. If you have more than one team member, the typical workflow is:
Draft

Pending Approval

Requires Edits

Approved

Scheduled

Published
The standard practice for a new post (unless you set otherwise) is:
Set Post Details

Select Social Channels

Define Generic Content

Fine-Tune Each Channel
---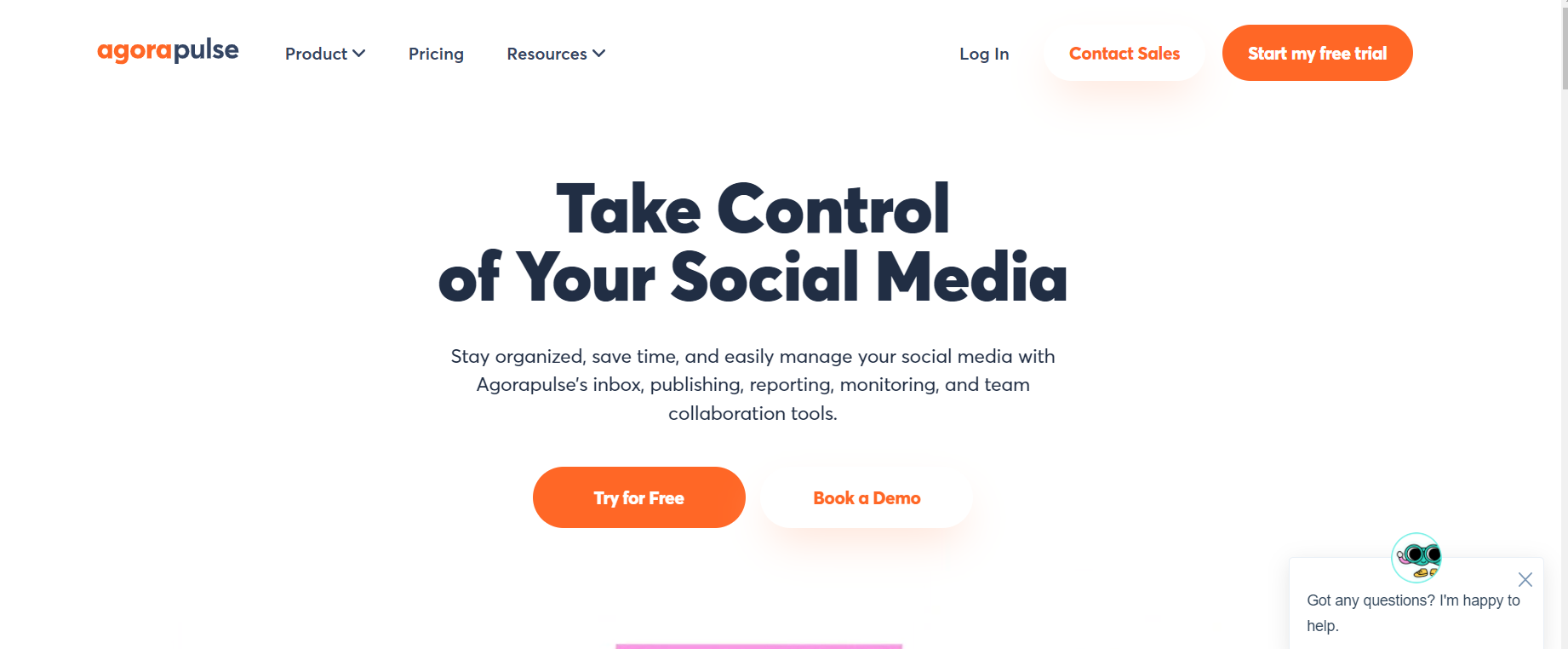 AgoraPulse is a fully-featured social media management program with an extremely user-friendly interface. It has an easy set-up process, even for the potentially tricky Instagram.
The heart of AgoraPulse is its Inbox. It shows your comments, mentions, conversations, and reviews relating to each of your social accounts.
AgoraPulse provides a variety of ways to publish content. The Publishing tab takes you to a calendar, showing the current period with the social messages you have scheduled, queued, published, sent to approval, had assigned to you, or failed. You can schedule a post simply by clicking on the appropriate time slot.
The app includes a social listening function that works similarly to the Inbox. You clearly see your backlog items in both your Inbox and Social Listening modules each time you open the software.
It has even more power when you use the bulk publish feature. This lets you import a series of posts from a CSV file, a website using RSS feeds, or as a group of pictures to transform into posts. You can then use these to create a queue.
You can upload images and make posts from these. This is particularly useful if you're active on Instagram.
---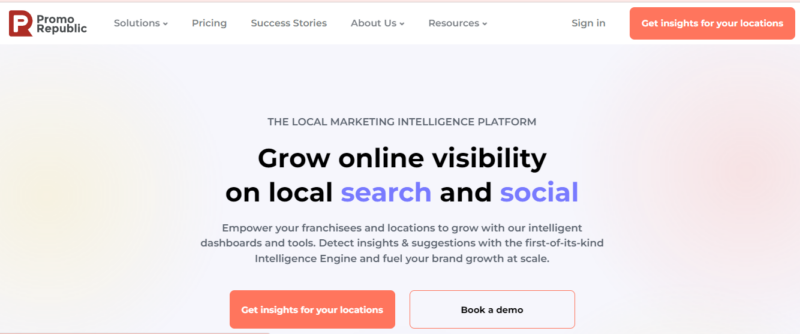 PromoRepublic's point of difference is its strong design focus. You can design beautiful posts without leaving the app, with no need to open any separate graphics software. You can use it to schedule and share posts with all the major social networks, including Instagram.
You can set a posting schedule for different types of posts. You organize your posting schedules across a centralized calendar. 
Post ideas are at the heart of PromoRepublic.  It comes with 100,000 post ideas, and these cover a wide range of topics. Most of these post ideas come pre-designed, with eye-catching graphics that you can easily modify and customize their post ideas to suit your business.
The inbuilt graphics editor allows you to select the appropriate dimension for what you want to create with a single click, including the ideal size for Instagram posts and Instagram Stories. If you prefer, however, PromoRepublic offers a design service, where you can buy 20 custom templates for your business.
You can separate your content across different workspaces. You can also set up flows, making it easy to work with a team, incorporating any approvals where necessary.
---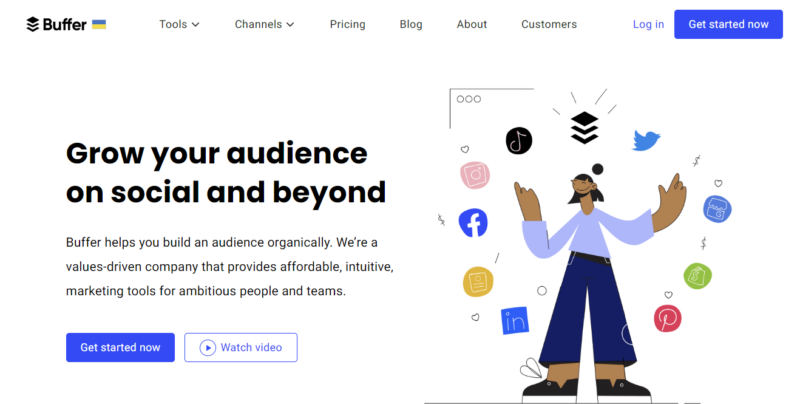 Buffer makes sharing content extremely easy. Once you've hooked up your social accounts, including Instagram, you can easily create a new post within the app. It lets you select the social accounts you want to use. With higher plans, you can content from other sources, such as your favorite blog.
Connecting your Instagram account can be slightly convoluted (thanks to Instagram's restrictions), but Buffer makes this easier than much of the competition. If you want to schedule to your Instagram account in a similar way you do to your other profiles, you need to have an Instagram Business Profile. If you only have an Instagram Personal Profile, Buffer simply reminds you when to make the posts yourself.
Posting schedules are essential for Buffer to work. You set up a publishing schedule for each of your social accounts, so you won't need to think about post dates and times when you create posts. Buffer automatically places new posts at the right place in the queue. You can create your own posts inside Buffer, add content with the Buffer browser add-on, or uploading posts from appropriate RSS feeds.
---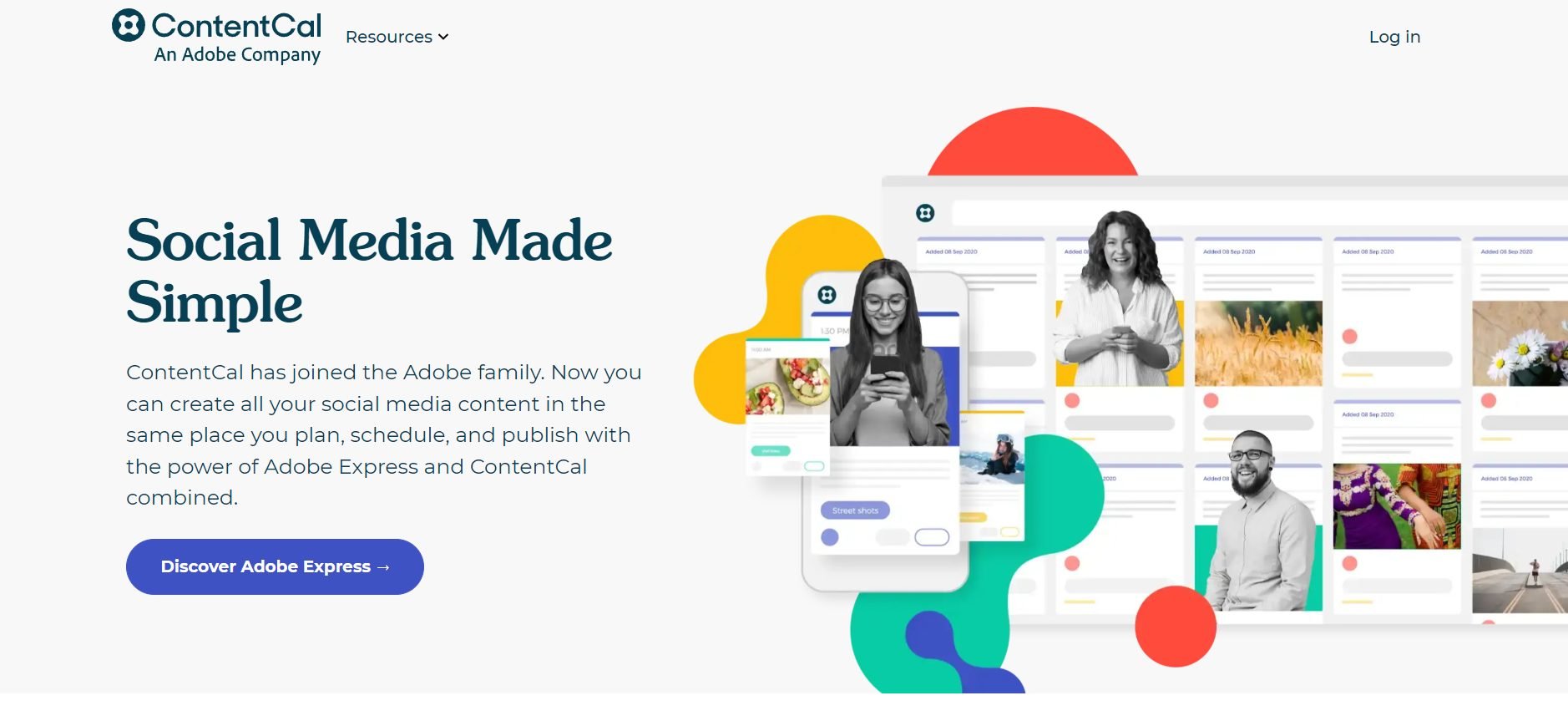 ContentCal allows you to plan, create, collaborate, publish and analyze your content from one central location. It offers a SaaS platform that's affordable to nearly any size business, even at its highest tier, Premium, which features custom pricing starting at $99/mo ($79/mo when billed annually.)
ContentCal is at its heart a visual calendar. It looks good, and using it is intuitive. Posts are positioned within the calendar in a large format, with the image and caption legible without having to click in further. Color coding gives users an at-a-glance understanding of where they're at with their queue. This improves the categorization of each post. You can tell your content balance simply by looking at the color bars on top of each post in your calendar.
You can create Snippets, where you pre-define as many different strings of text as you need to. When you create posts, you select an appropriate Snippet from a drop-down menu.
ContentCal offers an Advanced Analytics add-on that gives a granular overview of how each channel has performed, who's engaging with your posts, how well your competitors are performing, and which pieces of content have driven conversions.
ContentCal integrates with Zapier. This lets you integrate ContentCal with many other apps, meaning you can adapt items of content you find elsewhere for your posts. 
The newest addition to ContentCal is Engage, which enables you to manage social media mentions, comments, and DMs from one central inbox.
---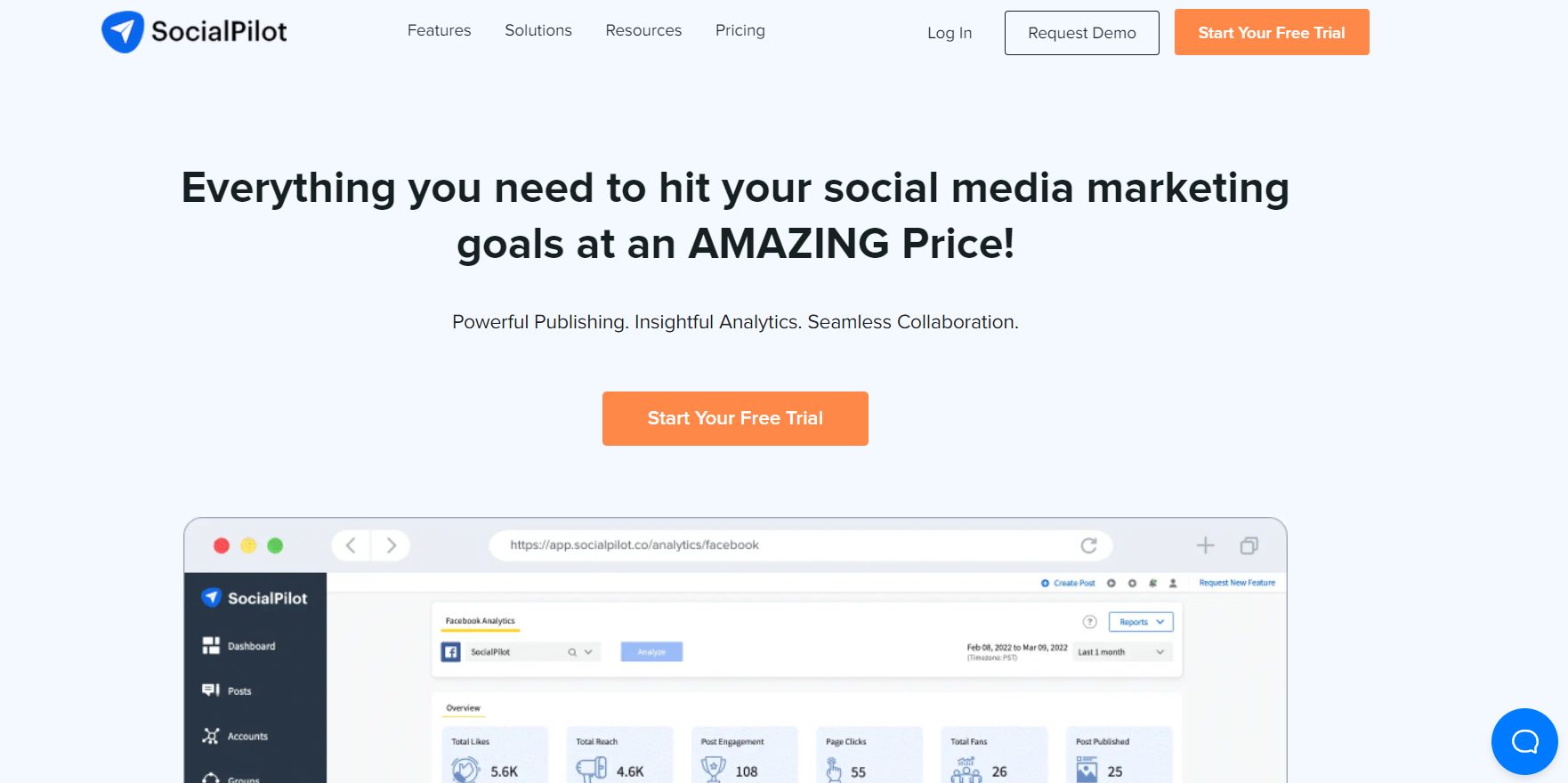 Social Pilot is aimed at a broad audience, with pricing options aimed at everything from small businesses to large enterprises. There are no feature restrictions—nearly anything you can do at the highest level can also be done at the lowest. You just do it on a smaller scale.
The management of accounts is done cleanly and efficiently, as you can organize each account into relevant groups, e.g., by channel or client).
Unfortunately, there's no direct publishing of content with Instagram yet. But Social Pilot has announced that they are in the process of getting extended API access. Currently, Social Pilot uses push notifications in their mobile app to remind you when to make your Instagram posts.
Unfortunately, until Instagram gives the API access, you can't get analytics or even view post histories for Instagram posts. This is unlike Facebook, where Social Pilot lets you manage and respond to all your FB comments and messages, across all accounts and pages.
---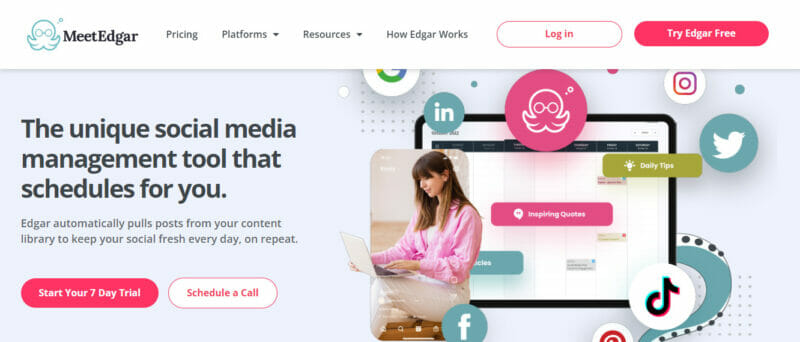 Meet Edgar offers just one plan. It is not as fully featured as some others in the market, but Meet Edgar is excellent for businesses that simply want to concentrate on queuing and delivering content.
Meet Edgar involves you scheduling different categories of posts across your social networks. You begin this process by defining categories. There are default categories (General, My Blog Posts, Promotions & Specials, and Recommended Reads). However, you can add to or adapt these categories to fit the way you run your social accounts. 
You create a weekly recurring schedule for each of your social accounts. You can decide on the category of post you wish to share in any slot, or you can tell Edgar to select posts randomly.
You can either create your own posts within Meet Edgar or import external content. When you create a post, you can choose from all your connected accounts, although there are some combinations not permitted. You give each post a category and then enter its content, including any images or videos you want to share. You can import content either by connecting an RSS feed for your favorite blog or importing a CSV spreadsheet containing multiple posts.
You manage your content in Edgar's Library. Once you approve enough content, Edgar creates a queue for the next two weeks. It matches your queue to your schedule and categories. It takes relevant posts from the library and places it in your queue in the correct slot for its category.
You currently need the Meet Edgar mobile app to be able to work with Instagram. Once you've connected the mobile app with your Instagram account, Edgar allows you to schedule Instagram Stories and feed posts for Instagram from your desktop, much like you schedule content for Facebook, Twitter and LinkedIn.
---
Sprout Social is one of the more professional social media management platforms, but it lacks a free or cheap plan. It clearly targets larger organizations with more heavy-duty needs.
It features a Smart Inbox that collects all your social messages. You can opt to combine all your inboxes into one or keep them separate. You can select the types of messages you want to show here.
Amongst other things, you can use the Feeds tab to monitor your chosen Instagram hashtags.
You can easily create content for all your social accounts, adding graphics, links, and other material as needed. The calendar shows all the social posts you've made and scheduled.
You can set up the entire approval process, making team management a seamless process.
Sprout Social includes a social listening module to uncover trends, analyze sentiment, and extract actionable insights from social conversations to better inform your marketing strategy.
Sprout Social provides an extraordinary range of reports – everything from cross-network paid performance, to comparing your Twitter profiles with your competitors to see how you stand up, to analysis of your Instagram performance.
---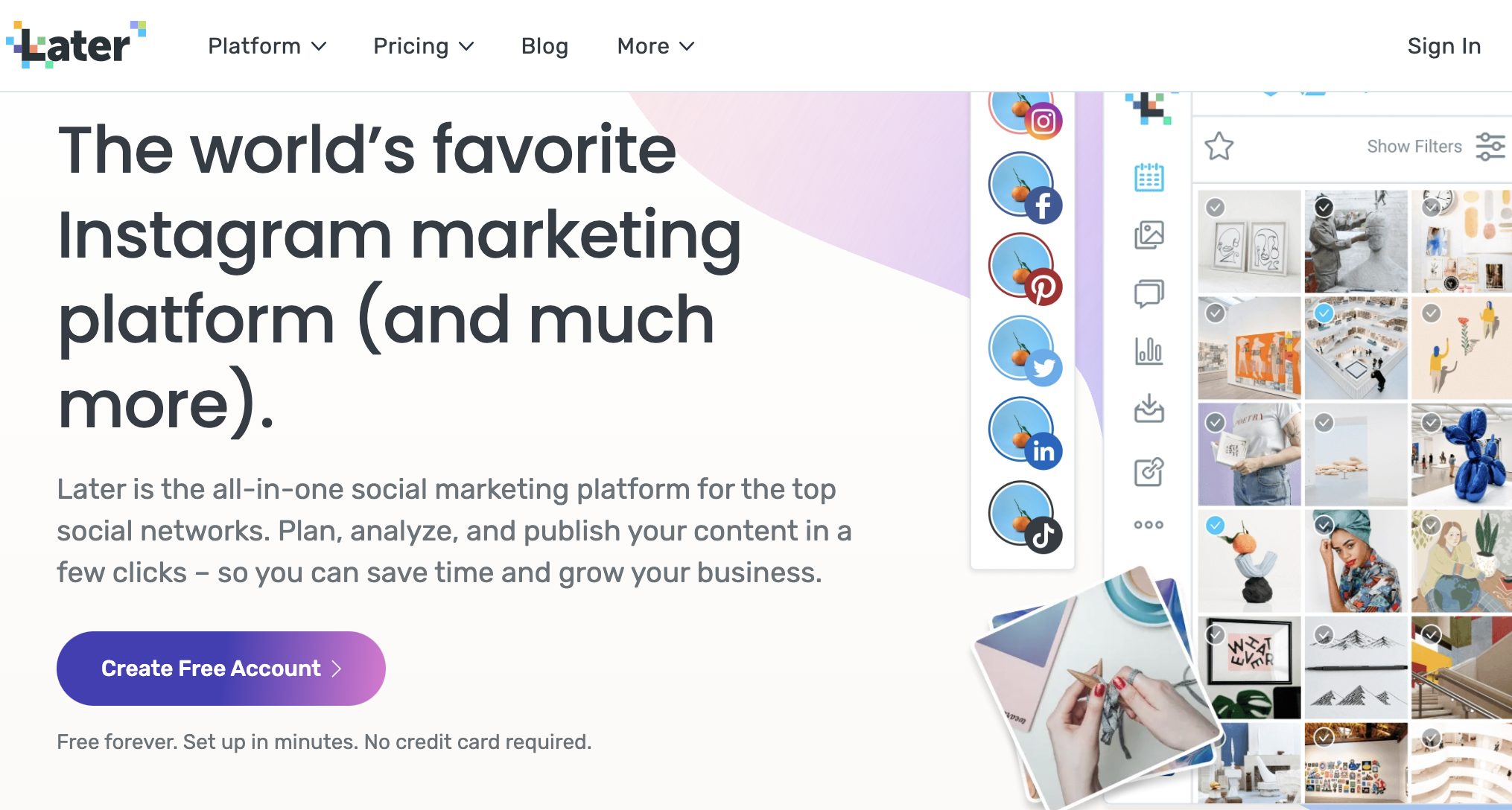 Although Later allows you to post to your Instagram, Twitter, Facebook, and Pinterest accounts, its main emphasis is on Instagram. It focuses on the visual. Unlike the rest of these social media management apps that start with a social message and then allow you to add an image, Later requires you to start a post by uploading an image. You then add suitable text to the image.
It can be a little challenging to set up the Instagram interconnectivity, but once completed, it is straightforward to use. It even has a Stories button you can use to schedule content for your Instagram Stories.
Later lets you store your graphic images in a Media Library. This allows to show quite some detail about each image you've used, add media notes, and even distinguish your used media from you unused media.
You need a Business Profile for your Instagram account if you want to fully use Later's features – another limitation caused by Instagram's API rules.
Later includes Conversations in its higher plans. This allows you to manage your Instagram comments directly inside Later.
---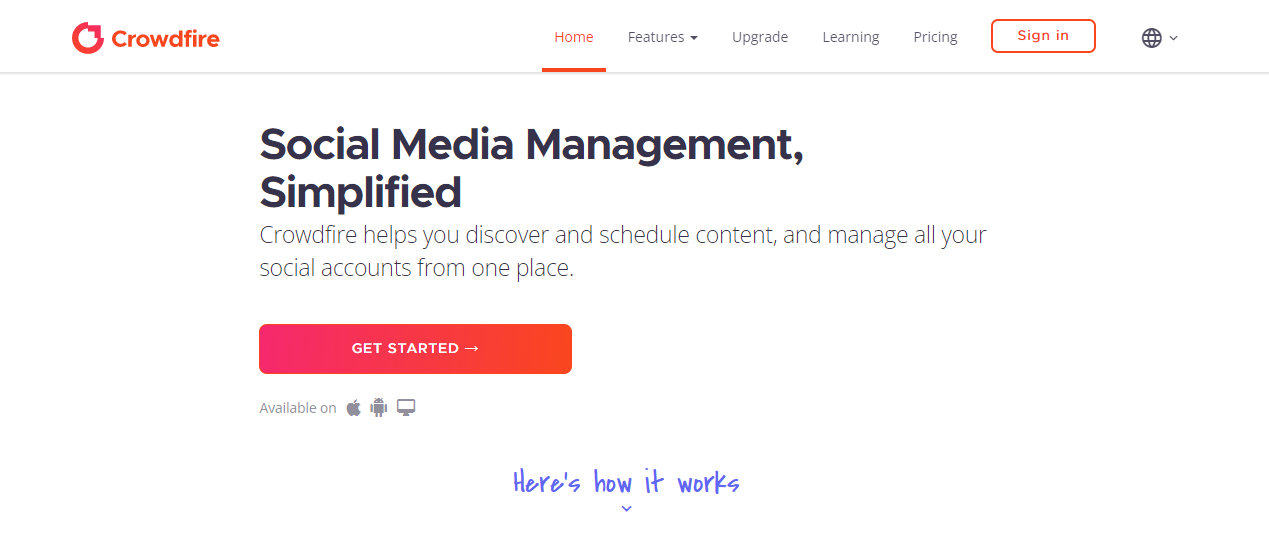 Crowdfire is designed to assist you by discovering, curating, and scheduling content, plus managing your social accounts in a single place. Through the app, you can search for articles and images that your audience will appreciate and then share them effortlessly to all your social media profiles, which will keep your timelines always updated.
Creating beautiful posts as quickly as possible is another benefit of using Crowdfire. With the app, you can monitor the updates from your blog, website, or online shops and then publish content that you can share with ease on all your social media profiles. Thanks to Crowdfire's scheduling feature – you can also prepare your posts in advance and schedule them to get published automatically at the most optimal time.
Crowdfire also makes it simple for you to curate articles and images for your accounts. Using thousands of sources from across the web, the app will curate articles for you, giving you more time to perfect your content strategy. 
For images – Crowdfire is the only social media management tool that recommends images that you can use to curate photos that you can share on Instagram.
The app's analytics tool is nothing to sneeze at either. Crowdfire comes with a report builder designed to help you build and share custom reports that contain the data points that you want to emphasize. You also have access to advance and competitor analytics tools, which will help you understand your ROI thoroughly and use the information to fine-tune your strategies.
---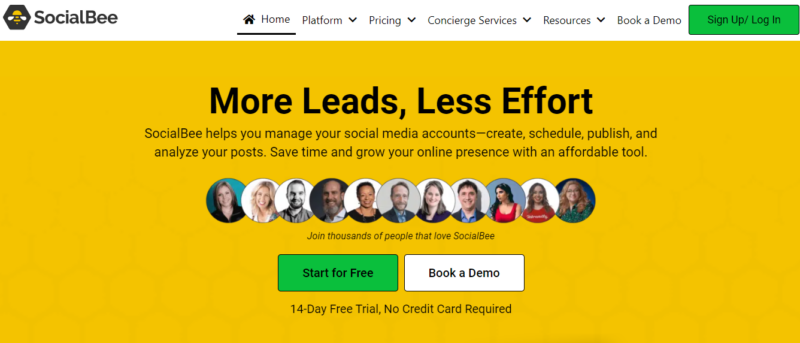 Make your hectic Instagram life a lot easier with SocialBee. SocialBee lets you schedule images, videos, Stories, and Carousels to your Instagram account (the last two can be done using the mobile app).
Here's what you can do with your posts using SocialBee – you can schedule them for publishing, re-queue them to be published again in the future, and arrange for your posts to run as long as you like. You can also set your posts to expire based on the date or number of times posted.
One of the best parts about SocialBee is that the support is not limited to just Instagram. You can also use the tool to schedule posts for Twitter, Facebook, Pinterest, LinkedIn, and Google My Business.
Another commendable thing about SocialBee is that you get to access every single feature, whether you're an agency, small business, or a solo entrepreneur. SocialBee doesn't hide features under the more expensive plans. The differences between each plan (there are three of them, starting at $5 a month) are the number of profiles, workspaces, scheduled posts, and categories.
---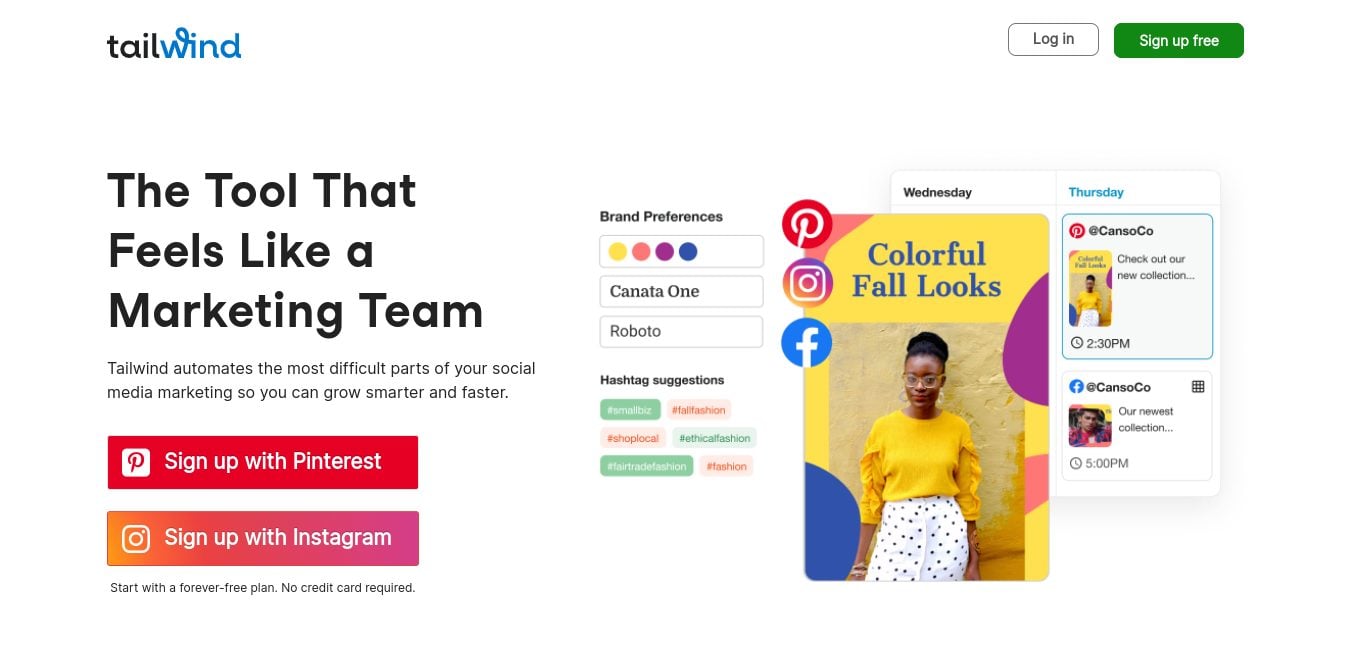 Scheduling on Instagram is a breeze when you use Tailwind, which is designed as a "tool that feels like a marketing team." And indeed, that's how Tailwind functions. Like AgoraPulse and SocialBee, this tool allows you to schedule postings of single images and videos directly or do the same for Carousel and Stories using push notifications.
But unlike the two, Tailwind is equipped with SmartSchedule, which automatically singles out the times when audience engagement is at its peak. Using the feature over time will make the tool discover more about your audience engagement, which it can use to optimize your scheduling further.
The scheduling feature enables you to optimize your queueing, set specific times to publish, or place intervals between your postings. It also lets you maximize the most relevant and popular hashtags so your page will get discovered by the right followers.
Tailwind also has a simple drag-and-drop calendar that you can use to plan and arrange your scheduled posts.
---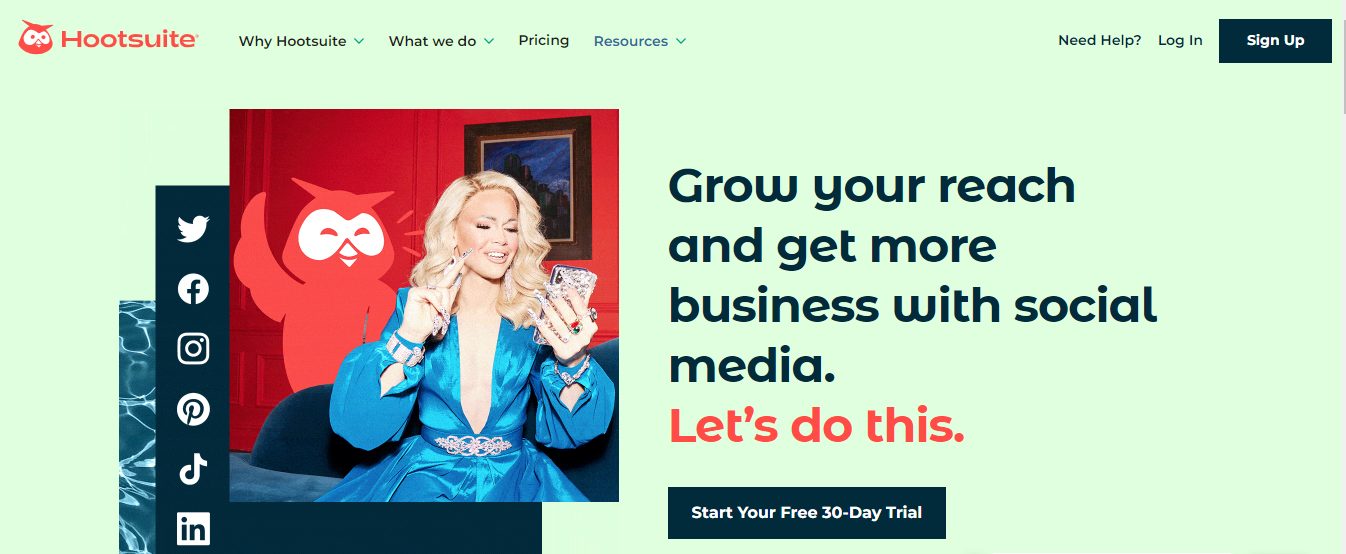 With Hootsuite, publishing to Instagram, engaging with your followers, and reporting become a whole lot easier. Though, in order to take advantage of all the functionality available in Hootsuite, you'll need to add an Instagram Business profile. 
In addition to publishing and scheduling, it also offers a few advanced options. You can, for example, use it to promote a post to boost it on Instagram, link your post with one of your brand's campaigns, upload images from your content library, or apply a tag. 
Thanks to its integration with Panoramiq Multiview, Hootsuite is a great app to use if you post on Instagram a lot. While this add-on app doesn't really help with scheduling, it's great for managing interactions on Instagram. Whether you have only one Instagram account or multiple accounts, Multiview makes it easy to keep track of and reply to comments, mentions, and photo-tags. Plus, you can also use the analytics to make sense of your interactions on the platform. 
---
Frequently Asked Questions
Is it easy to schedule Instagram posts?
Overall, it is more difficult to schedule Instagram posts compared to other platforms like Twitter. Though, there are a few social media managers that can make this process a lot simpler. That being said, the primary reason why not all of these apps can successfully simplify scheduling on Instagram is because Facebook (the company that owns Instagram) now closely scrutinizes all the applications that use the Instagram Content Publishing API.
Is Agorapulse easy to use?
The interface of Agorapulse is easy to understand and use. It is also easy to set up, even if you plan on using it to schedule Instagram posts which can be potentially challenging. With regards to publishing content, this fully featured social media management program offers a variety of ways to publish content. You can schedule a post simply by clicking on the most suitable time slot.
What makes PromoRepublic good?
One of the features that set PromoRepublic apart from other Instagram scheduling tools is its strong focus on design. With PromoRepublic, you can design beautiful posts without even having to leave the app or use a separate graphics software. It also focuses a lot on post ideas. It offers 100,000 post ideas that cover a wide range of topics. The majority of these post ideas are also pre-designed with graphics that you can modify and customize to suit your industry.
Is Sprout Social a good choice for a smaller business?
No. Sprout Social clearly targets bigger businesses with more heavy-duty requirements. It also does not offer a cheap (or free plan). Smaller businesses can instead check out a tool like Social Pilot which is aimed at a broader audience with pricing options aimed at small as well as large businesses. With Social Pilot, there are also no feature restrictions. You can practically do all the same things with its cheaper plan (just on a smaller scale).
What makes Later a good app for scheduling Instagram posts?
Later is one of the best Instagram scheduling tools. Although you can use Later to post on Twitter, Pinterest and Facebook too, its main focus is on Instagram. The reason for this is that it takes a more visual approach to posting. Unlike other social media management apps that begin the process with a social message before you can add an image, Later requires you to start a post by uploading an image first. Only after you have uploaded your image can you add text.