Although follower numbers are more of a vanity metric than anything else on Instagram, most people still want to increase their followers. After all, follower growth is a sign that people like your posts and are prepared to share your pictures and videos with their friends. However, not all follower growth is good. Too many Instagrammers operate fake or useless accounts, and it is better not to have these people as followers. This is one of the main reasons – to make sure that your account is operating "normally" – why it helps to track your Instagram follower growth.
To help you separate the good from the bad and, ultimately, help you attract more real, engaged followers, we've created this list with Instagram growth strategies and practical tips. We've also made sure to include a free tool to help you track your Instagram follower growth so that you always know where you currently stand and how things are coming along.
---
Also see: Free Tool to Track Your TikTok Follower Growth
---
Free Tool to Track Instagram Follower Growth
Join the Planet's largest community of Creators & Influencers
Registration includes
Free usage of over 40 Influencer Tools
Access to Complimentary Premium Online Courses
Unlimited Articles and Resources
Register for Free
Already A Member? Sign In
Analyze the follower growth of any Instagram account
Over 1,000 followers only
Powered by
---
Tracking Instagram Follower Growth:
---
How Not to Get Instagram Followers
If you search the internet, you will see many references to buying Instagram followers. Beware – it is not the way to build your Instagram following.
Bought followers are unlikely to be engaged, useful followers. Indeed, quite often, bought followers aren't human at all. They're merely bots, masquerading as real people.
---
The Problem of Fake Followers
Don't underestimate the problem of fake followers. While our Influencer Marketing Benchmark Report 2022 found that Instagram influencer fraud has decreased over the past couple of years, nearly half of Instagram influencer accounts were still affected by fraud in 2021. For this decrease, we should thank the number of tools and platforms that have been created to identify influencer fraud. One of which is the Fake Follower & Audience Credibility Checker that's provided by HypeAuditor.
If you still think that buying Instagram followers or likes isn't such a bad idea, here are eight main reasons why you shouldn't be tempted to go down this route:
Fake Instagram followers don't engage with your account.

You have mismatched engagement compared to genuine accounts.

You might end up with inappropriate bot comments on posts.

Bought followers bring spam with them.

Instagram recognizes and purges fake followers.

Buying fake followers is against Instagram's terms of service.

Having fake followers destroys your credibility as an influencer.

You won't earn money using fake followers.
It's clear – fake followers won't give you any long-term benefit. As a matter of fact, they will most likely only end up harming your account's standing and your credibility.
---
The Value of Engaged Followers
There is little point collecting followers for the sake of it. You only want followers who engage with your posts. At the very least, you want them to look at what you post. That's a small win, but a good place to start. The ultimate goal, though, is to get them to comment on or share your pictures and videos and hopefully even buy your product or service.
Of course, your followers aren't going to engage with each of your posts. The reality is that the Instagram algorithm will only show your posts to a percentage of your followers, depending on how positively they rate your post. And, in 2022, Instagram's algorithm has become even more sophisticated to help determine which content to display to which user based on what they care about the most. So, signals like how often a user interacts with your account and how recent those interactions have been will help the platform to rank the content "accurately". So, if your followers don't engage with your content and similar topics, the content that you've created won't show up in their feed or Explore page.
According to data shared by Promo Republic, one of the top Instagram scheduler apps (they're based in Ukraine if you're searching for an Instagram tool and way to show your support), the industry standard guideline for Instagram engagement suggests that an engagement rate:
Below 1% = low engagement rate

1% - 3.5% = average / good engagement rate

3.5% - 6% = high engagement rate

Above 6% = very high engagement rate
However, the size of your Instagram account has a huge impact on your engagement rates. The more followers you have, the lower your engagement rate is likely to be – even if you target quality followers.
On average, Instagram influencers who have less than 15,000 followers tend to achieve a 3.86% engagement rate per post, but this rate gradually decreases as their follower count increases. For instance, influencers with 15,000 to 50,000 followers see an average engagement rate of 2.39% per post, while those with 50,000-100,000 followers have an engagement rate of 1.87%. As the follower count continues to increase, the engagement rates for influencers with 100,000-500,000, 500,000-1,000,000, and over 1,000,000 followers decrease further, averaging 1.62%, 1.36%, and 1.21%, respectively. Overall, the average engagement rate across all Instagram influencers is 2.05% per post, which serves as the baseline rate.
---
5 Ways to Gain Followers
With the help of Instagram followers trackers, like FollowMeter for Instagram, and yours truly's Instagram Follower Growth Tracker, it becomes a whole lot easier to search for the right followers and manage your Instagram account. However, there's only so much you can do with these tools.
Ultimately, you are going to want to select the best possible followers for your account – people who will take a genuine interest in the types of posts you make. It's essential to connect with the right people on Instagram if you're to have high engagement rates.
The best way to gain quality followers who will help you meet your goals is to operate your account normally. This means that you need to follow all the good practices of running an Instagram account – in precisely the same way that influencers do.
1. Post Regularly
You need to post consistently and give people a reason to want to follow you. While Instagram's algorithm means your followers are unlikely to see all of your posts, the more you post, the more posts Instagram will serve to your followers.
This, of course, assumes that you make valuable posts and don't just spam your followers in an attempt to game the system.
---
2. Take plenty of photos
One of Instagram's biggest drawcards can also be its downfall. Instagram is visual, which means that you need to have high quality, enticing images to post. Therefore, you need to build up a bank of pictures, so that you have material to post when you are not in a position to be taking new photographs.
Take interesting and relevant photographs whenever you have an opportunity. Moreover, while you are at it, take additional pictures. You can use them for future posts when you are running short of fresh material.
Take any opportunities that occur whenever you find yourself in a photographic situation so you can create images to share with your followers. Have your camera (or phone) at the ready for any opportunistic shot (or Story idea).
If you struggle to take original photographs, you can always use a tool like Canva to create graphics that you can share with your followers. What's more, it also has loads of existing templates that you can customize to match your branding.
---
3. Vary Your Posts
People like to see variety as they flick through their Instagram feed. You will gain more attention that is genuine if you vary the types of posts you make. This includes using other Instagram features, such as Instagram Stories, Instagram Live, and IGTV.
Although your Instagram Stories will disappear after 24 hours, you could pin your best ones to the top of your feed, as Stories Highlights. Then, to make the most of your Instagram Story Highlights, be sure to create custom covers for each. Once again, you can use a tool like Canva for this job. It offers a good selection of free cover templates that you can tweak to fit in with your style.
The most important thing is that you don't solely make posts trying to sell your products. If you are a business, your posts should reflect your brand's personality. Show behind the scenes of your brand. On your personal account, take the opportunity to build your personal brand, and highlight your personality.
In short upload a range of images and videos; although only make sure that every post is of high quality.
---
4. Use hashtags
Hashtags aren't just for Twitter. By adding a couple of relevant hashtags to your posts, you can help users who are interested in the topics that you post about find your content easier. Alternatively, you can use niche hashtags or branded hashtags to help spark interest in your brand.
While you can use as many as 30 hashtags per post, according to data collected, it's best to stick to about 20 for optimal post performance. Here are some of the most popular Instagram hashtags that you can use:
#love

#

instagood

#

fashion

#

photooftheday

#

beautiful

#

art

#

photography

#

happy
And, yes, once again, we also have a tool for finding hashtags. Our Instagram Hashtag Analytics Tool can help you to analyze Instagram hashtags to determine its value by sharing metrics about its usage, follower reach, follower impressions, comments, and post likes.
---
5. Post at the Best Times for Your Followers
For this, we've also designed a free tool that you can use. With the help of our Instagram Post Times Optimizer Tool, you can post at the exact right time to help you boost your engagement rate.
Alternatively, you can use this cheat sheet. While there's not a definitive time that you should post all your Instagram content (there are just too many factors), here's what we've found after we've scoured the internet.
Tuesday and Wednesday is the best days to post on Instagram.
With regards to time, you have a few options: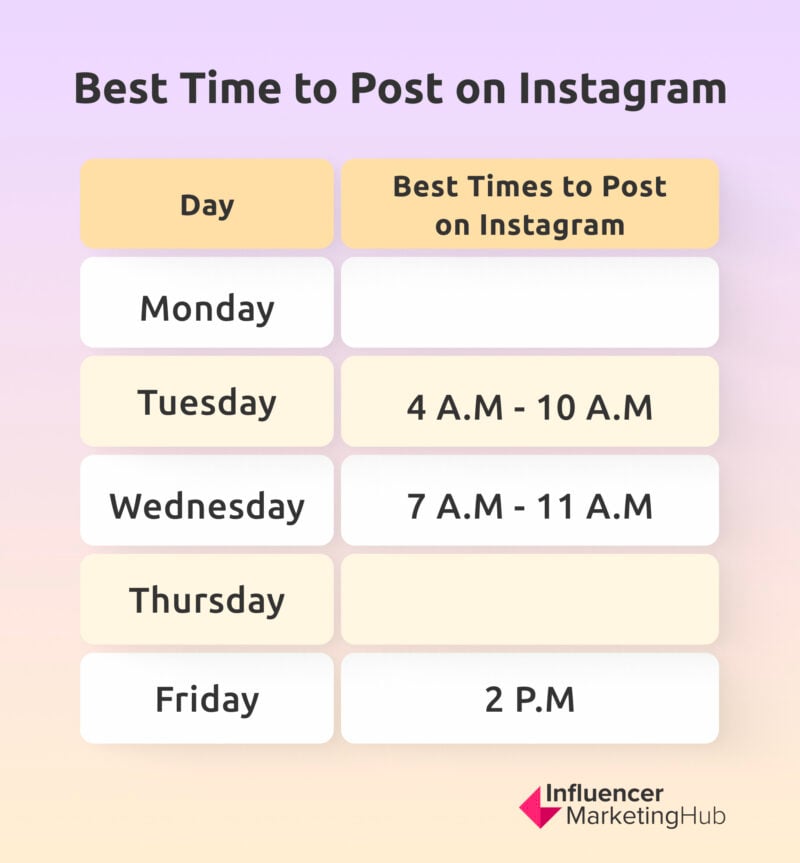 4 A.M - 10 A.M on Tuesdays

7 A.M - 11 A.M on Wednesdays

2 P.M on Fridays
Of course, this is merely an average. Ultimately, you need to experiment to determine the best times for your audience.
Needless to say, the time zone can make it tricky. So that you don't have to set your alarm for strange hours, it's best to use a scheduling tool. Not only can social media management tools help you with post scheduling, but they also offer various other useful features like social media insights and reporting. This brings us to our next point: tracking your follower growth.
---
The Problem of Fake Followers
We have looked at the problem of fake followers before, including 8 Reasons You Shouldn't Buy Instagram Followers. Don't underestimate this issue. In our Influencer Marketing 2019: Benchmark Report, we discovered that 64% of the marketers we surveyed deemed influencer fraud to be a big concern.
As we said earlier, don't be tempted by the ads offering to sell you Instagram follows or likes. They won't give you any long-term benefit and may harm your account's standing.
There are eight main reason why buying Instagram followers is a bad idea are:
Fake Instagram followers don't engage with your account

You have mismatched engagement compared to genuine accounts

You might end up with inappropriate bot comments on posts

Bought followers bring spam with them

Instagram recognizes and purges fake followers

Buying fake followers is against Instagram's terms of service

Having fake followers destroys your credibility as an influencer

You won't earn money using fake followers
If you have concerns about having fake followers, you can use our Fake Follower & Audience Credibility Checker to determine whether you have a problem or not. Combine this with our new Instagram Follower Growth Tracker to improve the quality of your followers.
---
How to Track Your Followers
It can be challenging to keep track of your followers. You will consistently have a cleaner, better account if you regularly engage in Instagram follower growth tracking.
The Influencer Marketing Hub has now released its own Instagram Follower Growth Tracker, to help you keep track of your followers.
It shows you your total follower numbers, engagement rate (which it grades), and your likes-comment ratio. It also graphically depicts your follower growth over the last four weeks (or such other period you set).
Ideally, you want to see a graph showing a reasonably consistent growth pattern over time, although you may have bursts whenever you carried out influencer or social media campaigns.
All you have to do is enter your @handle to map out your Instagram account growth.
---
Wrapping Things Up
There's no shortage of followers on Instagram. The trick, though, is to find the right ones. Buying them is not the answer. Not now and definitely not in the long run. After all, why would you want to take a shortcut if there are so many ways that you can grow your follower count on Instagram organically? In this blog post, we've only touched the surface. However, everything basically boils down to posting high-quality, relevant content consistently. And, isn't that supposed to be your goal in any case?
Get the content right and the rest will follow (and quite literally in this case).
Then, remember also not just to focus on getting new followers but also to set time aside actually to track your followers. Ultimately, this is the best way to see if the strategies that you've put in place work.