Pinterest has become more than a site where people go for recipes and wedding ideas. It has grown into a visual search engine with tons of inspirational visuals.
Pinterest offers your business a unique opportunity to showcase what your products or services can do. You can use the platform to provide solutions or inspiration to your target audience.
If you have yet to start using Pinterest for your business, here are some statistics to convince you to start.
---
26 Mind-Blowing Pinterest Stats for 2021:
---
1. Nearly 460 Million People Use Pinterest
459 million people are using the platform for inspiration. Pinterest users find inspiration on what to wear, what to cook, ways to style their homes, and so much more.
As with many social media apps, Pinterest gained significant users in 2020. People locked up in their homes needed something to do, and many chose to spend time viewing and pinning images and videos to Pinterest. "We welcomed over 100 million additional monthly active users to Pinterest in 2020, more than any other year in our history, and now we reach more than 450 million monthly active users around the world," according to Ben Silbermann, CEO, and co-founder of Pinterest.
Monthly active users rose from 335 million in Q4 2019 to 367 million in Q1 2020, 416 million in Q2 2020, 442 million in Q3 2020, and 459 million in Q4 2020.
---
2. Pinterest Ranks Fourth in Most Popular Social Media Sites in the US
Pew Research found that Pinterest ranked fourth after YouTube, Facebook, and Instagram in 2019, with 28% of US adults claiming to have used it. Its usage in the US is higher than that of LinkedIn, Snapchat, Twitter, WhatsApp, and Reddit. However, note that these Pew Research figures appear to ignore TikTok, whose popularity has grown dramatically in the last year.
---
3. Pinterest Use by Country
The United States has by far the highest number of Pinterest users. There are 43.95% Pinterest desktop users in the US compared to 8.08% in Brazil, 3.62% in India, 2.52% in China, and 2.03% in Poland.
---
4. Women Overwhelmingly Use Pinterest More than Men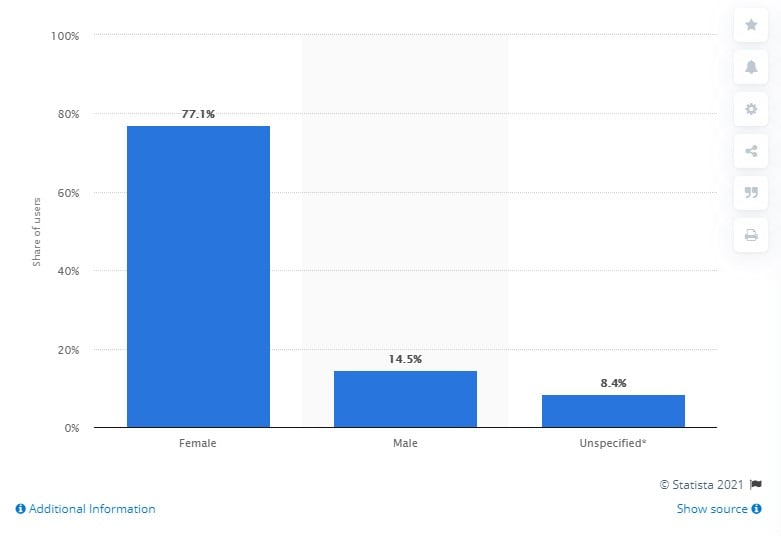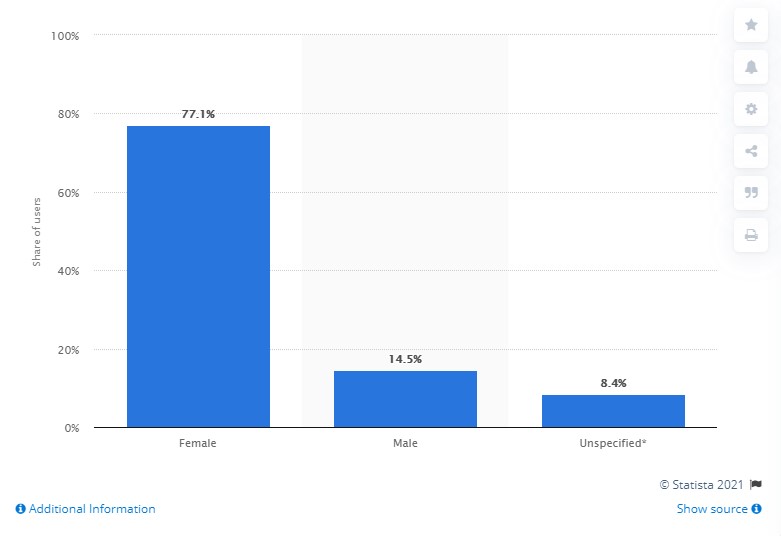 Our last version of this post showed gender statistics for October 2019. At that stage, there were considerably more female Pinterest users than male (71% to 20%, with 9% unspecified). This imbalance grew even more during 2020, to the point in January 2021 when 77.1% of Pinterest users were female and a mere 14.5% male, with 8.4% unspecified.
---
5. Eight Out of Ten Moms Use Pinterest
According to a Comscore study cited by Pinterest, eight out of ten moms use Pinterest in the US. Women are also the primary decision-makers in terms of buying household products and services.
The high Pinterest use rate by women may be because it encourages users to form emotional bonds with the platform. Pinterest ranked first in the 2019 apps and social platforms for brand intimacy rankings.
Women were highly engaged with the platform and ranked it 19th in the industry among intimate platforms and apps. These statistics make it an excellent platform for marketers targeting women for their products.
---
6. Pinterest Demographics by Age and Income
A survey of Pinterest users in the US found that 34% of people aged 18-29 years used Pinterest in 2019, as did 35% of those aged 30-49 and 27% of those aged 50-64.
Pinterest also gets much usage from those earning more than $75,000 (41%) and those with a college degree and above (38%).
---
7. Pinterest Traffic Overview
SimilarWeb found that there were 1.20 billion visits to Pinterest between July 2020 and December 2020, considerably more than the 856.08 million visitors in the same period of 2019. The average visit duration was 4 minutes, 50 seconds. The platform also has a bounce rate of 48.26%.
---
8. Pinterest Traffic Sources
SimilarWeb also found that Pinterest receives 58.78% of direct desktop traffic and 37.98% from the organic search.
They also got 1.4% traffic from referring sites like Amazon and Etsy. Most consumers using Pinterest head straight to the site when looking for inspiration or products to buy, with few visitors from Social, Mail, or Display Advertising.
However, note that these statistics only refer to desktop visitors. Pinterest says that 85% of their users now use the mobile app.
---
9. Pinterest is a Visual Discovery Engine
The rise of visual search has made Pinterest the favourite platform for people who would rather search images. 93% of shoppers are more likely to buy a product if they can easily search for it with an image search function on mobile.
Pinterest Lens allows users to search by image. According to the platform, there are more than 600 million visual searches across Pinterest Lens in a month. Pinners can now use the visual search on their mobile or search product catalogues.
---
10. People Use Pinterest to Save Ideas and Get Inspiration
According to Pinterest, users have saved over 200 billion ideas on more than 4 billion boards on the platform.
---
11. Millennials Are on Pinterest
One out of 2 millennials in the US uses Pinterest every month. It inspires them to make dreams a reality and transform vague ideas into reality.
This group of millennial Pinterest users also have more resources to spend in their quest to achieve their goals. Those on the platform spend 17% more than those not using it to purchase products.
---
12. Pinterest is a Huge Part of the Millennials Buyer Journey
86% of them use Pinterest to plan their big and small moments in life. 63% have also used it to discover new products to buy.
---
13. Pinterest is Great for Finding Ideas
85% of Pinterest users visit the platform when starting a new project. Nine out of ten describe it as filled with positivity. Two-thirds of its users (65%) use the platform to find products, ideas, and services they can trust.
Unlike other social platforms used to pass the time or for entertainment, users visit Pinterest when they want to find something. To some people, it's their default search engine. Users say they visit it to get ideas on how they can create new looks or get tips on accessorising or modifying items.
---
14. There Are Fewer Branded Searches on Pinterest
97% of the searches do not have brand names. Your brand gets the opportunity to capture people at the decision-making process stage. You can also influence purchase as 83% of users have made a purchase after seeing content on Pinterest.
Pins from brands make it easier for 78% of the people on the platform to find new products and make significant decisions. Your brand content could be useful for the target audience's decision. You could be the brand with the solution to an idea they have.
---
15. Most Popular Topics on Pinterest
Pinterest surveyed the most popular searches on the platform across categories like food, travel, health, and beauty. They noticed an increase in searches for products that go beyond gender labels. People are searching for gender-neutral names, gender-neutral kids' clothes, and others.
Other increased searches included those of eco-friendly habit ideas, how to find balance in life, transforming homes into offices and gyms, responsible travel, everything space, and a return of the '90s.
These Pinterest trends can help you plan campaigns or develop new products to suit the needs of consumers.
---
16. Pinterest Frequency of Use
Cast From Clay found that only 4% of users in the US and 8% in the UK use Pinterest several times a day.
This could be because users visit the site mostly when they need to find something and not as much for entertainment or to pass the time.
---
17. Pinterest Corporate Usage
Cast From Clay also found that 52% of corporations in the US and 35% in the UK use Pinterest. Corporates have embraced Pinterest as a great platform to introduce their products to their target audiences.
With Pinterest, brands drive more referral traffic to their sites than other social media platforms.
---
18. Pinterest is a Great Ecommerce Platform
Pinterest now uploads 75% more shoppable catalogues for merchants. They have also expanded their Shopping Ads internationally. Merchants and advertisers can now use the platform to sell their products.
You can now upload your catalogue and turn your products into Shoppable Pins. As a retailer, you can create Pinterest Ads automatically from your product feed
---
19. 47% of Pinterest Users Spend Time Finding Products and Shopping on the Platform
eMarketer found that 59% of Pinterest users in the US spend time viewing photos. Another 47% spend time on the platform looking for and shopping for products.
Pinterest is an excellent platform for marketers who want to persuade their target audiences to buy. By posting inspiring brand images on your page, you can inspire the 83% weekly Pinners who purchase based on brand content on Pinterest.
That represents the potential to sell to eight out of ten users. Help them discover your products and reach out to the 98% who try the products they come across on Pinterest.
---
20. How Consumers Shop on Pinterest
A survey of Pinterest users showed that 60% of them start their product research on the platform. They use Pinterest to get ideas on what to buy more than they use other social platforms.
---
21. The Popularity of Pinterest Among Marketers
28% of marketers worldwide use Pinterest to market their products or services. The platform's small user base (over 300 million users) makes it ideal for marketers to reach their target audiences with ease. They can reach the 90% weekly Pinners who use the platform to make buying decisions.
Combining unique and personalised images makes it easy for consumers to move from discovery to purchase. The platform also influences what brands people shop from, products they buy, and the amount that they spend.
---
22. Pinterest Posts Have the Longest Lifespan
Pinterest posts have a three-month lifespan compared to Facebook's five to six hours and Instagram's forty-eight hours. Twitter has the shortest lifespan of fifteen to twenty minutes.
Your Pins can receive engagement even after a year, especially if you optimise your content. Pinterest users also have a higher purchase intent than those on other channels.
---
23. When Should You Post on Pinterest?
CoSchedule found that the best time to upload your posts on Pinterest is in the evening from 8-11 pm and from 2 am to 4 am.
Fridays and Saturdays are also great times to post as people are planning weekend activities. However, timing does not matter on Pinterest, as long as you consistently post the right kind of content.
---
24. Pinterest Made $706 Million in Q4 2020
Pinterest has had an excellent 2020. Despite all of the uncertainties caused by Coronavirus, Pinterest increased both its user numbers and revenue over the year. The revenue they received, predominantly from ads, was higher each quarter in 2020 compared to the comparative quarter in every previous year.
The Q3 2020 revenue figure was a record at $442.6 million. However, Pinterest well and truly exceeded this in Q4 2020, receiving $706 million.
---
25. Pinterest was the 10th Most Relevant Brand in 2019
According to the Prophet Brand Relevance Index 2019, Pinterest is the USA's 10th most relevant brand. 85% of the survey's respondents say it's where they go to start a new project. Indeed, It ranks No. 1 in the study for "Makes me feel inspired" and "Engages with me in new and creative ways."
In comparison, Apple ranks #1. Prophet describes the index as showing "the 50 brands we can't imagine living without."
---
26. Internationally Inspired Decor Jumped Significantly on Pinterest in 2020
Each year Pinterest makes predictions about the year ahead. Although they obviously had no idea the effect COVID would have on the year, about 80% of their predictions came true in 2020. One of their picks was that global influences would make their way into Pinners' homes in a big way in 2020. They discovered that internationally inspired decor jumped significantly in 2020, with searches for terms like "Indian living room" and "Japanese soaking tubs" rising dramatically. There was a 160% increase in searches for "Indian living rooms" and a 120% increase in searches for "Japanese soaking tubs."
---
Conclusion
You can use Pinterest to boost your brand's online social media presence. Use it to showcase your products to the right kind of audience and drive engagement.
The statistics show that Pinners are dedicated shoppers who use Pinterest not only to get inspired but also discover products to buy. Pinners are in discovery mode and you can use great content and images to drive them through the sales funnel.