With Instagram pushing Reels on the platform, everyone's creating them to gain more visibility and engagement. But we all know the headache of trying to crop your video clips just so and getting them to sync with the audio you want to use. This can take up a lot of your precious time and may be a major cause for frustration because you need to be very precise. Even a slight delay could throw the entire transition into a loop.
As a result, brands and creators alike may struggle to keep producing high-quality Reels at the pace they'd like. This is where Instagram Reels templates enter the picture, allowing you to create a new, share-worthy Reel in just a matter of minutes. So what are Reels templates and how can you use them? Let's find out.
---
Create Better Reels Faster with Instagram Reels Templates:
---
What Are Instagram Reels Templates?
As the name suggests, Instagram Reels templates come with pre-set clip durations and music that you can use to guide your content creation. All you need to do is add your photos and videos into the designated slots and that's it.
This saves you heaps of time and trouble because you no longer have to manually adjust clip lengths to make them sync with the audio you want to use. Instead, you can quickly choose the photos or videos you want to add, and the template will automatically display them for the pre-set duration. It also means you won't have to switch to a different app to create a new Reel since you can do it all within Instagram.
---
Why Use Instagram Reel Templates?
Now you may be wondering, "What's the big fuss?" You're already a content genius and can whip up a share-worthy Reel in minutes. So why should you use Instagram Reels templates? Let's take a look.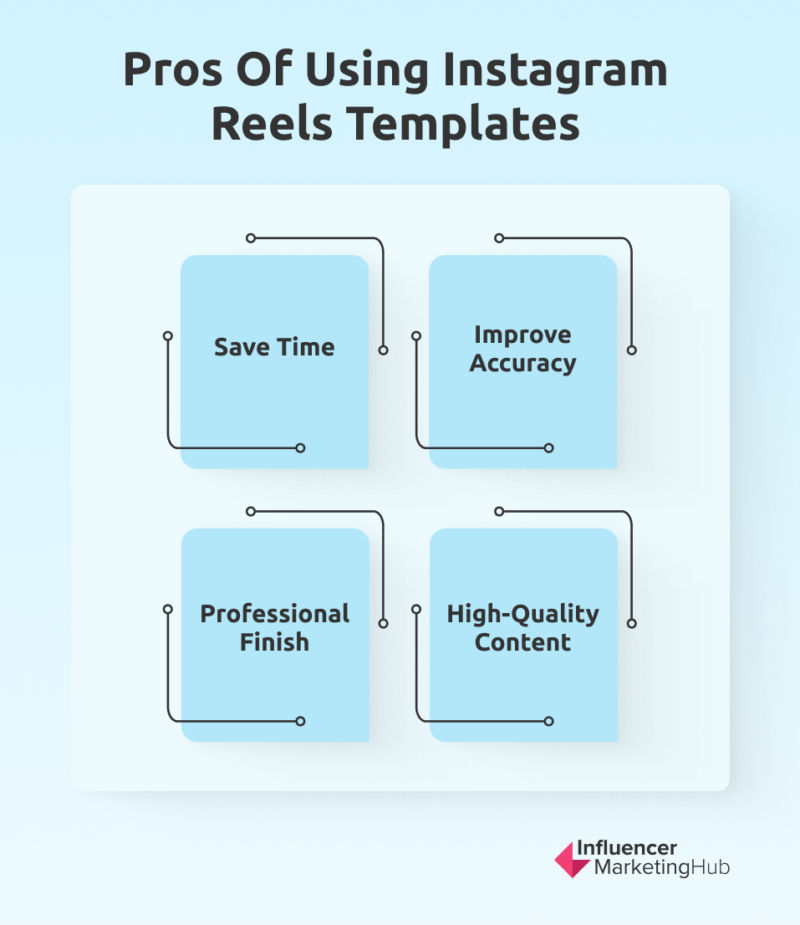 To Save Time
No matter how good of a content creator you are, you still spend plenty of time adjusting the length of your clips to get the perfect transition. Reels templates have designated slots that are already adjusted to the perfect length to align with the audio. This allows you to quickly add videos and photos without worrying about adjusting their length.
So even if you're already quick at creating Reels, using a template will allow you to further cut back on the time you spend creating content. And who doesn't like the option to save even just 5-10 minutes? Those are 5-10 minutes you could spend answering emails, making coffee, or even just scrolling through your Feed.
To Improve Accuracy
Instagram Reels templates allow for precise transitions. Since the clip slots have already been adjusted to sync perfectly with the audio, you won't have to go through the hassle of doing this manually. This leaves less room for error, ensuring that your clips transition seamlessly in tune with the audio you're using.
To Get a Professional Finish
As we all know, even a 1-second mismatch or delay could spell disaster and reflect badly on your brand or your expertise as a content creator. The accurate and well-timed transitions that you get with a Reels template can result in professional content that you'd be proud to share.
To Produce More High-Quality Content More Often
With the ability to save time and quickly come up with high-quality Reels, you get to produce better content more often. You'll be able to create plenty of share-worthy Reels in minutes. And the more often you post, the better your chances of gaining visibility on Instagram.
---
How to Use Instagram Reels Templates
Excited to start using these Instagram Reels templates? We've got you covered. Let's guide you through the process of creating a Reel using a Reels template. You have two options.
Use Templates from the Video Editor
The Instagram Reels editor offers a bunch of popular templates that you can use to start creating Reels. Head over to the Reels tab and tap on the camera icon at the top of the screen. This will open the video editor for Reels, where you can record new clips or add existing media files from your library.
Tap on "Templates" at the bottom of the screen. Then scroll through the different Reels templates available in the library. Once you've found the template you want to use, tap on "Use template" and start adding the video clips or photos you want to use.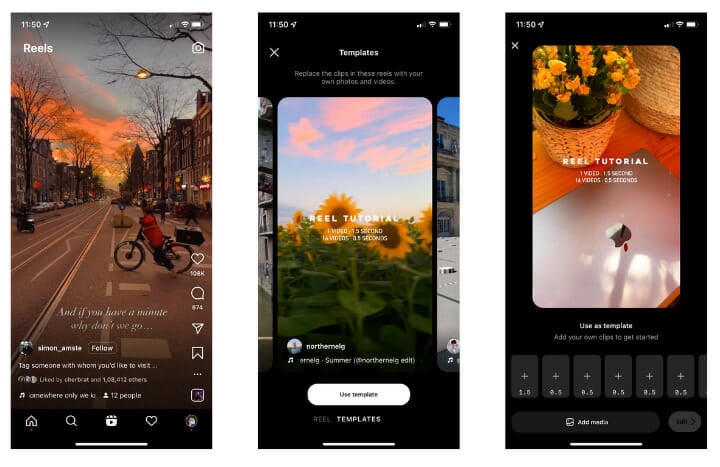 Repurpose a Reel You Like
Come across a Reel that you really want to recreate? Or perhaps you just love the transition and how it syncs with the audio. Just look for the "Use template" button above the name of the creator. If you see it, it means there's a template available.
Keep in mind that if the video has been edited outside of Instagram, this template won't be available. This is because Instagram is unable to identify the time stamps associated with each clip. As such, you'll find Reels templates only for those videos that have been created within Instagram by joining multiple clips together.
Tap on the "Use template" button to begin editing with the template. You can tap on the "Add media" button at the bottom of the screen or tap on any of the empty clip slots to add a new photo or video. That's all there is to it–although you could go through the usual process of editing and fine-tuning the Reel before you hit "Publish."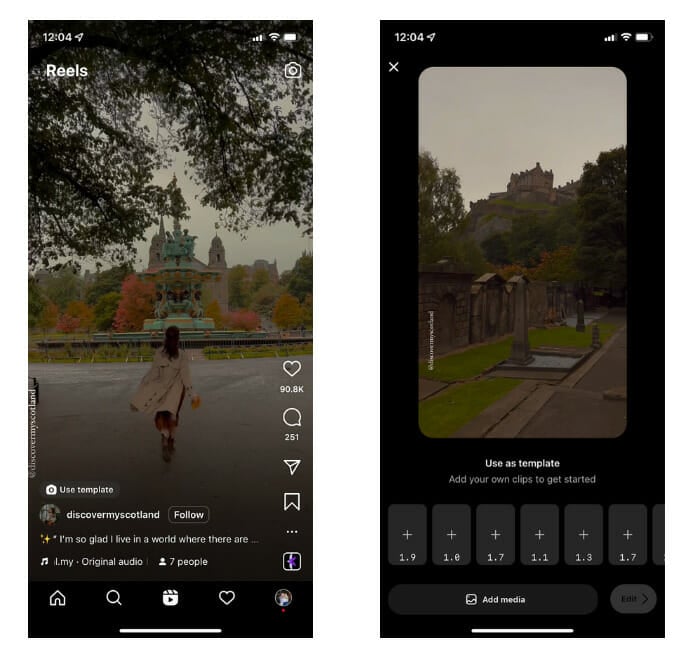 In both cases, if you're adding clips from a longer video, make sure to adjust which portion of the video you want to include in your Reel. If you're adding an image file, the template will automatically display the photo for the pre-set duration without you having to manually adjust the time slot.
Depending on the template you use, there will be a predetermined number of clips you can add to the Reel. For instance, some templates may require that you add at least 13 clips, while others may only need three. While you can't add more clips than what's included in the template, you can choose to skip some of the clips if needed. That means you can choose to add only three clips even if the template allows for five.
---
5 Tips to Improve Your Reel Game
Now that you know how to create Reels using templates on Instagram, you're probably all ready to start testing it out. Before that, let's give you a few tips and best practices that will help you improve your Reel game.
1. Use the Canva Template Library
As helpful as the template library on Instagram is, it tends to be a little difficult to navigate. Users can browse only by swiping left or right. This can make it a bit challenging to find the exact template that you want to use. Instead, consider using something like the Canva template library.
This library gives you access to thousands of Reels templates that you can browse by thumbnail. So a quick glance will tell you which template you might want to use. Hovering the cursor over each thumbnail will also show you the duration of each template, making it easier to find something similar to what you have in mind.
Further, Canva makes it easy to filter your search to narrow down the most ideal options. You can use the style filters to look specifically for clean, elegant, aesthetic, corporate, or minimalist templates. Meanwhile, the theme filter lets you narrow your search by purpose–whether it's about weddings, fashion, motivation, education, announcements, or marketing.
---
2. Create Reels Using Trending Music and Templates
Once in a while, a new Reels trend takes over Instagram. Suddenly, those trends are everywhere on the platform and everyone's creating something similar. Mostly influenced by an audio track, these Reels trends are an easy way to gain visibility on the platform and attract potential followers.
So make the most of Reels templates to jump in on the next big trend. Since templates make it a lot easier to create new Reels, you can quickly join in before the trend really takes off. This improves your chances of attracting viewers, enabling you to become one of the trendsetters.
---
3. Reuse Your Own Templates
Remember that one Reel you spent hours to get perfect? Well, that effort doesn't have to go to waste. Instagram automatically turns your Reels into templates once you publish them, provided:
Your account is public.

It contains music.

It includes three or more clips that you edited together within Instagram.
This means you get to repurpose your own templates and reuse them to create high-quality content consistently. Reusing your own templates could help you maintain consistency, which is important if you're making recurring content around a specific topic or theme. For example, you could use the same template to announce the theme for your monthly contest.
---
4. Schedule Your Reels to Go Out at the Perfect Time
Although the Instagram algorithm has undergone a lot of changes, timing is still critical. If you post at a time when your audience is active, they're more likely to see your content. This improves the chances that they'll engage with it. And the more engagement your Reel gets, the more visibility it'll get across the platform.
That's exactly why it's important to perfect your timing when publishing your Reels. In our study on the best time to post on Instagram Reels, we analyzed over 100,000 short-form videos to identify the best engagement rates. This helped us narrow down the best times to post throughout the week.
According to this analysis, early mornings worked surprisingly well, with Reels getting lots of engagement as early as 2 AM and 4 AM on Tuesdays. Check out the full graph below to see the best time to post on Instagram Reels.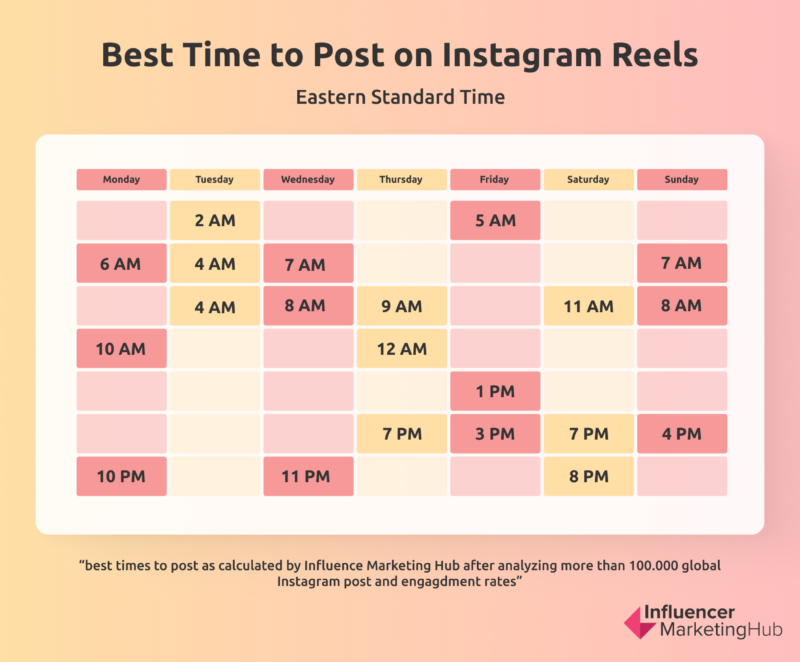 Still, it's important to note that the activity and behavior of your audience base may not be the same as that of other audiences. Make sure to look specifically at the activity timings of your audience to see when you should schedule your post.
---
5. Check Your Analytics to See What Works
To add to the above, you should also check your overall analytics to see what's working for you. Take a look at the different Reels you've created using templates and see which ones seem to drive the most engagement. Consider reusing the templates of the most popular Reels to see if you get the same results.
Frequently Asked Questions
How do I create an Instagram Reel template?
By default, Instagram will automatically create a template out of a Reel that you've published. However, the Reel must meet certain criteria for Instagram to turn it into a template. It must have music and it must comprise of at least three clips that you edited together using the Instagram app. Additionally, your account must also be set to public.
Can I save a Reel template to use later?
If you're not ready to use a Reel template right away, Instagram gives you the option to save a Reel to your collections. That way, you can access it later when you're ready to use the template.
Why don't some Reels have the "Use template" button?
Instagram can only detect the time stamps for videos that were edited together within the app. So many Reels don't have the "Use template" button because the videos were edited using a different app. Alternatively, Reels without music or Reels that have fewer than three video clips won't have this option either.
Where can I get free Instagram Reels templates?
The template library within Instagram's Reel editor gives you access to plenty of Reels templates that you can use for free. Additionally, third-party apps like Canva also offer a variety of free Instagram templates that you can customize for your Reels.
Can you copy someone's Reel on Instagram?
Yes, Reels templates make it easy to "copy" someone's Reel on Instagram. Provided the Reel has a template, you can simply tap on the "Use template" option and add your own clips to the template.