As short-form video grows in popularity, Instagram Reels have been a huge hit with social media users. It also helps that the platform has been prioritizing Reels, with the Instagram algorithm favoring them over other content formats and showing them more prominently in people's feeds. Three years after the company launched its response to TikTok, however, Instagram is still keeping details about its usage pretty secret. However, we managed to put together a few Instagram Reels statistics that you might find relevant to your strategy.
Before we get into the Instagram Reels stats, though, let's make sure we're all on the same page about what exactly this newest Instagram feature is and how it works to promote engagement.
---
16 Key Instagram Reels Statistics for Marketers to Know:
---
What Is Instagram Reels?
The Reels feature is an Instagram tool that lets users create and share short-form video content. Reels, like TikTok, lets you record and edit up to 90 seconds of video, add sounds and effects, and even include voiceovers. You can then share the videos either with your followers or, if you have a public account, with the larger Instagram community via the Explore page.
You may be wondering why you'd use Instagram Reels if you're already using TikTok. For many Instagram influencers, Instagram Reels just makes sense. After all, you've already put in the time and energy to build a following on Instagram.
Do you really want to put in that much effort on an entirely different platform while still having to maintain your Instagram presence? Probably not. With Instagram Reels, you don't have to.
You may also be wondering what the difference is between Instagram Reels and Instagram Stories. The honest answer is "not much." Both give you the chance to create short-form video content that you can share with your audience. However, the differences are small but important.
First, Instagram Reels includes a wider range of video editing tools, effects, and speed controls than Instagram Stories. You can also use Instagram Reels to combine multiple videos using the align feature to create seamless transitions. Unlike Stories, Instagram Reels doesn't allow the use of photos—all Reels must be video content. Another important difference between Stories and Reels is that Stories can only be shared with your followers. Reels, on the other hand, can be added to the Explore page where they're available to the entire Instagram community (if your account is public). You can, however, turn multiple images into a video montage of sorts for your Instagram Reels.
On top of this, your Reels remain in your profile as long as you don't delete them. Meanwhile, Stories disappear after 24 hours unless you add them to your Story Highlights.
If you've already used Instagram, TikTok, or any other TikTok alternative, you'll have no problem getting started with Instagram Reels. But, even if you aren't familiar with how any of those platforms work, it's not hard to do. Here's a really quick overview of how Instagram Reels works.
---
How Does Instagram Reels Work?
To create Instagram Reels, just choose the Reels option at the bottom of the Instagram camera. You'll then see the Reels editing tools on the left side of your screen. These editing tools include:
Audio: Search for and choose a song or sound from the Instagram music library. You can also use your own audio by simply recording a Reel with live audio. Keep in mind that when you share a Reel with original audio, your audio will be attributed to you and other users can create Reels with your audio by selecting Use Audio from your Reel (if you have a public account).
AR Effects: You can choose from several AR effects in Instagram's effect gallery. These effects are created both by Instagram and users all over the world and can be used to record multiple clips with different effects.
Timer and Countdown: Instagram Reels has a timer feature that lets you record your video clips hands-free. Once you press record, you'll get a countdown from three before the camera starts recording for the amount of time you've chosen.
Align: Instagram Reels has a really cool align feature that helps you line up objects from a previous clip before recording your next clip. This helps you create seamless transitions for things like outfit changes (a popular TikTok effect) or adding new friends into your Reel.
Speed: You can choose to speed up or slow down part of the video or audio you're using for your Instagram Reels. This can help you stay on a beat or make slow-motion videos.
---
Instagram Reels Statistics You Need to Know
Now that we've got the basics out of the way, let's move on to some of the most important Instagram Reels statistics. While some of these stats will be able to demonstrate the value of this popular Instagram feature, others might also help to inform your strategy. Let's dive in.
1. You Can Now Record Up to 90 Seconds of Video for a Reel
While Instagram Reels were initially just 15 seconds long, the platform has since given users the option to record longer videos. Instagram lets you record Reels for 15 seconds, 30 seconds, 60 seconds, and 90 seconds. This gives you much more flexibility to create more detailed videos in which you can discuss topics in-depth.
Users can change the duration of their Reels by tapping on the timer button from the toolbar and selecting the duration that works for them. Keep in mind that you don't necessarily have to limit your Reels to these preset durations. You can even create much shorter videos than what these options indicate. All you have to do is stop your recording when you're done capturing everything you want to capture.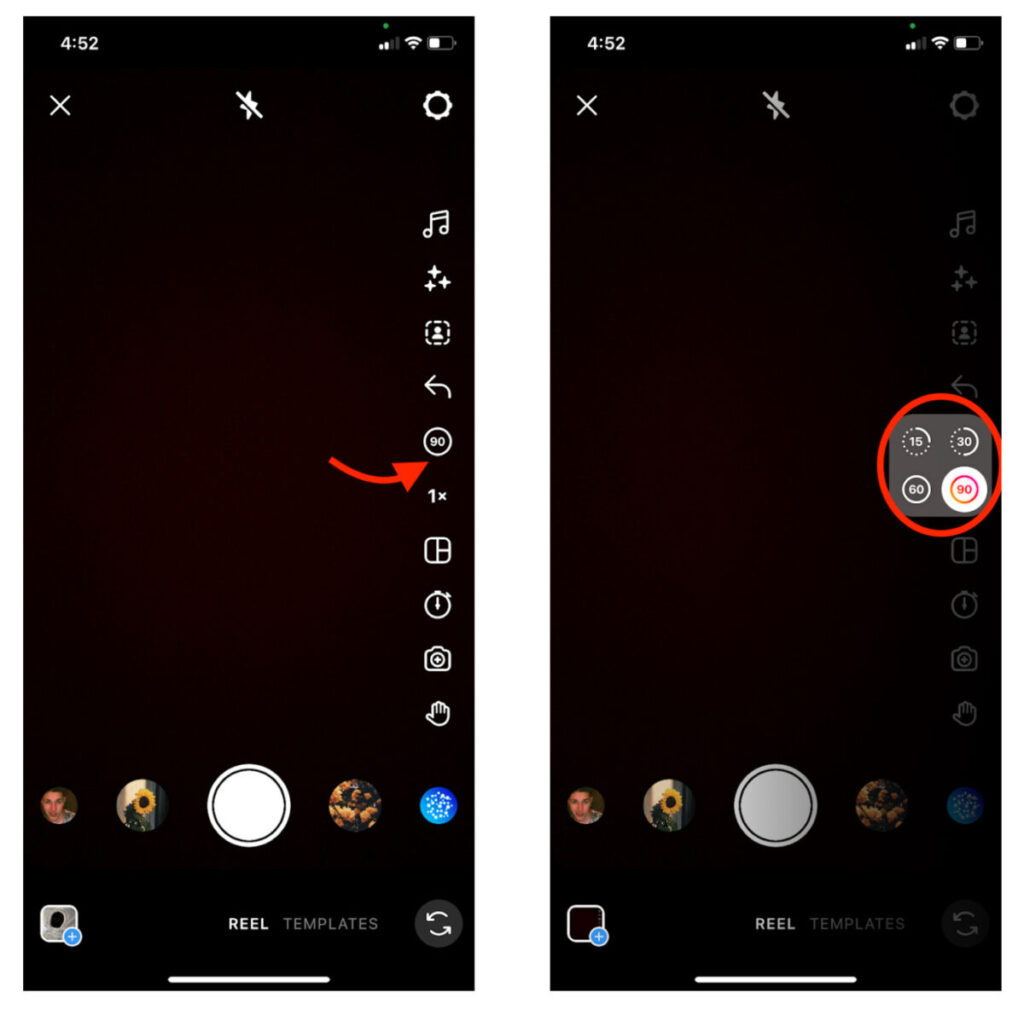 ---
2. Instagram Users Watch 17.6 Million Hours of Reels Per Day
A recent report has revealed that Instagram users are spending 17.6 million hours a day watching Reels on the platform. Although this may be 10 times less than the 97.8 million hours people spend watching TikTok videos per day, it's important to note that there are other content formats for Instagram users to interact with.
Beyond those 17.6 million hours watching Reels, users could be scrolling through carousel posts, viewing Stories, and so on. Meanwhile, TikTok solely focuses on short-form video content, which means that the number of hours watched is bound to build up.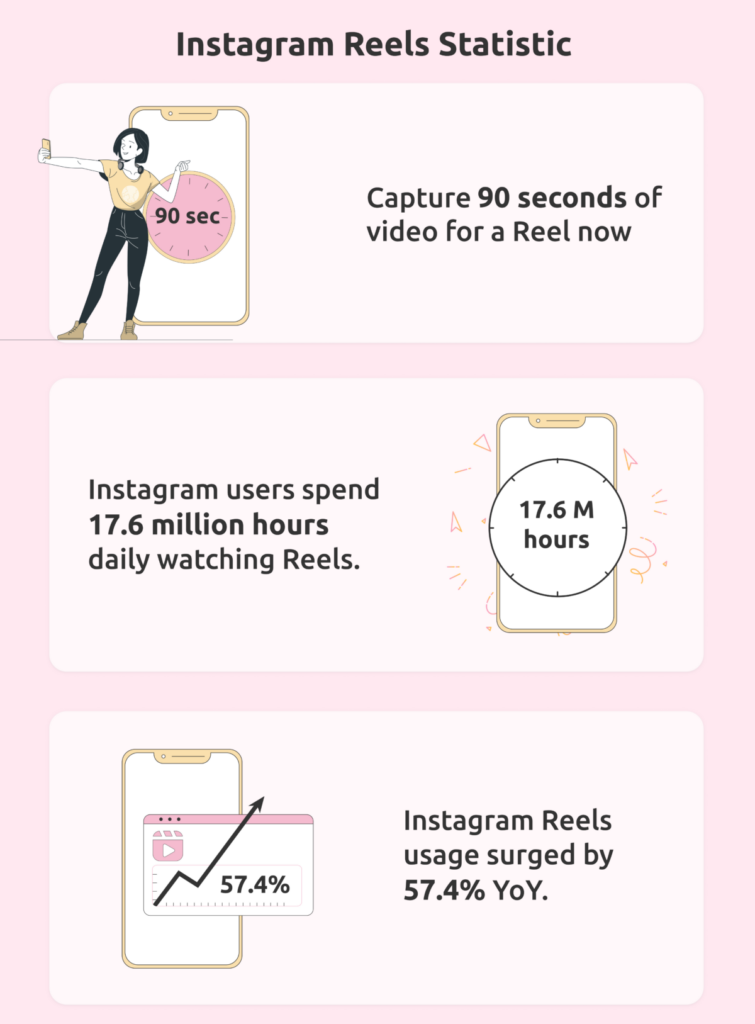 ---
3. Reels is Beating TikTok in Terms of Adoption
When it comes to adoption rate, it seems like Reels and other Meta products are outperforming TikTok. A 2023 survey by Morgan Stanley found that 74% of Instagram users are using the platform's Reels feature. Considering the adoption rates of 62% in March 2022 and 69% in September 2022, it's clear that there's a growing trend in the number of people using Reels.
Meanwhile, 49% of respondents in the survey were using TikTok. Although this is still an improvement from the 47% in September 2022, it shows that there's a notable difference in adoption rates between Instagram Reels and TikTok.
Instagram Reels adoption rate is also slightly higher than Facebook Reels adoption rate. Sixty-five percent of users were engaging with Reels on the Facebook app, according to the Morgan Stanley survey.
---
4. Instagram Reels Usage Increased 57.4% Year-Over-Year
In line with the above data, there's also been significant growth in Instagram usage since it was introduced in 2020. A SocialInsider study discovered that there was a 57.4% year-over-year increase in usage for Instagram Reels in 2023. In 2022, only 19.67% of brands in the study were using Reels whereas 30.85% started to use Reels in 2023. While the usage of image posts has remained more or less the same, Reels usage has surpassed carousel posts based on the data.
---
5. Reels Get the Most Reach Out of All Instagram Content Types
Even in terms of reach, Reels are clearly outperforming other Instagram content types such as carousels, image posts, and regular videos. A HypeAuditor analysis of 77.6 million Instagram posts revealed that Reels have the highest estimated reach (33.8%) among every other content type. Image posts see an estimated reach of 29.9%, which is followed by carousel posts with a 22.4% estimated reach. Regular videos performed the poorest with a 13.9% estimated reach.
This is consistent with SocialInsider's findings that Reels generate two times more reach than any other content type on Instagram. Based on the study, Reels see an average reach rate of 30.81% while carousels and image posts see an average reach rate of 14.45% and 13.14% respectively. It's important to note that there was a significant drop in reach rate for carousels between 2022 and 2023.
With much a higher reach, Reels are your best bet at gaining virality on the platform. You're more likely to improve visibility when you focus on producing high-quality Reels. This will positively impact other aspects of your Instagram performance.
---
6. You Can Generate 2x More Impressions with Reels
To add to the above metric, Instagram Reels are also seeing the highest level of impressions among all content types. On average, Reels have an impression rate of 33.83%. Although this is a significant drop compared to the previous year's 50.42%, it still translates to two times higher impressions compared to other types of content on the platform. This shows that Reels are being displayed much more often to users, which improves your chances of driving visibility and engagement.
---
7. Reels Reach is Significantly Higher for Smaller Accounts
Interestingly, reach rate for Instagram Reels is much higher for accounts with fewer followers. According to Statista, accounts with up to 500 followers boast an average reach rate of 892%. Although this is drastically higher than the reach rate of accounts with more followers, larger accounts still see significant reach for their Instagram Reels.
Accounts with 500 to 2,000 followers see a reach rate of 152% while those with 2,000 to 10,000 followers receive a 76% reach for Reels. Meanwhile, accounts having between 10,000 and 50,000 followers see a reach rate of 85%. Even those with massive following sizes (up to 45 million) still manage to get a Reels reach rate of 64%.
---
8. Reels Get More Likes than Any Other Instagram Content Type
The HypeAuditor study from earlier also found that Reels significantly outperform other content types when it comes to likes. According to the study, 35.4% of the total likes can be attributed to Instagram Reels whereas image posts get about 24.6% of the likes. Carousel posts come next with 24.2% of the likes while video posts only make up 15.6% of the likes.
However, according to the same study, image posts were still the most commonly created content on Instagram. So brands and content creators alike can gain a competitive edge by focusing their content production efforts on generating more Reels.
---
9. Instagram Reels Have the Highest Engagement Rate
Although the HypeAuditor study above shows a higher percentage of comments for image posts than Reels, the latter still stands strong when it comes to overall engagement. In fact, see the highest overall engagement compared to any other type of content on the platform.
On average, Instagram Reels generate an engagement rate of 1.23%, which is a slight decrease from the previous year's 1.66%. However, it's still significantly higher than the engagement rates for carousel posts (1.02%) and image posts (0.72%).
So if you want to create content that drives engagement, your focus should be on Reels. Remember that people have to see and engage with your content first if they're going to take an interest in your products or services. You can effectively get them to learn about your offer and understand its benefits by creating content that they'd want to engage with.
---
10. You Can Reach 726.8 Million People with Instagram Reels Ads
Instagram introduced Reels Ads in 2021, giving advertisers the option to exponentially grow their reach. With this placement, your ad will be displayed to users in between different Reels in the Reels tab.
The good news for brands is that these Reels Ads command massive reach. According to the Digital 2023 Global Overview Report, advertisers can reach 726.8 million users through this ad placement. This translates to over half (55.1%) of the platform's total advertising reach.
---
11. You Can Reach More Men Than Women through Reels Ads
According to the same report as above, men make up 54.7% of the audience that you can potentially reach through Instagram Reels ads. Meanwhile, women make up 45.3% of the audience you can reach by advertising on Reels. In spite of a slight difference, the gender distribution is pretty balanced, which makes Reels ads a great option for brands that want to target either or both men and men.
---
12. Reels Ads are Most Effective for Targeting Users Aged 18-34
Based on the Digital 2023 report, most of the users you can reach through advertising on Reels are between the ages of 18 and 34. These age groups make up a majority of the Instagram Reels ad audience. So if your target audience comprises people in these age groups, you could greatly benefit from leveraging this ad placement option.
---
13. People are Creating More Video Posts
The same report also found that video posts, including Reels, make up 35.9% of all posts on the main Instagram feed. This puts it right behind photo posts, which make up 45.3% of all main feed posts. This goes to show that there's an increase in the number of video content being created, with Reels likely contributing to a significant portion of those posts.
---
14. 80% of Brands Have Published at Least One Reel
The adoption of Reels among brands is also seeing an uptick. According to the Emplifi Social Media Benchmark report, 80% of brands on Instagram have created at least one reel in Q3 of 2022. That's almost double the number of brands creating Reels back in 2021 when only 41% of brands were posting Reels content on Instagram.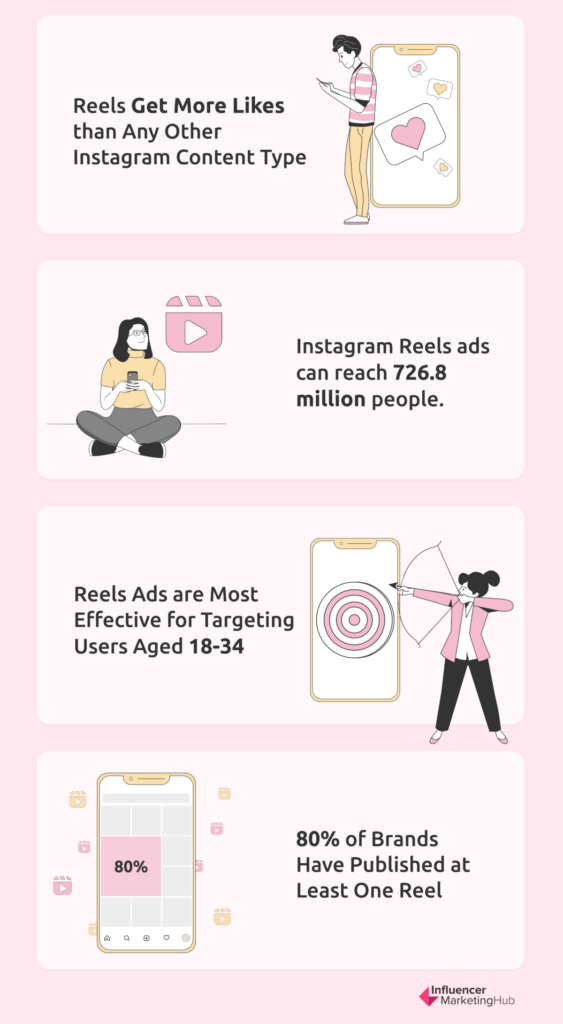 ---
15. Reels are Highly Popular among Sporting Brands
Adoption of Instagram Reels may have increased across the board. However, the feature is most popular among brands in the sporting industry. The Emplifi report above found that 92% of sports organizations and sports and sports events publish Reels to engage their followers. Additionally, 88% of sporting goods brands also do the same.
These numbers speak volumes about the effectiveness of Instagram Reels at engaging people. Brands in other industries can achieve similar results with the right strategy in place. This essentially involves having a clear understanding of what resonates with your audience and creating more Reels accordingly. Consider testing different Reels to see which ones are performing well so you get a sense of what works with your target audience.
---
16. Instagram Reels Can Drive Purchases
For most businesses, it's not about the reach or impressions or even the engagement rate but rather about how it affects the company's bottom line. So you'll be very happy to learn that Instagram Reels can compel many people to make purchases. In fact, a Meta-commissioned study found that 77% of respondents had bought a product or service after watching Reels. While the study is limited to users in India, it's safe to assume that the same trend will be consistent across other markets.
On top of this, Reels aren't just driving direct purchasing action. They also drive follows and direct messages. The same study found that 82% of respondents followed a business while 74% messaged a business after watching their Reels.
---
Wrapping Up
Instagram Reels is a nice addition to Instagram's features and offers something slightly different from Stories since the content doesn't disappear after 24 hours. As the feature becomes more mature, it will be interesting to see how brands and influencers are able to leverage the popularity of the Instagram platform to make Reels work for their businesses.
Check back often to get all the latest Instagram Reels statistics!
Frequently Asked Questions
What is Instagram Reels?
Instagram Reels is a new feature on Instagram. It was launched on August 5, 2020 in 50 countries. You can use it to create and share short-form video content with your followers. Similarly to TikTok, you can use it to record and edit videos that are 15 seconds long. You can also add effects and sounds. If you have a public account, you can also share your content with the bigger Instagram community by means of Explore page.
How Do I use Instagram Reels?
Select the Reels option (you will see it at the bottom of the Instagram camera). Then, use the Reels editing tools found on the left of your screen. Using the editing tools, you can then add audio and AR effects or choose to slow down or speed up parts of your video/audio. Thanks to the timer and countdown, you can also record your video clips hands-free.
What is better: Instagram Reels or TikTok?
Instagram Reels was designed as an alternative to TikTok. Though, there's still a long way before it will be a direct competitor for TikTok. For example, TikTok provides many more video editing tools, sounds and effects. Also, seeing that social media platforms such as Snapchat have created filters and lenses specifically for TikTok, the chances are good that TikTok will continue to perform better than Instagram Reels. It will be interesting to see how influencers and brands will leverage this new feature as it matures.
Is Instagram Reels good?
There are a few brands that have used Instagram Reels successfully. The NBA franchises have reported that they have managed to increase their engagement by 22% compared to the average engagements that their standard Instagram Stories and posts have generated. For example, the Los Angeles Lakers have gained over 385,000 engagements and over 4.1 million plays from just one video. Louis Vuitton has also reported that all of their Reels have gone viral.
What is the difference between Instagram Stories and Instagram Reels?
To be honest, there are not many differences between the two features. Reels is only slightly different from Stories as you can share your Reels with the whole Instagram community if you have a public account. Another minor difference is that Instagram Reels offers a bigger selection of video editing tools, effects and speed controls. For example, with the align tool, you can combine multiple videos seamlessly. Though, unlike with Stories, when using Instagram Reels, you may only use video content and no photos.