Not everything that happened in 2020 was bad. Among all the restrictions, brands and creators were also given more choices with the introduction of Instagram Reels. With the infancy years behind it, Instagram Reels have matured to become one of the most popular formats. The jury is still out as to if it's better than TikTok, but if you target mostly millennials as opposed to Gen Zers, incorporating Instagram Reels and, the newer feature, Instagram Reels Ads into your marketing strategy is a must.
If you're not familiar with Instagram Reels yet, we're going to reserve judgment. To get you up to speed, we've included a short summary of how it works. As to Instagram Reels Ads, it's only been around for slightly over a year, and you're forgiven if you haven't used it yet. If you're ready to get started with Instagram Reels Ads, here are six suggestions for making the most of this powerful feature.
---
A Quick Guide to Using Instagram Reels Ads Like a Boss:
---
What's Instagram Reels?
Launched in 2020, Instagram Reels is one of the platform's newer features. Labeled as a copycat of TikTok by some (or more delicately put as the platform's response to TikTok), it basically lets users create short-from video content. In fact, according to Instagram Reels statistics, the vast majority of Gen Z users view Reels and TikTok as essentially the same thing.
The videos can be up to 90 seconds long (it was initially capped to merely 15 seconds) and can be set to music. In addition to the Reels tab on your profile, you can also share it to your Stories and then there's the chance that it could be included in the Reels Explore feed for more exposure.
---
How Does Instagram Reels Ads Work?
About a year after Instagram introduced Instagram Reels, it launched Instagram Reels Ads. In short, it helps creators and brands to get discovered by anyone and reach users who don't necessarily follow them. For businesses, it can be just as valuable helping them to reach a global audience.
If you're already familiar with Instagram Stories Ads, you'll have no trouble figuring out how this feature works. It's similar to Stories Ads and will show between individual Reels in the Reels tab, and the Reels Explore feed.
It can be full screen and vertical and will loop. When users tap on the reel via the Reels tab or Explore feed, they'll be redirected to a viewer that will show only reels in vertical format.
As to length, it can be no more than 30 seconds long (this used to be 30 seconds). As users will be able to comment, like, share and save these types of ads, it can help to drive engagement. And, if a particular Reel has the opposite effect, users will be able to skip the ad. And, if they really don't like a specific Reel, they can take it even one step further and hide or report it via the menu.
---
How to Leverage Instagram Reels Ads
Considering that Reels generate 22% more engagement than regular Instagram video posts and six out of 10 Gen Z TikTok users plan to spend more time interacting with Reels, you'll want to use every trick up your sleeve to make the most of the Instagram Reels Ads feature.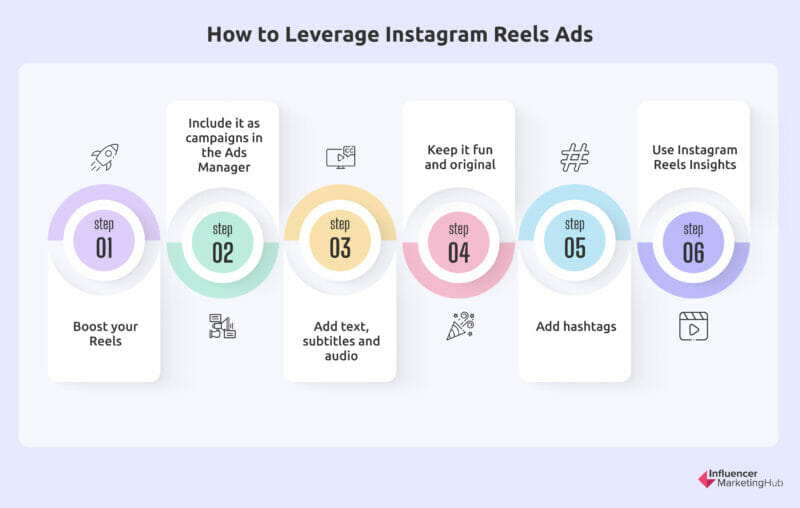 1. Boost your Reels
One way is to boost your Reels within the platform. In the middle of 2022, the platform introduced this new update that will enable businesses to create Boosted Reels to help them reach new users and generate more engagement. A boosted Reel will show up in the feed, Stories, Reels tab and Explore tab.
Not all Reels can be Boosted, though. Only Reels that are shorter than 60 seconds and have an aspect ratio of 9:16 (in other words are recorded vertically in full-screen format) will qualify. Also, the Reel may not contain any GIF, copyrighted music, camera filter, or interactive stickers. Lastly, if it's uploaded to Facebook before, it will also be ineligible for boosting.
If your Reel meets these criteria and you would like to explore this option, it's very simple. All you need to do is to find the reel that you want to boost in your grid and tap on Boost Post. Then, remember to analyze your insights to determine which ads generated the best engagement.
---
2. Include it as campaigns in the Ads Manager
Another way that you can incorporate Instagram Reels into your paid efforts is as campaigns in the Ads Manager. After you've created your ad, navigate to the Ads Manager (to do this, you'll need to have an Instagram business account) and click on "Create". Next, select the goal you want to achieve by placing the ad on Instagram Reels. Currently, you can choose from the following goals for Reels ads:
Brand awareness

Reach

Traffic

App installations

Video views

Conversions
After ticking the business objectives, complete the other ad campaign details like target market, budget, and schedule. Select "Manual Placements" and then the Instagram Reels option from the drop-down menu next to Stories.
Depending on your type of ad and its goal, you can also edit the call-to-action prompt. For example, if you're selling a subscription it will make much more sense to opt for "Sign Up" or "Read More" as opposed to something like "Shop Now".
---
3. Add text, subtitles and audio
The content that you create needs to be user-friendly. For example, by adding audio, your Reels content will seamlessly fit in with the rest of the content typically shared on Instagram. However, if you plan on boosting your post (which we recommend), remember that you may not include copyrighted music.
While adding audio is recommended, it's important to keep in mind that Instagram users often choose to mute the sound when browsing the platform. For this reason, on-screen text and subtitles can be very effective. This way, your message will still be communicated. It's not just about catering to personal preferences. Some members of your target audience might have a hearing impairment and by adding subtitles, your content becomes accessible to them, helping to portray your brand as inclusive.
---
4. Keep it fun and original
As it's seen as an alternative to TikTok, Instagram Reels Ads should be all about fun. Apply some creativity and focus on the lighter side of your brand. Avoid coming across as too promotional or you'll lose your audience's interest and they'll simply skip to the next ad (remember the platform gives them that option).
Seeing that it's so similar to TikTok, it can be tempting simply to repurpose some of your older TikTok videos. Don't. Going this route could negatively impact your chances of popping up in the Reels Explore feed.
---
5. Add hashtags
To help Instagram's algorithm, it's also recommended that you add relevant hashtags to your Reels. Not only can it help you to increase your reach and engagement, but you can also use it to grow better brand awareness. You can, for example, use branded hashtags or select relevant hashtags to help you communicate the values of your brand. Transparency and social justice are getting more attention and with hashtags you can show to viewers that you care about the issues that matter to them too.
Here are some popular Instagram Reels hashtags that you can try out:
#reelsteady

#viralvideos

#reelsinsta

#instareel

#viralreels

#instamoment

#reelinstagram

#firstreel

#instadaily

#memes

#funny
Alternatively, you can turn to your competitors and social media influencers and see which hashtags they've incorporated. Speaking of competitors, you can also browse other social networks for hashtag ideas. What's trending on TikTok? After all, the twin rivalry between Instagram Reels and TikTok are strong.
---
6. Use Instagram Reels Insights
We've mentioned Instagram Reels Insights before when creating boosted content. However, even if you have no plans of boosting some Reels, studying your Reels analytics is key. You can, for example, use a tool like Hootsuite, that makes it easy to evaluate the performance of your Reels. Via its intuitive dashboard, you'll discover valuable stats about reach, engagement rate, plays, likes, shares, ad comments.
Alternatively, you can use the insights shared via Instagram's own app, that's if you have a business account. You'll find the Insights button on your profile page below your bio. Your Reels analytics will be found under the Reach breakdown. On the Insights overview screen, you'll also be able to view insights that deal exclusively with Reels. If you want to view the performance of a specific Reel, simply open that Reel via your profile, click on the three dots and select Insights.
You should continuously check your insights. Not only to find out how they performed, but also to get a better understanding of what your audience responds to better. Armed with this knowledge, you have a better idea of which calls to actions, filters, effects, audio, and text work.
---
Wrapping Things Up
Whenever people write about anything related to Instagram Reels, they tend to refer to TikTok in the same breath, quite often focusing on how it's so similar. That said, it's been just over two years since Instagram Reels were introduced and it's become a powerful feature in its own right.
Considering that Instagram Reels is currently not as saturated yet, it offers the perfect platform to take advantage of advertising. Then, to make the most of your ads, be sure to invest in some paid efforts. Whether you prefer to boost your Reels or incorporate them into your paid efforts as campaigns in the Ads Manager, both strategies can help you to increase your reach even further.
Frequently Asked Questions
Which is better: Instagram Reels or TikTok?
If you want to focus on short-form video content, both Instagram Reels and TikTok are good options. Instagram is more popular among millennials, making Instagram Reels the better choice if you mostly target this age group, while TikTok is more popular among Gen Z users. That being said, most content creators and brands use TikTok as well as Instagram Reels and so if you want to maximize your audience reach, it can be a good idea to do the same.
What are some tips for including Instagram Reels Ads into your marketing strategy?
If you plan on experimenting with Instagram Reels Ads, it's recommended that you incorporate it into your paid efforts as campaigns in the Ads Manager or by boosting your Reels. Before creating the actual Reels to be used, take the time to research trends on TikTok as this platform is typically one step ahead. You can also look at how other brands have used Reels for some extra inspiration. Then, to make sure that your content caters to as many as possible, remember to include audio, subtitles, and text.
Where can you find data on the performance of your Reels?
You can, for example, invest in a third-party social media management tool that includes Instagram analytics like Buffer, or use the insights provided by the platform itself. To access Instagram Insights, the platform's native analytics tool, you'll need to have a Creator profile or Business account, though. If you have this profile all set up already, all you need to do is go to your profile page and click on "Insights". Here you'll find information about the total number of interactions, reach, and engagement like shares, comments, and plays.
Can you repurpose your Instagram Reels content?
Yes, it's possible to download your Instagram Reels and repurpose the content by using it somewhere else. In fact, reusing this content can offer a number of perks. It can help you to save time, while increasing the chance to reach a new audience. In addition to turning it into ads, you can also share it as highlights on your Instagram profile or turn it into a video Pin to be shared on Pinterest. As the format is very similar to TikTok, you can also repurpose the content for TikTok.
What are Instagram Reels Ads?
Instagram Reels Ads is another way that businesses and creators can advertise on Instagram. Introduced in June 2021, it looks very similar to Instagram Stories Ads. They're also vertical videos in full-screen format.