Instagram Stories has truly been a surprise success on the social media platform. Initially introduced as a potential "SnapChat killer," it aimed to take one of SnapChat's most significant features and enhance it. Over time, Instagram has continually improved and expanded its feature set, with one of the latest enhancements being the ability to add music to your Instagram Stories.
Have you ever wished your pictures or Stories could come to life with the perfect song? If so, you're in luck, because Instagram now offers that very option. Adding music to your Instagram Stories can truly make them more engaging and enjoyable for your friends and followers.
Interestingly, a significant portion of Instagram users (60%, according to Brandwatch) watch Stories with the sound turned on. This statistic underscores the impact of adding music to your Stories, as it can enhance the user experience and make your content more appealing.
So, if you're eager to learn how to add music to your Instagram Stories, you've come to the right place. In this guide, we'll explore Instagram's music sticker feature, providing you with all the information you need to elevate your Stories. Additionally, we'll discuss alternative methods for adding music to your Stories if you don't yet have access to the music sticker feature.
With this feature, you can take your Instagram Stories to the next level, captivating your audience and adding an extra dimension to your content.
---
You Can Now Add Music to Instagram Stories:
---
How to Add Music to Instagram Stories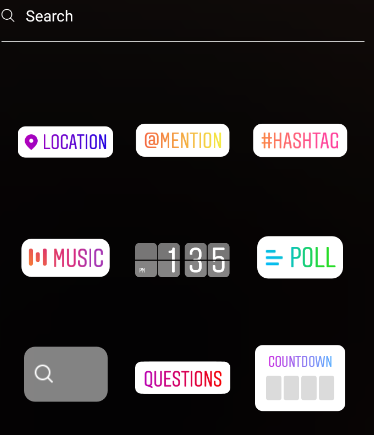 Instagram launched their Music sticker in 2018, which made it easy for people to add music to their Instagram Stories. This works like any other sticker available for Instagram Stories and is fairly easy to use.
However, if you don't know how to use this sticker to add music to your Instagram Stories, then don't worry, we are here to help you.
Here is the step-by-step process of adding music to your Instagram Stories using the Instagram music sticker.
---
Step 1
Go to the Instagram Story creation interface.
---
Step 2
Add an image to your Story, as you usually do.
---
Step 3
Click on the stickers icon to see all the stickers available. The stickers icon is the little square with a smiley face at the top of your screen
---
Step 4
Click on the music sticker. This opens a new screen
---
Step 5
Select the song that you like and add it to your Story. You need to decide the length of the clip you want (up to 15 seconds) and the precise part of the song you wish to use. If you're adding a music clip to a section of a video, the music clip will automatically be the sem length as your video.
---
Step 6
Select the song that you like and add it to your Story. You need to decide the length of the clip you want (up to 15 seconds) and the precise part of the song you wish to use. If you're adding a music clip to a section of a video, the music clip will automatically be the sem length as your video.
---
Step 7
The selected song will appear as a sticker on your Story
---
Customisations Available for the Music Sticker
You can not just add music to your Instagram Stories, but also select how you want it to appear in the Story. You can choose to show the lyrics of the song in your story or make it appear like a music player. You can even customise the look of these lyrics and players.
Here are some of the customisation options for selecting the appearance of the music sticker on your Story.
Font Style
You can choose a font style from the given list of options to change the way a song's lyrics appear in your Story. These font options are available at the bottom of the screen and appear as shown below.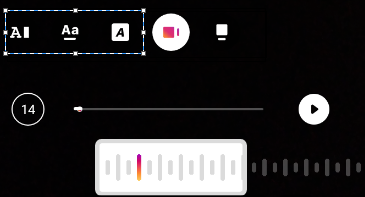 Type of Display
You can choose whether you want to show the lyrics of the song or a music player. Even with the music player, there are two different options that you can choose from. A small player with the name of the song and singer highlighted, along with a small thumbnail picture. Another one is a bigger player where the picture is highlighted and the names appear in small font below the picture.
Colour
Another customisation option that you get is to select the colour for the lyrics. Even when you choose the player as your display option, the background colour can be changed.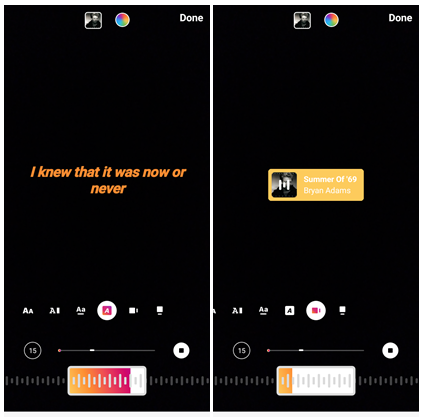 So, play around with these customisation options and create a music sticker that you like, along with adding the actual music clip to your Story.
Instagram has been expanding their music library and there will be more songs for you to choose from in the future. So, enjoy this cool feature and add flavour to your Instagram Stories.
---
You Can Add Lyrics to Instagram Stories
Instagram upped the music ante in June this year when they added the ability to add lyrics to your Stories. This effectively turned Instagram into a karaoke app. You won't find the lyrics for nearly every song on Instagram, but you should be able to find some for your favorite musical genre.
This means that you can organize one great singalong for all of your followers.
We're used to Instagram "stealing" features, often improving on them, from SnapChat. You have to wonder whether the Instagram development team have now turned their attention to TikTok. It's clear that the availability of music and the associated lyrics on Instagram is particularly popular with younger Instagrammers.
Adding lyrics is simple. You create your Instagram Story, as usual, adding a Music Sticker, as described above. If a song has available lyrics, they will pop up on your screen automatically.
You can easily change the appearance of the lyrics in your Story so that they fit in with the mood of the visuals. Instagram offers a wide range of fonts, designs, and text effects so that you can personalize the lyrics as you desire. Your viewers can tap on the lyrics to find out more about the artist, or even listen to more of the song. You can also customize what the Music sticker look like on your Story.
If you have lyrics showing up in your Story, it's probably more important than ever that you select the best portion of the song to convey the meaning of your message. Alternatively, you can, of course, use multiple 15-second blocks fo the song on different slides of your Story, with the lyrics matching them – to effectively create an entire song for your friends to sing along.
---
Best Practices for Using Music in Your Instagram Stories
Remember to keep your audience in mind when you create an Instagram Story with music. Your artistry may not quite match that of a famous film or TV music composer, and your video will be considerably shorter, but you still want your music to match your visuals.
In some ways, the short period of an Instagram Stories clip is harder than with a long video. You need to limit yourself to a section of a song that fits logically with your image. It's probably easier to do this with a picture, where you have the same image fro 15 seconds than with a video that can last for any length up to 15 seconds.
Unless you are looking for a specific lyric section to match your Story image, you need to ensure that you can find a clip with a definite part of music you can use. You don't want to break into a section of music, and you don't want to finish abruptly when your time runs out.
A common practice is to start a song at the beginning of its chorus. Hopefully, you can stop it at the end of a line, or at least avoid finishing mid-word abruptly.
Take the effort to style the Music sticker, so it doesn't detract from your Story. You can select from three styles: Normal, Transparent, or Square. You can position the sticker anywhere you want on your screen and alter its size to ensure that it doesn't cover up anything you want people to see clearly.
Make sure that you preview your Story first, to check to see that the music works with your images/videos.
---
This is Still Only Available in Select Countries
Lyrics are still a relatively new addition to music in Instagram Stories. The company is gradually rolling out the feature across select countries.
One reason for this gradual release could be the thorny issue of music rights. Presumably, Instagram has made licensing agreements with music companies, and they will have to be negotiated separately for each region. The first countries to access Instagram Music are Australia, New Zealand, France, Germany, Sweden, the UK, and the USA. Presumably, other countries will be added to this list when legal issues are sorted.
Several websites have suggested a workaround for this limitation if you live outside the official nations. According to Techwiser, you should follow these steps:
Uninstall your existing Instagram app

Use a VPN on your phone. You should find a suitable VPN by searching if you don't already have one of choice. There are both free and paid alternatives

Connect to a server from one of the "legitimate" countries (i.e., Australia, New Zealand, France, Germany, Sweden, the UK, or the USA.)

Follow the VPS's instructions to ensure that it's running properly

Go to your app store and reinstall Instagram

Log into your account
At this point, you should be able to create a Story with music by following the instructions above. Make sure that you can see the Music tab on the bottom left as you create your Story.
---
Alternative Way to Add Music to Your Instagram Stories
People have been incorporating music into their Instagram Stories long before Instagram introduced an official method. This alternative approach can be handy if you feel constrained by the conventional method or if you reside outside approved countries and prefer not to use a VPN.
The easiest way is to include videos in your Story that already have music. At its simplest, this involves having background music while recording your video, captured by your phone, video camera, or other recording devices. However, for higher-quality music, consider using a video editing app.
A wide range of video editing software is available, from free apps to professional ones like Adobe Premiere Pro or Final Cut Pro. While these professional programs exceed the needs of adding music to 15-second Instagram clips, you can find more user-friendly video editing apps suitable for general Instagram use, often free or budget-friendly.
One such app is Animoto: Social Video Editor, designed for creating Instagram Stories videos, complete with a library of commercially-licensed music.
When adding music to your videos, create an Instagram post/Story as usual and add the edited videos from your Camera Roll. Enhance the user experience by including a "Sound On" sticker on the first slide of your Story.
Another way to add music to your Instagram Stories is by simply creating a video with music and adding it directly to your Story. You can share videos with music by adding them to your Instagram Story. Various tools are available for creating music-infused videos, but remember to keep them under 15 seconds and add the "Sound On" sticker to indicate audio.
Additionally, you can incorporate music from external services into your Instagram Stories. Platforms like Spotify, SoundCloud, and Shazam offer extensive music collections for sharing on Instagram Stories. Select a song from these platforms, choose "Instagram Stories" from the sharing options, and the music will appear in your Story with the song's cover image. Customize your Story with stickers and text as usual.
After your Story is posted, it serves as a link back to the music-sharing app or service, directing anyone who clicks on it. Keep in mind that this functionality is exclusive to mobile apps and not available on desktop, as Instagram primarily operates as a mobile application.
---
Conclusion
Adding music to your Instagram Stories makes these more interesting for your friends and followers. You can convey the mood, story behind a picture, or simply share a song that you like with your followers. Now you know exactly how to add music to your Instagram Stories, with or without the music sticker. So, use this post as a guide to create fun and engaging Stories to delight your audience.