Advertising Disclosure
Advertising disclosure:
Our partners compensate us. This may influence which products or services we review (also where and how those products appear on the site), this in no way affects our recommendations or the advice we offer. Our reviews are based on years of experience and countless hours of research. Our partners cannot pay us to guarantee favorable reviews of their products or services.
Instagram is by far the most popular platform for influencer marketing, with 72% of marketers using Instagram for this strategy in 2022. And with over 2 billion monthly active users, this should come as no surprise.
Plus, Instagram offers a number of different content types, making it the perfect platform for influencers to share a wide range of content promoting their brand partners.
However, Instagram Reels are becoming a wildly popular format for influencer marketing. These are Instagram's version of TikTok—quick, 15-60 second videos that are easily digestible and scrollable.
This is why many influencer marketing agencies are starting to offer Instagram Reels-specific services. Throughout this article, learn more about what a Reels influencer marketing agency is, why you might want to work with one, plus six agencies to check out.
Let's get started.
---
What is a Reels Influencer Marketing Agency?
A Reels influencer marketing agency is an agency that either focuses on or incorporates Instagram Reels into the influencer marketing strategies they create. With over 2 billion Reels viewers (all of Instagram's MAUs interact with Reels), this medium should be a big part of your strategy.
Reels influencer marketing agencies make sure that they're choosing influencers who create engaging Reels so that their content is high-quality and resonates with their audience, sending more potential customers your way.
If you're interested in incorporating Reels into your influencer strategy, make sure that you ask the agencies you're interviewing if this is something they offer and that they have a lot of experience in.
---
Top Reels Influencer Marketing Agencies
Looking for an Instagram Reels influencer marketing agency? We've got six top agencies for you to choose from—all of which offer both Instagram content and Reels as part of their influencer marketing campaign expertise.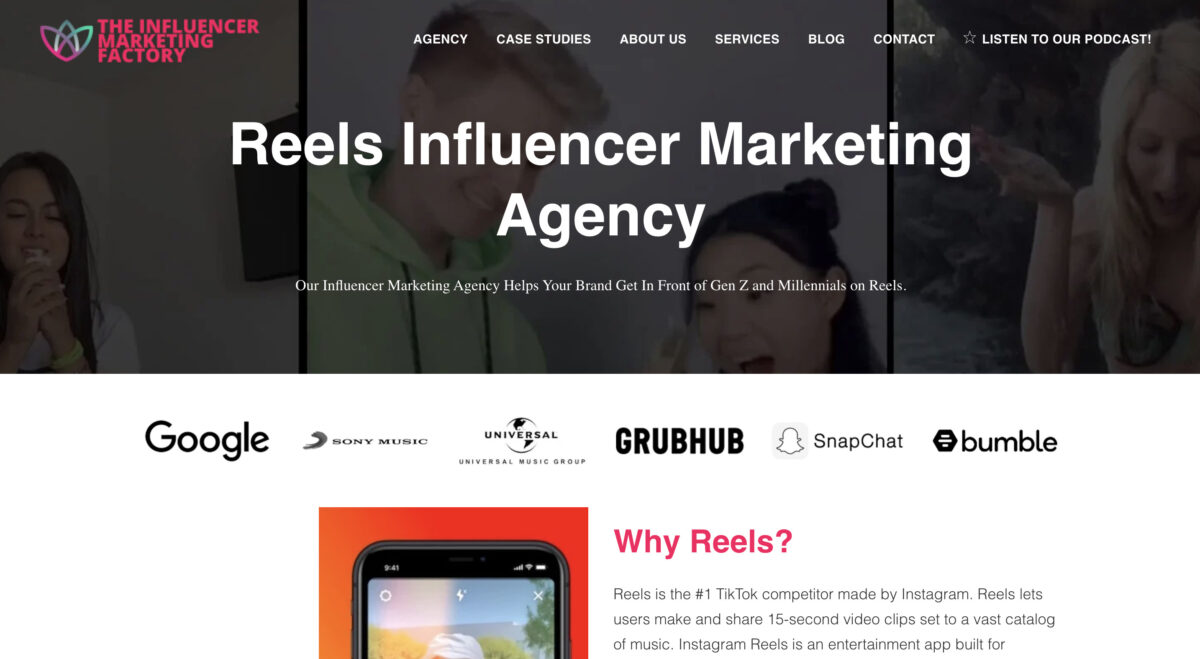 The Influencer Marketing Factory is a well-known agency that partners brands and influencers for all sorts of projects—TikToks, YouTube videos, Twitch streams, and of course, Instagram Reels. The agency understands the immense potential of Reels as Instagram's answer to TikTok, leveraging its capacity for short-form videos and viral trends to catch user attention.
Their priority is to accurately identify your target audience, matching your business with the most relevant Instagram Reels creators. They also emphasize creativity and content, assisting with structuring and executing influencer marketing activities to ensure your brand resonates on the Instagram Reels platform.
Reels creators and influencers partnered with The Influencer Marketing Factory are adept at creating trendy and viral videos that effectively generate awareness for your product or service. All campaign metrics are meticulously tracked, and an extensive report is created for you at the end of each marketing campaign.
They have offices in both Miami, Florida, and New York, New York, with employees dispersed across the globe. Pricing for influencer marketing campaigns starts at around $20,000.
---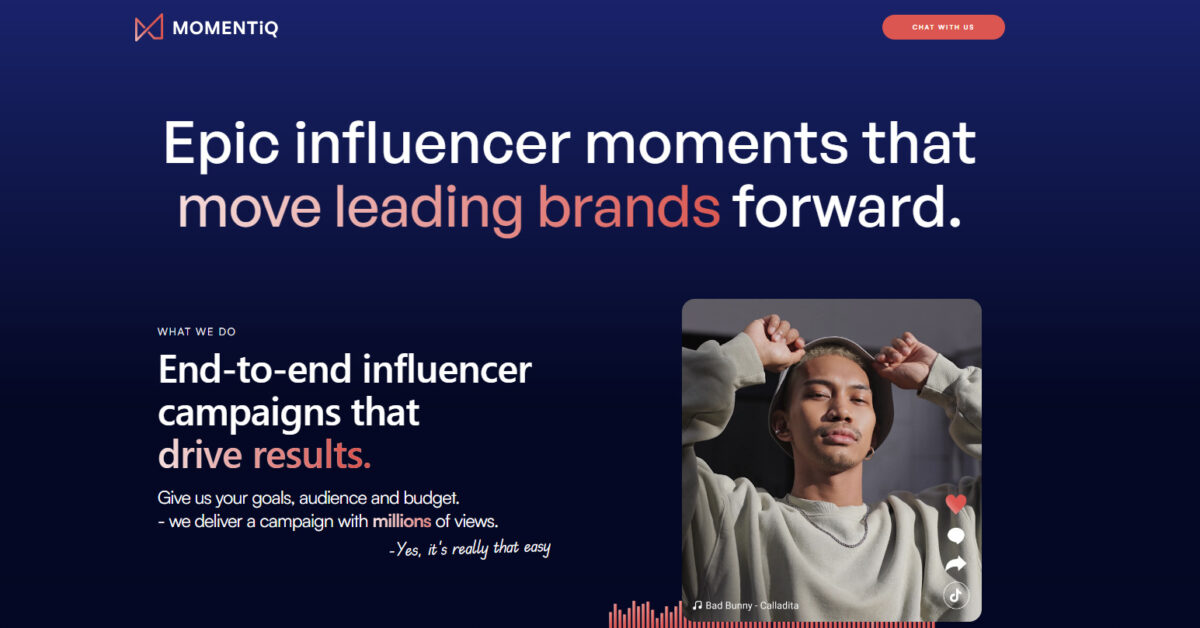 Built on the foundation of a team that has pioneered several leading agencies, MOMENTiQ is a prominent player specializing in Reels Influencer Marketing. Their strategies cater to diverse brand objectives, from brand awareness to performance-driven outcomes and user-generated content.
Partnering with a portfolio of well-established leaders in their industries, MOMENTiQ ensures investments yield impactful engagement. Their focus is on platforms like YouTube and TikTok, which dominate today's digital content scene.
MOMENTiQ's core values revolve around creating influential moments that position brands effectively in their target market. Their unwavering belief in genuine value over vanity metrics sets them apart in the influencer marketing domain. For businesses keen on TikTok and YouTube reels influencer marketing, MOMENTiQ stands out as a premier choice.
---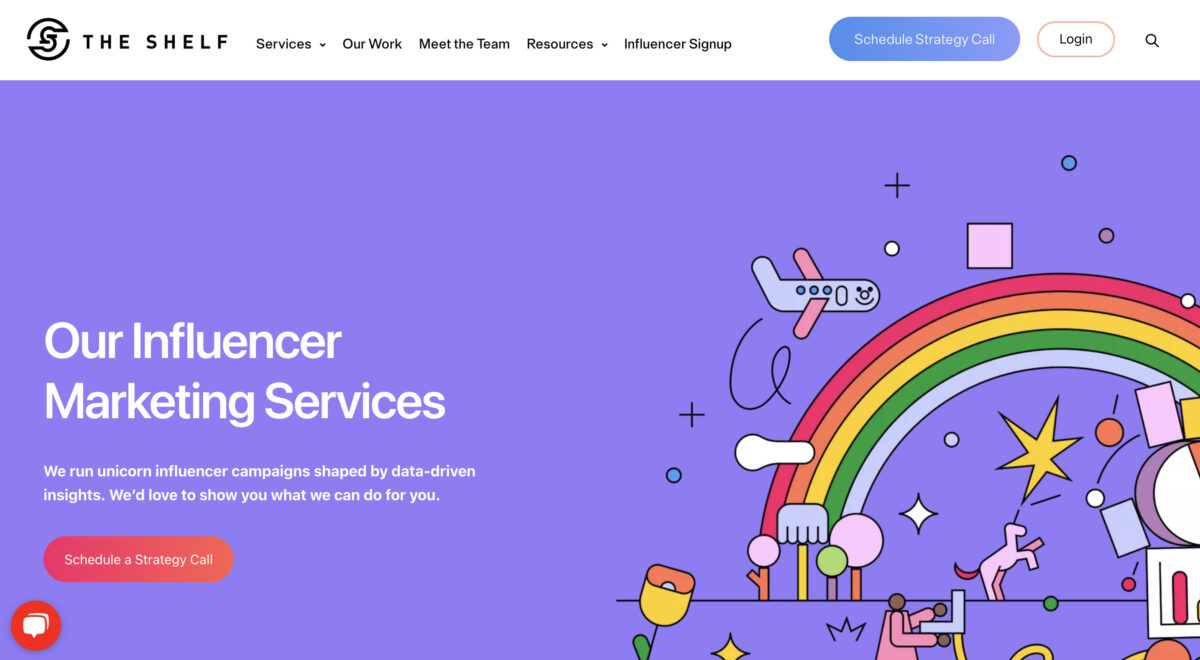 The Shelf is an influencer marketing agency that works with industries like beauty, fashion, home decor, and more. They handle all aspects of an influencer campaign so that your in-house team doesn't have to.
The agency prides itself on its connection to the best TikTok, Instagram, Facebook, and YouTube influencers who are ready to help your brand meet its goals. Importantly, The Shelf has a proven track record in customizing and building Instagram Reels influencer campaigns specific to the needs of your brand, and they execute, plan, manage and optimize those campaigns to ensure their success.
From strategy and planning to generating reusable content with access to a client portal, The Shelf is the perfect full-service option for a team that wants to have their influencer marketing completely taken care of.
---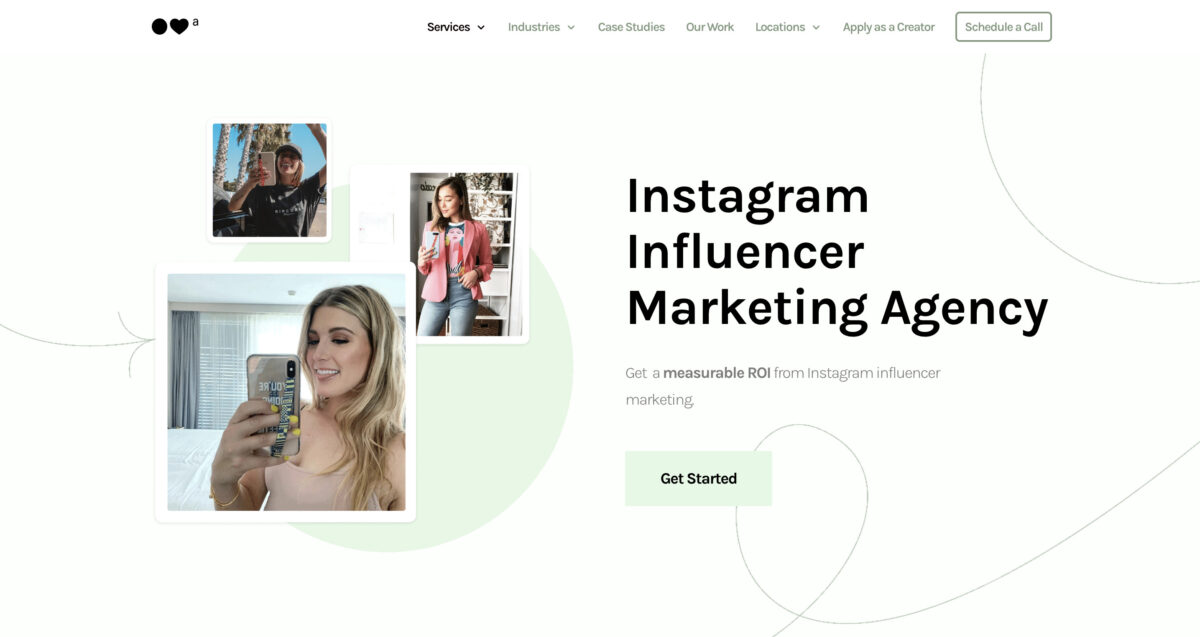 inBeat is another influencer marketing agency that focuses on UGC creation, TikTok influencer marketing, paid advertising, as well as Instagram influencer marketing. They work with a number of business types, from mobile apps to direct-to-consumer retail stores to nonprofits, so they can certainly help with your campaign.
This agency is data-driven in their strategy, which can help you rest easy knowing they're paying attention to your campaign's performance and results. They also use historical data from 13,000+ successful influencer marketing campaigns to ensure your success as well.
---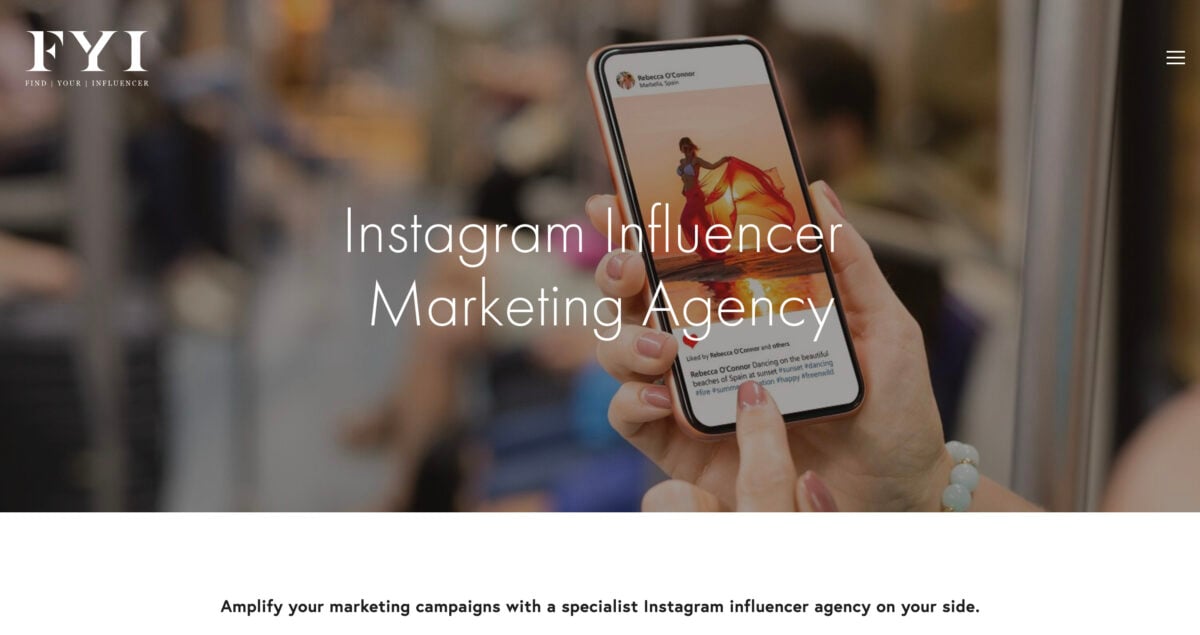 Find Your Influencer, or FYI for short, is an influencer marketing agency with a wide range of experience managing influencer campaigns. Their influencer network reaches over 10,000 creators, meaning they'll have the perfect fit for your brand.
This agency works with a number of different industries for influencer campaigns and helps create Instagram content like posts, videos, stories, and—you guessed it—Reels.
Find Your Influencer also makes sure to put together detailed monthly reports so you get a consistent overview of how your campaigns are performing. They help find the right influencer, do the outreach for you, set up unique tracking links, manage the overall campaign, and more.
---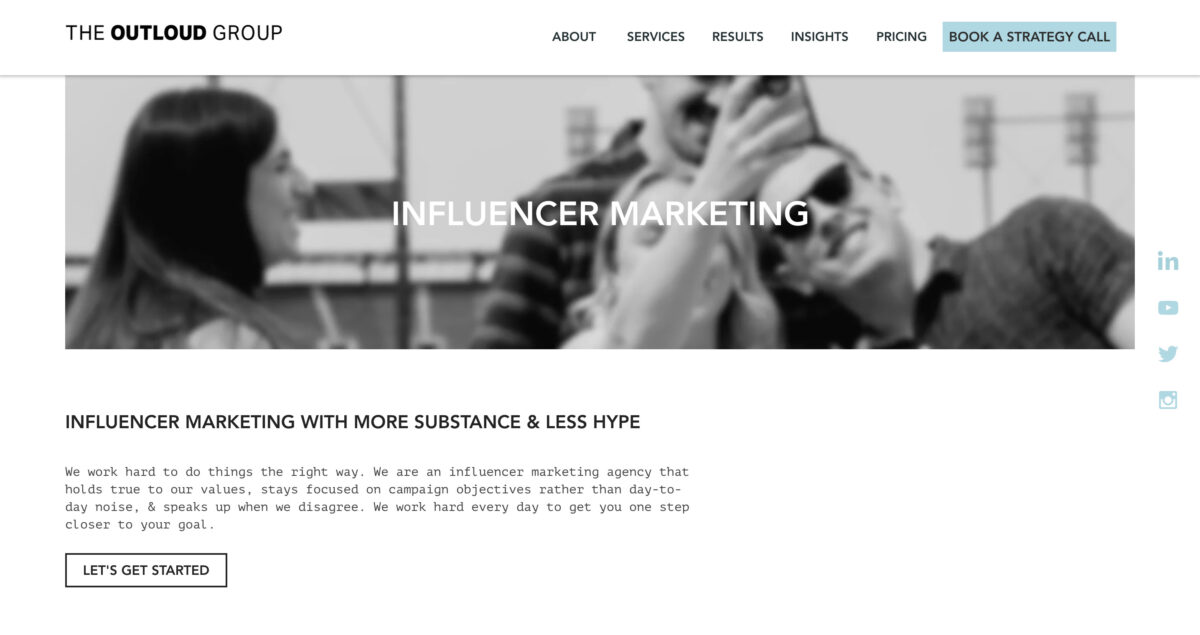 The Outloud Group is an influencer marketing agency that works with both brands and influencers. The brands are looking for campaigns while the influencers are looking for work—The Outloud Group provides the best of both worlds.
This agency's process follows these steps: they set up the brand's influencer marketing strategy, plan and execute the campaign, monitor and manage campaign logistics, and create a report based on the campaign's performance.
According to G2, The Outloud Group starts their first test campaign with new brands around $100,000.
---
---
Why Use Instagram Reels?
Instagram Reels are—or at the very least, they should be—a major part of any Instagram strategy now.
It's more than just a Gen Z trend or a TikTok imitation. Reels have become an integral part of Instagram's business model, offering a golden opportunity for wide audience reach and follower loyalty. Reels are prominently featured, and their editing tools are exceptional, allowing you to create impactful videos with ease.
Unlike TikTok, Instagram is a hotbed for businesses, and Reels provide the best reach and engagement rates, making collaborations and marketing efforts more organic and visible. Reels content is prioritized by Instagram, ensuring organic visibility. Furthermore, Reels can be monetized, contributing to increased brand awareness and conversions. With 2 billion active monthly users on
Instagram and uncertainties surrounding TikTok's future, Reels are poised to take its place. So, the question is, why not leverage this powerful tool for your business?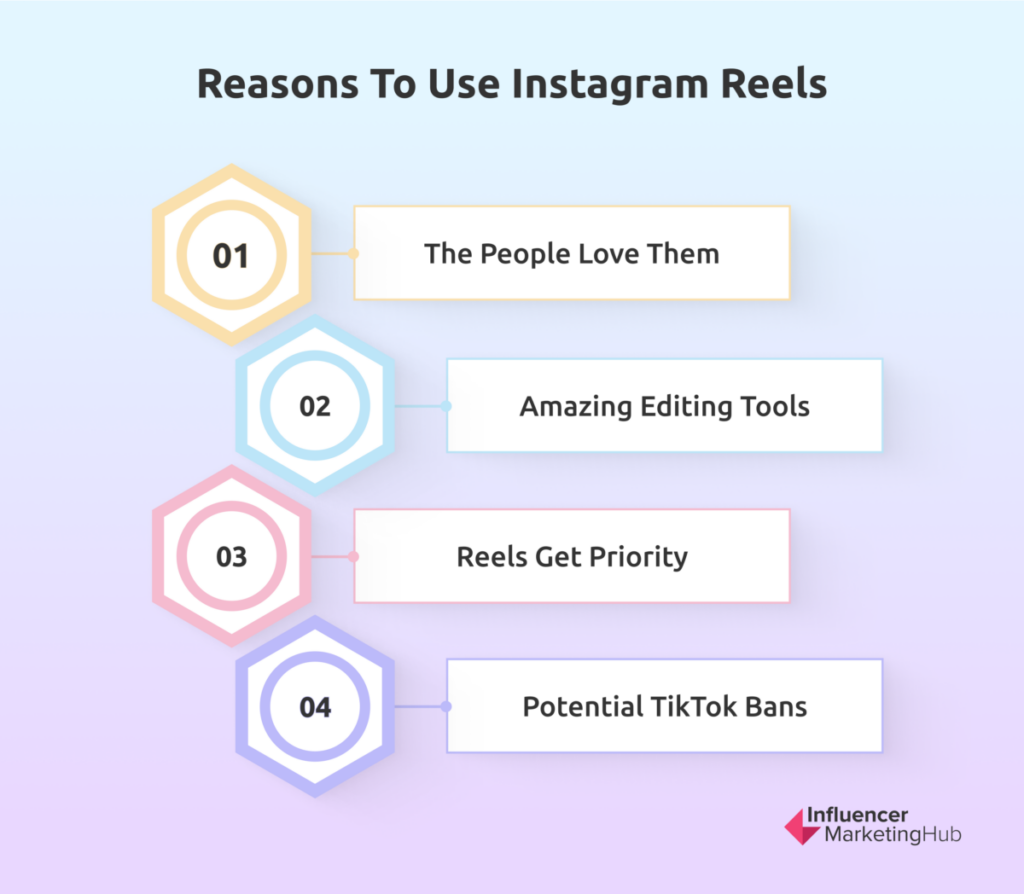 The People Love Them
Social media users love these short-form, digestible videos. TikTok, the original creator of this type of content, has been the fastest-growing social media platform thus far. Instagram users interact with Reels, Facebook users watch Reels, YouTube users watch Shorts (YouTube's version of Reels and TikTok videos).
The people love them and want to watch them. They're easy to scroll through and fun to watch and share. Take advantage of that in your influencer content.
Amazing Editing Tools
As mentioned, Instagram Reels comes with a number of fun editing tools that help make your content even more engaging.
Some of these tools include:
Music library
Filters
Green screen
Stickers
Speed adjustment
Grids
Dual camera recording
Trimming
Text
Special effects
Voiceover
Sound effects
These various editing tools enable creators to record and edit amazing short-form videos right in the app. It makes Reel creation cheaper, faster, and easier.
Reels Get Priority
Instagram has been seemingly prioritizing Reels in its algorithm, providing yet another reason why you should be creating and sharing this form of content on Instagram. Generate even more reach and engagement than other content types, helping your bottom line.
Plus, influencers already see a much larger amount of reach and engagement than brand accounts do. By having influencers create and share Reels on your behalf, you'll be reaching an even larger audience.
Potential TikTok Bans
TikTok bans have been rampant in a number of countries across the world and states across the United States. While not every country or state has been fully successful in its ban of the app, the fact that there is such a wide discussion about this makes TikTok's future uncertain.
Instagram Reels provides the same type of content—with a much more secure future. This means you shouldn't put all of your eggs in TikTok's basket. Put your focus in Instagram Reels—and your influencer budget as well.
---
Why Work With a Reels Influencer Marketing Agency?
Now that we understand the basics of why Instagram Reels can be so incredibly powerful for your social media and influencer marketing strategies, let's talk about getting them created. Or, more specifically, how and why to get them created by working with a Reels influencer marketing agency.
What are the benefits of working with a Reels influencer marketing agency? And why would you turn to an agency rather than taking this on in-house?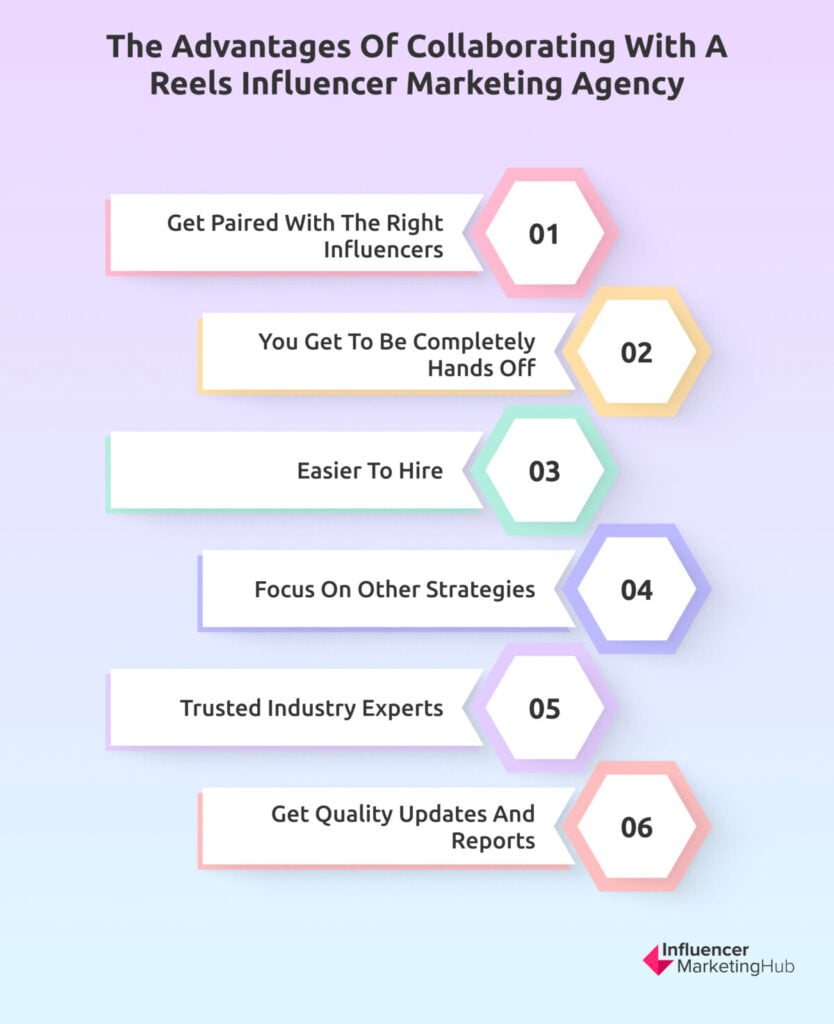 Get Paired With the Right Influencers
Influencer marketing agencies focus exclusively on influencer relationships, meaning finding and pairing influencers with the brands they work with is a big part of their expertise. Although you might be able to do your own research on influencers, an agency likely has more connections and more awareness of influencers in your industry.
This means working with an agency can pair your brand with influencers you may not have found—and that align target audiences with you perfectly.
You Get to Be Completely Hands Off
Some influencer marketing agencies work alongside your team if that's what you want—but many others are completely full service and take the influencer strategy completely off your plate. This can be exceptionally useful for brands with small teams or who don't have influencer experts on their teams.
Easier to Hire
Piggybacking off our last point, if you don't have an influencer marketing strategist on your team, an agency with a set contract can be a lot easier to hire and work with than a full-time employee on your team.
Focus on Other Strategies
Working with an influencer marketing agency enables your existing team to spend their time focusing on other strategies. With influencer marketing off their plate, they have the time, energy, and resources to work on things like ad campaigns, content marketing, community building, and more.
Trusted Industry Experts
Agencies are filled with trusted industry experts who know what they're doing. This means you can trust that you're putting your brand's influencer marketing strategy in safe and capable hands.
As long as you check reviews and properly vet the agency you choose to work with, you can trust that they're going to create and implement a well-thought-out strategy that will get you the results you're looking for.
Get Quality Updates and Reports
Finally, influencer marketing agencies are in charge of putting together consistent updates and reports based on your strategy or campaign's performance.
So while you're able to put your company's influencer marketing wholly on the agency, you still get a bird's eye view of what the agency is doing, which influencers they're working with, what content is being produced, and how the campaign is performing.
This is important to ensure you're happy with the agency and the campaign, as well as so you know the money you're spending on the agency and the influencer partnerships is not going to waste.
---
Increase Your Reach With a Reels Influencer Marketing Agency
Working with a Reels influencer marketing agency can be a great way to increase your brand's reach and find the best influencers to partner with. Find even more of the top agencies right here so you can pick the best agency partner for your brand.
Frequently Asked Questions
What is an influencer marketing agency?
An influencer marketing agency is a marketing company that works with multiple brands at a time, helping them to build, shape, and implement influencer marketing strategies. Influencer marketing agencies can help brands to find the right creators to work with, negotiate rates, put together plans for the content the influencers should create, and more.
How much do influencer marketing agencies charge?
Influencer marketing agency costs vary widely based on the types of brands the agencies work with, their level of experience, and the caliber of influencers they work with. Some agencies will simply add a 20% fee onto what the influencer rates are. Others charge a monthly retainer, the average of which is around $14k/month.
Some agencies charge more than others because of the amount of work the agency does. Cheaper agencies might partner with your business to create campaigns while more expensive agencies might manage the campaigns completely, taking it off your hands.
Why work with an influencer marketing agency?
Working with an influencer marketing agency can be a big help for a small marketing team. Plus, if no one on the marketing team is well-versed in influencer marketing, an agency can put together a better strategy.
There are many reasons your brand might want to work with an agency—we've listed out six of them within this article to help you decide if this is the right move for your business
What is an influencer Reel?
An influencer Reel is an Instagram Reel created by an influencer to promote a product or brand as part of a sponsored post or influencer partnership. Influencer Reels are shared on the influencer's Instagram account, tagging the brand so viewers know that it's part of a sponsorship.
How much do influencers get paid for reels?
Influencers can get paid anywhere from $10 to over $1 million per post depending on how many followers they have, what their engagement rate is, and other important stats. Here's the typical breakdown: