We have all heard of Facebook, Twitter, LinkedIn, and YouTube – Instagram has probably reached the top echelons of social media, too. But there are probably many people following Influencer Marketing Hub who have never heard of Twitch.
But if you are into gaming, Twitch will be high on your list of online places to spend your time.
Twitch is a live-streaming video platform. Its primary focus is on video game live streaming. It often features coverage of eSports tournaments. We recently covered the rise of eSports' influence on brands.
It is more popular than most people realize. In February 2014 it became the fourth largest source of peak internet traffic in the USA. That undoubtedly contributed to Amazon's decision to acquire it that year.
By September 2023 Twitch had reached 7.13 million active streamers, with more than 31 million daily active users.
It can be difficult to define who has the most significant influence on Twitch. For the purpose of this post, I have looked at the people and organizations who have managed to attract the largest followings on Twitch (albeit one of them is currently banned from the platform). Many of these Twitch channels focus on the host playing one particular game, commentating as his fans watch, or they involve live streaming a gaming tournament. However, you may also be curious to learn how the people with the largest followings rank in terms of earnings, so check out our top ten highest paid Twitch earners.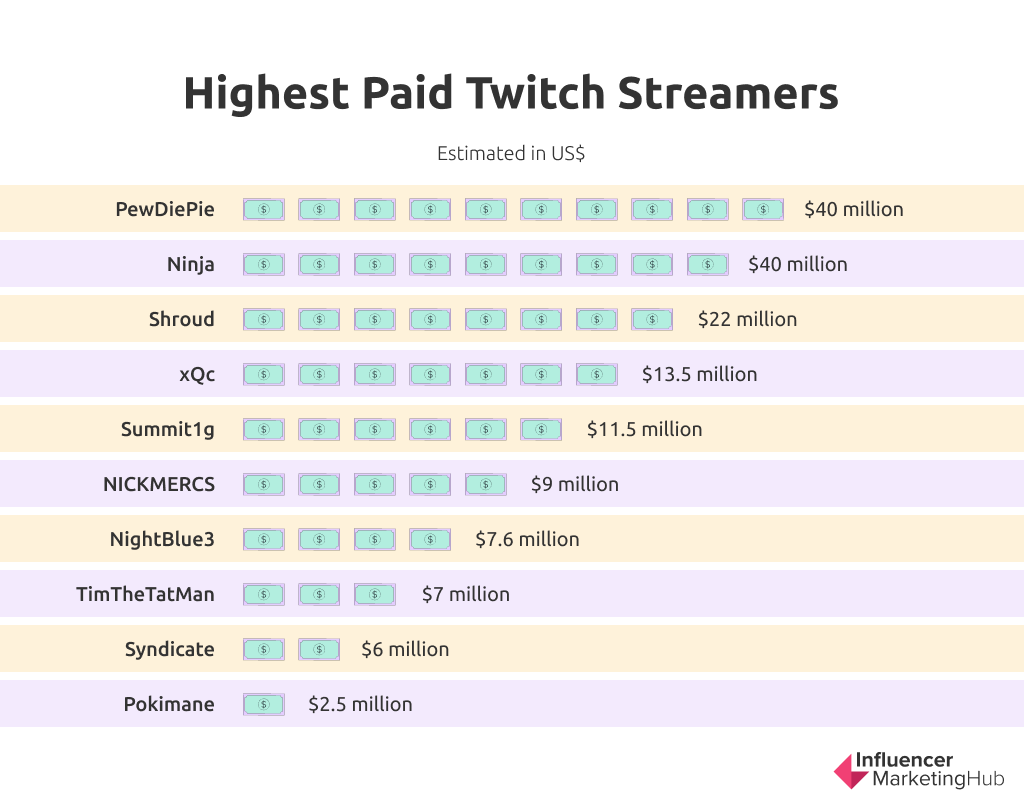 Top by View count
Top by Followers
1
Ninja
Fortnite
2
auronplay
Just Chatting
3
Rubius
Just Chatting
4
ibai
Sports
5
xQc
Just Chatting
6
Tfue
Fortnite
---
Top 17 Twitch Influencers for 2024:
---
1. summit1g
Jaryd Lazar, aka summit1g, currently streams Counter-Strike: Global Offensive (CS:GO), as well as Fortnite. This is his full-time job– the 35 hours he streamed in one week made it a typical week for him. He broadcasts most days except for Thursdays.
He is an ex-competitive Counter-Strike player (playing for A51 and Team Mythic) turned full-time streamer. He finds fun in shooter games but says he also enjoys playing just about anything.
Jaryd is a 36-year-old from Colorado, USA. He became the most followed gamer on Twitch on January 25, 2018.
---
2. Riot Games
Riot Games is an American video games company and eSports organizer. They use their Twitch channel to live stream eSports championships, with a particular emphasis on the North American and European League of Legends Championship Series.
Riot Games was founded by Brandon "Ryze" Beck and Marc "Tryndamere" Merrill in 2006 – initially as an indie game developer. They released League of Legends in October 2009, using the freemium charging model. They operate League of Legends servers across the world, often with localized versions of the game.
They livestream League or Legend tournaments on Twitch and repeat them on days when there are no new tournaments.
---
3. Syndicate
Tom Cassell is well-known on both Twitch and YouTube as Syndicate. As well as having the third most popular Twitch channel, his YouTube channel TheSyndicateProject is one of the Top 100 subscribed channels there.
He holds the record for being the first person to receive 1 million followers on Twitch (which he achieved in August 2014).
The main games he plays are Minecraft, Call of Duty: Black Ops III, Counter-Strike: Global Offensive, and Tom Clancy's The Division.
He has his own merchandise site – Syndicate Original.
Tom's other claim to fame is that he is the voice of Loki in the mobile app game Marvel Avengers Academy.
---
4. Shroud
Michael Grzesiek (Shroud online) is a top-tier professional Counter-Strike player for Cloud9. He is considered to be one of the most well-known players on the scene and entertaining to watch in action.
His primary games are PUBG, H1Z1, Tom Clancy's The Division, The Culling, Counter-Strike: Global Offensive (CS:GO), and Tom Clancy's Rainbow Six: Siege. He plays CS:GO in the ESEA Invite league with Cloud9 G2A
He usually livestreams whenever he's playing – which can be for more than 5 hours in a day. He averages approximately 14,130 viewers for his streams, although he receives up to 7 million for special tournaments.
---
5. ESL_CSGO
ESL stands for the Electronic Sports Company – and the ESL_CSGO channel is where they broadcast Counter-Strike: Global Offensive (CS:GO) games and tournaments. They stream continually, either livestreaming games or rerunning games when there aren't new ones in progress. They describe themselves as "the industry's first 24/7 Counter-Strike Twitch channel!".
They have commentators describing the action, just like in more traditional sports, even carrying out pre-match and post-match interviews with the tournament gamers.
Their page is full of advertising for gaming equipment, clothing, and even computer hosting. They have an online shop selling official team apparel.
---
6. Imaqtpie
Imaqtpie is 31-year-old, Florida-domiciled, Michael Santana in the offline world. He now spends his nights streaming on Twitch. He was a full-time League of Legends player, where he reached Challenger 1 on the North American server. He is the current champion of flippers360 LAN tournament.
He was a member of professional gaming team Dignitas until the end of 2014.
Michael gained his unusual username because his mom said he was cute.
He regularly joins up with Scarra to host Beyond the Rift, a weekly segment discussing top news, issues, and game predictions throughout the world of League of Legends.
Imaqtpie average about 7 hours of live streaming gameplay per day, six days per week.
---
7. Nightblue3
30-year-old Rabia Yazbek from Michigan, USA, is better known as Nightblue3 to the gaming world. He's been playing League of Legends for over seven years. He was a Rank 3 Challenger in North America in Season 3, and a Rank 6 Challenger in both North America and Europe in Season 4. He also managed to gain Challenger status in Seasons 5-7.
Nightblue3 is also known for his informative uploads of in-depth guides, patch note reviews, highlights, spectates and gameplay montages to his Youtube channel.
He describes his Twitch channel as being a place where he can "discuss game play tips, advice, and theorycraft while also having fun playing games!"
---
8. LIRIK
LIRIK (also known as the Bean Bandit) is a Twitch streamer and PC gamer. He has a presence across all of the main social channels and has streamed on Twitch since 2011. He started streaming regularly a year later when DayZ was released.
He plays a variety of games, including H1Z1, Arma 3, PLAYERUNKNOWN'S BATTLEGROUNDS, and Fortnite.
He appears to value his privacy more than most on the platform, and rarely, if ever, uses his real name online.
He announced at the beginning of this year that was taking a temporary break as he was feeling "burnt out." However, he currently has games scheduled on Twitch, so he appears to have returned to his streaming.
---
9. Ninja
Tyler "Ninja" Blevins plays for Luminosity Gaming. He used to describe himself as a professional Halo player and interacts with viewers while he plays and streams games on his Twitch channel five days per week. He also plays and broadcasts H1Z1 whenever he has the opportunity.
His recent focus has been on Fortnite, although he also plays League of Legends. He often plays (and live streams) for up to 7 hours a day.
Ninja's team 'Renegades' reached 5th - 8th place in the 2016 Halo World Championship for Halo 5.
---
10. Sodapoppin
Sodapoppin is the online name for 29-year-old Texan, Thomas Chance Morris. He's been streaming for about eight years, starting on a website called Xfire. He found Twitch about 7 years ago.
He focuses on playing a variety of games, jumping to a new game almost every day.
He was a hard-core World of Warcraft gamer in his early days and still loves to revisit and talk about that game.
He is a part owner of team NRG eSports.
---
11. ELEAGUE TV
ELEAGUE TV is the live streaming channel of ELEAGUE aka EL. It focuses on the games Counter-Strike: Global Offensive and Street Fighter.
ELEAGUE is a professional eSports league which has broadcast on US television channel TBS since 2016. The league features 16 teams from across the world competing in two 10-week league seasons annually.
ELEAGUE TV also features side events, such as the Rocket League Cup and the Overwatch Open.
Games are simultaneously broadcast live on this Twitch channel, ELEAGUE's YouTube channel, and their TBS television channel.
A new Premier season of ELEAGUE debuts on July 21, 2018.
---
12. loltyler1
Tyler Steinkamp (aka loltyler1) has gained fame for his live League of Legends broadcasts. He's a 28-year-old from the United States.
Loltyler1 also has a very successful YouTube channel with more than 2.7 million subscribers.
As with most of the leading Twitch streamers, Loltyler1 plays full-time, often spending 40 hours per week on Twitch.
He runs a self-titled website where he sells merchandise to his fans.
---
13. Dyrus
Marcus Hill, better known as Dyrus in gaming circles, is a Hawaiian-born former professional league player, who live streams on Twitch. He has been to five world championships and was one of only two players who qualified for the first five tournaments. He was previously the top laner for Delta Fox.
He retired from professional tournament gaming in 2015 but remains part of his their team, Team SoloMid, as a streamer.
Dyrus has a reputation for being one of the biggest ragers in professional gaming, but he has mellowed as he has aged.
---
14. TSM_Bjergsen
Søren Tsm Bjergsen Bjerg is a 27-year-old professional League of Legends player for Team SoloMid. Although Søren grew up in Denmark, he now lives in the USA. The principal sponsor for his tournament gaming is Red Bull.
He has played professionally since the 2013 season (although he could only enter that tournament partway through when he turned the minimum age of 17). He now plays as the mid laner for Team SoloMid.
He hasn't live streamed science December 2017 but undoubtedly will return for the next tournament.
---
15. JoshOG
JoshOG is Josh Beaver from Denver, Colorado. He plays a variety of games, but is is currently focusing on Fortnite, PLAYERUNKNOWN'S BATTLEGROUNDS, and Kingdom Come: Deliverance.
Josh calls the subscribers to his community, "The Ducks."
At any particular time during his stream, he will usually have between 504 and 839 active viewers.
---
16. Gosu
24-year-old Gosu is a Canadian, who has taken a sabbatical from studying for a computer science degree. He currently live streams full-time.
He plays League of Legends for TeamSoloMid. His highest rank was as 22nd Challenger.
---
17. Castro_1021
Castro_1021 is the most supported sporting gamer on Twitch, with his current main gaming focus being playing the football game, FIFA 18. When he's not gaming, he is known as Edwin Castro. He's best known on Twitch for his FIFA commentary and match streaming.
He is an active supporter of charities and has raised $273,000 for his favorite charities to date.
Frequently Asked Questions
Who's the most popular Twitch streamer?
As of 2024, the most-followed Twitch channel belongs to Ninja. Ninja has more than 18.8 million followers. Pokimane is the most-followed female Twitch streamer on the platform. She has 9.4 million followers.
Who are the top 3 Twitch streamers?
The top 3 Twitch streamers are Ninja, xQc, and Auronplay.
Who are the top 5 Biggest Twitch streamers?
These are the most popular Twitch streamers for 2024:
PewDiePie
Ninja
Shroud
xQc
Summit1g
NICKMERCS
NightBlue3
TimTheTatMan
Syndicate
Pokimane
Is Twitch safe for 12 year olds?
Children under the age of 13 cannot use Twitch. Twitch has age restrictions in place to keep kids and teens safe.