Like most live streaming services, Twitch offers advertising options for brands looking to promote their products and services. Not only does Twitch support traditional ad placements like pre-roll videos and banners, but advertisers can also find and partner with Twitch influencers. While Twitch is well-known to those interested in gaming, it's often overlooked by advertisers who aren't sure how it works or if they should be advertising on the platform in the first place. In this article, we're going to teach you how to run Twitch ads, talk about how Twitch ads work, and give you an overall guide to Twitch advertising.
---
Twitch Ads: How They Work and How to Run Them:
---
What Is Twitch?
Twitch is a live streaming platform geared towards gamers and gaming influencers. The platform launched in 2011 and has grown exponentially since then, racking up more than 10.5 million unique broadcasters as of Quarter 3 2021. Twitch has also grown to include not just gaming but live streams about other topics like music, food, crafting, and a whole lot more. Streams vary in length from just a minute to 8+ hours.
While the functionality of Twitch varies depending on how you're accessing the platform, you can watch live streams from any device. You can find the stream you want by searching for specific keywords and browsing through categories. Find a streamer you like? Follow their channel for updates.
---
Why Advertise on Twitch?
Twitch is owned by Amazon and is one of the most popular video streaming platforms around with more than 140 million monthly active users and 15 million daily active users. In Q3 2020, Twitch users watched 4.7 billion hours of live streaming on the platform giving Twitch a 72.2% share of the video game streaming market. Nearly half of Twitch users spend more than 20 hours per week watching live streams on the platform with the average amount of time spent on the platform daily hovering around 95 minutes. In light of all these Twitch statistics, the question isn't "why advertise on Twitch?" but "why wouldn't you advertise on Twitch?"
Numbers aside, there are other reasons that advertising on Twitch just makes sense:
Real-Time Interactions
Twitch makes it easy for creators and viewers to engage in real-time, making the connections seem more personal and viewers more likely to trust the opinions of the Twitch influencers they've come to know and trust.
Community
Most creators on Twitch are plugged all the way into the platform, sharing not only their video game activity but actually talking to their viewers about their lives and dreams and asking viewers about their own. Twitch streamers are also incredibly free with their content, further endearing them to viewers.
---
How Much Do Twitch Ads Cost?
The cost to run ads on Twitch varies depending on several factors like the number of concurrent viewers, seasonality, viewer age and gender, the type of content, and viewer location. Twitch also allows for non-traditional marketing strategies like partnerships with Twitch influencers. Given the variables, it's hard to pin down exactly how much Twitch ads will set you back but estimates from Investopedia place the number between $2–$10 cost per impression.
---
How Do Twitch Ads Work?
Brands have tons of options when it comes to advertising on Twitch. Outside of partnering with influencers and streamers on the platform, Twitch offers a hefty menu of traditional advertising options. None of the desktop video ads can include targeting from a third-party nor can they allow third-party redirects or fourth-party tags. That said, let's take a closer look at the Twitch ad types available.
Cross Screen Video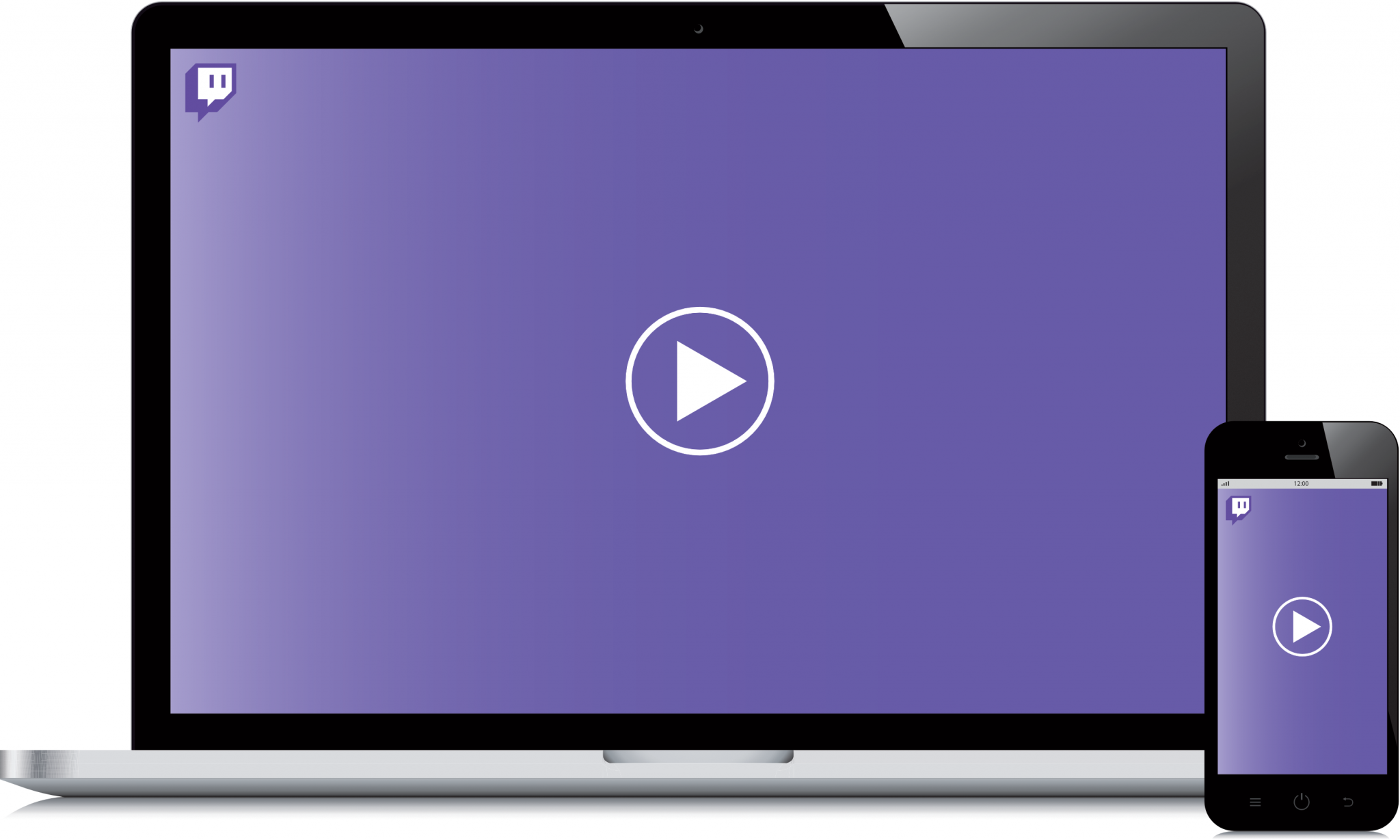 Cross screen video is a Twitch advertising format that enables your ad to play across devices. Ad length can be 30 seconds (unskippable) or 60 seconds (mid-roll only). It supports third-party tracking events like impressions, clicks, quartiles, and completes.
Desktop Video
Desktop video advertisements are integrated directly into live stream broadcasts accessed via desktop computer. They can be either pre-roll or play during ad breaks. Like cross screen video ads, desktop video can be either 30 seconds (unskippable) or 60 seconds (mid-roll only). They also support the same third-party tracking events as cross screen video ads.
Homepage Carousel
Homepage carousel ads let advertisers promote live stream right on Twitch's homepage in one of the rotating carousel slots. Thumbnails should be 280 x 156 pixels in JPG format with a maximum file size of 10KB. Descriptions can't exceed 250 characters.
Homepage Headliner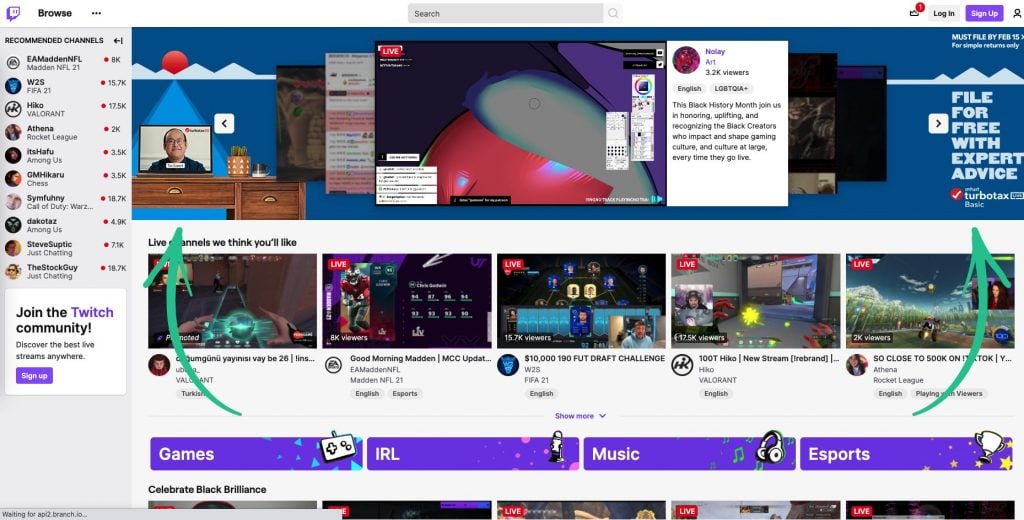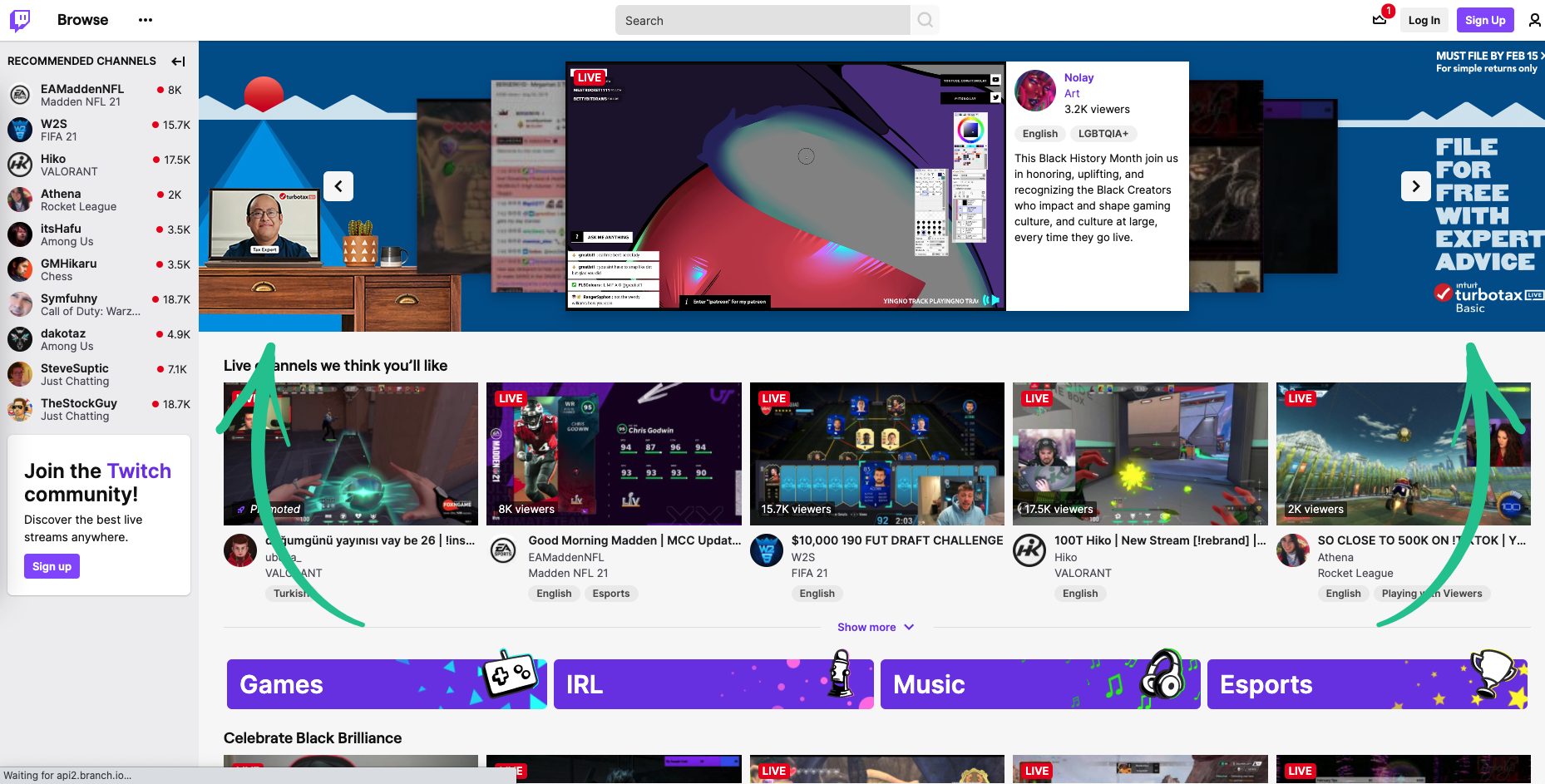 Homepage headliner ads are Twitch's prime placements. These ads scale depending on screen resolution and display size. This Twitch ad type includes three components consisting of two end images and a hex color code. The end images include space for branding and a mandatory color gradient fade (so the look is seamless across browser widths and resolutions). Homepage headliner ads can't include animations and must be in JPG or PNG format sized at 450 x 350 pixels with a maximum file size of 150KB.
Medium Rectangle
The medium rectangle is an ad format that shows up as viewers scroll through Twitch content. These ads have a maximum file size of 100KB and can be in GIF, JPG, or PNG formats with dimensions of 300 x 250 pixels. The ads can be animated for 15 seconds or three loops, whichever is shorter.
Mobile Video
Twitch's mobile video ads will only play on streams broadcast on the Twitch mobile app. These ads, like the other video ads, can be either 30 seconds (unskippable) or 60 seconds (mid-roll only).
Super Leaderboard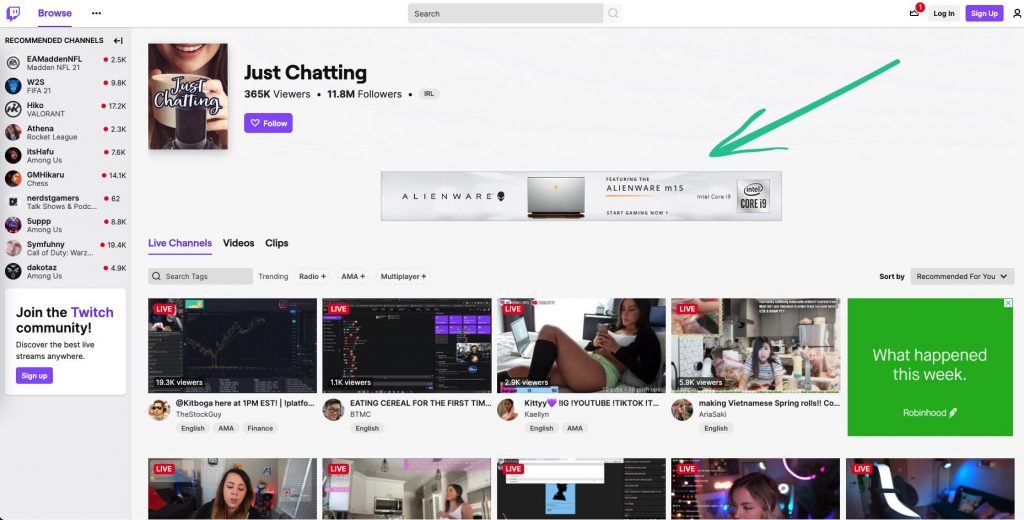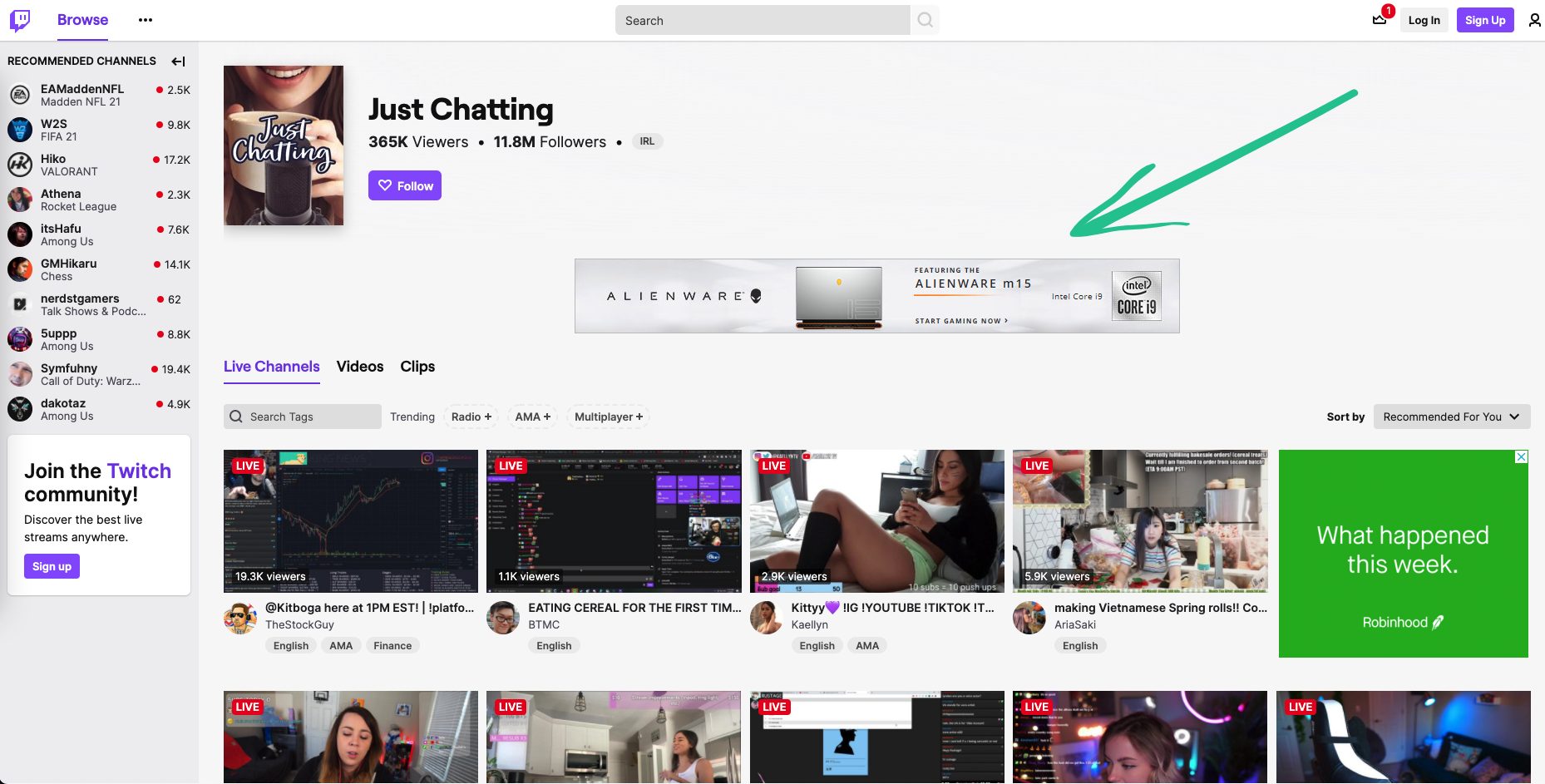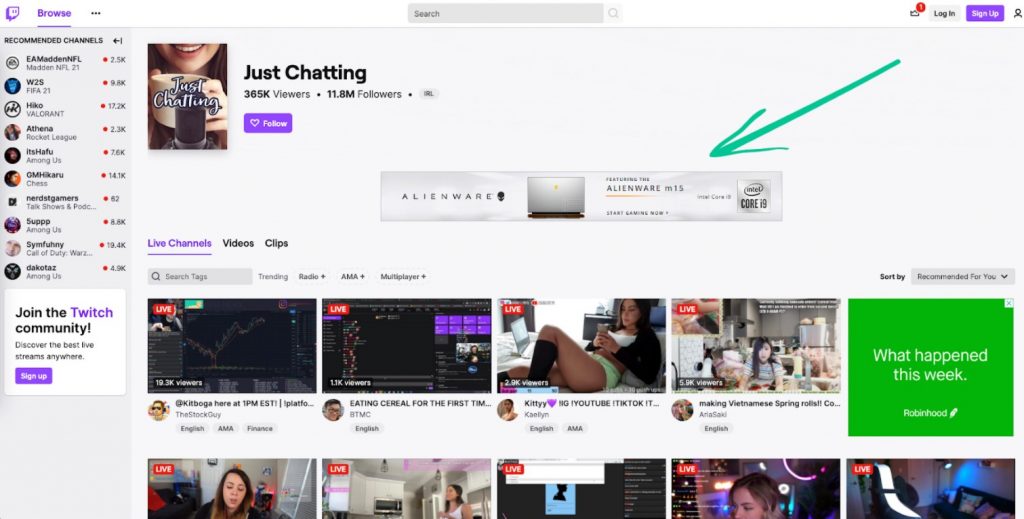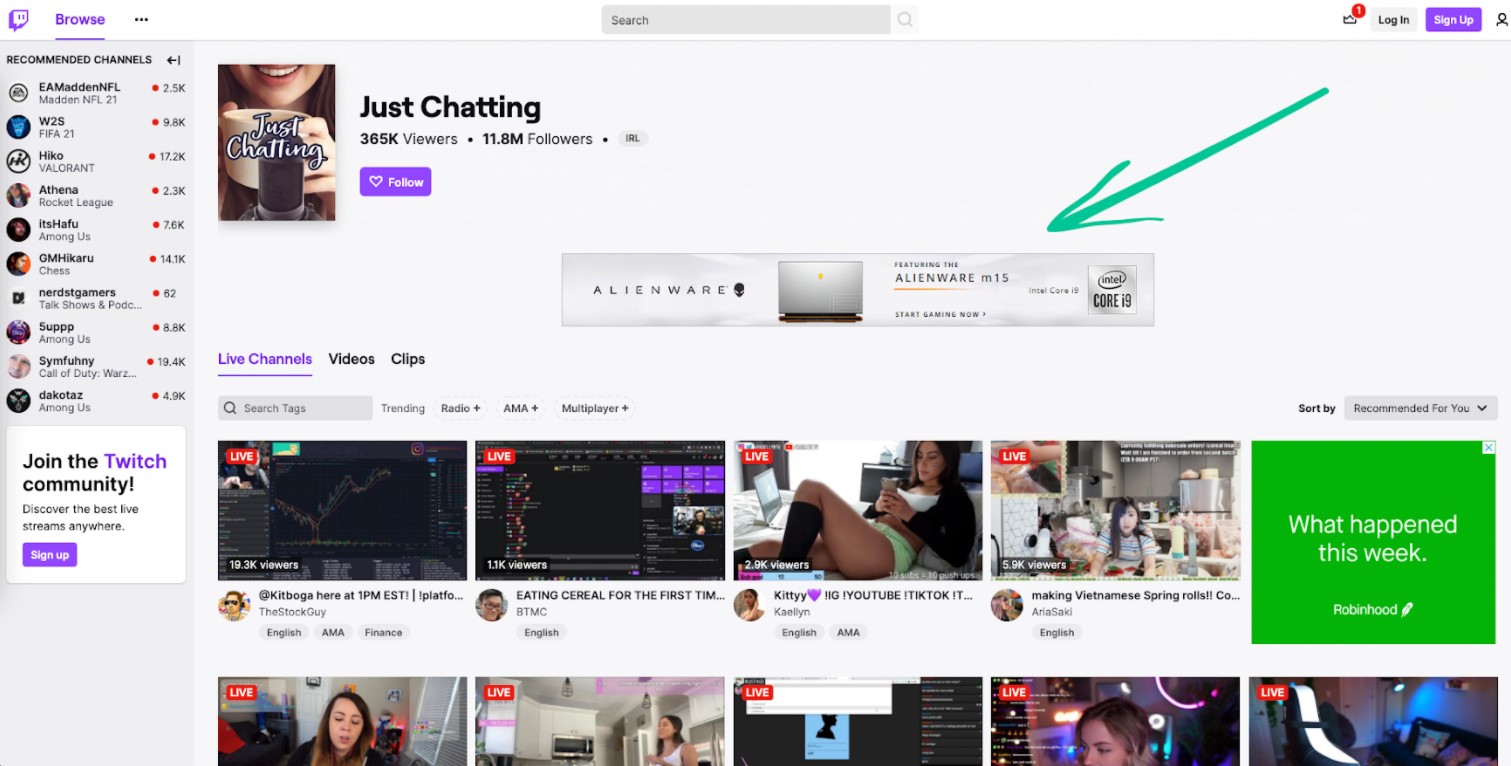 Super leaderboard ads are banner image ads that show up at the top of the screen, letting users stay engaged while they continue to scroll for more content. Like the medium rectangle ads, super leaderboard ads can be animated for 15 seconds or three loops, whichever is shorter. They have pretty standard banner dimensions (970 x 66 pixels).
SureStream
SureStream ads are one of the most effective ways to advertise on Twitch. These ads are integrated into the broadcasts instead of playing as a layer. The ads can be 30 seconds (unskippable) or 60 seconds (mid-roll only).
Multiplayer Ads
Multiplayer ads are the newest ad type offered by Twitch. They're interactive video ads and are currently only available in closed beta. With this Twitch ad type, several viewers will watch the same ad, simultaneously. Once the ad is done, the viewers will be able to vote in a real-time poll. For each vote, Twitch will then award Bits to the creator. The process ends with a special channel celebration. Sounds fun, right?
---
How to Run Twitch Ads: Best Practices
We know you want to get the most from your Twitch ads. Fortunately, there are several ways for brands to advertise on Twitch and for streamers to integrate those ads into their broadcasts. Here are some Twitch ads best practices to get you off to the best start on the platform.
Know Your Ad Types
We've already shared details about the different Twitch ad types. Before you start creating ads, it's important to familiarize yourself with these details so you can choose the best ad type to meet your goals.
---
Design a Great Ad Experience
Once you've chosen an ad type, it's time to create an awesome design that's going to engage viewers. Here's what you need to know about designing your best Twitch ads:
Branding.

Your ad should match your branding. This includes things like fonts and colors related to your brand.

Keep it simple.

Don't add too much information, graphics, or details to your ads. You want to generate interest and curiosity, not overwhelm.

Fonts and graphics.

Your fonts and graphics should be easy to read and visually appealing. Make sure your graphics are crisp and clear.

Video editing.

There are tons of

free video editing tools

available that you can use to make your ads pop. Through the use of transitions, filters, effects, voiceovers, and animations, you can create a Twitch advertising experience that's sure to draw attention.

Preview.

Before you post your ads on Twitch, you'll want to preview them on multiple devices to make sure that they look the way you want.
---
Include the Right Information
When creating your ad, make sure that you include all the important information. At a minimum, you should include a headline, your brand name, information about your offer, and a call to action.
---
Run Ad Breaks at the Right Time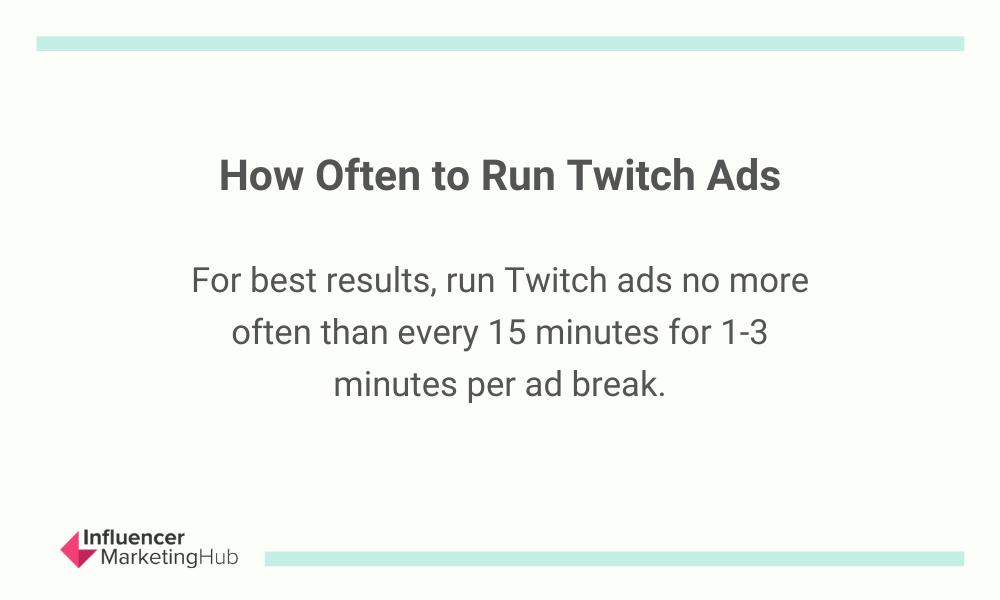 Consider how often you're going to run ads during Twitch broadcasts. We recommend starting with just one minute of ads, total, per hour of streaming. Over time, as your viewers get used to seeing ads on your live streams, you can increase your ad breaks to 1–3 minutes with at least 15 minutes between ad breaks.
If you're running ads manually, be sure to let viewers know that an ad break is coming up. If your ads are automated, you can let viewers know how often to expect ads (and how long those ad breaks will be) on your page.
---
Automate Your Ad Breaks
When you're live streaming, it can be hard to also think about manually running ads at regular intervals. Fortunately, you can delegate ads to your moderators or automate your ads using Twitch advertising automation tools like Moobot, Nightbot, or StreamElements.
---
Consider Your Audience's Needs
When you're creating your Twitch ads, it's vital to keep your target audience in mind. Who are they? What do they want? What will it take to get them deeper into your marketing funnel? One of the best ways to ensure that Twitch viewers don't mind your ads is to make them entertaining. Entertaining enough that they won't just skip it (if they can) or ignore it altogether.
Twitch also offers options to filter your audience and we highly recommend it to make sure that you're showing ads to the people who will actually be interested in them. Currently, you can filter based on age, gender, and location, as well as other segments.
---
Offer an Ad-Free Viewing Option
Twitch ad fulfillment varies by user location and availability, which means that not everyone on your channel is going to see your ads. If you offer subscriptions, you can set up ad-free streams for your subscribers as a bonus for subscribing to your channel.
---
Leverage Current Trends
Since Twitch is a live streaming platform, things change quickly. When you see a trend happening, don't wait to jump on it or you may find yourself missing the mark. Pay attention to what's going on in pop culture and consider how you can relate the hottest news to your brand. Then, create ads that incorporate current news and trends.
---
Build Strategic Partnerships
Twitch is heavy on influencer marketing. There are thousands of Twitch streamers with dedicated followers that your brand can partner with to create sponsored content outside of traditional Twitch advertising. Take the time to find the right influencers to partner with and before you enter into any agreement, make sure you watch that influencer's broadcasts to make sure that their audience, personality, and content are a match for your goals and brand.
---
Measure Your Twitch Advertising ROI
Twitch has integrated with Moat, an analytics product owned by Oracle that measures real-time attention analytics. This tool will make it easy to track analytics and ROI on SureStream ads. With this integration, advertisers will be able to track in-view time, viewability, invalid traffic (activity like accidental or fraudulent clicks that don't originate from a real user), attention metrics, and other metrics.
---
What's Next for Twitch Advertising?
Twitch has started testing ads that run automatically during streams for some users. These ads will run across affiliate and partnered channels and creators will get paid for the ads but they won't be able to control when the ads run. Picture-in-picture viewing may keep the ads from being too disruptive to the viewer experience but Twitch streamers aren't super pleased about the ads. It's important to stress that the ads are only being tested and haven't been implemented permanently. However, there's really no reason to think they won't be.
The ads aren't supposed to show if the stream has already run an ad recently, so creators should be sure to plan out their ad breaks if they don't want to end up with a random, unexpected ad break. Using the Twitch advertising best practices we've included here will help minimize these disruptions and keep you, your viewers, and advertisers happy.