Advertising Disclosure
Advertising disclosure:
Our partners compensate us. This may influence which products or services we review (also where and how those products appear on the site), this in no way affects our recommendations or the advice we offer. Our reviews are based on years of experience and countless hours of research. Our partners cannot pay us to guarantee favorable reviews of their products or services.
The digital shelf is the virtual space where consumers browse and make purchasing decisions on eCommerce websites. As with shelves in traditional stores, it is important to keep an eye on the stock that "sits" on your digital shelf and also to analyze whether it is better to have different products and channel mixes on your digital shelf. As we discussed in our Complete Guide to Digital Shelf Optimization for eCommerce Brands, Digital Shelf Optimization (DSO) is essential if you want your products to stand out like a star on the digital shelf.
But, if we are going to optimize our eCommerce channels, we need data – both about our own performance and that of our competitors in the online space. Unfortunately, it isn't always easy to find the digital shelf analytics we need – particularly from the owners of the channels. You won't even find enough information about your own eCommerce store if you rely on Google Analytics and perhaps additional data provided by Shopify or your website hosts. Instead, you are likely to benefit most by using specialist digital shelf analytics software – and it shouldn't take long before the additional money you can make thanks to the analytics provided outweighs the cost of using the software.
As eCommerce has evolved the number of Digital Shelf Analytics Software products has multiplied. We include a selection in this post, which we will add to over time, however, the best Digital
Shelf Analytics software for you will depend on the products you sell and the channels you use.
---
The Best Digital Shelf Analytics Software for Online Retailers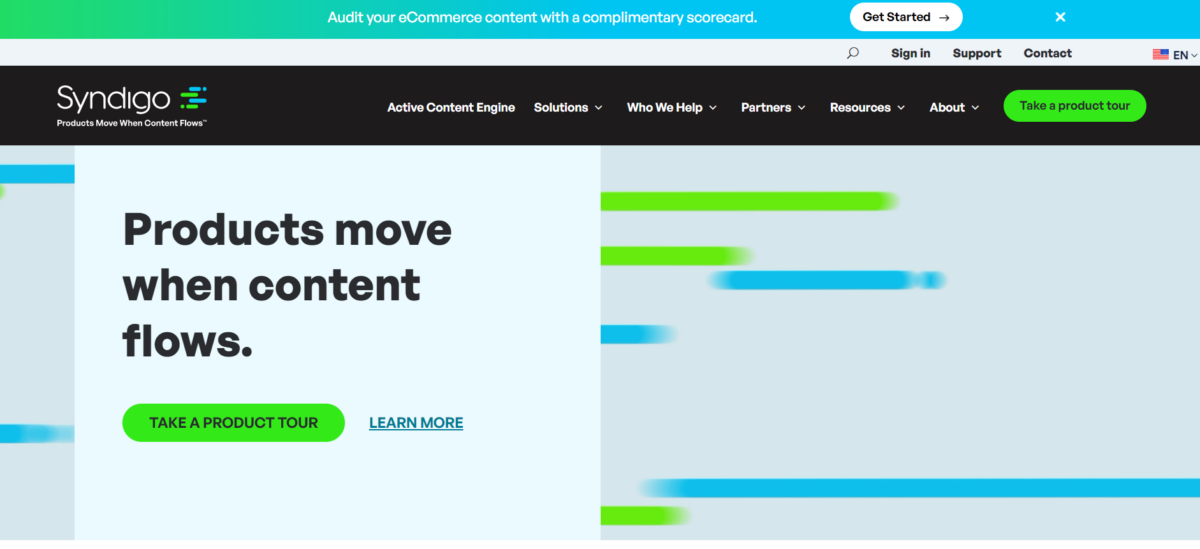 Syndigo describes itself as an Active Content Engine. It describes itself as powering the continual flow of data and content throughout the entire commerce ecosystem. It enables a comprehensive solution for a future of personalization and customization. Syndigo can help you with content creation, data management, governance, syndication, engagement, and optimization.
Digital shelf analytics is only a small part of the entire commerce ecosystem – the optimization section. However, if the product as a whole suits your business, then you will appreciate that it covers digital shelf analytics too.
Syndigo helps show where to focus your efforts, with reports including:
Share of Digital Shelf Report
Out-of-Stock Report
Pricing Report
Product Dashboard Reporting
Buy Box Report
Ratings Report
In addition, you can create custom Excel/CSV exports in Syndigo's Report Builder, using any of the data points stored for a product
If you really want to understand your eCommerce performance and market, you can purchase additional add-on reports, including:
Detailed Reviews Report
Customer Q&A Report
Zip-Level/Geo-Reporting
Variant Audit Report
Competitor Report
MAP Report
Authorized Reseller Report
Promotions Report
---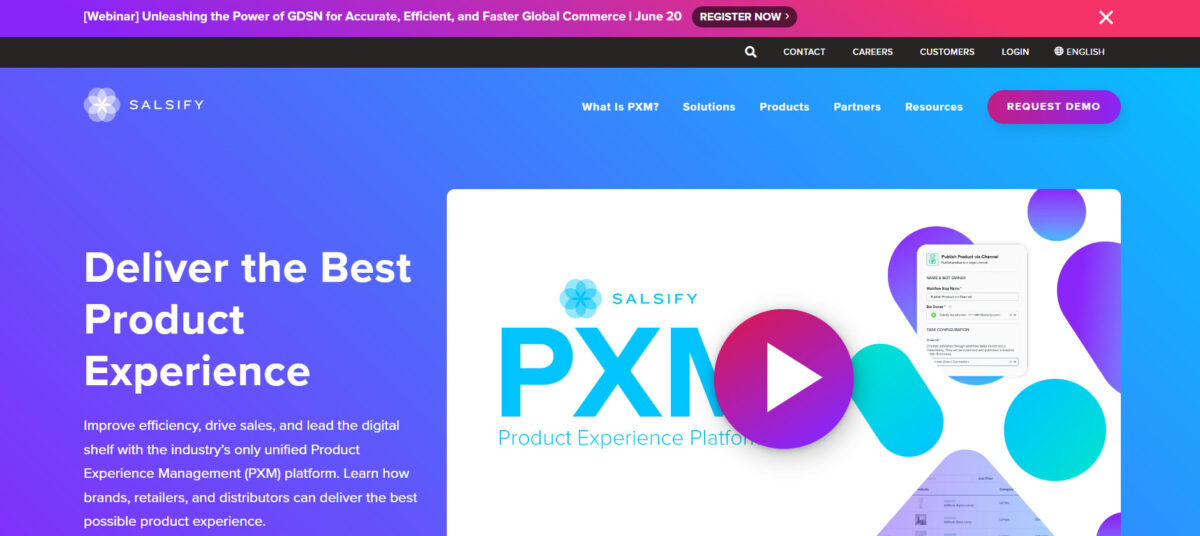 Salsify provides a unified Product Experience Management (PXM) platform for brands and retailers. Salsify Supplier Experience Management (SXM) helps retailers deliver winning product experiences.
They recognize the importance of the digital shelf for online commerce. Salsify claims that a unified PXM platform will help you win on the digital shelf. This is because an effective digital shelf strategy unifies the right people, the right process, and the right technology to drive a repeatable approach with optimum efficiency and maximum result.
With Salsify Supplier Experience Management, you can centralize all product content, including inventory and pricing, connect the right product experience to the right channel at the right time, and automate the process so teams complete work as efficiently as possible.
Salsify provides many reports that display the data necessary for online retailers to make decisions. For example, Product Page and Search Engine Optimization (SEO) reports show you exactly where your content ranks today — and where to focus tomorrow. You can audit published content to ensure it's actually what you syndicated with Last Mile Visibility and leverage the Share of Search or Buy Box reports to ensure it is driving your desired business outcomes.
In addition, the Salsify Brand Compliance Report outlines how third-party retailers represent your products online, helping you avoid a time-consuming manual review process.
---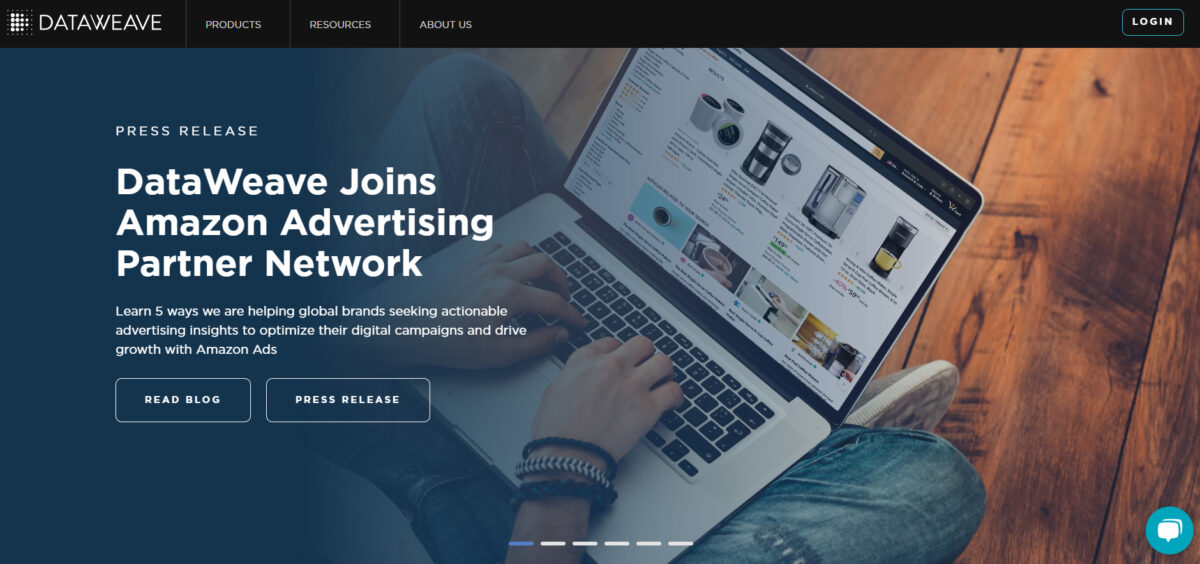 DataWeave offers a range of products for brands and retailers. One of their focal points is digital shelf analytics. Their product helps you measure and optimize product performance across online channels.
One area of focus is Share of Search. By measuring your share of the digital shelf, you gain more insights into how to engage with your customers and drive more sales. In addition, you can use DataWeave's product to determine your competitors' visibility under search and navigation, to benchmark your performance against theirs.
DataWeave's Content Audit solution helps you monitor hygiene factors (product titles, descriptions, images, etc.) to fill the gaps in your content, across online channels. You can audit pre-defined brand guidelines to identify gaps and then focus on improving your catalog quality.
Another useful part of DataWeave's product is that you can track your products' stock status to enhance accessibility and digital shelf velocity. It provides a near-real-time view of stock availability and gives insights that indicate sales trends to give you a strategic edge. You can use the information that DataWeave provides to reduce the latency points between stock replenishment.
---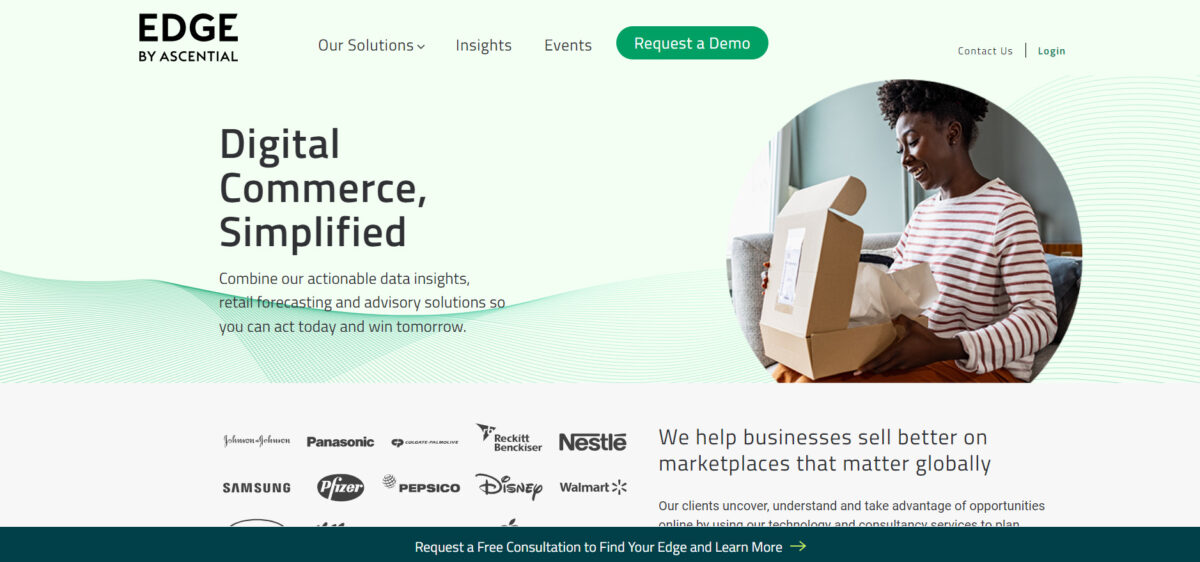 Edge provides actionable data insights, retail forecasting, and advisory solutions so you can act today and win tomorrow. They provide solutions that help you increase your market share at Amazon and Walmart, retail insights that identify emerging trends and discover growth opportunities, and digital shelf analytics to optimize your shelf performance and grow online sales.
Edge Digital Shelf provides measurement and benchmarking customized to your organization's definition of category – giving you the most reliable metrics for measuring your online business and charting your future strategy. You can adapt your benchmarks to focus on what is most important to your needs. 
It offers normalized metrics for simple and powerful executive-level retailer versus retailer performance comparisons.
---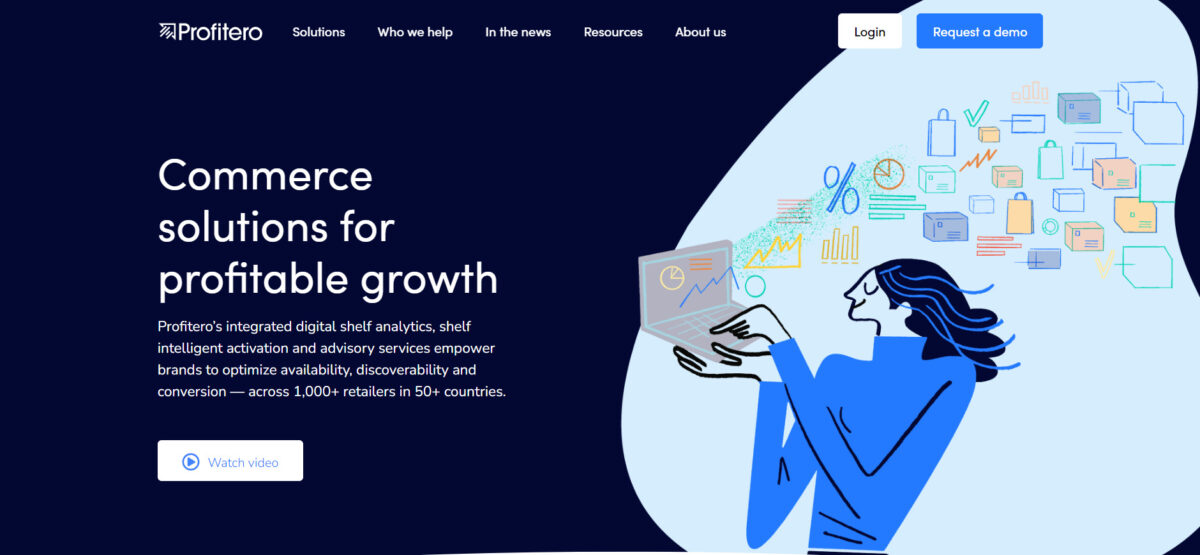 Profitero offers integrated digital shelf analytics, shelf intelligent activation, and advisory services that empower brands to optimize availability, discoverability, and conversion. They currently lay claim to 1,000+ retailers in 50+ countries.
Powered by daily data, Profitero's diagnostic tools and digital shelf analytics give their clients competitive insights to optimize all their traffic and conversion levers across retailers. 
Some of the uses for Profitero include:
quickly detect and defend against competitors bidding on your brand keywords

boost your organic search rankings by benchmarking your product content against top-performers

optimize ad campaigns by identifying new keywords and competitors trending in your categories

use daily out-of-stock alerts by retailers to quickly replenish inventory

use traffic and demand signals to better predict inventory trends and prevent out-of-stocks

ensure retailers always carry the right products, at every store location

track retailer product pages to ensure all product content fields are correct and visible to shoppers

integrate with your existing PIM/DAM solutions to minimize extra work

benchmark product descriptions, images, and videos against competitors to identify where to focus efforts

get higher ROI from advertising by knowing which products convert the best
---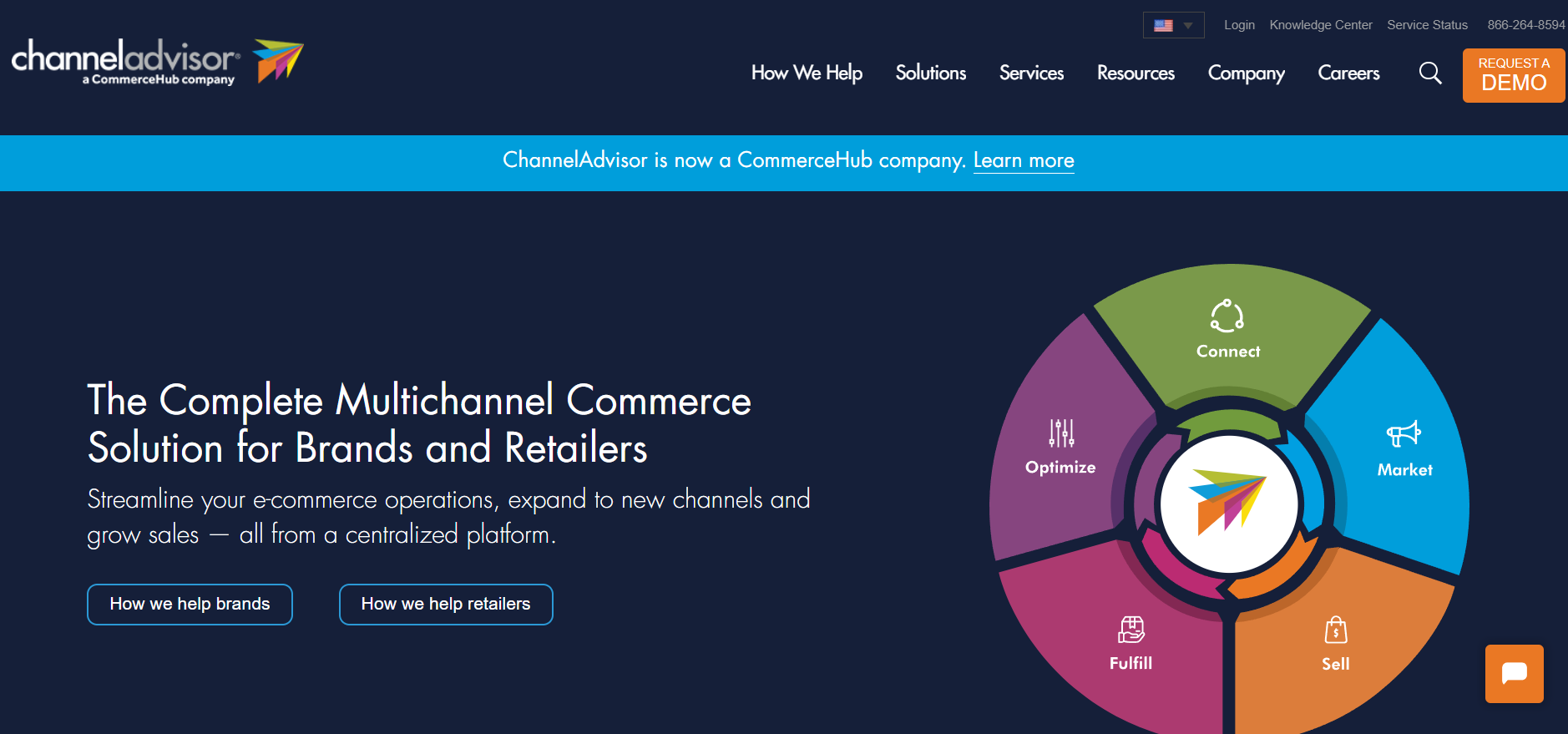 ChannelAdvisor offers a complete multi-channel commerce solution for brands and retailers, helping you streamline your eCommerce operation from a centralized platform. Their Digital Shelf Search Performance allows brands to measure the share of search results on eCommerce sites to identify opportunities for content improvements or advertising that can lead to increased visibility and sales.
You can use it to:
automate search results tracking to understand which products appear when consumers search on eCommerce sites

optimize product pages based on the keywords that drive results

identify advertising opportunities based on organic performance

monitor the share-of-brand over time, knowing when to counter your competitors' strategies

determine the keywords your competitors sponsor and monitor your sponsored campaigns
In addition, ChannelAdvisor Marketplaces optimizes your content across every channel, manages pricing, and syncs inventory levels across your retail network.
ChannelAdvisor gives insight into your various advertising and direct selling strategies, allowing you to apply learnings from all your programs to maximize ROI.
---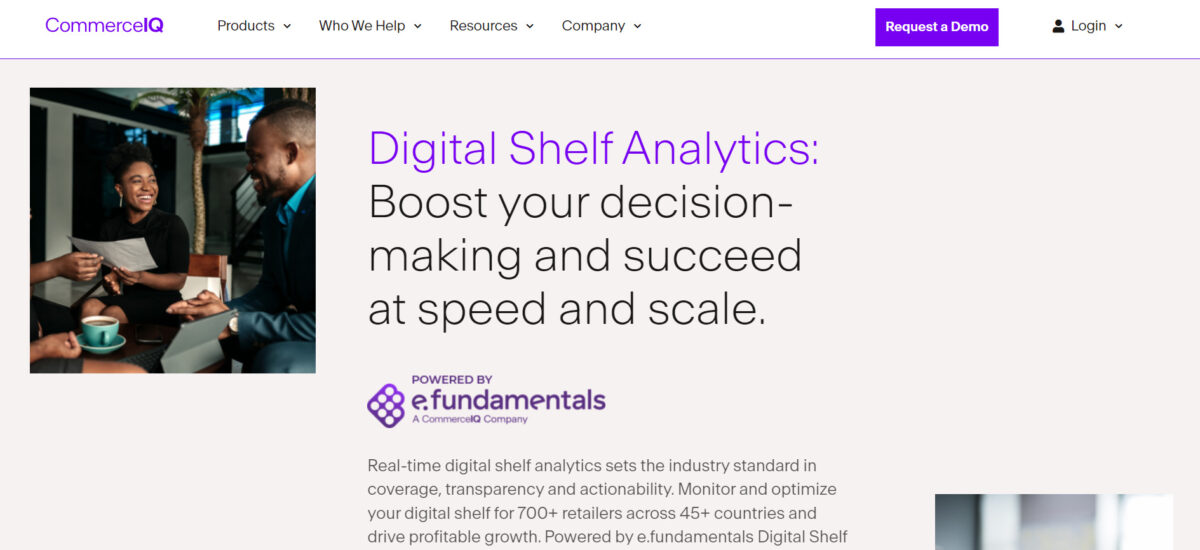 e.fundamentals Digital Shelf Analytics monitors and optimizes your digital shelf at 700+ retailers across 45+ countries and drives profitable growth. You can use it to create best-in-class content through generative AI, identify store-level availability gaps, and prioritize assortment needs across store and eCommerce channels.
It focuses on six fundamental areas that deliver sales and profit online:
Content, brand, and compliance – maximize your product potential with optimized content for the digital shelf

Share of search – boost your digital shelf organic and paid search rankings by measuring your brand against top performers

Pricing and promotion – monitor and adjust category price changes, ensuring the right mix of pricing across key online retailers

Retail media monitoring – take control of your eCommerce media performance, drive consumption, and category growth

Availability and assortment – optimize your eCommerce assortment, and recognize opportunities to drive value, managing retailer stock availability

Ratings and reviews – monitor your digital shelf product reviews, using them to optimize your digital shelf marketing strategy
---
eStoreMedia proudly proclaims itself as the world's first eStore shelf automation suite. It is an integrated suite of eStore Shelf Analytics, Product Information Management, and Al‑based research methodologies.
One of their areas of focus is digital shelf analytics intelligence. They identify the actions you need to take to improve your online sales. In just three clicks, you can go from data to the actions that will drive the greatest sales.
They provide actionable data with traffic light ratings to guide priorities at every level of your organization. The all-in-one view allows you to compare markets or switch from one market to another in the same account, making eStoreMedia perfect for global implementation.
---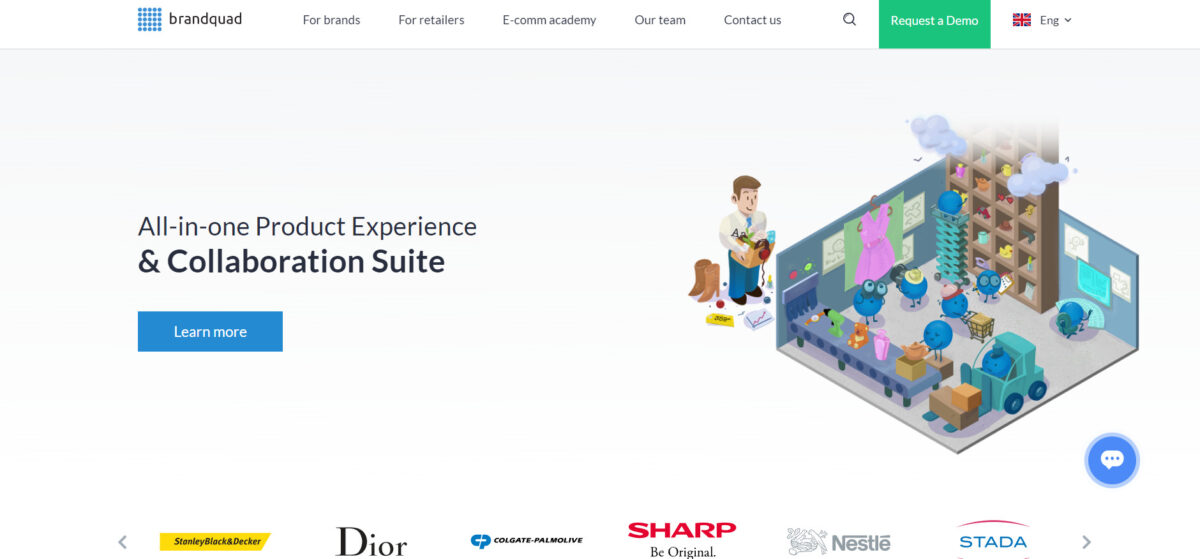 BrandQuad is an all-in-one product experience and collaboration suite. One of the most important components for eCommerce stores is E-commerce Intelligence (ECI), BrandQuad's Digital Shelf Analytics solution. It comes incorporated in BrandQuad's Product Experience Management suite.
ECI enables users to monitor and analyze product information such as prices, on-shelf availability, and other relevant data points on online retail sites. It allows you to continuously monitor product experience performance metrics for your products in every digital retail channel. For example, you can track the movement of prices, the availability of your products, rating, and reviews, your products ranking on relevant websites, content compliance, and more. In addition, you can track the same data for your competitors.
---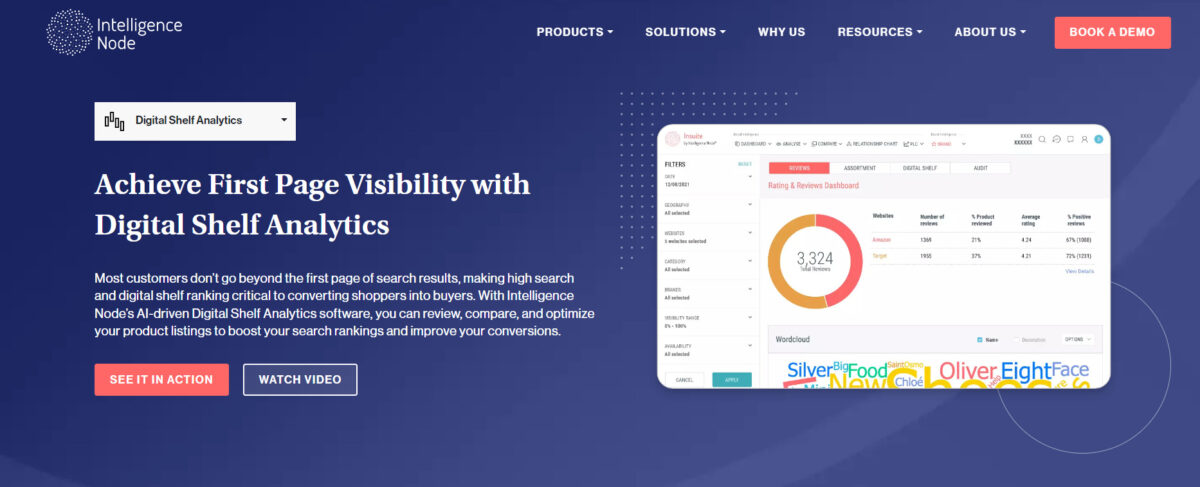 Intelligence Node offers four main products:
Brand Intelligence

Retailer Intelligence

Data Intelligence

Price Intelligence AI (a Shopify app).
Aspects of Digital Shelf Analytics appear in each of these products.  With Intelligence Node's AI-driven Digital Shelf Analytics software, you can review, compare, and optimize your product listings to boost your search rankings and improve your conversions.
Intelligence Node offers a comprehensive plug-and-play solution, powered by proprietary machine learning algorithms, advanced analytics, and computer vision to track, compare, and optimize product listings in near-real-time. Their Digital Shelf Analytics solution consists of various modules including product copy generation and audit, keyword analysis, image optimization, assortment and availability optimization, customer reviews and shopper sentiment analysis, pricing, and promotions.
---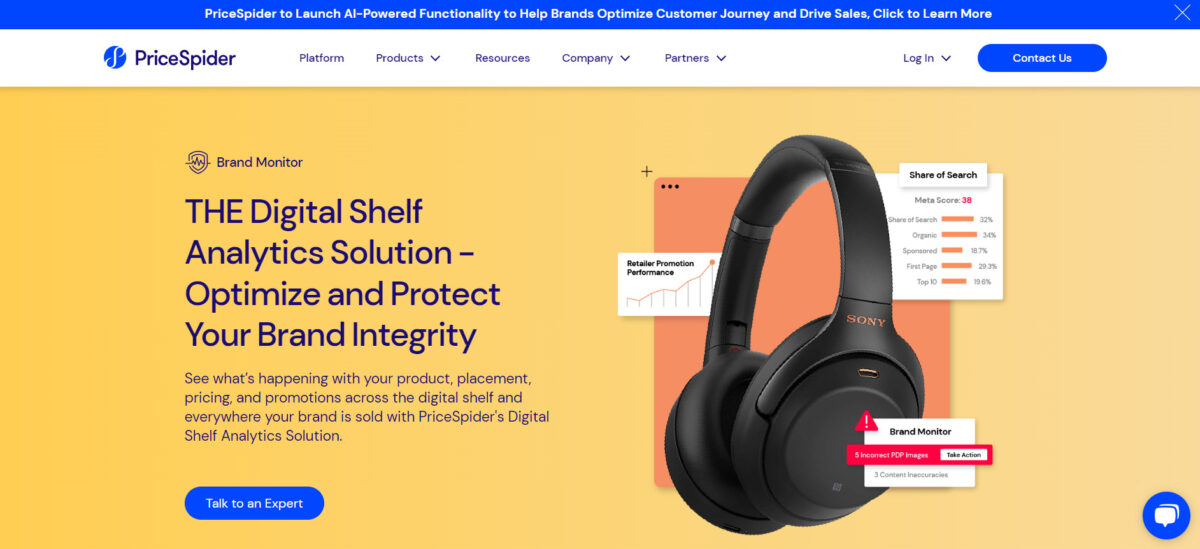 PriceSpider provides a brand commerce platform, providing visibility from discovery to sale with engagement and enforcement tools to optimize the customer journey. The platform provides real-time data and a continually updated feed of information to understand what's actually happening online with your customers. Their technology optimizes the consumer shopping experience by increasing conversions and protecting margins. PriceSpider's Brand Commerce Platform delivers insights that guide the customer's journey from interest to purchase and collects data that tells brands their every move along that path.
They provide a digital shelf analytics software solution.  PriceSpider crawls thousands of websites in real-time​, giving insights across thousands of retailers and sellers to ensure your share of search and product pages are optimized. You can monitor content on thousands of retailers' and sellers' websites, product detail pages, competitor stock levels, and competitor keywords, across over 70 countries and 136 languages. All of which should help you understand your brand's share and find new opportunities.
---
ChannelSight helps brands use data to strengthen their products' online performance and maximize conversions at every stage of the consumer journey.
One of their products is Digital Shelf. This gives brands the necessary tools to quickly and easily monitor their products' online presence across every digital touchpoint. Digital Shelf includes a centralized repository of product-level information across the scale of digital buying experiences, helping brands to quickly assess performance and implement optimizations as efficiently as possible.
You can choose the full suite of Digital Shelf products or select only the features you need.
ChannelSight's internal proprietary software matches your product info with all sources of publicly available data, as well as daily and weekly data from their 1550+ integrated retail partners. You can view a centralized repository of all product content and product performance across your digital buying experiences. You can self-serve the data and insights you need in your ChannelSight portal or integrate it into your internal analytics platforms.
Areas covered by ChannelSight's Digital Shelf include:
Sentiment analysis

Pricing and inventory analytics

Trending dashboards

Compliance checks

Competitor analysis

Top product reviews
---