It's easy to imagine a shelf in a traditional brick-and-mortar store. We see them every time we go into most shops. The stock sits on shelves, mostly in tidy rows, ready for customers to pick up and take away to a new home. Occasionally you'll see an oddly misplaced item on a shop shelf, most likely due to carelessness by one of your fellow shoppers. We typically pick up an item of stock, examine it, and either place it back on the shelf or take it to a nearby checkout to purchase. A few unscrupulous "shoppers" might place the odd item from the shelf down their pants with the intention of "liberating" (shoplifting) it.
But where are the shelves in an online setting? How do we view and examine stock and engage with brands before purchasing? This is where the digital shelf comes in. Online retailers are finding alternative ways to engage with shoppers to compensate for the lack of a physical shelf. And in the process, they have made things harder for the "shoppers" who can no longer shoplift as easily.
---
What is the Digital Shelf and Why It Is So Important:
---
What is the Digital Shelf?
In a traditional retail shop, you can access and find out about goods by going to the shelves. This is where the goods are, usually placed in informative packaging and often surrounded by nearby, hopefully helpful, signage. Since we moved on from asking the shopkeeper for everything we wanted (look at shops in old-time movies for this), retail shelves have indirectly helped us find solutions to many of our needs and problems. If we're hungry, we go to a shelf in a store to find something to eat. If we want to learn about something (ignoring today's digital possibilities), we go to a bookstore to find a relevant book. If you want to build something, you go to the shelves in a hardware store and buy tools of various types and qualities. We may not be able to pick up a new car from a car dealer's shelf, but we can find car parts and accessories on them. We encounter shop shelves carrying inventory nearly every time we enter a store.
The digital shelf fulfills a similar purpose when you're shopping online. It's not the shelves in the warehouse where eCommerce stores keep their inventory. Instead, it's the online places where shoppers can discover, research, and buy something online. Or, to use marketing jargon, the digital shelf consists of all the digital touchpoints where a shopper can discover what they need to know about the products that interest them online.
Digital shelves are much more fluid than their offline equivalents. New online stores pop up daily, review sites add up-to-date reviews, people create websites focusing on product types, consumers write about products they've bought in social posts, and product catalogs change far more regularly than in a traditional store.
Most people begin their quest to purchase products online by searching. This may be on a general search engine like Google, a marketplace like eBay, or a store they frequent, like Amazon. The (relevant) search results represent the digital shelf – they show where you can find everything you need to know to purchase the product online.
---
Why is the Digital Shelf Important?
The digital shelf has leveled the retail playing field. It can be challenging to set up brick-and-mortar stores with many fixed costs that many small businesses cannot bear. Also, some retailers find that they can't open shops in suitable locations thanks to their competitors. However, with the advent of the digital shelf and new distribution methods such as print-on-demand and dropshipping, anybody can enter the eCommerce arena with only a limited need for upfront expenditure.
It also has the effect of significantly broadening the opportunities for consumers. You are no longer restricted to what your local stores have in stock. Before, at best, you could hope that the store would make a special order for you for a product they didn't currently have on their (physical) shelves. Now, you can search the net to find what you want, possibly even encountering suggested solutions to your problems you would never have previously imagined. You can evaluate the pros and cons of products, read purchaser reviews, compare features, and find the best price and delivery terms. And you can do all this where you are, simply by pulling your smartphone from your pocket or purse.
Now, customers have much more sway than they did in the pre-digital age. Whole industries have disappeared or have had to reimagine themselves as customer tastes have changed. For instance, the music industry loved the days when they had control over people's music tastes and purchasing. You would hear songs on the radio, and if you liked something, you would go down to your local CD (or earlier still, record) store and buy a physical copy of the song. As technology changed, the music companies were dragged kicking and screaming to where we are now, with most people streaming music through platforms like Spotify or YouTube.
You no longer have to rush to the shops during opening hours. You can research and purchase your products at any time you want. You don't have to adapt your schedule around shops; you can adjust your shopping around your schedule.
You don't even have to shop online to use the digital shelf. You may prefer to touch and play with your potential purchases before you give a retailer your hard-earned cash. Nowadays, many physical shoppers research online, checking reviews and comparing specs between brands and models. Then, once they have almost decided, they go into their local store to experience the product and then make their final decision about purchasing it.
Considering how important the digital shelf is, it makes sense that you want to make the most of it, right? Enter Pacvue Commerce — a leading eCommerce advertising platform that can help brands and sellers to optimize their presence on the digital shelf.
It can help you to improve your performance across various touchpoints. Whether you need help with your detail page content, inventory levels, or pricing, Pacvue can help in all three these areas and more.
It does that by, for example, sharing inventory forecasts so that you know when it's best to pause ads and when it's a good idea to resume them again. As it will keep you up to date with the "health status" of your products, you can minimize lost sales. If there's a problem with a product, it will help you to identify it instantly. Armed with this knowledge, you can set rules that will send tickets to retailers automatically. Digital shelf optimization is just one of its solutions and it can help with various other related needs too.
---
Elements of the Digital Shelf
Dataimpact by Nielson has isolated essential components of the digital shelf. We analyze some of them here. A consumer can't simply pick up an item from a digital shelf like they can in a physical store. So, a digital site needs to find ways to compensate and build enough confidence in the consumer to complete a purchase.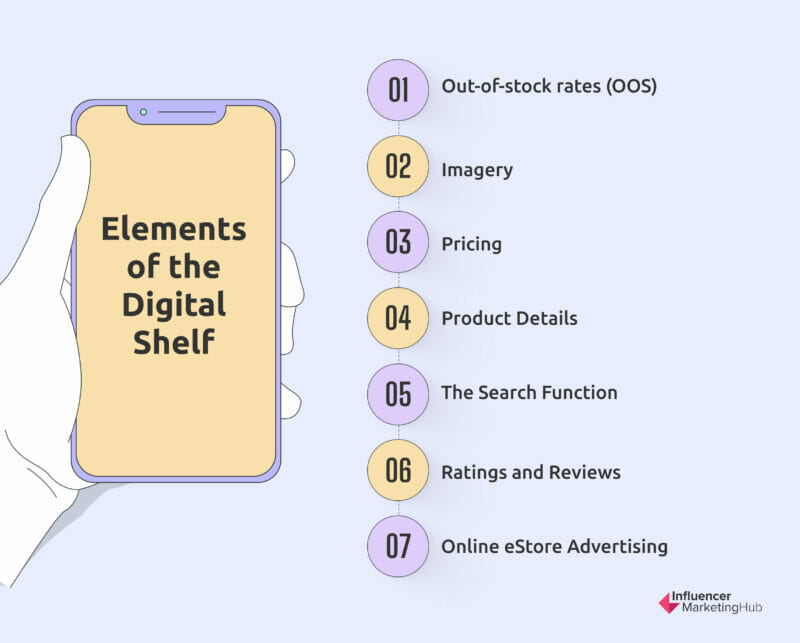 1. Out-of-stock rates (OOS)
The availability of stock is essential to the success of any eCommerce business. Building up a potential customer's interest and hope in a product, only to dash it near the end of the funnel with an "Item unavailable" notice, will do nothing to engender confidence in your online store. In many ways, this is worse than for a traditional retailer. At least there, you can take all marketing signage down when you haven't got any stock left. Online, people are probably still encountering the missing product on your digital shelf, only to feel upset and annoyed when they find you can't fulfill their wishes.
For example, imagine when searching for an "iPad Pro," you are presented with these ads at the top of the Google search results.
When you click on the first option (at PB Tech), you are taken to the retailer's product page, which tells you that they have the iPad you're interested in (although they only have three units left, so you had better hurry).
If you have the money (these examples are priced in $NZ and locally competitive for the items if you are horrified by the price), you can purchase the iPad immediately, either arranging for delivery or going in-store to Click and Collect.
In comparison, if you had opted for the second Google Ad from JB Hi-Fi, you would have landed at their equivalent product page.
Although clearly advertised, stocks were bare when you got to the product page. You would have to wait for the retailer to place a special order as it isn't currently in stock. You feel disappointed at this point and move on to another retailer.
---
2. Imagery
In the absence of physical products to touch and examine, imagery plays a vital role on the digital shelf. Shoppers need clear imagery to ensure they have found the product they are searching for.
You will typically see a carousel of images, perhaps even videos, on product pages and high-quality shots on many other web pages. Ideally, you will want to show a product from all sides to attract potential customers and assist them in their decision-making. On marketplaces like Amazon, you must comply with specific requirements relating to the imagery you post.
Ideally, you should use the same hero image for a product across all web platforms. This encourages you to present a consistent message.
---
3. Pricing
The internet is global. So, you could potentially have people viewing your product details from anywhere in the world. Therefore, you can't automatically assume the currency people will use and the price they expect to pay. For example, if a US citizen was to see the iPad listings shown above, they would be horrified at the price if they didn't understand that they are listed in $NZ, targeting New Zealanders. Of course, Google would be unlikely to position these ads for a similar search made in the USA; instead, they would place ads for American suppliers.
You should indicate the currency you're using in any promotions and any delivery restrictions and indicate what any delivery costs will be.
---
4. Product Details
Many marketplaces specify what you should include on product detail pages. You must adapt your product details to match the requirements wherever your products appear. Places like Amazon expect in-depth product details pages, showing all the key information about each product. This includes the product name and title, images, bullet point details, product description, product variations (e.g., size and color), and customer reviews. In addition, Amazon sets rules about avoiding intellectual property infringements, only stating accurate information, only having one page per product (and adding a new page for each new product), avoiding cross-promotion, and minimizing the need to edit your pages. Finally, Amazon sellers must obey their Selling Policies and Seller Code of Conduct.
---
5. The Search Function
Search success is vital for eCommerce traders. You want your products to appear on the front page of search listings, whether in Google's results, Amazon searches, or anywhere else that consumers search for your type of products. The better your product details, the higher your products are likely to appear in search results. You will want to ensure you have included relevant keywords, images, bullet points, correct product description lengths, etc., for each online retailer where you market your goods.
---
6. Ratings and Reviews
Ratings and reviews have taken on incredible importance in recent times. Global Newswire reports that 95% of customers read online reviews before buying a product, and 58% of these shoppers say they are willing to pay more for products with good reviews.
Brands must monitor ratings and reviews constantly and respond to negative comments within the day, preferably in minutes. Shoppers trust ratings and reviews, which have considerable weight in consumers' decision-making when contemplating online purchases.
---
7. Online eStore Advertising
Pay-per-click (PPC) marketing remains one of the best ways to grow your business, as we saw in our examination of Powerful PPC Trends to Adopt. A common type of PPC marketing is online eStore advertising. For example, by bidding for Sponsored Product ads at Amazon, you can ensure your ads are more visible than if you relied on organic search.
---
Winning the Digital Shelf
The digital shelf offers far more opportunities to an online retailer (or indeed any online stakeholder) than a simple shop shelf. But the increased possibilities provide numerous challenges. You aren't just marketing to a few locals. With the digital shelf, you are not only marketing to the world, but you also face competition from around the globe, too. You have to ensure all your online product content is up-to-date and presented favorably to potential customers. To win the digital shelf space, you will need systems to update prices, details, images, and more across multiple digital locations.
---
KPIs for the Digital Shelf
Like virtually everything else in marketing, you will want to find ways to measure the success of your placement on the digital shelf. Arguably, most eCommerce KPIs act as measures for your digital shelf performance. But there is little point in analyzing every potential KPI for your digital shelf. That would distract you from focusing on the most important measures.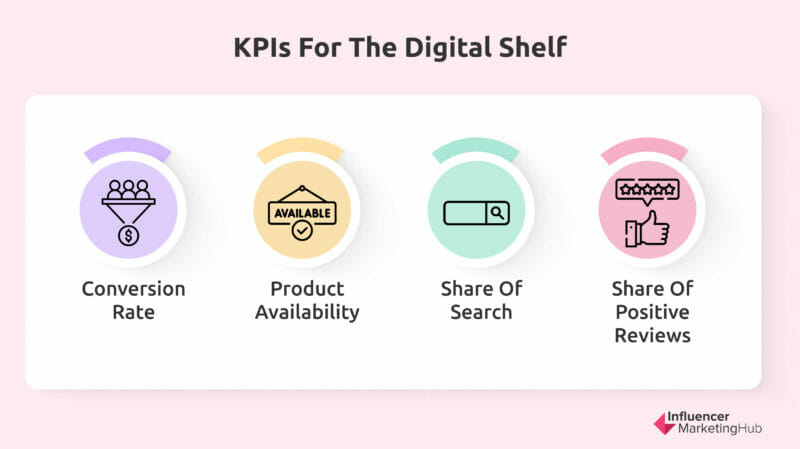 When deciding on your most important KPIs, it would be best to reflect on your business goals. How does the performance of your digital shelf lead you toward meeting your most important goals?
Some of the most critical KPIs to consider (as long as they align with your business goals) are:
Conversion Rate — the percentage of shoppers who complete a transaction on your product detail pages (PDPs).

Product Availability — your stock levels and whether you have sufficient inventory volumes during peak retail periods. If a shopper can't add your product to their shopping cart when they want it, they will look elsewhere.

Share of Search — the total organic searches made for your brand, divided by the total searches for all brands in its category. This shows how you are performing compared to your competitors.

Share of Positive Reviews — consumers now place much credence on online reviews. The more of these you have for a product, the more visible you are likely to be to potential customers.
However, the Share of Search KPI will not be relevant for all parts of the digital shelf. For example, some social sites and eCommerce platforms adapt their search to reflect past purchases and search behaviors. This means that the search rates on these platforms will always be higher for eCommerce pages where shoppers have previously been, no matter how good the SEO by other eCommerce retailers may be.
---
Wrapping Things Up
Compared to a conventional retail shelf, the digital shelf is massive. It effectively covers all locations online where a potential customer can gain knowledge and understanding of a product, including eCommerce stores and social commerce links where they could buy it.
However, the digital shelf isn't limited to online shoppers nowadays. Even people who prefer a hands-on interaction with a product in-store often go online to research potential purchases first. This is one of the reasons why many traditional retailers now take a hybrid approach to commerce and offer both physical and digital touchpoints for the products they sell.
From a retail perspective, the digital shelf provides unimaginable opportunities while also widening your pool of potential competitors. You possibly loved the days when you were the only store of your type in town, and the locals had no choice but to buy from you. Now they can go onto the digital shelf and find businesses offering better service and cheaper prices if you don't ensure your offerings remain competitive.
Hopefully, you keep the shelves in your physical stores tidy, well organized and merchandised with thought. Well, you must do the same with your digital shelf touchpoints. Consumers have little time for an uninformative website full of puffy, meaningless language and lacking interest and value. If you're operating in an eCommerce marketplace, such as Amazon, eBay, or Alibaba, our Global Marketplace Best Practices Guide may inspire you to improve your online offerings.