When you think of spending your marketing dollars, Spotify probably doesn't come foremost in your mind. And yet, you might have considered radio, a very traditional marketing medium. You might even think about spending some of your online marketing dollars on YouTube.
While many people still listen to music on traditional radio stations and music videos are amongst the most popular type of content on YouTube, Spotify is rapidly becoming the favored way to listen to your music. Therefore it makes sense to devote some of your marketing to Spotify.
By the end of 2019, Spotify has become the most popular global audio streaming subscription service with 271m users, including 124m subscribers, across 79 markets. They claim they are the largest driver of revenue to the music business today.
Luckily for marketers, Spotify has recognized its potential for marketing success and now has a well-organized advertising market.
---
Advertising on Spotify - The Ultimate Guide to Spotify Advertising:
---
Advertising on Spotify Offers Great Potential
In some ways, you can look at Spotify as being two products. On the one hand, you have the free ad-supported Spotify product. The keenest Spotify users, however, upgrade to Spotify Premium, which is ad-free. Spotify very much follows the classic freemium model.
But, despite there being little opportunity for marketing on Spotify Premium, there are now vast numbers of people using the free version of the app. According to Spotify's Q4 2019 Annual Report, Spotify has 271 million monthly annual users (MAU). This is up from 207 million a year previously. Over the 2019 year, premium subscribers increased from 96 million to 124 million. There must be some overlap because the report also states that they had 153 million monthly users as of Q4 2019, up from 116 million in Q4 2018.
Another way to look at the importance of advertising on Spotify is to look at their financials for Q4 2019. Although the bulk of their revenue comes from Premium subscriptions (€1,638 million), the €217 million Spotify received from advertising is still a sizable amount. Perhaps more importantly, advertising revenue jumped a solid 27% from the previous quarter, compared to a smaller 5% increase in revenue from Premium subscribers.
Spotify is clearly passionate about the future success of their platform. "We are enthusiastic about the underlying trends in the business. From history, we know that MAU growth tends to be a leading indicator of future subscriber additions, which is then followed by revenue gains in both premium and ad-supported users."
Spotify's greatest strength is its enormous reach. It is, without a doubt, the world's number one audio streaming platform nowadays. And don't underestimate the power of audio streaming. Streaming accounts for 62% of the world's music salesnow, and that's just the Premium subscribers – the people who stream music for free (and thus have to listen or watch ads) don't even factor into the equation.
---
Why Advertise on Spotify?
Like Facebook and Instagram, Spotify has a formal advertising marketplace. This makes advertising on Spotify a simple process. They opened Spotify Ad Studio in 2017 to streamline the advertising process and provide a range of options to potential advertisers.
Because most people are now used to the freemium model, Spotify's free users are expecting ads with their listening. Those who actively hate ads willingly pay for a subscription to the Premium service. This leaves people who accept that they will hear ads as the "price" of receiving their favorite music streaming for free.
Spotify has one advantage over many apps. Most people will, at some time, have listened to the radio, where they hear ads between the songs. They are already used to listening to ad-supported music. Spotify is one step better than the radio, however. You can create your own playlist and aren't reliant on the whims of some program director.
---
How Can You Advertise on Spotify?
There are multiple types of ads that you can create for Spotify, and perhaps surprisingly, they aren't all audio. This means that you can easily create a whole advertising campaign based around Spotify if that is where you feel your target audience spends their time.
Audios
Mercifully (from the users' perspective), you don't break up songs to play ads. Spotify plays audio announcements between songs.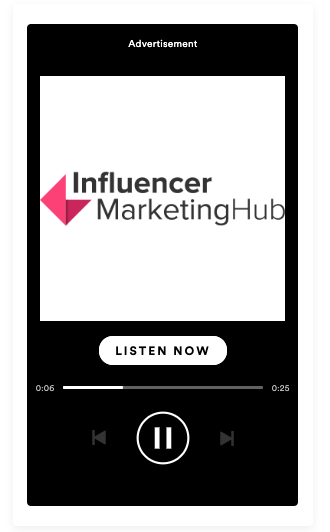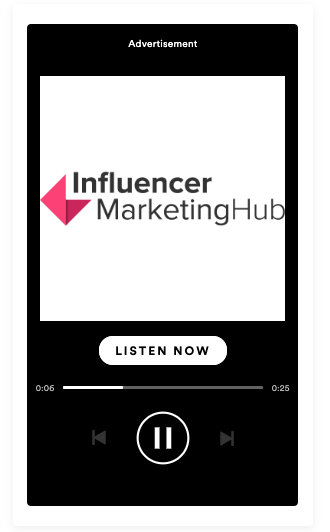 Spotify plays audio ads on all versions of the app, no matter what your device.
You can create audio ads lasting between 15 and 30 seconds. Technically, a Spotify audio ad is better than its radio equivalent. You can also create an image that a user can click on to do some action; for example, it may take them to a specific landing page.
You can specify the types of music to which your ads connect. Make sure that you focus on the kinds of music listened to by your target audience. You can also personalize your ads to a specific geographic region, so it may be a good idea to mention it in your copy.
It is also important to remember that the main Spotify listeners are Millennials and Generation Z, although it has also taken off with older audiences. The younger generations don't like loud, in-your-face ads, so don't create those annoying ads you often hear on the radio or see on television. Make sure your ad is relevant to your target audience, otherwise they will switch off completely.
Videos
Spotify gives you two options for using video in your advertising.
Firstly you could produce a Takeover video. Here, you buy an advertising spot between songs, similar to the audio ads, but in this case, you show a full-screen video instead of a static image. Obviously, this is only useful for people viewing the app, however. People who solely use it to play music are unlikely to look at the app to watch a video.
Spotify has also partnered with some businesses to sponsor a music presentation.
Display Ads
Some firms may prefer to use the same types of display ads that they use on other platforms. These are very similar to the display ads you see on other sites, which are often delivered by Google Ads.
Spotify shows display ads for 30 seconds, usually at the top of the Spotify browser. Spotify is also intelligent enough not to overlay your display ads over any other type of advertisement. Users can click on a display ad, and it will take them through to wherever you choose, for example, a targeted landing page.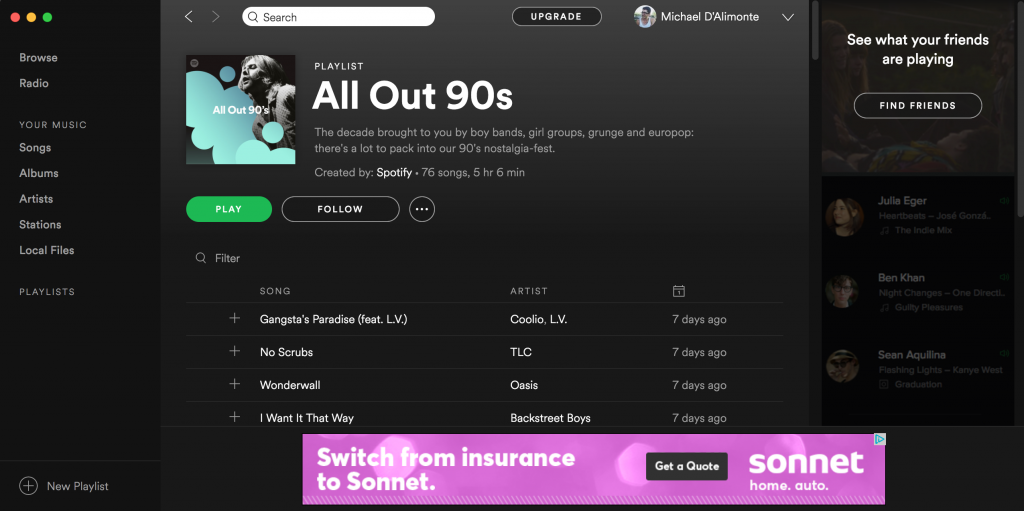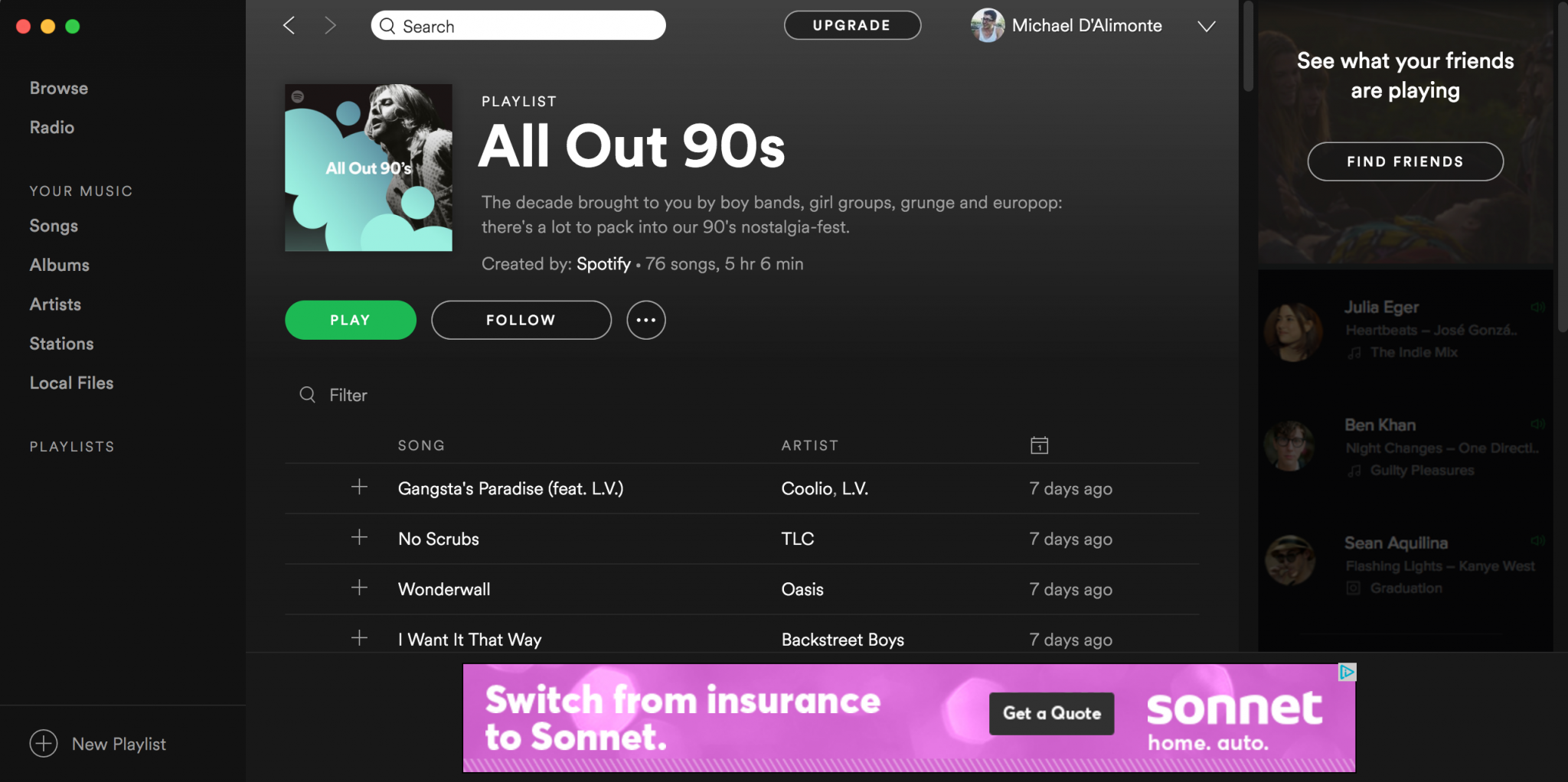 You can select from three types of display ad:
Homepage takeover – this is a clickable ad. The user's Home Page changes to reflect the advertised brand for a while

Megabanner – these look more like your typical banner ad. They take up the bottom part of a user's screen

Overlay – these begin as a full-screen ad, but the user can close them by clicking on the X. If the user still hasn't clicked on an Overlay ad, they shut down after 30 seconds
Sponsored Playlists
While most firms that advertise on Spotify do it formally through the Spotify Ads Studio, that isn't your only option. You have another possibility. One of the features of Spotify is that you can create playlists of songs and make them available for anybody to use. You can also upload a suitable image to go with your sponsored playlist.
Therefore you can easily create a playlist and name it after your brand. Obviously, you are going to want to put together a list of songs that will appeal to your target audience.
All this takes is some imagination, and possibly a way to market your playlist off Spotify, as there will, of course, be thousands of other playlists that others have assembled.
Creating a sponsored playlist helps you get closer to your target market and interact with your target customers.
Of course, you will want to think carefully about any playlist you create. There is little point in putting together a disjointed series of songs. You want people who use your playlist to be in the right mood, hopefully, to enjoy the songs you have chosen and then return to play the list again. This means that you need to use psychology to create the perfect list of songs, with each one leading to the next.
---
Creating a Spotify Ad
Advertising on Spotify used to be very expensive, and this limited Spotify advertising to just large businesses. However, with the arrival of Spotify Ad Studio as a self-service platform in 2017, Spotify suddenly became viable for small and medium-sized companies.
Firms can upload their ads directly to Ad Studio and set their budget and targeting factors themselves. It operates in a very similar way to the advertising platforms of Facebook, TikTok, and most of the other social networks.
You don't even have to record your ads yourself. You can simply upload a script and select suitable background music. Spotify's technology can record the script and bring everything together for you.
If you have a larger budget, then you could consider adding display or video ads to your campaign mix. Research shows that Spotify users spend a surprisingly long time looking at their devices, meaning that there is a reasonable chance that your target audience will see your more visual ads.
As with all self-service advertising networks, Spotify Ad Studio leads you through a process, helping you set up your ads campaign. You will need to go through the following steps if you wish to use audio ads.
---
Choose your Objective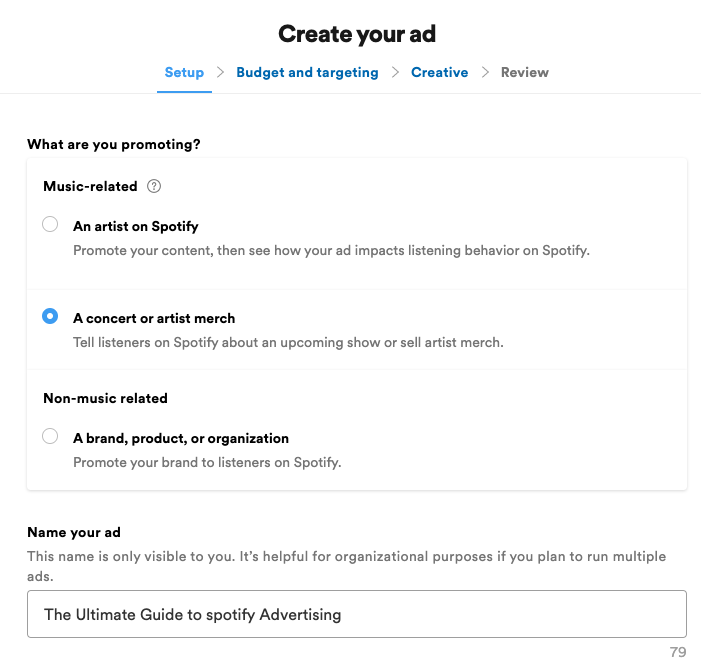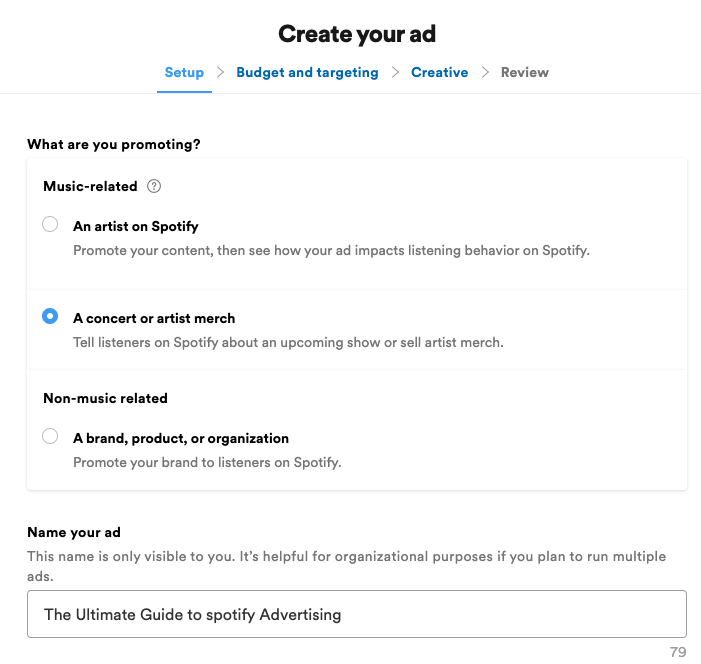 ---
Upload Audio
Upload your audio or request a voiceover.
---
Target your Audience
Target your audience – you can target your audience by demographics (such as location, age, and gender), listening behavior, or platform.
---
Set Budget & Schedule
Set your advertising budget and schedule. You will need to spend at least $250. The exact price you will end up paying will depend on your location and your ad targeting. You will also have to set the dates for your campaign, with your budget spread evenly across the campaign period.

---
Create your Ad
Create your ad creative – this is where you add details like the companion image to go with your audio ads, the ad headlines, and the link to your landing page.