Advertising Disclosure
Advertising disclosure:
Our partners compensate us. This may influence which products or services we review (also where and how those products appear on the site), this in no way affects our recommendations or the advice we offer. Our reviews are based on years of experience and countless hours of research. Our partners cannot pay us to guarantee favorable reviews of their products or services.
Music marketing agencies are the indispensable linchpins that anchor artists in an ever-evolving music industry. They provide an essential link between the creative hearts of musicians and their prospective audience, an audience that is spread across various demographic and geographic spectrums. In the 21st century, it isn't merely about producing great music anymore. The modern music industry requires a precise understanding and effective execution of strategic marketing to bring that music to the ears of listeners worldwide.
Music marketing agencies are masters of nuance. They understand that every music genre appeals to a different audience subset and has unique promotional requirements. Their role extends beyond just selling music. They build narratives around artists, design engaging campaigns, and create immersive experiences that forge a deep connection between the artist and the listener.
At the intersection of creativity and commercial acumen, these agencies bring to the table a blend of expertise that facilitates the artist's journey from obscurity to recognition. With the rise of digital media and an overflow of content on numerous platforms, the role of a music marketing agency becomes even more crucial. They navigate the labyrinth of promotional channels, social media platforms, and content marketing strategies to optimize the exposure artists receive, helping them stand out in a crowded, competitive space.
---
Top 12 Music Marketing Agencies to Promote Your Tune in 2023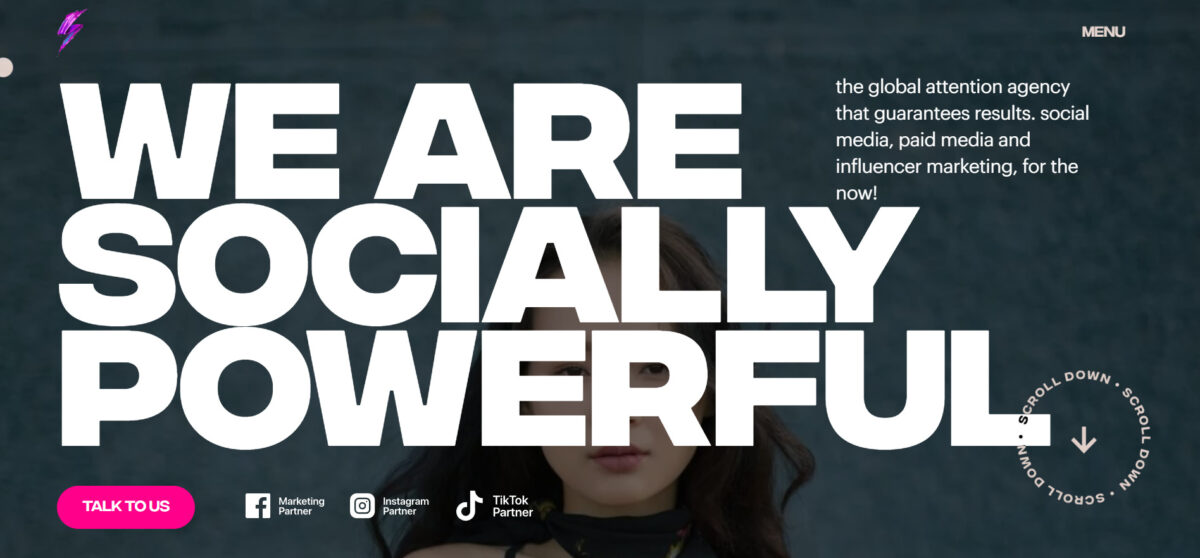 Average Hourly Rate: $200-$300
Average Project Cost: Starting at $50,000+
Based in London, United Kingdom, SociallyPowerful has carved out a niche in the realm of music marketing, leveraging their deep understanding of the symbiotic relationship between music and social media. The agency strategically employs the power of music influencer marketing to foster success for both emerging and established artists and music-focused brands.
They expertly navigate key social media platforms, including YouTube, Twitter, Instagram, and TikTok, which have proven to be crucial in launching and shaping artists' careers. Through comprehensive services, they amplify brands and drive social engagement, irrespective of geographical boundaries, due to their global presence.
Their approach to content is king, and they guide clients in sparking powerful conversations, meeting sales targets, and building an impactful brand across the globe.
Services:
Advertising
Branding
Content Marketing
Social Media Marketing
Video Production
For Influencers: If you are looking for agencies to represent you click here.
---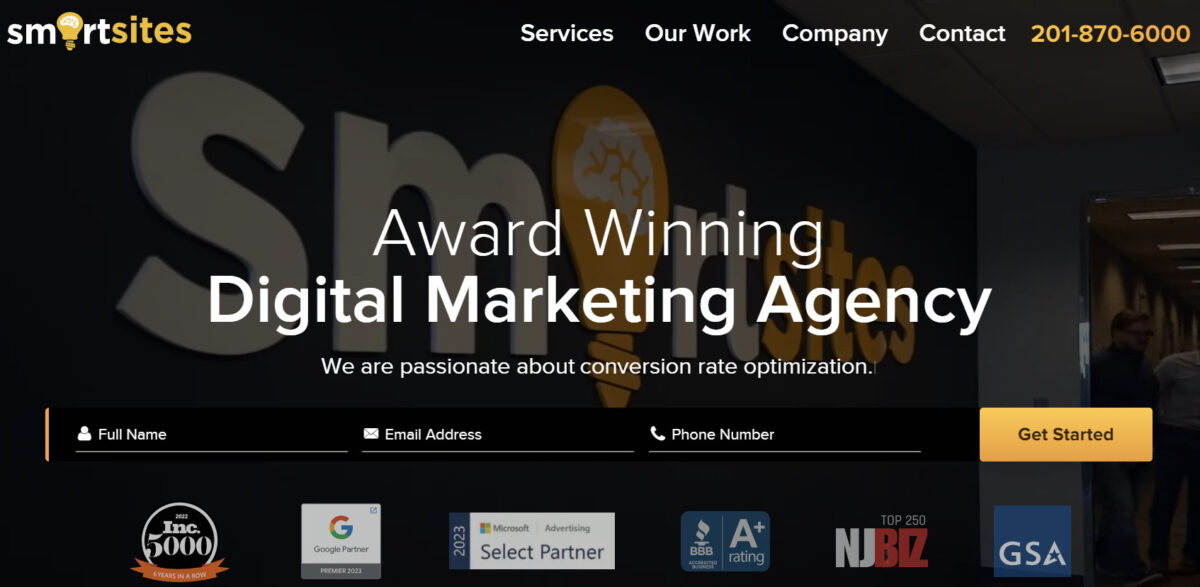 Average Hourly Rate: $100-$149
Average Project Cost: Starting at $1,000+
SmartSites, located in Paramus, NJ, is a trailblazer in digital marketing agencies, offering proven strategies to music businesses ranging from digital music stores to music recording studios. Through their innovative methods, they aim to propel music businesses to new heights online.
Their suite of services encompasses Advertising, Social Media Marketing, and Web Design, tailoring each approach to the unique needs of their music-oriented clientele. They are known for delivering high-resolution, advanced web functionality, and potent e-commerce platforms integrated into visually pleasing websites that effectively convert visitors into customers.
SmartSites is a certified Google Partner, placing them in the top 2% of agencies for customer service and performance. This expertise enables them to execute result-driven online music marketing campaigns and reassess any promotions that aren't performing optimally.
Services:
PPC
SEO
Advertising
Social Media Marketing
---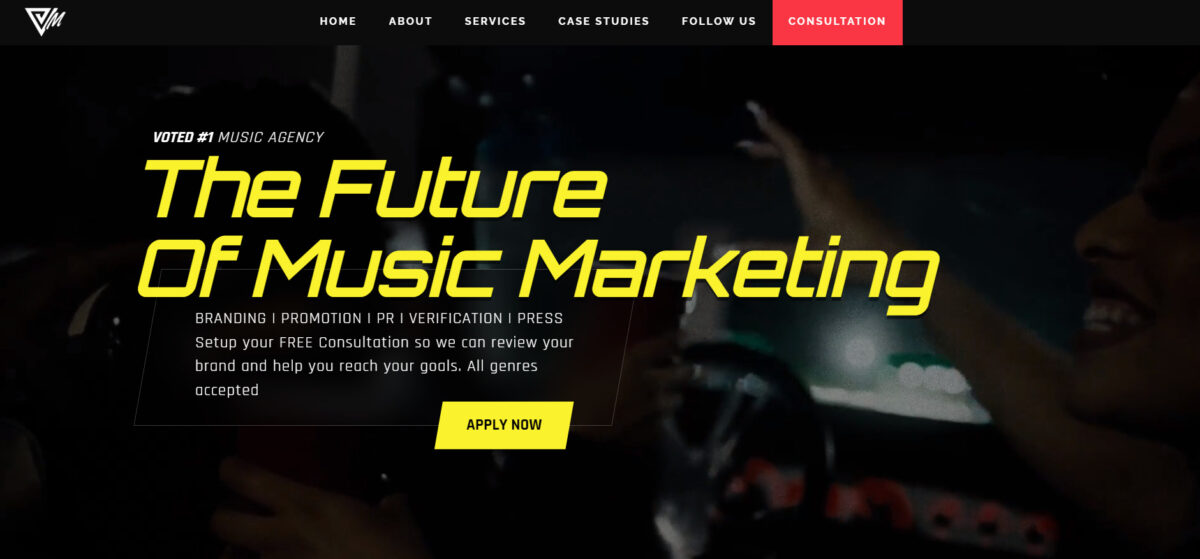 Average Hourly Rate: $100-$149
Average Project Cost: Starting at $1,000+
New York-based View Maniac has over a decade of experience in music marketing and public relations. The agency's approach begins with identifying a brand's core message and bringing it to life in the digital realm. Through their services including Social Media Marketing, Public Relations, and Video Production, they help artists and music businesses drive targeted attention to their work.
With a background in working under big labels, they understand the need for a comprehensive plan for music careers and offer strategic music marketing services. They guide clients through building a sustainable brand, gaining a real following, digital distribution, and getting verified on social media.
Their achievements include running successful marketing campaigns on several Multi-Platinum Projects, creating 15 viral videos that generated over 5 billion views organically, and being official vendors for Sony Music.
Services:
Social Media Marketing
Public Relations
Video Production
---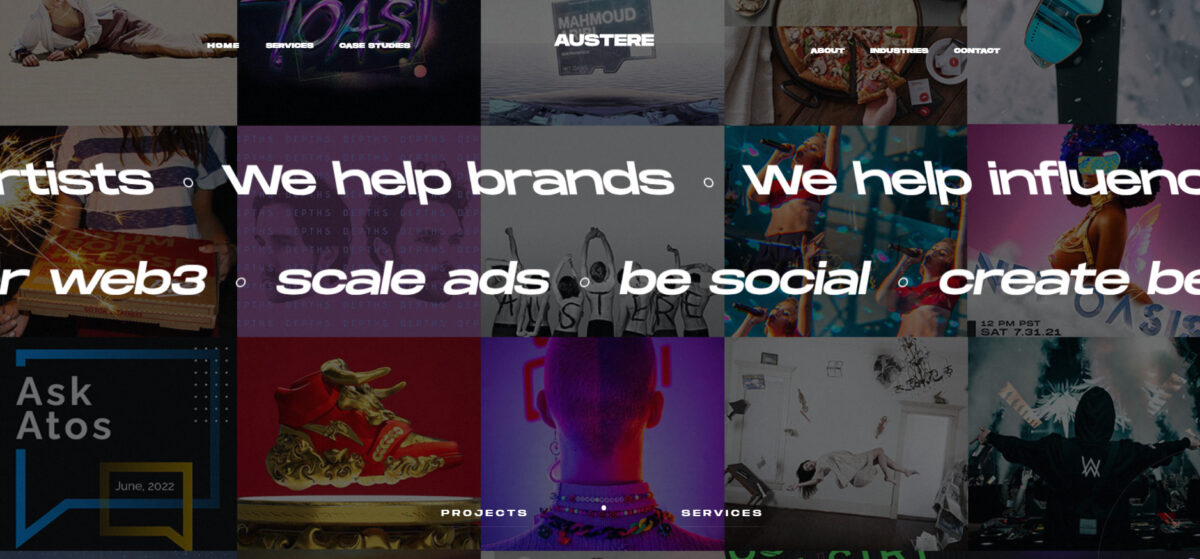 Average Hourly Rate: $100-$149
Average Project Cost: Starting at $5,000+
Located in Magnolia, Texas, AUSTERE Agency is a creative powerhouse known for its disruptive marketing campaigns and impressive portfolio of clients in the music industry. With a decade-long experience and a digital-native approach, AUSTERE leverages the power of social media, advertising, and content marketing to build solid digital identities for music brands.
The agency is specialized in managing artists' social media presence, creating eye-catching content, and implementing hashtag strategies that build massive online fanbases. Besides, their services extend to launching influencer campaigns, growth hacking, and formulating scalable strategies on platforms like TikTok and YouTube to give artists the desired visibility.
AUSTERE's proficiency goes beyond traditional music marketing. They are also adept in developing artist identities through narrative visuals, managing release campaigns, and crafting impactful strategies across web platforms. They are at the forefront of innovation, providing strategies for the metaverse and NFTs, a testament to their fluency in internet culture.
Services:
Social Media Marketing
Advertising
Content Marketing
Web Design
Graphic Design
---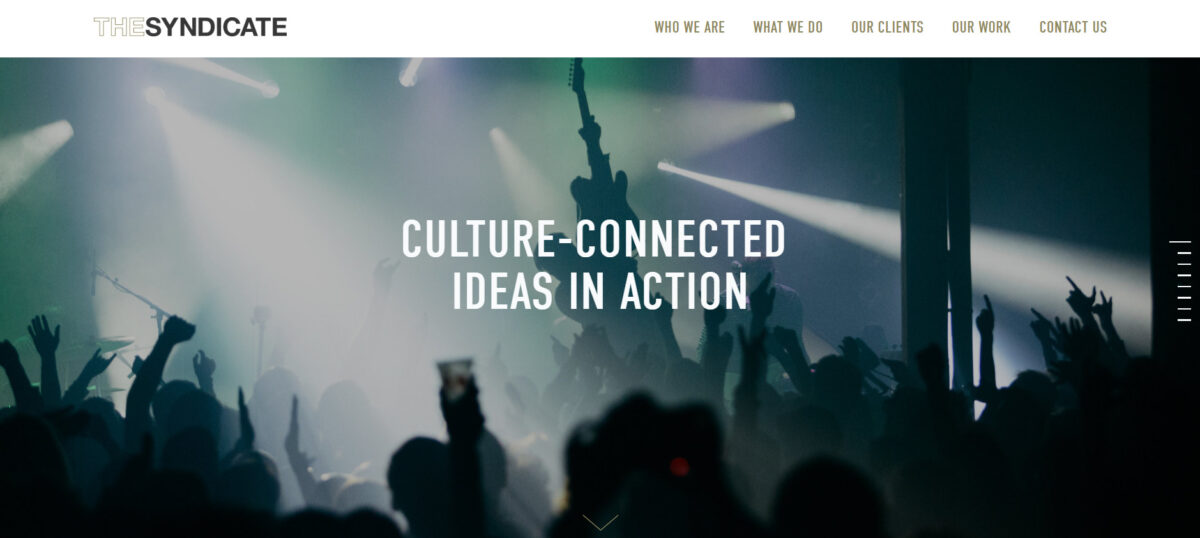 Average Hourly Rate: $150-$199
Average Project Cost: Starting at $5,000+
Based in Weehawken, New Jersey, The Syndicate is an independent marketing agency that prides itself on innovative brand strategies and promotional campaigns that resonate with youth culture. Since 1998, The Syndicate has positioned itself at the nexus of music, comedy, and pop culture, shaping the growth trajectories of artists like The Killers and Arctic Monkeys.
The Syndicate utilizes their deep connections across the music and comedy industries, along with their keen understanding of pop culture trends, to design marketing strategies that speak directly to their clients' audiences. This includes curating strategic brand partnerships, concert promotions, and multi-phase advertising campaigns.
The agency stands out for its experiential marketing campaigns that focus on creating emotional connections with audiences and generating shareable moments. Whether it's creating brand activations, producing events, or curating entertainment programming, The Syndicate leaves a lasting impression on consumers.
Services:
Branding
Event Marketing & Planning
Media Planning & Buying
Public Relations
Advertising
---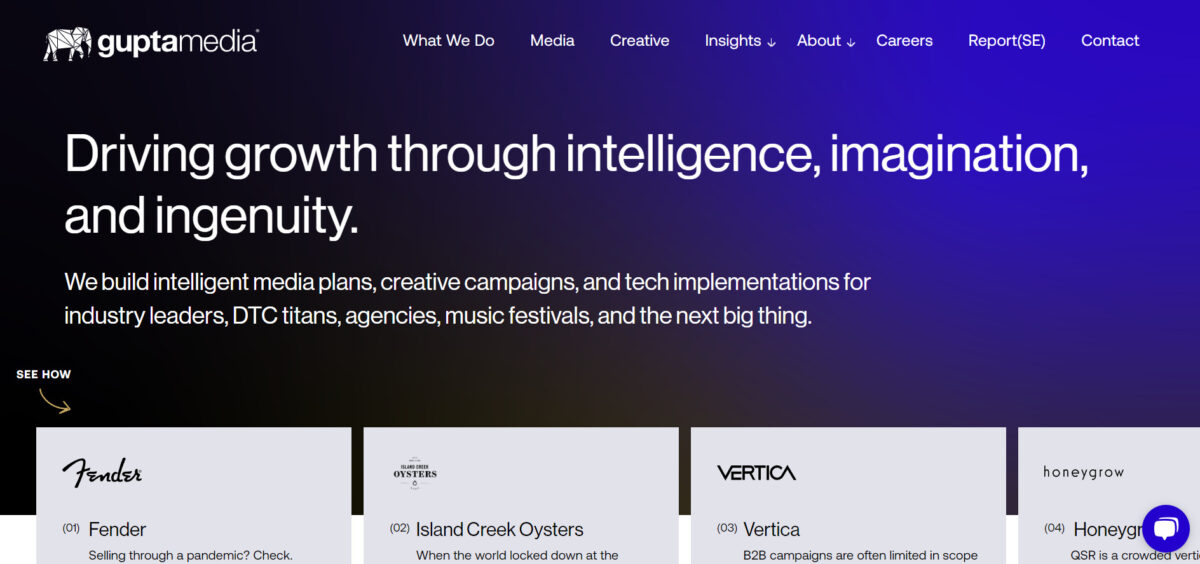 Average Hourly Rate: $50-$99 
Average Project Cost: Starting at $5,000+ 
Situated in Boston, Massachusetts, Gupta Media is a pioneer in integrating media plans, creative campaigns, and technology to propel the success of brands in the music industry. They differentiate themselves as performance marketers, redefining success by harmonizing media, creative, strategy, and reporting. 
Gupta Media's marketing approach involves using data to track a song's momentum on social media platforms like TikTok and translating that into quantifiable success on major music charts. They employ sophisticated A/B testing for creative content and rely heavily on real-time data insights to reach the most reactive audiences. 
Apart from its smart use of social media advertising, Gupta Media's proficiency extends to web design and development. By understanding unique brand challenges, they're able to create immersive and user-friendly digital experiences, enhancing the brand's presence in the digital space. 
Services: 
Advertising

 

Digital Strategy

 

Social Media Marketing

 

Web Design

 

Web Development

 
---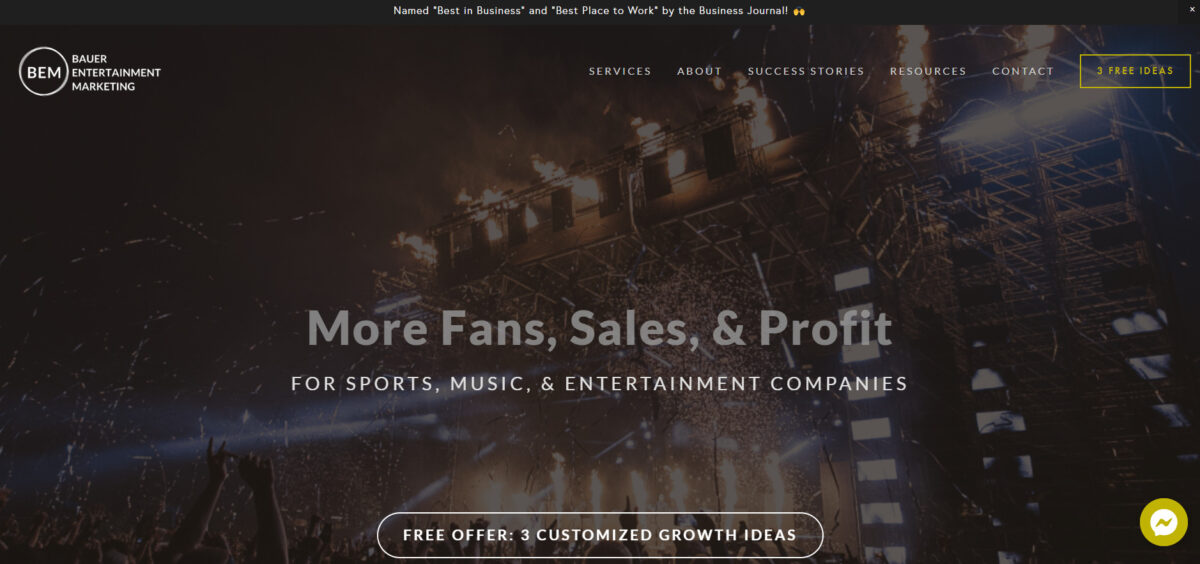 Average Hourly Rate: $50 – $99
Average Project Cost: Starting at $5,000+
Based in Smyrna, Tennessee, Bauer Entertainment Marketing stands out as a full-service marketing agency specializing in generating more conversions for companies in the music, sports, and entertainment industries. With a proactive approach, they challenge businesses to stop leaving dollars on the table, pointing out the issues that are causing missed opportunities and less than optimal growth.
Their proficiency in content marketing, conversion optimization, digital strategy, email marketing, and graphic design has made them a cornerstone in the industry. Bauer Entertainment Marketing is notable for strategic consulting and hands-on campaign management, identifying and fixing the root causes of growth barriers. They have served over 100+ sports, music, and entertainment companies, providing them with valuable tools to engage with more fans, optimize sales, and enhance customer spending habits.
Services:
Content Marketing
Conversion Optimization
Digital Strategy
Email Marketing
Graphic Design
---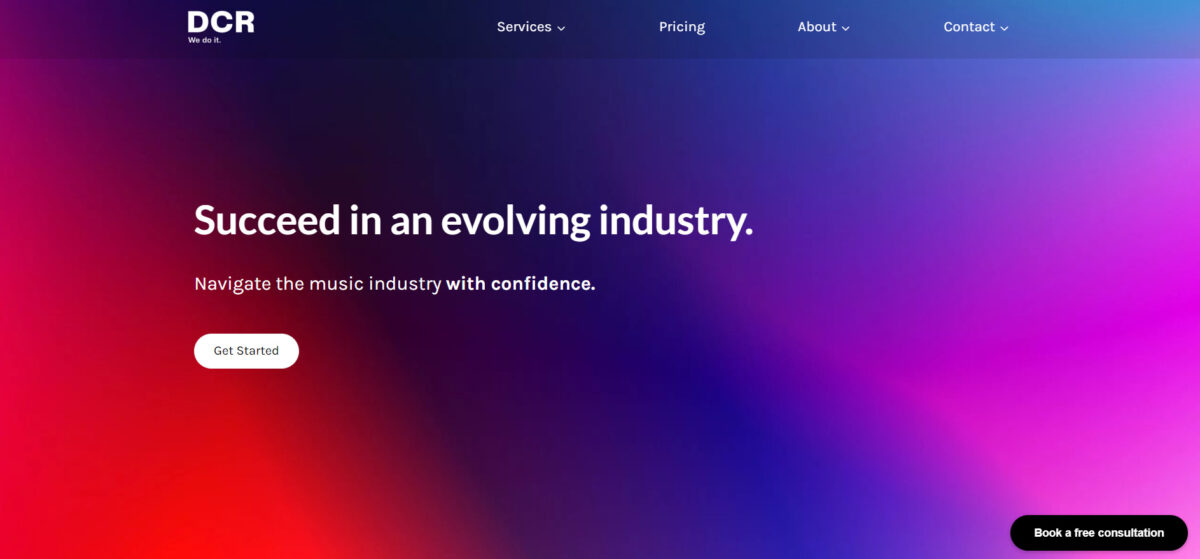 Average Hourly Rate: $150 – $199
Average Project Cost: Starting at $5,000+
DCR L.L.C., based in Decatur, Illinois, excels in delivering holistic marketing solutions with a unique blend of SEO and social media integrations within digital campaigns. They are driven by their passion for music and specialize in reaching new listeners while enhancing the engagement of existing audiences.
They offer a comprehensive suite of digital marketing services that encompass website design, data insights, and content marketing. The agency focuses on providing cutting-edge insights to drive ROI and create lasting value. Their music marketing consultants help to cost-effectively attract and retain dedicated listeners, utilizing their expertise in inbound marketing and advertising. Additionally, their accolades like "#1 Digital Marketing Agency in Washington D.C. for 2021 by DesignRush" testifies to their expertise in the field.
Services:
Search Engine Optimization
Web Design
Advertising
Branding
Content Marketing
---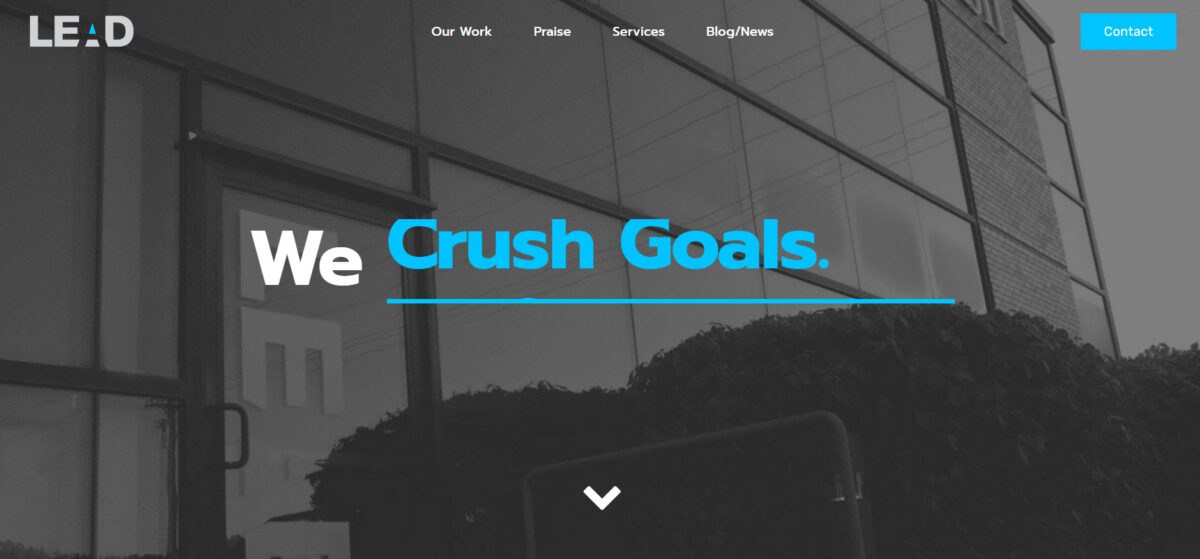 Average Hourly Rate: < $25
Average Project Cost: Starting at $1,000+
Located in Grand Rapids, Michigan, LEAD Marketing Agency is recognized for its tailored and transparent approach to digital marketing. Offering a wide range of services, they specialize in creating customized strategies based on specific customer needs, always providing full transparency concerning data and results.
Their expertise in advertising, SEO, social media marketing, web design, and email marketing has allowed them to provide top-tier service quality, enabling clients to consistently outperform their competitors. LEAD Marketing Agency's commitment to providing custom strategies and ensuring high-quality work has helped many businesses stay ahead in the ever-competitive digital landscape.
Services:
Advertising
Search Engine Optimization
Social Media Marketing
Web Design
Email Marketing
---
Average Hourly Rate: $100-$149
Average Project Cost: Starting at $5,000+
Positioned in the heart of Houston, Texas, PWL Studio carves its niche in the marketing world with an emphasis on creativity and a comprehensive marketing strategy. Their forte lies in crafting striking brand narratives, powered by graphic design, web design, photography, and brand development. PWL Studio focuses on standing out amidst the digital media clutter, creating a distinctive brand identity for their clients.
Their adept team creates immersive audio productions that can captivate the music audience and enhance the brand's recognition. The branding strategies formulated at PWL Studio help shape a robust brand image in the music industry, supplemented by engaging social media marketing campaigns to expand the brand's digital footprint.
Services:
Branding
Audio Production
Corporate Photography
Graphic Design
Social Media Marketing
---

Average Hourly Rate: $100-$149
Average Project Cost: Starting at $5,000+
Headquartered in Dayton, Ohio, T&R Recordings embodies digital marketing expertise with a spectrum of services from SEO to content creation and branding. Renowned for their unique strategies, they assist clients in achieving their marketing ambitions and establishing a dominant position in the industry.
In the realm of music marketing, T&R Recordings stands out for their proficiency in audio production and content marketing. They deliver impactful advertising campaigns that can amplify the brand's visibility in the music industry. Their branding strategies foster long-term brand development, allowing their clients to emerge as industry leaders.
Services:
Advertising
Audio Production
Branding
Content Marketing
Graphic Design
---
Average Hourly Rate: $100-$149
Average Project Cost: Starting at $5,000+
Operating from Indianapolis, Indiana, Redvail takes pride in delivering tailored results with a wide range of services, from SEO, web design, to PPC and email campaigns. Their marketing strategies are molded to align with each client's vision, ensuring optimal return on investment.
Redvail excels in music marketing, where it employs audio production and content marketing services to enhance brand value. They offer innovative conversion optimization strategies that can boost customer acquisition, retention, and loyalty, giving them an edge over their competitors in the music industry.
Services:
Advertising
Audio Production
Branding
Content Marketing
Conversion Optimization
---
---
How to choose the right marketing agency for your music?
Music marketing agencies provide a wide array of services tailored to the unique needs of artists, ranging from branding and promotion to social media marketing and live event planning. When selecting the right agency, business owners, music production houses, music groups, and singers should consider factors such as the agency's experience in the industry, its range of services, its success stories, and, most importantly, its understanding of the artist's vision and target audience. It's also critical to consider an agency's ability to stay ahead of trends, embrace innovation, and utilize data-driven approaches to maximize reach and engagement.
An effective music marketing agency should not only have a keen understanding of the music industry but also possess comprehensive knowledge of broader marketing principles. This includes SEO, content marketing, digital advertising, and influencer marketing. With the rise of platforms like TikTok and Spotify, these skills are more relevant than ever in the music industry.
In an increasingly competitive and complex music industry, working with the right music marketing agency can make the difference between obscurity and stardom. These agencies play a vital role in crafting an artist's narrative, extending their reach, and ultimately shaping their careers. This listicle aims to aid you in your search for the right agency, offering a thorough overview of some of the top music marketing agencies globally. Your sound deserves to be heard - let these agencies help amplify your voice.
---
Conclusion
In conclusion, the world of music marketing agencies is a dynamic and ever-evolving landscape. These agencies play a crucial role in helping musicians and music-related businesses reach their target audience, build a strong online presence, and achieve their marketing goals. From digital strategies to social media management, advertising to branding, these agencies offer a wide range of services tailored specifically for the music industry.
Whether you're an artist looking to promote your music or a music-related business aiming to grow your brand, partnering with a music marketing agency can provide the expertise, resources, and creative solutions needed to succeed in the competitive music industry. These agencies leverage their industry knowledge, digital marketing strategies, and innovative approaches to help clients stand out, connect with their audience, and achieve long-term success.
By harnessing their skills and staying ahead of emerging trends, these agencies can help musicians and music-related businesses thrive in an ever-changing landscape. So, whether you're an aspiring artist or an established brand, consider partnering with a reputable music marketing agency to take your music career or business to new heights.
Frequently Asked Questions
How do Music Marketing Agencies promote songs?
Music Marketing Agencies promote songs using a variety of strategies like social media promotion, email marketing, digital advertising, branding, and more. These methods are designed to increase the song's visibility, reach a broader audience, and create a strong connection between the music and listeners.
Why should I use a Music Marketing Agency instead of promoting my music myself?
While it's possible to promote your music independently, a Music Marketing Agency brings expertise and resources that can drastically increase your music's reach and visibility. These agencies have industry connections, extensive knowledge of music promotion strategies, and a team of experts dedicated to making your music successful.
Can Music Marketing Agencies help me get signed to a record label?
Yes, many Music Marketing Agencies have industry connections and may help increase your visibility to record labels. However, their primary role is to enhance your presence and increase the fan base. The decision to sign an artist still ultimately lies with the record label.
Will a Music Marketing Agency understand my unique sound and brand?
A reputable agency will take the time to understand your unique sound, brand, and vision. They'll work closely with you to ensure that the marketing strategies employed align with your musical style and resonate with your target audience.
What if I'm not happy with the results? Can I cancel my contract?
This would depend on the specific terms of your agreement with the agency. It's crucial to understand the cancellation policy before signing a contract. It's also beneficial to maintain open communication with the agency throughout your campaign to address any concerns as they arise.