Advances in tech and changes in the demographics of B2B buyers have impacted the B2B eCommerce industry. Now, more than 70% of millennials offer input, while a third are decision makers. Unlike Generation X and baby boomers who primarily made up the B2B audience before 2020, millennials are much more familiar and dependent on technology. Where cold-calling, sales reps, product trials, print ads, conferences, and trade shows would've convinced your typical B2B audience, digital marketing (like e-books and social media) and brand transparency are now much more valuable.
What this means for B2B businesses is that they will have to adapt their marketing. Millennials approach the B2B buying journey as a B2C consumer and, as a result, their expectations are different. To put it more bluntly, their expectations are higher. They're used to a first-class, personalized customer experience.
This makes B2B marketing tricky. While, in theory, B2B marketing should follow a similar approach used by B2C marketing, the truth is that it's more challenging to get the same results.
To make it easier, it helps to stay up to date with emerging trends in the industry. So, we've done all the reading for you to help you understand the new needs of the B2B audience. Here are some of the main B2B eCommerce trends that will start (or continue) to play an important role in 2022.
---
18 B2B eCommerce Trends for 2022:
---
1. B2B buyers want self-service buying portals
According to Shopify, self-service buying portals will be one of the main trends in 2022. Increasingly more B2B buyers want the ability to make a purchase without the need to speak with a sales rep first. In fact, according to data shared by OroCommerce, over 98% of B2B buyers are searching for the same purchasing experience across all channels.
---
2. Social commerce will increase
It's anticipated that social commerce sales will reach about 2.9 trillion US dollars by 2026. Needless to say, in 2022, social commerce will be one of the major trends that even B2B businesses will be able to use to their advantage. At the end of the day, it's all about finding ways to streamline the whole experience.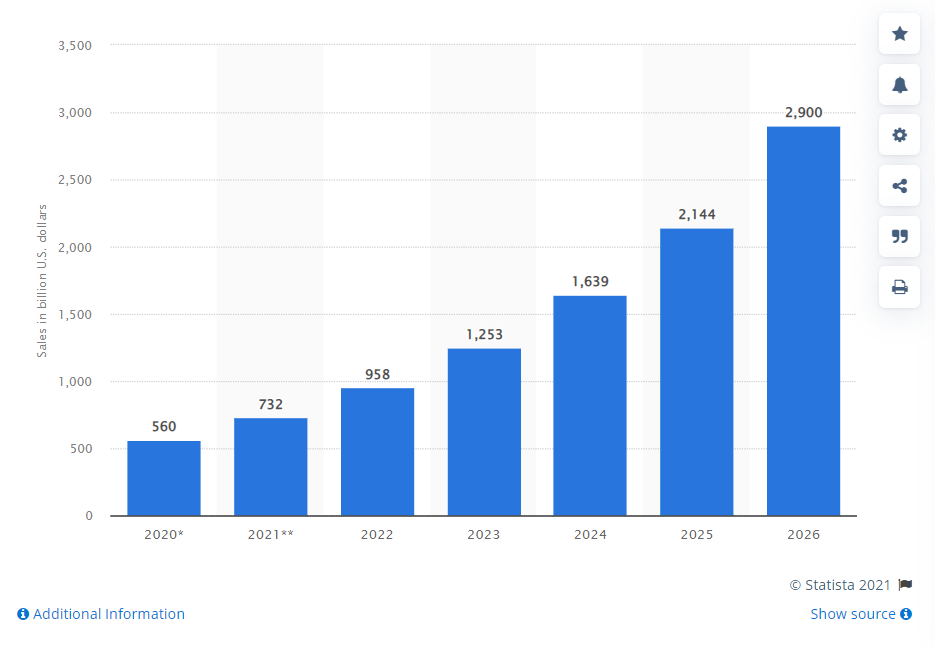 ---
3. More B2B businesses will focus on increasing their revenue via existing customers
Considering that the typical B2B customer retention rates are over 75%, it makes sense for B2B businesses to focus on how they can retain current customers and boost the revenue that they generate from their existing customers. To do this, businesses should ensure that their pricing is in line with what customers feel comfortable to pay and shift their focus to the highest quality leads.
---
4. Value-added services will be included
While more B2B businesses will start focusing on increasing their revenue that they make from their current customers, it will also become important to offer value-added services to attract new customers. Basically, a value-added service is any service that you add to an existing service or product. Not only is it a great way to get new customers, but it can also help to retain existing customers and as mentioned for B2B business customer retention is key.
---
5. eCommerce sites will be used to get new customers
Previously, ecommerce sites didn't nearly play such an important role in getting new customers. These sites were rather used to let current customers place their next orders and as an alternative to a customer service rep.
This has changed as online selling has become a key pillar of the sales plan adopted by B2B businesses. Thanks to online search tools, new customers can now find out more about a B2B business and easily place orders. So, increasingly more brands are realizing that they need to change the goal of their eCommerce site to include acquiring new customers. This might mean that you should be willing to start selling your products at individual prices as opposed to just in bulk.
---
6. Offering educational material (particularly videos) will be important for customer acquisition
B2B companies have come to realize that they need to embrace SEO if they want to acquire new customers. As a result, more B2B businesses are offering a substantial amount of educational material about their product range to show that they're indeed experts in their field. Many do this by creating evergreen content that relies on graphics to explain who their products are aimed at and how to use it.
It's a strategy that definitely pays off. A piece of content that's closely connected to the industry that your target audience operates in can be a huge lead magnet. By sharing your engaging content on social media and with your partners, you can remain visible to your customer and target audience without them even having to visit your website.
Video marketing, in particular, is starting to gain momentum in the B2B sector. In 2022, B2B businesses can, for instance, start posting short-form how-to and marketing videos to platforms like LinkedIn, if they're not doing it already. Alternatively, the medium can also be used to host webinars or engage in live talks which can be even more educational.
---
7. B2B eCommerce sales via online marketplaces will pick up
B2B eCommerce sales via online marketplaces like eBay, Etsy, and Amazon are accelerating. According to data shared by Sana Commerce, 75% of B2B product purchases are currently made online. This trend is fueled by millennials who hold executive positions. The vast majority of millennials are already using marketplaces for their personal purchases and so it's not a big jump for them to use these channels for their professional lives too.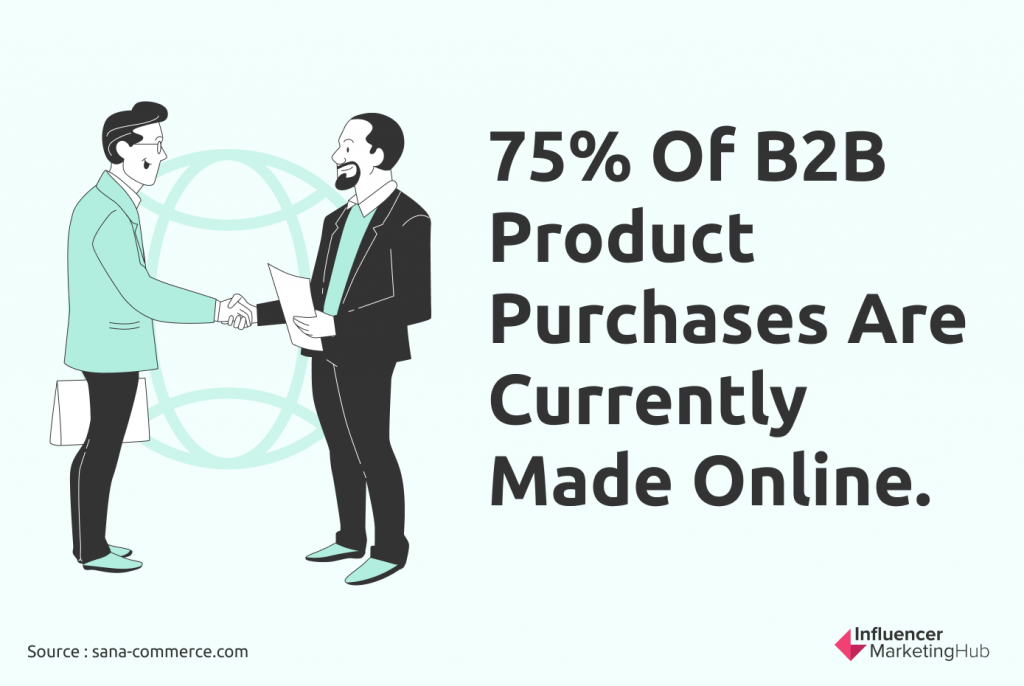 So, to ensure that a B2B business stays up to speed with the changing needs of buyers, they should seriously consider using a third-party marketplace. Alternatively, they can also possibly create their own.
---
8. Customer personalization is becoming more important
Customer experience is starting to play a much bigger role in the world of B2B ecommerce. B2B buyers who are searching for an online supplier have identified personalization as an essential feature. As a result, personalization was one of the major trends last year.
In 2022, personalization will still be one of the main focus areas. While B2B businesses have already started to take their personalization to the next level by embracing AI and machine learning and leveraging customer data, AI will play an even bigger role in 2022.
To help you get started, the following are some examples of good customer personalization:
Offering services based on the location of the customer

Making recommendations based on the previous purchases

Sending follow-up emails based on the behavior of the customer
In short, you want to use personalization so that the content that you send to your target audience will be more relevant. A survey completed by MoEngage, a customer engagement platform, found that it's all about relevancy. Irrelevant marketing and inconsistent messaging were identified as two of the biggest frustrations.
MoEngage's CEO, Raviteja Dodda, explained that with the help of AI marketers could get more meaningful data about the needs of their audience. What's more, he added that predictive analytics will become a big trend that marketers will use to create hyper-personalized campaigns.
---
9. Customer loyalty programs are becoming more popular
B2B buyers' expectations have evolved. Similarly to customer experience, customer loyalty programs are now also no longer just restricted to the B2C world.
Apart from the fact that it's becoming more popular and it's a good idea to stay relevant, a loyalty program can also help you to boost your brand awareness, acquire new customers, and upsell or cross-sell.
Also, when you consider that getting a new customer is more expensive than keeping an existing customer, it makes sense why you want to focus on ways to reward your loyal customers. As a matter of fact, customer loyalty is even more important for B2B companies. According to an infographic, A B2B Guide to Winning New Customers and Repeat Business, the chances of landing a new customer is only 5-20%. On the other hand, the likelihood of selling to an existing customer is 60-70%. What's more, existing customers spend about a third more than new customers.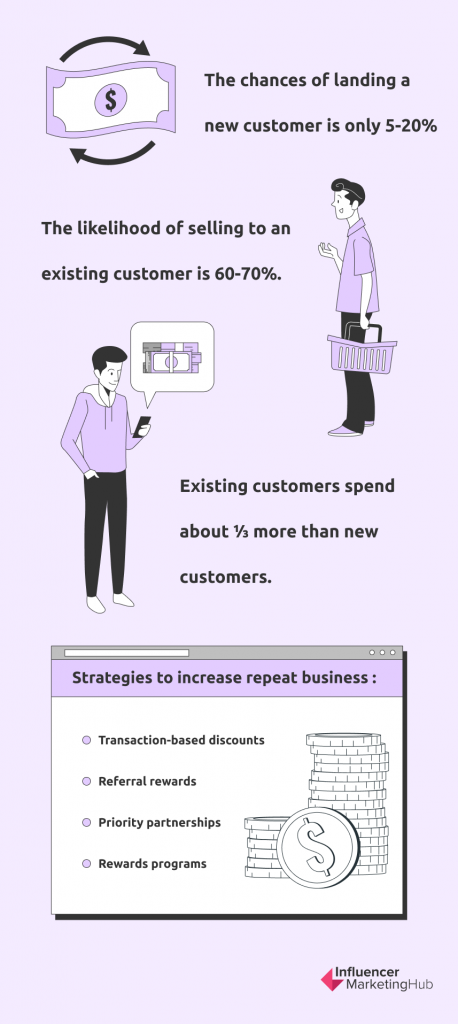 To help you increase your repeat business, you can use transaction-based discounts, referral rewards, a priority partnership, or a rewards program. Using a referral reward is a very popular approach and is a straightforward way to reward existing customers for taking the time to spread the word about your company. By applying this type of model, a customer will earn a bonus when they refer the business to a new customer. Most of the time, the new customer will also receive a reward when they complete a purchase for the very first time.
---
10. Efficient fulfillment will become more urgent
This is another trend that's fueled by millennials. This age group expects that a B2B company should be able to offer the same fast shipping options that a B2C company provides. According to Dropoff's CEO, Sean Spector, same-day delivery has become increasingly urgent over the last few years, even more so for millennials.
To help speed up the fulfillment process, businesses can turn to automation as a possible solution. Shopify and Kroger, a US supermarket, have successfully used robots to assist with fulfillment. Not only can it reduce the time needed to store and collect products, but it can also minimize human error. All things considered, if you have the financial means to stay up to speed with the advances in technology, it can be a good idea to automate your warehouse.
Alternatively, you can use order management software or third-party fulfillment. With the help of order management software, you can manage orders across multiple sales platforms, consolidate information and simplify the supply chain. Using third-party software (or more commonly called 3PL) is a good solution if your business is growing fast or you simply want to find a way to reduce your fulfillment expenditure and/or time spent on managing your inventory.
---
11. The demand for real-time inventory will grow
In 2022, it will become even more important for B2B businesses to display the availability of their stock accurately. Basically, customers need to know how much stock is available when they place their orders. Updating your inventory in real time can give customers that needed reassurance that they'll get the products on time. If you don't have such a system in place yet, it's a worthwhile investment for 2022 and beyond.
---
12. An omnichannel experience will be a necessity (and not a nicety)
The average B2B customer makes use of various channels during the buying process. This means that it's becoming more crucial for B2B companies to create a consistent omnichannel presence and engage their customers seamlessly between different channels.
To help you, start by identifying the channels where your target audience is the most active. Is there a channel that your customers will expect to find your business?
To ensure that you can deliver a fully integrated experience, also make sure to close the gap between offline and online. In other words, it doesn't matter if your customer is browsing one of your social platforms or visiting a brick-and-mortar location in person, they should be treated to the exact same experience. Not only will this extra effort help to meet customer expectations, but it will also help you with building a solid brand presence.
---
13. Dropshipping is on the increase
The global COVID-19 pandemic completely disrupted the eCommerce supply chains. Consequently, many wholesale businesses had no other option but to switch to fulfillment infrastructure. Also, as eCommerce significantly increased during this time, some retailers had to enlist the services of suppliers as they no longer had the capacity to fulfill the orders themselves. It's unlikely that the new demand for dropshipping will decrease soon and this increased growth can help to grow B2B eCommerce further.
---
14. More payment options will be offered
Thanks to the focus on customer personalization and online marketplaces, it's expected that new payment options will also be offered. More B2B companies will streamline their payment systems to start welcoming payments in new ways. As a matter of fact, according to Net Solutions' State of B2B Commerce Report, the majority of B2B companies already offer mobile wallets as one of their payment methods. It's also expected that digital payments in the B2B industry will become similar to the retail options that are currently used.
This trend already gathered steam in 2021 and 2022 it will become even more important to offer flexible payment options. If you don't offer your buyers the ability to pay by means of their preferred payment method, your sales will feel the knock in the coming years.
---
15. Dynamic pricing will become more common
Dynamic pricing isn't new. It's used on a daily basis in the vacation rental industry, though, it's only recently caught the attention of the eCommerce sector. With technology becoming more sophisticated, B2B businesses now have more control over their pricing. This means that they can start to explore the idea of changing their pricing in response to any changes in supply and demand in real time.
---
16. B2B eCommerce will become more conscious about being eco-conscious
It's expected that B2B eCommerce will follow in the (green) footsteps of B2C eCommerce businesses by actively starting to minimize their impact on our environment. People from all over the globe are fortunately becoming more aware of their environmental impact and B2B businesses that will go the extra mile for our planet by providing sustainable solutions will enjoy an advantage over their competitors.
From reducing energy consumption to investing in sustainable packaging, there are numerous strategies that B2B companies can implement. Fortunately, many have already started in 2021 and we expect that this trend will be one of the common themes not just for 2022 but several years to come.
---
17. Augmented and virtual reality will be utilized more
The use of augmented reality (AR) and virtual reality (VR) to create a more immersive customer experience is already an emerging trend in the B2C sector. B2B ecommerce might also want to consider using this type of technology as it can improve the buying experience of B2B buyers and save them valuable time. As a matter of fact, according to Virto Commerce, it's anticipated that by 2022, a quarter of businesses will launch their AR application, while another 70% will start to experiment with it.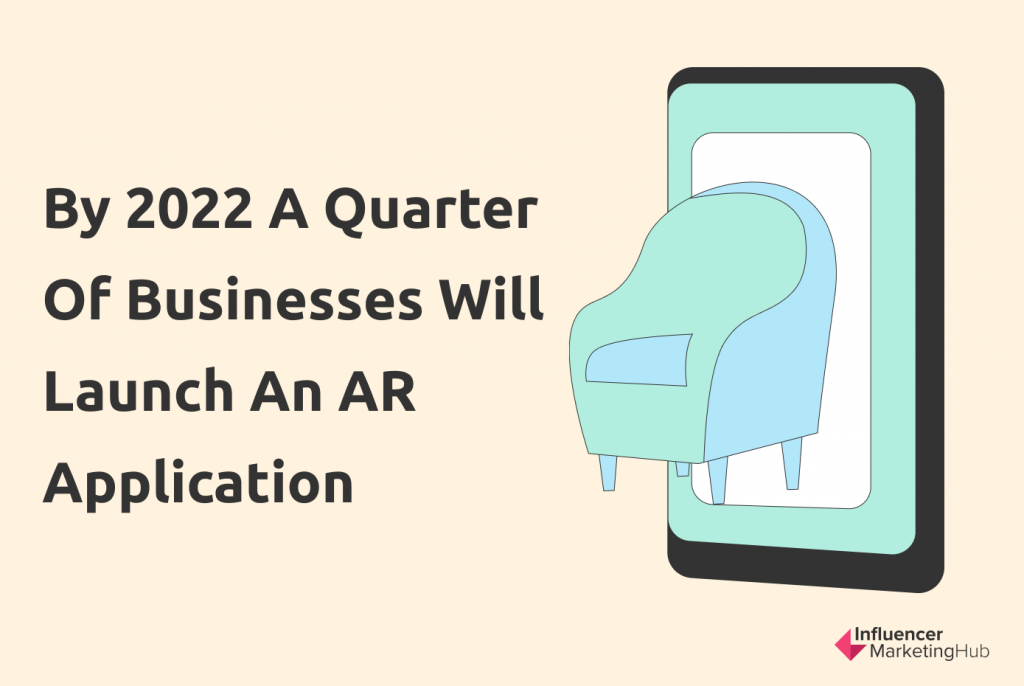 If there's anything that we've learnt from studying these trends so far, it's that the buying experience will become a lot more important with more millennials in charge. Also, with the introduction of the metaverse, B2B businesses will have to start paying attention to VR and start exploring how they can market their business and increase brand awareness in virtual reality spaces. B2B businesses can, for example, create an online space where their audience can put their products to the test before purchasing it. This way they can get a much better idea of how it works and whether or not it will fulfill their business needs.
---
18. Transparency will become even more crucial
In the past, buyers used events like trades shows to meet with suppliers. By meeting in person, it was easier for buyers and B2B businesses to discuss matters about pricing and quality. Though, with B2B eCommerce, more of these interactions occur virtually.
Yet, matters like quality and pricing remain equally important to buyers. For this reason, B2B eCommerce businesses will start to focus more on being completely transparent about the quality and their pricing. While this isn't necessarily a new trend (after all, any business needs to be transparent if they want to be successful), the need for complete transparency will become even more crucial in 2022 and beyond.
In addition to product quality and pricing, transparency surrounding delivery dates will also become more important to buyers in the future. Not only do they need to know if the product is in stock (this links back to the need for real-time inventory), but they also need to know when their orders will be delivered. For this reason, more and more B2B businesses are turning to software solutions that can show the delivery date automatically.
---
Wrapping Things Up
The B2B industry is evolving quite significantly. Nowadays, increasingly more millennials are participating in the B2B buying process and this has a profound effect. More than 60% of the B2B market is online already with more than half of B2B marketing budgets set aside for digital marketing that will offer a more personalized experience.
With the advances in tech and changes in the demographics of the decision makers, B2B eCommerce will focus more on the customer experience and the buying journey. This has quite significant implications for B2B marketers as they will now have to interact with their customers by means of personalized communications. Now is the time for B2B eCommerce businesses to focus on creating and tweaking their digital identities.