Logo t-shirts, hoodies, mugs, and even phone cases—chances are, you've seen or even purchased merchandise from your favorite brands or personalities. Popular celebrities and musicians, from Olivia Rodrigo, A$AP Rocky, and Metallica to the Kardashians, and social media influencers have entered the world of merchandising, making their branded or curated products tied to their brand, music, or TV shows easily accessible to fans worldwide.
With the growing popularity of online shopping, selling merch has become a profitable business venture for entrepreneurs. Ecommerce platforms such as Amazon are making it easier for you to market products that are tied to your brand.
If you're looking to grow your brand, selling merch is one of the best ways to engage with your existing customers or fan base, generate revenue, and make your brand more recognizable. In this in-depth guide, you'll learn how to start selling merch on Amazon, what you need to prepare, what is Merch by Amazon, and more.
---
Your Complete Guide to Selling Merch on Amazon in 2023:
---
What is Merch?
Simply put, merchandise is an umbrella term for any product that's being sold or bought. It covers a broad category and can include groceries, clothes, and electronics. Any product that can be printed on can be sold as merchandise, be it clothing, souvenir items, or accessories.
One type of merchandise that's especially popular is branded merchandise, which is a product that showcases a brand's logo or name. The New Yorker, for example, has a broad selection of merchandise, including t-shirts, playing cards, crossword puzzles, and onesies for babies.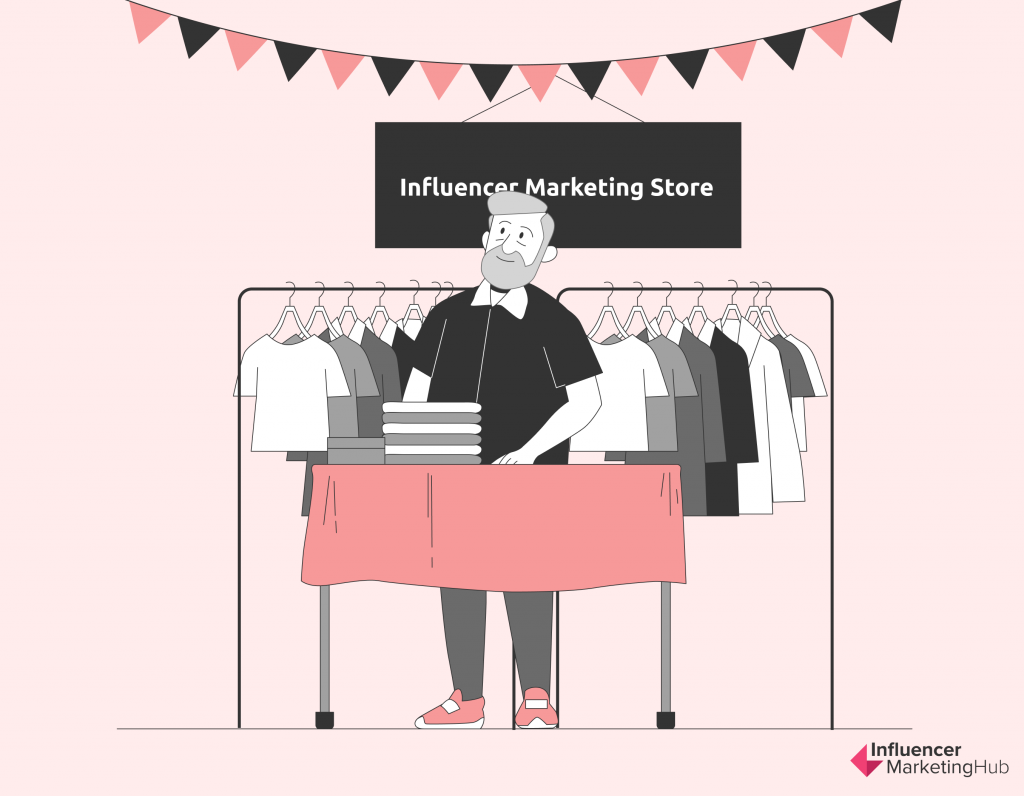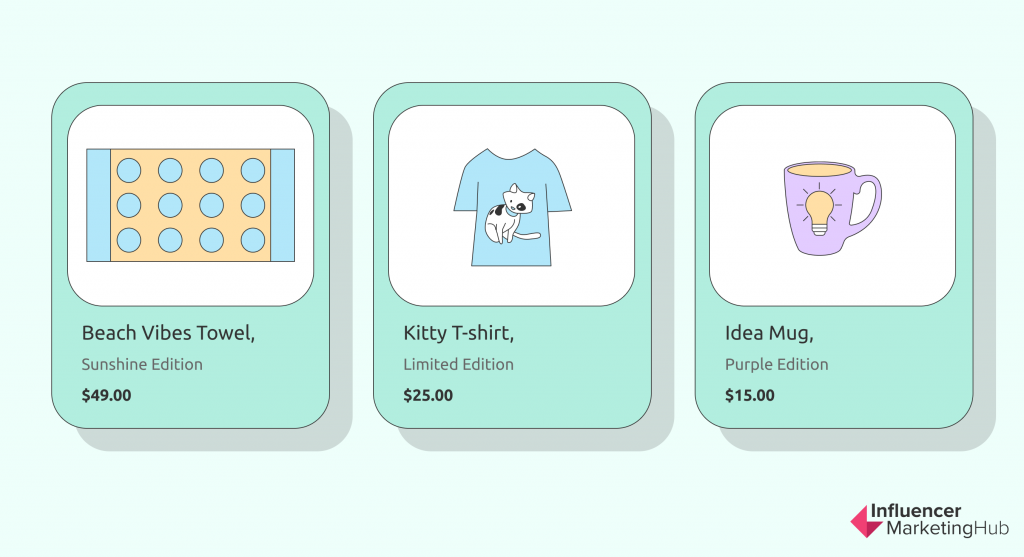 While they're typically given away at events such as conventions or seminars, merchandise can provide entrepreneurs with a new income stream, along with several other benefits. With businesses constantly being faced with challenges, such as how to gain a competitive edge, brands are looking for new ways to become more visible to the buying public, and selling merchandise is one avenue that offers many benefits.
---
Why Sell Your Own Merch?
Before we dive into the other positives your brand can gain from selling merch, you may be wondering about your revenue earning potential, particularly if you already have a fanbase with decent engagement. Here is a nifty tool that you can use to assess your earning potential.
eCommerce Revenue Estimator
landing page visitors/month:
Monthly Revenue Potential
$10,000
Yearly Revenue Potential
$120,000
More than being a new revenue stream, selling merch can create several opportunities for entrepreneurs. Here are some of them:
✍️ It gives your products a more personalized feel.
Branded merch can give your customers a sense that they're buying something special and not just a generic item that's easily accessible to everyone. Aside from offering more variety to your customers, branded merchandise also doubles as a business card, introducing your brand and making it more memorable.
✍️ Merch helps foster a sense of trust.
Having and selling your own merch can help you strengthen brand credibility. Offering branded items establishes that your brand has a story and significant experience. Moreover, your merch serves as a point of contact that you can use to build your relationship with customers.
✍️ It lets you determine who your true fans are.
Through your merch, you can identify who your fans and loyal customers are. You can use this information to strengthen your relationship with them through your products.
✍️ Merch boosts your brand visibility.
One of the most common challenges any business is facing is creating and maintaining a strong online presence. Given the amount of competition present, it can be difficult for brands to stand out.
Just how saturated is the market? On average, American consumers are exposed to thousands of ads daily, ranging from 6,000 to as many as 10,000.
Your merch is a great tool to generate brand awareness. It's also a great tool that can help you gain a competitive edge. With branded merchandise, you have the opportunity to put your brand out there and foster opportunities for brand recognition.
✍️ It provides you with an avenue to grow your audience and increase engagement.
One of the greatest benefits of merchandise is its potential to grow your customer base and drive engagement. As your brand becomes more visible, you have the chance to acquire new customers, while keeping your current ones engaged, thus driving customer loyalty.
Rolling out new, unique, or value-adding custom merchandise helps keep your customers engaged for longer. This can help you get more leads, conversions, and revenue.
You can also leverage your audience base and engagement to create communities that can help boost customer engagement. For example, you can encourage your customers to take photos of your merch and share them on social media. This would help spread the word about your brand and potentially drive sales from your existing customers' networks.
✍️ It helps generate more leads.
Lead generation is a constant challenge for any business. Selling merch can help you capture leads, which would propel conversions and sales. For example, you can leverage your merch and use it as a promotional item to attract visitors who have provided their contact information on your landing page.
✍️ It's cost-effective.
Selling merch online gives you the opportunity to have a more cost-effective marketing strategy. Producing and selling branded merchandise has become more affordable. You can get discounts from suppliers when you buy in bulk, lowering acquisition costs. When backed with a reasonable markup, your merch can be a source of stable profit for you.
Furthermore, when customers use your merchandise, they essentially become walking advertisements for your brand. This also paves the way for word-of-mouth marketing, which still proves to be a very viable advertising strategy, especially in today's increasingly digital marketplace.
---
How to Make Your Own Merchandise
Selling your products is only half the battle. Before you can start selling your merch on Amazon, you, of course, need to make your products. The good news is it's become easier for entrepreneurs to find and source their materials and designs for their brands.
💥 Identify who your target audience is.
We understand that the prospect of creating and selling your own merch can be very exciting. However, it's important that you know who your target audience is. By identifying who your potential customers are, you're able to customize your offerings in a way that appeals to those who are more likely to buy your products.
Conduct research on what attracts your target audience. Do you have a motif or catchphrase that they especially like? Do you offer a service that customers avail of repeatedly?
💥 Determine what you want to sell.
Now comes one of the challenging parts: deciding what merch you're going to sell. Given the expansive selection of items that you can turn into merch, selecting the right one for your brand can be tricky. Usually, businesses go with merch that is relevant to their brand or audience. For example, if you have a band, you can sell items that fans can wear to shows or events, such as clothing or accessories.
If you want something that's off the beaten path, you can opt to sell merch that's not related to your brand. You can try marketing something offbeat like toys or tumblers.
If you find it difficult to figure out what you're going to sell, you can:
✅ Do market or competitor research
✅ Ask your customers
It's worth noting that you should set a budget and stick to it. It's not always guaranteed that your products will sell immediately and that you can recoup your money quickly. Having a budget and sticking to it would help you avoid purchasing merchandise that you can't afford yet.
💥 Create designs for your merch.
You'd want your designs to be unique. Customers want items that are special and can't just be bought anywhere.
One way to go about this is to create your own designs. If you're unable to, you can enlist the help of professionals or freelance designers in creating a design that truly reflects your brand.
💥 Select the partner or manufacturer you want to work with.
Once you've created the design that you want, you can start looking for a print-on-demand partner or a supplier. The former automates the production and fulfillment of products, while the latter lets you create merch from scratch, essentially allowing you to create a specific product and keep your own inventory.
To check if the products are up to your standard, you should order samples. This lets you check their quality thoroughly, as images and colors may vary when you view them on your device compared to when you see the product in person.
With this in mind, you need to carefully go over the production costs, including any hidden costs, such as warehousing costs and shipping and design fees.
💥 Choose your merch platform.
There are many online platforms that let you sell your merchandise, one of which is Amazon. With it, you can create an account and your online retail store or opt to work with Merch by Amazon, which works like a print-on-demand service.
💥 Start promoting your merchandise.
Once you have your merch, you can start promoting them online. You can use your social media channels and promote your new offers to your followers and customers. You can also conduct e-mail marketing campaigns to further spread the word about your products. If you already have a website, you can feature your merch items on it.
---
Factors to Consider Before Selling Merch Online
There are several success factors you need to know when selling branded merchandise. These include:
💡 The size of your audience
Brands that already have a sizable following have a good head start. Having a large customer or fan base can make it easier to promote products. However, this doesn't necessarily guarantee success. This is why it's important for you to work on building relationships with your audience first and maintain engagement.
💡 Your product design
Your design can make or break your venture. Having great designs encourages your audience to make a purchase. A great design doesn't just look good, it has to resonate with your audience to such an extent that they'd be willing to buy your merch. Do your research and find out what excites them or what they enjoy the most when it comes to your brand.
💡 How you promote your merch
Don't forget to promote your brand to your audience. Optimize your website or Amazon page to enable it to generate organic traffic.
---
How to Sell Merch on Amazon
You can sell on Amazon by signing up as an Amazon seller. On this platform, you have the option to go about your business in a more conventional way, essentially doing your own order fulfillment. You can also opt to sign up for Amazon's Fulfillment by Amazon (FBA) program, which takes care of shipping, returns, and customer service on your behalf. Amazon FBA helps you save time, enabling you to focus on other aspects of your business so you can scale up faster.
Starting your Amazon business is relatively easy and entails only a few steps:
---
Select a selling plan
Amazon currently offers two selling plans: the Individual plan and the Professional plan. For the former, you'll be paying $0.99 for every item sold. For the latter, you'll pay a $39.99 monthly fee, regardless of the volume of items you've sold.
---
Create your Amazon seller account
Once you've determined the seller account that's right for you, you can start creating your own Amazon seller account. Make sure that you have the following information:
📌 Business email or your Amazon customer account
📌 Credit card
📌 Government-issued ID
📌 Your tax information
📌 Contact number
📌 A bank account where Amazon can deposit your sales proceeds
---
Add your products
Once your account is set up, you can start adding your products. Be mindful of Amazon's product requirements and restrictions so you won't have any issues with your seller account.
You have to create product listings that adhere to Amazon's guidelines, such as having the proper product identifier, product details, and relevant keywords and search terms.
---
Start attracting customers
After completing the previous steps, you can start promoting your products on Amazon. You can roll out enticing offers that will attract potential buyers, such as having speedy fulfillment or discounts. You can also advertise your offers to boost brand and product visibility.
---
What is Merch by Amazon?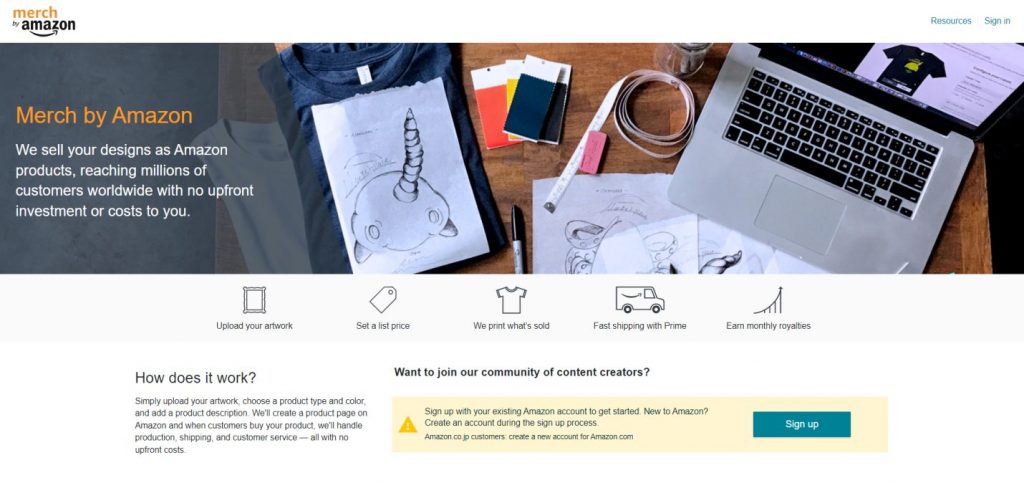 Alternatively, you can sell merch on Amazon through Merch by Amazon, which works like a print-on-demand service.
It's a free service that lets Amazon sellers create their own designs and list them on their respective Amazon page. With Merch by Amazon, you can create unique designs and choose a variety of products to work with, such as phone cases, throw pillows, tote bags, and of course, clothing, which includes t-shirts, hoodies, sweatshirts, and long-sleeve t-shirts.
Merch by Amazon simplifies how you create and sell your products on the e-commerce platform. Here's how you can begin using Merch by Amazon:
🖇 You need to sign up for the service using your existing Amazon account and fill out a registration form. Wait for your application to be approved. Once approved, you can get started.
🖇 Upload your artwork here and select a product type and color and add a product description. If you don't have a design yet, you can download free product templates from Amazon. Choose from templates for:
📎 T-shirts, sweatshirts, long-sleeve t-shirts
📎 Hoodies
📎 PopSocket grips
📎 Phone cases (iPhone and Samsung)
📎 Tote bags and throw pillows
🖇 Once you've uploaded your designs, scroll down to the bottom of the page and fill out the following product details, making sure that you're creating compelling listings that are optimized:
📎 Brand
📎 Title
📎 Product features
📎 Product description
🖇 Set a price for your products and publish your design. Note that the approval of designs may take some time, ranging from a few hours to a few days.
Amazon prints the products that are sold and takes care of fulfillment for you, from production to customer service. With Merch by Amazon, you can enjoy a lot of benefits, including:
🔖 Earning royalties for every product that's sold
🔖 Not having to store physical inventory
🔖 Availing of Prime shipping for speedy delivery
🔖 Being able to attract and market to new customers
🔖 Tracking your progress using Amazon's analytics tools to gain valuable insights
---
Best Practices in Selling Merch on Amazon
📋 Provide accurate data for your listings
This applies to all products being sold on Amazon, whether they're regular products or branded merch. Provide clear, well-written, and correct descriptions for each of your products. This way, customers will know exactly what it is they're getting. Using bullet points also helps.
📋 Conduct keyword research
Using the right keywords on your listings can help optimize your listings, which, in turn, can make them more visible to your target audience.
📋 Identify your product niche
Knowing what your niche is important if you want to gain a competitive edge. Do your research to find a smaller niche that can provide you with a lower barrier to entry. Another advantage of going with a smaller or more specific niche is it tends to have less competition.
📋 Be mindful of copyright and intellectual property policies
Familiarize yourself with Merch by Amazon's guidelines on intellectual property to avoid copyright infringement. You check online resources, such as the United States Patent and Trademark Office's trademark database to check whether or not a phrase you're thinking of using has already been registered or trademarked.
You can also use third-party websites or software to check if your design infringes another creator's intellectual property.
📋 Monitor your sales and performance
Merch by Amazon provides sellers with analytics tools you can use to monitor your performance. You can use the data to check what your bestselling designs are or what products need to be promoted more.
---
Final Thoughts
Selling your very own branded merchandise can be an exciting and lucrative journey for entrepreneurs. However, it's not without its challenges. With the growing popularity of online shopping, you now have more opportunities to grow your business and keep up with the changing market trends.
Today, selling merch on Amazon has become easier for entrepreneurs. With Merch by Amazon, you have access to a print-on-demand service that lets you earn royalties for each item that's sold. It may still take a lot of time and effort, but it can ultimately be a very profitable income-generating venture, especially when done properly, guided by the best practices of selling merch on Amazon.
Frequently Asked Questions
How much does it cost to sell merch on Amazon?
If you're new to Amazon, you need to sign up as an Amazon seller and select a selling plan that works for you. You can opt for an Individual selling plan, which charges you $0.99 for every product sold, or you can choose the Professional plan, which costs $39.99 per month. Note that if you sign up for Amazon FBA, there are FBA fulfillment fees that MAY be applied.
What can I sell on Merch by Amazon?
You can sell a variety of items on Merch by Amazon. These include:
- Apparel, including t-shirts, tank tops, raglan shirts, pullover or zip hoodies
- Phone accessories, such as phone cases and PopSocket grips
- Tote bags
- Throw pillows
How can I start selling on Merch by Amazon?
You need to have an existing Amazon account to apply for Merch by Amazon. Wait for your registration to be approved before you can start uploading your designs.
How do I sign up for Amazon's Merch by Amazon?
Visit the landing page and use your existing Amazon account to get started. If you're new to Amazon, you can create an account when you sign up for Merch by Amazon.
What are the potential cons of selling merch online?
While selling merch on Amazon has a lot of benefits, it does have some drawbacks:
- Potential issues with security
- Difficulties in fulfillment, such as expensive shipping costs or slow delivery times
- Increased competition