Everybody loves getting a t-shirt, coffee mug, or hoodie that reminds them of their favorite celebrity. Merch is fun! And, if you've got a following on social media, you've probably wondered how to make money selling merch as an influencer, regardless of which social media platform you use. In this article, we're going to tell you exactly how to do it. We'll be covering how you can better position yourself on TikTok, Instagram, Facebook, Pinterest, Twitter, and YouTube. And, these tips are so good that you can adapt them to any other social media platform where you've got an engaged and loyal following.
Don't have millions of followers? No problem! If you have a fanbase with decent engagement and can take the time to market your merch a little bit, you'll be able to bring in a nice sum by selling merch as an influencer. There are tons of influencer merch companies out there that offer print-on-demand services and even eCommerce platforms so you don't have to do anything except design your merch and then promote it—no inventory, no minimum sales, no processing credit cards on your own. Check out our top picks for the best influencer merch companies to get you started!
Here's an interesting tool to estimate your potential earnings
eCommerce Revenue Estimator
landing page visitors/month:
Monthly Revenue Potential
$10,000
Yearly Revenue Potential
$120,000
---
How to Make Money Selling Merch as an Influencer—No Matter the Platform:
---
Make Money Selling Merch as a TikTok Influencer
TikTok is a short-form video content platform that makes it easy for creators to connect and engage with their audience, 15 seconds at a time. There are TikTok influencers of all sizes on the platform and many of those influencers have started pushing their own merch, clothing lines, makeup, and more. Here's how to do it:
Use Your Merch in Your Videos
One of the easiest types of merch to create is branded merch. If you have a logo that you use for your brand, use it. Create merch using your logo—t-shirts, hoodies, coffee mugs, whatever you want—and start wearing and using that merch in your videos. You don't even really have to talk directly about the merch if you don't want to. By wearing and using your merch in your content, you'll generate a buzz because people will take notice of your merch and want it. You can easily add a call-to-action in your video's caption so people can buy.
You can also actively promote your content in your videos, but don't do it in every video or your audience will grow tired of it.
Choose a Platform to Sell Your Merch
Since TikTok doesn't have an eCommerce aspect to it (yet!), you'll need to find an off-platform way to sell your merch. We've already mentioned that there are influencer merch companies that provide an eCommerce platform you can use to sell your merch, but you may want to consider creating your own storefront using a platform like Etsy or Shopify.
---
Make Money Selling Merch as an Instagram Influencer
Instagram has one of the highest audience engagement rates of all social media platforms. Instagram influencers get nearly 60 times higher engagement than Facebook and a mind-blowing 2,000% higher than Twitter. It also offers a few different ways you can promote your influencer merch:
We have a great guide to Instagram ads you can reference if you want to go that route. Here, we're going to focus on other ways to make money selling merch as an Instagram influencer.
Set Up an Instagram Business Account
Before you do anything else, set up an Instagram business profile and optimize it. Business accounts come with lots of additional features that will be helpful for marketing and managing your brand.
To change to a business account, open Instagram and go to your profile. Tap on the three horizontal lines in the top right corner (the "hamburger" menu) and then tap on Settings > Account and scroll down to the bottom of the page. There, you'll see the option to switch to a business or creator account (or back to a personal account):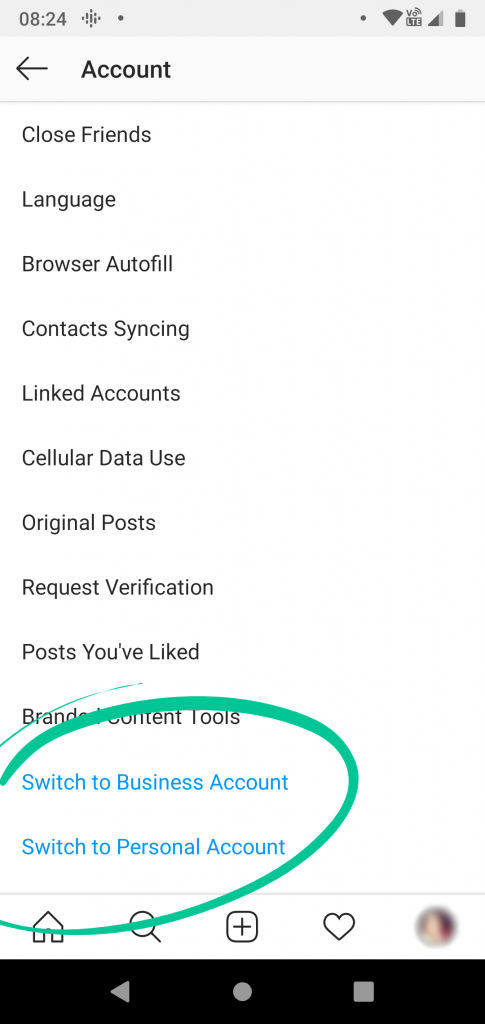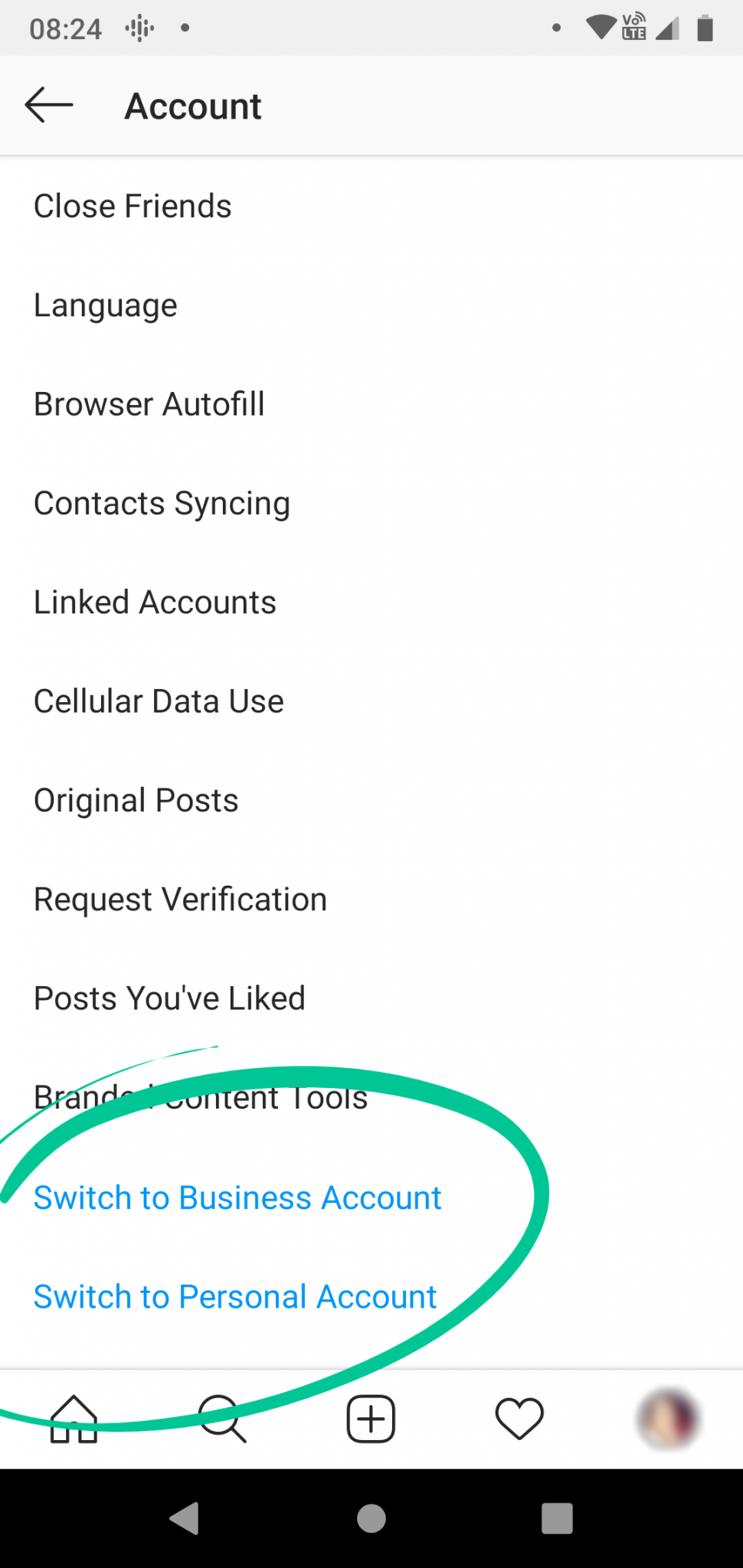 Find the Right Hashtags
Hashtags are a great way to get your content in front of more people. When you create content on Instagram, you can only share it with the people who follow you. Adding hashtags, though, means that your content will come up for users who search for or click those hashtags. This is a big deal when you're trying to draw attention to your brand and your merch.
To find the right hashtags, you can search Instagram for terms and keywords related to your industry or niche. You'll be able to see how many posts use that hashtag so you can tell if it's going to be beneficial to use it. You'll want to use both high-volume and low-volume hashtags to reach a broad range of users. High-volume hashtags are going to be more competitive, but as your work with the lower-volume hashtags takes off, you'll be able to grab more users from the high-volume hashtags. You can take the really simple way out and head over to our Instagram hashtag generator and get started with the right hashtags right now.
Use Instagram Shopping
Instagram Shopping is one of the easiest ways to sell products like merch on Instagram. Shopping posts look just like regular posts but users can tap to view products, revealing product names and prices. When they then tap on one of the tags that come up, the user is shown a product page where they can learn more about the product and tap through to a landing page to complete their purchase.
---
Make Money Selling Merch as a Facebook Influencer
Facebook is, by far, the largest social media platform with more than 2.7 billion monthly active users. If you don't already have a Facebook business page, it's probably a good idea to create one. Beyond that, you have a few different ways to make money selling merch as a Facebook influencer:
Facebook store

Facebook Messenger

chatbots
In this section, we're going to cover some Facebook-specific actions you can take to promote and sell influencer merch on the platform.
Create a Facebook Page
At a minimum, you should create a Facebook business page. As with Instagram, setting up a Facebook page for your business gets you access to more features, analytics, and ways to make your brand more discoverable.
Add a Cover Photo
Your Facebook cover photo is more than just a fun or pretty picture. You can use this space to promote products and sales or even show the promo codes followers can use to get discounts. Remember to include a link in the caption for your cover photo to make it easy for visitors to get where you want them to go.
Create a Facebook Shop
Once you have a Facebook page for your business, you can create a Facebook shop to show off your catalog of merch and make it easy for followers to make purchases. Here's our guide to set up a Facebook Shop in just a few steps.
Go Live
Use Facebook Live to engage with your followers in real-time to share product info and other relevant content.
---
Make Money Selling Merch as a Pinterest Influencer
With more than 416 million monthly active users, Pinterest is an often-overlooked marketing dream. Pinterest is more than just a digital corkboard used by would-be brides to plan their dream weddings; it's also a search engine. And it's a powerful one. This means that Pinterest influencers can use the power of SEO to promote and market merch to an engaged, Pinterest-loving audience.
We've already covered the enormous potential Pinterest offers to influencers and, if you want to create ads for Pinterest, we've got you covered there, too. In this section, we're going to share three ways Pinterest influencers can use Pinterest to sell merch online.
Rich Pins
Rich Pins are optimized pins that provide a great user experience. They give users more details and can only be created by users with Pinterest business accounts. There are four types of Rich Pins available (App, Recipe, Article, and Product), but you'll want to use the Product Rich Pins to make it easy for your followers to buy your merch. These Pins show off your pricing, availability, and purchasing information.
Shop the Look Pins
Shop the Look Pins are only available for fashion and home decor content. Users will see small white dots on the Pins that highlight the items on each Pin that can be purchased. Users just tap the white dot to be redirected to the website where they can complete their purchase. These Pins are great for both influencers and brands to create an easy and efficient shopping experience for their followers.
---
Make Money Selling Merch as a Twitter Influencer
Twitter influencers have access to more than 330 million monthly active users on the popular micro-blogging platform. While many users flock to Twitter to stay up to date on current events, culture, and entertainment, Twitter is also a great platform for market research, growing your following and nurturing relationships, and, of course, promoting your merch. Here are a couple of ways you can make money selling merch as an influencer on Twitter.
Add a Profile Link
When you're setting up your Twitter profile, be sure to include a link to your merch store. And don't forget to add a call-to-action to make sure that your followers don't miss the link!
Pin Tweets
Pinned tweets are another awesome way to drive your followers to your merch store. Pinned tweets are the first thing visitors see when they go to your Twitter profile, so create a compelling tweet with images or GIFs of your merch to drive traffic and sales.
---
Make Money Selling Merch as a YouTube Influencer
YouTube influencers have tremendous money-making opportunities on the platform. Not only can you monetize your videos by selling subscriptions, but YouTube also has a Merch Shelf option that's available for certain creators. In this section, we're going to cover the details about YouTube's Merch Shelf as well as a couple of other ways YouTube influencers can make money selling merch.
YouTube's Merch Shelf
YouTube's Merch Shelf gives creators a new Store tab on their channel page. Visitors can click the tab to check out all the influencer merch available for purchase. But not all creators will have access to YouTube's Merch Shelf. To use this feature, you need:
At least 10,000 subscribers

To be in the YouTube Partner Program
If you meet this criterion, you can show up to a dozen branded products on the video page of your channel to show off to your viewers. Don't meet it? Here's how to get more YouTube subscribers.
Start an Online Store
If you're not a YouTube partner and don't have 10K followers, you can still sell merch—you'll just have to send viewers off-platform to do it. To handle transactions, you'll need to create an online store. The good news is that most eCommerce platforms help you manage fulfillment, take payments securely, and more, with some even handling customer service for you. Plus, having a dedicated eCommerce site for your merch will lend credibility to your brand.
Promote Products
Once you've got merch to sell, show it off in your content. As an influencer, you are the best marketing tool you have in your marketing toolbox. Wear and use your merch in your videos and be sure to include a call-to-action at the end of your videos to direct users to your online store (add a link in the video description).
---
Start Earning Online With Influencer Merch
The easiest way to make money selling merch as an influencer is to sign up with a merch company that will handle production and delivery for you. You simply create a design and promote your product. If you really want to kick your merch sales in gear, be sure to share your merch promotions on all of the social media platforms where you have a presence. Here's how to find the best platforms to focus your energy:
Find out where you

target audience

goes when they're online

Learn where your target audience engages most with

online ads

(if you're running them)

Explore different

types of content

to find out the ones that resonate with your target audience
That's it! Now you know how to make money selling merch as an influencer on just about any platform. Go forth and sell!