Jeff Bezos founded Amazon as an online bookstore in 1994. Little was he to know the commercial behemoth that his little bookstore would become. Despite its comparatively humble beginnings, Bezos always intended that Amazon turn into "an everything store."
For the first few weeks, anybody purchasing on Amazon would trigger a bell in their office. Then, staff would gather to see if they recognized the customer. However, it didn't take long before sales became too frequent for this to continue, and they had to disconnect the bell. Indeed, within a month, Amazon had sold books to customers from 45 countries, including all 50 states of the United States.
The company has continued to grow since then. In this post, we examine some of Amazon's important milestones and statistics.
---
20 Amazon Stats that will blow your mind:
---
1. 9 out of 10 Amazon Book Orders From Some Book Distributors in its Early Days Were for an Obscure Lichen Book, Always Out of Stock
Back when Amazon began business in 1994, book distributors had a policy of requiring retailers to order ten books at a time. This didn't fit with Amazon's business model, so they found an innovative way around the problem. Whenever a customer ordered a book Amazon didn't have in stock, they would place an order with a book distributor for the required ten books – one copy of the requested title and nine copies of an obscure lichen book, which was always out of stock.
---
2. Amazon Launched Amazon Prime in 2005
Amazon made a significant leap when it launched Amazon Prime in 2005. First, it positioned Prime as a membership service that offered two-day free shipping and some other benefits. Since then, Amazon has continued to add benefits, including access to streaming videos, 2-hour grocery and restaurant delivery, access to 1000+ eBooks each month for free, and over two million songs, ad-free.
Ten years later, in 2015, they launched Amazon Prime Day, giving Amazon Prime members access to deep discounts and exclusive offers for a day (later two) each year. Consumers worldwide spent $11.19 billion on Amazon sites during the two-day Prime Day event in June 2021.
---
3. Amazon Prime Now Has 200 Million Members Worldwide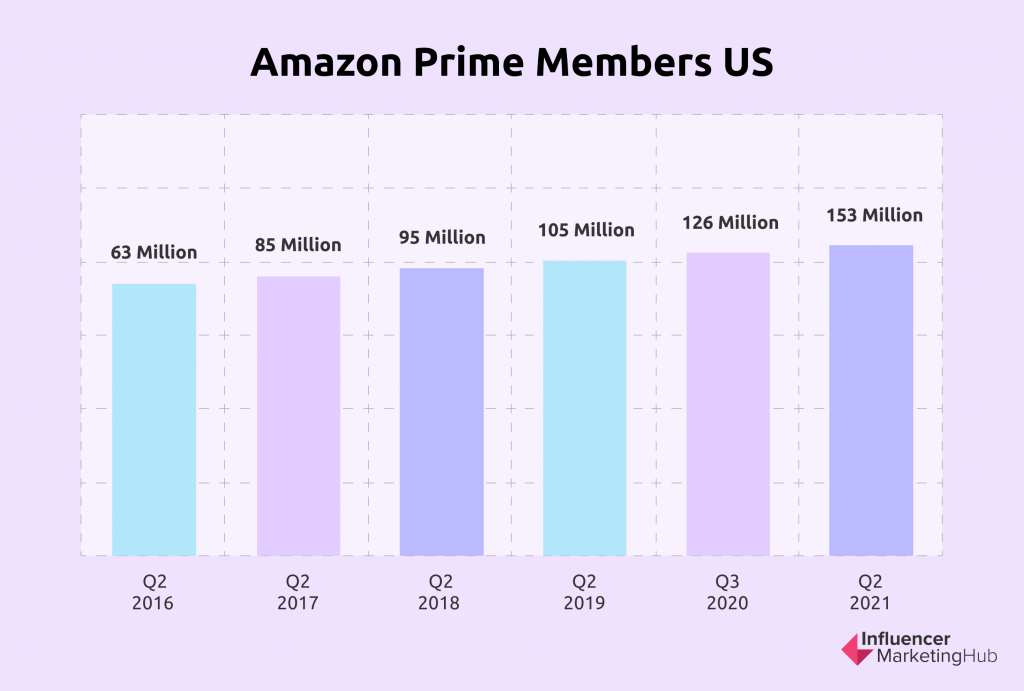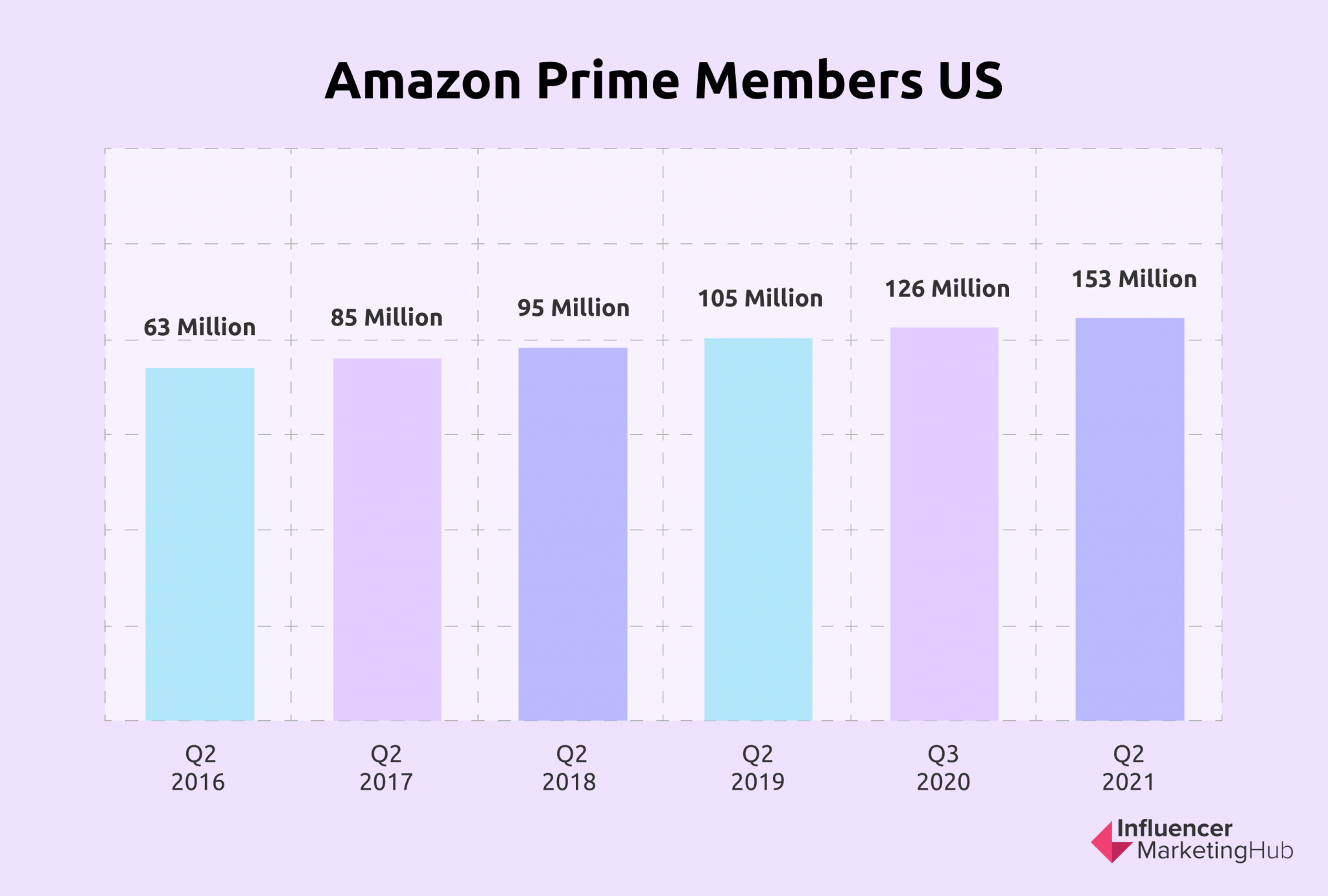 By Spring 2021, there were more than 200 million members of Prime worldwide, up from 150 million in January 2020. Free shipping is the primary reason for Amazon Prime's popularity in the nations where Amazon offers it.
Unfortunately, not all features of Amazon Prime are available in every market. However, it is particularly popular in the USA, where Amazon Prime memberships have snowballed in the last few years. Back in Q2 2016, there were 63 million US members of Amazon Prime. Subscribers rose to 85 million in Q2 2017, 95 million in Q2 2018, 105 million in Q2 2019, 126 million in Q3 2020 (Q2 data not available), and 153 million in Q2 2021.
---
4. Amazon Prime Video has Over 175 Million Users
In April 2021, Amazon CEO Jeff Bezos claimed that over 175 million Amazon Prime users streamed films or television shows in the past year. "As Prime Video turns 10, over 175 million Prime members have streamed shows and movies in the past year, and streaming hours are up more than 70 percent year over year," he proclaimed.
As Prime Video's films and television shows are available to all Amazon Prime subscribers, this suggests that a very high percentage of Amazon Prime users took advantage of the associated video streaming service.
Amazon spent $11 billion on tv series, movies, and music for the platform in 2020. This included licensing and production costs associated with video and music offered to Amazon's Prime members, as well as expenses related to digital subscriptions and content that the company sells or rents.
---
5. Amazon Music Had 55 Million Customers in January 2020
Amazon Music hasn't had the success of Spotify or Apple Music, but at the beginning of 2020, Amazon announced that it had 55 million customers on its music streaming platform. Some were Amazon Prime members who get on-demand, ad-free access to over 2 million songs through the Amazon Music service.
---
6. 93% of Consumers Continue to Pay for Amazon Prime After One Year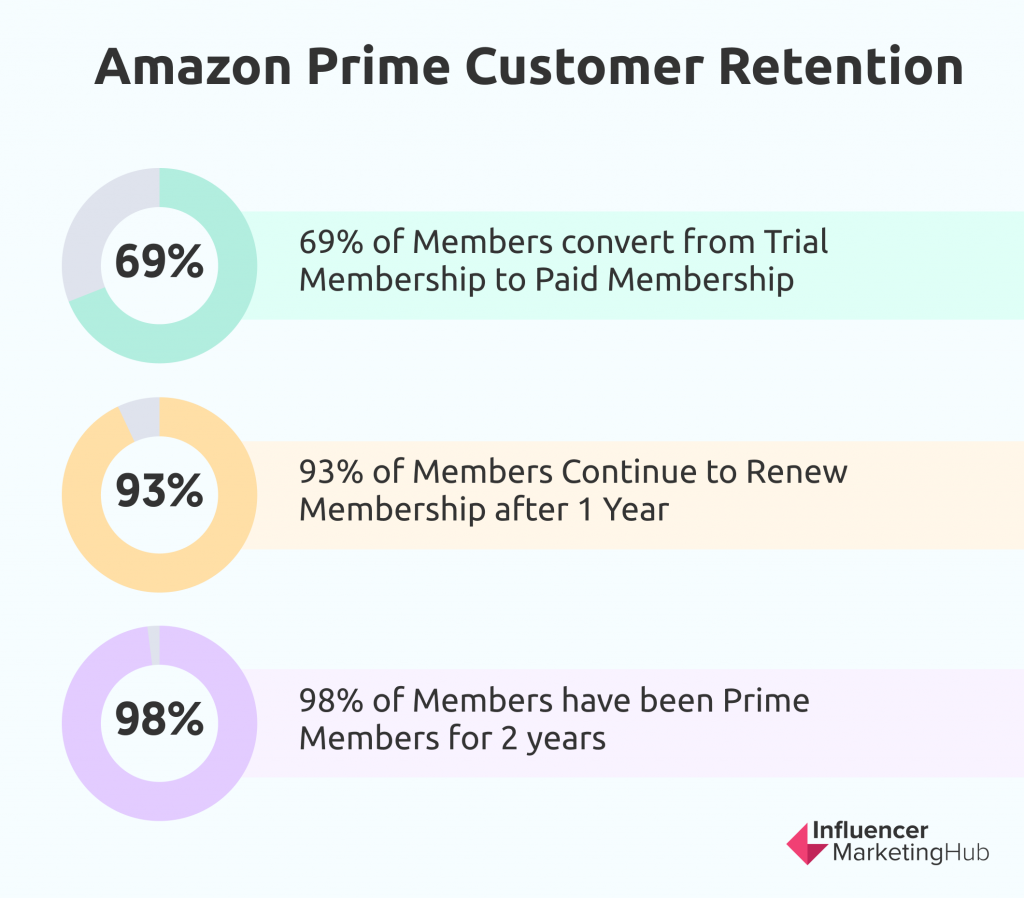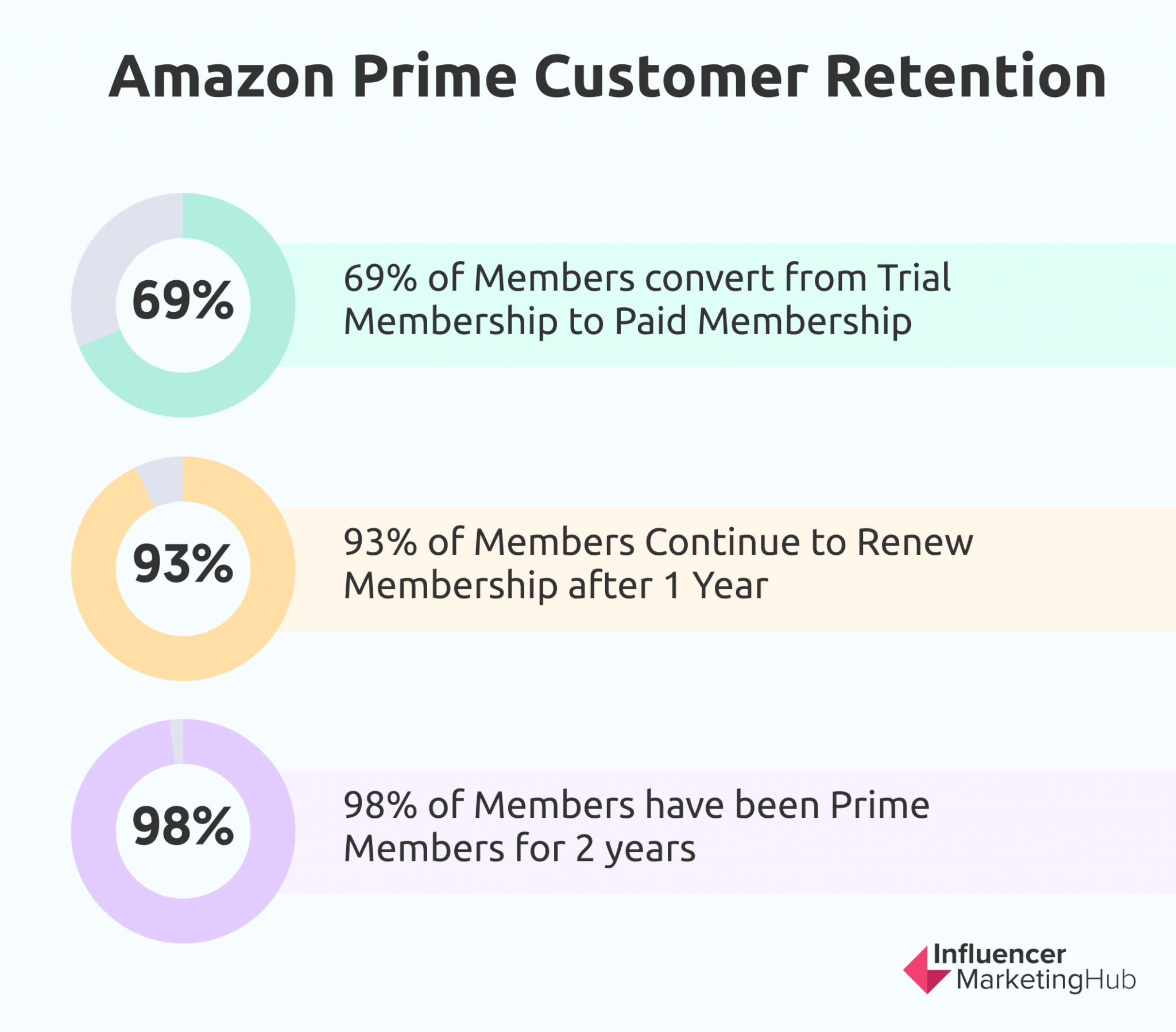 Amazon does an excellent job of keeping its Amazon Prime members. 69% of consumers who sign up for a trial membership convert to a paid membership. 93% of consumers continue to pay for the program after one year, and of those, 98% remain signed up after they've been Prime members for two years.
---
7. Customers Complete Half of All Purchases on Amazon in 15 Minutes or Less
Jeff Bezos announced this statistic in his Amazon 2020 letter to shareholders (released just before he announced his departure from the company in 2021). Customers complete 28% of purchases on Amazon in three minutes or less and half of all purchases in less than 15 minutes. In comparison, according to Bezos, research shows that a typical visit to a physical store takes about an hour.
---
8. Amazon Hired 500,000 Employees in 2020
Another interesting point to come from Jeff Bezos's Amazon 2020 letter to shareholders is that Amazon had hired 500,000 employees over the previous year and now directly employs 1.3 million people worldwide. In contrast, Amazon's 1997 shareholders letter (its first) discussed how Amazon had grown from having 158 employees to 614 in the preceding year.
---
9. Employees Earned $80 Billion in 2020
In 2020, Amazon employees earned $80 billion. In addition, Amazon allowed another $11 billion for benefits and various payroll taxes, for a total of $91billion.
---
10. Amazon's Net Income In 2020 Was $21.3 billion
Amazon's increase in profitability over the last quarter-century has been legendary. In his shareholders' letter, Bezos observes that the company's net income in 2020 was $21.3 billion. He used this as an example of the value Amazon provides its shareholders.
---
11. SMBs Selling on Amazon Make Up 60% of Sales
More than 1.9 million small and medium-sized businesses sell on Amazon, and they make up close to 60% of Amazon's retail sales. Sales from Amazon's marketplace account for roughly 60% of its total gross merchandise value. In Q1 2021, marketplace merchants accounted for 55% of units sold on Amazon.com.
---
12. Third-Party Sellers Made at Least $25 Billion Amazon Sales in 2020
While it is trickier to find exact figures for the sales made by third parties on Amazon's platform, their Selling Partner Services team estimates that in 2020 third-party seller profits from selling on Amazon were between $25 billion and $39 billion.
---
13. Amazon Generated $221 Billion Revenue in the First Half of 2021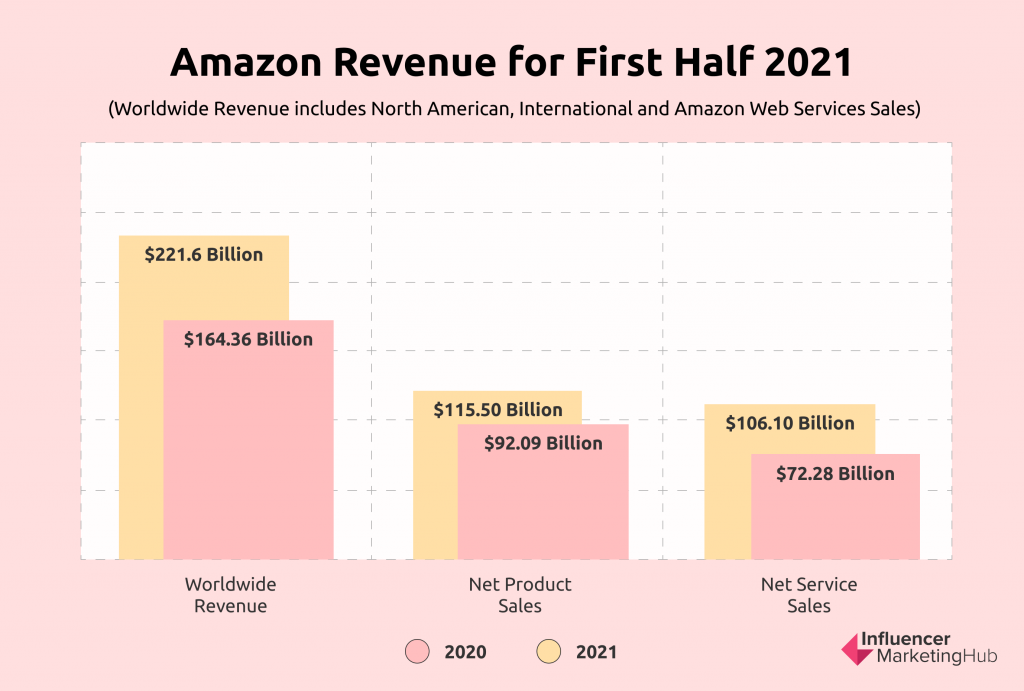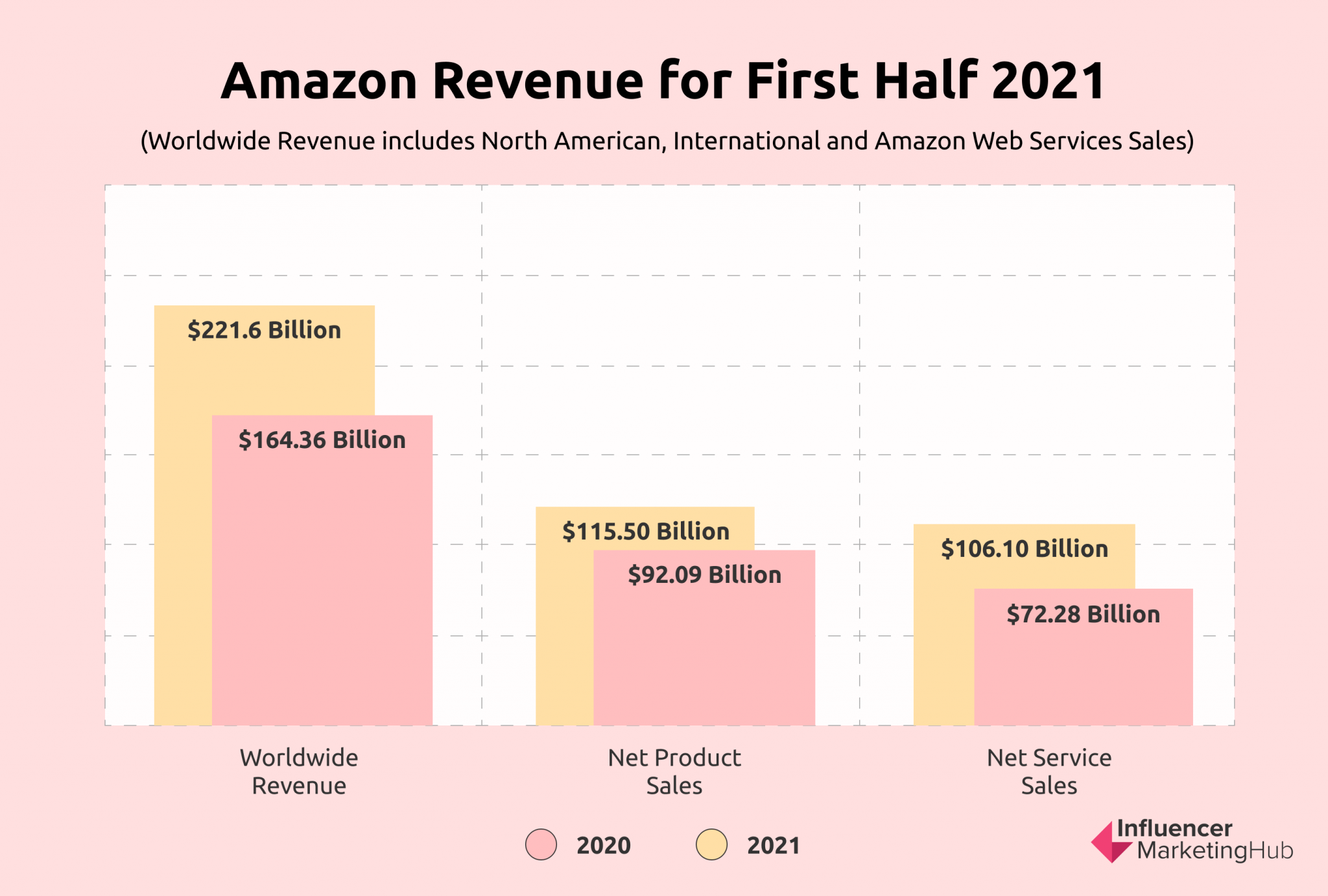 Amazon's worldwide revenue in the first six months of 2021 was $221.60 billion, up 34.8% from $164.36 billion a year earlier. This included North American sales of $131.92 billion, international sales of $61.37 billion, and Amazon Web Services (AWS) sales of $28.31 billion.
Net product sales increased 25.4% to $115.50 billion from $92.09 billion, and net service sales reached $106.10 billion, up 46.8% from $72.28 billion.
Amazon's revenue for the quarter ending June 30, 2021, was $113.08 billion.
---
14. Amazon Sells More Than 12 Million Products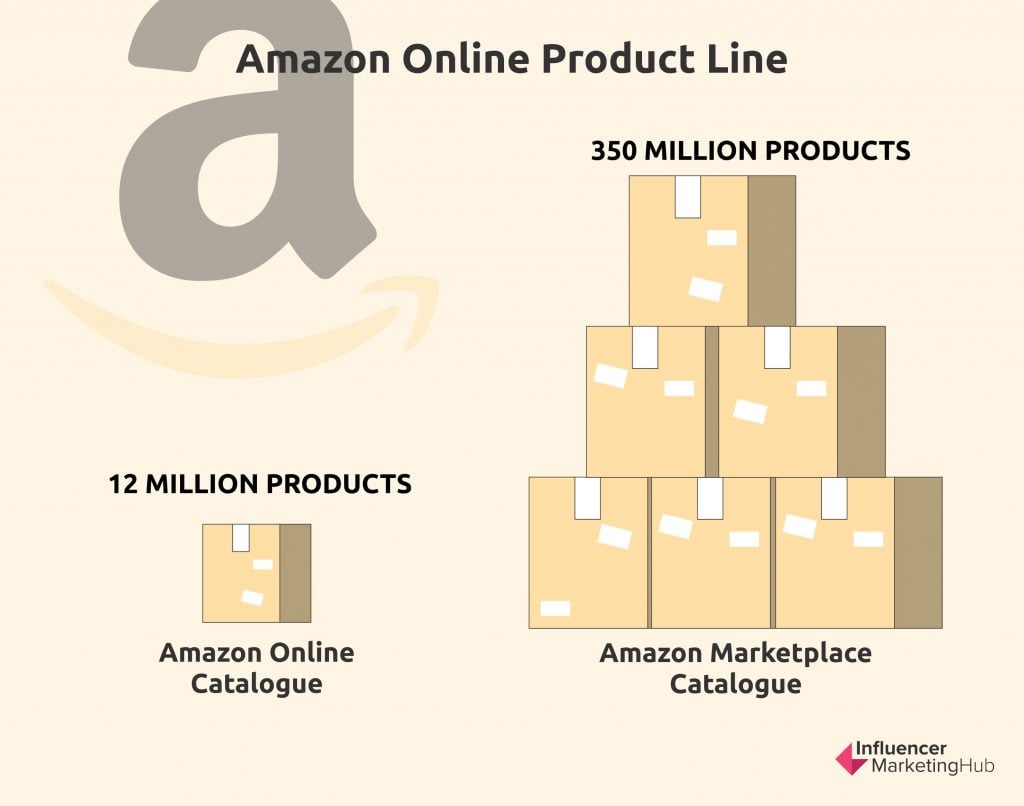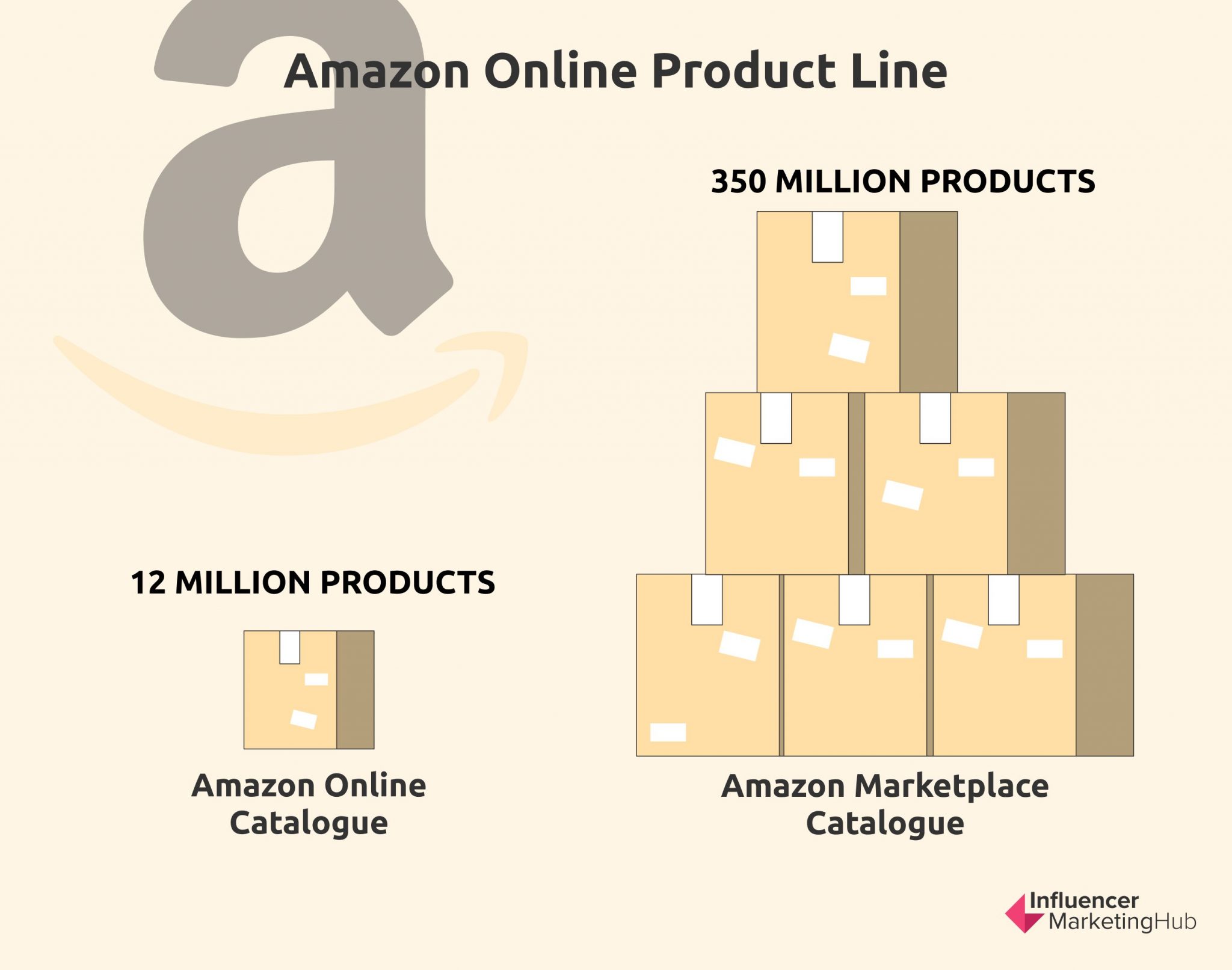 You will undoubtedly find a variety of products on Amazon. Its days as solely an online bookstore are long gone. It now has an online catalog of more than 12 million product lines. Amazon Marketplace sellers take this number closer to 350 million products.
---
15. More Than 80,000 Skills on Alexa in the USA
The total number of Amazon Alexa skills continues to grow at a steady pace. As of January 2021, the skill count for Amazon Alexa had grown to 80,111 in the United States.
---
16. 18% of Millennials Use Amazon Alexa for Voice-Assisted Shopping
Coupon Follow surveyed Millennials in 2019 about their shopping habits. One of their findings was that although the most popular voice assistants were the phone-native Google Assistant (with 24% usage) and Apple Siri (19%), Alexa was also popular with this age group, with 19% using it to assist with their shopping.
---
17. Amazon Web Services Grew 37% in Year to Q2 2021
In recent years another area of success for Amazon has been its cloud service provider, Amazon Web Services (AWS). Amazon Web Services was the leading cloud service provider, accounting for 31% of total spending after growing 37% annually.
Amazon recently announced fourteen new wind and solar energy projects globally and claimed to be the world's largest corporate buyer of renewable energy, topping 10 GW.
The top three cloud Service providers (Amazon Web Services, Microsoft Azure, and Google Cloud) account for 61% of total cloud spending.
---
18. Amazon Recently Shut 3,000 Online Stores Operated by 600 Chinese Brands Over Paid Reviews
Amazon has shut down about 3,000 online stores operated by nearly 600 Chinese brands because of consistent infractions of these stores in incentivized or paid reviews on their Amazon-registered online stores. The blacklisting includes a freeze of the funds of these defaulters by Amazon. Amazon has banned paid reviews since 2016.
---
19. Amazon Fire the Most Popular Connected TV Device in Q4 2020
Global sales of connected TV devices (smart TVs, streamers, and games consoles) soared to a new record in Q4 2020, reaching 109.1 million units. For the first time in that quarter, Amazon became the market leader with sales of 13.2 million devices and a market share of 12.1%. Samsung was second and Sony third after the launch of its new PS5 games console.
---
20. SHEIN has Overtaken Amazon as the Most Downloaded eCommerce App
Not every statistic shows a positive trend for Amazon, however. For example, Appfigures reports that Amazon's downloads have slowed down during 2021 to the point where Chinese-based fast-fashion retailer, SHEIN, has had more downloads recently. SHEIN went from just under 400K downloads on an average day in early 2021 to a little over 450K, an increase of about 13%. On the other hand, Amazon lost about 35% of its daily downloads, dropping from an average of 550K downloads to a little under 400K.