Jeff Bezos founded Amazon as an online bookstore in 1994. Little was he to know the commercial behemoth that his little bookstore would become. Despite its comparatively humble beginnings, Bezos always intended that Amazon turn into "an everything store."
For the first few weeks, anybody purchasing on Amazon would trigger a bell in their office. Then, staff would gather to see if they recognized the customer. However, it didn't take long before sales became too frequent for this to continue, and they had to disconnect the bell. Indeed, within a month, Amazon had sold books to customers from 45 countries, including all 50 states of the United States.
The company has continued to grow since then. In this post, we examine some of Amazon's important milestones and statistics.
---
20 Amazon Stats that will blow your mind:
---
1. 9 out of 10 Amazon Book Orders From Some Book Distributors in its Early Days Were for an Obscure Lichen Book, Always Out of Stock
Back when Amazon began business in 1994, book distributors had a policy of requiring retailers to order ten books at a time. This didn't fit with Amazon's business model, so they found an innovative way around the problem. Whenever a customer ordered a book Amazon didn't have in stock, they would place an order with a book distributor for the required ten books – one copy of the requested title and nine copies of an obscure lichen book, which was always out of stock.
---
2. Amazon Launched Amazon Prime in 2005
Amazon made a significant leap when it launched Amazon Prime in 2005. First, it positioned Prime as a membership service that offered two-day free shipping and some other benefits. Since then, Amazon has continued to add benefits, including access to streaming videos, 2-hour grocery and restaurant delivery, access to 1000+ eBooks each month for free, and over two million songs, ad-free.
---
3. Amazon Prime Day Worldwide Sales in 2022
Amazon Prime Day was launched in 2015. It's a 48-hour event that offers exclusive deals for Prime members. Consumers worldwide spent $11.19 billion on Amazon sites during the two-day Prime Day event in June 2021. In 2022, Amazon Prime Day generated record-breaking sales of $12 billion, with most sales coming from the US. This shows that Amazon Prime subscribers are some of the most loyal customers and are highly likely to spend a lot on Amazon-branded products.
---
4. Amazon Prime Now Has 200 Million Members Worldwide
By January 2023, there were more than 200 million members of Prime worldwide. Free shipping is the primary reason for Amazon Prime's popularity in the nations where Amazon offers it.
Anticipated growth in the number of Amazon Prime members among internet users in the United States is on the horizon. Projections for 2024 suggest that the membership will exceed 180 million users, a significant increase from the 168.5 million recorded in 2022.
---
5. Amazon Prime Video has Over 175 Million Users
By July 2022, Amazon Prime Video had secured its position as the third most downloaded video streaming mobile app, trailing only Netflix and Disney+. Despite the influx of new Video-on-Demand (VOD) services like Disney+, HBO Max, and Paramount+, Amazon Prime Video holds a strong second place in the burgeoning subscription-based VOD industry. Furthermore, the number of Prime Video subscriptions is forecasted to continue its upward trajectory.
---
6. Amazon Music Had 82.2 Million Customers in January 2023
Headphones Addict's recent report reveals that Amazon Music's customer base swelled to 82.2 million in 2023, marking a growth of over 20% from its 68 million customers in January 2021.
The study also positions Amazon Music as the world's fourth most favored music streaming service, following Spotify, Apple Music, and YouTube Music.
In the US, Amazon Music has over 40 million customers, while in Europe is rapidly growing, having 10 million users.
---
7. 93% of Consumers Continue to Pay for Amazon Prime After One Year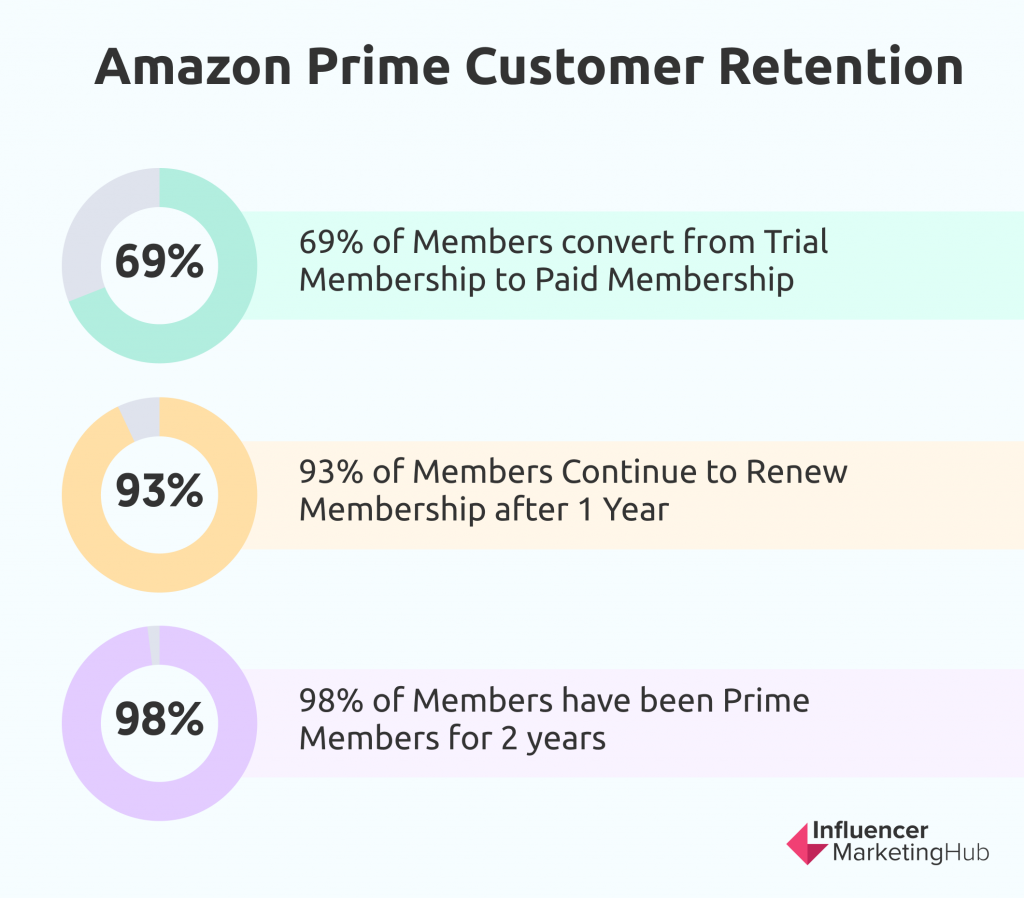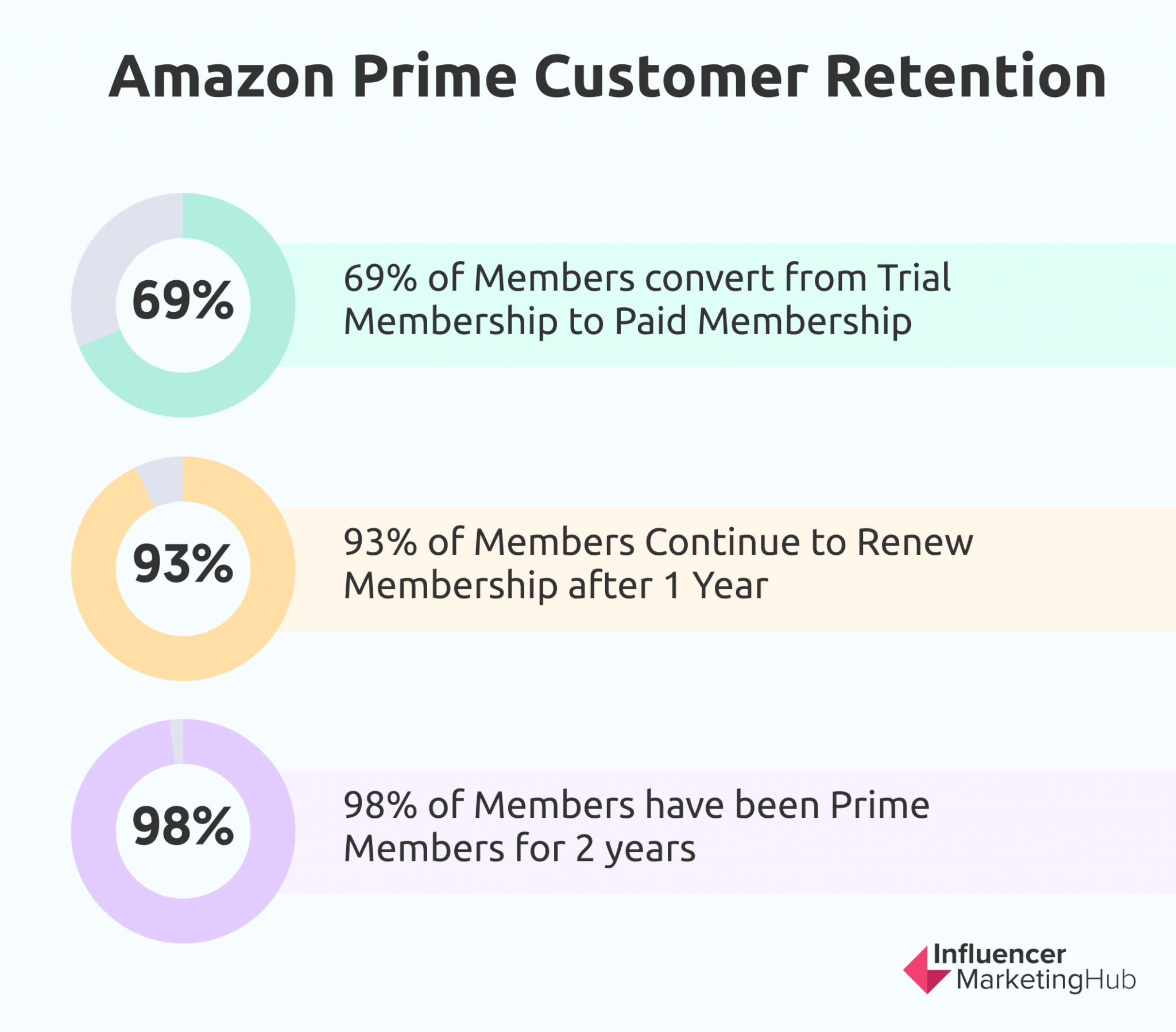 Amazon does an excellent job of keeping its Amazon Prime members. 69% of consumers who sign up for a trial membership convert to a paid membership. 93% of consumers continue to pay for the program after one year, and of those, 98% remain signed up after they've been Prime members for two years.
---
8. Customers Complete Half of All Purchases on Amazon in 15 Minutes or Less
Jeff Bezos announced this statistic in his Amazon 2020 letter to shareholders (released just before he announced his departure from the company in 2021). Customers complete 28% of purchases on Amazon in three minutes or less and half of all purchases in less than 15 minutes. In comparison, according to Bezos, research shows that a typical visit to a physical store takes about an hour.
---
9. Amazon Had Over 1.5 Million Employees in 2023
The number of employees at Amazon has been steadily increasing pre-pandemic. Despite COVID-19 and the numerous lockdowns in many countries causing thousands of people to lose their jobs, Amazon has continued to grow. In fact, the company's hiring spiked from 800,000 to over 1 million employees within 3 months in 2020.
By the first quarter of 2022, there were over 1.5 million full-time and part-time workers on the company's payroll. With such a large workforce, it is no wonder that Amazon has become one of the most sought-after companies to work for.
---
10. Amazon's Net Income by Mid-2022 Was $121.23 Billion
Despite dealing with the higher costs of a larger workforce that requires stricter safety measures and increased warehouse space due to the pandemic, Amazon's net income still managed to reach new heights in 2022. The company's second-quarter net income was reported to be $121 billion, a substantial increase from the $113 billion reported for the same quarter in 2021. By the third quarter of this year, projections are said to be between $125 and $130 billion.
---
11. SMBs Selling on Amazon Make Up 56% of Sales
According to Amazon's annual U.S. Small Business Empowerment Report, issued on May 23, 2023, small and independent businesses now account for a bulk of its eCommerce sales. The report shows that 60% of all units sold in Amazon's online stores are from SMBs1. SMB products account for approximately 60% of all units sold in Amazon's online stores
---
12. SMBs Generated $3 Billion During Amazon Prime Day in 2022
SMBs continue to be a driving force behind Amazon's growth. During the company's Amazon Prime Day annual event last July 2022, SMBs generated $3 billion in sales. This two-day event significantly boosted Amazon's sales and helped SMBs reach new customers. Additionally, as this exceeded Amazon's SMB revenue of $1.9 billion in 2021, it proved that Amazon is still the go-to platform for many small businesses.
---
13. Third-Party Sellers Sold 59% of Paid Units in Q2 2023
According to Amazon's chief financial officer, Brian Olsavsky, on a call with reporters after the company's Q2 2022 earnings report, third-party sellers were responsible for 57% of units sold on Amazon in Q2 2022 which is a record high1. In the first quarter of 2023, 59% of paid units were sold by third-party sellers2. About 57% of Amazon sales come from third-party sellers in Q2 2022 which is a 1% increase from the year of 2021.
---
14. Amazon Sells More Than 12 Million Products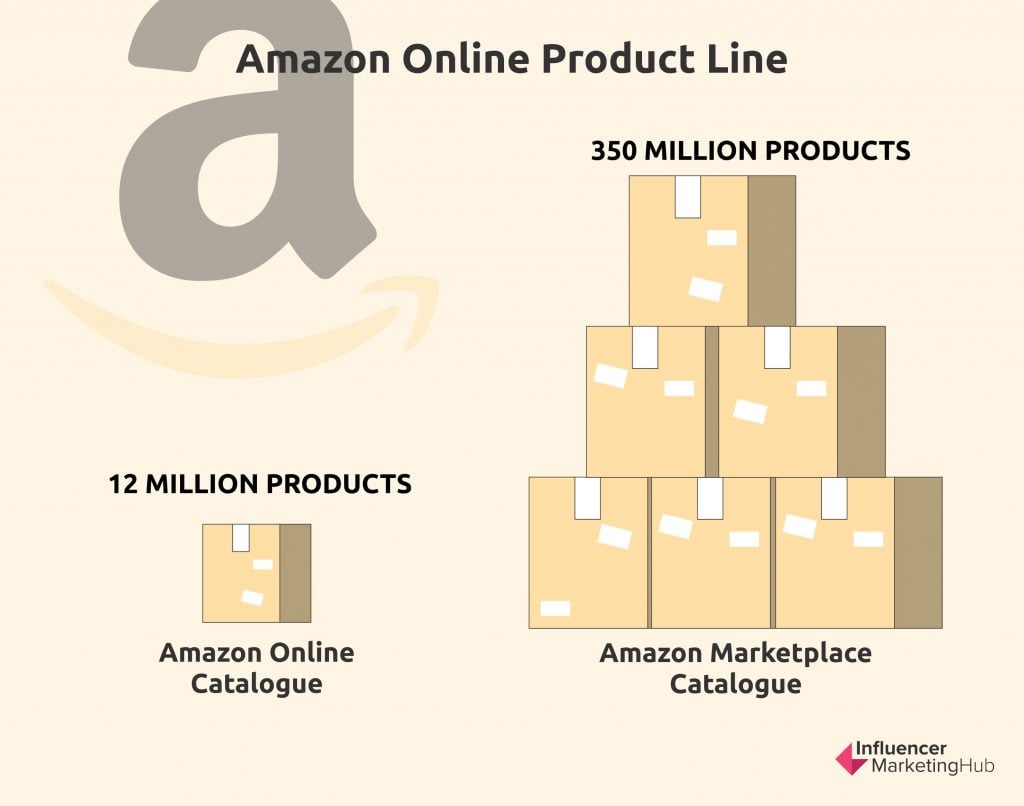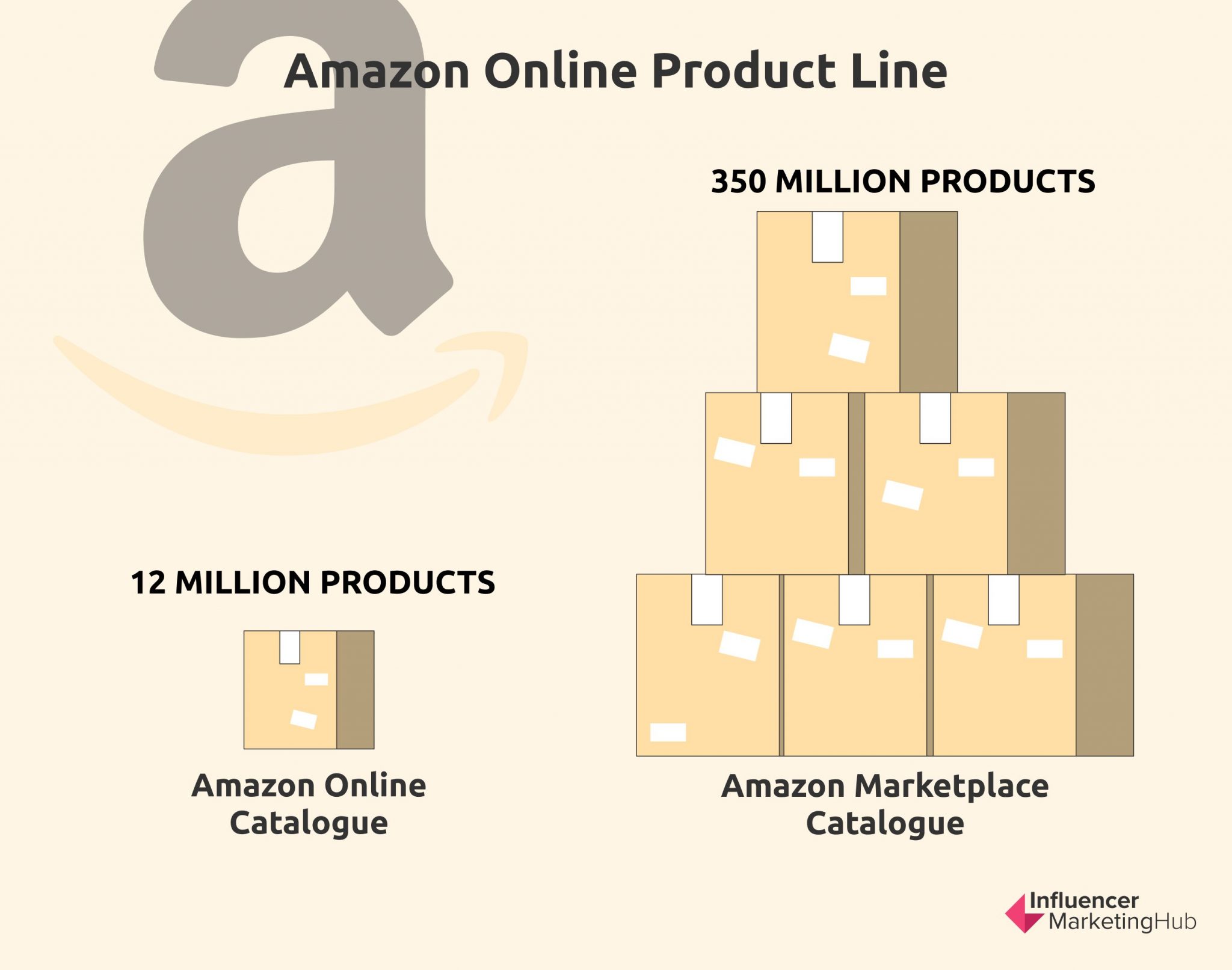 You will undoubtedly find a variety of products on Amazon. Its days as solely an online bookstore are long gone. It now has an online catalog of more than 12 million product lines. Amazon Marketplace sellers take this number closer to 350 million products.
---
15. More Than 100,000 Skills on Alexa in the USA
In recent years, Alexa has emerged as one of the most popular virtual assistants, competing with Siri and Google Assistant. The total number of Amazon Alexa skills continues to grow at a steady pace. According to Amazon, Alexa now offers over 100,000 skills, of which 80,000 are available in the United States.
---
16. Alexa Is Now Compatible with 100,000 Smart Home Devices
The internet of things (IoT) is growing at an unprecedented rate, and Amazon's Alexa is leading the way. In 2017, Amazon announced that there were just around 4,000 devices that worked with Alexa. A few years later, the number of Alexa-compatible devices has increased to approximately 100,000.
Amazon continues to release new devices that include Alexa and partners with other companies to integrate Alexa into their products. This means that users can control their entire home with just their voice. Amazon also continues to add new features and integrations to Alexa, making it one of the most powerful virtual assistants on the market.
---
17. 45% of Millennials Use Amazon Alexa for Voice-Assisted Shopping
According to Statista, 45% claimed to use voice assistance when shopping online, as compared to 55% who said they never used voice commerce. Alexa's voice-assisted shopping feature is one of Amazon's most popular and convenient services. That's why in 2022, 33.2 million US consumers are expected to shop with their smart speakers through voice search.
Amazon makes it easy for customers to find and purchase products using only their voice. This hands-free shopping experience is especially appealing to users who are always on the go.
---
18. Amazon Web Services Had a 37% Revenue Growth in Q1 2022
The growth of Amazon Web (AWS) Services has been a major driver of Amazon's success in recent years. In Q1 2022, AWS brought more growth as one of Amazon's strongest revenue streams. AWS reported a 37% revenue growth compared to the prior quarter.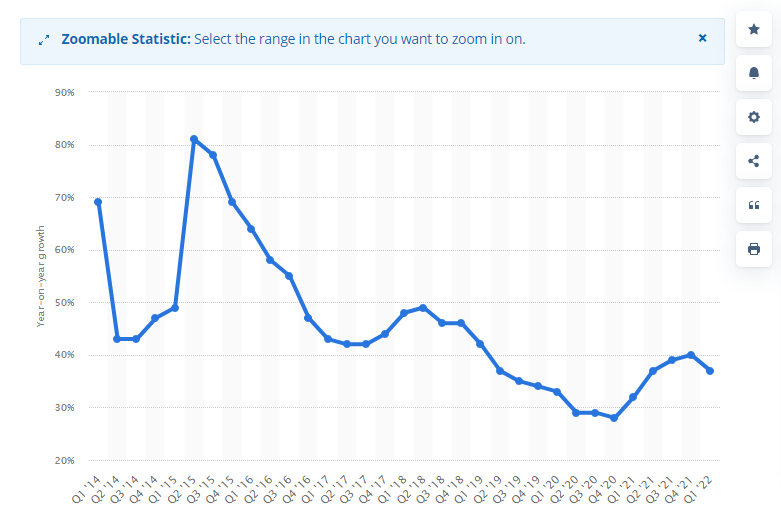 As an on-demand platform and cloud infrastructure, AWS now has over 175 cloud services that Amazon uses to power its online retail business and other services. Amazon has been able to leverage AWS to create new products and services, which has resulted in significant revenue growth. To name a few, Amazon's digital assistant Alexa, live video streaming service Amazon Prime Video, and Amazon's drone delivery service Amazon Prime Air all run on AWS. With Amazon set to continue its growth in the coming years, these statistics show that the company is well-positioned to continue dominating the eCommerce space.
---
19. Amazon Recently Shut 3,000 Online Stores Operated by 600 Chinese Brands Over Paid Reviews
Amazon has shut down about 3,000 online stores operated by nearly 600 Chinese brands because of consistent infractions of these stores in incentivized or paid reviews on their Amazon-registered online stores. The blacklisting includes a freeze of the funds of these defaulters by Amazon. Amazon has banned paid reviews since 2016.
---
20. Amazon Fire the Most Popular Connected TV Device in Q4 2020
Global sales of connected TV devices (smart TVs, streamers, and games consoles) soared to a new record in Q4 2020, reaching 109.1 million units. For the first time in that quarter, Amazon became the market leader with sales of 13.2 million devices and a market share of 12.1%. Samsung was second and Sony third after the launch of its new PS5 games console.
---
21. AWS sales for Q1 2023 are $17.7 billion
Amazon Web Services (AWS) sales for Q1 2023 are $17.7 billion, an increase of 37% year-over-year. AWS is the world's leading cloud computing platform, and its growth is being driven by the increasing adoption of cloud computing by businesses of all sizes.
---
22. Amazon Net Sales are approximately $127 billion in Q1 2023.
Amazon generated total net sales of approximately 127.36 billion U.S. dollars in Q1 2023, surpassing the 116.44 billion U.S. dollars in the same quarter of 20221. Amazon's revenue for Q1 2023 was reported at $127.4 billion compared to expectations of $125 billion2. Sales at AWS rose about 16% in the first quarter to $21.35 billion.
---
Conclusion
These Amazon statistics show that the company is still going strong, even in the face of global adversity. With Amazon's continued expansion and growth, it is likely that these numbers will only increase in the future. Amazon is a juggernaut that doesn't seem to be slowing down anytime soon.