Even before the pandemic, people looked for ways to boost their income. Having a side business lets you achieve this, and some side businesses are even capable of producing passive income—such as affiliate marketing. When it comes to affiliate marketing, nothing beats Amazon Associates.
---
Step Up Your Amazon Associates Game For 2024:
---
What is Amazon Associates?
As the largest online retailer, Amazon has over 12 million products and sells an average of $17 million every hour, resulting in net revenue of $386.06 billion in 2020.
However, the company isn't the only one making a fortune. Affiliate marketers make up around 45% of the site's market share. With over 900,000 members, it is also one of the world's largest affiliate networks.
Amazon Associates—Amazon's affiliate marketing program—enables content creators, bloggers, and marketers to monetize their site visitors by promoting Amazon products.
Signing for the program is free. You will receive a commission if an interested buyer clicks on the Amazon link on your website and purchases the item. The commission ranges from 1% to 20%, depending on the product category.
Amazon's affiliate program is ideal for bloggers, influencers, and content creators who already have a following, but it's also an excellent place to start for new affiliate marketers. Because the site has such a wide product range, there are tons of options to choose from.
---
How Does Amazon Associates Work?
Amazon's affiliate program lets you promote eligible Amazon items to your target market using a unique product link. When customers click the link, they will be redirected to that item on Amazon.com. If they buy the product within 24 hours, you will receive a commission. This fee is based on a percentage of the product's price and varies by product type.
When a buyer closes their tab without making a purchase, you will not earn commission on further purchases. However, if they subsequently return to the site using one of your affiliate links, a new 24-hour window for you to earn will open. It's important to note that the window expires when a buyer places an order or re-enters the site using another affiliate's link.
Sometimes a customer uses your link to visit Amazon, adds the item to their shopping cart, and then leaves without completing a purchase. If the order remains in their cart before it expires (usually after 90 days), you will still receive a referral fee. The reward will only reflect on your account when the buyer purchases the item, accepts the delivery, and pays Amazon in full.
---
How Much Can Affiliates Earn with the Program?
The size and engagement of your audience, your content, and your online marketing activities will all affect your earnings. The average yearly compensation for an Amazon affiliate marketer is $55,434. Although recent studies indicate that affiliate marketers can earn less than $20,000 per year, and of course there are also those that make a big earn millions of dollars in one year.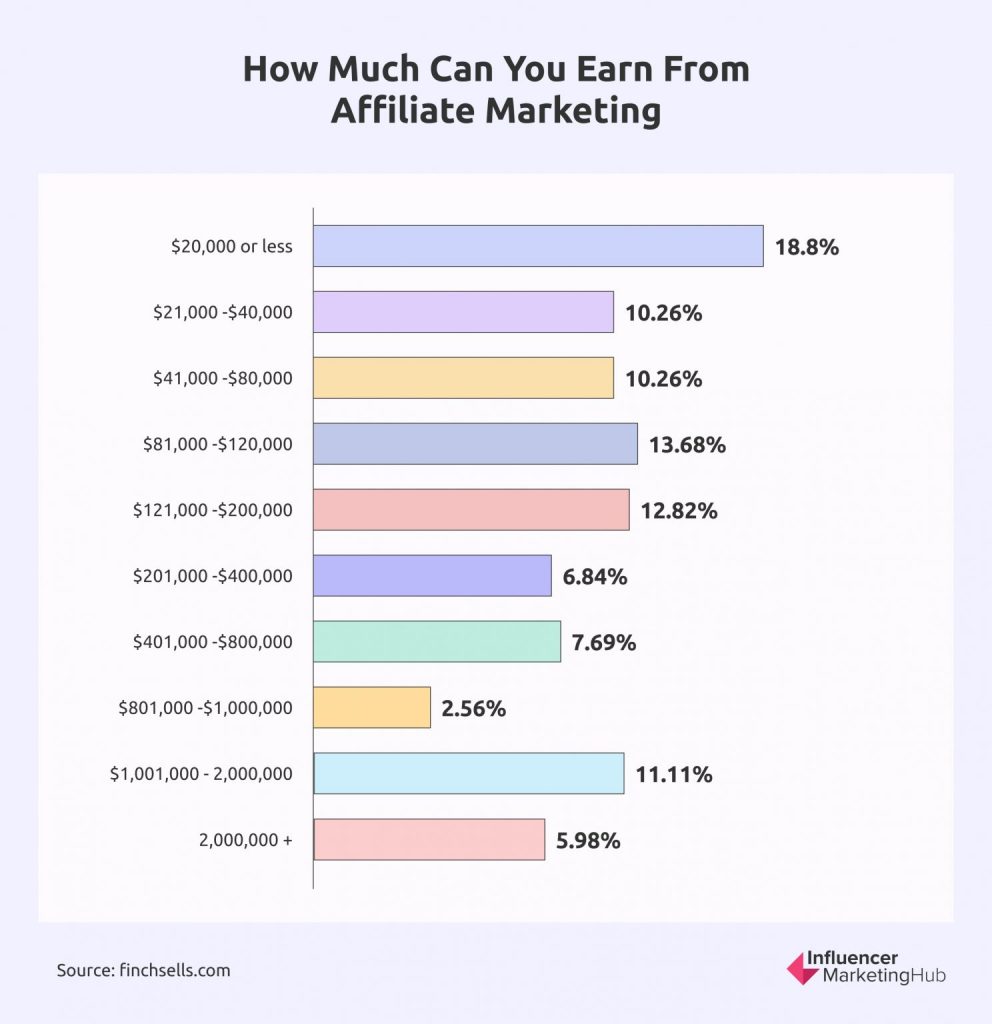 Of course, if you're just starting, your payout won't be as lucrative—but the average pay range for Amazon Associates varies a great deal, which means you still have plenty of opportunities to boost your Amazon affiliate revenue over time.
Learn more about the commission rates for each product category so you can calculate how much money you're able to make for your marketing efforts. While your commission rate will impact your earnings as an Amazon affiliate, your conversion rate is also essential. This shows how many visitors buy the product after clicking the link.
---
Who is Eligible to be an Amazon Affiliate?
Amazon is open to affiliates from all over the world. You don't need to pay a registration fee to join, nor do you need to maintain a quota to earn your commissions. You can become an Amazon affiliate once Amazon approves your application to be an affiliate, and start advertising your goods right away.
You will just need a suitable medium for promoting Amazon products and services.
Website
The most common way to advertise Amazon products is through a website, like a blog. To qualify, your blog must have sufficient (at least ten) entries of unique content. The most recent entry should be within the last two months. Most importantly, your content must NOT:
Infringe on intellectual property rights

Contain sexually explicit materials

Incite violence or criminal activities

Display discrimination based on race, gender, sexual orientation, nationality, and age
Social media
Your social media account must be active and have organic followers (at least 500). Amazon affiliate marketing program accepts promotions on:
Facebook (must be a business or a public group page)

Instagram

YouTube

Twitter

TikTok

Twitch.tv
Apps
You can also apply using your mobile app if it fits Amazon's specific criteria. Your app must:
Be available for free on Amazon, Apple, and Google Play stores

Contain original content

Differ from Amazon's shopping app

Not have price tracking features
---
What is the Application Process to be an Amazon Affiliate?
If you want to become an Amazon affiliate marketer, you need an Associates account. Here's a step-by-step tutorial to help you get started.
Click "Sign Up." You may log in with your existing account if you already have one.
Fill out your account details.
This includes basic information like your name, address, and contact information.
Enter the URL(s) of your website(s), social media channels, and apps.
Include all of your website's URLs. Amazon allows up to 50 websites or mobile applications, which is beneficial to promote products in various regions.
This is similar to the name of your primary website.
Describe how you get people to visit your site.
List down how you generate traffic to your blog. Explain how you make money from your marketing efforts, and explain your link-building process.
Enter your payment and tax ID details. You have the option to add more payment information at a later date. Return to your dashboard and enter your 4-digit PIN provided by Amazon.
That's it. Now you only have to wait for Amazon to approve your application. If your website meets the criteria and you correctly fill out all necessary fields, you should be accepted into the program shortly.
Once you're accepted, you can access your Amazon Associates page. Through the dashboard, you'll see more extensive details like monthly summaries and commission overviews. At this point, you can start creating affiliate links.
If you want to apply to several Amazon regions, you will need to repeat the registration process for each location. For example, if you're going to promote products on Amazon.com in the US and UK, you'll need to enroll in the Amazon Associates program on Amazon.com and Amazon.co.uk respectively.
---
How Do You Create Amazon Affiliate Links?
Amazon has strict affiliate link policies in place. To make it easier for affiliates, the site offers product linking tools to choose from.
Product Link Tool
You can create text or image links using this tool.
Click on the Product Linking tab on your Associates Central dashboard.

Choose "Product Links" from the menu.

Assign each item an ASID (Amazon Standard Identification Number).

Click the "Go" button to get a new affiliate link.

Click "Get link" to create an image-only URL and other options.
Banner Creation Tool
This tool is specifically for making eye-catching banners to promote Amazon products and special deals.
Open the Product Linking drop-down menu.

Click the "Banner Creation Tool" button.

Choose from an extensive range of banners organized by size and genre.
Site Stripe
Many Amazon affiliate marketers think the Site Stripe is the most user-friendly in this toolbox since it enables affiliates to build links directly from an Amazon page.
Go to Associates Central.

Choose "Site Stripe" from Tools.

Read the brief description before clicking the "Learn More" button to unlock the display settings window.

Toggle the switch to "Enable."
Amazon provides a dedicated FAQ page on link building. Once you have the affiliate links and images, you can incorporate them into your marketing strategies.
---
What Are the Amazon Associates Guidelines?
To preserve your position as an associate, you must adhere to the Associates Program Policies. The operating guidelines are divided into six categories. Though it's quite an extensive read, being aware of the rules helps avoid violating any of the policies, which can lead to Amazon terminating your account.
There are many rules to follow, but here are the basics to keep in mind:
Make three sales in six months to avoid account deactivation.
It would be better to apply as an Amazon affiliate when your website already has consistent traffic. Otherwise, hitting the target can be challenging.
If your first attempt at Amazon Associates fails, you can reapply in the future. Just make sure that you don't place orders using your affiliate link, which is against Amazon's policies, to avoid account suspension.
Put a prominent Amazon affiliate disclosure.
Amazon Associates requires their affiliates to disclose the partnership on their websites. The Federal Trade Commission mandates this disclosure. As such, it's vital to add a disclaimer. Make sure that it's easy to read and understand. To make it even easier for associates, Amazon approves this simple statement as a disclaimer: "As an Amazon Associate, I earn from qualifying purchases."
Avoid masking Amazon affiliate links.
Amazon prohibits link cloaking as the company values transparency. You're doing yourself a disservice by using a URL shortener solely for readability. If you use an affiliate plugin to inject affiliate links into your content automatically, disable cloaking in the plugin settings.
Stay clear from pricing promotional products.
Amazon does not allow specific pricing on promotional products. Logically, price changes all the time, and the online retailer doesn't want affiliates to inadvertently spread false information.
Using a price reference is a workaround for this policy. For example, use $ for low-cost items, $$ for medium-priced goods, and $$$ for expensive products. Another suitable alternative is to use the Amazon Associates API, which adjusts the price in real-time if it changes on Amazon.
Avoid self-hosting product images downloaded from Amazon.
If you download a product image directly from Amazon, you can't host it on your server. But, if you generate an image-and-link directly from the site or via the API, you can use the image on your marketing platforms as long as it loads from Amazon's servers.
You can also use your own photos, but you can't add an affiliate link directly to your pictures. Instead, add a custom button with your Amazon affiliate link next to the image.
Use caution when including affiliate links.
Amazon prohibits using their affiliate links on certain promotional materials such as offline marketing supplies, emails, eBooks, PDFs, and private Facebook groups.
---
How Can You Improve Your Amazon Affiliate Marketing Strategies?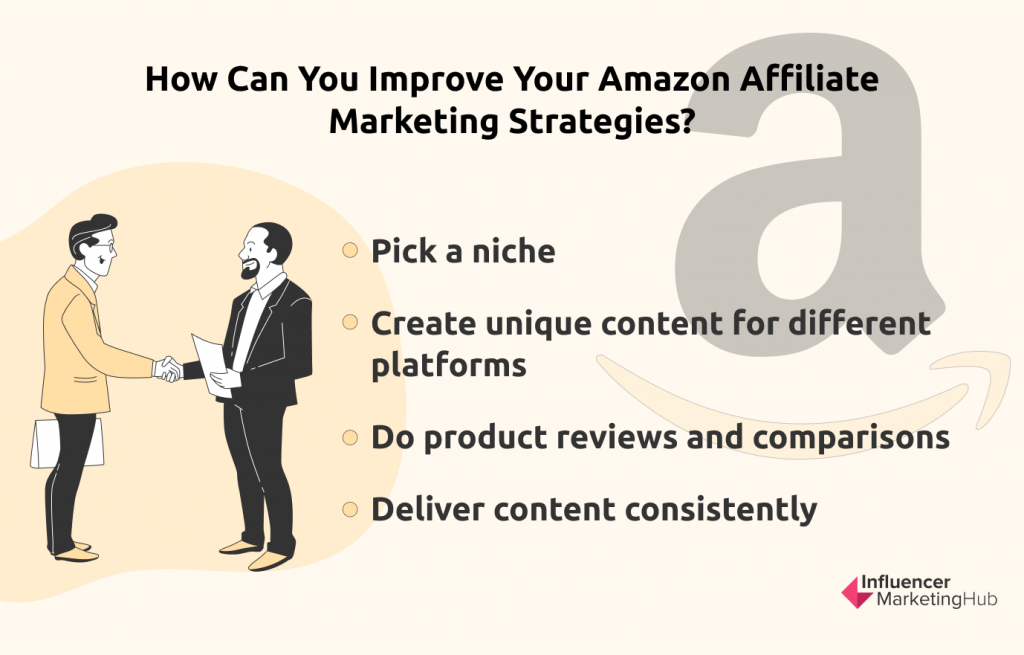 Affiliate marketing is a numbers game. You need substantial website traffic and enough followers to make actual conversions. Here are some tips to help you become a successful Amazon affiliate marketer:
Pick a niche
The niche or specialty you choose will determine your success as an Amazon Associate. This process will be easier if you already have a website or blog. Naturally, the products you link will be related to your niche.
For new affiliates, focus on a subject you're passionate about since you will talk about the topic a lot. This allows you to include product links organically and without sounding too promotional.
Create unique content for different platforms
You must provide unique, high-quality content that will help you stand out, establish authority, and build trust with your target audience. Take your content to the next level by disseminating it on various platforms. You may blog about your expertise and then elaborate on it on YouTube.
Do product reviews and comparisons
Writing product reviews and comparisons is a great way to boost your Amazon affiliate links because you can organically insert them into your content. Reviews have the advantage of being high-intent content because the reader is likely a step away from purchasing.
On the other hand, product comparisons give you more opportunities to include affiliate links. You also provide your readers with choices, so it's a win-win situation.
Deliver content consistently
Keep your blog and social media active. Regularly update your platforms, but only do so with high-quality content. It's better to post blogs twice a month if they're well-researched and with substance compared to posting every week but with fluffy content.
Adopt a content marketing strategy and integrate good SEO practices to help you write relevant, effective blog posts.
---
Ready to start as an Amazon Associate?
The Amazon Associates program is a great way to start your affiliate marketing career. All you need is a website, a social media profile, or an app to sign up to be an Associate. Once Amazon approves your application, you're good to go.
If affiliate marketing sounds like a good side business for you, the Amazon affiliate marketing program can effectively help you earn additional income. Your revenue increases if you choose a niche, write high-quality content about it, integrate your Amazon affiliate links organically, and stick to Amazon Associates policies.
Frequently Asked Questions
How much do Amazon affiliates get paid?
Amazon affiliates get paid $100 to $20,000 in the Amazon affiliates program on average. The payments will depend on how many referrals you generate for Amazon. The Amazon affiliates program runs on a commission basis, which means you make a percentage of every sale you commission.
What percent do you get with Amazon affiliate?
Amazon has fixed standard commission income rates for specific products. The percent you get as an Amazon affiliate will depend on the product. For example, shoes, handbags and accessories will get you a 4% commission, while Amazon games will get you a 20% commission.
Is Amazon Affiliate free to join?
The Amazon Associates program, their affiliate marketing program, is completely free to join and easy to use. The Amazon affiliate program allows influencers, bloggers, and others to create links and earn referral fees when customers buy products through their links.
What is Amazon affiliate program?
The Amazon Associates program is Amazon's affiliate marketing program that allows content creators, bloggers, and business owners to monetize their traffic. Associates can use Amazon's link building tools to direct audiences to their recommendations. Each time someone buys a product using their link, they get a commission fee.
Does Amazon affiliate pay for clicks?
Amazon affiliate pays commissions based on clicks that lead to a sale within 24 hours on Amazon. This means that Amazon affiliates must use the Amazon affiliate link. The commission fee structure ranges from 1% to 20% based on different product categories.