As we saw in Amazing Amazon Statistics, Amazon is now the largest online retailer in the world today. It currently holds 37.8% of the US eCommerce market, well ahead of such commercial luminaries as Walmart (6.3%), Apple (3.9%), and eBay (3.5%). It can be hard to comprehend that Amazon generated total net sales of approximately $121.2 billion in just one quarter (Q2 2022). Yet many "Amazon sales" are actually sold by third parties. In that same quarter, third-party sellers accounted for 57 percent of the total units sold on the platform, and 68% of merchants relied on the logistics of Amazon (FBA) to fulfill orders.
Although Amazon sellers can expect some marketing from the platform (merely having their products appear in Amazon searches can be of considerable value to any firm), you can't expect Amazon to promote your products as much as their own. And unless you're large and established (or sell a trendy product line), it is unlikely that Amazon will want to appoint you an Amazon Vendor, buying and reselling your products themselves. Marketplace Pulse research found there are close to two million different brands on Amazon, compared to tens of thousands of products in traditional retail stores. And Amazon will only buy and resell a small portion of these products themselves. It can be daunting to realize that only 10% of the brands that sell on Amazon are among the top 100 best sellers in the tens of thousands of categories on the platform. In other words, 90% of the brands selling on Amazon languish near the bottom of search rankings.
One way you can drive your sales on the platform is with Amazon affiliate marketing. Note that this isn't the same as becoming an Amazon Associate (see our Ultimate Guide to Becoming an Amazon Associate for more information on how to do this). You aren't intending to become an affiliate for somebody else, marketing their products as Amazon Associates do. Instead, you will want to work with affiliate marketers to promote the products you list and sell on Amazon.
---
How to Drive Sales with Amazon Affiliate Marketing:
---
Consider Using Affiliate Marketing Software to Make Your Life Easier
Refersion and Helium 10 have partnered on an affiliate marketing platform that offers Amazon integration, Amazon Affiliate Marketing by Refersion. Refersion claims this is a first-of-its-kind affiliate marketing solution for eCommerce brands on the Amazon Marketplace. Merchants import their Amazon product catalog into the platform and make a default product-level commission for affiliates and publishers. Based on the quality of the offer, Refersion's network of affiliates, publishers, and influencers apply to work with the merchant in marketing campaigns for selected products.
---
How to Build Traffic to Your Amazon Listings
Before we look in more detail at Amazon affiliate marketing for Amazon sellers, we will examine various ways to drive sales to your Amazon listings. We will ignore people already searching for products on Amazon here. They are a "bonus" of using Amazon as a marketplace – Amazon itself will attract potential buyers of the platform who potentially might buy your products if they meet their immediate needs.
However, you can't rely on Amazon's marketing to attract people to your listings. You need to try and drum up relevant external traffic yourself (in conjunction with others, in the case of affiliate and influencer marketing). Ways you can do this include: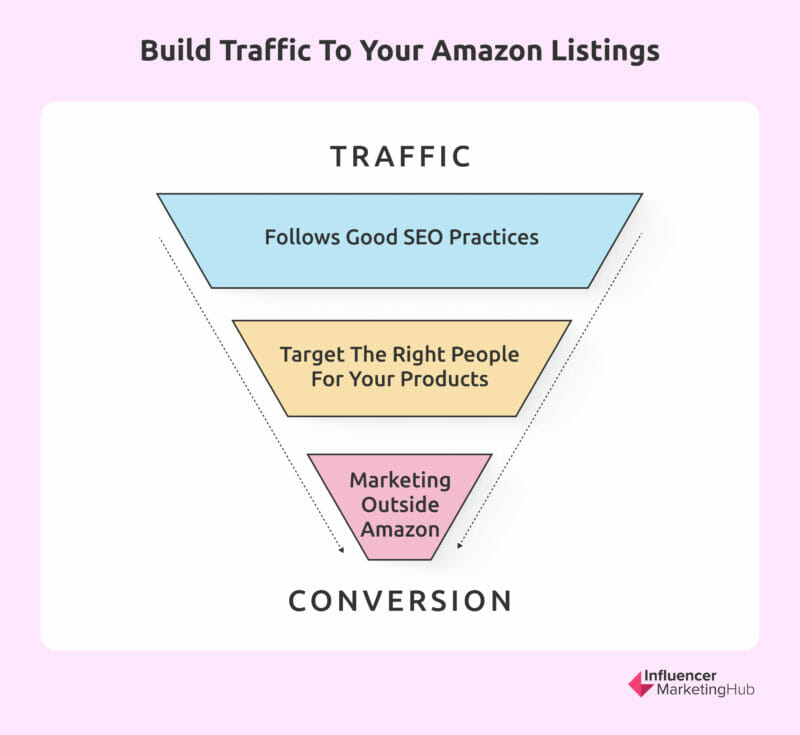 1. Ensure Your Amazon Listing Follows Good SEO Practices
With 2 million brands on Amazon, unless you sell a genuinely unique item, you will likely face intense competition on the platform. So, although our eCommerce SEO Guide focuses more on non-Amazon marketplaces, much of what we talk about there also applies to your Amazon listings.
There is little point in driving people to Amazon if they can't find your products once they get there. Remember that virtually everybody on Amazon, including Amazon itself, is a competitor. So it is vital people can easily find your products and the answers to any questions they may have.
You will find various Amazon SEO Tools and Services that can help you do keyword searches to determine the searches that people make and to perfect your listings so that they can see you are providing what they want.
In addition, Amazon likes it when you bring people to the site, as they may buy other products while there.
Some of the most important things you should do to optimize your product listings:
Carry out keyword research, so you know the terms people search for on Amazon

Optimize your product title – it should match what's on the physical packaging of your product but keep it between 60-80 characters long. Avoid using all caps. Don't pad your title to include every possible keyword. Product titles should contain the minimal information needed to identify items and nothing else. This is not the place to use hyperbole or sales language.

Optimize your product descriptions – include detailed information about your product benefits and features. Include everything that a potential purchaser would consider relevant to their decision-making. Don't forget to include your brand name in the Brand field, even if you also have it in the description – important for potential customers who filter by brand.

Optimize product key features – write these as five bullet points. Use your selected keywords here, but only if they flow naturally. Highlight the five elements that you think will most encourage a target customer to purchase your product

Optimize product images – include multiple images showing the product from different angles. Ideally, have six high-quality pictures and one video per product.

Optimize product search terms – these go in the backend of your listing, i.e., shoppers don't see them. Use generic words only, including synonyms, abbreviations, and alternative names for your product. You have a maximum length of 250 bytes, so avoid unnecessary characters and duplications.

Optimize your product price – ensure you're pricing your product compared to competing products on Amazon. Even if you work with top affiliates, they will have difficulty marketing your product if it isn't competitive with other similar (or identical) items on the platform.
If you're an eCommerce brand using Amazon Affiliate Marketing by Refersion, you can work with affiliates to boost your organic page rankings in the Amazon search results. The more external traffic they send to the listings for your products, the better Amazon will rank those products. However, you will still need to use good SEO on your page to boost your chances of people finding your Amazon-listed products.
---
2. Target the Right People for Your Products
In many ways, this is the number one rule for any marketing campaign. Establish who your potential customers are likely to be and ensure that ALL your marketing spend is directed towards them. This means that you only advertise to the "right" kinds of people for your product. You only participate on the same social platforms that they do. Any influencers you work with are the favorites of those people, and any affiliate marketers you partner with also target them. No matter how good an influencer or affiliate is, how popular a social platform is, or how enticing an advertising deal may be, they are useless to you if they don't have the right audience for your product.
This is why you need to be extremely selective when picking affiliates for an affiliate marketing campaign, likewise influencers for any influencer campaign. You can streamline the process of researching, discovering, and recruiting affiliates in Refersion's easy-to-use platform, building direct affiliate relationships with top performing affiliates. Refersion provides much data on potential affiliates, so investigate the types of people that potential affiliates attract. Ensure that they are the right people for your products.
---
3. Marketing Outside Amazon
You can market the products you sell on Amazon just like the goods and services you sell elsewhere. Indeed, you may already be promoting these same products, just not telling potential customers that they can purchase the items on Amazon. If you are, make a point of adapting your advertising assets to highlight how easily people can buy them from your Amazon store.
Often the affiliates you choose to work with will also advertise your products outside Amazon. As they earn money every time you sell a product to somebody they have referred, they have an incentive to market your products to people they believe will make a purchase. If you use Amazon Affiliate Marketing by Refersion you will be able to isolate the sales that these customers make in Refersion's dashboard. You can transparently track conversions, so you know who can legitimately claim responsibility for any increased sales of your products.
---
What is Affiliate Marketing?
We covered this in more detail in our Complete Guide to Affiliate Marketing. Affiliate marketing is a modern version of traditional commission selling. Brands pay a percentage for every sale generated by people willing to promote their products (affiliate marketers). Affiliate marketers promote the products using a unique link to the brand's website (or Amazon in the case of Amazon sellers). If somebody follows an affiliate link and then goes on to buy the product, the seller pays the relevant affiliate marketer an agreed percentage of the sales revenue as a reward for their promotional efforts.
---
Why Use Affiliate Marketing for Your Amazon Store?
While using PPC ads on Amazon may increase your sales on the platform, there is no guarantee that it will succeed. This is because you must pay every time somebody clicks on your ad, whether they go on to buy your products or not. If you use affiliate marketing, however, you'll only have to pay affiliates whenever somebody they send to Amazon purchases one of your products. In addition, Amazon pays a Brand Referral Bonus of approximately 10% (depending on your product category) whenever you make sales using non-Amazon marketing.
If you carefully select affiliates to partner with on Amazon, you can pay less for conversions and grow sales quickly and efficiently. In addition, you don't waste money paying for views that don't convert.
It may seem counterintuitive that advertising off Amazon will improve your product's rankings on Amazon. Still, Amazon includes a weighting for external traffic when its algorithm assembles product search results. So if it notices that the effects of your affiliates drive more traffic to your products, it considers your products more popular and boosts them up the search results.
---
Using Amazon Affiliate Marketing by Refersion to Manage Your Amazon Marketplace Affiliate Marketing
We have previously discussed how the affiliate marketing platform Refersion offers Amazon integration. If you also operate a store on Shopify, Shopify Plus, Salesforce Commerce Cloud, WooCommerce, or BigCommerce, you can link there too. You will first have to first enroll in Amazon's Brand Registry program, however.
Once you've signed up to both the Brand Registry Program and Refersion's platform, you need to connect your Amazon account in Refersion's Settings. Next, click on the Add Tracking button and select the Amazon icon. Follow the instructions on the platform to connect your Amazon store, import your Amazon product catalog, and create a default commission offer. Refersion recommends you set your commission offer at 10% or more. The final task you will need to do at this point is to select those products you will want to promote on the Refersion Marketplace, which connects brands and merchants with content creators (potential affiliates).
One reason Refersion recommends setting a commission rate of at least 10% is to attract the best people as Amazon affiliates. You will need to pay a slightly better rate than what Amazon pays members of its Amazon Associates affiliate marketing program. If you were to spend less, affiliates would have no incentive to work with you.
Once you've done this preliminary activity, your offers will appear in search lists for potential affiliates. If your offer attracts interest, people can apply to work with you. Once you select people to act as your affiliates in a campaign, they can view your direct link for future campaigns, so they don't have to go through the whole application process every time.
In addition to merchants finding affiliates in the Marketplace, they can find suitable affiliates through Affiliate Discovery. Also, Refersion matches merchants with a selection of premium content publishers.
Once you have selected eligible affiliates to assist with your Amazon marketing, Refersion uses its integration with your Amazon store to handle much of your campaign for you, including affiliate relationships, promotional campaigns, procure tracking links for Amazon product listings, track conversions, and paying affiliates.
---
Benefits of Using Software Like Amazon Affiliate Marketing by Refersion
Some of the benefits to brands of using specialist Amazon affiliate marketing software to find highly achieving affiliates who can boost sales of their products include the following.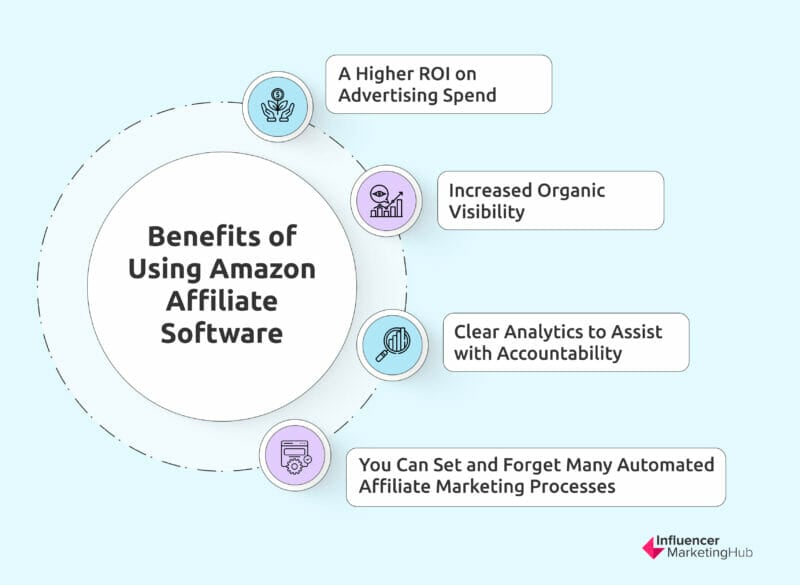 1. A Higher ROI on Advertising Spend
Although paying for PPC ads on Amazon can sometimes be highly lucrative, there is no guarantee that you will see any return on your advertising investment. You could feasibly pay to advertise on Amazon and still make few if any sales, particularly if you have others selling similar (or the same) products as yours.
However, when you use Amazon Affiliate Marketing by Refersion (currently the only affiliate software with Amazon integration) you only pay affiliates for conversions. They do the marketing on your behalf, and have to pay the ad bills if they choose to use paid advertising. According to Refersion, users of their affiliate marketing platform generally see a 5x ROI, compared to the Amazon ROAS of 3x.
---
2. Increased Organic Visibility
The more external traffic a product drives to Amazon, the better Amazon ranks that product in its search results. So if high-performing affiliates drive traffic to your Amazon product pages, Amazon will take notice and make your pages more visible to people who search for your product types inside Amazon.
---
3. Clear Analytics to Assist with Accountability
Affiliate marketing platforms are excellent at providing all the data related to the performance of your affiliates. You will clearly be able to view the success of each affiliate, alongside much data relating to their performance as salespeople on your behalf. You can clearly see who your top (and least-performing) affiliates are, and who is driving the most converting traffic to your product pages. You can use this data to finetune who you want to partner with for future campaigns.
---
4. You Can Set and Forget Many Automated Affiliate Marketing Processes
Finally, by using specialist Amazon affiliate marketing software you can simplify much of the everyday administration required to partner with affiliates. You can easily onboard your affiliates and manage their performance, streamline calculation and payment of commissions, and integrate much of your existing software, meaning that you don't have to double-enter important information. In Refersion's case, you can also manage your influencer and ambassador marketing in the same dashboard.