One of the major challenges of marketing is that you need to spend money first before you can start making money. But what do you do if cash flow is a bit tight right now? Ignore marketing? But how's that going to help your revenue streams?
This is a problem that eCommerce sites in particular often face. Without a brick-and-mortar location to help spread brand awareness, online businesses need to find other ways to get their product listings to stand out.
However, strategies like email outreach and search engine optimization (SEO) can take a long time before delivering results. Then, there's also the real risk that you end up spending a pretty sum only to fail.
If this picture sounds familiar, giving affiliate marketing campaigns a try can help to turn your situation around. As it's performance-based, you only have to pay after you've seen results. This also means that it's less risky than other eCommerce marketing strategies as you pay only if you see results.
In this article we uncover what affiliate marketing is, why you should seriously consider including it in your marketing plan moving forward, and how to get started. Attracting quality traffic to your online store and boosting eCommerce sales don't have to be rocket science. Sometimes all it takes is a little help from your network.
---
Affiliate Marketing for eCommerce Brands: What, Why, and How:
---
What's Affiliate Marketing?
Affiliate marketing is a popular marketing strategy where an affiliate marketer gets paid for promoting the products or services of a business. Affiliates (aka the publishers) are typically bloggers, influencers, other types of content creators, or past customers. They'll market the online store's products on digital channels like their blog, personal website, or social media sites that attract significant traffic. Depending on the Ts and Cs of the agreement, they can earn a commission per sale, new lead generated, or click.
---
What Are the Pros of Affiliate Programs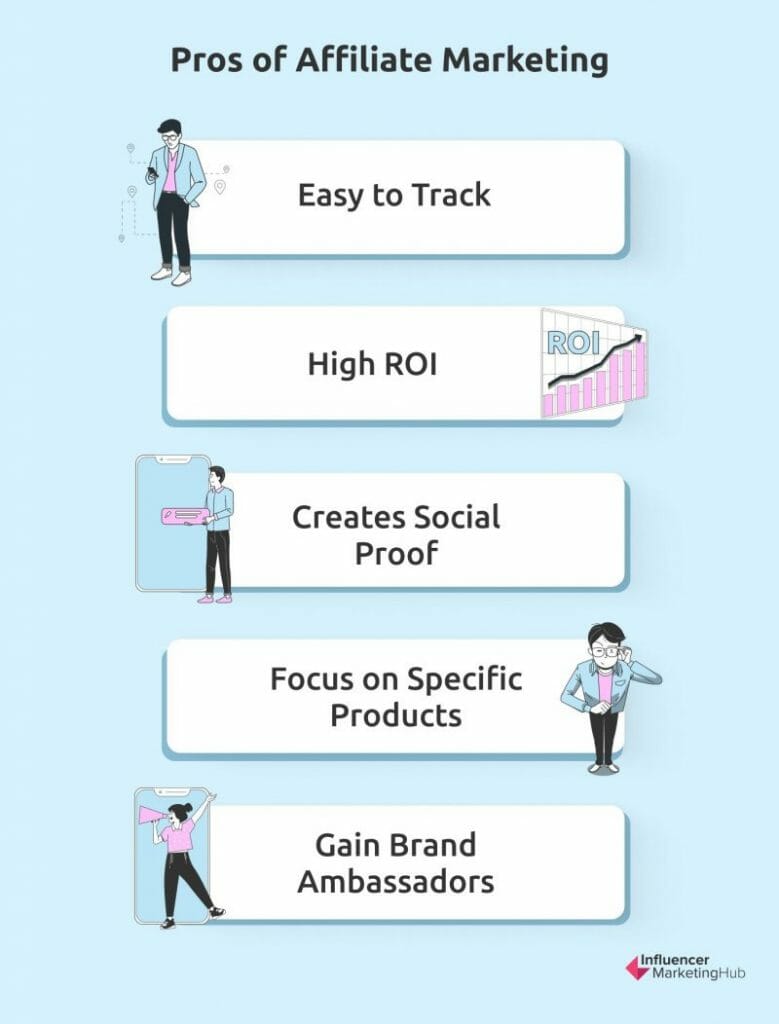 Launching an affiliate marketing program for your eCommerce business is a win-win for both parties involved. For affiliates, it creates an extra stream of income. For eCommerce brands, here are five of the main advantages that it can offer:
1. Easy to track
Most of the time affiliates will receive their own unique link to use when posting about your business. This affiliate link uses cookies to keep track of the clicks that it generates. Plus, if you use affiliate marketing software like Refersion, you'll be able to access all the data conveniently via a dashboard.
---
2. High ROI
Affiliate marketing is more accessible than other popular digital marketing strategies as you can get started immediately without any big financial investments. There's no need to hire additional marketers or buy ad space. You don't even necessarily need to create the content that will be used yourself. Plus, if you decide to pay per sale instead of per lead or click, you'll only need to pay affiliates after they've generated sales.
Not only does this minimal upfront cost make it easier to get started, but you can also look forward to a higher return on investment. In fact, according to stats shared by Affilimate, more than 80% of business owners that used this model rated the ROI that it managed to generate as higher than other channels.
---
3. Creates social proof
A by-product of affiliate marketing is social proof. In addition to attracting more online sales, the content that participating influencers share end up serving as powerful user-generated content too.
So, even if a post didn't necessarily lead to a sale (or a click), your target audience saw that others trust and love your brand. This kind of exposure might not be easily quantifiable, but, know this, it's invaluable for your brand's rep and consumer confidence.
---
4. Concentrate your efforts on specific products
When you're setting up your affiliate marketing program, you have the option of letting your affiliates market only certain products instead of your entire product range. You can either choose to concentrate your marketing efforts on the products that have the best profit margins or products that have the lowest turnover rate. Both these approaches can work in your favor.
High-value products are often more expensive and exclusive. As they're not typical everyday purchases, letting affiliates focus on these products can help to boost the rate at which they sell. On the other hand, if you find that you have a lot of excess stock, choosing to focus on those items in your range that have the lowest turnover rate can help you to get rid of stock that's taking up valuable storage space when you're not using dropshipping.
---
5. Gain brand ambassadors
Your affiliates will essentially become ambassadors for your brand. With the help of a strong network of brand ambassadors, you're perfectly positioned to leverage word-of-mouth advertising.
Sure, people might be spending more time on social media than with their own friends and family. However, according to a global survey that looked at the most trusted ad channels, personal recommendations from family and friends remain the most trusted marketing channel. As a matter of fact, almost 90% trust a personal recommendation.
---
Launching an Affiliate Program for your eCommerce Business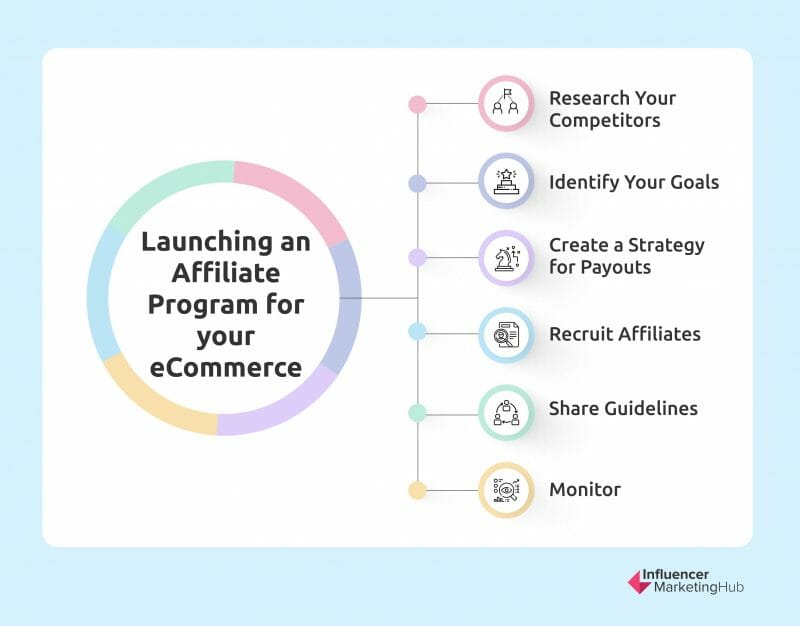 Not only does eCommerce affiliate marketing have low startup costs, but it's also easy to get started. You'll find that much of the info needed you already have on hand. Now, it's basically just a matter of delving a bit deeper and applying it to your affiliate marketing strategy.
1. Research your competitors
Sure, you know who your main competitors are, but how are they using affiliate marketing?
If they do, try to see if you can find out details like which affiliate network they use and what commission rates they pay. Researching your competitors' strategy will also make it easier to find suitable affiliates when it's time to start recruiting your own (more about this later).
---
2. Identify your goals
The goal of eCommerce affiliate marketing doesn't necessarily have to be to generate more sales. Increasing traffic to your website can be equally valuable.
Perhaps you want to increase your conversion rates or grow your email list?
Once you have a clear understanding of what your business goals are, you'll be able to decide on a commission strategy and which type of affiliates to recruit. It will also help you to identify metrics that you'll want to track. Remember, as you'll be using unique links, it's straightforward to track KPIs like click traffic, average revenue per order, conversion rate, etc.
---
3. Create a strategy for payouts
Now that you know what you're trying to achieve, you can decide what you want to reward.
With the pay-per-lead (PPL) approach, you'll reward affiliates for the number of converted leads. This could, for example, be for joining an email list, sharing their email address in exchange for a lead magnet, or following you on Instagram. While it's more challenging to implement than simply paying them a percentage of each sale, this strategy can be great if you're more concerned about brand awareness.
This is probably the strategy that you had in mind. It's pretty simple. You'll pay the affiliate a percentage of the sale price when their marketing efforts are directly linked to a customer buying a specific product.
If attracting more website traffic is your primary goal, it can be a good idea to use a pay-per-click (PPC) approach. With this commission strategy, affiliates will receive a payment based on the number of people they've redirected from their traffic sources to your eCommerce website.
Whichever payment model you want to use, it's key that all the finer details are explained clearly. You'll also need to decide on a commission rate that's fair.
That said, you'll need to do the math and check that you'll be able to afford the rate. To do this, take into account your cost per acquisition (CPA), average order value (AOV), and customer retention rate. For example, if your customer retention rate is higher, your commission can also be higher.
---
4. Recruit affiliates
When searching for bloggers and influencers to include in your affiliate marketing network, your goal should be to find content creators that engage with your specific target audience regularly. How much traffic their websites and profiles attract matter, but it will be useless if those more likely to buy your products aren't included in that traffic. Your goal is to get quality traffic. In other words, if you mainly sell clothing, partner with fashion influencers.
Not only should they match your niche, but they should also align with your branding. What type of content do they share on their social media platforms? Do they use the same tone of voice? These are the types of questions you should be asking yourself when you're doing your due diligence.
To help you find the right candidates, it can be a good idea to join an affiliate network that will connect you to affiliates. Some of the most popular affiliate networks that you can check out are CJ Affiliate and Rakuten Affiliate Network.
---
5. Share guidelines
Even when you're feeling confident about the affiliates that you have on board, it's crucial that you share guidelines with them. Details that you can include in these guidelines are:
Your brand mission

Preferred tone and voice

Branding

Your top-selling products

Marketing ideas
---
6. Monitor
While it's not difficult to get started with affiliate marketing, there are various elements that you'll need to keep a close eye on. For this reason, most online businesses use affiliate marketing tools. As mentioned, one of the main benefits of affiliate marketing is that it's easy to track. That, however, becomes only possible with the right platform in your tech stack.
Alternatively, you can also go the route of partnering with an agency to help you with this aspect. You can, for example, check out a platform like Grovia that offers a combination of software and managed services to help you find, recruit, and manage affiliates.
Whichever approach you prefer, find a platform that has a proven track record. Without a touch of automation, it will be impossible to track how your overall campaign and individual affiliates are performing.
---
Wrapping Things Up
eCommerce affiliate programs are a low-cost and low-risk way of growing your customer base and getting the word out about products for sale. Even so, you can't rely on it alone or tackle it on your own.
You still need solid social media profiles, an email list, and valuable content. These digital assets will help to lead potential customers further down the sales funnel.
Then, as you'll be partnering with other professionals who might depend on this additional revenue stream, it's better to trust some of the responsibility to an online tool. Not only will the right platform automate payouts to your affiliate marketers, but it will also help you to get a real sense of if you're moving the needle in the right direction.
Frequently Asked Questions
How does affiliate marketing work?
With affiliate marketing, an advertiser (like an online brand) pays an incentive (typically a commission) to an affiliate (like a content creator) for each sale (or action like an email newsletter sign-up) that can be attributed directly to their marketing efforts. This is usually tracked with the help of a unique link.
Are there any free affiliate marketing courses?
If you want to learn more about affiliate marketing for free, you can check out Affiliate Academy by Voluum. Presented by one of the top affiliate marketing software solutions, it offers three courses free of charge. It includes easy-to-follow videos that will help you to get started, launch your very first campaign, and then optimize it further. There are also a number of great paid courses available on sites like Udemy that you can try.
What affiliate marketing apps can you use to market your Shopify store?
Online entrepreneurs who want to use affiliate marketing to promote their Shopify store will like the following apps:
Refersion

ReferralCandy

LeadDyno

Social Snowball

Affiliatly

Omnistar

Tapfiliate
These apps offer a number of useful features like category-based commissions, real-time reporting, email templates, and automated payouts.
Who can you use as affiliates to market your eCommerce brand?
Influencers, bloggers, content creators and even your own pool of happy customers can make great affiliates. The secret is to find people who regularly interact with your target audience. While it's important that affiliates attract substantial traffic, they should also align with your branding and the type of products that you're selling.
Where can you find suitable affiliate marketers?
eCommerce businesses that are new to affiliate marketing and in search of marketers can, for example:
Join networks, like CJ Affiliate or Rakuten Advertising

Partner with a recruitment agency, like Grovia

Use coupon sites

Reach out to influencers or bloggers directly

Ask existing customers to sign up to their program