Advertising Disclosure
Advertising disclosure:
Our partners compensate us. This may influence which products or services we review (also where and how those products appear on the site), this in no way affects our recommendations or the advice we offer. Our reviews are based on years of experience and countless hours of research. Our partners cannot pay us to guarantee favorable reviews of their products or services.
Running a successful PPC campaign requires more than just throwing money at an advertising platform and hoping for the best. It takes a deep understanding of the latest trends and tools, and the ability to continually optimize campaigns for maximum results. Unfortunately, many eCommerce business owners are already juggling a hundred different tasks and simply don't have the bandwidth to become a PPC expert.
Think of eCommerce PPC agencies as the navigators to your digital advertising journey. They are equipped with the latest maps, compasses, and tools to guide you through the ever-changing landscape of PPC advertising. With their expertise, eCommerce businesses can confidently chart a course towards maximum results, leaving the stress of campaign management behind.
By partnering with an eCommerce PPC agency, businesses can offload the burden of PPC campaign management and free up valuable time to focus on other aspects of their business. Plus, with experts handling their digital advertising, businesses can rest easy knowing they are in good hands.
Choosing the right eCommerce PPC agency is crucial for the success of PPC campaigns. Factors to consider when selecting an agency include their experience, expertise, pricing, and customer reviews. It is also essential to look for agencies that have worked with eCommerce businesses similar to yours and have a proven track record of success.
---
10 eCommerce PPC Agencies with Proven Track Records of Success:
---
Top 10 Ecommerce PPC Agencies
To help you make an informed decision, we have compiled a list of 10 eCommerce PPC agencies with a proven track record of success. These agencies have helped numerous eCommerce businesses achieve their marketing goals and have received positive reviews from their clients. By exploring their services, client base, and case studies, you can find an agency that best fits your eCommerce business needs.
Top
ecommerce ppc agencies
2024

Disruptive Advertising has established itself as a leading eCommerce PPC agency, specializing in driving innovation and scaling businesses to increase their bottom line. Their tailored marketing solutions for eCommerce brands have led to impressive results, such as a 295% increase in monthly revenue for one of their clients. The agency's unique approach involves creating and adapting eCommerce marketing strategies based on the current stage of a business, helping clients reach their most important goals.
Headquartered in Utah, Disruptive Advertising is a Google Premier Partner and focuses on services such as Google Ads, smart shopping, and website & conversion rate optimization. The agency prides itself on caring more about increasing sales and profitability for its clients than in-platform vanity metrics. By working with Disruptive Advertising, clients can expect a strong ROI and valuable data to better understand their customers.
Additional services:
Paid search ads
Email Marketing
SEO
Facebook and Instagram Advertising

Microsoft Ads Management
---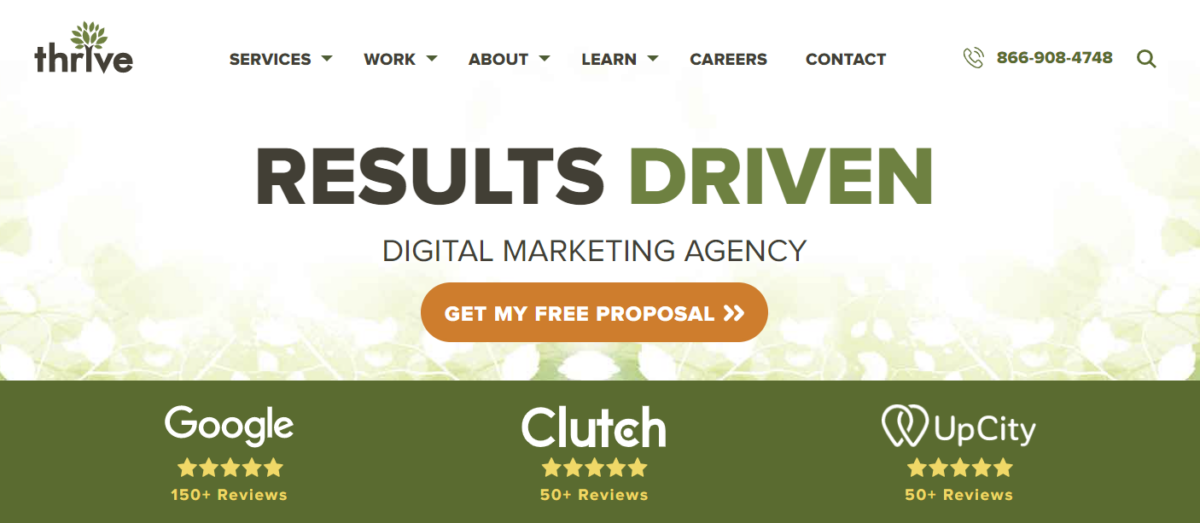 Thrive Internet Marketing Agency, headquartered in the United States, is a distinguished eCommerce pay-per-click (PPC) firm that has been empowering enterprises to optimize their advertising campaigns for maximal visibility, traffic, and conversions since 2005. Their analytical methodology utilizes real-time reporting systems and data tracking tools to streamline Google Shopping advertising and PPC campaigns for their clients.
Thrive furnishes an all-inclusive range of eCommerce advertising solutions, including keyword research and strategy, eCommerce search engine optimization (SEO), landing page conversion optimization, eCommerce PPC management, paid advertising, eCommerce web design, eCommerce remarketing, optimization of Google Shopping ads, management of Google Showcase Shopping ads, A/B split testing of ads, optimization of conversion rates, and advertising on social media platforms.
Additional services:
Amazon Ad Management
Reputation Management
---
As an eminent mobile app marketing agency, Moburst is a prominent provider of user acquisition services, including advanced App Store Optimization (ASO) and A/B testing strategies, media buying, and pay-per-click (PPC) advertising. They cater to a diverse range of clients, from large multinational brands to high-growth startups, and their services are customized to meet the specific needs of each project.
One noteworthy case study involving Moburst's innovative approach was their collaboration with Shopkick, an eCommerce client, where they launched a successful Apple Search Ads (ASA) campaign. By leveraging the analytical capabilities of AppTweak, Moburst was able to carefully analyze historical data, trends, and diverse sources of traffic to identify and rectify a decline in the organic conversion rate, resulting in remarkable performance improvements for the client.
Moburst's unique approach to mobile app marketing, combined with their in-depth understanding of the latest trends and emerging technologies, positions them as a market leader in the industry. They are committed to delivering exceptional results for e-commerce businesses, driving sales, and maximizing revenue generation through their range of customized PPC services.
Additional services:
Facebook and Instagram Advertising
Social Ads & Paid Ads
Ad Creative Production+
Facebook Ad Buying
Google Ad Buying
Tik Tok Ad Buying
Pinterest Ad Buying
---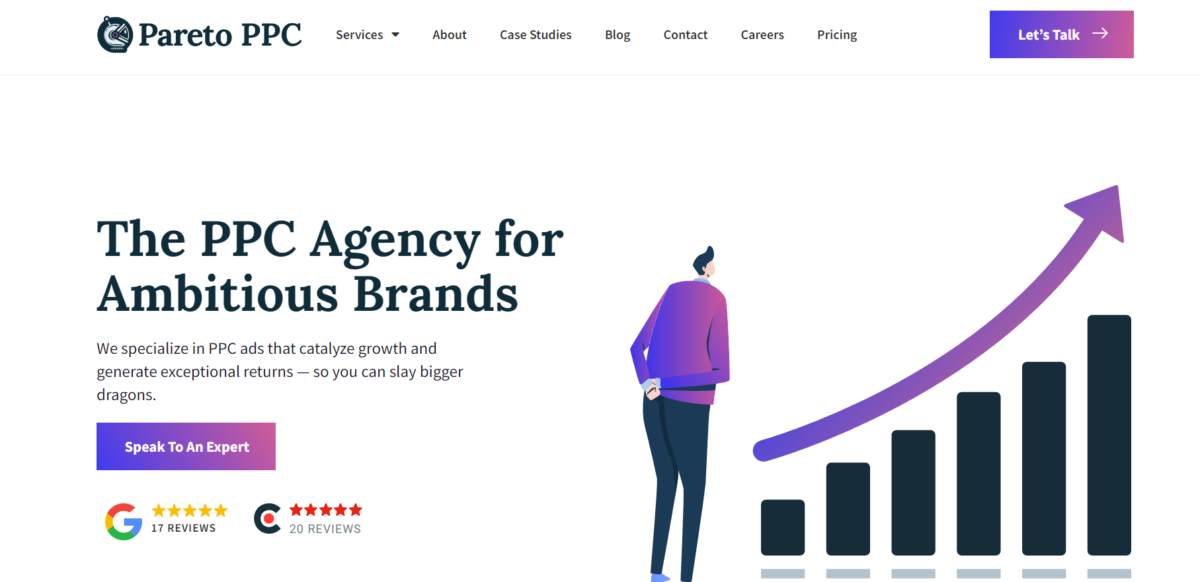 Pareto PPC is a dynamic eCommerce PPC agency that specializes in helping ambitious brands achieve exceptional returns and growth through their ad campaigns. Headquartered in an undisclosed location, Pareto PPC boasts a team of skilled professionals committed to delivering exceptional results.
The agency has successfully guided clients from 6 to 9 figures in revenue using PPC channels such as Google Ads, and social advertising channels. With their expertise and focus on eCommerce, Pareto PPC ensures that your products are always in front of the right people at the right time.
One of their key achievements is helping businesses scale up their revenue using targeted and compelling ad campaigns that maximize return on ad spend. Pareto PPC has built a reputation for creating effective ads that spark brand awareness, bolster engagement, and boost conversions across multiple platforms. By capitalizing on the strengths of the world's leading search engines and social media platforms, Pareto PPC ensures that your business thrives.
Additional services:
Google Shopping
Facebook Ads
Instagram Ads
Microsoft Ads
YouTube Ads
---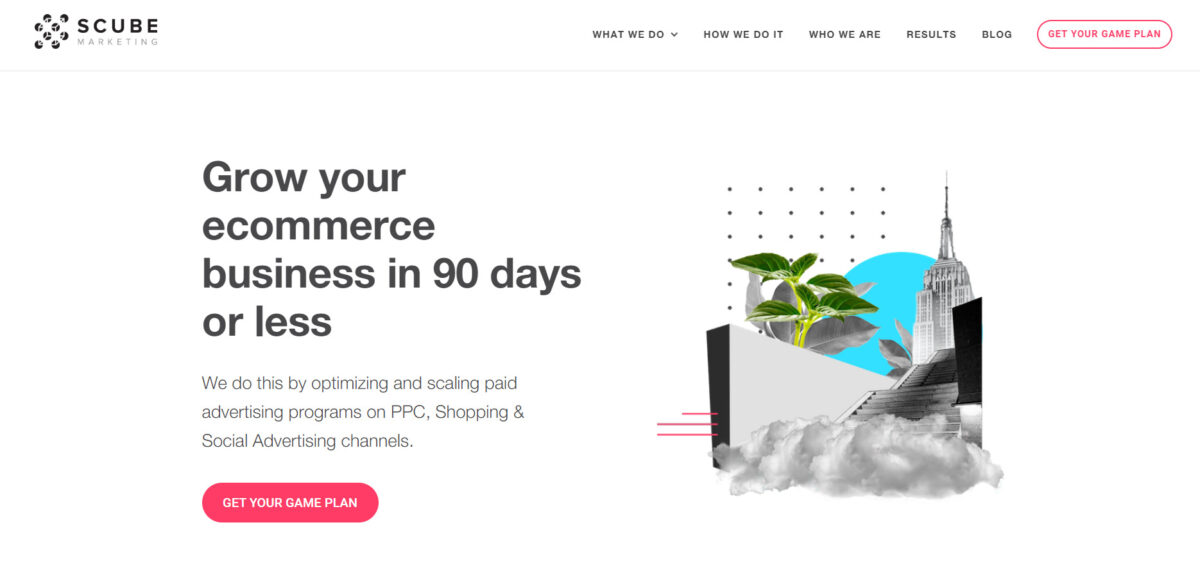 Scube is an eCommerce PPC agency that helps businesses grow in 90 days or less by optimizing and scaling paid advertising programs across PPC, shopping, and social advertising channels. Through their SCUBE Growth Program, the agency assists eCommerce companies in building integrated paid ad programs that target the right customers with the right message at the right time.
One of Scube's notable case studies is the success of J.L. Matthews Company, a B2B distributor and eCommerce retailer of utility and industrial supplies. Scube's Google Ads, Shopping, and Facebook Ads program generated a 300% increase in average monthly sales, acquired 2,400 new customers, and achieved a 722% return on ad spend (ROAS) within 12 months.
The Scube team follows a strategic approach, translating goals into clear KPIs, analyzing performance gaps, and developing and prioritizing tactics. With an emphasis on optimization, reporting, and proactive updates, Scube ensures that their clients consistently achieve meaningful results and growth.
Additional services:
Google Shopping
Remarketing and Display

Pinterest Ads
---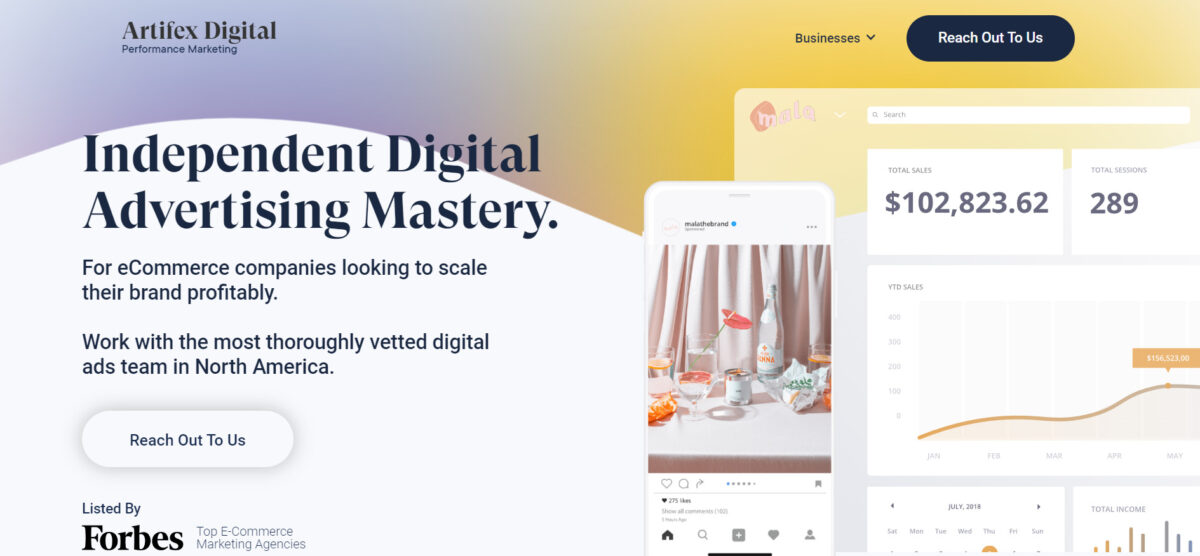 Artifex Digital, an independent digital advertising agency, specializes in helping eCommerce companies scale their brands profitably. As one of the most thoroughly vetted digital ad teams in North America, they emphasize digital advertising as a highly measurable, performance-based craft.
In a case study with Mala the Brand, Artifex Digital doubled the company's online revenue using paid ads. The agency achieved a 106% increase in revenue, a 7x average return on ad spend, and a 2.5x overall return on investment. Artifex Digital's mastery of paid ads, alongside strong organic marketing, allowed Mala the Brand to skyrocket their results.
Artifex Digital's services include implementing tracking infrastructure, engaging audiences with sophisticated ad targeting strategies, and consulting to refine digital strategies.
Additional services:
PPC Ads
Social Ads
Shopping Ads
Custom Reporting Dashboards
Digital Ad Optimization
---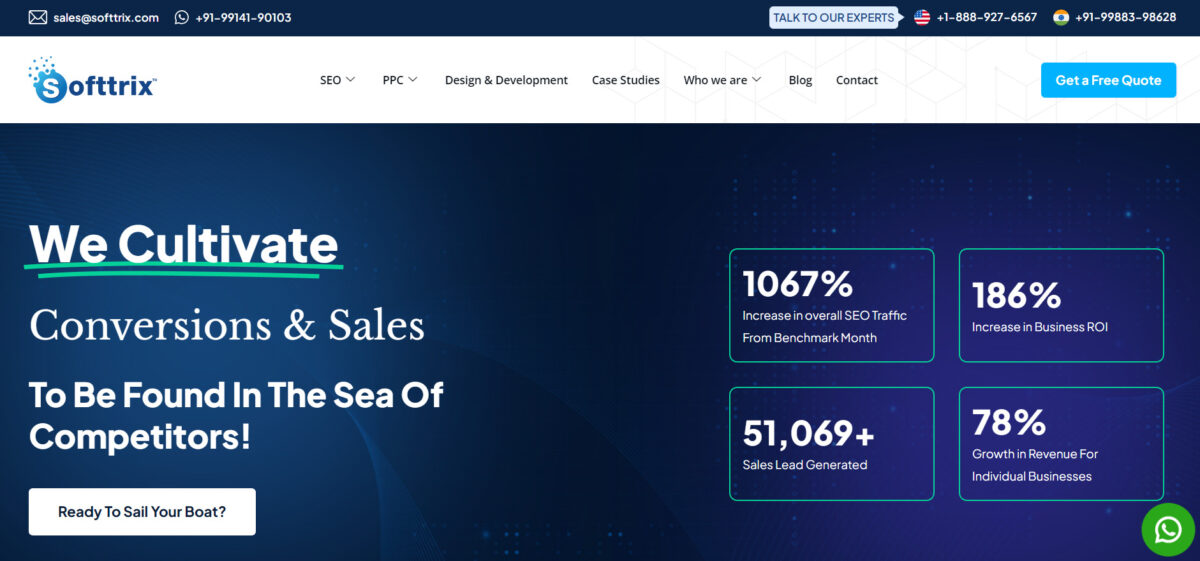 Softtrix, a leading eCommerce PPC agency, has made a name for itself by providing cutting-edge PPC management services for businesses of all sizes. With a focus on maximizing ROAS and driving instant traffic, Softtrix's team of experts crafts sales-driven shopping campaigns tailored to connect brands with their target customers. Softtrix's eCommerce PPC strategy is designed to build an omni-channel presence, helping businesses succeed in a competitive eCommerce market.
As a top eCommerce PPC agency, Softtrix offers a wide range of ad placement services, from Google Shopping to Social Media Ads. Their comprehensive approach ensures consistency, controllable traffic, and proper optimization of ad campaign performance, ultimately increasing ROI.
Additional services:
Amazon PPC
Bing Ads
Google Search Ads
Display Ads
---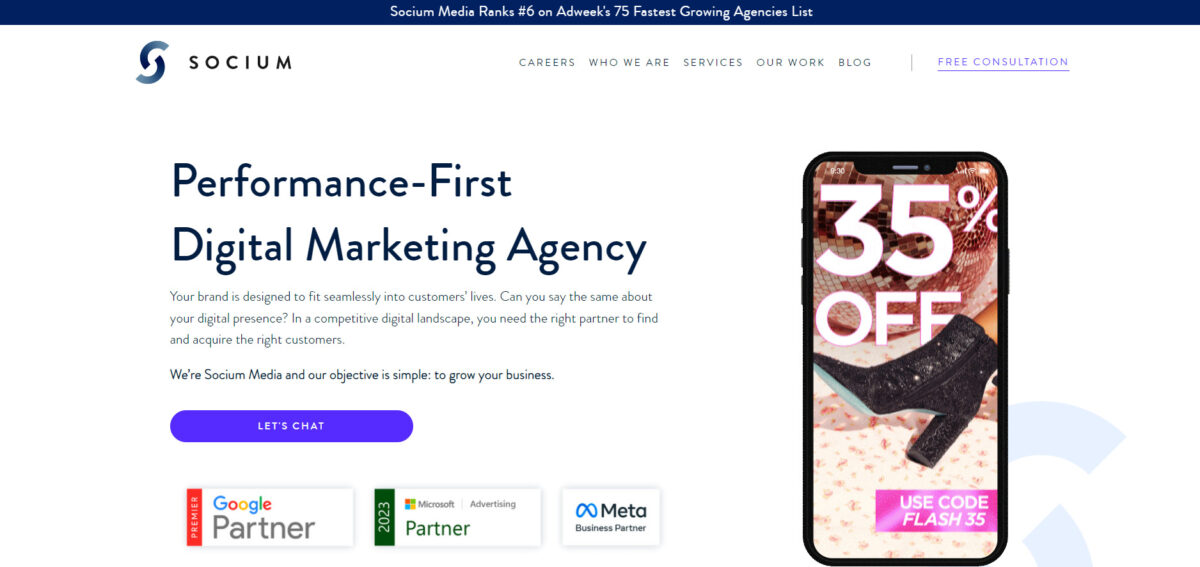 Socium Media is a PPC agency that delivers exceptional results through their deep understanding of search engine advertising. By prioritizing precisely tailored ads and targeting the most responsive audiences, Socium Media ensures increased conversions and a strong online presence for their clients.
Their main services include paid social, and shopping & feed management. Socium Media's comprehensive strategy helps businesses drive traffic, convert more orders, and dominate search results. Their paid social campaigns focus on prospecting and remarketing, creating a cohesive approach that fuels both upper and lower funnels of a paid media strategy.
Socium Media also excels in shopping & feed management, specializing in Google Shopping strategies tailored to the industry and audience. By incorporating custom labels and data analysis, they deliver a highly effective eCommerce PPC service.
Additional services:
SEO
Analytics & Reporting
Paid Search /SEM
---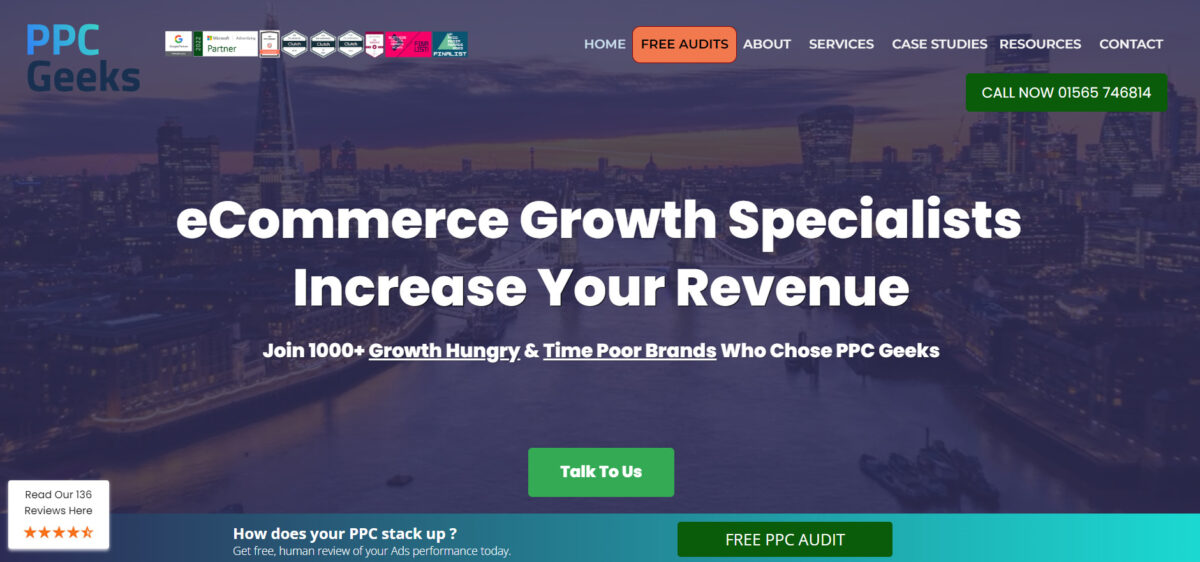 PPC Geeks, the premier pay-per-click specialist for eCommerce in the UK, have a proven track record in helping brands of all sizes increase their profitability and boosting sales with efficient pay-per-click marketing strategies. As a top 10 PPC agency and top 3% Google Premier Partner, PPC Geeks offers exceptional expertise and customer service.
Their main services include full tracking, reporting, shopping ads, merch center, search ads, and remarketing. With an average of 10x ROAS achieved for their eCommerce clients, PPC Geeks takes pride in providing efficient and effective PPC advertising services that save clients time and maximize ROI.
PPC Geeks focuses on bottom-line results, and custom-building reports to help clients monitor their most important metrics.
Additional services:
Shopify PPC Agency
Comparison Shopping Services (CSS)
Business Specific Success Strategy
Landing Page Creation
---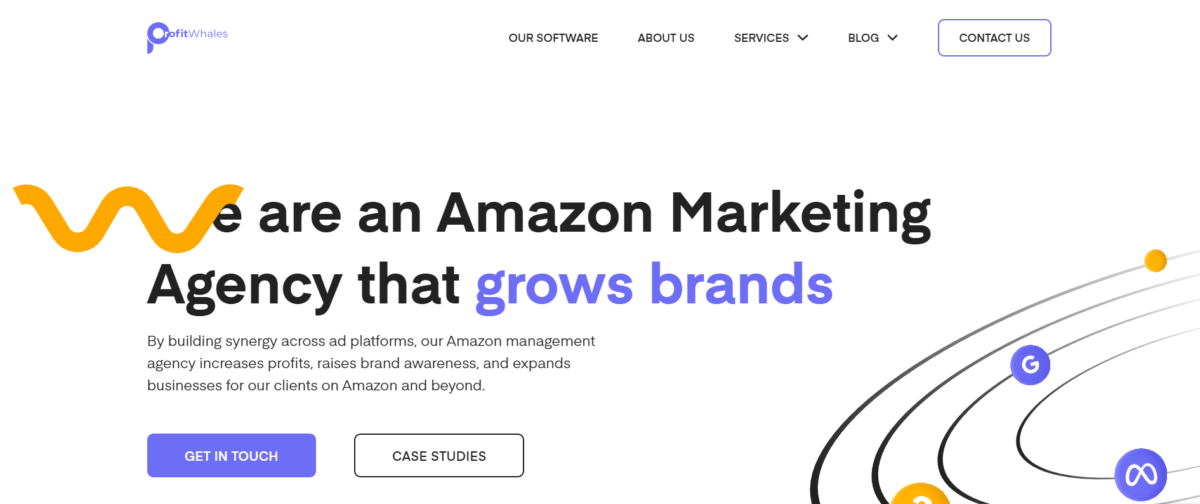 As a full-service marketing agency specializing in eCommerce, Profit Whales has been delivering exceptional results since 2018. Their primary focus is to help brands grow on and off Amazon with a cross-channel approach, ensuring maximum profitability and brand awareness. At the core of their strategy lies the use of data-driven business solutions developed through their in-house software, making them a unique and highly effective Amazon management agency.
Profit Whales stands out for its dedication to a holistic approach that encompasses cross-channel strategies, brand growth, maximizing ROI, and customized advertising roadmaps. By leveraging Amazon Ads and DSP data, the agency creates synergies across marketing channels, reaching customers at the right time and driving sales. This focus on long-term goals leads to increased organic sales, customer lifetime value, and repeat purchases. To achieve this, Profit Whales employs a wide range of campaign types, and their unique Amazon Ads campaign structure allows precise data control and goal setting.
Headquartered in the heart of the eCommerce industry, the Profit Whales team consists of specialists with technical expertise who are committed to partnering with brands to achieve extraordinary results.
Additional services:
Amazon Product Ranking
Amazon PPC Audit
---
Frequently Asked Questions
How do eCommerce PPC agencies charge for their services?
ECommerce PPC agencies typically charge based on a percentage of ad spend, fixed monthly fees, or a combination of both. Some agencies may also offer performance-based pricing models or retainer-based fees.
How can I evaluate the success of an eCommerce PPC agency?
Success can be measured by factors such as increased conversions, improved return on ad spend (ROAS), growth in organic traffic, and achieving specific KPIs. It's essential to communicate your goals with the agency and regularly review performance reports to ensure the campaigns are on track.
How do top eCommerce PPC agencies differentiate themselves from competitors?
Top agencies often have unique strategies, use proprietary tools, and focus on data-driven decision-making. They may also emphasize a personalized approach, tailoring their services to meet the specific needs of each client.
Do I need a dedicated eCommerce PPC agency, or can I use a general digital marketing agency?
While a general digital marketing agency may have expertise in PPC, a dedicated eCommerce PPC agency will have specialized knowledge and experience in the unique challenges and opportunities specific to eCommerce businesses. This specialization can result in more effective campaigns and better ROI.
What is the typical duration of a contract with an eCommerce PPC agency?
Contract duration varies depending on the agency and the scope of the project. Some agencies may require a minimum commitment of 3-6 months, while others offer month-to-month agreements. It's essential to discuss contract terms and expectations with the agency before signing.
How do eCommerce PPC agencies handle client communication and reporting?
Top agencies prioritize transparent communication, providing regular updates on campaign performance, including key metrics, insights, and recommendations. Reporting frequency and format may vary by agency, so it's essential to establish your preferences and expectations during the onboarding process.