Advertising Disclosure
Advertising disclosure:
Our partners compensate us. This may influence which products or services we review (also where and how those products appear on the site), this in no way affects our recommendations or the advice we offer. Our reviews are based on years of experience and countless hours of research. Our partners cannot pay us to guarantee favorable reviews of their products or services.
The eCommerce industry has grown at an unprecedented rate over the past couple of years. We're seeing more businesses adapting and moving online to meet their audience's evolving shopping needs.
It's projected that by 2024, global eCommerce sales will reach $6 trillion—a significant increase from 2022's $5 trillion. Furthermore, eCommerce sales in the US is forecasted to grow as much as 50% in the coming years, potentially transforming the region's market into a $1.4-trillion-dollar industry by 2025.
The industry's massive growth poses a slew of benefits and disadvantages. For instance, while it's become easier to showcase your products to your target audience, it has now become more challenging to reach them and find high-quality leads that translate to conversions and sales.
Google Shopping ads can be a powerful tool to help grow your business in 2023. Discover how Google Shopping agencies can take your growth and digital marketing strategy to the next level.
---
The 5 Best Google Shopping Agencies to Grow Your Brand in 2023:
---
Google Shopping agencies offer a range of services to optimize your Google Shopping ads campaigns. They can provide you with an organized and optimized campaign structure, optimize your product feed and make your titles and product descriptions more relevant and compelling, as well as test your campaigns to help give you better results. These agencies can also give you comprehensive reports and insights into your product's or campaign's performance.
Furthermore, Google Shopping agencies help you take advantage of user searches, enabling you to better target potential customers. By working with a reliable and qualified Google Shopping agency, you can leverage paid advertising to drive conversions and sales.
---
Check out some of our recommended Google Shopping agencies that you can work with in 2023: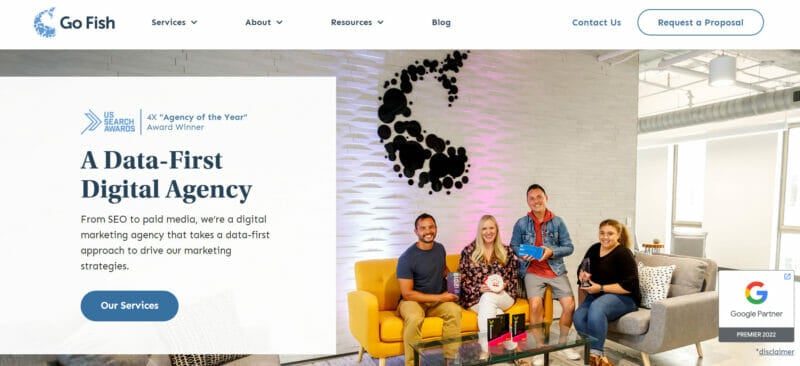 An award-winning full-service digital marketing agency based in the US, Go Fish Digital specializes in SEO, digital PR, paid media, and influencer marketing, among other services for its B2B and B2C clients. It offers a data-driven strategy to provide innovative and fresh campaigns, as well as future-proof your growth and digital marketing strategies. Go Fish Digital has worked with a number of established enterprises, SMBs and emerging startups, including some of the world's biggest names like Zendesk, Grammarly, Adobe, Ford, and The New York Times. It was designated as a Google Premier Partner in 2022.
As an eCommerce PPC agency, Go Fish Digital also offers Google Shopping and eCommerce ads management services. The agency will conduct an ad account audit on your existing Google Shopping account to spot improvement and growth opportunities. The audit will include a review of your Google Merchant account structure and existing product groups.
This is followed by a product data feed review, where the Go Fish Digital team will review crucial components such as your images, product descriptions, pricing, and titles to identify areas of improvement. Once done, the team will then set up, manage, and assess the performance of your Google Smart Shopping campaigns. Lastly, you will receive regular monthly reports on your core KPIs to help you monitor the performance and progress of your campaigns.
When it comes to Google Shopping campaigns, the agency has worked with large retailers and DTC startups. Note that while you can expect to get quick results when you work with Go Fish Digital, the process will take approximately 60-90 days. This is to enable the agency to collect data to optimize your Google Shopping campaigns. The entire process will also include the monitoring of your campaigns.
To get a better idea of how Go Fish Digital can help improve your digital marketing strategy, you can get in touch with them and request a proposal.
---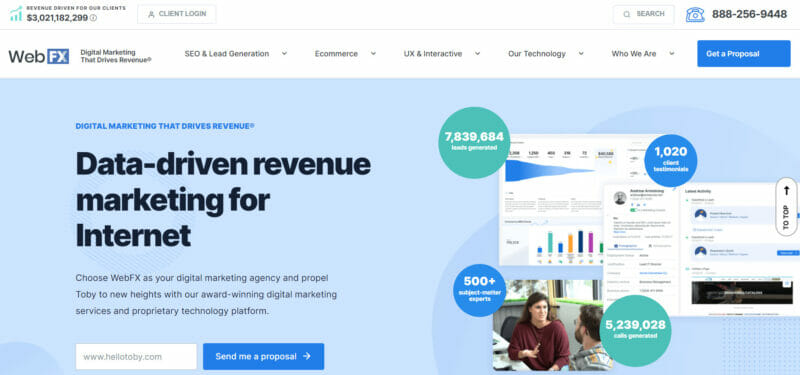 WebFX is a digital marketing agency that offers a host of digital marketing services using its proprietary tech platform. It's been in the industry for more than two decades and has worked with over 1,000 clients, including Fujifilm, Kangol, Windstar Cruises, and Rowan University.
It offers Google Shopping Management services that are designed to increase your visibility and drive high-quality leads to your site. Its shopping feed management services include creating custom campaign strategies, optimizing the product data in your Google Merchant Center, and managing your bidding strategies. Aside from bringing its 25 years of experience to the table, you'll also get access to an agency that's a certified Google Premier Partner. This means that WebFX has established its skills and expertise when it comes to Google Ads.
You'll also get real results. In the last five years, the agency has generated over 6 million leads and $2.4 billion in sales.
WebFX is a full-service digital marketing agency that offers other relevant services that can bolster your digital marketing strategy. You will also be assigned a dedicated account representative who will be with you every step of the way, from assisting you in launching your Google Shopping campaigns to giving you regular updates.
---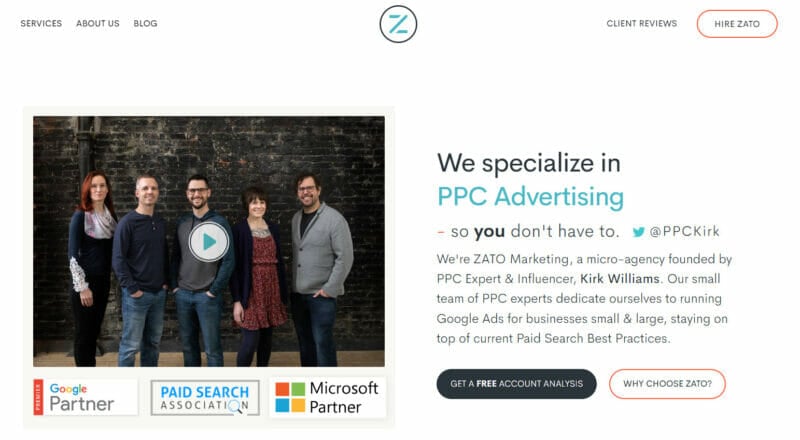 ZATO Marketing specializes in paid advertising, particularly PPC advertising. This micro-agency has worked with a variety of small businesses and large enterprises, including Purple, Traeger, and The Ridge.
As a Google Shopping Agency, it works with DTC brands and retailers and offers services for Google Shopping Ads and Google Merchant Center management. When working with ZATO, you get ongoing monthly management for Google Shopping Ads and your Google Merchant Center. You'll also get regular monthly consulting. Best of all, ZATO works with your existing paid search team to optimize and manage your Google Shopping campaigns.
The process begins with an account analysis and finishes with a monthly reporting from the ZATO team. In between, ZATO also offers research and analysis, ongoing optimization, and Google Ads rep support. Want to learn if working with a specialized Shopping Ads agency will work for you? Get in touch with ZATO to request for a free account analysis.
---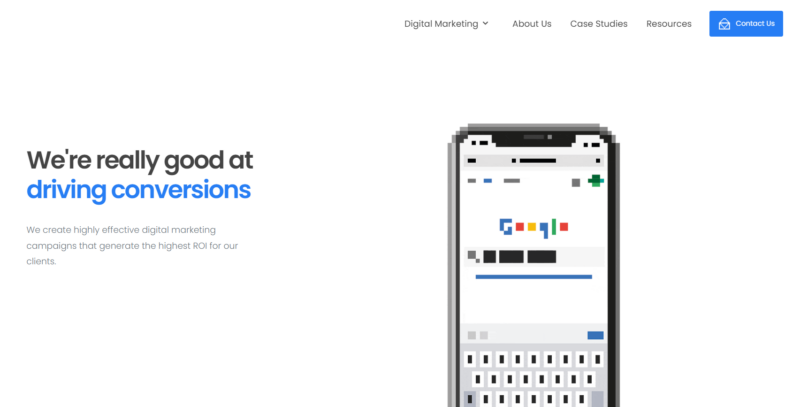 Headquartered in London, Byte Digital is an agency that specializes in PPC. It's also recognized as a Google Partner, which signifies that it has met Google's requirements and is thus an approved Google Shopping Agency. As a Google Shopping Agency, Byte Digital has worked with brands like Annie Haak Designs Ltd, Alltype Roofing, and Drone Safe Store.
Prior to working with the agency, Byte Digital will first conduct an assessment to help you determine whether or not Google Shopping is the right platform for you. They will also run simulations while setting sales expectations for your business, and use machine learning to monitor conversion data and identify opportunities for campaign optimization.
Its Google Shopping Management services include setting up and managing your Google Merchant Center and your Google Shopping campaigns, optimizing your product feed, and providing reports on your Google Shopping campaigns.
---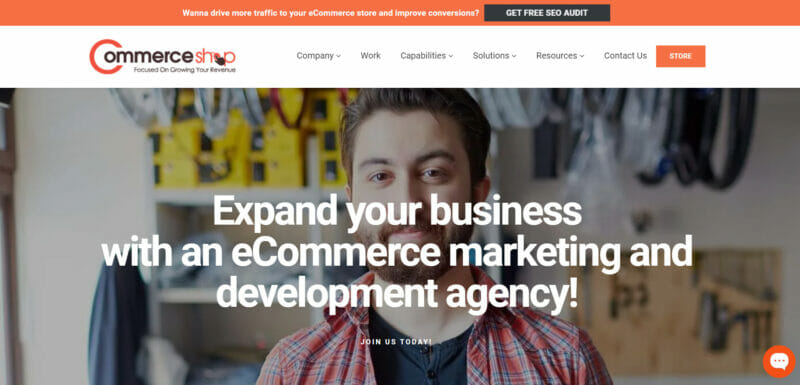 The Commerce Shop is an eCommerce marketing and development agency that also offers comprehensive Google Shopping Ads management services. It has worked with a range of brands including Land's End, Sherwin Williams, and Vietri. The agency guarantees that you get real results, such as an increase in the average order size and click-through rates as well as decreased costs for each customer acquired.
On its website, the agency outlines 10 steps that will enhance your Google Shopping Ads outcomes. These include setting up and optimizing your product feed, setting our bids, adding negative keywords, analyzing your campaign performance, and conducting split testing.
Get in touch with The Commerce Shop to get a free Google Shopping Ads audit.
---
What Is Google Shopping?
Google Shopping is like a supercharged search engine designed for exclusively for shopping. It enables customers to search for the right product from different stores and an expansive catalogue of available products.
Additionally, it can play a key role in shaping their purchasing decisions. On Google Shopping, products are ranked based on their relevance in relation to a user's search intent and search behavior. Google uses ads data to optimize the results that appear and gives users access to filters that they can use to further narrow down the results based on categories like price and product category.
How Google Shopping Works
Google Shopping ads, formerly known as Product Listing Ads, use a retailer's Merchant Center product data to optimize your ads. This data includes relevant information about the products you're selling, which Google will then use to match a user's search intent. This makes it more likely for relevant products to appear in their search results.
Google Shopping ads can appear on Google Search's Shopping tab (available only in select countries), Google Search, Google Images, and Google Search Partner websites. However, the last option doesn't apply to free listings. Both Shopping ads and free listings can appear next to text ads. This gives users access to the full range of products that coincide with their search intent.
Shopping ads employ the cost-per-click (CPC) model. This means that you'll only be charged for the ads when someone clicks on it and is redirected to your website or a Google-hosting landing page. As a merchant, you'll get to decide how much you're willing to pay for each click. Furthermore, if you want your ads to rank higher than that of your competitors', you'll need to pay the necessary minimum amount, according to Google Ads.
There are two type of Google Shopping ads:
Product Shopping ads are created based on the information submitted through the Merchant Center. Here, retailers have the option to include key information such as product photos, store or business name, product name, and price. Retailers can also add optional enhancements such as product ratings, promotions, and Google Customer Reviews to make their hopping ads more compelling. Note that these enhancements won't always appear when your ads are shown in search results.
Depending on what device your audience is using, Shopping ads might take on the following forms:
Local inventory ads combine the product data and inventory data found in your Merchant Center account. These let you showcase your products and store information to a nearby audience. For instance, when someone clicks on your local inventory ad, they'll be redirected to your local storefront or landing page (provided that it meets Google's requirements). Through local inventory ads, users can see your in-store inventory and access business information like your store hours and address.
Using local inventory ads allows you to highlight your local store and offerings to an online audience. Furthermore, it allows you to measure the reach of your digital ads in line with your other performance goals. The service is currently limited to brick-and-mortar stores in select countries, including Australia, Brazil, Canada, Germany, India, Japan, the UK, and the US. You can view the full list of countries the service is available in here.
---
How Can Google Shopping Ads Benefit Your Brand?
Google Shopping campaigns are designed to help brands and retailers find qualified leads, boost web or foot traffic, and promote their products online. This is because Google Shopping is primarily designed for shoppers. Its interface is like that of a traditional Google Search but better as it is capable of showcasing your products and their benefits through images, product descriptions, price, and customer reviews—all of which can help boost your products' visibility online. Aside from that, your product visibility is enhanced because Google places your products on top of search results, making it easier for potential customers to spot them.
Moreover, Google Shopping ads can expand your reach as the ads themselves don't just appear on standard search results. Your audience can find your Google Shopping ads on a variety of channels, including the Google Shopping tab, Google's search partner websites, and even on other Google-related platforms like YouTube and Gmail.
You can track your performance through key metrics like conversion rates and click-through rates. Google Shopping ads provide you with useful tools such as giving you a granular view of your products' performance and filters to assess their performance at various levels like brand or product group levels.
Furthermore, by using Google Shopping ads, you're better able to reach the right people at the right time. Your ads will be displayed based on its relevance in relation to the user's search intent and search behavior, simplifying the customer journey for them by helping them find the right product more quickly. Since they're getting all the information that they need, you're more likely to get high-quality leads who are equipped to make more informed purchasing decisions.
Lastly, Google Shopping ads don't just rely on keywords. They also leverage your pre-defined product attributes to display your ads in relevant searches.
For example, if someone searches for "DJI drone" on Google Shopping, they'll see something like this: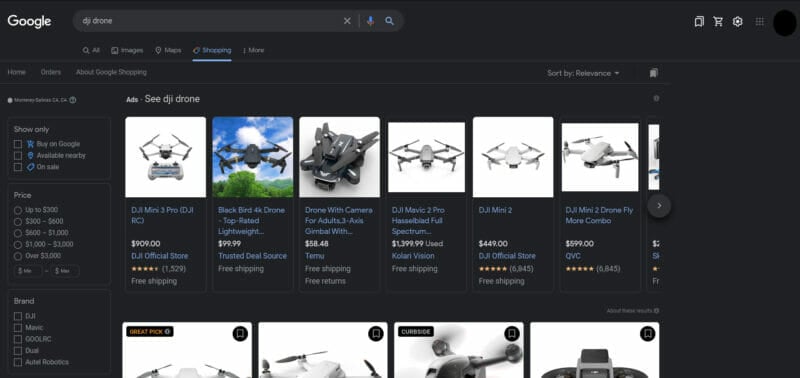 When they click on a result, say the option highlighted as a "Great Pick", which is based on its rating and competitiveness of pricing, they'll see a summary of the product's description. Now, clicking on the "view product details" will redirect them to a new page that offers more information about the product like images, a complete product description, buying options, and product specifications: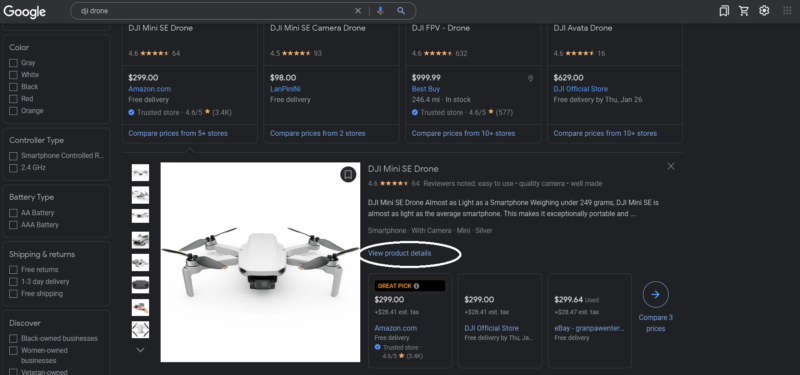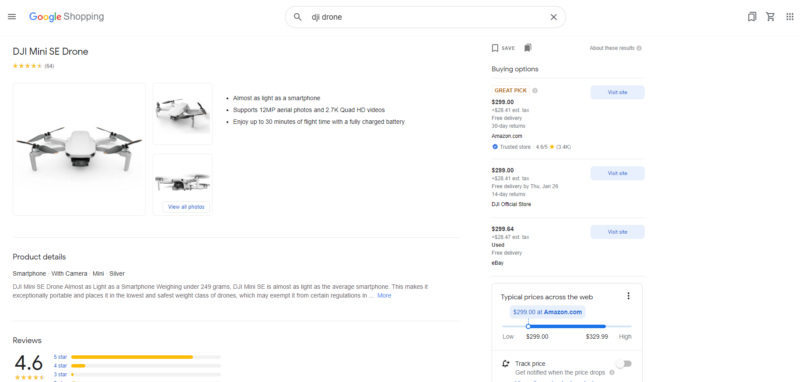 Google Shopping Ads are visual, which helps break the monotony of text results. From a consumer perspective, they also make it easier for users to get an idea of what they're looking for. It lets your audience see different products, compare prices, and find out where they can buy these goods, both online and in-store. Plus, it gives them a more convenient shopping experience as it lets them buy products directly on Google. Orders made through Google are also backed by a Google guarantee, which offers returns and refunds, as well as assistance for late or incorrect orders.
---
Choosing a Google Shopping Ads Agency in 2023
Choosing the right Google Shopping Ads agency for your business can be tricky given the sheer amount of options available in today's market. We're sharing a few tips to make the search easier:
Get to know the agency well. Do they have prior experience in managing shopping campaigns? What about experience with Google Shopping Ads? Can they show you the results of these campaigns? Make sure that they're able to present a solid plan of how they're going to approach or implement your campaign.

Find out if they've worked with businesses that are similar to yours. How did they approach the Google Shopping Ads campaigns for these businesses? Will they be able to provide you with a dashboard? What about comprehensive reports and analytics?

The agency should match your company culture and you should be able to communicate clearly with them. Being able to freely communicate with an agency helps develop trust, which is crucial for building a sound relationship with them.

Determine your budget for a Google Shopping Ads agency. Ideally, you should allot 10% to 20% of your total ad spend for the agency. However, agency fees may run anywhere between 5% to 15%, depending on the agency you'll be working with. If you want to get more accurate estimates, it's a good idea to request for a quote from the agencies you're planning to work with.
Frequently Asked Questions
How do I get started with Google Shopping?
To get started with Google Shopping, you need to first set up a Google Merchant Center account. This is where you can add your products and product information as well as connect your existing eCommerce account to automatically add products. With a Merchant Center account, your products can appear across Google websites and apps, including Google Search, the Shopping Tab, Google Images, and YouTube.
How can Google Shopping agencies help me improve my digital marketing strategy?
Google Shopping agencies can help you optimize your Google Shopping campaigns. This can provide growth opportunities for your business through driving more traffic and click-through rates, boosting your brand's visibility, and giving you more highly qualified leads.
How much do Google Shopping ads cost?
On average, Google Ads costs $0.66 per click. The CPC will vary, depending on the industry. For example, average CPC for the health and beauty industry is at $0.87, while for food and alcohol, the average CPC is $0.42.