Amazon associates are individuals or businesses that have signed up with Amazon to promote the company's products and make some money in the process. Amazon associates are paid when customers click and make purchases through affiliate links.
A rising number of people seek to master the basics of Amazon affiliate marketing to make money from home or anywhere they are. However, starting an Amazon affiliate marketing campaign may not be that straightforward. This guide will help you know all about Amazon affiliate marketing and how you can get started.
---
The Ultimate Guide to Becoming an Amazon Associate in 2024
---
What Is Amazon Associates?
Amazon Associates has been around since 1996. As one of the first affiliate marketing programs to launch on the internet, Amazon Associates dominates the affiliate marketing sector, with a 50% market share.
Amazon Associates is an excellent option for content creators, bloggers, and marketers who want to monetize customers' visits to their pages by advertising Amazon products. All that is required of you is to complete the registration form. Suppose a visitor clicks on an Amazon link and purchases an item after, then you will get a commission. Commissions range from 1% to 20%, depending on the sold product.
How Does the Amazon Associates Program Work?
As a participant in this program, you will have the ability to monetize your traffic and earn associate commissions. The moment you sign up for the Amazon Associates program, a unique product link is assigned to your account, which you may then use to advertise Amazon products on your website.
After clicking on the link, customers are sent to Amazon's website. If they purchase within the next 24 hours, you will receive a certain amount of the purchase.
The commission you receive as an Amazon associate is based on the price and kind of product you are promoting. But the amount of money you make as an associate isn't only determined by your commission rate. Another element to consider is how many of your website's visitors convert into paying customers.
How Much Money Can You Expect to Make as an Amazon Associate?
Amazon pays you a percentage of the selling price for each item sold through your affiliate link.
There are different commission fees for different product categories. To give you a general idea, here are the rates: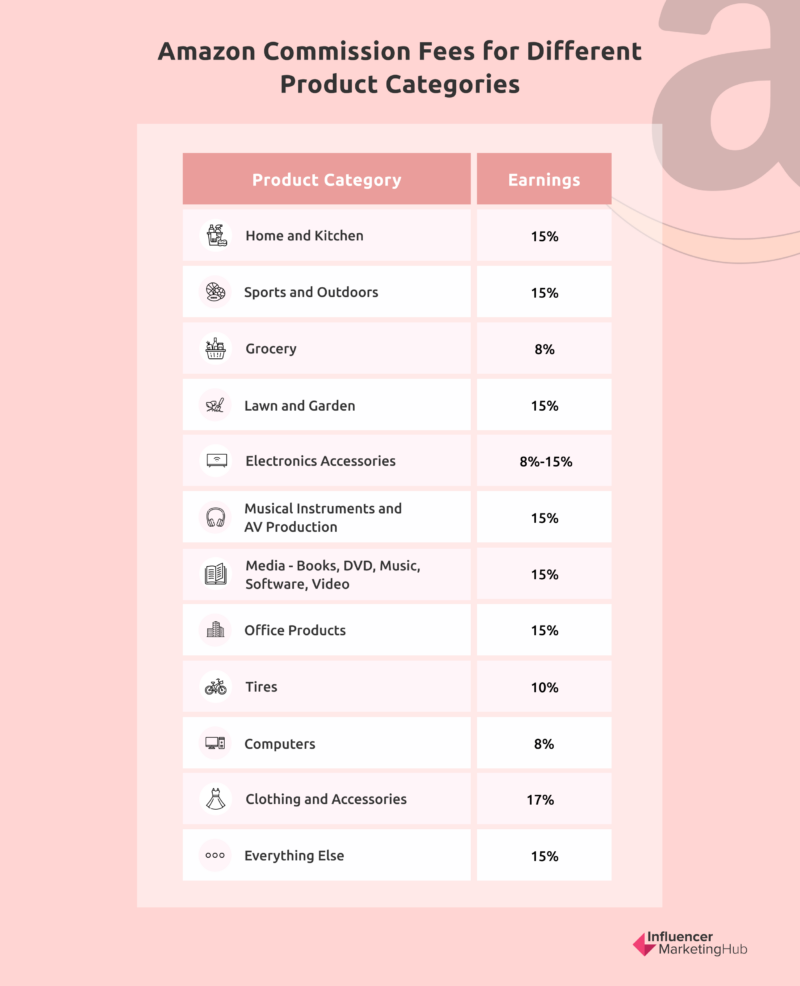 ---
Amazon Affiliate Program Rules and Requirements
Before you sign up to become an Amazon Associate, you should be informed of the guidelines that the company has established for its affiliates. To help you out, here are some pointers:
Include a clear statement that you are an Amazon affiliate
Affiliates of Amazon Associates need to make this information publicly available. The Federal Trade Commission requires affiliate marketers to clearly disclose their relationship to the retailer—in this case, Amazon. The disclaimer should be simple to read and comprehensible to everyone.
Three sales in the first six months are required to keep your account active
To become an Amazon affiliate, you must have a continuous traffic flow to your website. This might be challenging for some affiliates. However, keep in mind that you shouldn't use your affiliate link to place orders. Doing so violates Amazon's terms and might lead to account suspension.
Avoid cloaking Amazon affiliate links
Link masking is not permitted by Amazon since the company emphasizes transparency. So avoid relying on URL shortening services. Moreover, if you're leveraging a third-party plugin to insert your affiliate links automatically, make sure to disable cloaking in the settings.
Avoid mentioning product prices
Amazon does not allow promotional items to have detailed pricing information. It doesn't want affiliates to relay incorrect information because prices often fluctuate unwittingly.
So avoid including the current or specific pricing of the product. What you can do is provide a call to action, which says "Check on Amazon now." This helps encourage your site visitors to click on the link itself. Alternatively, you may utilize the Amazon Associates API, which automatically adjusts the price of your product whenever it changes on Amazon in real-time.
---
How to Become an Amazon Associates Affiliate
Signing up to be an Amazon associate is straightforward. You must have your website, app, or YouTube channel before signing up for the program. Amazon will do a thorough review of these channels before you can start marketing their products.
The most common method of promoting Amazon products is by using a blog. Let's have a look at how you can sign up for Amazon's affiliate program.
Choose Your Niche
Find a suitable niche for your blog by asking yourself what topic you're most interested in. It could be about sports activities, interior design, or beauty products. Just make sure that you'll be able to make premium-quality content for the niche you choose.
Build a Blog
Your blog can help you build a name for yourself and help you become an authority figure in your niche.
The most successful Amazon affiliate marketers have blogs with in-depth product evaluations and other informative materials.
So how do you start a blog? Starting a blog requires these three steps discussed below.
A domain name is essentially your website's online address. Pick a domain name that can make a lasting impression on your audience. It's also preferable if it matches the niche you are in.
The cost of registering a domain name is relatively low. A yearly fee of $5 to $10 is considered ideal.
Your hosting server will house all of your blog's data. It costs approximately $2-$3 each month and might increase depending on the provider and the bundle you want.
The theme for your blog can help encourage your website visitors to stay on a specific page for longer. So choose themes and templates with a layout design that's attractive for your visitors. Your blog theme should also be smooth and easy to navigate.
Start Posting Content
Finally, it's time to launch your blog and post some engaging content for your target audience.
The key to building a following for your blog is to put up enough quality content to keep your visitors engaged. Produce various product evaluations for different types of products.
You may also wish to create articles, news, and reviews about your specialization. Having a lot of written material is good since this can help your prospective customers find you more easily.
Sign Up as an Amazon Associate
Go to the Amazon Associates page
Visit the Amazon Associates affiliate program homepage, and click the "Sign up'' button to get started.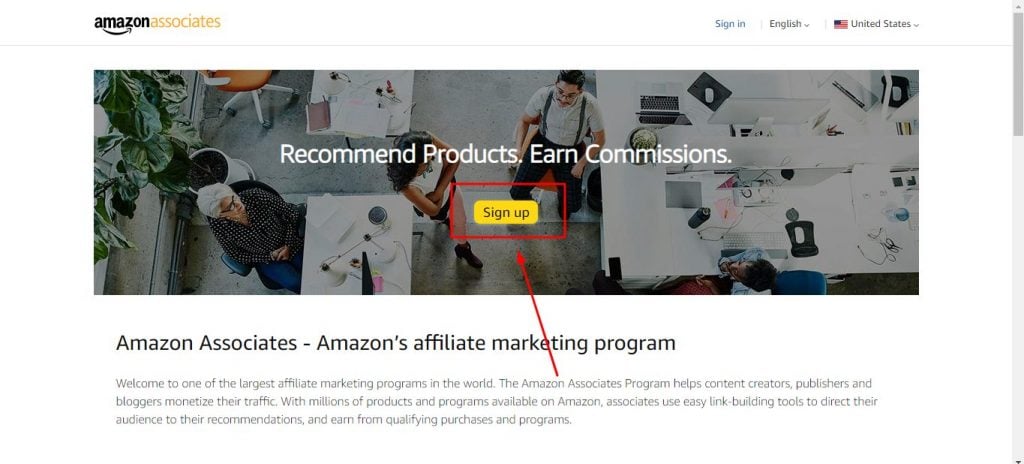 Create your Amazon account
Once you click the signup button, you will be taken to the sign-in page. This is where you enter your Amazon login information. If you don't have an Amazon account yet, then simply click on "Create your Amazon account."
To begin, enter your name, email address, and password. Enter the OTP sent to the email address you registered with.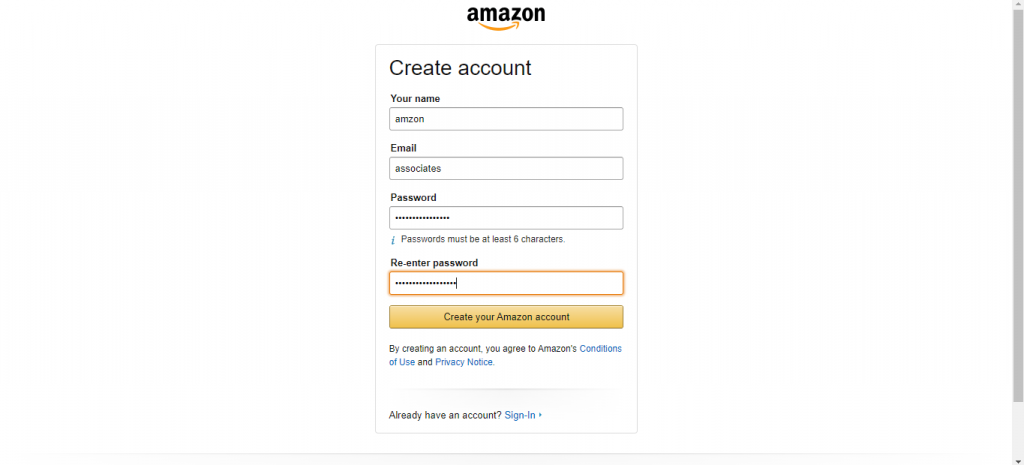 The next step is to log in using the email you used to register for your Amazon account.
Fill out your account information
The next screen you'll see after entering your email and password is where you'll fill in the rest of your account information.
Input your website or mobile app URL
When you press the "Next" button, you'll be asked to input the URL of your website or mobile application.
The store ID normally refers to your website name, but you can give it whatever name you choose. Describe the purpose of your blog, then select the topics that best describe it.
Select preferred method of driving traffic and monetization
The following section focuses on traffic and revenue. Choose the methods that help you get more people to your website. After that, you'll have to state how you generate income through your site or app. You'll also have to state how many people visit your site each month and why you decided to join the program.
On the Identity Verification page, a "Call Me Now" button will appear once you have entered your phone number. Your 4-digit PIN will be provided over the phone by Amazon. As soon as you type in that code, your application will be submitted.
Include your tax and payment details
Payment and tax information will be requested once the application has been completed, but you can opt to add it later. Associates Central will now allow you to create affiliate links.
---
Amazon Affiliate Links: How Do You Create Them?
Amazon has a strict policy on affiliate links. For the convenience of affiliates, Amazon provides a variety of product-linking solutions.
SiteStripe tool
You may quickly view your profits and include links using this tool. It allows you to browse an Amazon product and create a short URL from the toolbar located on the left side of the screen. The URL produced may then be shared on social media networks, such as Twitter and Facebook.
Banner tool
You can also use banners that link to various Amazon promotions and product categories. Available in various sizes and shapes, these aesthetically appealing banners help increase sales. They're also very easy to add to your page.
Product links tool
To generate a link for your site, select Product Linking that's located at the upper part of the banner. Then, click Product Links. Do a product search by inputting a product's ASIN on the search bar or browse Amazon's catalog for the product you want to promote. After clicking "Go," your affiliate link will be generated, which you can then copy and insert into your site's content.
---
How to Promote Your Amazon Affiliate Link on Your Blog?
There are a variety of strategies you can use to promote your link on your blog or app. Here are a few:
Create product reviews
Product reviews are one of the most common methods that affiliates use to generate income. When writing them, make sure to be transparent about the products you're reviewing. Consumers will enjoy reading your product reviews more if you're being genuine. This will help build your credibility and reputation in your field of expertise.
Promote best-selling Amazon products
Check out the bestsellers list on Amazon to learn which products are the most popular among consumers. After that, you may opt to run adverts for these products using your links.
Prospective purchasers are often on the lookout for solid guidance on which are the best products to buy. The more your content can provide value for readers, the more probable it is that someone will click on one of your affiliate links.
Promote limited-time discounts
With this method, you'll need to closely monitor Amazon's promotional activities. Is Amazon offering product sales and discounts for Mother's Day or another event? After knowing about Amazon's current special promos, choose items relevant to it, then write articles or updates about these products.
---
Pros of Being an Amazon Associate
There are several advantages to joining Amazon Associates. Reasons to consider this platform include the following:
As a well-known company, Amazon has a good reputation
With Amazon's years of experience in eCommerce and affiliate marketing, the company has become a household name. If you insert an Amazon affiliate link into your content, your site visitors are more likely to think it's trustworthy.
Amazon has many different products to choose from
There are over 12 million items available on Amazon. No matter the niche you are in, it's easy to come across products relevant to your content and your target audience's preferences.
Joining the program is free and relatively easy
Anyone may register an Amazon Associates account if they have a large enough following on social media and a large enough number of visitors to their site.
---

Cons of Being an Affiliate on Amazon
If you're looking for an affiliate program, Amazon Associates isn't your only option. Here are a few of its drawbacks.
Customers must make a purchase within 24 hours after using your link
A customer can end up liking a product you promoted and they then proceed to check it out. But there could be instances when they don't buy it right away. Instead, they just bookmark the page, so they can make the purchase at a later time or special occasion.
For an Amazon associate, this is a missed opportunity since users who click on your affiliate link must purchase the product within 24 hours of clicking it. Even if they put the item in their cart using your link, you won't get paid if they buy it later.
Affiliates can earn low commissions
Although the Amazon Associates affiliate program is a straightforward way to earn money, the commissions can be relatively low. This can make it difficult to earn a living through affiliate marketing alone.
What you earn initially may not be enough to cover website hosting expenses or marketing expenditures. As a result, you must prepare for this ahead of time.
Getting paid through PayPal is not an option
When it comes to sending and receiving funds, PayPal is a popular choice among many. Sadly, there is no way to receive money from Amazon's affiliate program using PayPal.
---
How to Increase Your Amazon Associates Sales
Here are ways to increase sales and make more money as an Amazon associate.
Optimize your site
A well-optimized website helps increase your visibility and allows you to reach more customers. With an optimized site, your visitors will be able to quickly and easily find their way through your site's pages.
Aim to publish high-quality blog posts
Your posts should be of excellent quality and contain information that can help your visitors make an informed decision. Ideally, you should be able to answer all of your customers' questions without them having to look elsewhere for answers. Specifications, pricing, features, and unique attributes should all be included on your website.
Publish content regularly
Consistency in publishing articles, reviews, and recommendations is key to achieving success as an Amazon associate. This helps you maintain relevance and build a wealth of content for your audience.
Experiment with various products
If you want to earn more money from your affiliate marketing program, you can try promoting products from different categories. This can allow you to expand your consumer base, which can then potentially lead to more profits.
Provide a clear call to action
You must have a consistent call-to-action (CTA) strategy. A strong CTA can more effectively direct your visitors to the Amazon product page you're promoting.
---
In Summary
Amazon Associates is one of the most popular affiliate programs around. The basic things you need to become an associate are a website or mobile app and social media presence. Once Amazon has approved your application, you'll be ready to go!
Frequently Asked Questions
How can I earn from Amazon?
There are various ways to earn money from Amazon. These include selling goods, becoming an Amazon influencer, or joining their affiliate program.
Is it easy to become an Amazon affiliate?
It's relatively easy to become an Amazon affiliate and start making commissions through the program. Essentially, all you'll need is a site, app, or page with a huge enough following where you can promote Amazon's products.
What are the requirements for Amazon affiliate?
Amazon requires its affiliates to make three sales within their first six months. Amazon associates must also strictly adhere to the company's guidelines on affiliate marketing, such as not using link shorteners or purchasing products using their own links.
How many followers do you need to be an Amazon associate?
You'll typically need a minimum of 500 organic followers to qualify for the program.
How much do Amazon associates make?
This is dependent on the products you're promoting and the number of visitors that convert into paying customers. On average, an Amazon associate can earn up to thousands of dollars through the program.