Advertising Disclosure
Advertising disclosure:
Our partners compensate us. This may influence which products or services we review (also where and how those products appear on the site), this in no way affects our recommendations or the advice we offer. Our reviews are based on years of experience and countless hours of research. Our partners cannot pay us to guarantee favorable reviews of their products or services.
Picture this: you're selling on Amazon, and a competitor lowers their price. With repricing software, you can promptly match or beat their price, attract buyers, and ensure competitiveness.
In Amazon selling, success depends on tools that boost your business. Amazon provides resources, from advanced research software to perceptive competitor analysis tools and repricing solutions, to fuel your growth. One of these vital tools is Amazon repricing software, which enables sellers to adjust prices automatically based on competitor prices, inventory, and sales history. This maintains optimal pricing, adapting to market shifts and surpassing the competition.
Amazon repricing software costs vary based on features, SKU (stock keeping units) count, and plans. To use it, create and link an account to Amazon Seller Central. Set repricing rules to dictate price adjustments. A common practice involves setting minimum and maximum prices per item, allowing automated price shifts within these bounds, and mirroring competitor rates. 
More complex practices are possible, including inventory-linked or sales history-based adjustments.
---
The Best Amazon Repricing Software for 2023
Repricing tools vary in purpose and scale. Some are suitable for SMBs, while others target larger sellers seeking advanced features and support. Each option has pros and cons. Let's review leading Amazon repricing tools for business automation.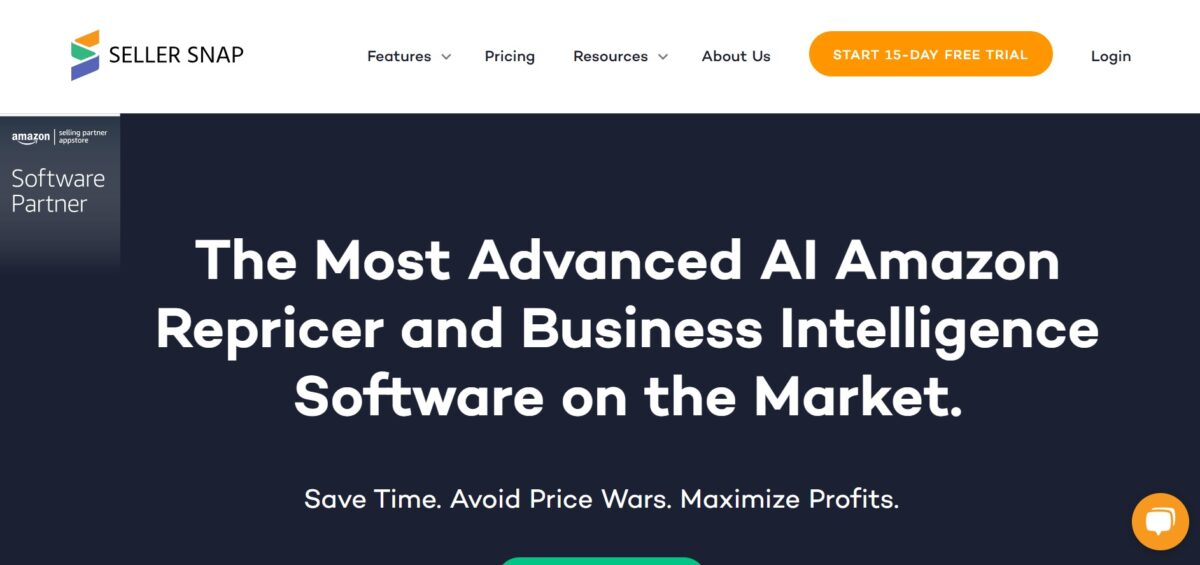 Services: AI Amazon Repricer, AI Amazon Business Repricer, Custom Repricing Strategies, Seller Analytics, Proft Calculation, Wholesale Bulk Analysis, Amazon Seller Education
Channels: Amazon, Walmart, eBay, Google Shopping, Shopify, Jet, Newegg, Rakuten
Seller Snap offers a fully automated Amazon Repricer utilizing Game Theory strategies to ensure optimal performance even amid changing competition. Its AI Business Repricer tailors the optimal approach for each listing, maximizing profits and avoiding price wars. Once activated, the algorithm automatically determines suitable business pricing discounts. This tool also lets you offer quantity discounts across various tiers, factoring in competitors' business offers. The software adjusts prices to secure the most competitive business offer and win the Business Buy Box.
Key Features:
Utilize the min/max calculator to establish price ranges according to costs and desired markup.

Enable the Auto-Adjust feature for automatic recalculations of minimum and maximum markups in response to cost changes, including selling-related fees.

Leverage AI for dynamic, real-time price adjustments, maintaining your competitive edge.

Customize settings to suit your requirements, such as repricing based on the lowest and second lowest Amazon prices, or custom prices.

Easily set up and link your Amazon Seller Central account, allowing immediate software utilization.

Make pricing decisions based on current market data, ensuring pricing relevance.
Pros:
Great customer service

Simple and user-friendly interface

Reliable performance
Cons:
The price might be too high for some sellers.

May not be suitable for sellers with a small product range or limited Amazon activity.
Pricing:
Tiered pricing: starts at $250/month

Standard, Premium, and Unlimited: by request

15-day free trial period
---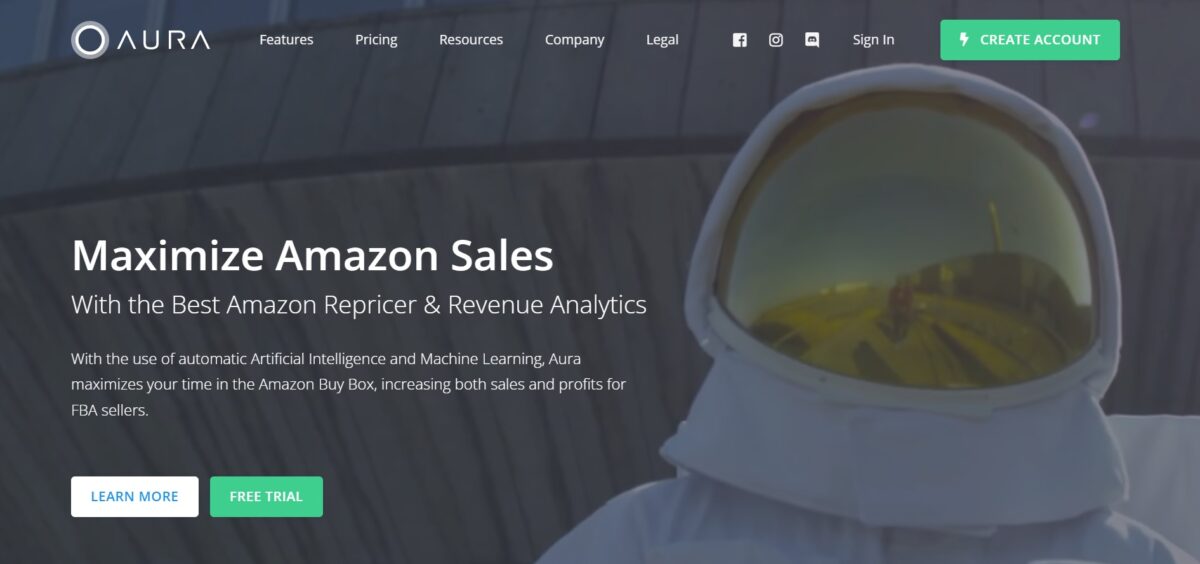 Services: Market Research, Inventory Management, FBA Prep, Reporting
Channels: Amazon, eBay, Walmart, Facebook Marketplace, Google Shopping, Shopify, WooCommerce, 
Aura uses cutting-edge artificial intelligence and machine learning to optimize your Amazon selling experience. It fine-tunes your presence in the Buy Box, improving sales and profits. It guarantees market alignment by setting appropriate price ranges and vigilantly tracking competitors. With Aura, you can outpace rivals and strategically recalibrate prices, considering factors like fulfillment type and backorder status.
Key Features:
Offers advanced repricing technology and automation, increasing your chances of securing the Buy Box on Amazon.

Implements profit-based pricing.

Sends high or low-price alerts, maintaining competitiveness and preventing sales loss.

Provides comprehensive price history tracking, monitoring, and reporting on price changes, competitor pricing, and valuable metrics.

Utilizes Workflows to create an in-app virtual assistant, allowing you to activate repricing, assign strategies, and schedule pricing.

In Maintenance mode, Aura automatically adjusts prices to match the next lowest eligible offer after winning the Buy Box.
Pros:
Automated repricing

Seamless integration with InventoryLab, InventorySource, and Terminal for streamlined workflow
Cons:
Incompatibility with all channels

Paid service
Pricing: 
Monthly: $97

14-day trial period
---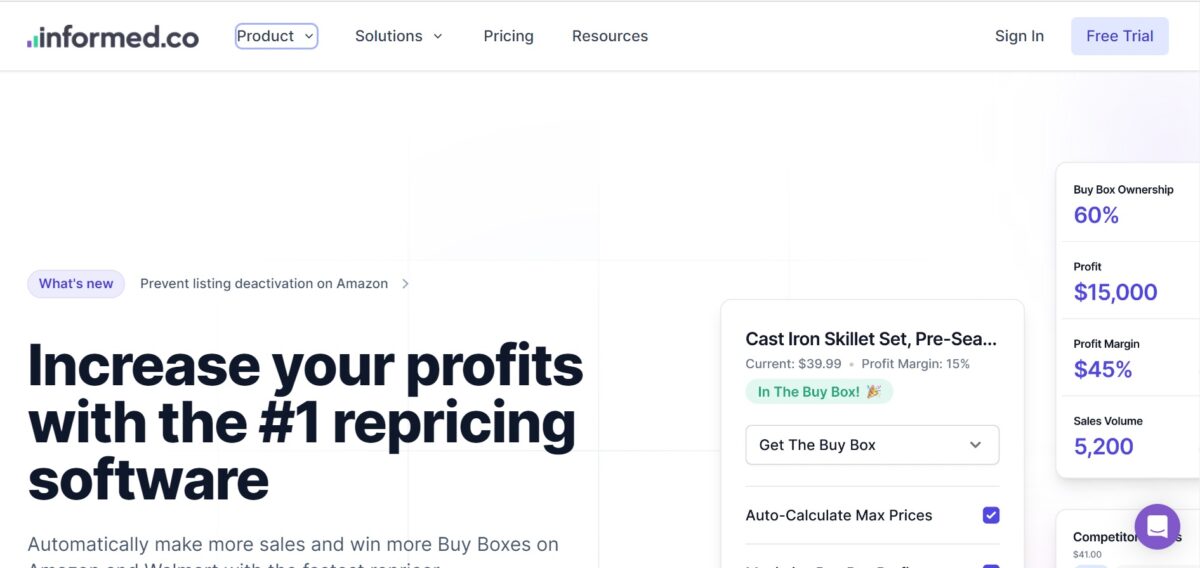 Services: Repricing Strategies, Private Label Repricing, API Integrations, Profit Protection, Analytics and Reporting
Channels: Amazon, Walmart, eBay, Google Shopping, Jet, Sears, Target, Wayfair, Shopify, WooCommerce, Magento
Informed is an automated repricing software tailored for online retailers on Amazon and Walmart. It eliminates manual pricing research by employing repricing strategies for consistent price adjustments. It offers diverse repricing methods like optimal price, competition-based, target profit, and private label. With the tools and insights provided, Informed can give you a competitive edge, helping you increase sales, improve profit margins, and win more Buy Box placements.
Key Features:
Minimize manual repricing efforts.

Benefit from Profit Protection, helping you boost sales and optimize profits.

Experience automatic price increases through the Sales Velocity algorithm without competition.

Input product costs for assured earnings on each sale.

Instantly adjust prices with the "Get The Buy Box" algorithm based on competition.

Leverage past sales data for precise optimal price calculation.

Choose from a range of repricing strategies to align with your requirements.
Pros:
Seamless integration with various eCommerce tools

A diverse range of repricing strategies

Round-the-clock customer support
Cons:
Pricing:
Monthly: starts at $49

14-day free trial
---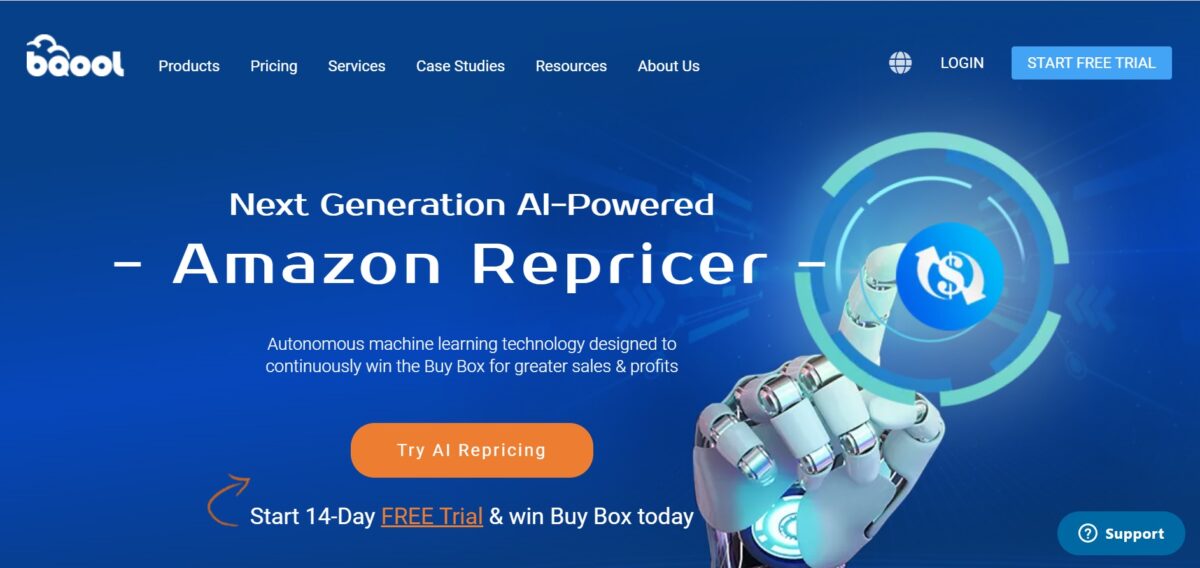 Services: Amazon Advertising Management, Conditional Repricer, AI-Powered Repricer, Rule-Based Repricing Strategies
Channels: Amazon US, CA, UK, DE, FR, IT, ES, JP, MX, Walmart, eBay, Sears, Rakuten
The BQool Amazon Repricer uses automatic machine learning to assess market conditions, predict results, and make real-time pricing decisions. It learns from extensive Amazon data, like the Buy Box, price, shipping details, and seller characteristics, to create a customized repricing method. The AI model's process involves data use, training, prediction, and result capture, resulting in accurate forecasts that boost sales and profits. The AI then tailors your BQool AI repricer to maximize sales, profits, or Buy Box placement. It reacts swiftly to beat competitors and maintain your competitive edge. BQool's repricer adjusts tactics according to stock levels, FBA inventory age, and other variables.
Key Features:
Employ competitor research tools to stay ahead in the market. 

Track competitors' prices, reviews, and inventory levels to inform pricing, marketing, and product development strategies.

Utilize five pre-built strategies to optimize sales, profits, or Buy Box price.

Protect your profit margin by inputting product costs.

Set specific repricing schedules for different times of the day.

Gain insights into listing data, including BSR, price, and Buy Box win percentage.

Access a comprehensive dashboard and reporting tools.

Review repricing history logs for enhanced decision-making.
Pros:
Active dynamic repricing

Efficient feedback and review management
Cons:
Relatively higher cost for instant repricing speed

A bit complex for new users
Pricing:
Monthly: starts at $25

14-day free trial
---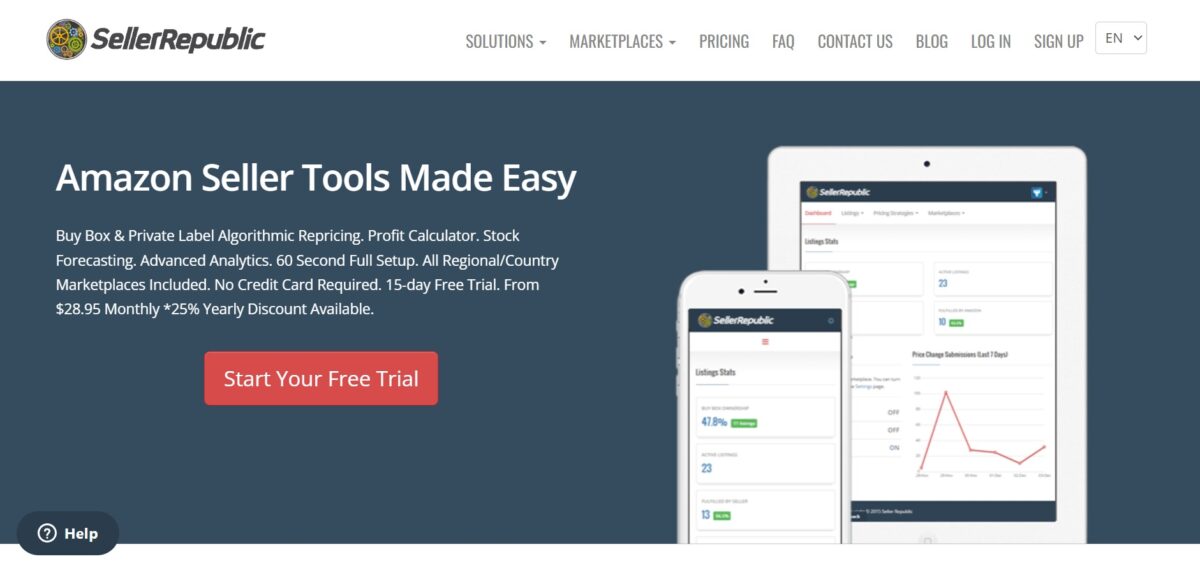 Services: Repricing, Profit & Loss Calculator, Stock Forecasting, Analytics
Channels: Amazon, eBay
Seller Republic offers a comprehensive suite of Amazon seller tools, streamlining various business processes such as dynamic repricing, competitor research, feedback and reviews management, and product research. Their main product is the AI-powered Amazon repricer which ensures real-time price adjustments to secure the Buy Box and enhance profits. It lets you swiftly assign strategies to single items, multiple products, or your entire inventory. The app's intuitive instant listing search also simplifies product location for efficient repricing. Seller Republic caters to large and small businesses, providing enterprise account packages with account management options.
Key Features: 
Ensure safety using ultra-secure technology, vigilantly monitored 24/7. 

Implement built-in measures that prevent repricing beyond your set minimum and maximum prices.

Optimize Amazon API utilization to its safe maximum capacity.

Focus on per-product repricing history, monitoring profitability and competitiveness closely.

Easily manage listings by regional marketplace and attributes, including FBA, Buy Box, and Strategy Assigned.

Quickly assess competition and stats via dashboard graphs and figures.
Pros:
Quick and easy setup

Detailed analytics

Intuitive search
Cons:
Expensive plans

Slow customer support
Pricing:
Lite: $28.95/month

Professional: $48.95/month

Elite: $98.95/month

Enterprise: $168.95/month

Global: $278.95/month

Galaxy: $478.95/month

15-day free trial
---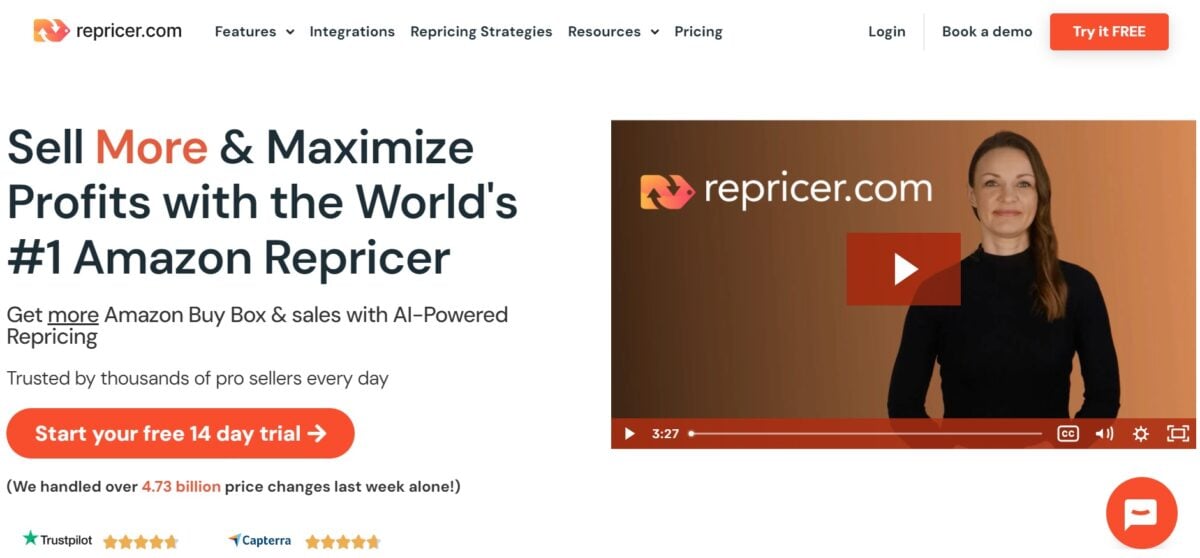 Services: Amazon Repricer, eBay Repricer, Sales Repricer, Repricing Strategies
Channels: Amazon, eBay, Walmart, Sears, Allegro, Fnac, Shopify, BigCommerce, PrestaShop, WooCommerce, Magento
Repricer.com is an Amazon repricing software that uses smart algorithms and actionable insights to help online businesses drive profits. It is the fastest repricer, reacting to your competitors' changes in 90 seconds, giving you the best chance of making that sale across all your marketplaces. It also automatically adjusts your prices based on competitors' prices, market demand, and your target profit margin. It also analyzes billions of weekly price changes to keep you one step ahead of the competition and help you achieve maximum margins. Furthermore, it analyzes your performance and recommends actions to increase your sales. You can also analyze your sales volume, Buy Box, and profit margin by marketplace.
Key Features:
Adjust prices based on stock levels, increasing aggression when stock is ample and raising prices when it dips below a set level.

Determine minimum and maximum product margins to ensure profitable sales.

Seamlessly integrate all sales channels and marketplaces. Sync inventory and automatically manage prices for consistent pricing or tailored rules across channels.

Single-click targeting of key competitors using pertinent information. Base pricing decisions on fulfillment, stock levels, and more.

Identify products with high and low Buy Box win probabilities, facilitating strategic action.
Pros:
Quick repricing

Valuable insights

Focus on winning the Buy Box
Cons:
Steep pricing

Pro Seller account required
Pricing:
Express: $85/month

Plus: $259/month

Ultimate: $409/month

Extreme: $1249/month

14-day free trial
---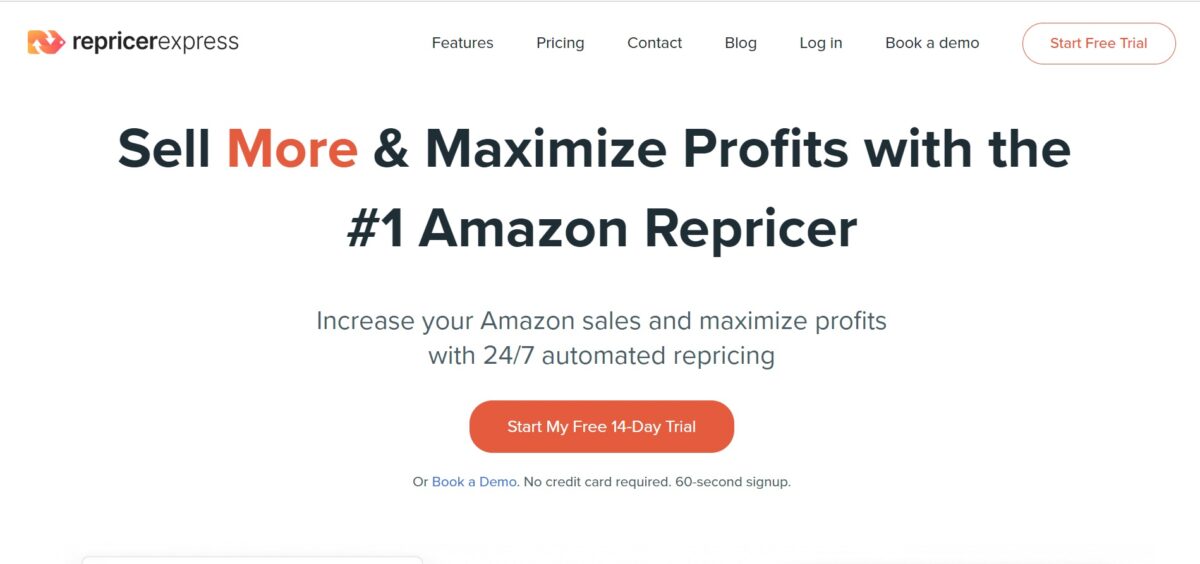 Services: Automatic Repricing, Pricing Rules, Buy Box Monitoring, Reporting
Channels: Amazon, eBay
RepricerExpress is an Amazon repricing software that can help you increase your sales and profits. It automatically adjusts your prices 24/7 based on factors Amazon considers when deciding which sellers win the Buy Box. RepricerExpress is flexible and can be customized to suit your business. Any Amazon seller can leverage RepricerExpress, including online retailers, private labelers, retail arbitrageurs, liquidators, and drop shippers. RepricerExpress provides detailed reports on your pricing activity so you can track your results and make necessary adjustments.
Key Features:
Optimize profits by adjusting prices according to your net margin.

Ensure optimal pricing during peak shopping hours by scheduling repricing times.

Customize strategies to your business objectives, like Buy Box success or profit maximization.

Manage prices across multiple platforms from a single dashboard with multichannel support.

Test pricing strategies in Safe Mode, preserving live listings.
Pros:
Advanced data insights

Multichannel support

Profit optimization
Cons:
Learning curve

Steep price
Pricing: 
Express: £64/month

Plus: £189/month

Ultimate: £319/month

Extreme: £949/month

14-day free trial
---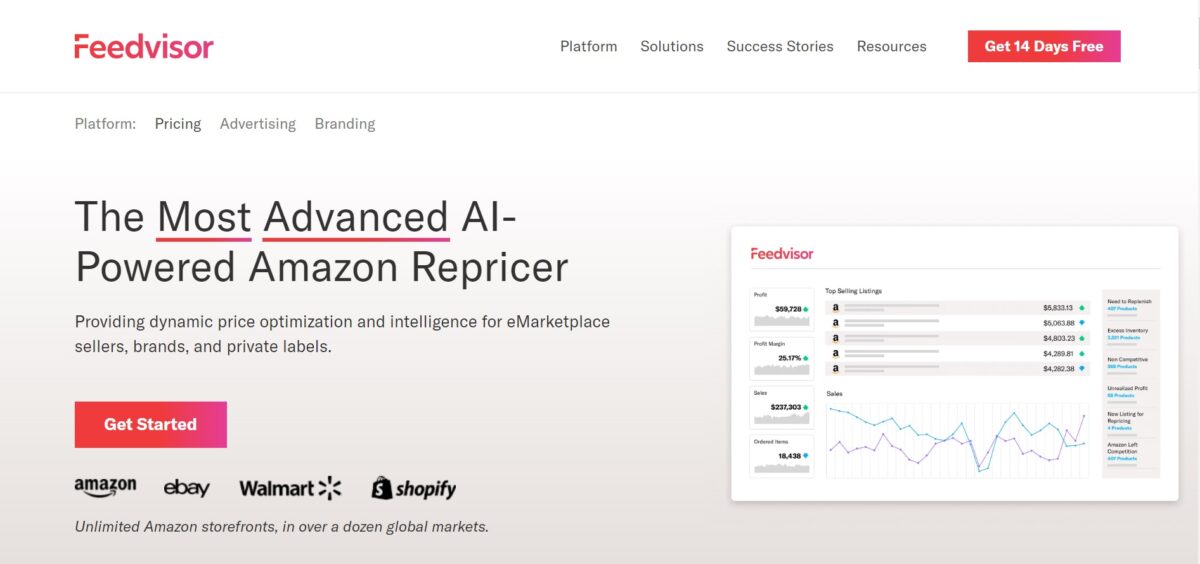 Services: Price Optimization, Price Intelligence, Advertising Optimization, Advertising Intelligence, Brand Optimization, Brand Intelligence, Managed Services
Channels: Amazon, eBay, Walmart
Feedvisor's Amazon repricing software uses AI and machine learning to help Amazon FBA and FBM sellers optimize their pricing strategy and increase their chances of winning the Buy Box. It analyzes various data points to determine the most competitive price and improve sales and profits. With data-driven insights and customizable strategies, Feedvisor can help sellers achieve their specific business goals. 
Key Features:
Utilize 18 Amazon data points to determine Buy Box winners and optimal prices.

Analyze vast data points and competitive landscape to map competition for your ASIN.

Automatically prevent min/max price errors, mitigating potential costly mistakes.

Update prices dynamically in response to market shifts for sustained competitiveness and sales improvement.

Enhance reach by automating keyword harvesting to improve visibility.
Pros:
AI-powered

Dynamic pricing
Cons:
Complex features and settings
Pricing:
Upon request

14-day free trial
---
---
Why Use Amazon Repricer Software?
Amazon's prices change frequently due to its dynamic pricing algorithm that adjusts based on demand, availability, competitors, customer behavior, and other factors. Although Amazon provides a built-in tool, third-party repricers offer more advanced features, analytics, and customization.
With Amazon repricer software, you can:
Save Time
Manual price adjustments become impractical as your product listing expands. An Amazon repricer automates the process, allowing you to focus on business growth.
Win the Buy Box
The Buy Box drives visibility and trust, leading to increased sales. Repricers ensure competitive pricing which is crucial for securing the Buy Box's 82% share of Amazon sales.
Cut Costs
Repricers automate pricing tasks, eliminating the need for hiring dedicated staff and allowing you to allocate resources more effectively.
Boost Profits
Repricers enhance profit margins by automatically adapting prices in real-time, ensuring accurate pricing amidst market fluctuations.
Eliminate Errors
Manual repricing is prone to mistakes. Repricers prevent errors by applying automated adjustments according to predefined rules.
---
Final Thoughts 
Amazon offers various tools and services to aid sellers in branding, competitiveness, and business expansion. A third-party Amazon repricer software can benefit those handling large SKUs because it offers a seamless and automated method for price adjustments. The listed tools represent some of the top Amazon repricers available. Explore them to identify the one that aligns with your business, goals, and budget.
Frequently Asked Questions
What is Amazon repricer software?
An Amazon repricer software automatically modifies your Amazon product prices in response to market conditions and competitor pricing.
Who needs an Amazon repricer?
Amazon repricer software is valuable for all Amazon sellers, especially those with extensive product listings or competitive offerings who aim to secure the Buy Box.
What factors should you consider when looking for Amazon repricer software? 
Key aspects include features, pricing, alignment with your business needs, reputation, customer support, and user-friendliness.