Whether you're a content creator or brand that collaborates with influencers, there's one thing your marketing campaigns will have in common – links.
Love them or loathe them links are here to stay. Internal and external links to content and offers keep your marketing engine running and are so important in 2024.
Does this mean you have to bear unsightly URLs on your crisp landing pages? Luckily not. A handy tech hack called link cloaking can help you spruce up your URLs, track their performance, and organize them more easily to drive more traffic. In this post, we'll dive into the link cloaking world, uncovering what it is, how it works, and how you can capitalize on it to improve your business results.
---
Top Link Cloaking Plugins for WordPress:
---
Link Cloaking: What It Is and What It's Not
A frequently asked question in the online selling space is "what is link cloaking?".
To answer this burning question, link cloaking is the process of concealing a link's makeup through a URL redirect. The redirect URL "cloaks" your original link, allowing you to brand and customize it. With a link cloak, you can clean up any link type, from the short and jumbled to the long and random.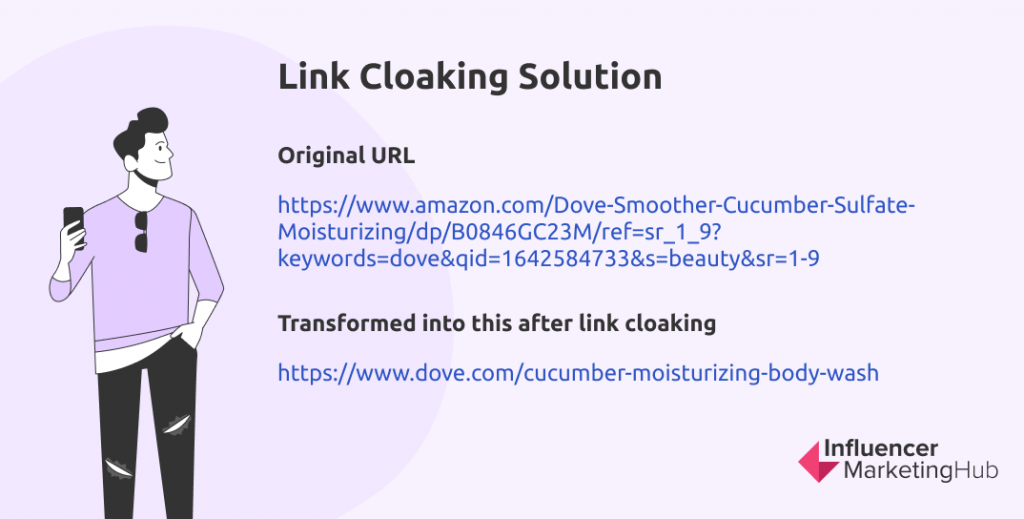 It's important to note link cloaking is not the same as link shortening. When you use a link shortening solution such as Bitly, your link takes on the domain of your solution provider, and your permalink changes to either numbers and letters (or custom wording on premium plans).
The combination isn't the easiest to remember, making link cloaking a more suitable option for brands and content creators. To give you an idea a link shortening solution could turn:
https://www.amazon.com/Dove-Smoother-Cucumber-Sulfate-Moisturizing/dp/B0846GC23M/ref=sr_1_9?keywords=dove&qid=1642584733&s=beauty&sr=1-9
Into something like this: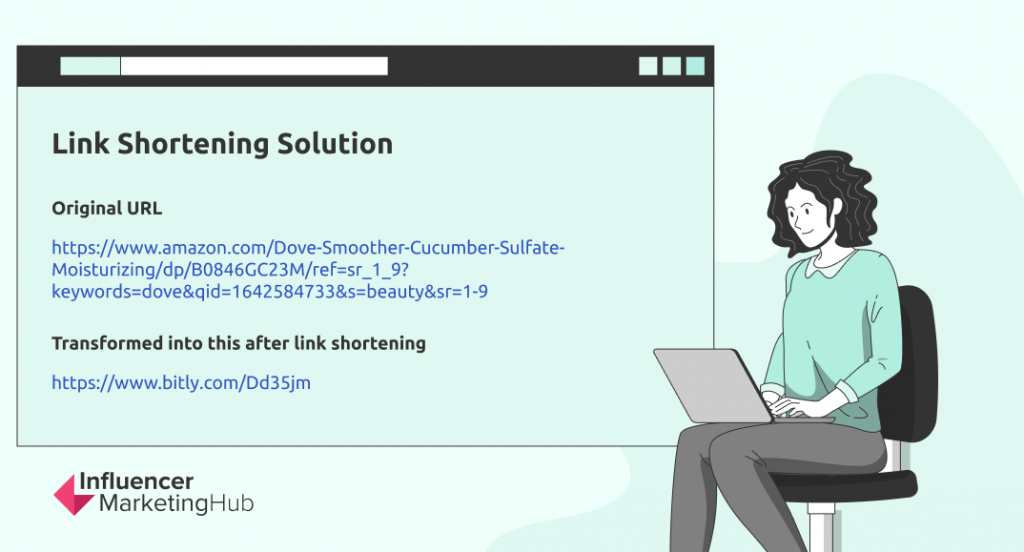 ---
Why It Pays to Use Link Cloaking for Business Growth
Now you understand what link cloaking is and how to distinguish it from its distant cousin, link shortening, you might be wondering what masking your URLs can do for your business. Let's explore why investing in link cloaking is a wise With Affiliate marketing being such a lucrative opportunity investment: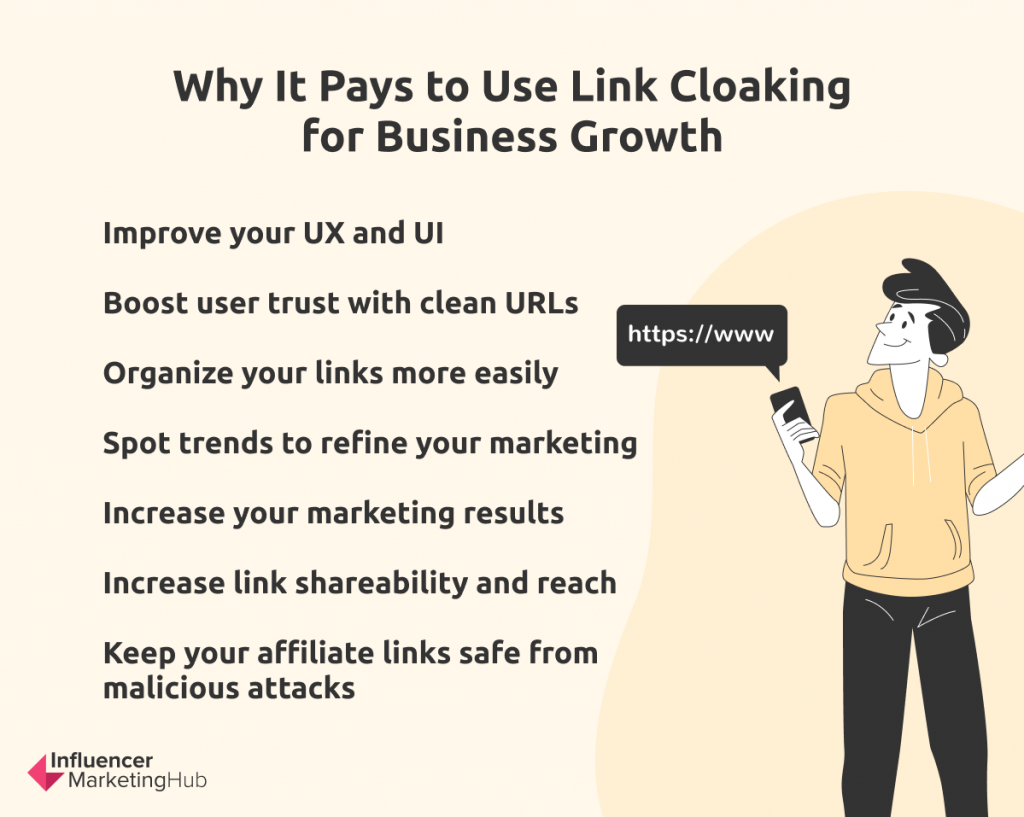 Improve your UX and UI
Consumers' perception of your brand is greatly influenced by your content assets' look and feel, whether it's a web page or blog post. Armed with a link cloaking solution you will help improve your user experience and design to boost engagement with your content and encourage link clicks.
Boost user trust with clean URLs
With cyber fraud and malware attacks on the rise, many people are afraid of being scammed while shopping online. As a result, long and incoherent links can set off alarm bells in consumers' minds. Link cloaking allows you to breed trust among your audience and visitors' so they feel comfortable using your URLs. Also, cloaked links are not only more memorable, they go out into the world as advocates spreading your brand name.
Organize your links more easily
It's no secret that managing multiple links across varying traffic sources can become challenging very quickly. The good news is most link cloaking solutions offer a centralized location (often a dashboard) to organize and analyze your link data.
Spot trends to refine your marketing
With your affiliate and social media marketing link data in one place, it's easier to spot trends and double down on what's working. As you stay informed on your marketing metrics such as click-through rate and bounce rate, it'll become easier to spot ways to bolster conversions.
Increase your marketing results
Link cloaking doesn't just make URLs look better, they bring out the best in your marketing by equipping you to test different link keywords and displays such as images and buttons. From here, you can work to find combinations that click with your target audience and up-level your marketing results.
Increase link shareability and reach
Clean URLs are more likely to be shared for the simple fact that they look better than their long-winded counterparts. These shares increase your brand's reach organically. Plus, link cloaking can improve your SEO by helping you achieve a happy medium between internal and external links.
Keep your affiliate links safe from malicious attacks
Just like consumer data, your affiliate links are also under threat from cyberattacks which can attempt to steal your affiliate sales. While a sale or two disappearing from your books can seem trivial, over time the losses can add up to eye-watering amounts. Masking your affiliate links acts as armor, protecting your brand from commission theft.
---
5 Signs You Need Link Cloaking in Your Business
Whether your business is a new or established brand, you can take advantage of link cloaking to optimize your business. However, there are some scenarios when masking your links makes perfect sense, such as if you:
👉 Serve a competitive niche
Digital noise can make it challenging to stand out. But with well-branded links, you can catch your target customer's eye to win their click.
👉 Have a growing affiliate income stream
As you partner with more influencers or increase the products you promote, it becomes increasingly important to have good link housekeeping to maximize conversions.
👉 Use marketing tracking and assessment software undetected
Cloaked links will ensure you don't give away your secret sauce to competitors, whether it's the tools you use or strategies you implement.
👉 Have sales funnels set up
Make your marketing funnels more enticing with a custom link that neatens up the complicated URLs content such as downloadable assets, webinars, and sales pages can have.
👉 Provide content to your audience
Masked links will help to increase your content's relevancy as they allow you to alter the messaging to fit the contents' topic and format more closely.
CTA: Stop losing sales to suspicious-looking links. Learn the steps to create attractive links/URL's that inspire action.
---
6 Top Link Cloaking Solutions You Need to Know About
ThirstyAffiliates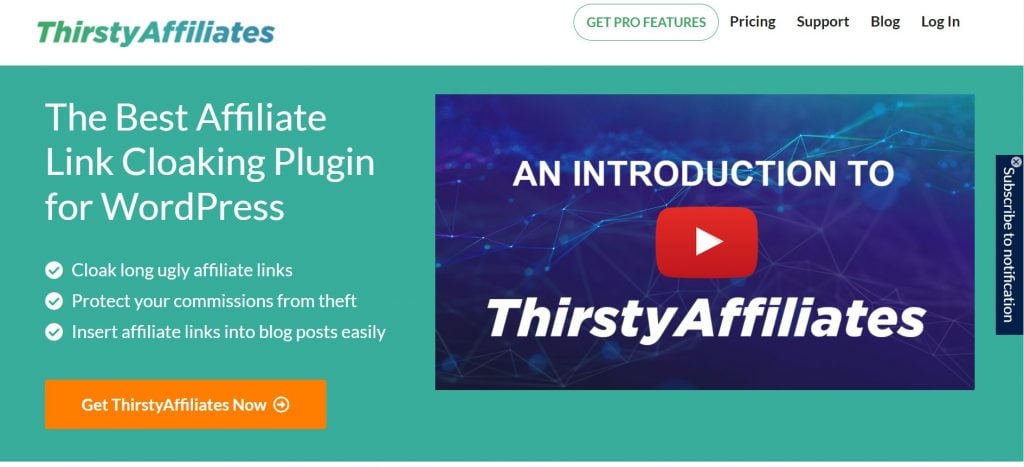 Seasoned URL masker, ThirstyAffiliates is arguably the most popular kid on the link cloaking block, and for good reasons. Boasting an ultra-sleek interface with handy link cloaking automation and link health check-ups, Thirsty Affiliates helps you save time and energy without compromizing your affiliate links, clicks, and sales. ThirstyAffiliates is accessible for newbies with its basic plan starting at $49 per month.
ThirstyAffiliate' Pros
Helpful integrations:

ThirstyAffiliates can join with Google Analytics to record affiliate link clicks as events.

Time-saving automations:

Automatic 404 checks, automatic keyword linking, link scheduling, and smart uncloaking for sites like Amazon with strict terms of service.

Free plugin:

This link cloaking plugin comes with many helpful features that'll get you started on cloaking and managing your links before investing.
ThirstyAffiliates' Cons
No Woocommerce integration:

ThirstyAffiliates doesn't integrate with Woocommerce, creating a missed opportunity for syncing data and cloaking links for Woocommerce users.

Pricey pro solution:

The pro version may be a steep investment for influencers and brands just starting out, coming in at $159 for 1 license. Yet you need the pro version to access the top features.
---
PrettyLinks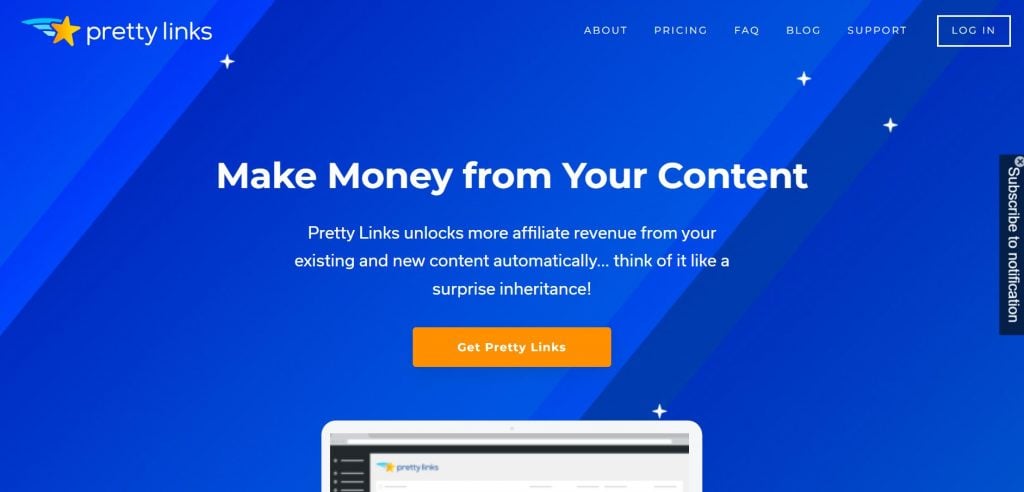 From the start, it's apparent PrettyLinks prides itself on ridding brands of ugly links and replacing them with attractive URLs that drive clicks and sales to grow your business.
One defining feature PrettyLinks possesses is versatility. For example, you can create shareable branded links for email campaigns, YouTube content, blog posts, and more. Prices start from $79 per year.
PrettyLinks' Pros
On-page link optimization:

PrettyLinks automates your page optimization by analyzing your site content and replacing the keywords with links.

Easy link branding

: PrettyLinks makes customizing your links a breeze with its simple interface and automations.

Auto rotating links:

Ensure your best links each get their chance to shine by providing automated link rotation. You can point a single URL towards 5 URL destinations.

Tracking split testing and reporting features:

PrettyLinks ensures you capitalize on every opportunity that comes your way with expert monitoring and split testing tools as well as in-depth reports.
PrettyLinks' Cons
The best features are locked away in the pro version:

For

Google Analytics integrations and access to features like automatic replacements and affiliate link disclosures you need to go pro.

Missing useful features:

Unlike other link cloaking solutions, PrettyLinks doesn't come with important features such as a link health checker or link scheduler.
---
Lasso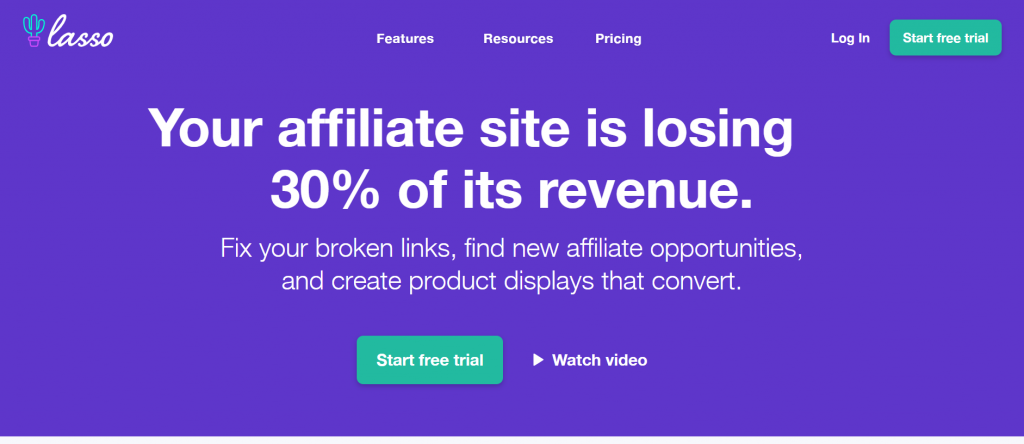 If you're looking for a one-stop-shop for your affiliate business, Lasso could be just the ticket. From link cloaking and product displays to link tracking and opportunity spotting, Lasso is jam-packed with affiliate revenue and conversion-boosting features. With Lasso on your side, you can avoid links and opportunities slipping through the net. Lasso's pricing begins at $29.
Lasso's Pros
All-encompassing solution:

Armed with Lasso you'll get more bang for your marketing buck. Its full marketing tool suite is so comprehensive

—

it can scale with your business.

Integrates with Amazon:

Lasso can connect with Amazon to ensure your links never go unchecked. You can even copy an Amazon URL into Lasso and it'll extract product information without API keys.

Conversion increasing features:

Lasso takes improving affiliate marketing results seriously, allowing you to continually optimize your links for maximum conversions.
Lasso's Cons
Pricing:

You can choose between 3 plans; Essential $39 per month, Advanced $99 per month, and Portfolio sits at $299 per month.

Not many freebies are offered

: Lasso doesn't offer a free plugin or online solution. After the 14-day trial, you'll have to pay for access to its features.
---
WooCommerce Cloak Affiliate Links Plugin

Stepping in where other link cloaking tools left off, WooCommerce Cloak Affiliate Links plugin offers WooCommerce stores the opportunity to cloak their links. The plugin also allows users to choose what kind of redirect they would like e.g., 301, 302, or 307.
WooCommerce's cloaking plugin also protects your external links by including "disallow" to your robots.txt file to stop bots following the external links made via their plugin, aiding users' SEO.
The fee? Good news — there isn't one.
WooCommerce Cloak Affiliate Links Plugin's Pros
Simple and effective plugin:

While the WooCommerce cloaking plugin does come with bells and whistles like some of its competitors, it achieves the goal to mask URLs and protect users' links.

Free plugin:

It's hard to be disappointed with how basic the WooCommerce plugin is when you consider it's completely free and fills a gap other plugins are yet to address.
WooCommerce Cloak Affiliate Links Plugin's Cons
No link tracking, advanced analytics, or opportunity finding solutions:

If you're hoping to deep dive into advanced link analytics and reports you'll need to look elsewhere.
Exclusively for WooCommerce stores:

Even if you have other stores and traffic channels besides a WooCommerce shop, you won't be able to utilize this plugin which can create additional admin.
---
Simple URLs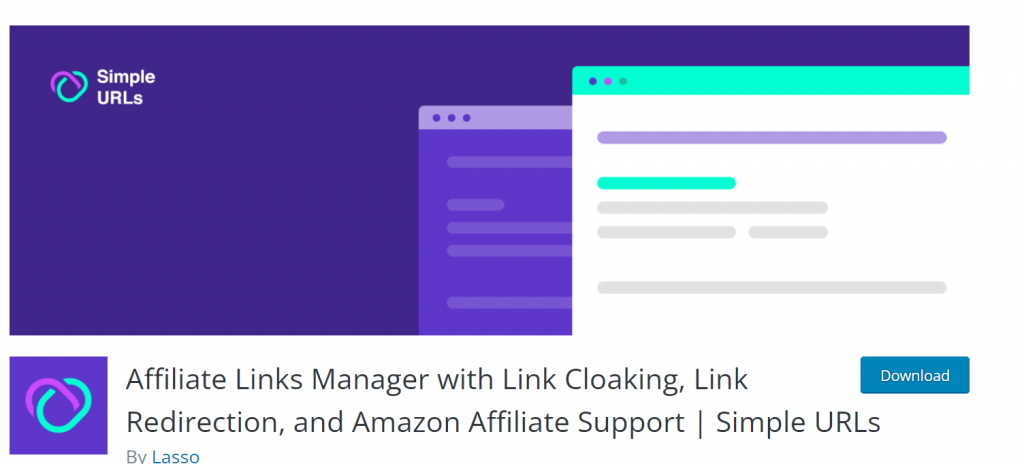 If you're looking for a way to manage your links in WordPress, Simple URLs has got you covered. With features such as link tracking, redirects, link cloaking, link shortening, and more, Simple URLs will make sure your links never come up short. Lasso took over the reins at Simple URLs and offers this plugin for free as a taster for Lasso paid pro tools.
Simple URLs' Pros
Excellent link customization, tracking, and optimization features:

From impressive link click reporting and outdated link spotter to security-enhancing "no follow" feature, this plugin adds massive value.

Improve readers' experience:

As Simple URL's optimizations take hold of a WordPress site (like its automatic broken link finder) the readers will have a more enjoyable experience.

Free plugin:

No payment required only adds to the appeal of this simple but powerful plugin.
Simple URLs' Cons
No advanced tools:

While the plugin offers great link tracking and cloaking, it falls short of offering advanced tools such as opportunity spotting and A/B testing.
Deprecated plugin:

Lasso will not be adding any updates to Simple URLs going forwards, so over time the plugin could become obsolete
No Google Analytics integrations:

You can't link your Google Analytics data to the Simple URL plugin which could cause you to have an incomplete view of your links.
---
URL Shortener Pro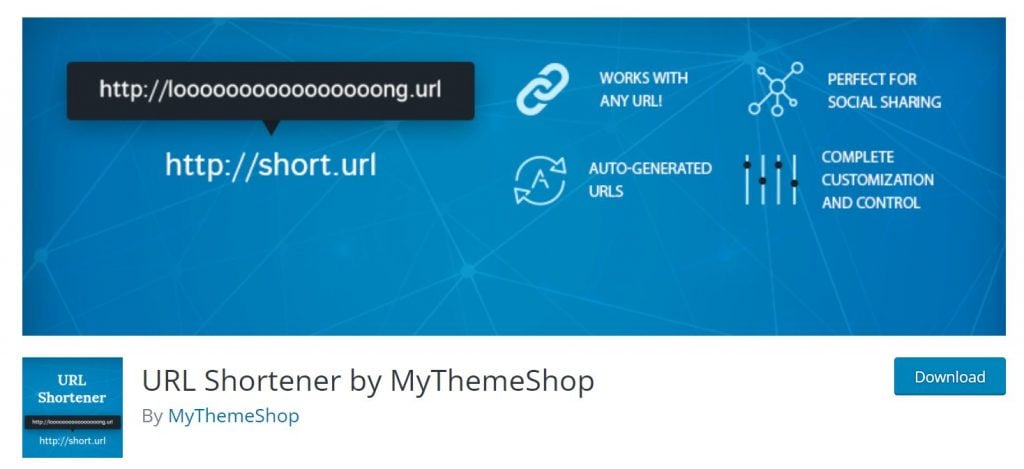 URL Shortener offers a lot more than what meets the eye. Made for marketers, it's link cloaking, link shortening, real-time tracking, and link categorization features help users get organized, polish their links' look and feel and garner more conversions. The URL Shortener Pro is affordable, coming in at $19.
URL Shorteners Pro's Pros
Great load speed, link customization, redirect, and tracking features:

Not only does URL Shortener Pro cloak links well, its quick load speed improves the readers' experience.

Simple to use and understand:

The plugin's no-frills nature makes it easy to grasp and allows you to start using it very quickly.

Affiliate link cloaking and shortening:

You can set up automatic link changes for specific keywords to optimize your pages.
URL Shorteners Cons
No sidebar widget:

You'll need to go to the plugin and make cloaked links on the backend of WordPress which could be tedious.
---
The Best Way to approach Link Cloaking
Link cloaking offers a great way to sharpen your branding, increase conversion, and protect your affiliate sales. But link cloaking success doesn't come with just changing a link's anatomy. To ensure link cloaking produces favorable results for your brand, it's important you understand how to interpret your cloaked link data and use it to optimize your results further.
Organization is key to staying informed of your cloaked links' performance. So, set aside time each week to sift through your reports and adjust your strategy. Don't be afraid to test different link formats and know when to cut non-performing cloaked links. Before you know it, you'll have a link cloaking strategy running like a well oiled machine, driving engagement leads and sales.
CTA: Thinking about using link cloaking in your business? Learn how Influencer Marketing Hub can help.
Frequently Asked Questions
What is link cloaking?
Link cloaking is the process of concealing a link's anatomy through a URL redirect. The redirect URL covers your original link, allowing you to brand and customize it.
What are the top 3 reasons to use link cloaking?
Make your brand more memorable
Boost consumer trust
Protect your affiliate commissions from cyberattacks
Are link cloaking and link shortening the same thing?
No, link cloaking and link shortening are two different things. While link cloaking changes a link's makeup using redirects, a link shortener reduces a link's length. Link shortening is achieved by adopting the domain of the link shortening solution and the permalink is often random letters and numbers.
Who offers the best link cloaking software?
ThirstyAffiliates
PrettyLinks
Lasso
WooCommerce Cloak Affiliate Links Plugin
URL Shortener Pro
Simple URLs
How can I use link cloaking to improve conversions?
To improve your conversions with link cloaking some steps to take include:
Track link clicks
A/B test link types continually
Customize and brand your links
Use automations to save time