Advertising Disclosure
Advertising disclosure:
Our partners compensate us. This may influence which products or services we review (also where and how those products appear on the site), this in no way affects our recommendations or the advice we offer. Our reviews are based on years of experience and countless hours of research. Our partners cannot pay us to guarantee favorable reviews of their products or services.
Affiliate marketing is a growing and evolving industry. In 2021, affiliate marketers spent $7.4 billion in the United States alone. By 2024, these figures are expected to balloon up to $15.7 billion.
With this in mind, it's only accurate for affiliate marketers to double down on their campaigns and treat it as one of the best sources of revenue for their brand.
If you're an affiliate marketer and you want to improve your return of investment (ROI), generate better-quality leads, or want more control over handling affiliates, then it's important to have the best free affiliate marketing tools tucked away on your digital marketing arsenal.
---
The Best Free Affiliate Marketing Tools for Your Campaigns in 2024:
---
The Advantages of Using Free Affiliate Marketing Software
Affiliate marketing tools are great for streamlining and keeping your affiliate data manageable. One of its biggest advantages is it gives you an option to track leads using tracking links. Doing so provides you with unique, specific data which you can use for strategizing future marketing campaigns.
There are also other advantages. For instance, it lets you know which affiliates to pay and how much the payout is. Some programs even allow for automatic payments in different currencies, taking the guesswork from your part. You can even customize the campaign to suit the brand or product you are promoting
It also gives you concrete data on which affiliates are performing best so you know who to reward. Doing all these manually is almost impossible or requires too many man-hours—time better spent on the more important parts of your business.
Perhaps, the biggest advantage is that by using free tools, you can save money and test the software first to see how well it performs.
If you're starting and want to test affiliate marketing platforms, we've compiled some of the best free affiliate marketing tools and software to help you run a successful marketing campaign.
---
Top Free Affiliate Marketing Tools (Free Trials)
Top
free affiliate marketing tools
2024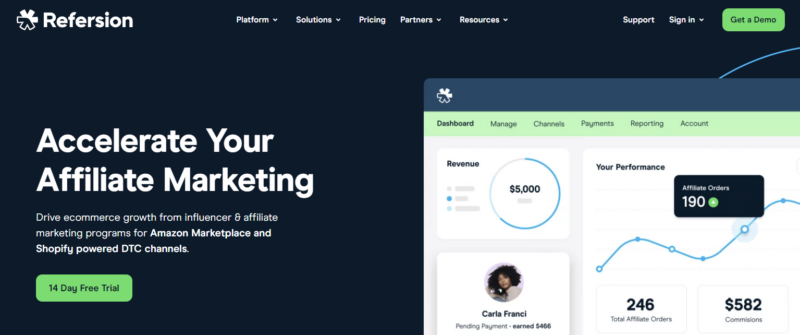 Free 14-Day Trial
Price: (Monthly) Professional – $99 / Enterprise – Custom / Enterprise Plus – Custom
Key Features:
Convenient automated recruiting

Effective and quality support

Offers convenient tracking of referral links

Allows users to monitor real-time conversions

Automates commissions and leverages unlimited commissions

Access to performance automation

Integrates with major e-commerce platforms like WooCommerce, Magento, Shopify, and Salesforce Commerce Cloud

Offers 24/7 customer support

Highly cost-effective compared to other platforms

Great for small to medium-sized businesses
Refersion is a top affiliate marketing platform that has worked with different popular brands including Barstool Sports and Pura Vida Bracelets.
Founded in 2015, it's a fantastic platform that allows you to build strategic partnerships for your affiliate marketing campaigns and grow your influencer marketing programs.
Find out more details about Refersion in this review.
---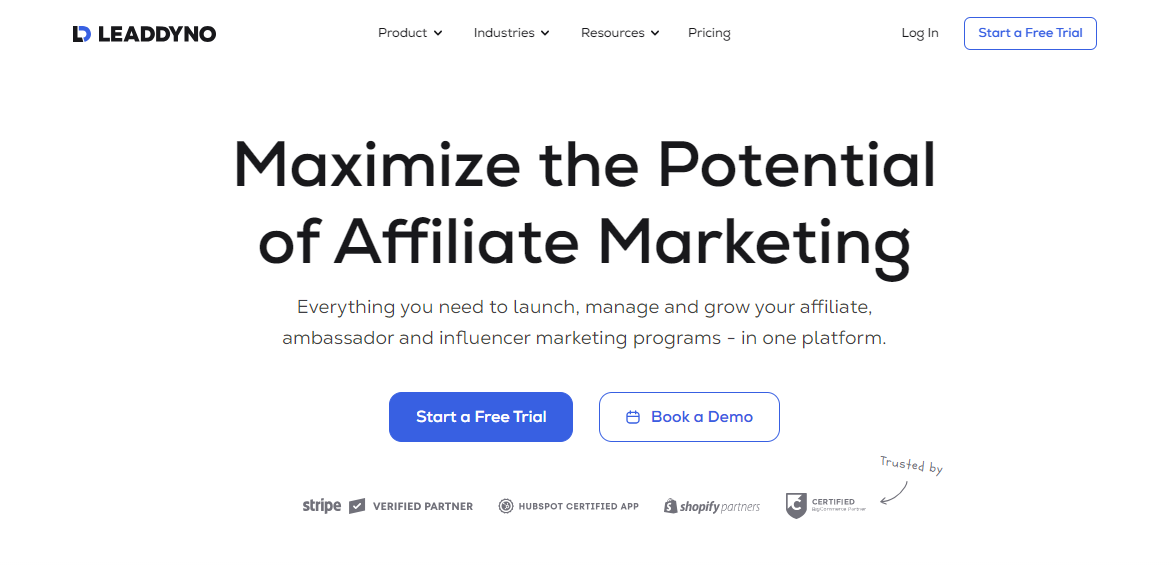 Free 30-Day Trial
Price: (Monthly) Starter – $49 / Plus – $129 / Pro – $349 / Premium – $749
Key Features:
Simple setup without any coding skills necessary

Sets up automated emails

Allows for consistent engagement to keep affiliates motivated

It lets you perform bulk payments of affiliates, making it easy to handle large numbers

Easy integration with Shopify, WooCommerce, PayPal, Squarespace, and other platforms

Fast, real-time results and tracking

A beautifully organized dashboard

Good, competitive pricing across the board
LeadDyno is a premium lead management affiliate marketing program that lets you manage your marketing campaigns from one convenient dashboard. It offers one-click integration and works with various e-commerce, marketing, payment processors, and CRM.
Customize your dashboard, send material for your affiliates to use, and even pay them using the software. It's one of the best in managing your ambassadors in one place.
Initially founded in 2014, LeadDyno has tracked over 81 million referrals and made over $200 million in affiliate sales in 2020. The company currently offers a 30-day free trial so you can test out the software and see if it works for your campaigns.
---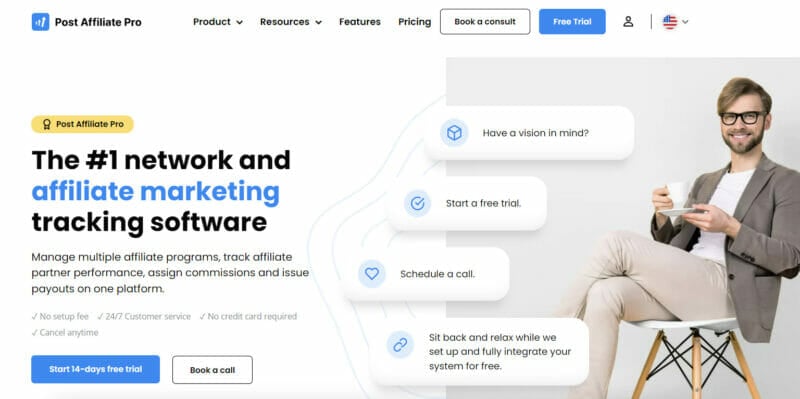 Free 14-Day Trial
Price: (Monthly) Pro – $129 / Ultimate- $249 / Network – $599
Key Features:
Offers strong fraud protection and privacy to ensure your business is safe

Supports different types of affiliate links

It also provides support for different currencies for payout as well as different languages

Provides 24/7 customer service

Allows you to assign commissions from the platform

Helps increase engagement, track performance, qualify leads, and improve the conversion rate

Allows you to create and manage an affiliate program from scratch

Accurate tracking software

Provides a lot of customization for brands that require it

A professional tool that can be used as the company grows
Post Affiliate Pro offers a lot of flexibility in setting up and organizing your affiliate marketing campaigns. It's easy to use, even for beginners. The interface isn't as straightforward when you're looking for specific functions, but their customer service is highly responsive, making it easy to ask questions anytime.
Post Affiliate Pro offers a free 14-day trial, giving you time to test drive the software. It's highly recommended for small to medium-sized businesses so it can grow with you as your brand expands.
---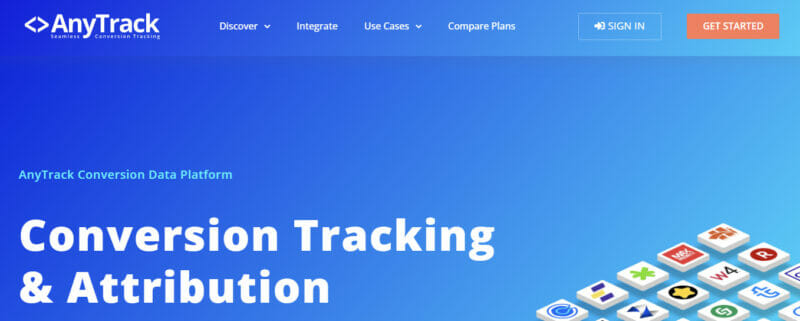 Free 14-Day Trial
Price: (Monthly) Basic – $50 / Personal – $150 / Advanced – $300
Key Features:
Built-in conversion source tracking (CRM, API, Affiliate Network, Client and Server-Side Tracking, etc.)

Provides seamless network integration with over 50 network platforms

Helps build your affiliate marketing audience by sending conversion event data

Tracks any conversions or sign-ups from your affiliate links, forms, websites, or other sign-up forms

One-click integration with Facebook and Google Ads

Allows you to create custom audiences for any retargeting campaign
AnyTrack is a conversion and audience data management platform perfect for marketers who want just one place to check when running their campaigns. This free affiliate marketing software can sync data conversion across different marketing stacks.
With the help of AnyTrack, you can base all of your marketing insights on data, giving you a chance to track and send conversion events to specific marketing tools even without any coding knowledge.
All paid versions offer a 14-day free trial. One thing to note, though, if you use Zapier, there's no direct integration option available. Also, AnyTrack will not integrate with Amazon Associates at all.
Octoly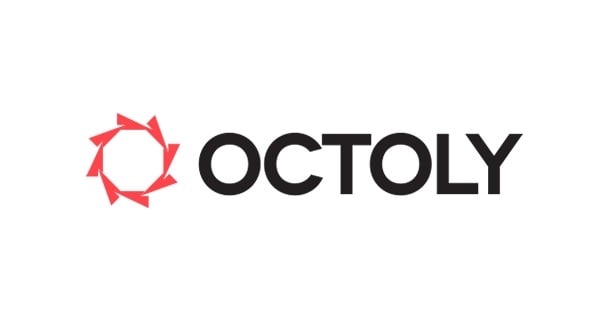 Octoly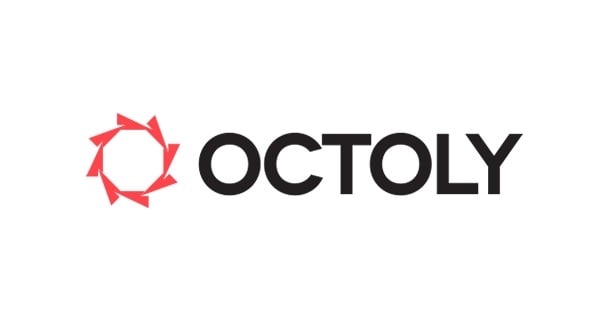 Choose Software to Compare
---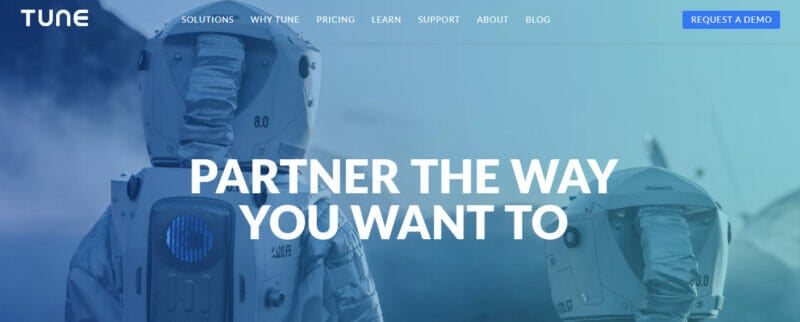 Free 14-Day Trial
Price: (Monthly Advertiser Plans) Bootstrap – $599 / Scale – $1,500 / Custom – Personal Quote
Key Features:
Simple and intuitive interface

Convenient partner data and payout management

Offers real-time reporting, so you get information and data on time

Strong data protection with proactive fraud prevention to keep all your information safe

Perfect for lead generation

Offers two types of services, one for

Advertisers

and the other for

Networks
With a 99% uptime, TUNE is an extremely reliable affiliate marketing program. It allows users to perform detailed tracking, which is helpful if you handle multiple brands and campaigns. The generated reports are easily customizable and are great for visualizing and strategizing your next steps. Users also receive a good amount of customization control handling the program.
Formerly known as HasOffers, TUNE offers a free 14-day trial. It's worth noting the price is a bit steep, but it has the features to match.
---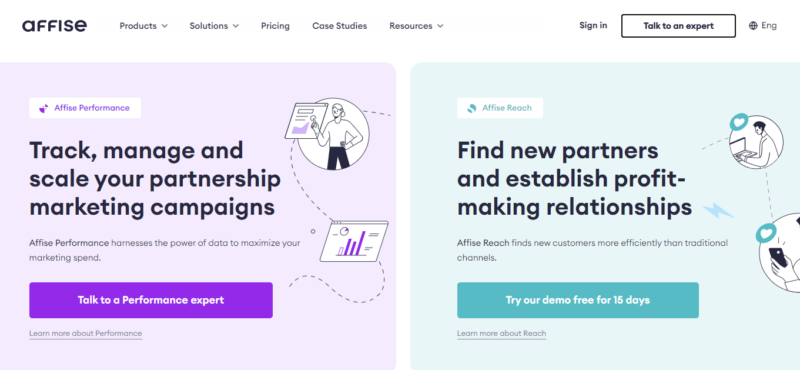 Free Trial Upon Request
Price: (Monthly) Entry – $500 / Scale – $800 / Custom – $1,500
Key Features:
Easy to navigate and manage even for beginners

Generates clear, convenient comparison reports for easy planning

Offers fraud protection to keep all of your data safe

Handles bulk payouts with various options for currency

Simple integration with your tech stack or other networks

Dedicated account manager for assistance

Offers 24/7 customer service support
Affise lets you easily grow and improve your partnerships with brands, agencies, and advertisers. This is a feature-rich platform that helps track all of your affiliate marketing activities in one place—including tracking clicks, conversions, and impressions. It collects all the data in one spot, making it convenient to analyze and see. The company offers a free trial upon request only.
Currently, Affise has several locations spread out all around the world. This includes offices in Berlin, Shanghai, Moscow, Vilnius, Minsk, and New Delhi, along with over 150 employees.
---

Free 30-Day Trial
Price: (Monthly) Basic – $49 / Advanced – $149 / Business – $349
Key Features:
Strong customer support

Simple and easy to use interface which is ideal for beginners

Offers convenient automation and simplified reporting

API offers integration with different well-known networks

Built-in email function for running campaigns or conducting payouts
Offer18 is relatively new in the affiliate marketing game, but they've already proven to be a top player in the industry. The program offers a distinct set of features ideal for affiliates, advertisers, marketers, and Adnetworks.
The platform contains great features like fraud protection, whitelisting, dynamic parameters and tokens, tracking multi-clicks and conversions, and smart offers. They also have a dedicated account manager including 24/7 customer support. The best part is they have a free trial, and the price they offer is also reasonable.
Offer18 is highly recommended for beginner affiliate marketers or anyone that wants a simple platform with rich features.
---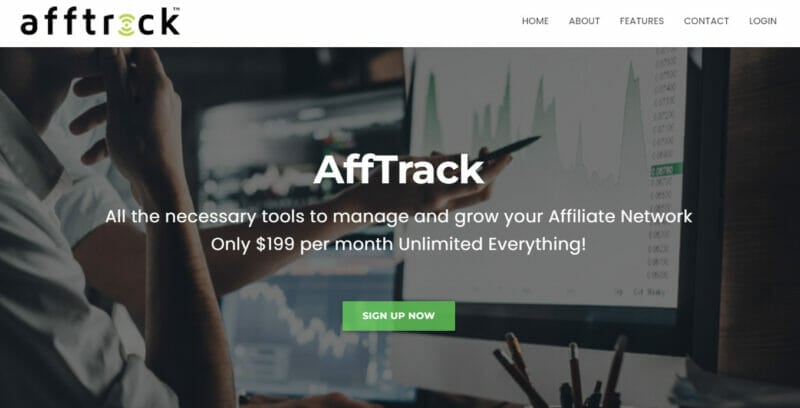 Free 30-Day Trial
Price: starts at $199 per month.
Key Features:
The only software that provides unlimited clicks

Reliable statistics and tracking

Helps manage affiliates as well as advertisers

Provides real-time analytics

Offers easy data access with a 99.99% uptime

No limits on offers and affiliates

Features an Overflow tool to help with cap management

Month per month renewal and usage

Ideal for small to medium businesses

The reasonable and competitive price point

Provides fully loaded service even during a trial

Uses proxy with strong fraud detection in place

Allows you to set up global redirects so your traffic is always monetized

Has target offer marketing for a custom audience
Afftrack is an affiliate marketing tool ideal for any business size. It's designed to be one of the most versatile free affiliate marketing tools today. It also offers the most bang for your buck.
It has a 30-day free trial with the succeeding months just requiring $199 per month regardless of your business size. This makes it the ideal solution for business owners who don't have the means to spend a lot on their affiliate marketing campaigns just yet.
---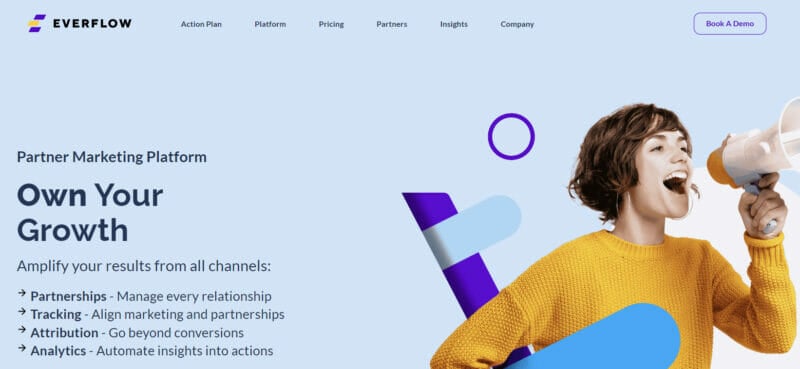 Free 30-Day Trial
Price: (Monthly) Starter – $750 / Everflow Plus – Custom Quote
Key Features:
Helps track any clicks performed on any channel

Allows you to track mobile performance from partners

Provides partner rewards for any coupon used

Performs deep analytics along with a performance breakdown

Offers granular reporting

Offers strong integrations with other platforms

Transparent and convenient revenue payouts for affiliates

Allows for full customization to suit the brand's needs

Highly responsive customer support

Convenient and easy to use user interface

Easy to update and create links
Everflow offers companies and brands the chance to grow faster and to succeed in their affiliate marketing. This amazing tool is packed with great features that brands can utilize to plan, analyze, and improve current and future campaigns.
Users can expect strong fraud protection, tracking, deep analysis, automated campaigns, and post-conversion functions, among many other features on Everflow. The company currently provides services to over 750 agencies and brands. Among them include ShipBob, Skillz, and Dentsu.
---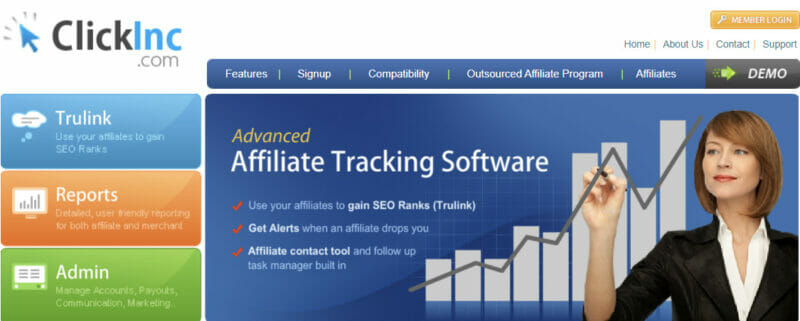 Free 30-Day Trial
Price: (Monthly) Plan 01 – $25 / Plan 02 – $69 / Plan 03 – $149
Key Features:
Tracks everything from your registered affiliate

Ability to set up traffic alerts and SMS

Can create coupons, send them to affiliates, and track their usage

Capacity to assign and set tier commissions

Strong fraud detection

Allows you to set minimum and maximum payouts

Provides the capability to arrange your affiliates in groups for easier management
ClickInc is among the more affordable affiliate tracking software in the market today. This makes it ideal for beginner marketers who want to start with a tool they can use without breaking their bank account. However, while it may look like a simple tool, the features it offers are on par with some of the best free affiliate marketing platforms out there.
One of its key functions is TruLink. This feature means you don't have to gather affiliate IDs anymore since it automatically tracks everything from the registered URLs entered by the affiliates. If you need help navigating the tool, there's an option for a free demo. Otherwise, you can avail of the 30-day trial to test everything out.
---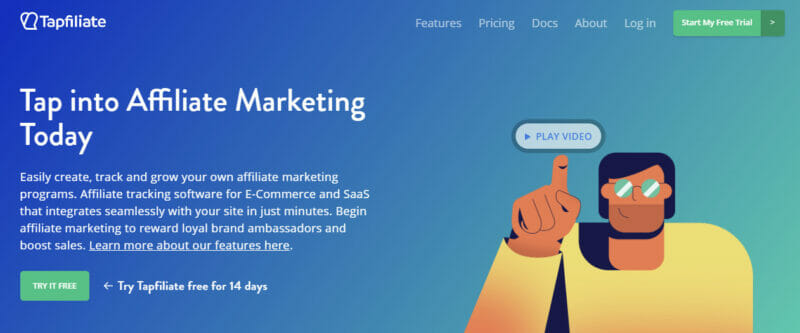 Free 14-Day Trial
Price: (Monthly) Starter – $59 / Essential – $89 / Pro – $149 / Enterprise – Custom Quote
Key Features:
Convenient and seamless setup

Easily integrates with Shopify, WordPress, WooCommerce along with other platforms

Allows for easy addition and recruitment of new affiliates

Advanced social media sharing

Provides full brand control

Simple and to the point which is ideal for beginners

Unmatched and convenient onboarding

Exhaustive supporting documents to ensure success

Has option to track non-cookie-based conversions using coupons

Allows for the creation of customized emails to resonate with specific targets

Offers fixed/percentage-based and per product/per category commissions
TapAffiliate allows you to grow and track your campaigns in one convenient location. It provides a simple, easy-to-navigate interface that's recommended for beginners who have never used an affiliate marketing program before.
Some of TapAffiliate's clients and brands include Send in Blue, Degiro, Selz, Kick Resume, BoldKing, and more.
According to the company, they believe in making advertising enjoyable again for marketers. Their goal is not just to provide highly functional and effective tools but also to bring a human touch to the marketing process.
---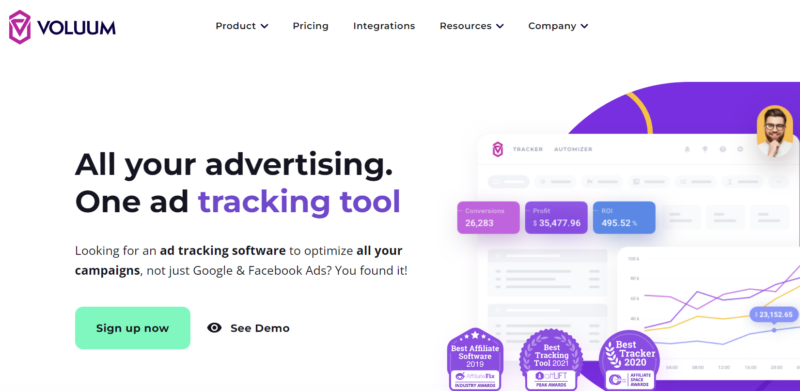 Free 14-Day Trial
Price: (Monthly) Discover – $89 / Profit – $149 / Scale – $299
Key Features:
Convenient desktop and mobile tracking of all your campaigns

Intuitive and fresh marketing dashboard

Easily tracks a variety of conversions

Impression and organic tracking

Manual update on campaign costs

Multi-step funnel construction

Real-time reporting with options for A/B testing

In-depth reporting with trend analysis

Voluum DSP integration and API
Voluum is a high-functioning software that offers insights and control for affiliate marketers looking for free and paid affiliate resources. Voluum is loaded with useful features, including options to manage, track, and optimize both paid and organic sources.
There's also a choice for automatic optimizations which allows groups and teams to collaborate even if they may have different access requirements. The company also guarantees solid uptime with strong fraud protection, comparable to those found in bank infrastructures. If you want to test out this tool, Voluum currently offers a free 14-day trial with each plan.
---
Paid vs. Free Affiliate Marketing Tools
If you're a beginner, it's smart to take advantage of the many free affiliate marketing tools and platforms right now. Once your business grows or if you find that you need a platform with more robust features, then consider going for paid affiliate tools or more sophisticated affiliate marketing software to benefit your affiliate marketing business.
Frequently Asked Questions
How can I promote affiliates for free?
These are the top ways to promote affiliates for free:
Add affiliate links to product reviews and tutorials
Insert affiliate banners to resource pages
Use affiliate links in marketing resources
Embed affiliate links in video content
Add affiliate links in social media content
What tools are needed for affiliate marketing?
These are some of the most powerful affiliate marketing tools:
Flippa
SEMRush
Yoast SEO
ShareASale
Ahrefs
Grammarly
Hemingway
Can you start affiliate marketing with no money?
Affiliate marketing does not require an upfront financial investment, unlike most businesses. The sky's the limit with how much you can earn. Many successful business owners will start with nothing, and it's possible to start affiliate marketing with no money.
Which platform is best for affiliate marketing?
These are the 7 best affiliate platforms and networks:
ShareASale
Amazing Associates
CJ Affiliate
ClickBank
Flexoffers
Awin
Rakuten Marketing
Where can I post links for free?
You can add your company name and URL to a number of free advertising sites quickly as a simple and affordable way to gain exposure:
Craigslist.
Facebook Marketplace.
Locanto.
Oodle.
OLX.
Classifed Ads.
Hoobly.
Geebo.