Best for:
Large businesses
Kanwar Dhaliwal, the COO and co-founder of EverFlow, summed up the company's approach to a sustainable business. The [kind of] growth that comes in a measured, sustainab=le way doesn't go away overnight, he said, and this philosophy is also what's behind the success of EverFlow. This focus on organic growth is at the heart of the tools that the software offers its customers, but also describes the long, deliberate path that he and his co-founders took to build the software.
The story of EverFlow goes back to the late aughts, when Dhaliwal and Sam Darawish (EverFlow's CEO and second co-founder) started up a different, yet similar, company, Moolah Media. Darawish had just come from a job with a company that sold leads for subprime mortgages. He made his exit from the company just months before that industry crashed, burned, and took down the world's largest economy with it. That dalliance with a short-sighted business model must have had an effect on him, and as he shifted his focus to mobile tech—the world's Next Big Thing at the time—he and Dhaliwal took the long view for their new venture, a mobile network facilitating the buying and selling of digital ads.
Moolah Media may not be a household name, but in Silicon Valley terms it was a success (they sold the company to Opera Software for $50 million). When the ink was barely dry on the deal, Dhaliwal, Darawish, and Blais used the cash from the sale of MM to bootstrap their next venture, EverFlow. And they applied the same long view of starting a successful business, one of deliberate and organic growth—the kind that doesn't go away overnight.
So how's that working out?
EverFlow is consistently listed as one of the best—and sometimes the best—affiliate marketing platform available. The proof of that can be found in the numbers. The other affiliate marketing platforms we've reviewed boast of their tens of thousands of customers managing networks of hundreds of thousands of affiliates, affiliates who receive tens or hundreds of millions of dollars in payouts each year. EverFlow, launched five years ago, doesn't even have 1,000 customers yet. Right now that number is sitting closer to 750. But their clients paid out $1.1 billion to their affiliates in 2020. That's many orders of magnitude more in clicks, impressions, and sales with a small fraction of the users.
Why is their comparably tiny user base outperforming its competitors? That probably has something to do with EverFlow being good software.
---
Overview EverFlow:
---
Pricing
EverFlow's pricing model keeps it simple. There are two options:
Starter, $750/mo —

At this level, you get access to everything EverFlow has to offer without restriction: unlimited affiliates, conversions, and events; track online, mobile, and offline referrals, and media buying; one free domain with SSL security; GDPR & CCPA compliance; automation and anti-fraud tools; API access for custom integrations

EverFlow Plus, $Custom/mo —

You get use of the software, same as the Starter plan, plus "White Glove" services: prelaunch setup support; ongoing training; integrated global payments; migrations and tech activations; curated affiliate introductions; live chat, email, and phone support.
---
The Details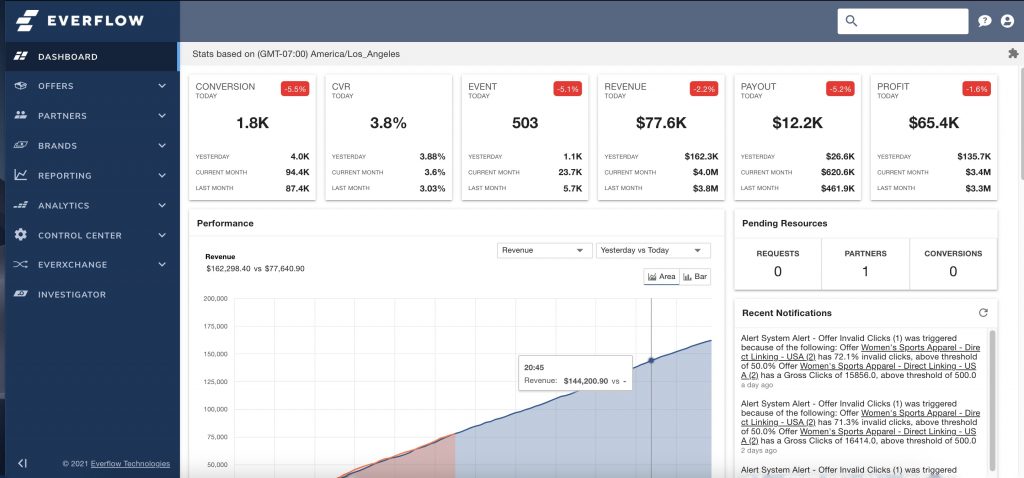 There are a glut of affiliate marketing tools and platforms available, and many of them are aimed squarely at small e-commerce businesses. And this makes a lot of sense: using one of those platforms can help even the tiniest of companies mobilize a global sales force for $20-$100 a month. That's kind of amazing.
But larger companies need affiliate solutions, too, and this is the audience that EverFlow is aiming for. If the price tag wasn't the first indicator that you're getting more than these other platforms offer, then your first look inside the system will clarify that point directly. Its interface is attractive without being self-consciously designed, while the navigation menus are densely packed with options. It's not overwhelming in the least, but you're quickly aware that this software isn't aimed at one-person operations running a Shopify store as a side hustle.
Add a new partner to the platform, and you'll fill out fields designating people as Partner Managers and Account Executives. Start creating offers, and you'll see there are a half dozen different ways to categorize revenue so that it triggers a payout. You can also add multiple events to track in addition to a basic sale. For example, if you've got an offer to drive app installs, the tracking doesn't have to stop when an install happens: EverFlow can continue to track other important events in the user lifecycle, like whether they registered for an account or made an in-app purchase.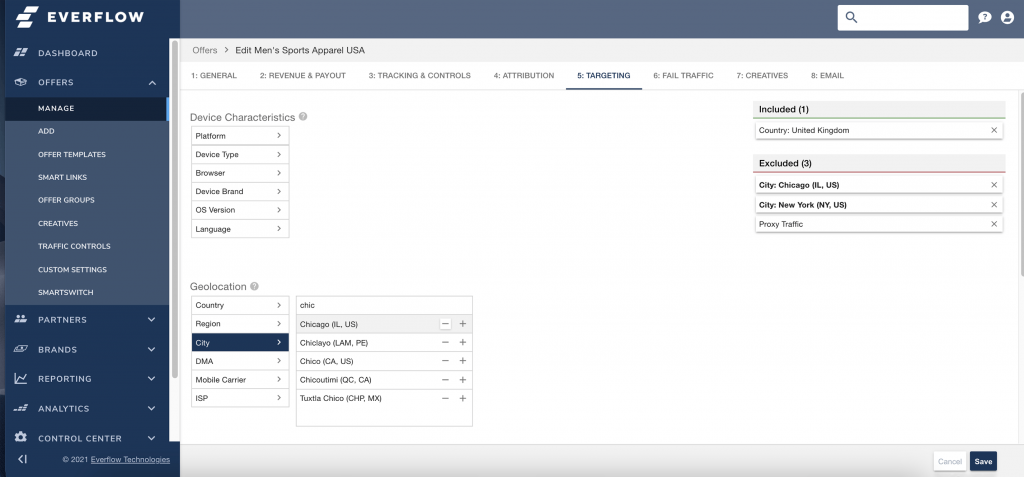 The offer settings go deep, eight configuration pages deep, though in most cases you're able to accept the defaults and just run with it. Again, though, as you make your way through these settings you'll see things that just don't apply to the mom-and-pop e-commerce crowd. Click-to-Conversion time is a standout feature that measures the length of time between a customer clicking into their cart to make the purchase and when they finally make the purchase. This is done to prevent coupon poaching, something we've all done. We're ready to pull the trigger on a purchase and see there's a field for a coupon code. We go search through coupon sites to find one that works to save a little money. This has the effect of possibly giving the credit for the sale (and thus the payout) to someone who had nothing to do with bringing that customer in the first place. And if that customer had followed some other affiliate's link to get there, they lose out on their commission. It's thoughtful touches like these that elevate EverFlow beyond many of its competitors.
By the way, if you noticed that we used the word Partner up there, instead of Affiliate, there's a good reason for that. EverFlow's tracking goes beyond just individual affiliates. You can use the platform to track conversions from paid ads—whether that's a banner ad on a website, sponsored in-app ads on mobile, or even in IRL print ads using QR codes. EverFlow aims to track every marketing channel in its customers' arsenal.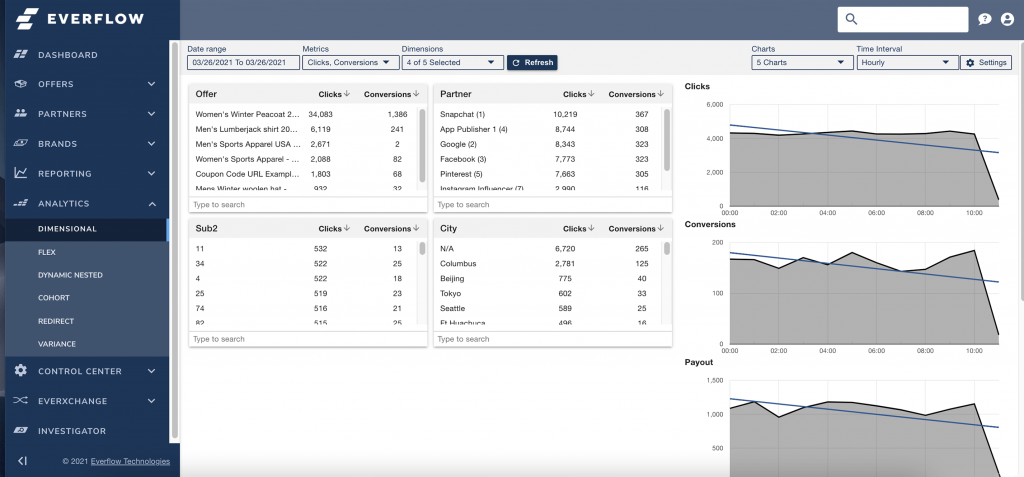 As you'd expect from all this, then, the analytics go deep. Most affiliate marketing platforms give you data; EverFlow gives you insights. What's the difference? Data gives you the performance details of your affiliates, primarily as a way to make sure everyone is getting paid the right commissions. Insights help you understand what is working—and why, and how—so you can make similar or better decisions later. Sure, you'll get your performance reports tracking clicks and conversions and commissions. All this is found in the "Reporting" section. But you'll also see an "Analytics" section, where all the data is contextualized through various report types:
Dimensional

reports allow you to look at various metrics as they relate to different "dimensions." These can be something broad, like affiliates, or highly specific like the URL parameters inside your tracking URLs. For example, you could run a report showing clicks, conversions, and cost per clicks (among others) to see how they differ from affiliate to affiliate.

Flex

reports allow you to group and slice data any way you want so you don't get overwhelmed by a mass of superfluous data points.

Dynamic Nested

reports organizes dimensions into sub-categories for further drilling down. Example: you're looking at the performance of a particular offer, and you want to break the data down by location.

Cohort

reports show you how long after one event another event happened. If you received 100 clicks on a Monday, the cohort report can show you how many of those became a conversion that day, then the next day, then the next….

Redirect

reports detail failed clicks, like when the Click-to-Conversion time rule prevent someone from poaching a coupon.

Variance

reports allow you to compare performance between two distinct time periods for any metric or data point.
As deep as the analytics go, they do highlight one of EverFlow's only drawbacks: it's complicated stuff. You really need to be fluent in all things digital marketing—and all the peripheral knowledge it requires—to fully understand what you're doing. For this reason, the self service plan will likely only be useful to the most hardcore marketers among you. But also for this reason, it's clear that the training they offer—before and after launch with the platform—must be highly effective. Many reviews and testimonials for EverFlow cite its ease of use.
---
Integrations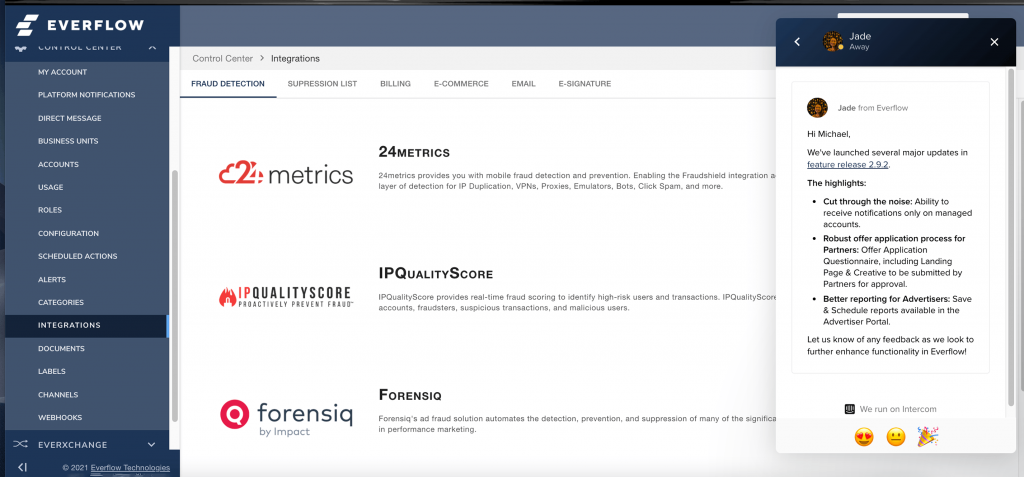 As you might expect, EverFlow has a solid list of integrations, in addition to open access to their API for custom ones. Here's a sampling of some of the more notable ones already built and ready to connect:

E-commerce/Shopping Cart Platforms
Big Commerce

Weebly

Shopify'

Recharge

Plumrocket (Magento)

Sticky.io
CRMs/CDPs
Salesforce

Hubspot

29Next

Webforce

Precog

Infusionsoft



Payments
Stripe

Tipalti

Veem

MassPay

Giftcloud



Other Business Tools
Docusign

Lead Prosper

Lumanu

Clean.io

24metrics

SMS Edge
---
Conclusion
It would be impossible to summarize everything EverFlow can do in a single review, and to get into the nuts and bolts of it almost misses the point. Almost, because there are copious nuts existing right alongside the abundant bolts that power the software. And they are the heart of what makes it so complete.
But it's the completeness that is the point. All these discrete parts that coalesce into a larger whole, and it's the details that allow its users to get the big picture views they need. Affiliate marketing may be good for every e-commerce business, but EverFlow isn't. For the kinds of businesses that the software was designed for, though, there are few, if any, alternatives.
EverFlow
Features

Ease of Use

Reporting

Integrations

Best for:
Large businesses