Best for:
Small ecommerce businesses, SaaS providers, Subscription services
Overview
Trackdesk is a very new entrant to the affiliate marketing landscape, founded in August of last year (that's 2022, for those of you reading in the distant future). It was only launched a bit more than a month ago, just seven months after founding. We'd have to double check, but we think that might be a new speed record for conception-to-IMH-review. It's not that we haven't looked at early stage software before—we just had to tell all of them they weren't ready to be featured yet. A month after launch is just generally too soon.
We expected that to be the case with Trackdesk, as well, and were pleasantly surprised to find it's actually quite a mature product. When we tried to do the research for this section, a theory emerged as to why the software seems more established than it should be. You see, we couldn't find much information at all about Trackdesk or its founder on the internet. They have a website, of course, but not a lot of marketing and minimal presence on LinkedIn. When we spoke with their Head of Sales to get a demonstration of the platform, he informed us he was a relatively new hire, brought on just a month before the public launch to make Trackdesk a more customer-friendly company.
So, what's our theory? The Trackdesk dev team was the entirety of the company for the first six months, and they kept their heads down and eyes on the prize. They coded and tested and brought beta clients on to test some more and then the devs coded some more until they got it right. No time for interviews, no time for marketing. We imagine there were a lot of energy drinks involved, as well.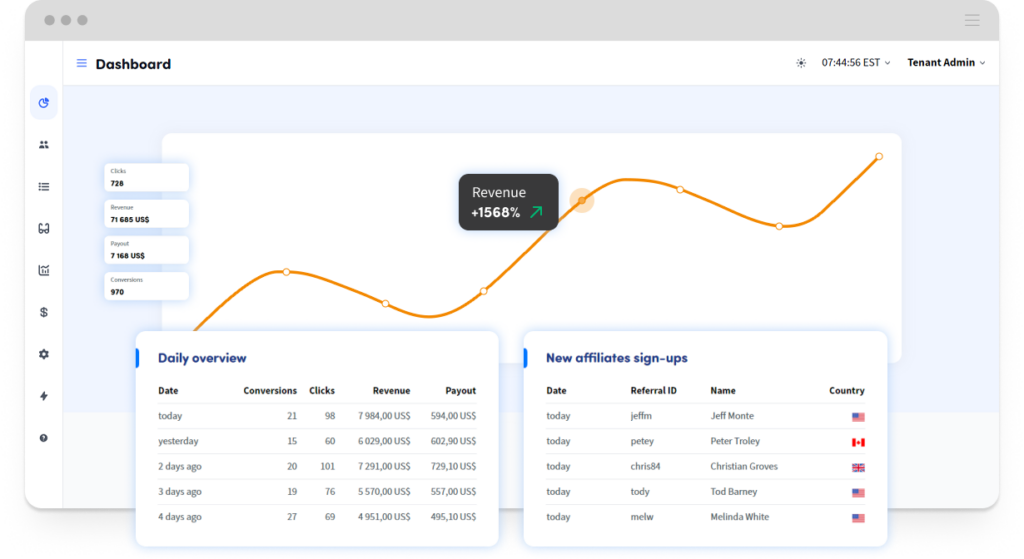 Of course, there's a more direct explanation than our theory (though it is a good theory, you have to admit). Trackdesk was conceived to be an answer to all the bloated affiliate platforms out there, the ones doing way more than what a significant chunk of the e-commerce industry actually needs. A small retail startup doesn't need many of the bells and whistles that come with more robust platforms—just a reliable way to generate and distribute referral codes and links. By keeping the platform focused on affiliate marketing's main functions, Trackdesk is poised to attract a ton of small biz ecommerce shops looking to spread the word about their products.
---
Pricing
Because Trackdesk is committed to keeping costs down for its target customers, the monthly subscription tier is based on how much revenue is generated each month from affiliates. This is a great way to keep customers from "oversubscribing." All plans are billed on a monthly basis, or are eligible for a 20% discount if you pre-pay annually.
Basic, $159/mo ($127/mo, if billed annually) — 2 users can work with an unlimited number of affiliates generating up to $10k of revenue. There's a $5 fee for every $1k over the limit. Other notable features include: commission tiers, recurring commissions, PayPal Masspay, UI customizations, creatives/asset management, Zapier integrations, direct links, and events tracking (conversions, etc.).
Business, $259/mo ($207/mo, if billed annually) — 5 users can work with an unlimited about of affiliates generating up to the $30k of revenue. There's a $4 fee for every $1k over the limit. All features of Basic are included, plus: personal onboarding, redirect tracking, private campaigns, and a native email platform.
Enterprise, $Custom/mo — Unlimited users, affiliates, and revenue. All of the features outlined in the Basic and Business plans, plus: program migration assistance and custom domain with a fully white-labeled solution.
---
The Details
It's a misconception that making software "simple" or "streamlined" must be easy, on the assumption that coding effort is somehow correlated to how many features an application has. Maybe it takes less time—there are fewer moving parts to test—but it's by no means easier. From a user-interface perspective, we'd argue that it's more difficult. How do you make a software platform that's purpose-built do one or two things look like a robust business platform?
The team behind Trackdesk has an answer for that question: You make it so the first thing users see is how much the software is doing for you.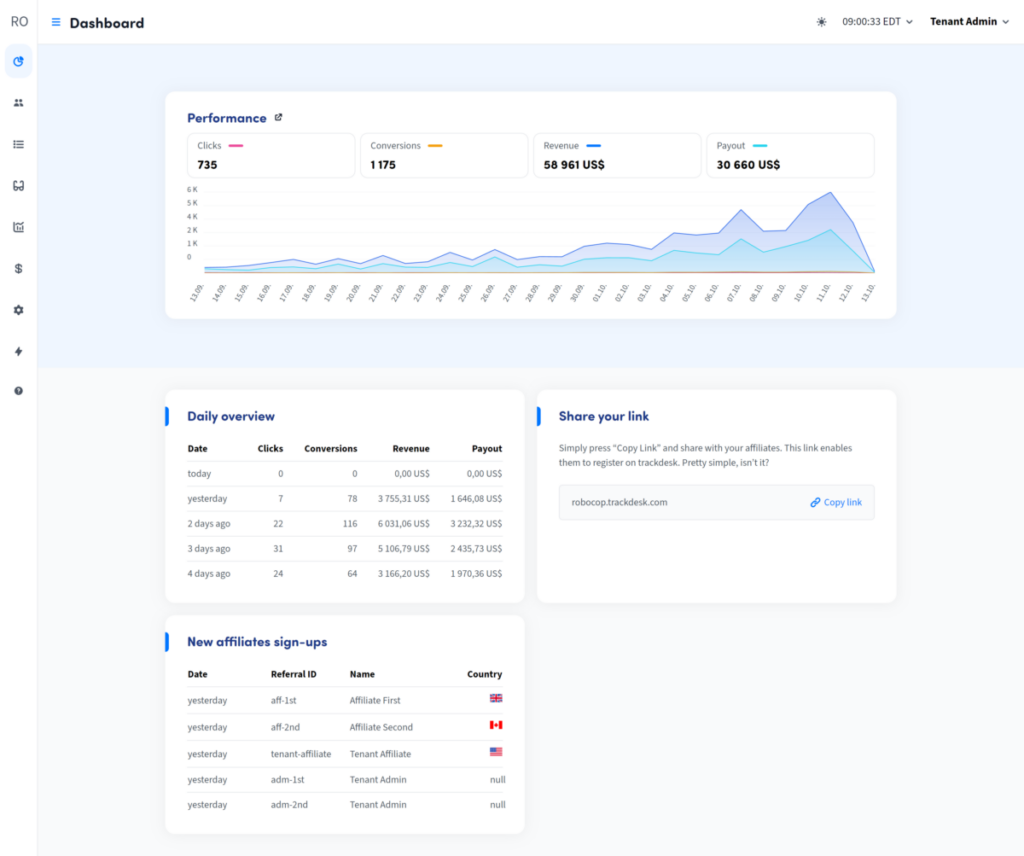 Of course, this isn't the very first thing you'll see—there's the obvious point of having to set everything up and recruit affiliates. Which brings us to the second thing you have to keep in mind for the user experience: if it's hard to set up, no one will stick around to see if it's easy to actually use. Trackdesk succeeds here, too: the interface is clean and attractive, in a minimalist way, and users will feel right at home quickly. If they don't, there's a comprehensive "guided tour" to help you get oriented. And if you're still feeling lost, Trackdesk offers onboarding support.
You likely won't need any outside assistance, though: the guided tour should be enough for anyone. It walks you through the entire setup process: localization options, conversion types (lead vs. sale vs. free trial), affiliate tiers, payment methods, terms and conditions—even the campaigns (called "Offers" here) themselves. One criticism we have here is the creation of Affiliate Tiers as a global setting, rather than defining the affiliates for each Offer. Trackdesk is pretty flexible in how it works with conversions, so it's near impossible to foresee every possible payout. And it asks you to define this before you even set up an Offer, which feels like putting the cart before the horse. Now, we're not saying it's bad that you'll have to define more affiliates later on—that's a given. It's that the workflow regarding this is a bit wonky for our tastes. Better to leave the Affiliate Tier out of the global setup, and let that remain part of creating an Offer. The tiers and groups you create could always exist globally from there, allowing you to use what you've already created for future offers but done in a way that makes more logical sense. As it stands now, you need to exit out to Trackdesk's settings page, and create the new tier there.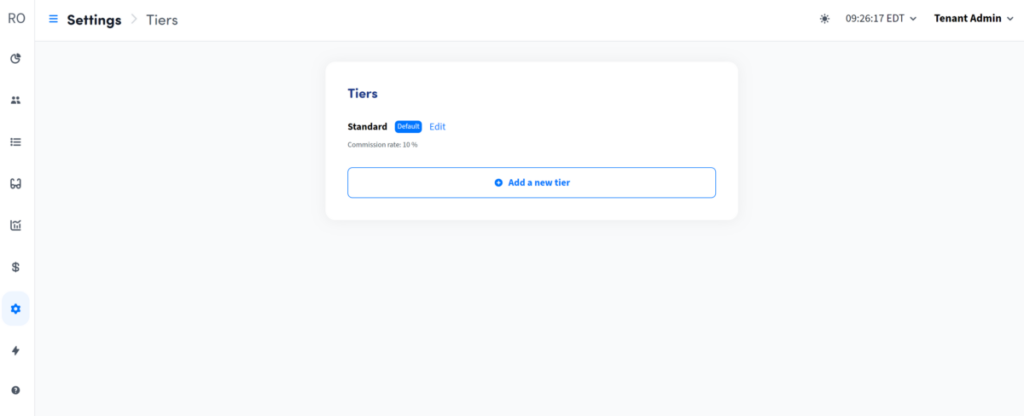 That criticism is a minor nuisance, though, and made possible by the fact that Trackdesk is much more flexible than we could have imagined. When someone tells you they created an Affiliate Marketing platform that's singularly focused, free from feature-bloat, we naturally assume that it's just an uncomplicated program you'll be making: give links to affiliates, track conversions based on those links, payout a percentage of the sale. But Trackdesk lets you get deep in the weeds here, allowing for recurring revenue/payouts (think SaaS and other subscription products), rewards for converting even a free trial, sales leads, user registration, and more. And the payouts are equally flexible, allowing for a one-time reward, recurring rewards for a duration you define, or free product, whatever you can dream up.
Another great feature is Trackdesk's ability to handle multiple locations, languages, and currencies. Each offer has its own localization setting, targeting affiliates in different countries, each with its own landing page. Trackdesk's ability to store creatives for your Offers, which the affiliates can use to aid in their efforts, means you can be prepared for any locality—an absolute must for ecommerce. A savvy small business owner could establish a global retail presence simply by using Trackdesk and any of a number of online translation tools.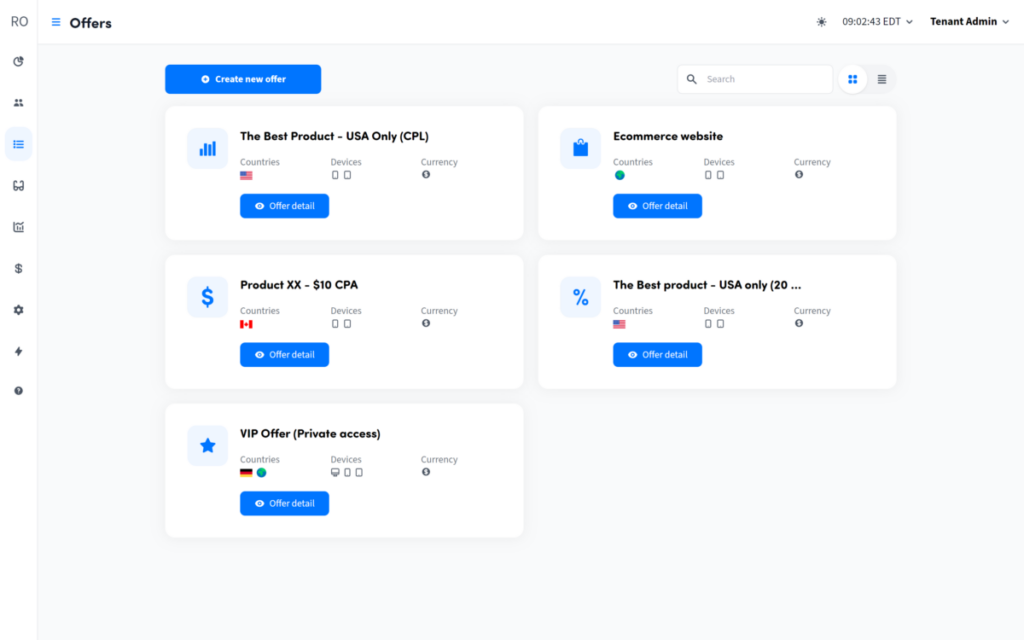 The last thing worth noting here is that Trackdesk's ease of use applies to the affiliates, too. With a mobile optimized portal (that looks great on desktop, too), affiliates will be able to peruse all the offers they're eligible to participate in. The portal makes it a breeze to get at referral links and all the creatives, giving your affiliates a copy-and-paste workflow to create social posts, texts, Whatsapp blasts, anywhere they're communicating with other people. If they do have issues, there's a feature where Trackdesk admins can "impersonate" the user to have a look at their portal and see what could be going wrong. If it's not easy for everyone, it's not worth it for anyone—kudos to Trackdesk for understanding this and doing things right.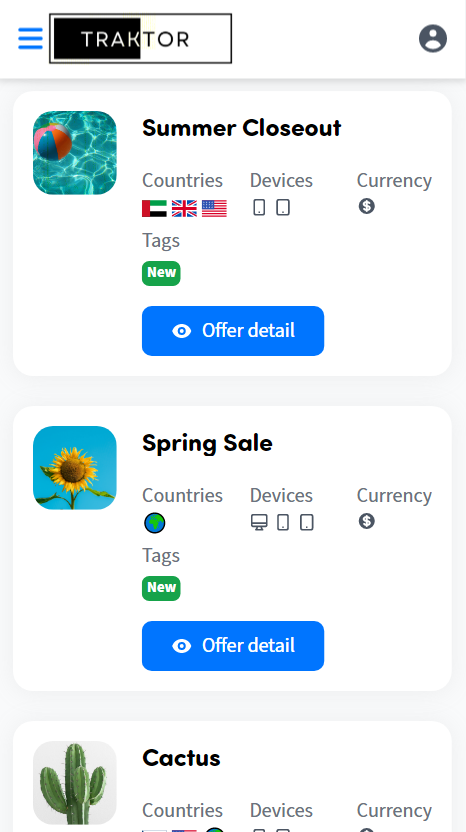 ---
Integrations
As it stands now, Trackdesk doesn't integrate directly with too many other platforms—but for their target audience of ecommerce businesses, they've got the big ones covered. Shopify, WooCommerce, Magento, and Stripe can all connect with Trackdesk "out of the box." For payouts, only PayPal is supported.
That said, there are two other mitigating factors here to note. First, Trackdesk also integrates with Zapier, the API middleman for apps that don't natively play well together. Through Zapier, Trackdesk can integrate with just about any other platform imaginable. It's not ideal, but it works, and is especially helpful for users who might want to track their affiliates through a CRM, or create an affiliate-only newsletter with something like MailChimp.
The second thing to note is that Trackdesk is still young, less than a year old. As they acquire more customers, and those customers make it known which integrations they'd really like to have, it's not out of the question for Trackdesk to listen and start creating more ready-to-go integrations as demand may indicate. They've been pretty open about their intention to add more features—so long as they don't interfere with their mission of avoiding bloat—and integrations are a great way to go about that. Customers who want some kind of CRM or mailing list would be better served by a company that specializes in those kinds of things—and Trackdesk will be better served to make it as easy as possible for those integrations to happen.
---
Conclusion
Less than a year old, Trackdesk has emerged as a surprisingly mature and focused affiliate marketing platform. The company's approach of keeping the platform streamlined and centered around the core functionalities of affiliate marketing has paid off, attracting small business e-commerce shops looking for a reliable and efficient solution to generate and distribute referral codes and links. The software's simplicity is a standout, with a clean and attractive user interface that quickly familiarizes users with its functionality. The guided tour and onboarding support ensure a smooth setup process, ensuring that users can swiftly navigate the platform and maximize its capabilities.
Trackdesk's flexibility stands out as a key strength, allowing users to delve into various aspects of affiliate marketing, such as recurring revenue, rewards for free trials, sales leads, and user registration. The platform's ability to handle multiple locations, languages, and currencies further enhances its appeal for global retail presence. Moreover, Trackdesk's commitment to user-friendliness extends to affiliates as well, with a mobile-optimized portal that simplifies access to referral links and creatives, empowering affiliates to effortlessly promote products across different communication channels. By prioritizing user needs while avoiding feature bloat, Trackdesk has positioned itself as a promising solution for small businesses.
Trackdesk
Features

Ease of Use

Reporting

Best for:
Small ecommerce businesses, SaaS providers, Subscription services