Best for:
Small e-commerce businesses
We look at a lot of software here, and have developed a foolproof process for getting you the information you need to know. We start by giving you this Overview, so you can get a feel for the company itself. Using all available resources, we'll give you a little backstory on the company, maybe the reasons for it's having been started in the first place, maybe some personal journey the founders embarked on that ended with them starting up some new business. It's good information, and it saves you, the reader, the time of having to do your own homework about a company you're thinking of possibly doing business with. With that said, here's the overview of GoAffPro:
GoAffPro is a company that makes affiliate marketing software.
The End.
Seriously, that's it. There's literally no other information about the company behind the software. There's no listing on Crunchbase, no press releases, nothing on LinkedIn. Whoever is behind the software has left on the barest trail of his or her existence: the founder is /my_username_is_2 on Reddit. Normally, this sort of mysterious background would be enough for us to just move on. But, while there isn't much of a compelling story from the time before GoAffPro went live, that's not the case for the company's present day situation.
It's one of the most popular affiliate marketing apps on the Shopify app store: 1,466 reviews with an overall 4.8/5 star rating. The software powers the affiliate marketing efforts of more than 50k stores in total (it works with more than Shopify). Collectively, these stores have onboarded nearly 3 million affiliates who've generated more than $250 million in revenue. And in what is likely the most modern version of demonstrating that a company is legit: YouTube tutorials for using the software abound, both on GoAffPro's own channel and from any number of aspiring tech gurus who want you to smash that Like button and subscribe.
So, this Overview is different from all our other ones. Rather than synthesize all the information we could find through research and/or interviews to paint a more complete picture, we're advising you to disregard the lack of information and focus on the software directly. It's not perfect, but still a great option for small businesses.
---
Overview GoAffPro:
---
Pricing
GoAffPro is built for small businesses—even its highest level of subscription is within the budget of all but the most cash-strapped of businesses. But even the most cash-strapped businesses have an option on this platform.
Hobby, $0/mo —

This is affiliate marketing at its most stripped down, but an excellent way to try the platform out and see if it suits your needs. You'll still be able to work with an unlimited number of affiliates, and there are caps placed on how many sales or how much revenue you can generate. Bear in mind that, because you're using a stripped down version, your affiliates will also be accessing something pretty basic when they log into their portal.

Premium, $24/mo —

Unlimited affiliates, etc., just like in the Hobby Plan, and then a whole host of other features: a branded affiliate program, targets and bonuses, membership fees plugin, automatic Invoices, W-9 forms, multi-level marketing, bulk messaging, affiliate page builder, embedded affiliate store, third party integrations

Enterprise, $Custom —

The price is customized based on need, but these plans start at $199 a month, plus a fee of 1.9%. 1.9% of what, you ask? Good question. You'll have to ask them, as nothing on the website sheds any light on this. But, with the Enterprise plan, you get everything that's in Premium, plus: a dedicated account manager and phone support. You also will be able to customize your affiliate portals, compensation plans, and contracts, as well as work with GoAffPro to get custom features and reports.
---
The Details
Whilst GoAffPro may not make a good first impression, this is a good lesson in not judging a book by its cover. In fact, there's a great attention to detail in the flexibility that GoAffPro users have in setting up their affiliate marketing program.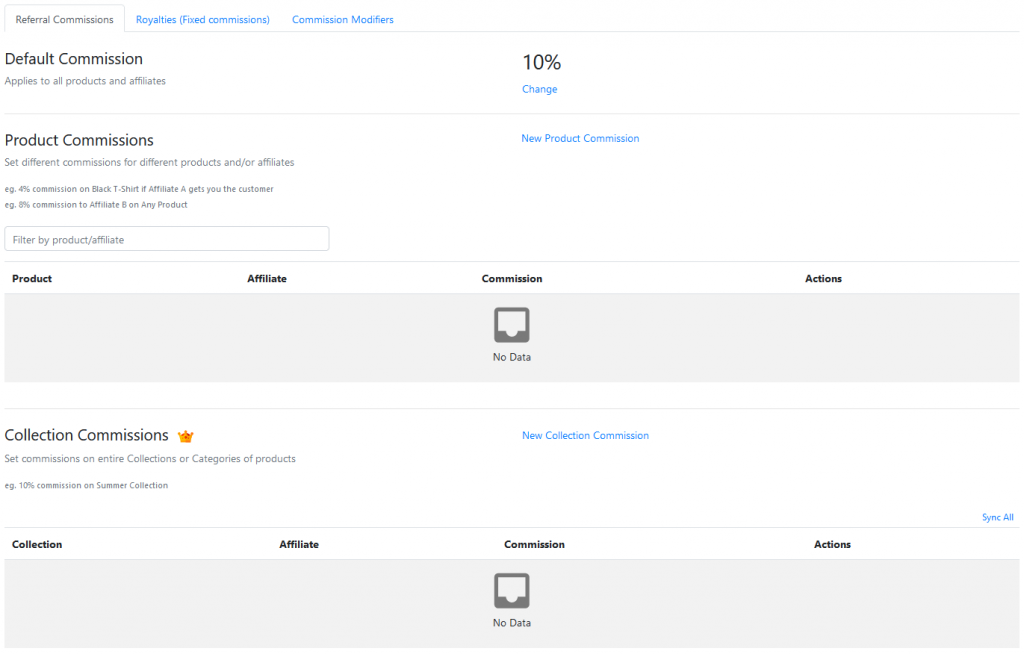 First, there are a number of different ways to slice and dice commissions: you're not just stuck with a basic one-size-fits-all approach. For those who don't need to get to granular, you can set a default commission that applies to all products and affiliates. This can be the one rule to run your whole program, or it can just be the default for any type of commission that wasn't otherwise specified. You can group your affiliates together and create different structures for each group. You can set different commissions for individual products or entire collections of products. You can further define tiers of commissions, where the percentage increases as revenue increases, for example. You can payout bonuses when an affiliate reaches a predefined sales target. You can even create fixed commissions, which are essentially royalties that you might want to pay to affiliates who weren't even involved in the sale. There are tons of different permutations of these commission structures, and GoAffPro will through all the rules you've set up to make sure a specific commission doesn't apply before resorting to the default.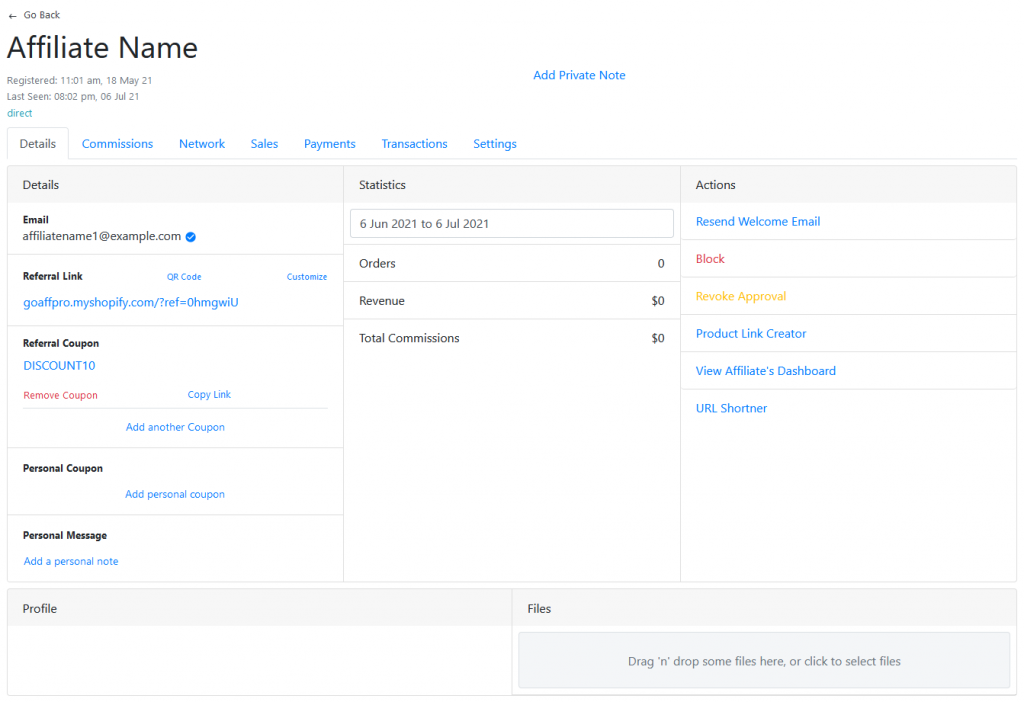 This kind of flexibility is also seen from the get-go, as you seek to add affiliates to your program. You can manually add affiliates, or you can set up an affiliate portal where people can apply to participate. For potential affiliates, the effort to get started is easy: hand over your name and email address and just wait for approval. You can also recruit affiliates as part of the checkout process by creating a post checkout pop-up message that offers them a way to sign up. This pop-up can appear after every purchase, or you can set it so that it only shows up after a specific product is purchased. GoAffPro's documentation describes how to use this feature so you can charge your affiliates a membership fee for participating, but we'll just go ahead and say: don't charge a membership fee. Your affiliates should never be in a position where they could potentially lose money on the deal. It defeats the purpose of affiliate marketing.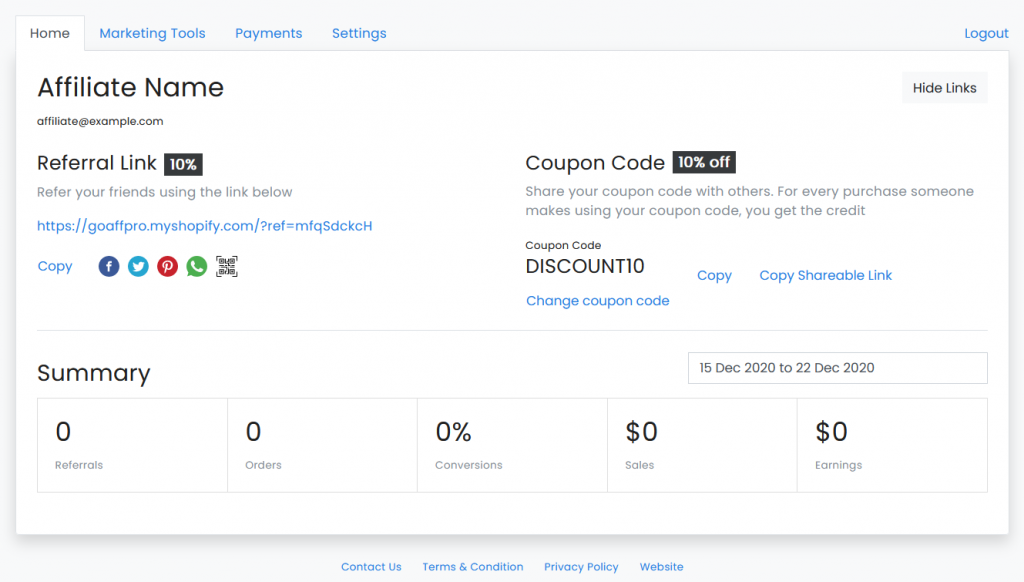 Outside of this, GoAffPro does a great job of empowering affiliates to run their efforts as if it were their own business. When they log onto their portal, they'll have access to their default referral link and any personal coupon codes you've assigned them. But they'll be able to do more than just hand out these links and coupons. Let's say you've used GoAffPro's bulk mail feature to let your affiliates know that you want them to push a particular product, and there are bonuses involved with selling that product. They can use their affiliate portal to create referral links to that specific product, as well as to grab any marketing assets you've created as part of the campaign. Doing it this way means you only have to upload assets once, and don't have to bother with creating new, campaign-specific links. Affiliates can participate if they want to, and it's up to them to ensure they don't miss out.
To further create a sense of ownership for your affiliates, you have the option of creating landing pages that are customized for them. They can also create their own, so it says and looks how they'd like it to—but you always have the last word on whether to approve or decline its publication. Regardless of what it looks like, having their referral links bring customers over to a custom landing page further personalizes the process for everyone. You can even add a toolbar to the site, that reminds shoppers who they are "shopping with"—i.e. who referred them.
It would be impossible to cover all the features of GoAffPro in a single review, so we've just covered some of the more unique or well-implemented features here. For a full understanding of what the platform can accomplish, scroll through their very well organized documentation.
---
Integrations
GoAffPro surprises again with its list of integrations. For one, it supports an impressive number of e-commerce platforms, including all the ones you'd hope for. There's Shopify, of course, but also: BigCommerce, WooCommerce, Magento, Prestashop, Squarespace, Wix, and Weebly—and a few more than that actually.
If you're not doing straight up money-for-stuff retail, it also integrates with some of the recurring-billing shopping carts for subscriptions and the like: Recharge, Bold Subscription, and PayWhirl.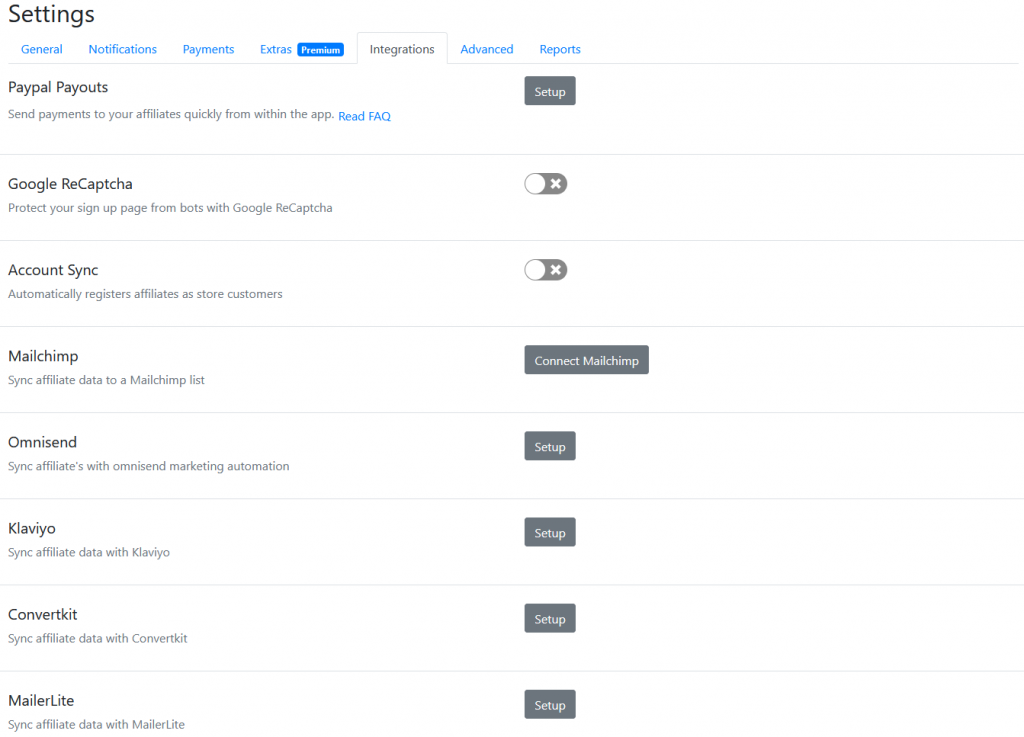 If you're going to pay your affiliates directly from GoAffPro, you'll do this by way of a PayPal Payouts integration. This not only lets you pay directly from the platform, but also to make bulk payments to multiple affiliates simultaneously.
As a marketing tool, GoAffPro's developers know where its value is and so integrates with a number of marketing platforms. Mailchimp, Klaviyo, Omnisend, Hubspot, ConvertKit, Mailer Lite, ActiveCampaign, and CampaignMonitor are all supported.
There's even a Google ReCaptcha integration to ensure that real people are signing up to be affiliates through your portal. Given all these thoughtful integrations, it's a wonder that there's nothing for a CRM. Technically, ActiveCampaign has CRM functionality, but how many of you thought of that one when we mentioned CRM?
---
Conclusion
We've mentioned all the highlights here, and there are a surprising amount of those. Remember, though, that GoAffPro is a small business tool. Larger companies with deep marketing budgets looking for very granular tracking and business intelligence will want to keep looking—this isn't the solution you're looking for.
But for small businesses, the kinds that have a handful of people working and limited marketing expertise (and perhaps limited budgets) will be well taken care of by GoAffPro. In fact, they'll be able to do more than they expected they could. It's one of the more flexible and feature packed platforms for this market segment, and they can try out the basics for free. There's no reason not to give it a try.
GoAffPro
Features

Ease of Use

Reporting

Integrations

Best for:
Small e-commerce businesses