Best for:
Small and Medium sized businesses
Overview
Let's be word nerds for a minute. 
There's a term that's thrown around, especially in tech circles, that doesn't quite mean what you all think it means" serial entrepreneur. See, when the word "serial" is used in this way, to describe the repeating of actions taken by a person, it's never a good thing: serial offenders and serial liars, for example. Here, "serial" refers to the fact that these people commit the same acts over and over again, in the same way each time, because it's a compulsion. And, this, we believe, is not a great way to describe people who start businesses and succeed. It's one thing if you keep failing at startups, never learning from your mistakes or varying your approach. But if you succeed on your third or fourth try? We need a new term for those people. 
Thomas van der Kleij, the founder of Tapfiliate, is often described as a serial entrepreneur. He started his first business at the age of 15, providing free print services to students and selling ad space on the printouts themselves to local businesses. It was kind of a genius idea for its time, but mistakes were made. van der Kleij is the first one to admit this, saying he had no sense of what made a business sustainable at the time. His next venture was running a division for a vacant property management company in the Netherlands called VPS. Called Young Startup, the mission was to create a social network for startups as a mechanism for lead generation for VPS. Though just an employee, van der Kleij assumed responsibility for the whole business unit, which ran like a startup for startups. 
A serial entrepreneur would have run that second venture into the ground, making the same mistakes as before. Then the serial entrepreneur would go ahead and start a third business, and run that one into the ground, making the same mistakes as before. This is not what van der Kleij did. His third try at building something was Tapfiliate, a business where he built on what he'd learned in the past to create a service that his earlier efforts would have benefitted from. 
Founded in 2014, Tapfiliate has steadily grown and can be considered a success. More than 2,000 customers rely on Tapfiliate to manage their affiliate marketing initiatives. Their software and support consistently get positive reviews from customers. And early in 2021, Tapfiliate was bought out by Admitad, a large company offering multiple solutions for customer retention and acquisition. As for van der Kleij, he works for Admitad now, running Tapfiliate. For all anyone knows he may one day try and start another business, but we wouldn't call him a serial entrepreneur even then.
---
Pricing
Tapfiliate is one of the first affiliate platforms to be cloud-based—moving beyond legacy software solutions was part of the impetus for its creation. Subscriptions are charged monthly, with no breaks given for paying annually. 
Essential, $89/mo —

Two team members can manage up to 1,000 affiliates driving up to 200,000 clicks, and up to 75,000 conversions per month. You're charged 45 cents for every 1,000 clicks beyond your limit, and 70 cents for every thousand conversions over the limit.



Pro, $149/mo —

Five team members, 10,000 affiliates, 500,000 clicks, and 250,000 conversions. 35 cents per 1,000 clicks over the limit, 60 cents per 1,000 conversions over the limit. You'll also be able to use a custom domain, customize your affiliate onboarding form, and add bonus incentives to the mix.



Enterprise, $Custom/mo —

All of the above without limits, plus: single sign on, premium support, customer success manager, multi-level marketing sales goals
All plans also include these features: recurring/lifetime commissions, automation, commission rates defined by groups, categories, and items, affiliate coupons, affiliate recruiting, social sharing, multi-language support, multi-level marketing, customizable cookie time.
---
The Details
Tapfiliate's website explains that they offer more than software, calling the platform "a space to learn and succeed at affiliate, referral, and influencer marketing." A quickstart guide leads you through the onboarding process, step by step, while other resources exist to educate users about these marketing techniques in general. And this is a good thing, since setting up your first affiliate program isn't as simple as they make it out to be. When you create your Tapfiliate account, the platform tells you "Set up your affiliate program in minutes"—but they don't tell you how many minutes.
Creating the program starts out innocently enough: give the program a name, define the landing page you want to drive traffic to, give your Tapfiliate portal a subdomain name, and set the currency. Easy.
But then things get a little dicey. If you enable recurring or lifetime commissions you'll have to specify the method by which you will manage this. You're given two options—Smart or Time-based—and, with little explanation, chances are you won't know what either of those mean. "Smart" is flagged as the recommended option, and then the on-screen explains you'll need to set it up in one of four ways. What those methods are isn't important to understand for the purposes of this review. What is important is the fact that recurring and lifetime commissions require some kind of integration, because Tapfiliate can't natively do it. 
Things only get more complicated as you press on. When it comes time to select your e-commerce platform for integration, you have a lot of options. And this is a good thing, in that you're not limited to just the most popular. But that also comes at the expense of ease-of-use: consider what has to happen to integrate with a WordPress site. The instructions have you opening up WordPress in another window or tab, finding Tapfiliate in the plugin directory, installing it, and then manually making your way over to the settings. The next instruction is this:
In the next screen, first input 25501-d2974c 
Once you've finished typing this weird string of numbers and letters (which is your Account ID, so different for everyone) into your WordPress setting, you're instructed to navigate over to the page where you want to track customers and conversions and manually add a shortcode with any of the relevant parameters from a list they've provided. This is a long way from turnkey, and it's not the only example of the Rube Goldberg-like approach to features and integrations. 
If you want to track coupons, you'll need an e-commerce platform that creates them and then manually assign them to your affiliates in Tapfiliate. If you have 100 different affiliates, you'll need to create 100 different coupons, and then copy and paste the codes into each affiliate's profile within Tapfiliate, one at a time. Then, unless you're using Shopify or WooCommerce (or, for some reason, Teachable), you'll need to set up an integration for tracking the coupons via Zapier.

If you want to create a tiered commission structure, so affiliates can increase their payouts as they reach performance milestones, you're advised to create different affiliate groups for each commission rate. You can then create an email trigger to let you know when someone has reached that milestone, at which point you log into Tapfiliate and

manually move that person into the next group.

Since performance bonuses like these are generally done on a monthly basis, you'll then need to move that person back each month. Multiply that effort by all your affiliates doing well, and then while you're at it, compare the cost of your time to accomplish all this. If this is too much work for you, you can always automate by hiring a developer to come in and monkey around with the Tapfiliate API.
These are just a few examples, but it should be enough to get the idea that Tapfiliate requires a lot of heavy lifting up front in order to get it going. All that said, if you have the time and expertise, or the money to hire someone with time and expertise, to go through all these hoops and automate Tapfiliate, it will require very little intervention from you after that. The reporting and tracking is detailed, and handling payouts is simplified as a result. That Tapfiliate has as many happy customers as it does is a testament to the results that its customers get, not the effort they had to put in.
---
Integrations
Tapfiliate has a large list of e-commerce platforms that it integrates with, though you'll need to take the term "integration" with a grain of salt. We've seen a lot of SaaS platforms do a lot of different things—not just affiliate marketing. Generally, having an integration for another app means all the API stuff is taken care of (or configured through a graphical interface).
For example, EverFlow (a Tapfiliate competitor) integrates with Shopify, and the setup is simple. From EverFlow, you choose to add Shopify; you're redirected there to log in and then install the app; you're redirected back to Everflow where you set or confirm a handful of settings from the graphical interface; you're done. Here are the instructions for integrating Tapfiliate with Shopify: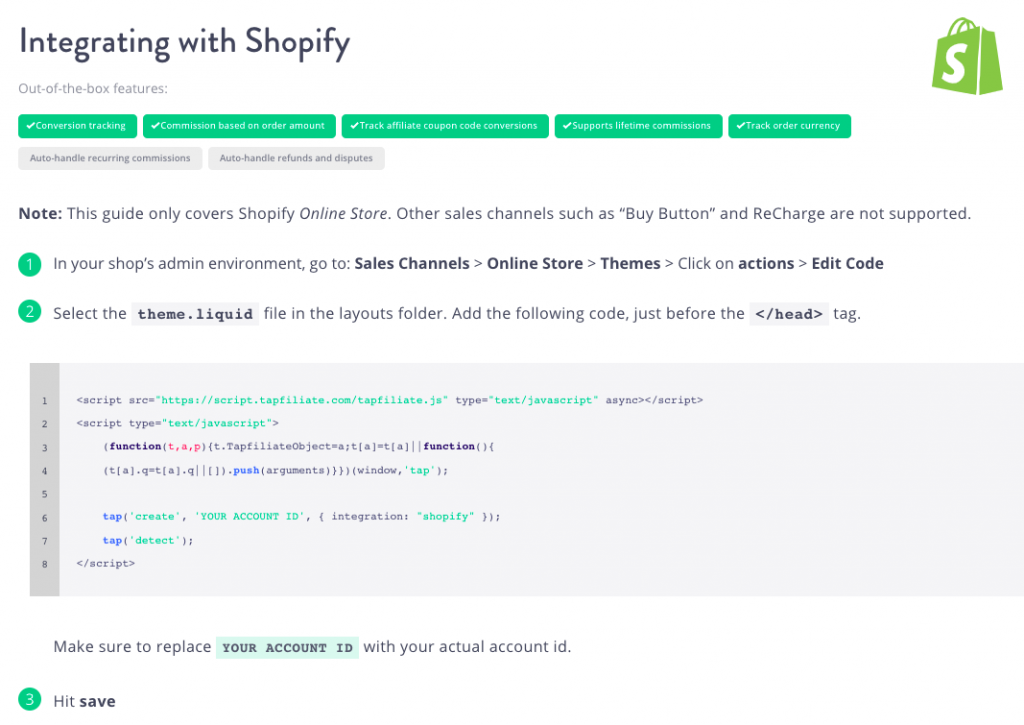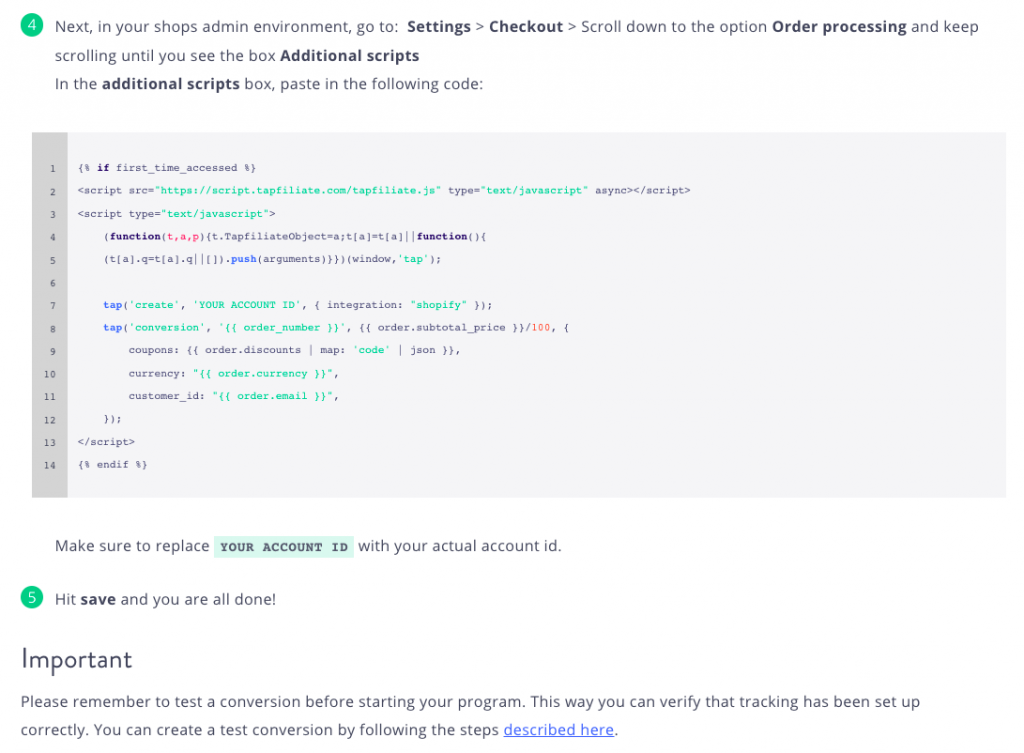 And this is one of the easier ones. Some of the other e-commerce integrations are: Stripe, Squarespace, WooCommerce, Paypal, BigCommerce, Wix, Chargebee, Cratejoy, Magento, OpenCart, and more. 
Beyond e-commerce platforms, there are also a handful of other integrations: 
Zapier —

If you want to automate things like coupon tracking or recurring commissions (and other tasks), you'll likely need to go through Zapier.

Mailchimp —

A true integration that requires very little of you to sync your affiliate and prospect contact information.

Integromat —

A Zapier alternative for automation

Pabbly —

Another Zapier alternative for integration
---
Conclusion
We've spent most of this review going over the not-so-simple ways in which Tapfiliate users must set up their affiliate programs, and we've done this at the expense of covering all aspects of the platform. But this is as it should be: with an affiliate marketing platform, the bulk of the hassle is in the setup, and that's more true for Tapfiliate than most of its competitors. 
Some of this lack of automation is reflected in the monthly price—you don't get what you don't pay for—so to gauge whether or not Tapfiliate is right for you is to calculate what your upfront costs are going to be, assuming you'll need to hire a developer to get the app to where you want it to be. Once it's set up, though, Tapfiliate can be a very helpful tool for the right businesses. This is why if someone asks if we'd recommend they give the platform a shot, we can confidently and without reservation say: it depends.
Tapfiliate
Features

Ease of Use

Reporting

Integrations

Best for:
Small and Medium sized businesses